This air fryer cauliflower recipe is so simple and delicious! Little cauliflower florets are coated in crumbs and air fried to make light and crispy cauliflower bites, they are a perfect side dish or snack.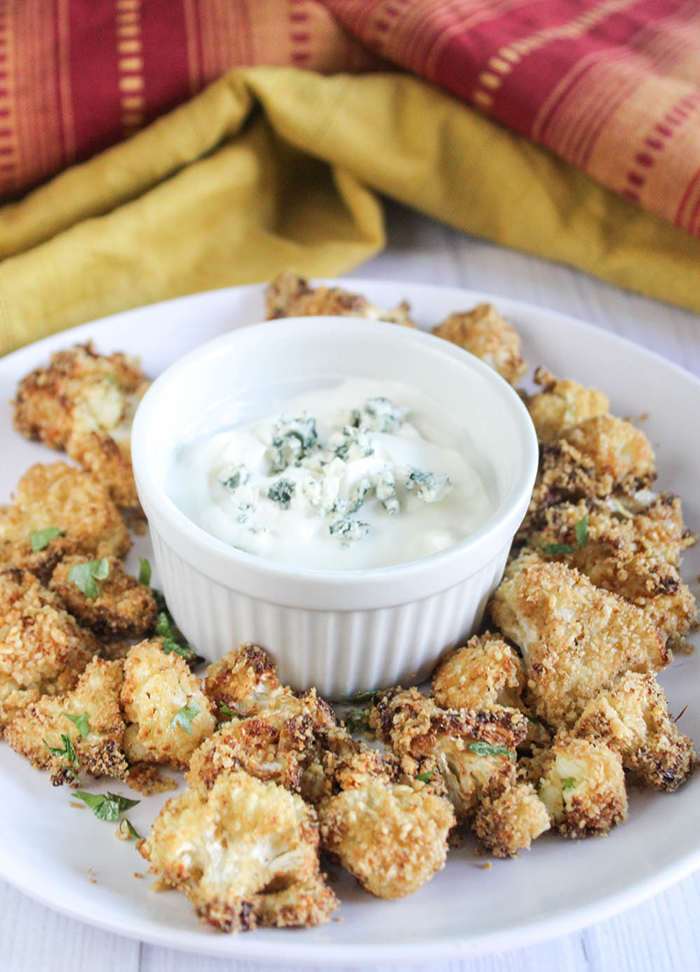 Air fryers are perfect when you want something crispy, yet healthy. We also like making kale chips or buffalo cauliflower bites in our air fryer.
Why This Recipe Works
The cauliflower cooks to cripsy perfection in about 15 minutes for a quick and easy recipe.
It's a tasty and great way to enjoy an extra serving of vegetables as a healthy snack or side dish!
Here is What You Will Need
As an Amazon Associate, I earn from qualifying purchases.
This is an overview of the ingredients and steps to make this recipe, scroll down to see ingredient notes and substitutions as well as a printable recipe card with exact measurements and complete cooking instructions.
---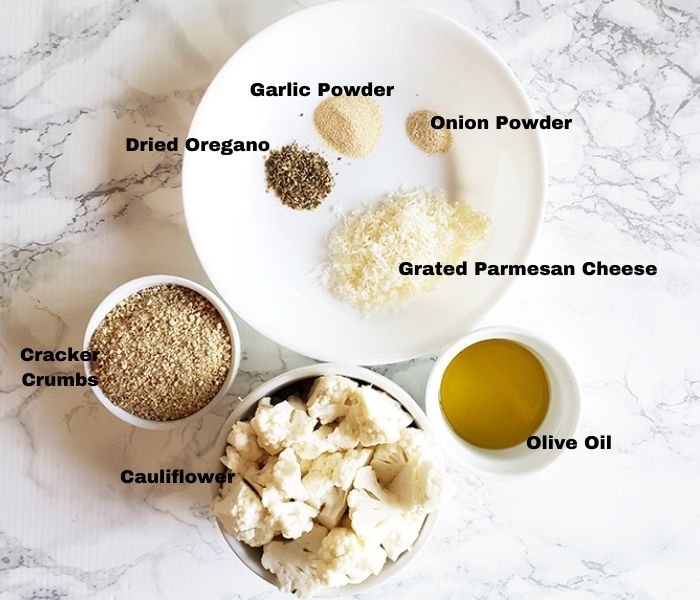 Ingredient List
Cauliflower
Bread crumbs
Oregano
Onion Powder
Olive oil
Tools Needed to Make this Recipe
Here's How to Make Air Fryer Cauliflower
Prepare: Cut the cauliflower head into evenly sized pieces. I like to cut them into smaller florets (about ½ inch) because they cook quicker, but any size will work.
Shred and measure the parmesan cheese, olive oil, garlic, onion and oregano. Preheat the air fryer to 400 degrees F.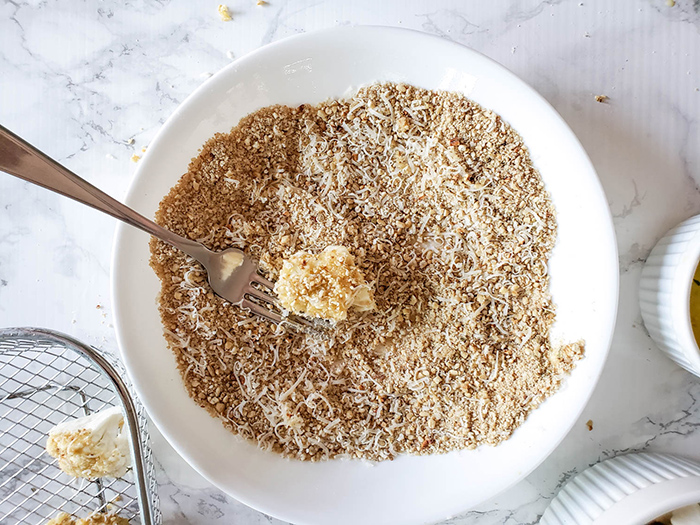 Step 1.
Add the grated parmesan cheese and seasonings to the crumbs. Dip each floret into the oil and then into the crumbs ensuring each floret is covered in crumbs.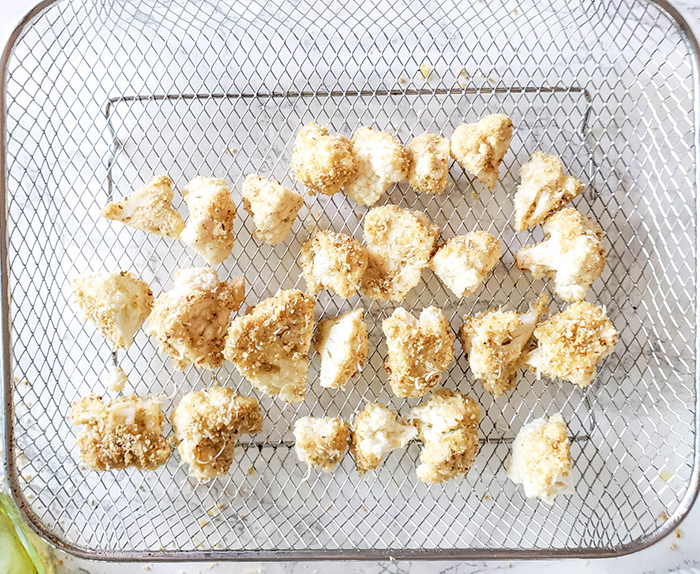 Step 2.
Depending on which type of air fryer you have, place the florets onto the air fryer tray or into the air-fryer basket in a single layer and place them into the preheated air fryer.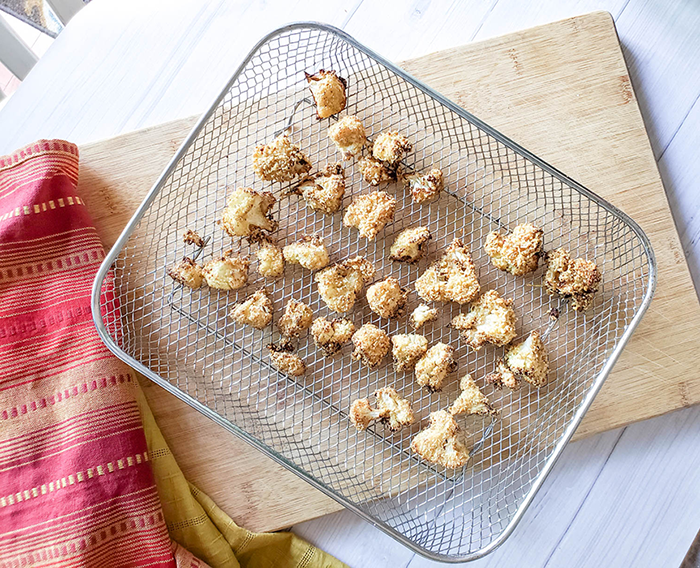 Step 3.
Cook the florets for 8 to 10 minutes, check and flip them if necessary and cook for 7 to 8 minutes longer.
Tip! If your florets are large, more cooking time may be needed.
Ingredient Notes and Substitutions
Cauliflower. Fresh cauliflower is recommended in this recipe. Look for a small to medium head of cauliflower. If you want to save time, you can use precut cauliflower that is available in most grocery stores.
Bread Crumbs. Unseasoned panko bread crumbs make the cauliflower bites nice and crispy. If you don't have panko, you can use regular bread crumbs, but they may not be as crispy.
Olive Oil along with the crumbs helps to make the cauliflower nice and crispy. I used olive oil, but it can be swapped out one for one with any neutral vegetable oil, melted butter, or avocado oil.
Oregano, Garlic & Onion Powder can be swapped with 1 ½ teaspoons Italian seasoning.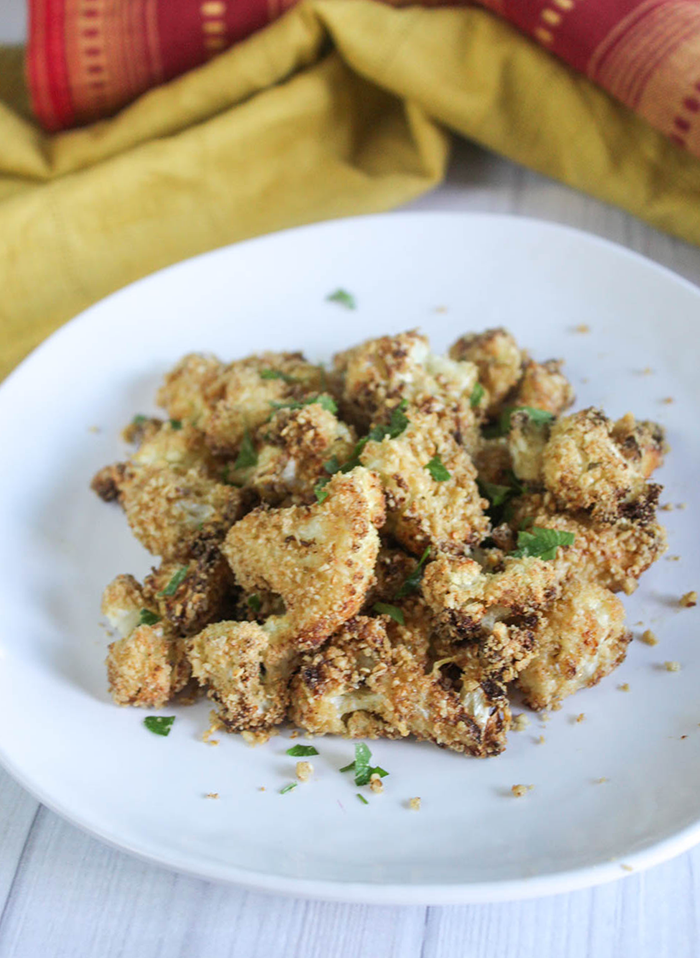 Make Ahead Instructions
This recipe comes together quickly, but if you want to speed the process up even more, prepare the ingredients ahead of time:
Mix the crumbs with the seasonings, cut the cauliflower into florets (or use pre-cut cauliflower).
Store the crumb mixture at room temperature and place the cauliflower florets into the refrigerator for three to four days.
How To Make Crispy Cauliflower Bites in The Oven
It's easy to make these crispy bites in the oven. Here's how:
Prepare the ingredients following the recipe instructions.
Preheat the oven to 425.
Line a sheet pan with parchment paper.
Coat the cauliflower florets in crumbs and place them onto the prepared baking sheet in a single layer.
Place the cauliflower into the oven and bake for about 15 minutes, turn them over and bake for 15 minutes longer - until they become golden brown and crispy.
Recipe Tips
When cutting up the cauliflower, make sure that the florets are evenly sized for even cooking
Don't overcrowd the air fryer basket or tray, this will cause soggy cauliflower bites. Arrange the cauliflower florets with plenty of space around them.
Depending on your air fryer, you may need to make cauliflower bites in batches. Subsequent batches may cook faster than the first batch because the air-fryer has been heated up.
Keep the air-fried cauliflower bites warm in the oven at 250 degrees f until it's time to serve.
How to Store and Use Leftovers
Store leftover air fryer cauliflower in the refrigerator for up to two days.
Reheat the cauliflower bites in your air fryer or the oven.
Recipe Variations
Cheddar Air Fried Cauliflower Instead of parmesan cheese, use the same amount of shredded cheddar cheese.
Spicy Air Fried Cauliflower Add a teaspoon or more to your taste of cayenne pepper to the crumb mixture.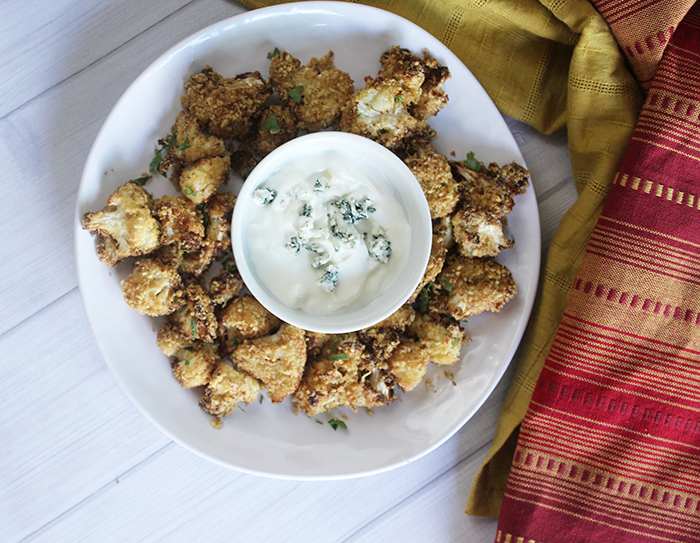 Serving Suggestions
Serve your air fryer cauliflower as an appetizer with a squeeze of lemon juice, a drizzle of your favorite hot sauce such as buffalo, barbecue sauce or a tasty dipping sauce such as homemade blue cheese dip or ranch dressing.
Cauliflower bites also make a delicious side dish with just about any of your favorite main dishes.
Our favorites to serve these with are Garlic and Herb Chicken with White Beans, Slow Cooker Honey Garlic Pork Chops, or Hasselback Pork Tenderloin.
You Might Also Like These Air Fryer Recipes
Air Fryer Cauliflower Questions Answered
Here are the most commonly asked questions about air fryer cauliflower If your question isn't answered below, leave me a comment below and I will get back to you as soon as I can.
Can you use frozen cauliflower to make air-fryer cauliflower?
Yes! You can use frozen cauliflower to make air-fryer cauliflower. Thaw it out, and use a towel to squeeze out the excess moisture before dredging the cauliflower in the bread crumbs.
Check out these delicious seasonal recipes
Breakfast and Baked Goods
Side Dishes
Main Dishes
Desserts