Hasselback Pork Tenderloin is a delicately flavored pork tenderloin that is  perfect for guests or a last-minute weeknight meal!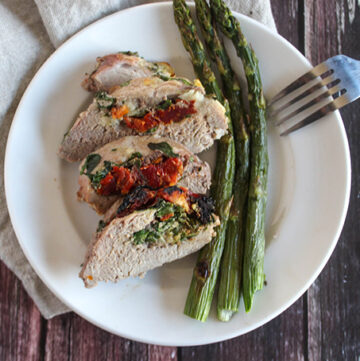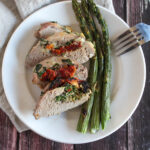 Hasselback Pork Tenderloin is a delicately flavored pork tenderloin stuffed with spinach, feta, and sun-dried tomatoes. It's an easy recipe that looks elegant, tastes great, and cooks quickly. Perfect dinner for any night of the week!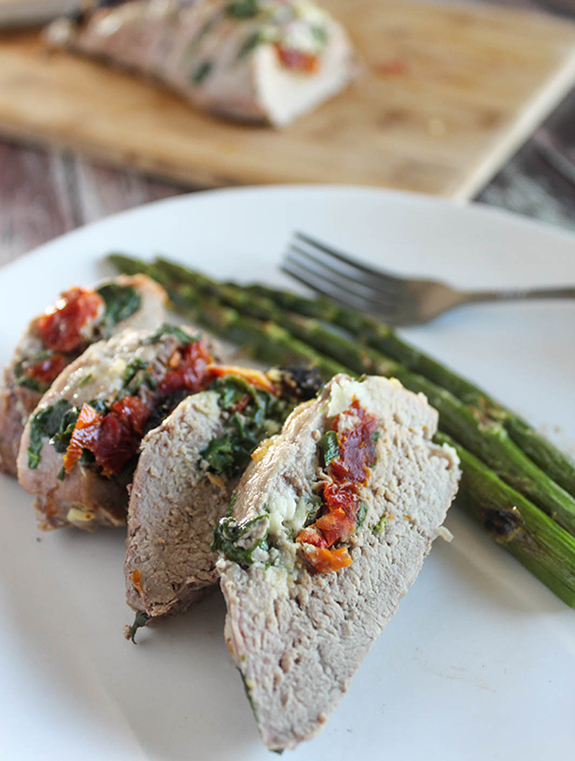 Pork tenderloin also known as pork fillet is a tender cut of pork that is lean, juicy, and flavorful. It is a lean cut of pork that cooks quickly and can dry out. The addition of the vegetable-filled stuffing in this recipe adds moisture allowing for the meat to stay tender and juicy.
This recipe is easy to make and is a great option to serve to guests or for a family dinner. We like to serve it with a side of asparagus for a complete and delicious dinner.
🤍Why you will love this recipe
It's a simple recipe made with a few simple ingredients and very little prep work is required.
It's healthy! Pork tenderloin is lean and it's filled with healthy spinach.
Here is what you will need
This is an overview of the ingredients and steps to make this recipe; scroll down for a printable recipe card with exact measurements and detailed instructions.
As an Amazon Associate, I earn from qualifying purchases.
🛒Ingredients
Extra virgin olive oil
Pork tenderloin
Baby spinach
Sun-dried tomatoes
Garlic
Feta cheese
🥄Equipment
How to make Hasselback pork tenderloin
Line a rimmed baking sheet with parchment paper and preheat the oven to 425 degrees f.
Chop the spinach, garlic, and sun-dried tomatoes, and add them to a small mixing bowl with feta cheese crumbles. Use a wooden spoon to combine all of the ingredients together.
Use a sharp knife to cut horizontal slices in the pork tenderloin that are about 1 ½ inches apart while being careful to not slice all the way through.
Stuff the mixture in between the slices of the pork.
Place the stuffed pork tenderloin onto the prepared baking sheet and place it on the middle rack of the preheated oven and bake for 15 minutes, reduce the heat and bake for 5 to 10 minutes longer until the internal temperature of the pork is at least 145 degrees f.
Tip! Pork tenderloin cooks fast. Use a reliable instant-read meat thermometer for the quickest and best results.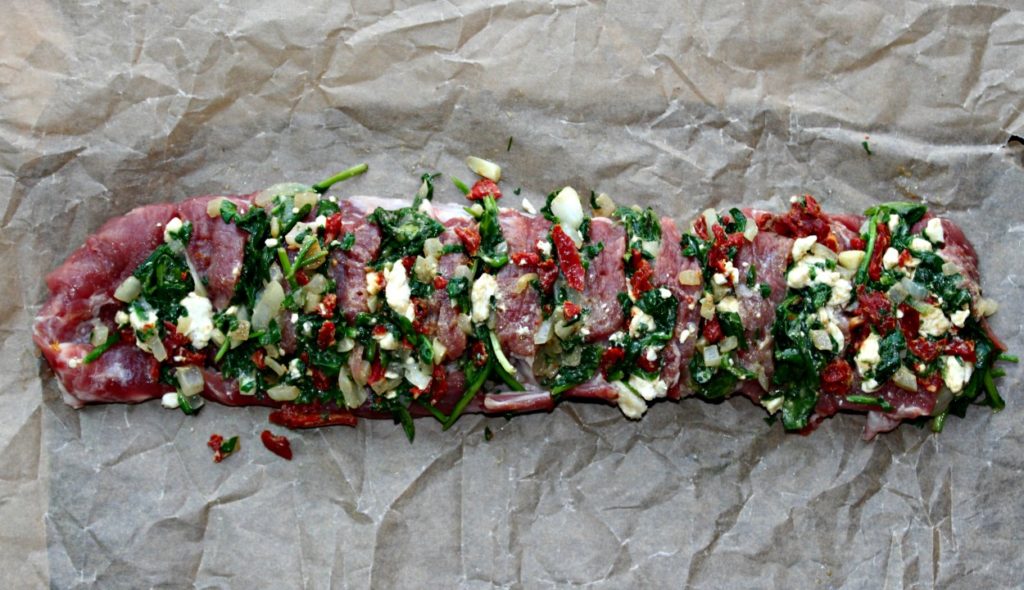 Ingredient notes and substitutions
The complete list of ingredients to make this delicious pork recipe is above. Below are notes about some of the ingredients, along with ideas for substitutes.
Pork tenderloin - Pork tenderloin should not be confused with a pork loin in this recipe. The average size of pork tenderloin is 1 to 2 pounds and cooks quickly.
Pork loin can be used as a substitute but you will need to double the stuffing recipe and increase the cooking time to 25 minutes per pound of meat or until the internal temperature is at least 145 degrees.
Sun-dried tomatoes - I like to use dry sun-dried tomatoes in this recipe. They can be substituted with oil-packed, but they should be rinsed in water before using them in the stuffing.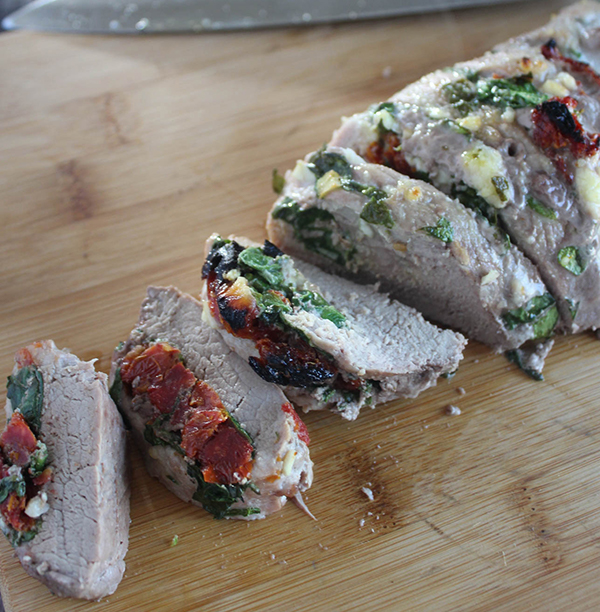 How to store leftover Hasselback pork tenderloin
Since this is a small cut of meat, you may not have leftovers, but if you do, store leftovers in an airtight container in the refrigerator for up to 4 days.
Serve leftovers in a sandwich or salad.
Recipe variations
Hasselback chicken breasts - replace the pork tenderloin with boneless chicken breasts. Lower the initial oven temperature to 375 degrees f and cook for 30 to 40 minutes until the internal temperature of the chicken has reached at least 165 degrees f.
Change up the vegetables - Instead of or in addition to baby spinach, try using any combination of chopped baby kale, roasted peppers, mushrooms, or olives.
Add fruit - Stuff the work with a thin apple slice or pear slice and cheddar cheese.
Change up the cheese - Replace feta cheese with freshly grated Parmesan cheese, mozzarella cheese, or goat cheese crumbles.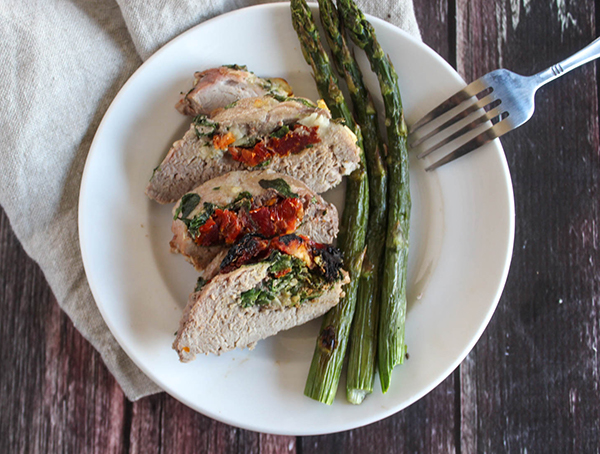 📝Sign Up!
Drop your email below and receive healthy cooking tips, recipes, and more!
Serving suggestions
Serve Hasselback stuffed pork tenderloin with a side of baked potato, roasted baby potatoes, green beans, roasted Brussels sprouts, or asparagus for a simple dinner.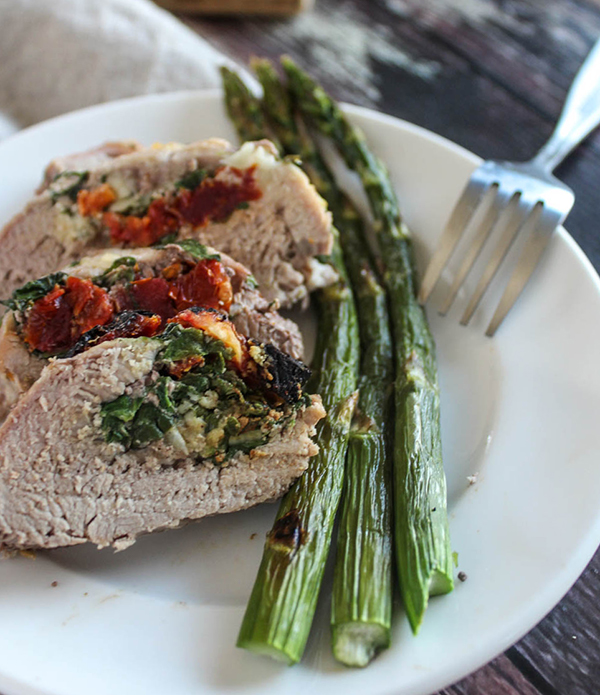 💡Tips
When slicing the pork tenderloin to stuff it, place an object such as a wooden spoon on each side to stop the knife from cutting all of the way through the pork to the cutting board.
Pork tenderloin cooks quickly, and may not be brown when it has finished cooking. To achieve a browned look, change your oven setting to broil during the last few minutes of cooking.
Use a butter knife to help you push the stuffing ingredients into the slices in the meat.
What is the difference between a pork loin and a pork tenderloin?
A pork tenderloin is a small cut of meat that is from the muscle that runs down either side of the backbone of a pig. It's lean, tender, and mild. A pork loin or pork roast, on the other hand is a larger cut of meat (usually 2 to 5 pounds) that comes from the pig's back. Pork loin is also fairly lean and you can get it boneless or bone in. It takes longer to cook and isn't typically a good substitute for pork tenderloin in recipes.
What is Hasselback style?
Hasselback is a cooking method in which potatoes or other foods are sliced almost all the way through in thin layers and then stuffed with flavorful fillings. The name came from a restaurant in Stockholm Sweden, Hasselbacken, where the recipe for Hasselback potatoes was first introduced in the 1940s.
You might also like these recipes
Do you like this recipe?
Please comment and give it a ⭐⭐⭐⭐⭐ rating below!
📖 Recipe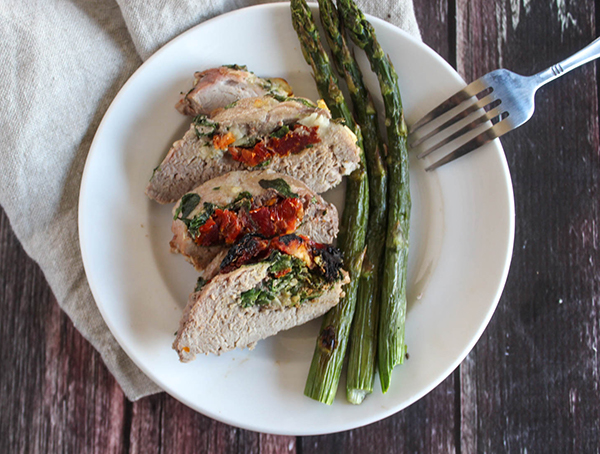 Click on serving size to scale this recipe
Instructions
pre-heat oven to 425

clean and trim pork tenderloin and remove silver skin

Slice the tenderloin by cutting ¾ of the way through horizontally a half inch apart

mix the spinach, sun-dried tomatoes, feta cheese and garlic together

with a spoon stuff each opening with the sutffing mix

brush with olive oil and place the tenderloin onto a parchment lined baking sheet, and roast for approximately 15 minutes - until internal temperature reaches 145.
Notes
Store leftover stuffed pork tenderloin in an airtight container in the refrigerator for up to four days.
See the article above for recipe tips, variations and more
Nutrition
Serving:
4
ounces
|
Calories:
212
kcal
|
Carbohydrates:
3
g
|
Protein:
28
g
|
Fat:
9
g
|
Saturated Fat:
3
g
|
Polyunsaturated Fat:
1
g
|
Monounsaturated Fat:
5
g
|
Trans Fat:
0.03
g
|
Cholesterol:
90
mg
|
Sodium:
198
mg
|
Potassium:
664
mg
|
Fiber:
1
g
|
Sugar:
0.05
g
|
Vitamin A:
831
IU
|
Vitamin C:
10
mg
|
Calcium:
66
mg
|
Iron:
2
mg
Nutrition information provided is an estimate and can vary based on cooking methods and ingredients used
Check out more of our Pork Recipes here!