Roasted yellow potatoes are a delicious side dish recipe that goes with everything.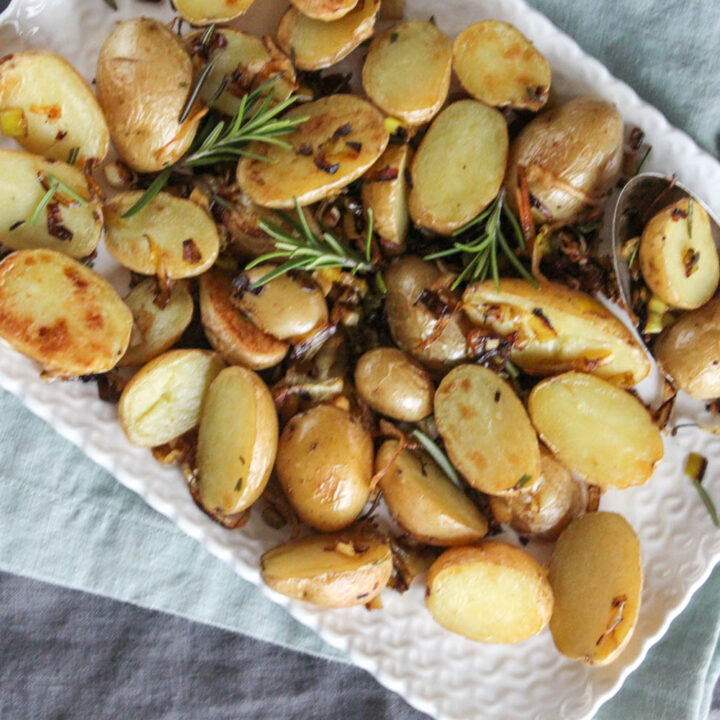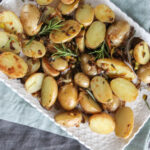 Roasted yellow potatoes with Garlic and Caramelized Leeks are an easy potato side dish. They are buttery, garlicky, fluffy inside and slightly cripsy on the outside.
Potatoes, in my opinion, are the ultimate comfort food and there are so many ways to prepare them. One of my favorite ways is to roast them. It's easy and hands-off, you can put the potatoes in the oven to let them roast while you prepare the rest of your meal.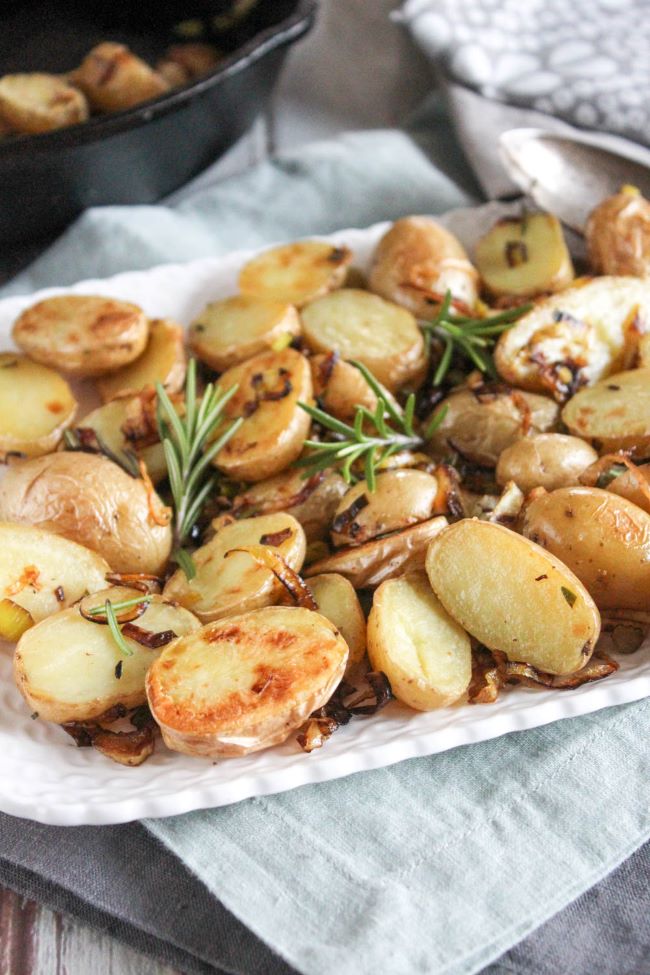 I received produce from Melissa's Produce Company to make this recipe. As always all opinions are my own.
Recipe Highlights
This recipe for roasted yellow potatoes is so easy to make. You can also prepare everything ahead of time and roast them when it's almost time to eat.
It's a customizable recipe, use a different type of potato, or herbs.
There are so many ways to use up leftovers if there are any.
Here is What You Will Need
Baby yellow potatoes
Extra virgin olive oil
Unsalted butter
Sliced leeks
Chopped fresh garlic
Fresh Rosemary and Thyme - stems removed
Skillet
Collander
Mixing Bowl
Here is How to Make Roasted Yellow Potatoes
Toss the potatoes with olive oil in a glass bowl.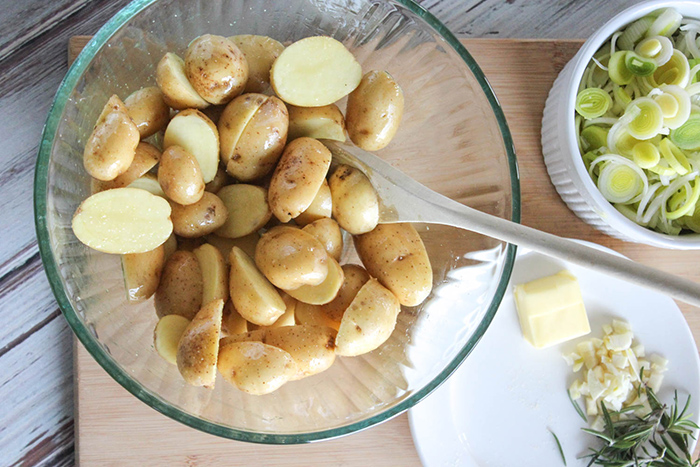 arrange them on a parchment lined baking sheet.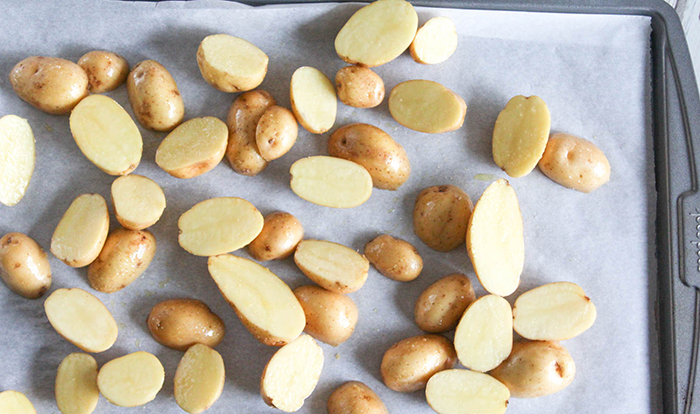 Roast them until they turn golden and are fork tender.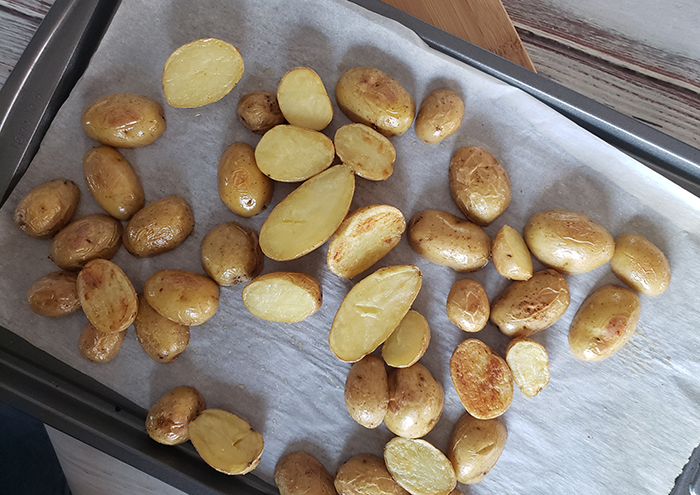 While the potatoes are cooking, melt the butter in a skillet; add the leeks and garlic; caramelize them until they begin to brown.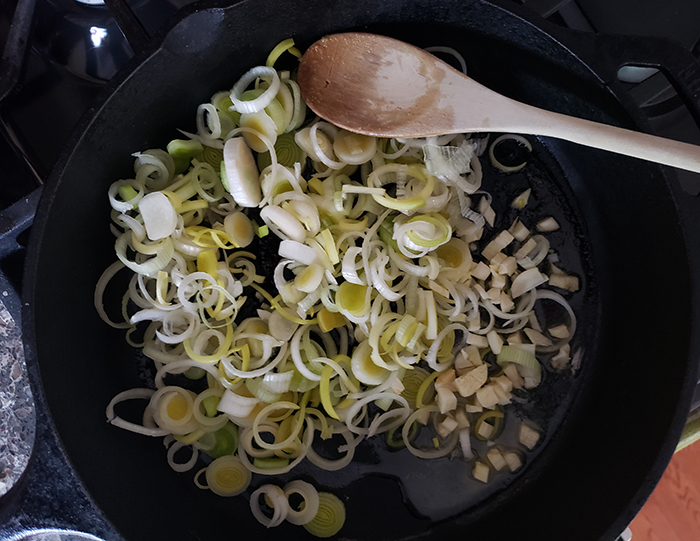 Add the fresh rosemary and thyme and cook for a few minutes longer.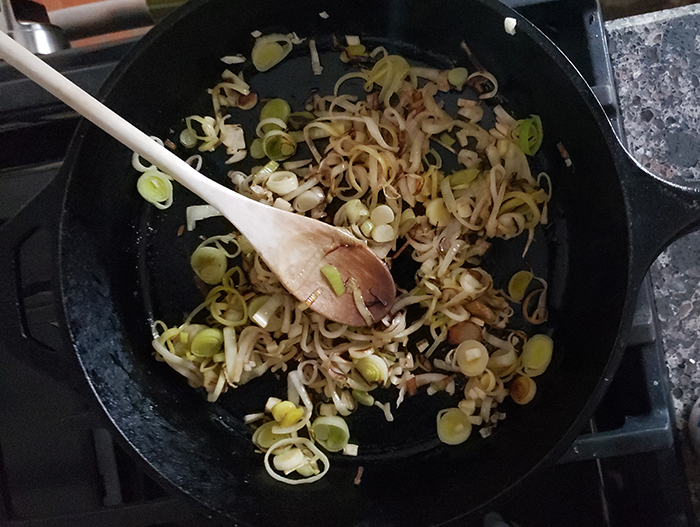 Toss the roasted potatoes in the butter/leek mixture and serve.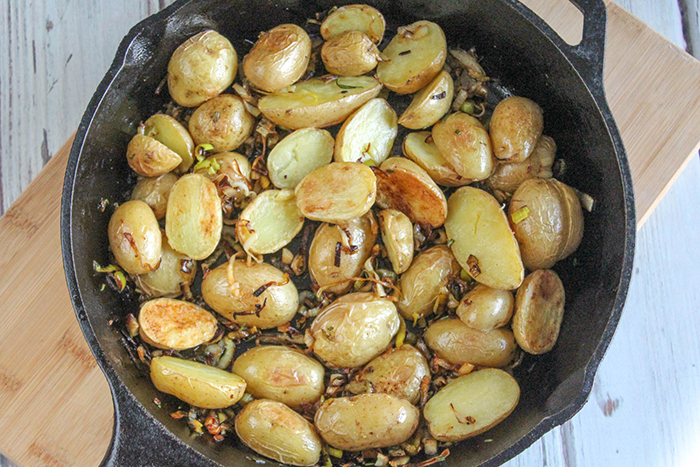 Total Estimated Time to Make This Recipe: 40 to 50 Minutes
Serving Suggestions
Roasted potatoes taste great as a side dish to any seafood or meat entree. We like them with Pork Chops, One-Pan Chicken with Broccoli, or shrimp.
Roasted Yellow Potatoes Ingredient Notes
The Best Potato to use for Roasting
You can use any type of potato that you like for roasting, but I prefer to use baby potatoes. They have a bit of a waxy texture and lower starch content than larger yellow potatoes and they hold their shape nicely after they have been cooked.
If you don't have baby potatoes, you can use larger potatoes that are cut into chunks that are 1 ½ to 2 inches in size.
To Peel or Not to Peel the Skin off Before Roasting the Potatoes?
This is really your preference. The skin on the potato contains most of the nutrients of the potatoes, so if you don't mind the skin on, you are making a healthier choice. If you don't like the skin, you can peel it off before roasting using a potato peeler.
How to Easily Clean Leeks
Dirt can get caught inside leeks and be difficult to get out. The easiest way to clean them is to rise them off and slice them into rings or strips from the root end.
Place the rings in a bowl of cold water and swish them around with a spoon or your hands.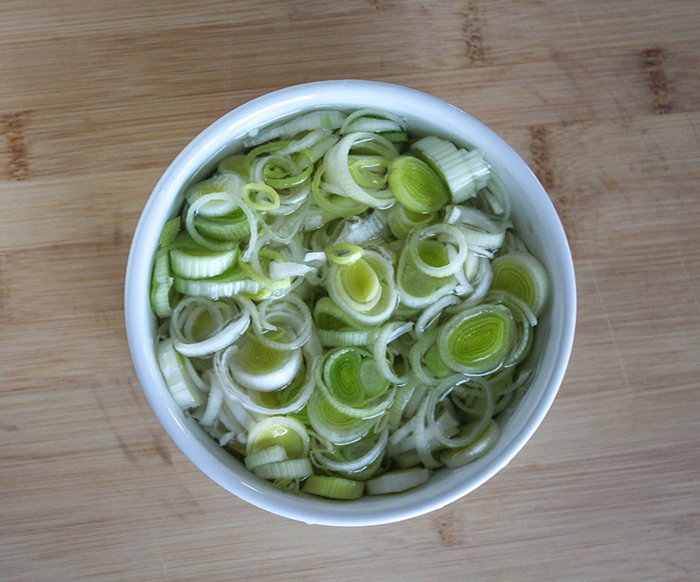 Scoop them into a colander and run them under water for one final rinse.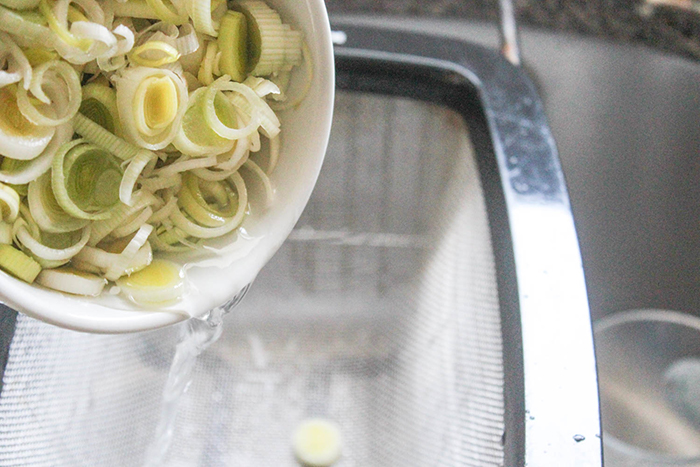 Pat the leek slices dry and get ready to caramelize them.
How to Caramelize Leeks
Caramelizing leeks is similar to caramelizing onions, but it doesn't take as long. Here is my recipe for caramelizing onions.
The steps are similar to caramelizing onions, but the leeks will caramelize in about half the time that it takes for the onions. The most important part is to keep them from sticking to the pan. This can be avoided by adding a small amount of water, butter, or olive a little at a time.
In this recipe I used all butter to caramelize the leeks, you can also use a combination of butter and oil (½ butter ½ oil) or all oil.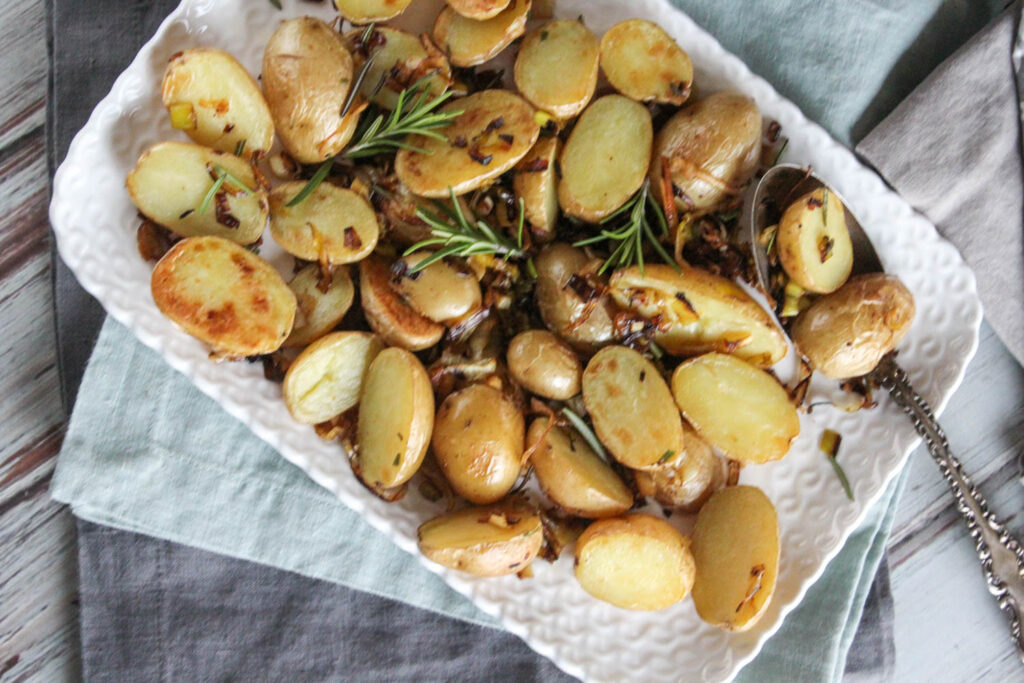 Ingredient Substitutions
Caramelized leeks can be substituted with 6 ounces of sliced onions.
Change up the fresh herbs, and try any of these: parsley, basil, oregano, dill
Dried Rosemary and Thyme can be used in place of fresh by replacing them with 1 teaspoon of each.
Stir 1 tablespoon dijon mustard into the caramelized leeks before adding the roasted potatoes.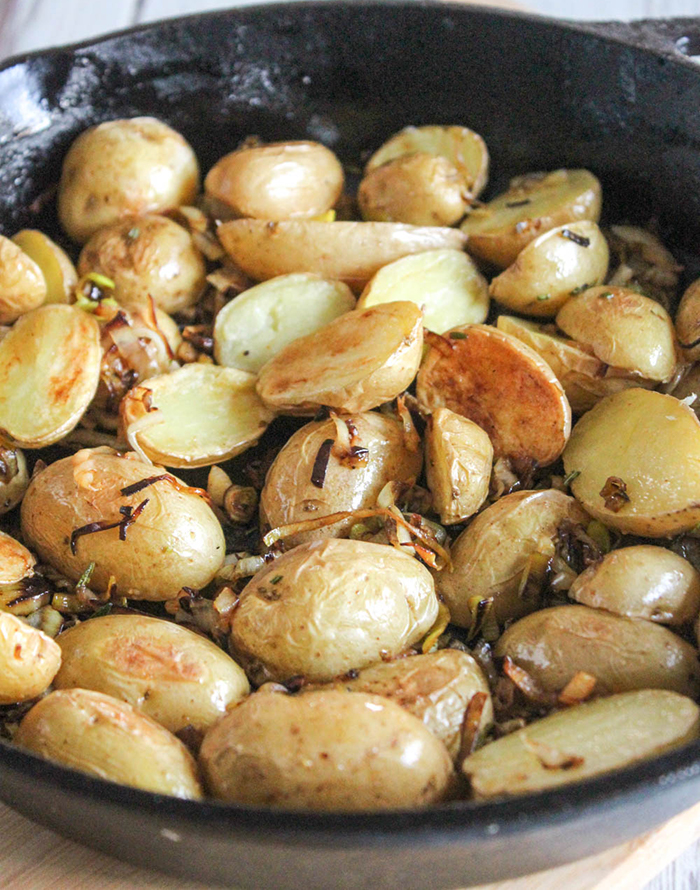 Make-Ahead Instructions
This is an easy recipe to prepare ahead of time earlier in the day or the day before. Clean and cut the leeks and store them in an airtight refrigerator conatiner.
Clean the potatoes and slice them in half. Store them in the refrigerator in an airtight container.
Just before serving, roast the potatoes and caramelize the leeks.
How to Store and Re-Use Leftovers
Store leftover roasted potatoes in the refrigerator for up to three days.
They can be reheated in the oven or on top of the stove. Leftover potatoes taste great served with sauteed bell peppers as a side to scrambled eggs or added to an omelet.
You Might Also Like These Recipes
📖 Recipe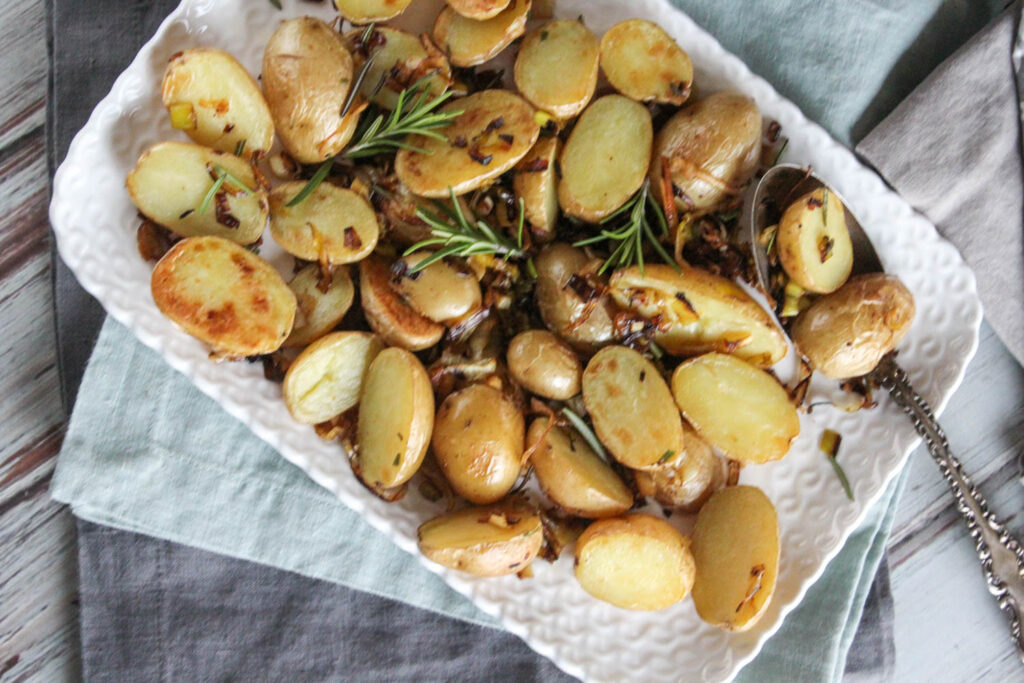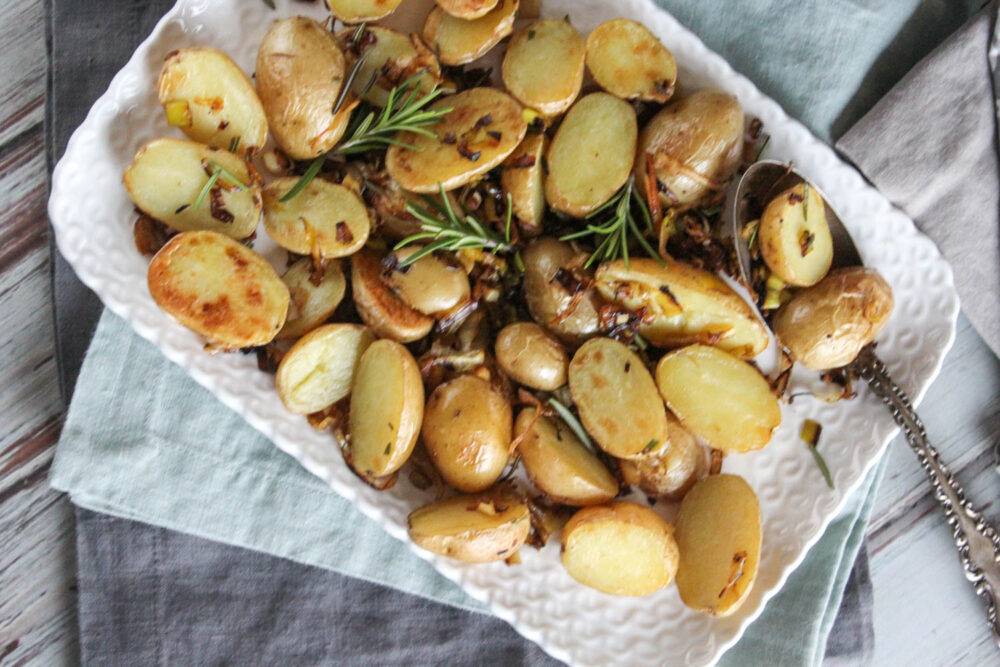 Click on serving size to scale this recipe
Ingredients
1 ½

pounds

baby yellow potatoes

1

tablespoon

extra virgin olive oil

1 ½

tablespoons

unsalted butter

6

ounces

sliced leeks1 tablespoon of fresh Rosemary and Thyme - stems removed
Instructions
pre-heat the oven to 410

slice the leeks and place them in a bowl of cold water for about 5 minutes.

drain them and rinse them again in a colander, pat them dry and set them aside.

slice the baby potatoes in half and place them in a bowl toss them with oil and a little bit of sea salt and pepper to taste.

arrange the oil-coated potatoes on a parchment-lined baking sheet and bake them until they are fork-tender which will be about 15 to 20 minutes.

while the potatoes are cooking, add the butter to a skillet and melt it over medium heat. Once the butter has melted add the sliced leeks with garlic and begin to caramelize them; this should take about 15 minutes.

add the chopped rosemary and the roasted potatoes; toss everything together and serve immediately.
Notes
Yukon Gold or larger yellow potatoes can be used in place of the baby potatoes. Cut them into chunks that are 1 ½ to 2 inches in size.
Nutrition information provided is an estimate and can vary based on cooking methods and ingredients used