This recipe for Healthy Potato Salad with Fresh Herbs is not only gluten-free and vegan, but it's also delicious! Not to mention creamy.
You won't even miss the mayonnaise since this mayo-free potato salad has a variety of flavors that make up its creaminess.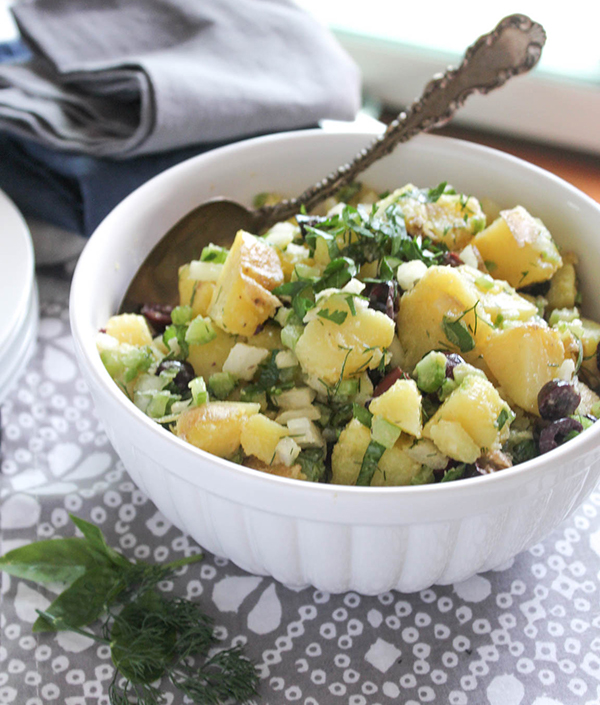 This recipe was originally posted in 2017, it's been updated for content and photos.
Once you have a bite of this no mayo potato salad, it will be your new favorite! Serve it at your next outdoor get-together with cucumbers and onions in vinegar.
Why this Recipe Works
It's healthy, versatile and delicious!
It can be made ahead of time, perfect to serve to guests or bring to a potluck.
Here is What You Will Need
As an Amazon Associate, I earn from qualifying purchases
This is an overview of the ingredients and steps to make this recipe, scroll down for a printable recipe card with exact measurements and instructions.
This is an overview of the ingredients and steps to make this recipe, scroll down to see ingredient notes and substitutions as well as a printable recipe card with exact measurements and complete cooking instructions.
Ingredients
Yukon gold potatoes
Celery
Onion
Kalamata olives
Fresh basil
Fresh dill
Oregano
Apple cider vinegar
Extra virgin olive oil
Dijon mustard
---
Here is How To Make This Healthy Potato Salad Recipe
Prepare the ingredients: clean the potatoes, cut them in half and place them into a saucepan and cover them with water. Bring them to a boil over high heat.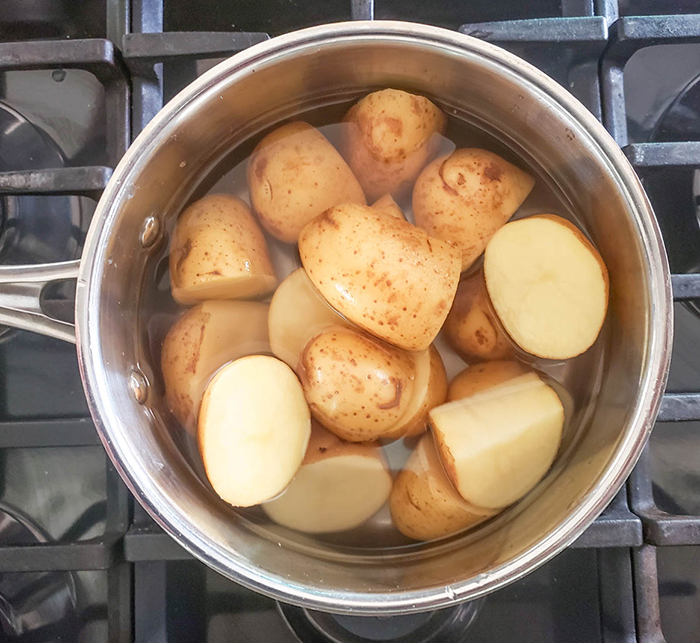 Step 1. Once the potatoes begin to boil, reduce the heat to medium, and cook the potatoes until they are tender when pierced with a fork (approximately 20 to 30 minutes)
Tip! Be sure to cut the potatoes into equal-sized pieces so that they will cook evenly.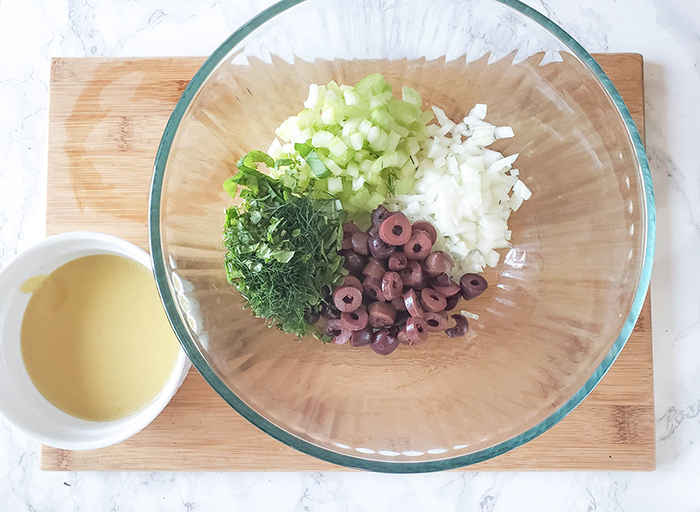 Step 3. While the potatoes are cooking, chop the vegetables and herbs. Place them into a mixing bowl and mix up the dressing ingredients.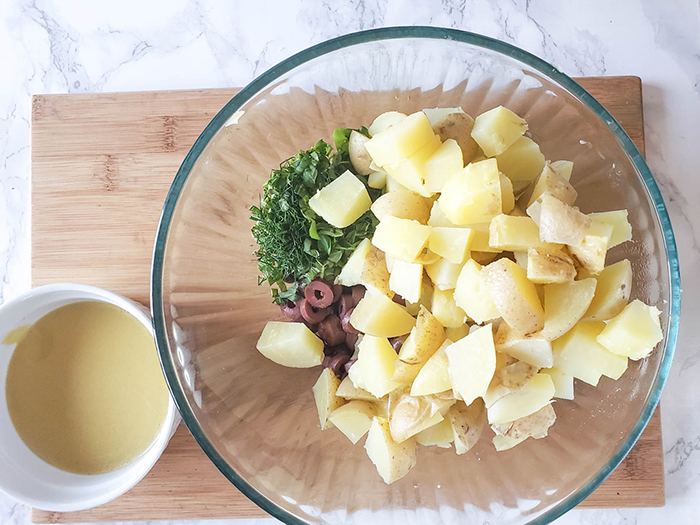 Step 4. Once the potatoes have cooked, drain and rinse them in cold water. When they are cool enough to handle, cut them into bite-sized pieces and add them to the bowl with the vegetables.
Tip! Leave the skin on the potatoes for extra fiber, flavor, and vitamins.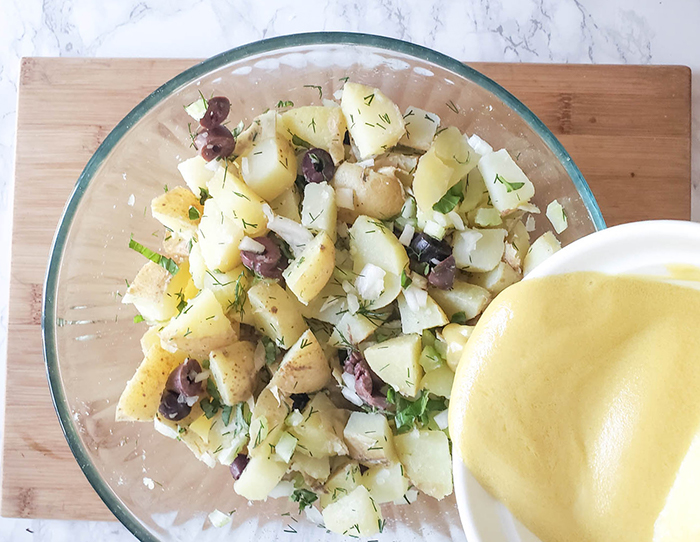 Step 5. Pour the dressing over the salad.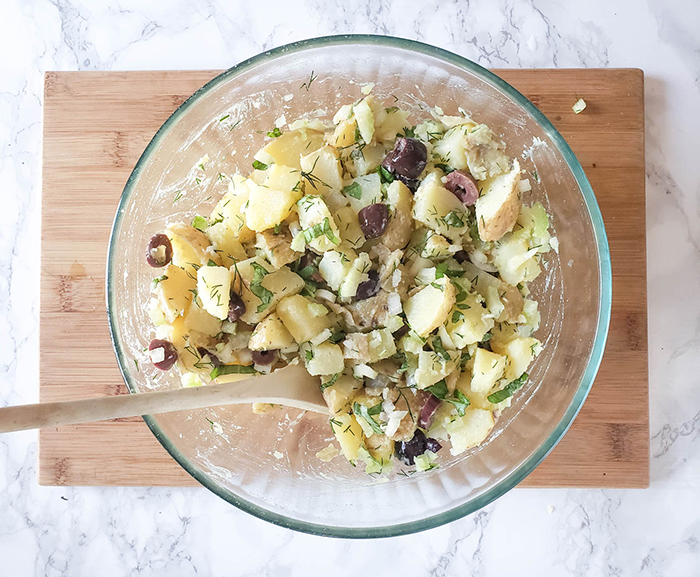 Step 6. Mix everything together.
Tip! If you are not serving the salad right away, reserve ¼ to ½ and pour it over the salad just before serving.
Total Estimated Time to Make This Recipe: 30 to 40 Minutes
Ingredient Notes & Substitutions
Potatoes. The best type of potatoes to use in potato salad is yukon gold potatoes. If they are not available, look for potatoes with a low starch content such as red, new or fingerling.
Onions. Add just the right amount of sweet onion flavor to homemade potato salad. I like to use sweet Vidalia, yellow or red onions.
Pitted kalamata olives add a touch of salty flavor to the salad. If you don't care for olives, they can be left out.
Substitute olives with dill pickle chunks or one slice of crumbled bacon which will still add salt to the salad.
Fresh Herbs If you don't have the suggested herbs to make this recipe, you can use just one or any combination of your favorite herbs.
Substittue fresh herbs for ⅛ teaspoon of your favorite dried herbs.
Apple Cider Vinegar. Adds a tang to the salad.
Substitute apple cider vinegar one for one with white wine vinegar or rice vinegar.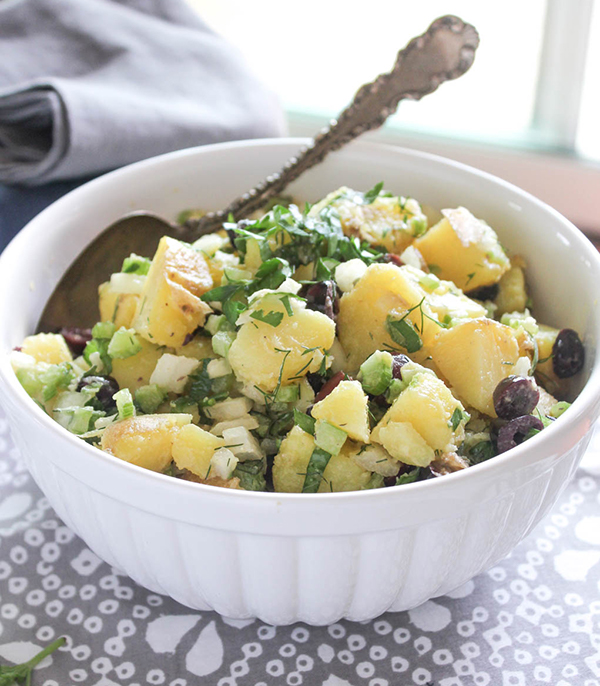 Serving Suggestions
We love to serve potato salad on the weekends with grilled burgers, like this caramelized onion burger, or a Greek Turkey Burger with a side of Veggie Noodle Salad.
Make-Ahead Instructions
For best results, make this potato Salad with herbs ahead of time by following the recipe instructions, but use half of the dressing, and refrigerate for up to a day.
To serve it, take it out of the refrigerator for 15 to 20 minutes before serving and bring it to room temperature. Stir in the remaining dressing and serve.
Storing Leftovers
Store leftover potato salad in the refrigerator in a covered container for three to four days.
Freezing leftover potato salad is not recommended.

Recipe Variations
Add any combination of these: one chopped hard boiled egg, 1 slice of crumbled bacon, ¼ cup feta cheese, 1 tablespoon sweet or dill relish, 2 tablespoons chopped dill or sweet pickles.
For a creamier texture, add 1 to 2 tablespoons of plain Greek yogurt, or if you can't live without mayo in your salad, add a tablespoon.
Your Potato Salad Questions Answered
Here are the most commonly asked questions about this potato salad recipe. If your question isn't answered below, leave me a comment below and I will get back to you as soon as I can.
Is it ok to use russet potatoes in potato salad?
Waxy potatoes (new, red, or fingerling) or yellow potatoes are the best potatoes to use in potato salad recipes. Russet potatoes are more starchy, and will fall apart easily and are not the best potato to use in salads.

Can you make potato salad using leftover roasted potatoes?
Yes, you can! Cut the roasted potatoes into bite sized pieces, add the veggies and top with dressing.
Check out these no mayo recipes