Creamy deviled eggs are made with Greek Yogurt instead of Mayonnaise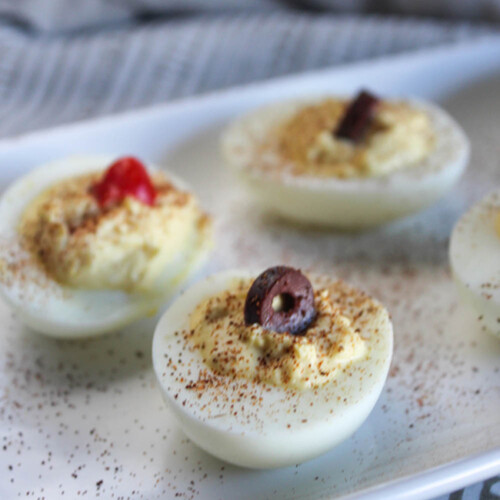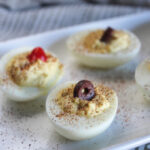 No Mayo Deviled Eggs are made with healthy Greek yogurt in place of mayonnaise for a creamy filling that is a delicious twist on traditional deviled eggs.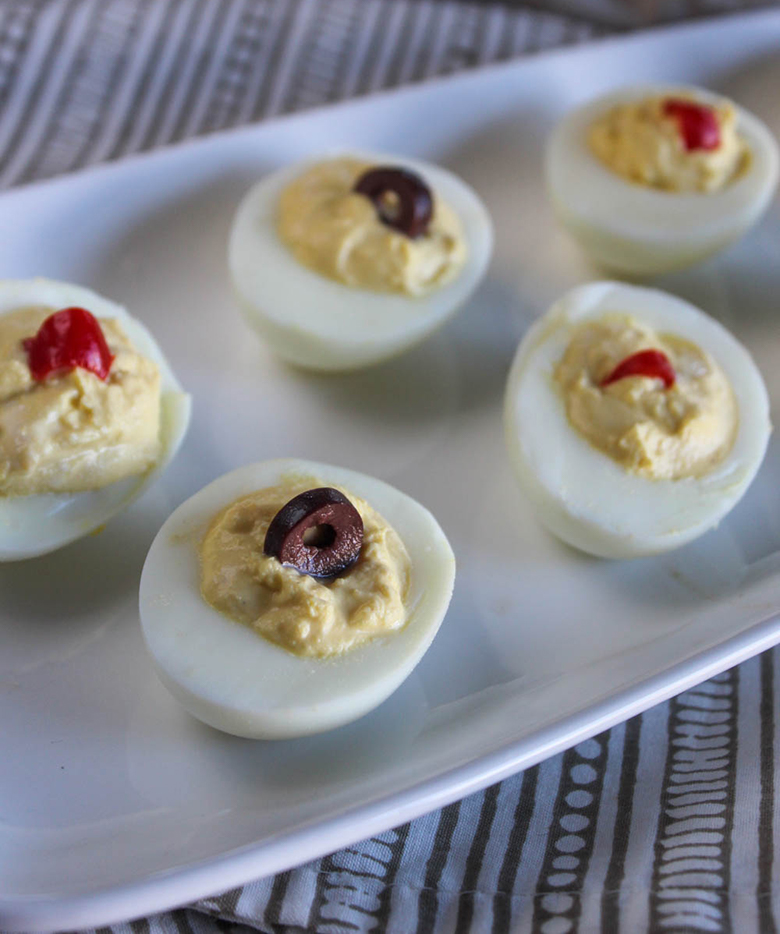 Deviled eggs are a favorite on the appetizer table. They are bite-sized, easy to eat and are the perfect addition to a charcuterie board.
These deviled eggs are made with Greek yogurt instead of mayonnaise, are a much healthier option and they taste so good!
They have all of the classic flavors of traditional flavor and more! We love how the yogurt and mustard add a slightly tangy flavor, and I'm sure you will too.
If you like this recipe, you might also like this recipe for deviled egg salad!
Why you will🤍this recipe
It's an easy recipe that is a healthy appetizer or snack that requires only four ingredients!
Deviled eggs are so versatile. Change them up by adding different ingredients, see suggestions below.
Greek yogurt deviled eggs are an excellent source of protein.
Jump to: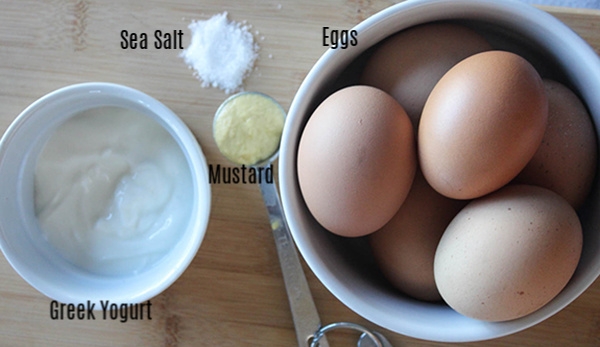 Here is what you will need
🛒Ingredients
Eggs
Plain Greek yogurt
Dijon mustard
Sea salt
🥄Equipment
How to make this no mayo deviled eggs recipe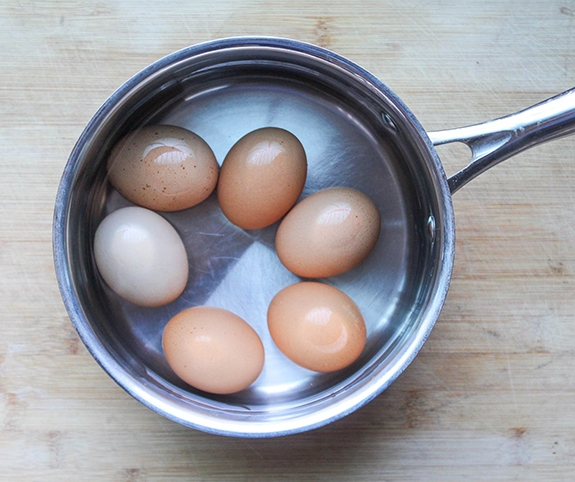 Step 1. Boil the eggs
Place the eggs into a saucepan and cover them with water. Bring the eggs to a rolling boil. Turn the heat off, cover the pan and let the eggs sit in the hot water for 15 minutes.
Step 2. Drain and cool the eggs
Drain the hot water from the eggs, and rinse them in cold water. Once they are cool enough to handle peel them.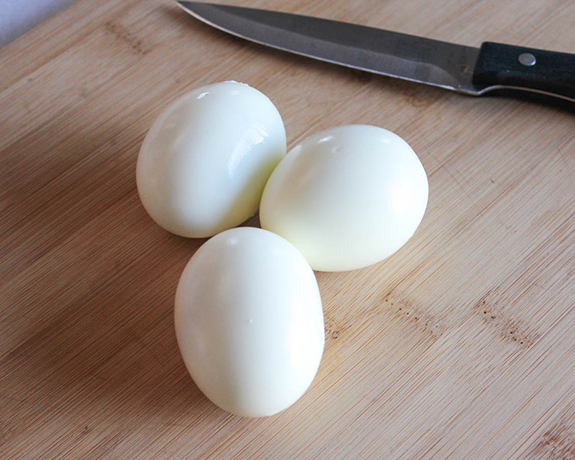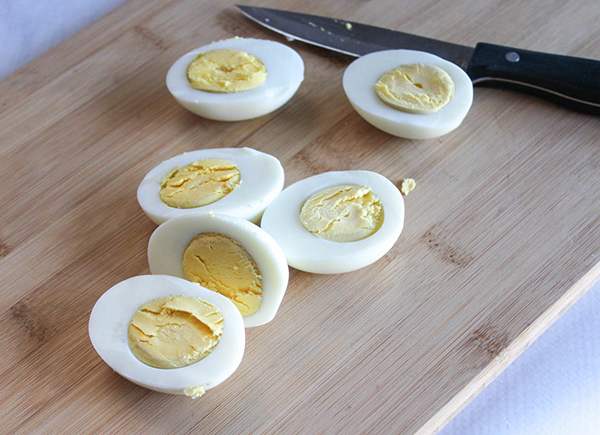 Step 3. Slice the eggs
Slice each hard boiled egg in half horizontally, and use a teaspoon spoon to scoop out the egg yolks from the egg whites.
Step 4. Blend the egg yolk mixture
Set the egg white halves aside, and place the egg yolks, Greek yogurt and mustard into the bowl of a food processor.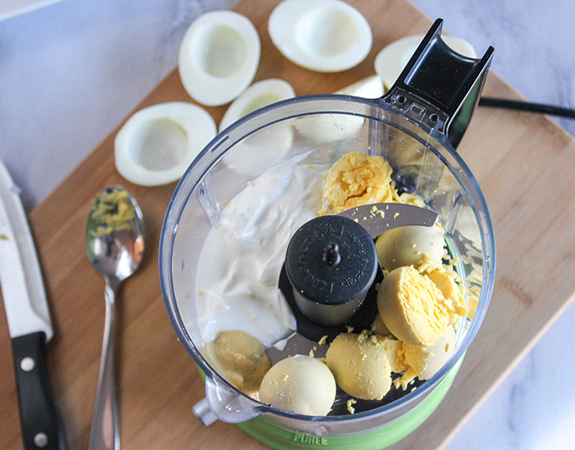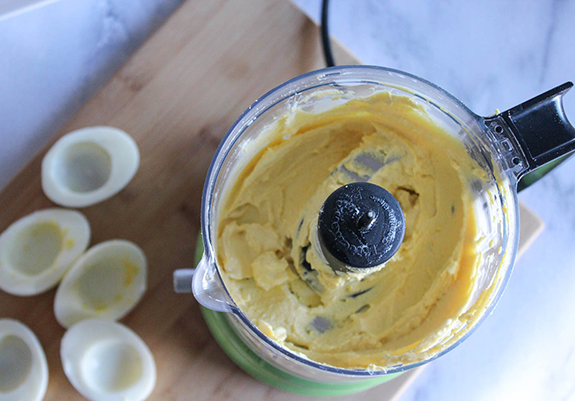 Step 5. Blend the ingredients.
Blend the egg yolk mixture into a creamy texture. Season to taste with sea salt.
Step 6. Fill the egg whites
Use a teaspoon, a piping bag or pastry bag to fill the egg whites with the yolk and yogurt filling.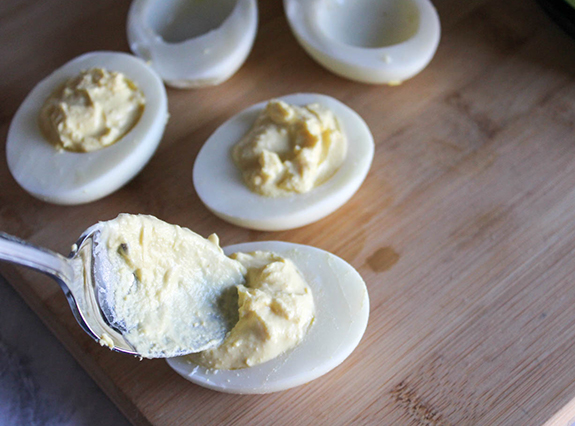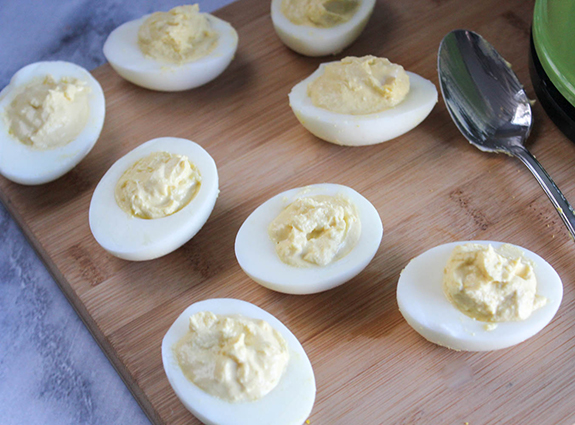 Step 7. Garnish and serve
Garnish the eggs with chopped olives, pickle relish, chopped roasted red pepper, pickles, or peppers, and a little paprika, sea salt and black pepper.
Note: If you don't have a food processor, a high-speed blender, electric mixer, and even a fork can be used to mash the egg yolks with Greek yogurt.
Ingredient Notes & Substitutions
The complete list of ingredients to make this flatbread pizza is above. Below are notes about some of the ingredients, along with ideas for substitutes.
Greek Yogurt - Regular plain yogurt, Icelandic yogurt or sour cream can be substituted with an equal amount of Greek yogurt in this healthy deviled eggs recipe.
Dijon Mustard - Dijon mustard can be substituted with spicy brown mustard or yellow mustard.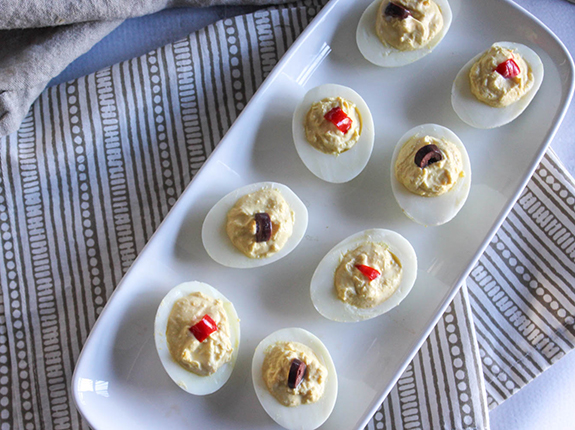 Deviled Egg Recipe Variations
Add any of the following to the food processor with the egg yolk and yogurt mixture:
Hot and Spicy - 1 tablespoon of sriracha sauce and a sprinkle of paprika.
Hot and Smokey - 1 tablespoon of your favorite hot sauce and sprinkle with smoked paprika.
Southern Style - 1 tablespoon of sweet pickle relish and a splash of pickle juice
Pesto Eggs - 1 ½ tablespoons of your favorite pesto
Mexican Style - 1 tablespoon salsa and chopped jalapeno, a pinch of garlic powder for spicy Mexican style
Smokey Eggs - ½ teaspoon smoked paprika and bacon crumbles.
Savory and Hot - 1 teaspoon (more or less to taste) of horseradish
Ranch Deviled Eggs- replace Greek yogurt with Greek yogurt ranch dressing.
Diary Free- replace Greek yogurt with hummus or dairy-free yogurt
Mayo version - If mayonnaise is your favorite way to enjoy deviled eggs, use mayo or use half mayonnaise and half yogurt.
Serving Suggestions
Serve no-mayo deviled eggs as a bite-sized party appetizer, snack, light lunch or breakfast. They are a great source of protein for lunch try them with a kale salad, brussels sprout salad or a veggie sandwich.
How to Store Leftover Deviled Eggs
Deviled eggs taste best fresh, but they will keep for up to two days in the refrigerator in an airtight container.
Make-ahead instructions
Boil the eggs and store them in the refrigerator for up to three days. Just before serving, peel the eggs, slice them and make the filling.
You can also make the filling and store the egg whites and filling in separate containers for up to one day. Just before serving, remove the filling and whites from the refrigerator 15 minutes before assembling the eggs.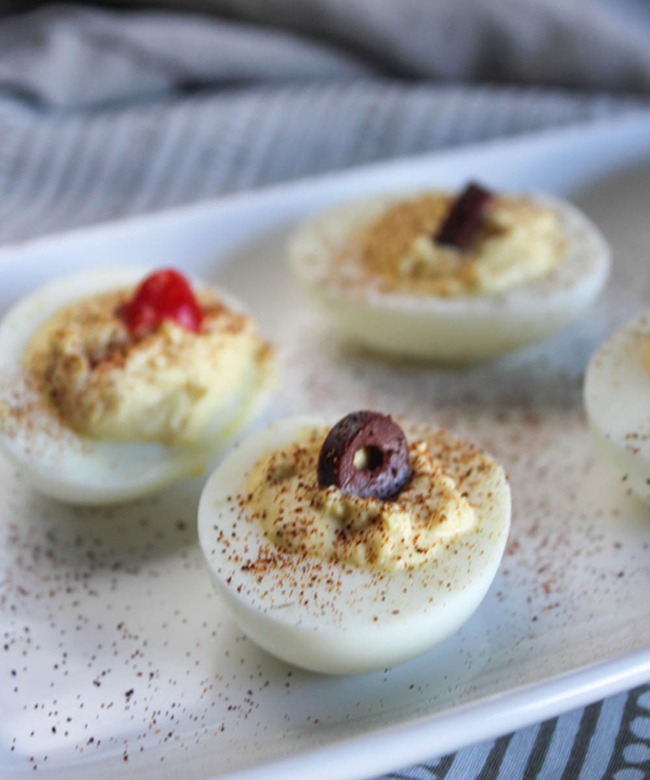 💡Tips
Add ½ tablespoon of baking soda to the water when boiling the eggs. This will help to easily remove the shells.
Refrigerate deviled eggs until just before serving, and don't let them stay at room temperature for longer than two hours.
How do you thicken watery deviled eggs?
If your deviled eggs are watery, add one of two more mashed egg yolks.
How do you thin out thick deviled eggs?
If the deviled egg filling is too thick, gradually add olive oil or a little bit more of Greek yogurt or a splash of apple cider vinegar.
GET YOUR FREE GUIDE!
Whip up quick and delicious meals with the ingredients you have in your kitchen!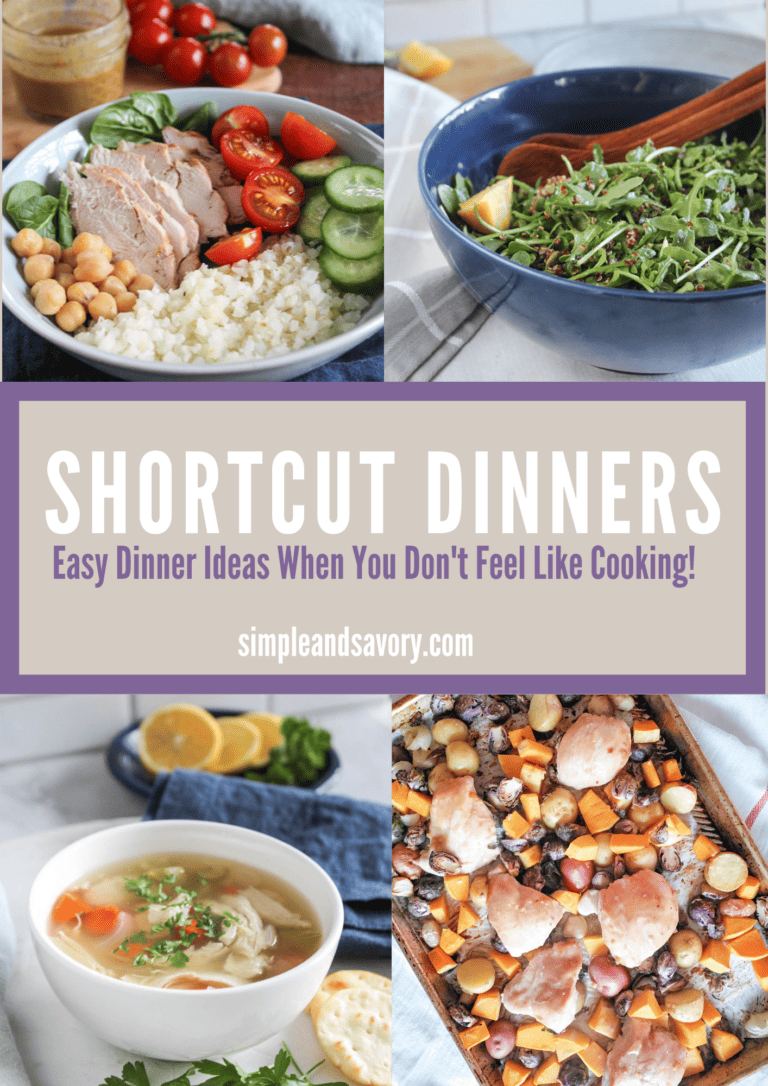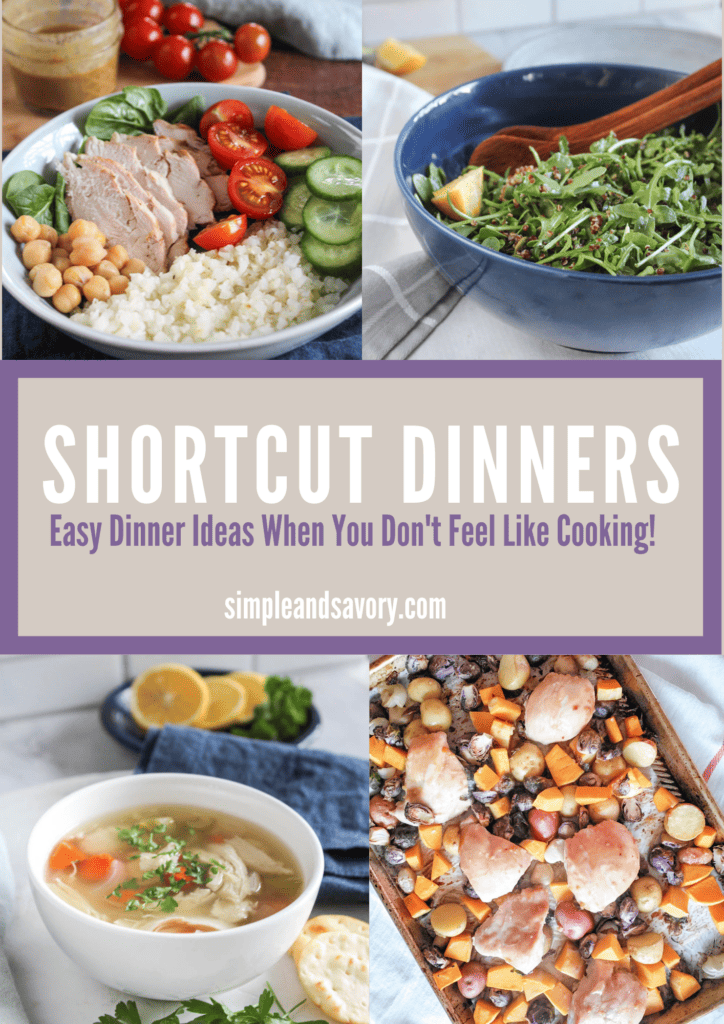 You Might Also Like These Appetizer Recipes:
Do you like this recipe?
Please comment and give it a ⭐⭐⭐⭐⭐ rating below!
📖 Recipe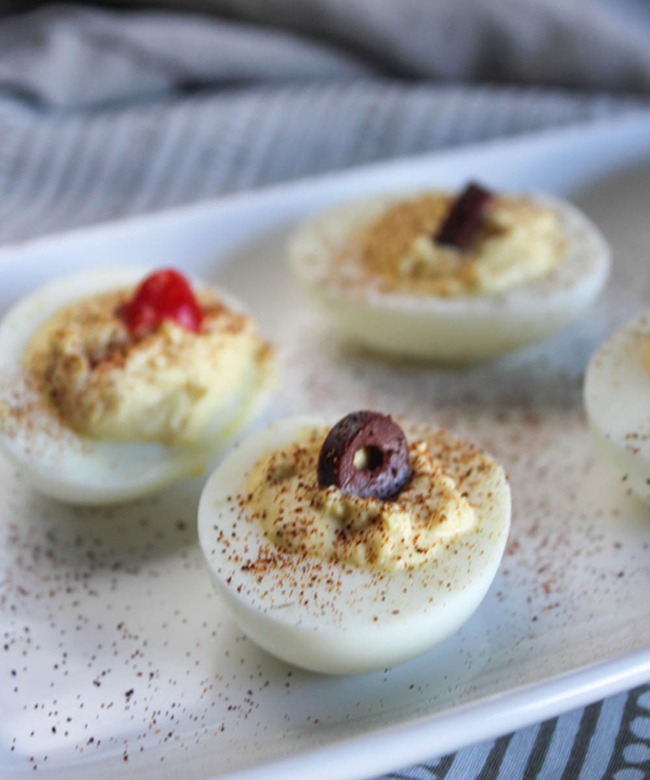 Click on serving size to scale this recipe
Instructions
place the

6 eggs

into a pan and cover them with water, and bring them to a boil.

once the water boils, turn the heat off and let the eggs sit in the hot water for about 15 minutes.

rinse the eggs under cold water to cool them off.

once the eggs are cool enough to handle peel them and slice in half horizontally.

scoop out the yolks and set the whites aside.

place the yolks into a food processor, add a ¼ cup Greek yogurt, 2 teaspoons mustard; blend until the mixture is creamy.

Using a teaspoon, scoop out the yolk mixture and drop it into each egg white. Or you can place the yolk mixture into a pastry bag, zip lock bag and cut off one corner. Squeeze the mixture into each egg white - garnish as desired.
Notes
Store leftover deviled eggs in the refrigerator for up to two days.
See the article above for recipe variations, tips and more.
Nutrition
Serving:
1
egg
|
Calories:
34
kcal
|
Carbohydrates:
0.3
g
|
Protein:
3
g
|
Fat:
2
g
|
Saturated Fat:
1
g
|
Polyunsaturated Fat:
0.4
g
|
Monounsaturated Fat:
1
g
|
Trans Fat:
0.01
g
|
Cholesterol:
82
mg
|
Sodium:
57
mg
|
Potassium:
36
mg
|
Sugar:
0.2
g
|
Vitamin A:
119
IU
|
Calcium:
17
mg
|
Iron:
0.4
mg
Nutrition information provided is an estimate and can vary based on cooking methods and ingredients used
Check out more of our appetizer recipes here!
Check out my list of products and tools that I use all of the time in the kitchen!
Sign Up for Easy Recipes Straight in Your In-Box!