It's so easy to make your own sriracha sauce! All it takes is a few everyday ingredients and a little bit of (hands-off) time to make this bright and delicious sriracha hot sauce recipe. It's perfect for spicing up stir fry recipes and more.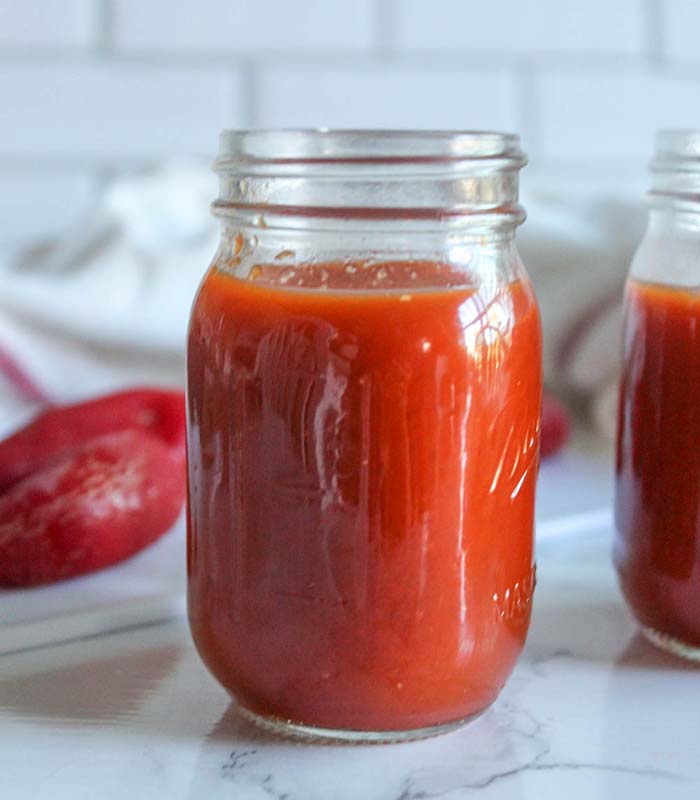 What Is Sriracha Sauce?
Sriracha sauce, also known as rooster sauce is a fermented hot sauce that is typically made with red jalapenos and garlic. It's tangy, spicy and a little bit sweet.
Even though jalapeno peppers are the main ingredient, one of the benefits of making this sauce at home is that you can control the heat to your taste by using different varieties of hot peppers.
Sriracha tastes great in stir fry dishes , but you can enjoy it in just about any dish that you want to kick up the heat in.
Why This Recipe Works
Homemade sriracha sauce tastes fresh and contains less sodium and sugar than most store bought sriracha sauce.
It's an easy recipe and will last for months in the freezer.
Here's What's in Sriracha Sauce
This is an overview of the ingredients and steps to make this recipe, scroll down to see the ingredient notes and substitutions as well as a printable recipe card with exact measurements and instructions.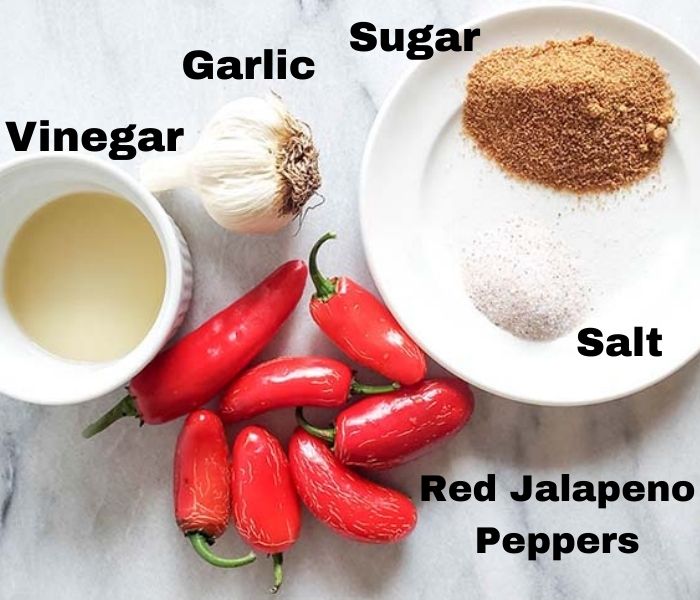 Red jalapeno peppers or Fresno peppers
Fresh Cloves Garlic
Coconut sugar or light brown sugar
Sea salt or kosher salt
Here is How to Make This Homemade Sriracha Recipe
Prepare the ingredients: Rinse the peppers, cut off the stems and discard them. Roughly chop the jalapenos and the garlic.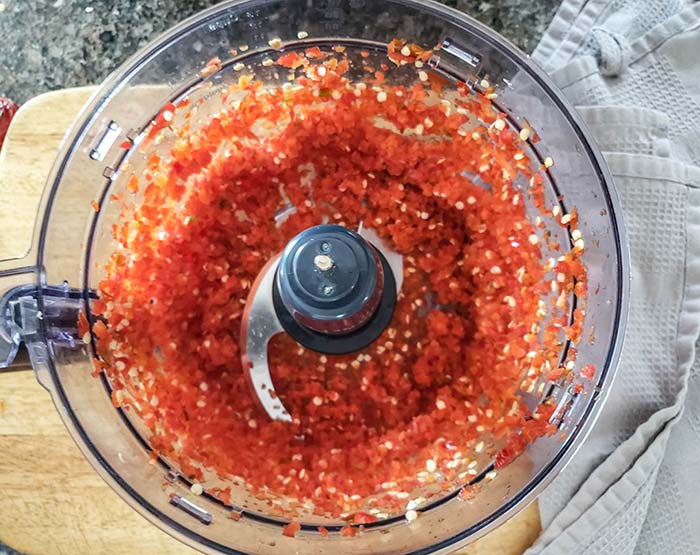 Step 1. Place the chopped jalapenos, garlic, salt and sugar into the bowl of a food processor. Process the mixture while periodically scraping the sides of the food processor bowl with a rubber spatula until the peppers are chopped into fine pieces.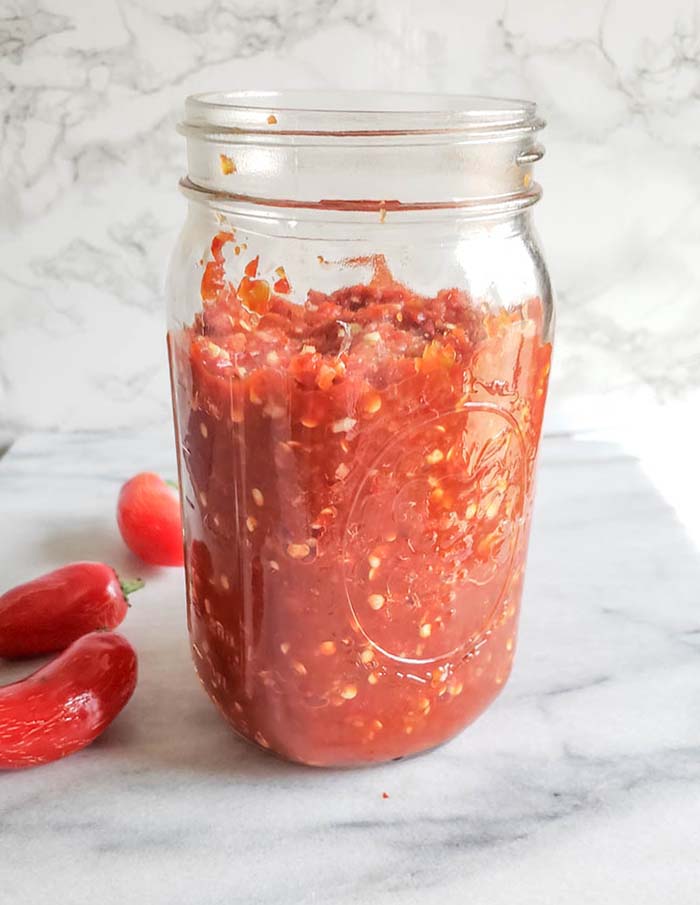 Step 2. Add the pepper puree to a clean jar, cover it and let it sit at room temperature untouched for two to three days.
TIP! To avoid mold in your hot sauce, be sure your jar is cleaned well. I like to submerge the jar into boiling water for 10 minutes before adding the pepper and garlic mixture to it.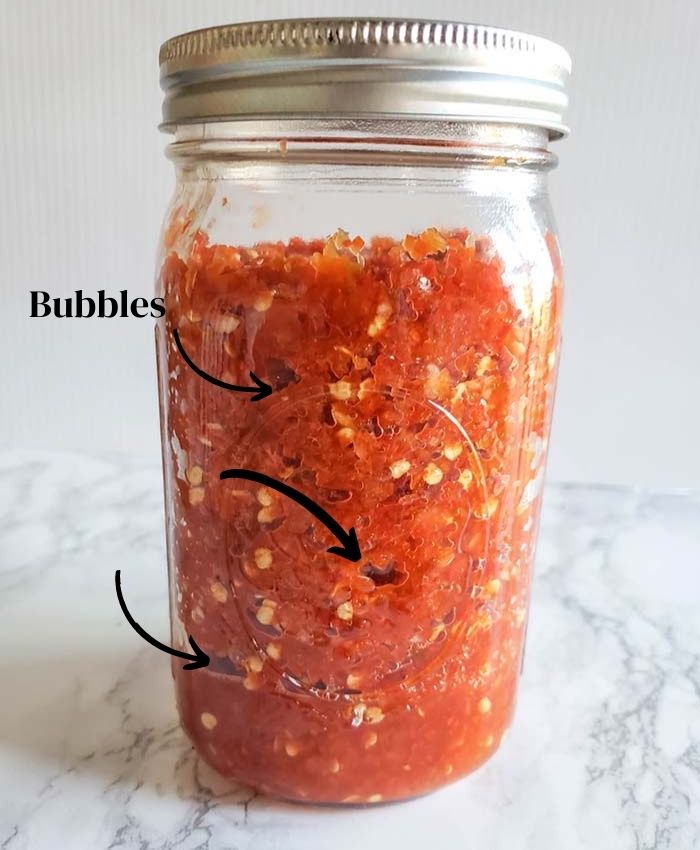 Step 4. After day 2 or 3 you should begin to see little bubbles forming in the mixture in the glass jar which means it's starting to ferment.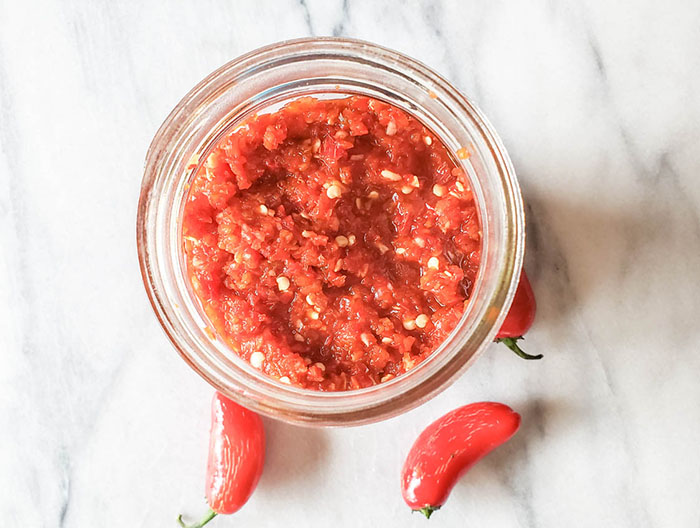 Step 5. Once you notice the bubbles, give the peppers in the jar a quick stir and let them sit at room temperature for another 4 to 5 days stirring them each day.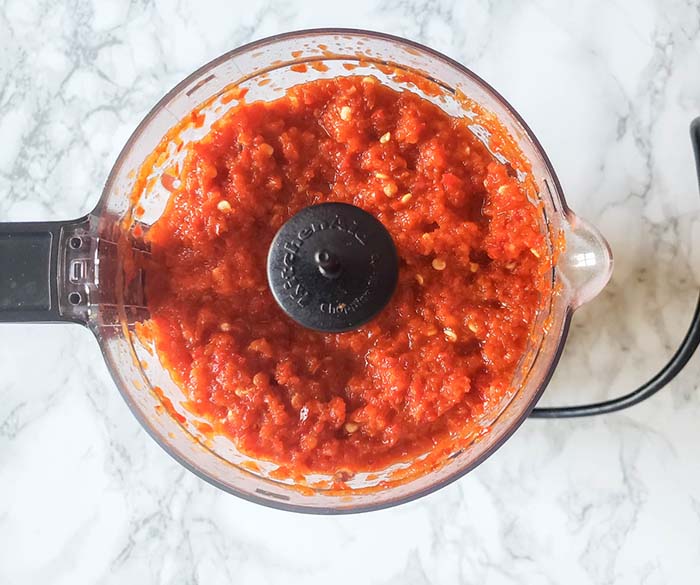 Step 6. After the 6th or 7th day transfer the fermented mixture into a food processor or blender add the vinegar and process until the mixture is pureed.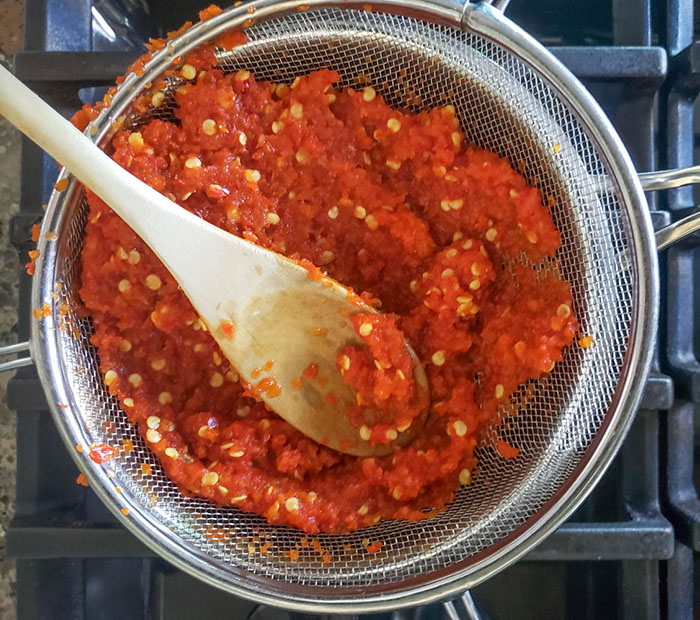 Step 7. Place the pepper puree into a fine mesh sieve or mesh strainer over a saucepan and strain the liquid from the puree. Use a the back of a wooden spoon and press down on the puree to extract as much liquid as you can.
Tip! If you would like to keep the health benefits of fermentation, you can skip the next step and transfer the sriracha sauce into a jar and store it in the refrigerator or freezer. This sauce will be a bit thinner than the heated sauce but will taste the same.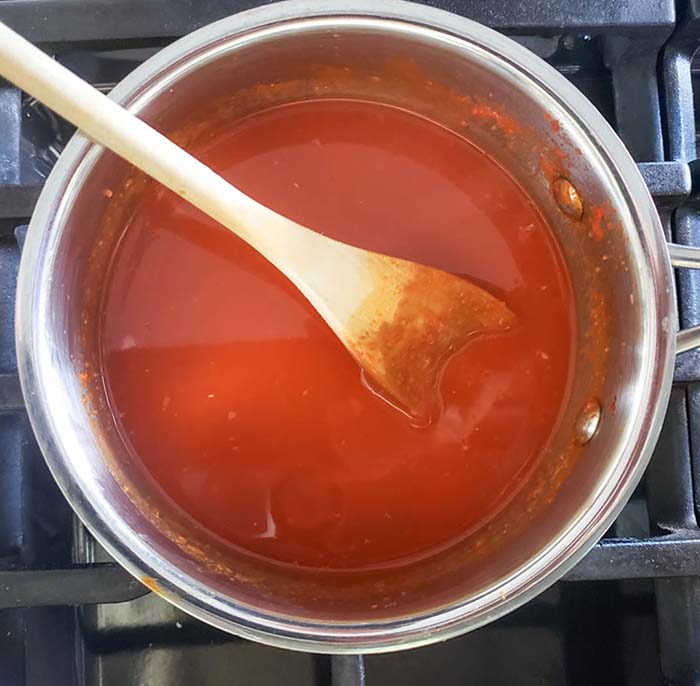 Step 8. Place the saucepan with the liquid on top of the stove and simmer for several minutes until the sauce starts to thicken (about 10 minutes).
Total Estimated Time to Make this Recipe - 7 Days
Ingredient Notes and Substitutions
Peppers. Red jalapenos are mature green jalapeno peppers that have been picked later in the ripening process.
Red Jalapeno Substitutes. There are a few options that will work as good substitutes for red jalapeno peppers: red serrano chilies, Fresno Anaheim, green jalapenos, cayenne pepper or red chili peppers or any type of red peppers. You can also try using a combination of different peppers too. For a milder tasting sauce, try using green jalapenos or a mix of both red and green.
Tip! Protect your hands from the heat of the peppers and wear rubber gloves when handling and chopping the peppers.
Fresh Garlic. This is an essential component to this recipe, I do not recommend substituting it with garlic powder or minced garlic in jar.
Apple Cider Vinegar. Most recipes for sriracha sauce use white vinegar, I like the way it tastes with apple cider vinegar. That being said, you can substitute apple cider vinegar with white vinegar or rice vinegar is a good substitute as well.
Sugar. I use coconut sugar to make sriracha sauce with good results even though most recipes call for brown sugar. I've used both and the coconut sugar turned out the best for our taste. But either one will work or a combination of both.
Note: Sugar is an essential component in this recipe, it's what helps with the fermentation process. Don't substitute sugar with sugar a sugar substitute or sugar alcohol.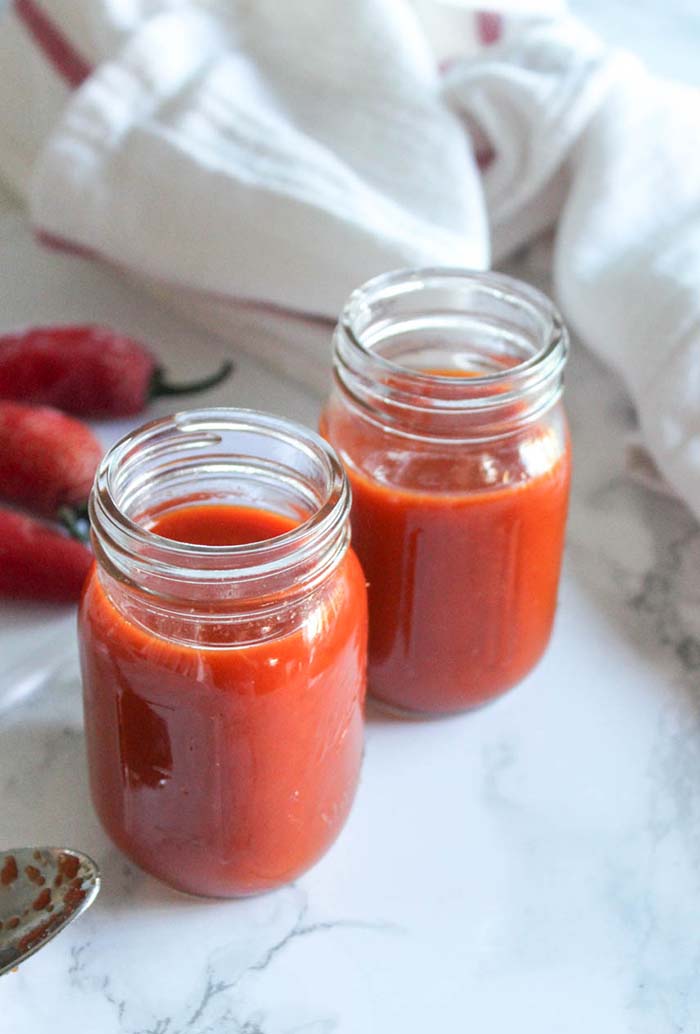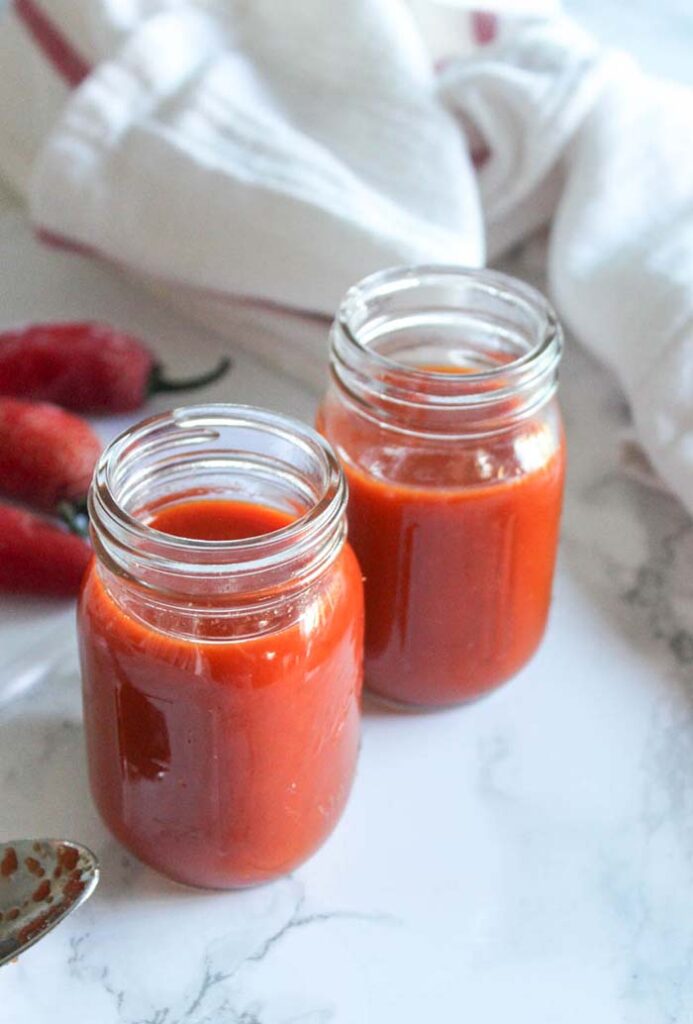 How to Store Sriracha Sauce
Sriracha sauce is a fermented sauce that will last in your refrigerator in an airtight container or mason jar once opened for two to three months.
I like to use these little mason jars to store my sauce in, and you can put them into the freezer too.
Tip! Store sriracha sauce in small portions in jars or silicone freezing trays in the freezer and take them out when you need them.
What to Put Sriracha On
Homemade sriracha sauce tastes great as a dipping sauce or condiment for your favorite stir fry recipe, deviled eggs, chicken salad, fried rice, rice. Mix it into mayonnaise, ketchup, hummus, sour cream, yogurt or cream cheese to spice them up!
You Might Also Like These Recipes
JOIN OUR MAILING LIST TO RECIEVE WEEKLY MENU IDEAS AND MORE!