Blush sauce is a delicate tomato-cream sauce that tastes great over any kind of pasta. This blush sauce recipe is made with just a few fresh ingredients that come together quickly. It's lighter than many blush sauce recipes. It's perfect to make on a busy night but elegant enough to serve to guests.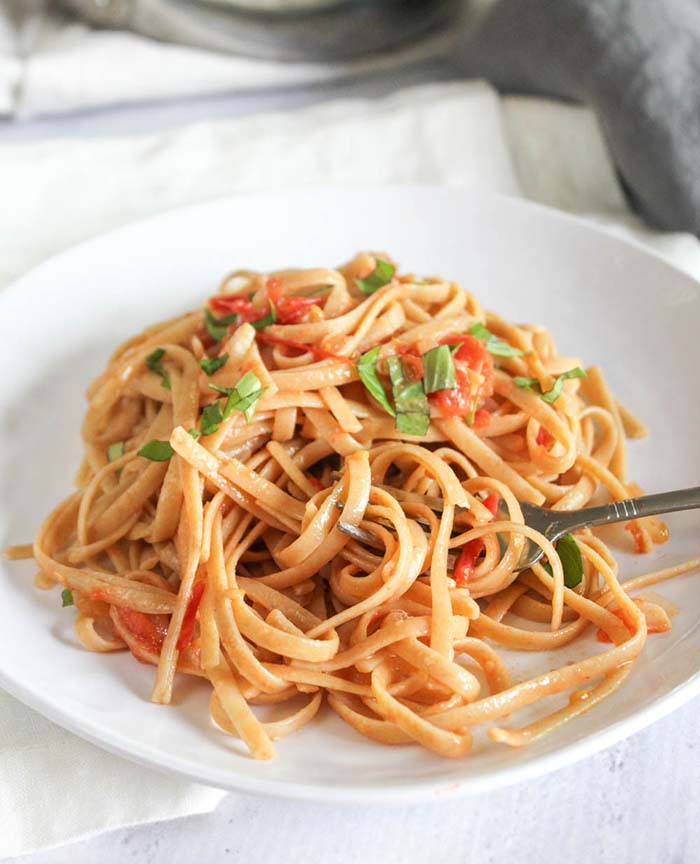 I will usually turn down a creamy pasta dish, but this blush sauce recipe is an exception. The combination of fresh tomatoes with just a splash of heavy cream or milk is pure comfort food that doesn't weigh you down. Serve it with a side of arugula salad and homemade bread for a complete and delicious pasta dinner.
Why This Recipe Works
It's quick! Dinner can be on the table in 30 minutes.
It's versatile! Serve it plain or add protein or vegetables (see the suggestions below).
Here is What You Will Need
As an Amazon Associate, I earn from qualifying purchases.
This is an overview of the ingredients and steps to make this recipe, scroll down to see the ingredient notes and substitutions as well as a printable recipe card with exact measurements and instructions.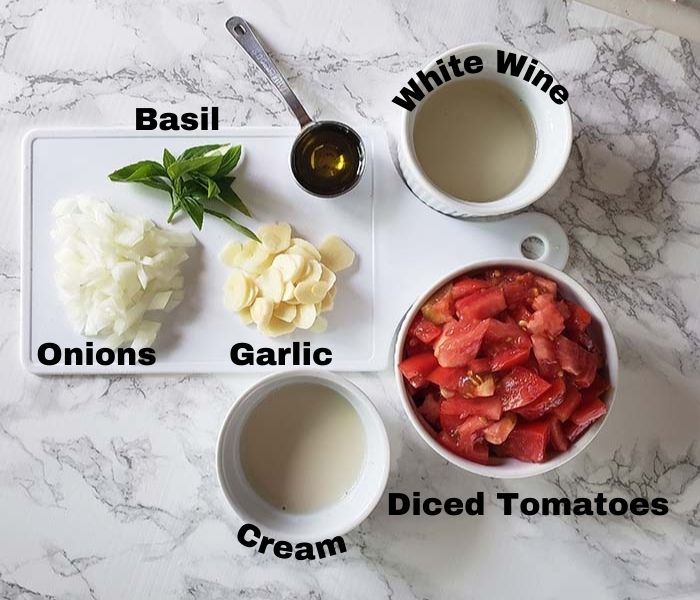 Ingredients
Diced tomatoes
Heavy Cream or Milk
Garlic
Medium Onion
Fresh Basil leaves
White wine
Parmesan cheese for garnish
Here is How To Make This Blush Sauce Recipe
Prepare the ingredients: Dice the cloves garlic, onions and if you are using fresh tomatoes, dice them up too. Measure the cream and wine and grab a large skillet.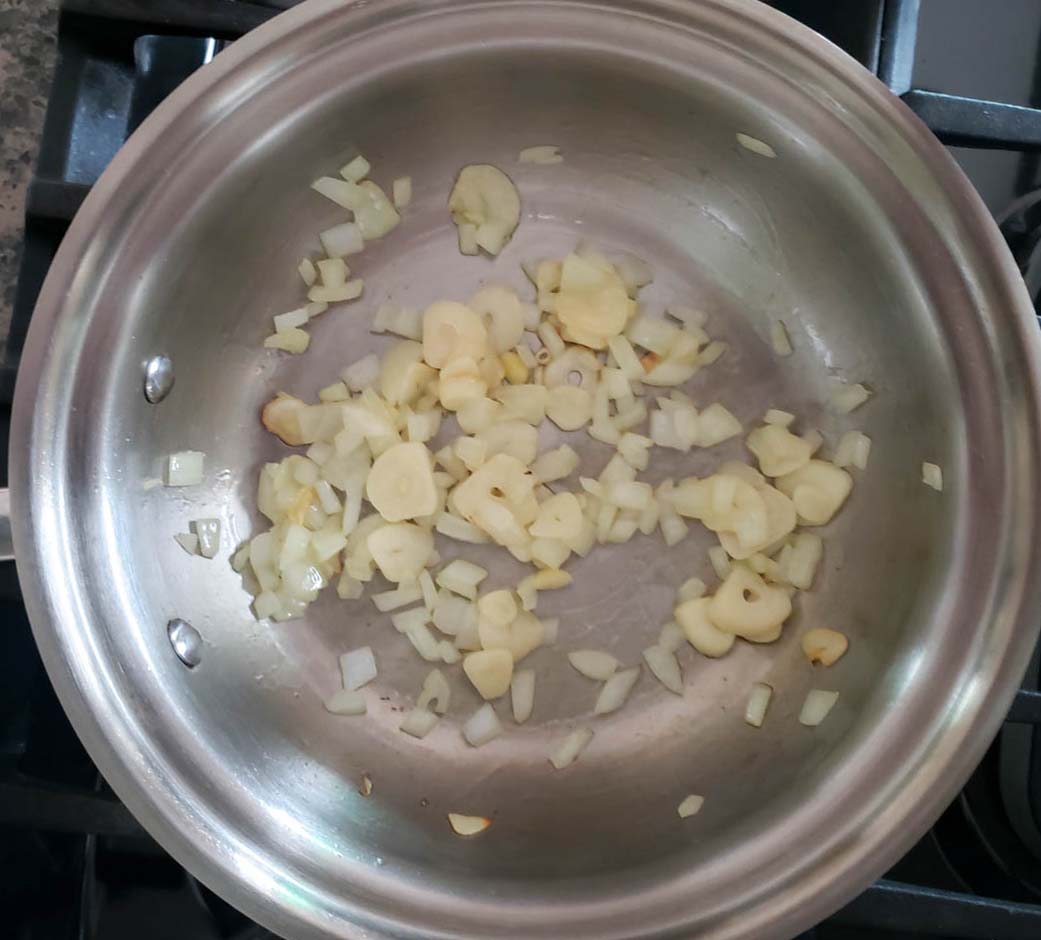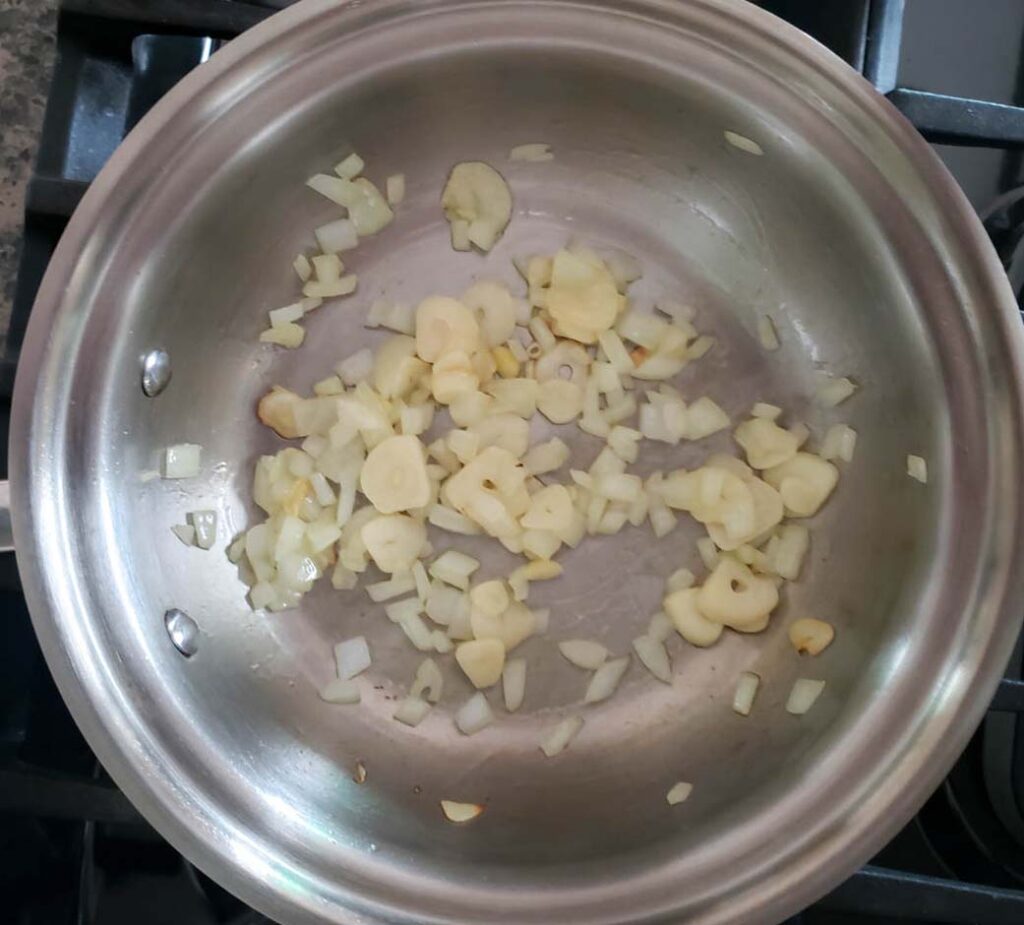 Step 1. Heat olive oil in a skillet over medium-high heat. Once the pan is hot, add the diced onions and garlic. Cook them for a few minutes until they become translucent and soft.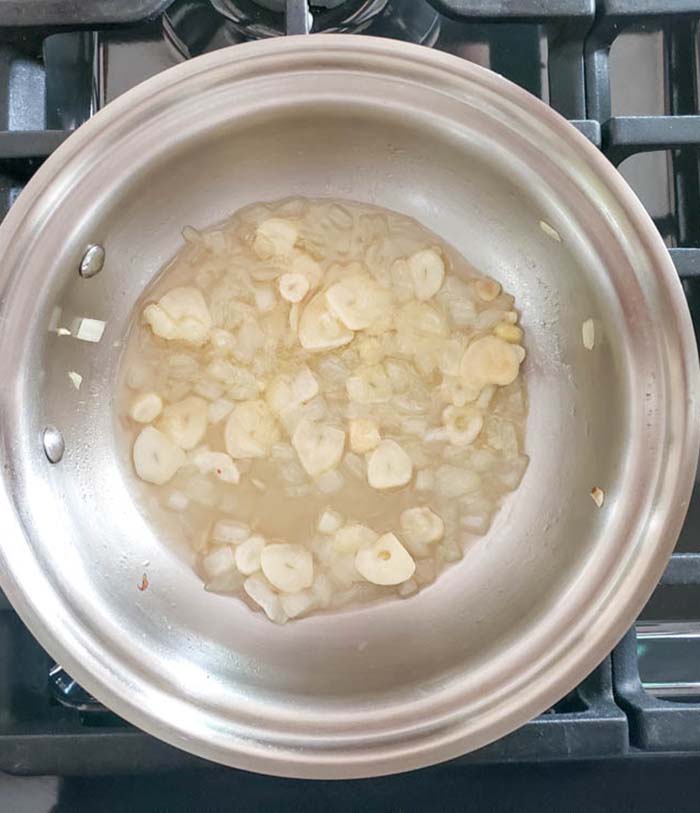 Step 2. Stir in the white wine and cook over medium-low heat for 5 minutes and reduce the heat to low.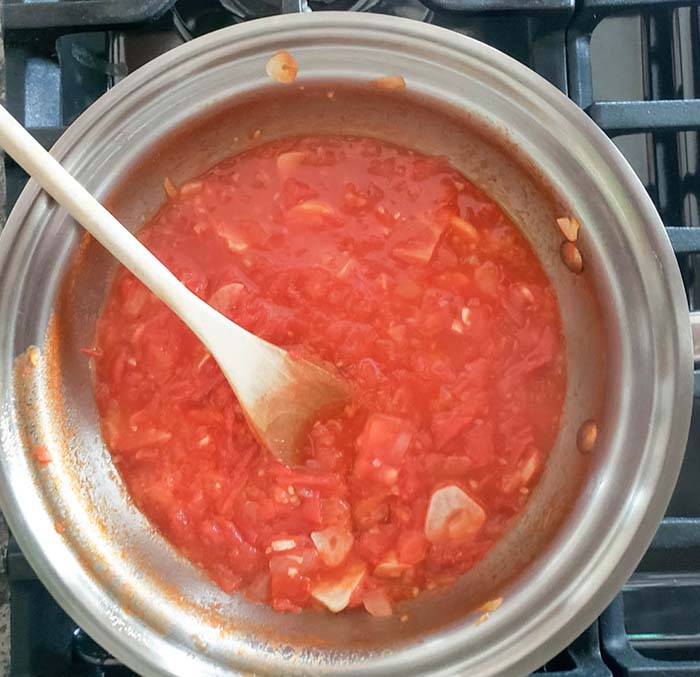 Step 3. Stir in the tomatoes and simmer for 10 to 15 minutes over low heat while stirring occasionally.
Tip! This sauce will be chunky, if you prefer a smooth pasta sauce, place the sauce in a blender or use an immersion blender to puree the tomatoes before serving.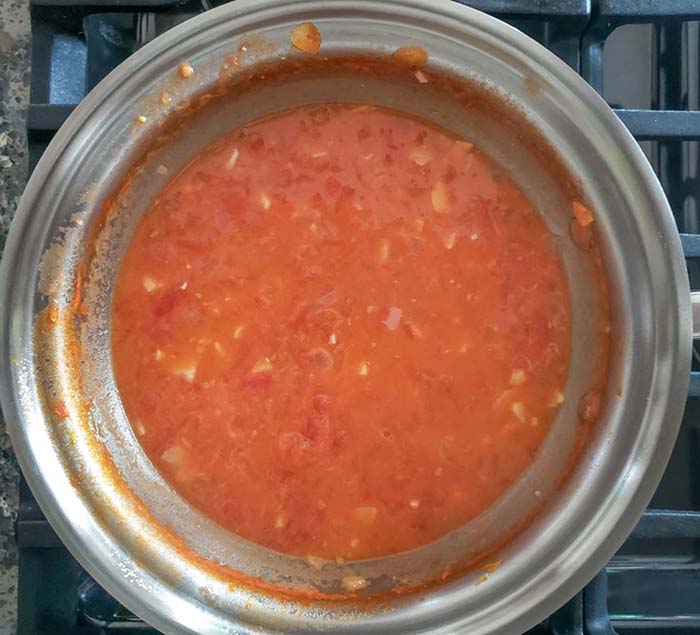 Step 4. Stir in the cream and chopped basil leaves and stir. Remove the sauce from the heat and serve over your favorite pasta.
Total estimated time to make this recipe - 30 to 40 minutes.
Ingredient Notes and Substitutions
Tomatoes. This is a great recipe to use fresh tomatoes when they are in season. If you don't have fresh tomatoes, you can use an equal amount of canned diced canned tomatoes in place of fresh.
Note: If you use fresh tomatoes, you might need to add a little bit of salt to taste. Just a dash of fine sea salt brings all of the flavors together.
Heavy Cream. Since there is just a small amount of cream in this recipe, I usually use cream. But if you prefer a lower fat content in your tomato cream sauce, you can use half and half or whole milk.
White Wine. The best white wine to use in this recipe is a sauvignon blanc, pinot grigio or an unoaked chardonnay. These wines are mild in flavor and will add a little bit of depth to this sauce without overpowering it. White wine can be substituted one for one with vegetable or chicken broth.
Fresh Basil. Fresh basil can be substituted with 1 teaspoon of dried basil and should be added early on in the cooking cycle with the wine, not at the end of cooking the sauce. This is because dried herbs need to rehydrate to release their flavors. Fresh herbs on the other hand should be added at the very end of cooking to maintain their flavor.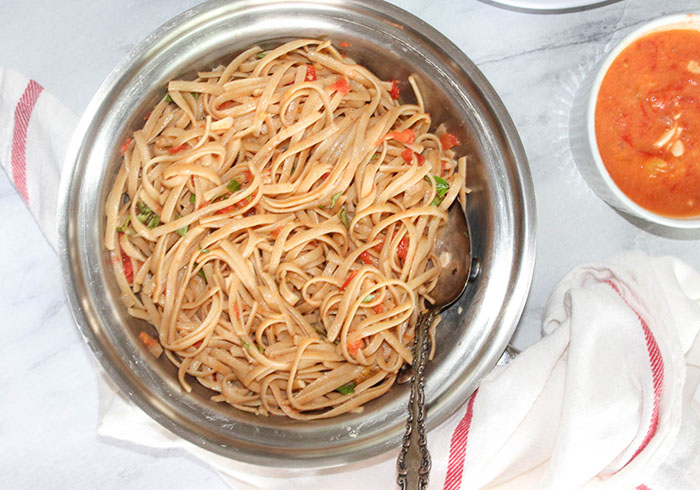 How to Make Dairy Free Blush Sauce
This is an easy recipe to convert to dairy-free without losing the great flavor. All that you need to do is simply replace the heavy cream or milk one for one with your favorite unsweetened plant-based milk such as almond, cashew or oat milk.
How to Store Leftover Sauce
Store leftover blush sauce in an air-tight container for three to four days.
Reheat leftover blush sauce on top of the stove over low heat.
Freeze blush sauce in a freezer-safe container for up to three months in the freezer. Thaw it in the refrigerator overnight.
Serving Suggestions
Serve this creamy tomato sauce over your favorite pasta such as linguine, rotini, penne pasta or angel hair pasta garnished with fresh parsley and basil and freshly grated parmesan cheese.
Add a salad like this spinach salad and a small healthy charcuterie board for a delicious healthy meal.
If you like this sauce, you might also like our homemade bolognese sauce!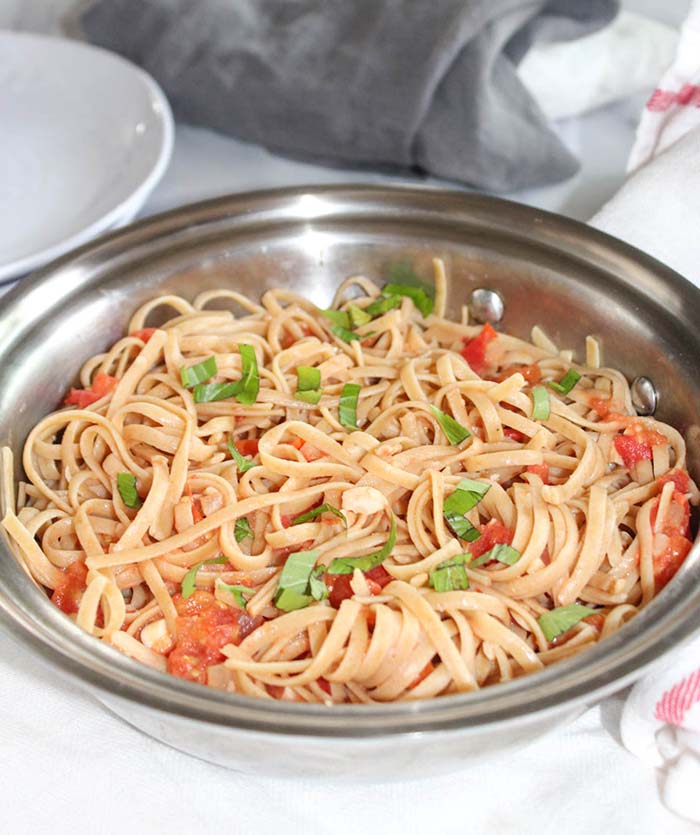 Recipe Variations
Add Protein. Serve blush sauce over pasta and top it with grilled chicken, shrimp or scallops.
Add Vegetables. Add sauteed or steamed vegetables such as broccoli, zucchini or peas to your pasta with blush sauce just before serving.
Mushroom Blush Sauce. Add a variety of cooked meaty mushrooms to the sauce just before serving it.
Make it Spicy. Add a few sprinkles of red pepper flakes or a splash of hot sauce to your taste.
If you like this recipe, please comment and rate it below!
You Might Like These Recipes
For more simple and delicious recipes like this, subscribe to our newsletter and receive a free e-book and meal suggestions straight in your inbox!
Check out more of our sauce recipes here!