Peppery arugula pairs wonderfully with figs, tangy goat cheese and pecans in this healthy arugula and fig salad recipe. It's easy to prepare with simple ingredients and makes the perfect side dish or light lunch entree any time of year.
This simple salad is about to become your new favorite salad! It's made with homemade honey balsamic vinaigrette for a delicious arugula salad that everyone will love. It's perfect for a dinner party or an everyday meal.
This recipe was originally posted in 2018, it has been updated for content and photos.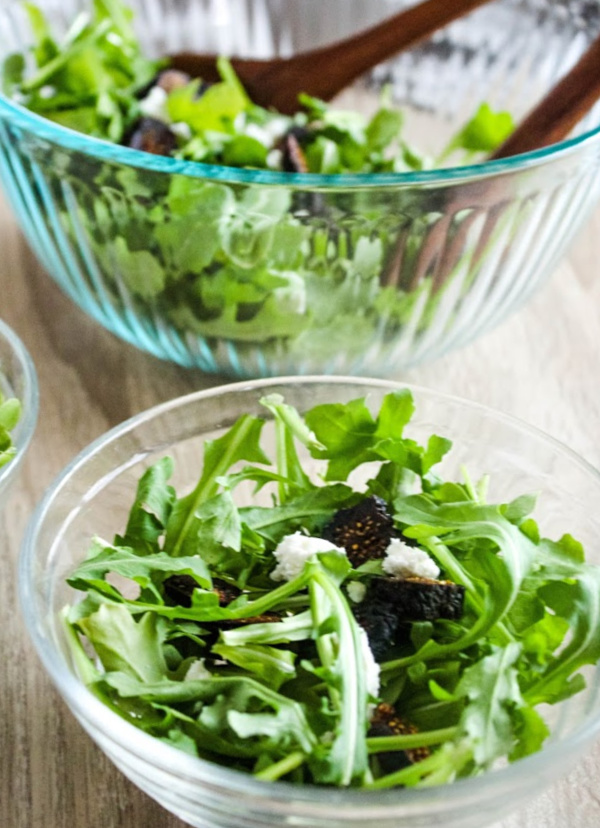 Arugula's peppery flavor can be an acquired taste if you're not used to it. If arugula is not for you, try this tasty spinach salad with basil. But, If you love arugula, you might want to try this arugula salad with pistachios.
Why This Recipe Works
The combination of flavors and textures in this simple arugula salad blend together perfectly!
It's an easy salad and can be made ahead of time.
Ingredient List
As an Amazon Associate, I earn from qualifying purchases.
This is an overview of the ingredients and steps to make this recipe, scroll down to see ingredients notes and substitutions as well as a printable recipe card with exact measurements and complete cooking instructions.
baby arugula
goat cheese
honey balsamic dressing (here is a link to my recipe that is made with;olive oil, honey, balsamic vinegar & garlic)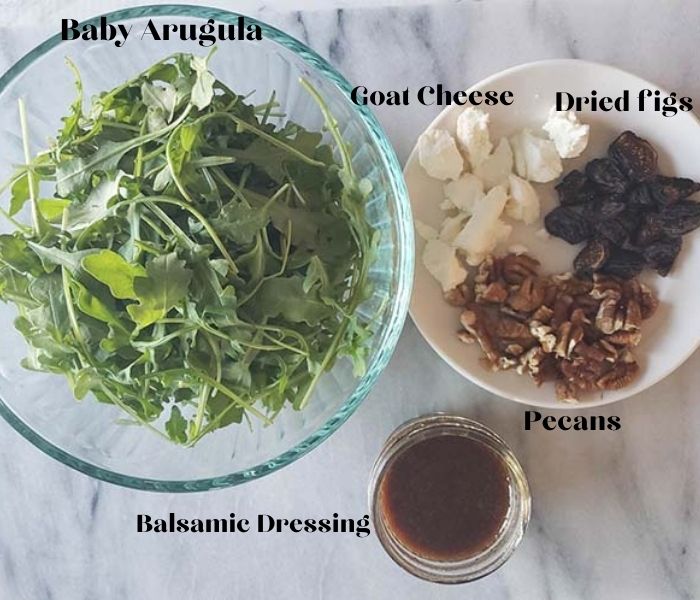 How to Make Fig Arugula Salad Recipe
Prepare the ingredients: slice the figs into half-inch slices, measure, and crumble the cheese and arugula. Mix up the dressing in a small jar or small bowl and get ready to make an easy arugula salad!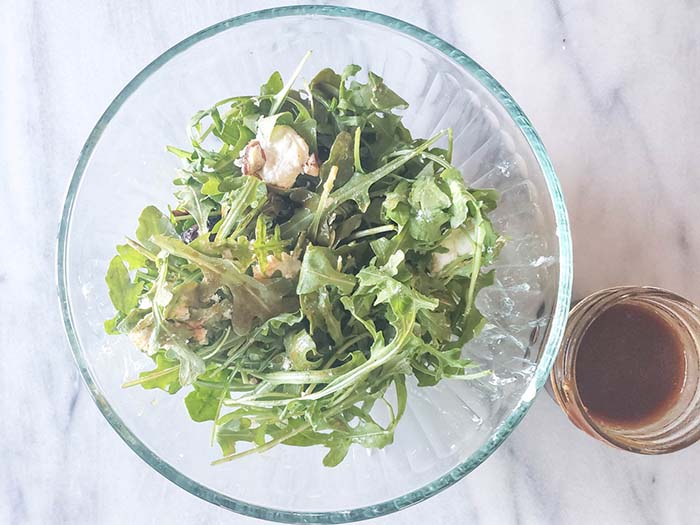 Place the goat cheese, arugula, pecans, and sliced figs into a large bowl.
Pour a small amount of the dressing, and toss arugula salad ingredients making sure to cover the arugula leaves, figs and pecans. Serve on individual plates with extra dressing on the side.
Tip! To make it easier to crumble the goat cheese, place it in the freezer for 20 to 30 minutes before crumbling.
Ingredient Notes & Substitutions
Baby arugula. Peppery baby arugula is the perfect match for sweet figs. If you don't care for the peppery taste you can substitute baby arugula with baby spinach or baby kale; it will still taste great with the figs.
Figs. I normally use dried figs when I make this salad because they're available year-round.
When it is fig season (late summer, early fall), I highly recommend using fresh figs for a fresh fig salad. You can find fresh figs at farmer's markets or in the grocery stores when they are in season.
Goat cheese. Creamy goat cheese adds the right amount of flavor to this salad. If it's not available you can substitute goat cheese with blue cheese, gorgonzola cheese or parmesan cheese.
Pecans. I chose pecans for this salad because I like the texture, they can be substituted with chopped walnuts, pine nuts or almonds.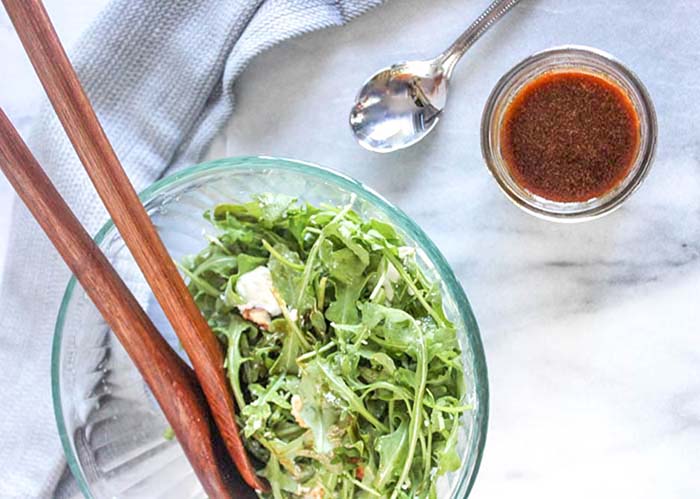 How to Make Fig and Arugula Salad Ahead of Time
Fig and arugula salad can easily be made ahead of time, here's how:
Combine the fresh arugula and figs in a bowl and store them in the refrigerator for up to two days. Mix the balsamic ingredients together and store the salad dressing in a separate container.
To serve, remove the salad dressing from the refrigerator 30 minutes to bring it to room temperature before serving. Add the crumbled goat chees and chopped pecans to the salad, toss the salad together and serve.
How to Store Leftovers
Even though this salad tastes much better when it's fresh, you can store the leftover salad in the refrigerator in an airtight container for up to two days.
What to Serve with Baby Arugula Salad & Figs
This salad tastes great with just about any entree. We love it as a healthy side dish with lasagna, pasta with bolognese sauce, baked manicotti, chicken or hearty beef stew.

You can also serve baby arugula and fig salad as a main course with steak, shrimp or shredded chicken.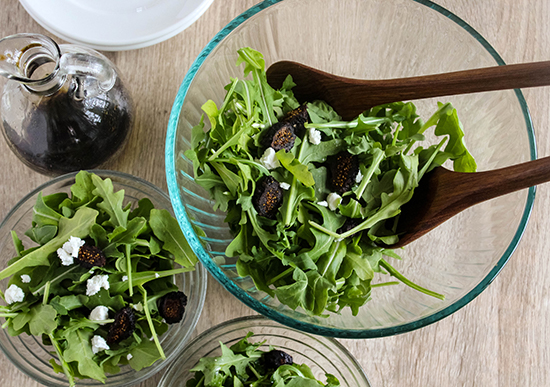 Recipe Variations
Add Meat. Toss thin strips of prosciutto and a ¼ teaspoon pepper into the salad for a umami flavor.
Change up the Fruit. Add more sweet fruits to the salad such as diced apples or sliced pears in addition to the figs.
For more simple and delicious recipes like this, subscribe to our newsletter and receive a free e-book and meal suggestions straight in your inbox!
Have you Tried These Healthy Recipes Yet?
If you like this recipe, please comment and rate it below!
Check out more of our salad and dressing recipes here!