This easy crockpot recipe is the best! Easy crock pot pork chops are made with tender pork chops that are cooked in a mixture of tomatoes, balsamic vinegar, and onions.
The flavors all mix together perfectly to make a delicious & hearty sauce. This recipe is going to become your new family favorite.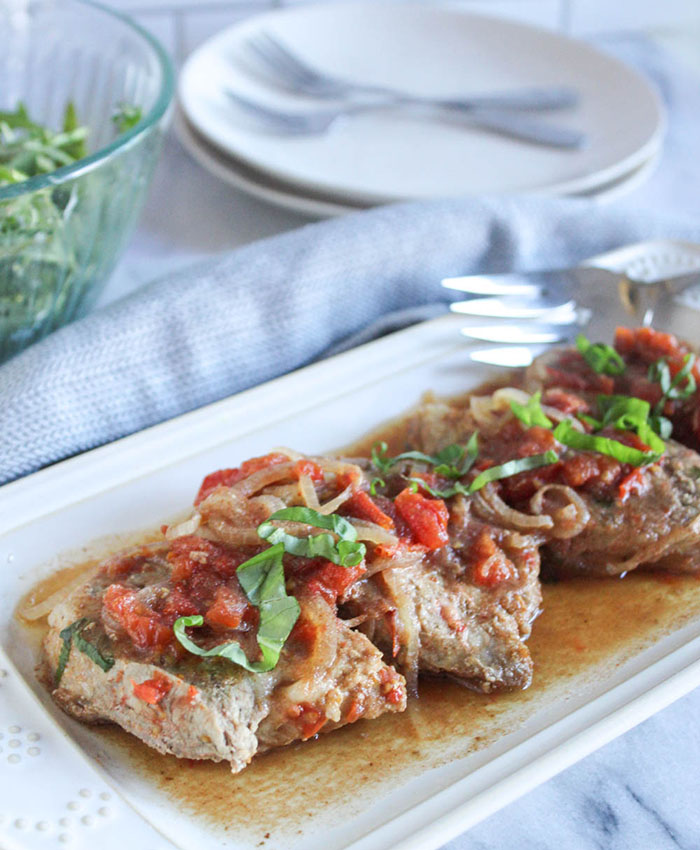 Boneless pork chops are so convenient and versatile. You can cook them in a slow cooker or grill them. These Mediterranean pork chops are another easy pork chops recipe that the whole family will love.
Why This Recipe Works
It's an easy recipe made with seven ingredients and very little prep time.
It's a great recipe to double and use again during the week.
Slow Cooker Pork Chops Indredients
As an Amazon Associate, I earn from qualifying purchases.
This is an overview of the ingredients and steps to make this recipe, scroll down to see the ingredient notes and substitutions as well as a printable recipe card with exact measurements and instructions.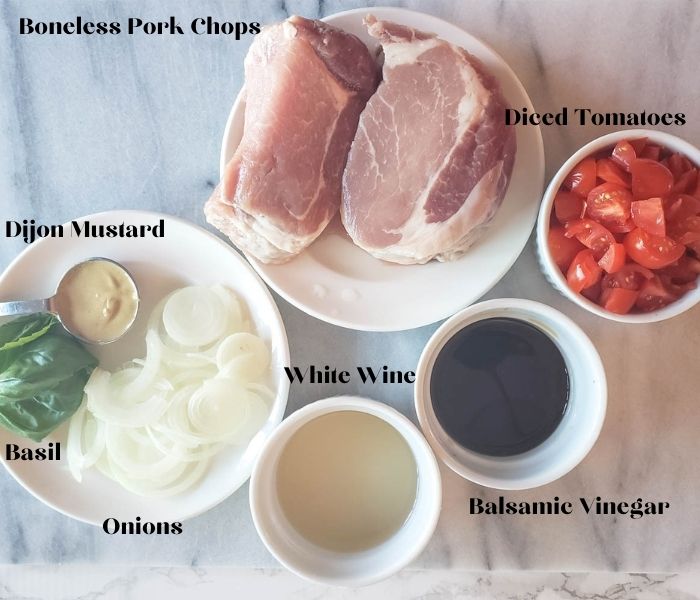 Boneless Pork Chops (at least 1 inch thick)
Diced Tomatoes (fresh or canned)
Onion
White Wine
Fresh basil
Salt & Pepper (to taste)
Olive Oil (optional to coat the slow cooker)
Flour mixed with water (optional to thicken the sauce)
Equiment Need to Make This Recipe
Here is How To Make Crock Pot Pork Chops
Prepare the ingredients: If you are using fresh tomatoes, chop them into small chunks, slice the onions and measure out the mustard and balsamic vinegar.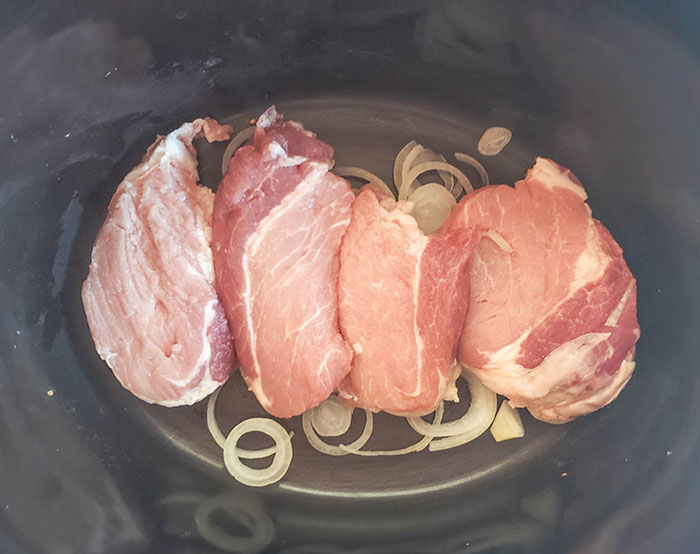 Step 1.
Add the onion slices to the bottom of the slow cooker and top them with pork chops.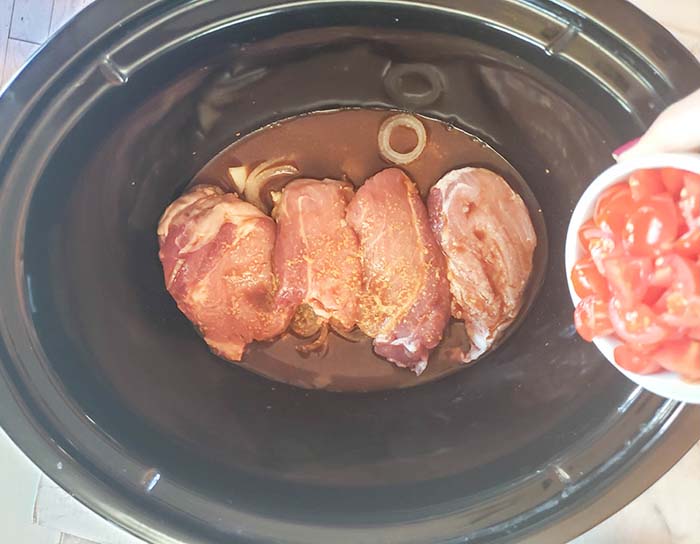 Step 2.
Mix the balsamic vinegar, wine and mustard together and pour it over the pork chops in the slow cooker, then pour the tomatoes over the top of the pork chops.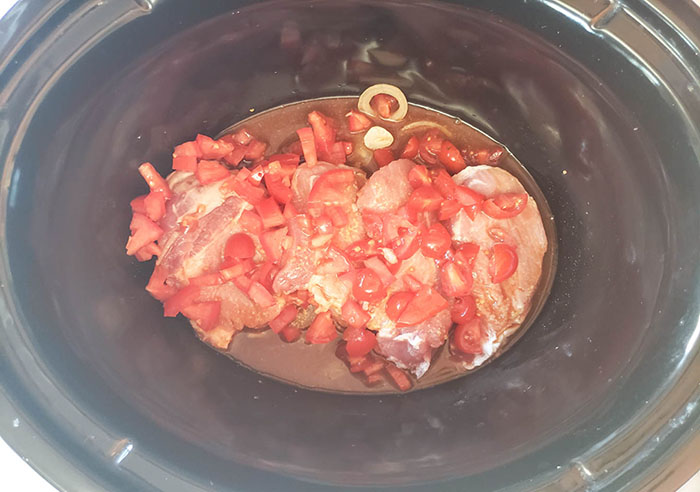 Step 3.
Cover the slow cooker and cook the pork chops in the sauce on low heat for 2 ½ to 3 hours until the pork chops are cooked through (internal temperature of 145 degrees and fork tender.
Cook time can vary depending on your slow cooker.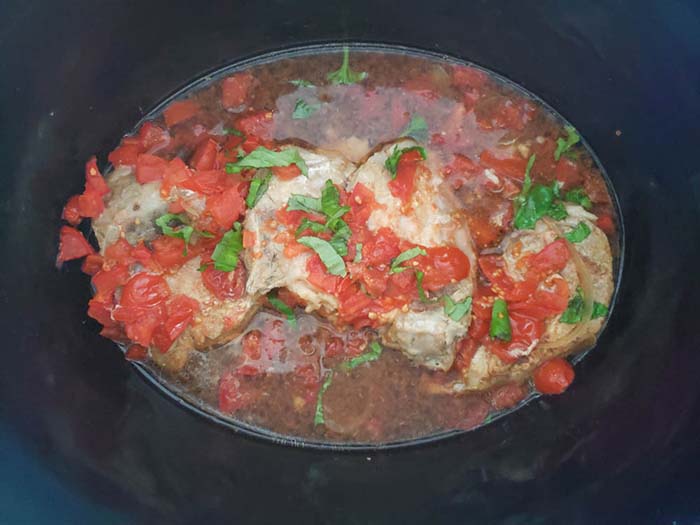 Step 4.
Add the fresh basil and cook for 10 to 15 minutes longer.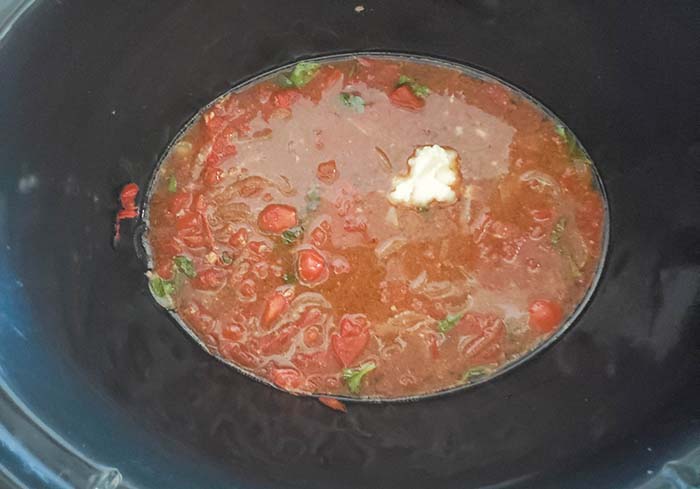 Step 5. (optional)
For a thicker gravy mixture, remove the pork from the slow cooker with a slotted spoon, and make a slurry of 1 tablespoon flour with 3 to 4 tablespoons water.
Gradually whisk the slurry into the sauce until it thickens.
To serve: pour the sauce over the pork chops Garnish with a little chopped parsley or more fresh basil.
Total estimated time to make this recipe - 3 to 3 ½ hours.
Ingredient Notes and Substitutions
Pork Chops. The best pork chops to use in this recipe is boneless pork chops. They are leaner and more convenient. Thick boneless chops (at least one inch thick) will provide the best results for more flavorful pork chops that won't dry out.
Bone-in pork chops can be substituted for boneless chops if you prefer them over boneless.
Tip! Bone-in pork chops weigh more, so you will need more than one pound of bone-in pork chops. You will need one pork chop per person.
Onions. Any type of onions can be used in this recipe. They add a nice flavor and when they are sliced thin, they almost melt into the liquid during the cooking process.
If you don't time to chop onions, Substitute ½ tablespoon onion powder for the onions. Mix the onion powder with the dijon mustard, honey and balsamic vinegar before adding it to the crockpot.
For more simple and delicious recipes like this, subscribe to our newsletter and receive a free e-book and meal suggestions straight in your inbox!
Balsamic Vinegar adds a touch of sweet flavor and the acidity helps to break down the protein which will help to make the meat more tender.
Diced Tomatoes. Fresh or canned diced tomatoes can be used. I like to use fresh tomatoes when they are in season.
Note: When using fresh tomatoes, you might need to add a little bit of salt to taste.
White Wine can be easily substituted with an equal amount of vegetable or chicken broth.
Substitute fresh basil with ¼ teaspoon dried basil and add it before cooking the pork chops.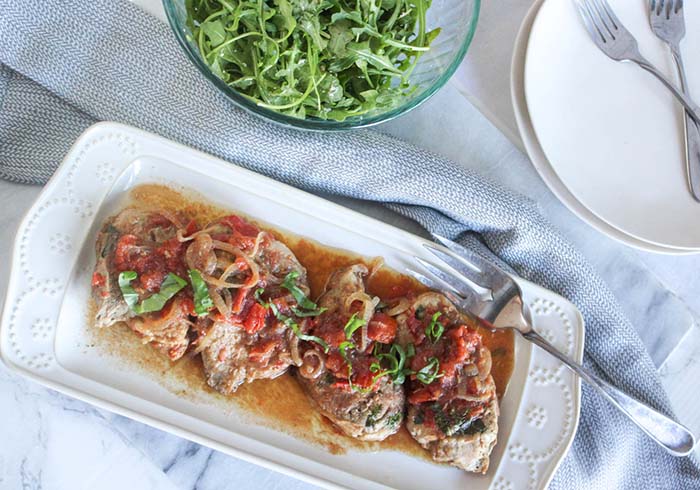 How to Store and Store & Reheat Easy Crock Pot Pork Chops
The Best Way to Store Lefotvers
Store leftover slow cooker pork chops in an airtight container in the refrigerator for up to four days.
Freeze leftovers in a freezer-safe container for up to three months. Thaw the pork chops in the refrigerator overnight before reheating.
The Best Way to Reheat Leftovers
Stovetop. Place the leftover pork chops in a medium saucepan, cover it, and heat them on top of the stove over medium heat until they are heated through.
Oven. Reheat leftover pork chops in a covered container in the oven at 350 degrees for 15 to 20 minutes until they are heated through.
Microwave. Place the pork chops in a covered microwave-safe container and reheat.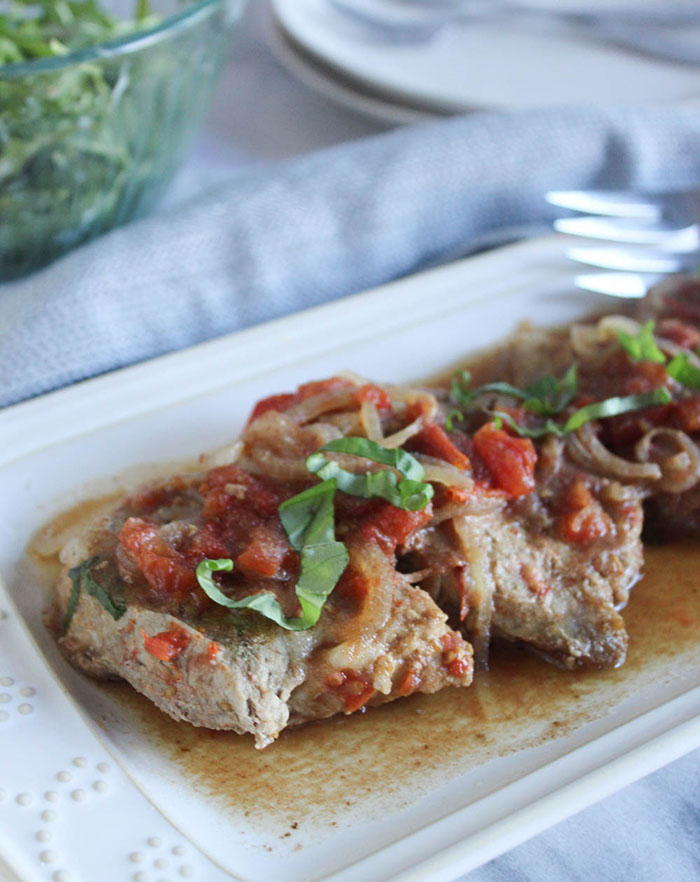 Crockpot Pork Chops Serving Suggestions
Serve these delicious pork chops with an easy side dish or two such as mashed potatoes, roasted potatoes, brown rice, green beans or a green salad for a delicious dinner.
Recipe Variations
Change up the Meat. Instead of boneless pork chops, try using 1 pound of boneless skinless chicken breasts or thighs.
Change the Sauce. Add an umami flavor by replacing the balsamic vinegar with 1 ½ teaspoons of Worcestershire sauce and replacing the basil with rosemary.
Your Easy Crock Pot Pork Chops Questions Answered
How do you keep the pork chops from drying out in the slow cooker?
This pork chop recipe makes moist pork chops, thanks to the addition of acidic ingredients such as tomatoes, vinegar and white wine. Also thicker boneless pork chops and the slow cooking process helps to keep the chops moist and tender.
Can you overcook pork chops in a slow cooker?
Yes! you can overcook anything in a slow cooker. Set your slow cooker and cook the pork chops for 2 ½ hours and then let them sit the warm setting until you are ready to serve them.
Like this recipe? Subscribe to receive a free e-book and meal suggestions straight in your inbox!
You Might Also like these Pork Recipes
If you like this recipe, please comment and rate it below!