Eggplant meatballs are hearty meatless meatballs that can be served as a main course or appetizer. Whichever way you choose to serve these eggplant meatballs, you will not be disappointed because these "meatballs" are delicious!
Eggplant meatballs are a lighter, healthier alternative to beef or pork. Serve them at your next gathering and impress your guests with their flavor.
This recipe was originally posted in 2018, the pictures have been updated along with additional details about the recipe.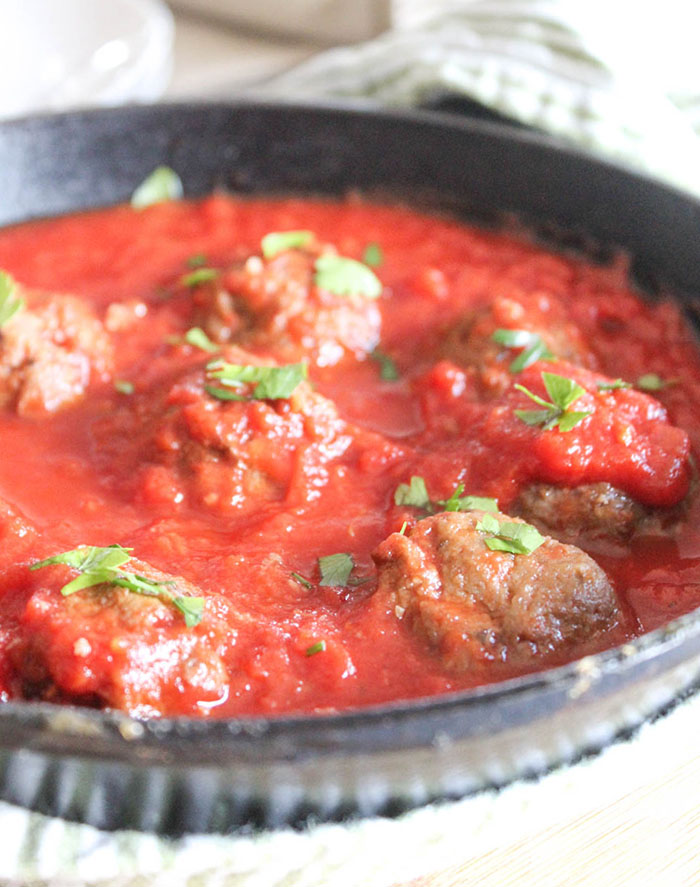 Serve your eggplant meatballs covered in homemade marinara sauce for the perfect Italian flavor!
Why this Recipe Works
This eggplant meatball recipe is vegetarian and gluten-free with a vegan option.
This recipe is perfect for meal prep, they are easy to make ahead of time!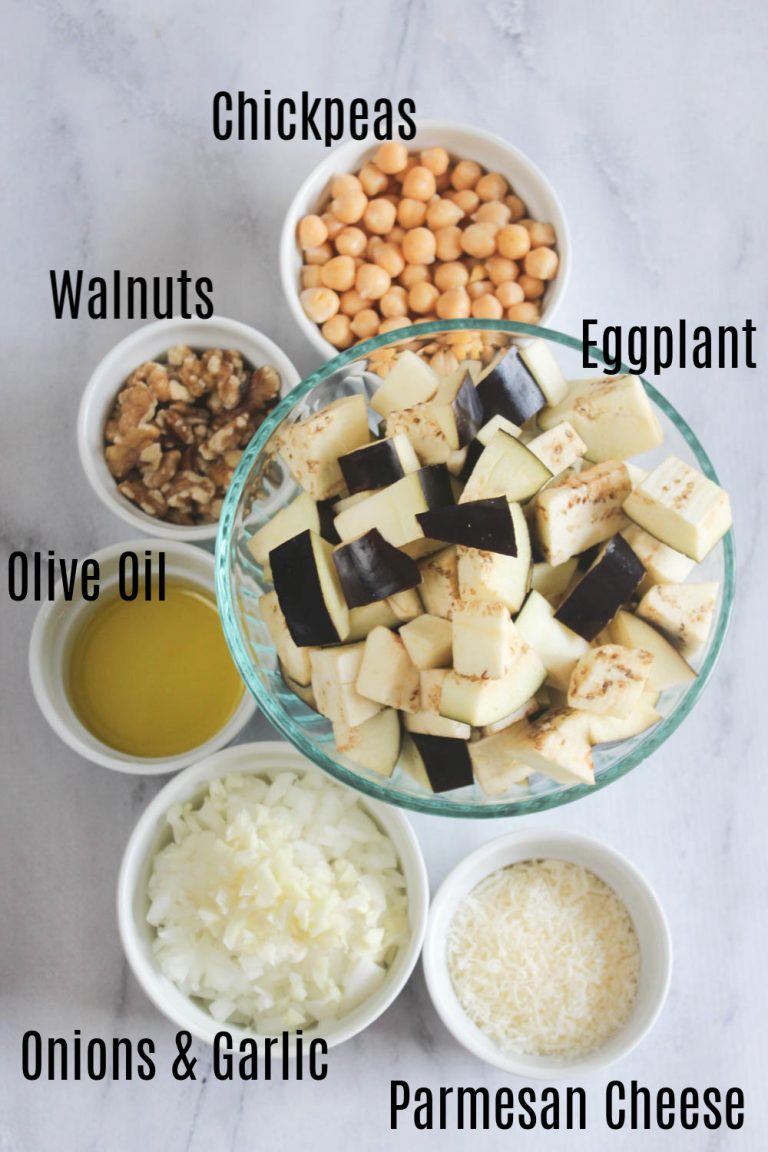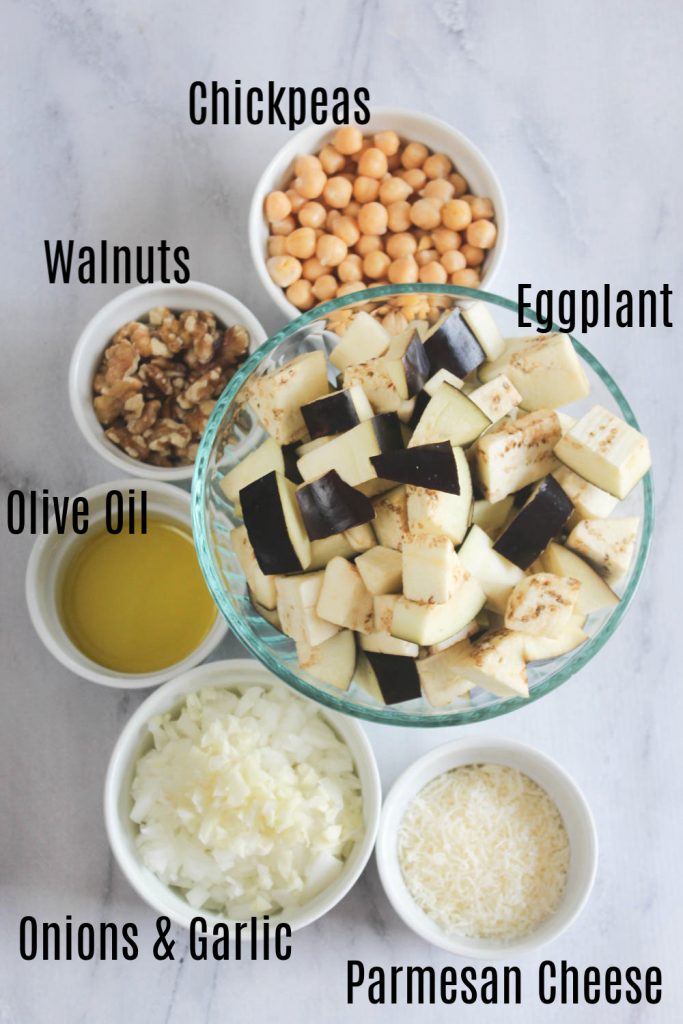 Here is What You Will Need to Make Eggplant Meatballs
As an Amazon Associate, I earn from qualifying purchases
This is an overview of the ingredients and steps to make this recipe, scroll down for a printable recipe card with exact measurements and instructions.
This is an overview of the ingredients and steps to make this recipe, scroll down to see ingredient notes and substitutions as well as a printable recipe card with exact measurements and complete cooking instructions.
---
Estimated Time To Make This Recipe: 1 hour 45 minutes to 2 hours (includes time to refrigerate the meatball ingredients)
Here is How To Make Eggplant Meatballs
Get all of the ingredients ready: Roughly chop the eggplant into 1 to 1 ½ inch chunks, mince the onions and garlic, grate the cheese, drain and rinse the chickpeas.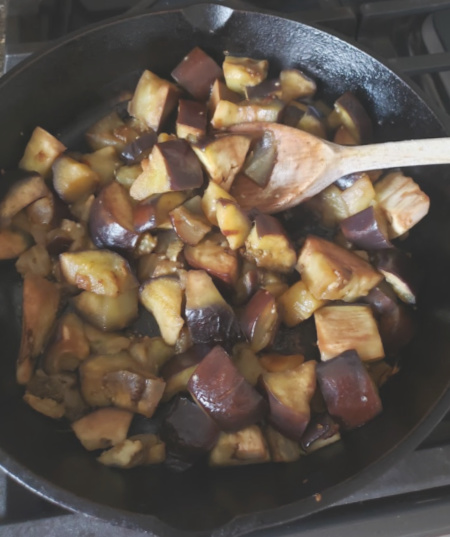 Step 1. Add 1 tablespoon oil to a skillet and heat it over medium heat. Once the pan is hot, add the eggplant chunks and water; cook stirring occasionally until the eggplant becomes tender (about 15 minutes).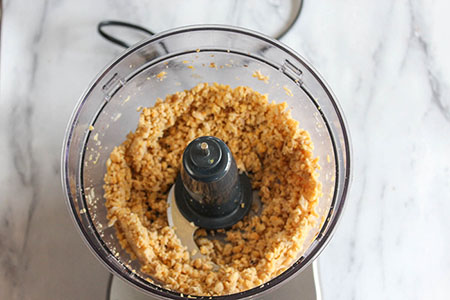 Step 2. While the eggplant is cooking pulse the chickpeas and walnuts in a food processor until they become crumbly.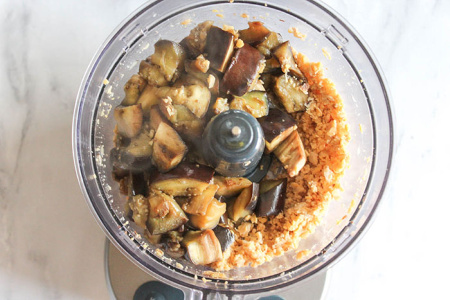 Step 3. Once the eggplant has cooked, transfer it to the food processor with the chickpeas and walnuts.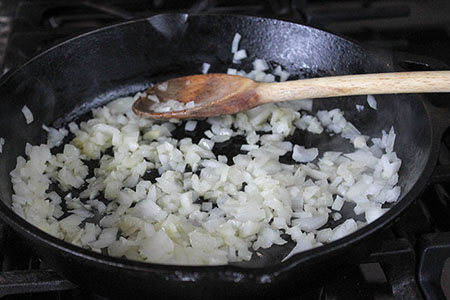 Step 4. Heat the remaining oil to the skillet and add the onions and garlic. Cook them until they become translucent.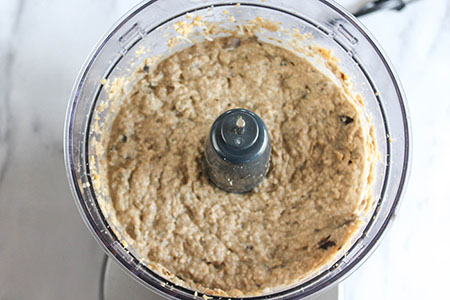 Step 5. Add the cooked onions and garlic to the food processor and pulse once again until everything has been blended together. Set the bowl aside and let it cool to room temperature.
Whisk an egg in a bowl and stir it into the eggplant mixture along with the grated cheese. Place the bowl in the refrigerator for an hour.
Tip! If you are in a hurry, you can speed up the chilling time by placing the mixture in the freezer for 20 to 30 minutes.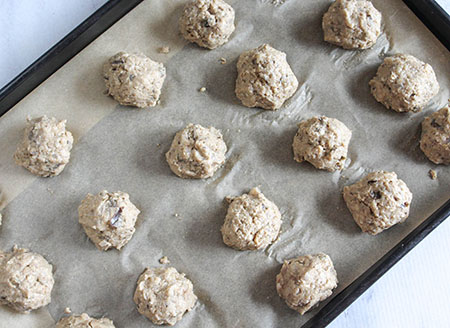 Step 6. Preheat the oven to 400 degrees. Remove the mixture from the refrigerator and roll the mixture into balls that are about 2 inches round. Place them onto a baking sheet.
Tip! Try using an ice cream scoop to shape the meatballs.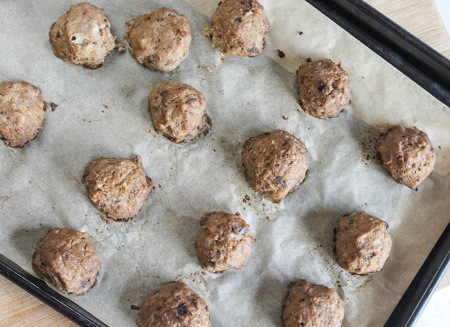 Step 7. Bake the meatballs for about 20 minutes, until they become golden brown.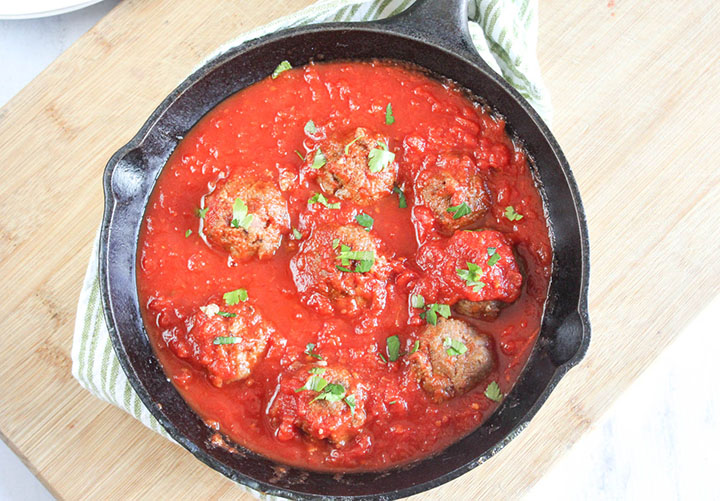 Ingredient Notes & Substitutions
Garlic and Onion can be replaced with ⅛ to ¼ teaspoon of garlic, and 2 teaspoons ot 1 tablespoon of onion powder.
Walnuts add fat and protein to this recipe, they can be substituted with an equal amount of cashews or almonds.
Chickpeas act as a binder and also add protein, they can be substituted one for one with white beans.
Storing and Using Leftovers
Store leftover cooked meatballs in the refrigerator for 3 to 4 days.
Reheat leftover eggplant meatballs on top of the stove, in the oven or the microwave.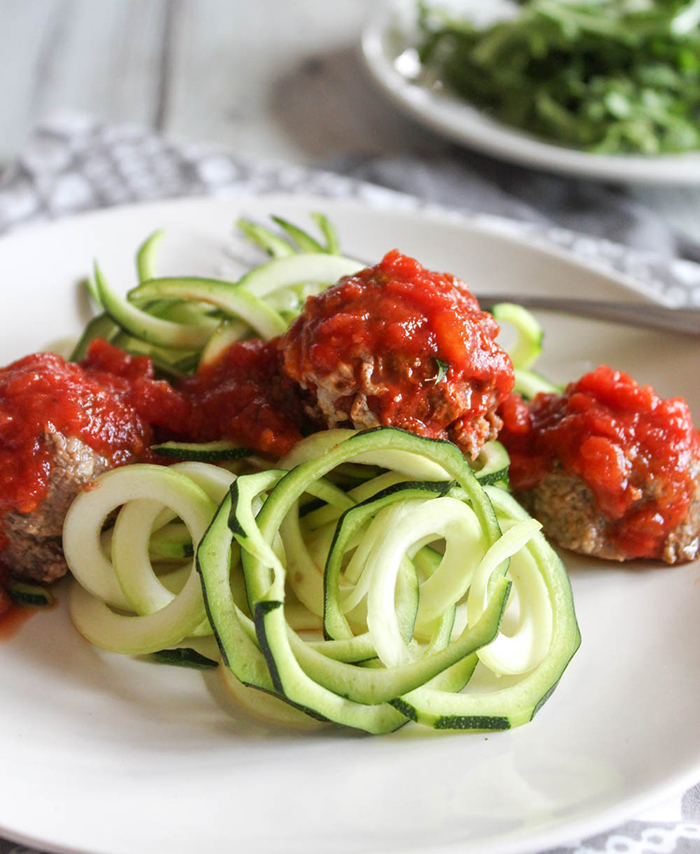 Make Ahead Instructions
This is a great recipe to make ahead of time. You can mix up the ingredients a day or two ahead of time, and store it in the refrigerator. Just before serving, form the meatballs and bake them following the recipe instructions.
Make ahead and freeze eggplant meatballs. Once the meatballs have been baked, allow them to cool off, and place them on a baking sheet and into the freezer. Once they are frozen, place them into a freezer container or a reusable bag and use them as you need them.
To thaw and use frozen eggplant balls, allow them to defrost in the refrigerator overnight or drop them into your favorite marinara sauce straight from the freezer. Cook them in the sauce until they are heated through.
Serving Suggestions
Serve your eggplant meatballs on a hoagie roll smothered with homemade marinara sauce and topped with melted provolone cheese, or top of a plate of fresh zucchini noodles or pasta with side spinach or arugula salad.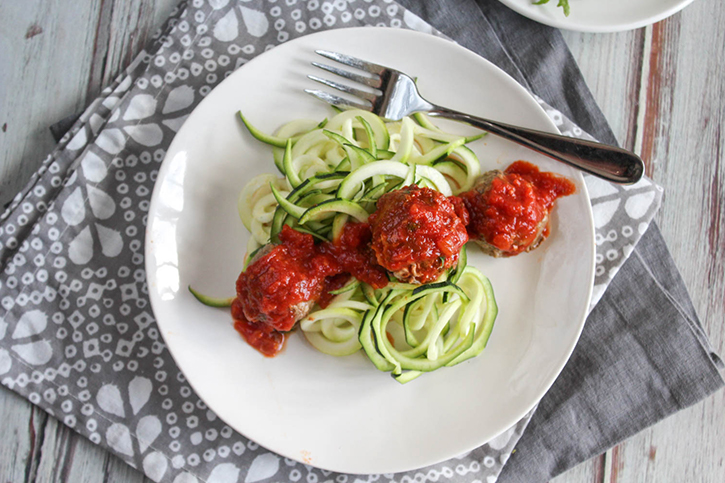 Recipe Variations
Vegan/dairy-free eggplant balls. Replace the Parmesan cheese with ¼ cup nutritional yeast and the egg with a flax egg (1 tablespoon ground flaxseed combined with 2 tablespoons water).
You might also like These Recipes