Kick your cheesesteak sandwich up a notch with this homemade cheesesteak sandwich recipe that's made with tender and juicy beef tenderloin, melted cheddar cheese, peppers and onions.
Today's #SummerGrilling recipe has been sponsored by BBQ Guys and The Spice House, however, all opinions are my own. #ad #SPONSOR #SummerGrilling #imabbqguy #TheSpiceHouse
his post may contain affiliate links see our Privacy Policy.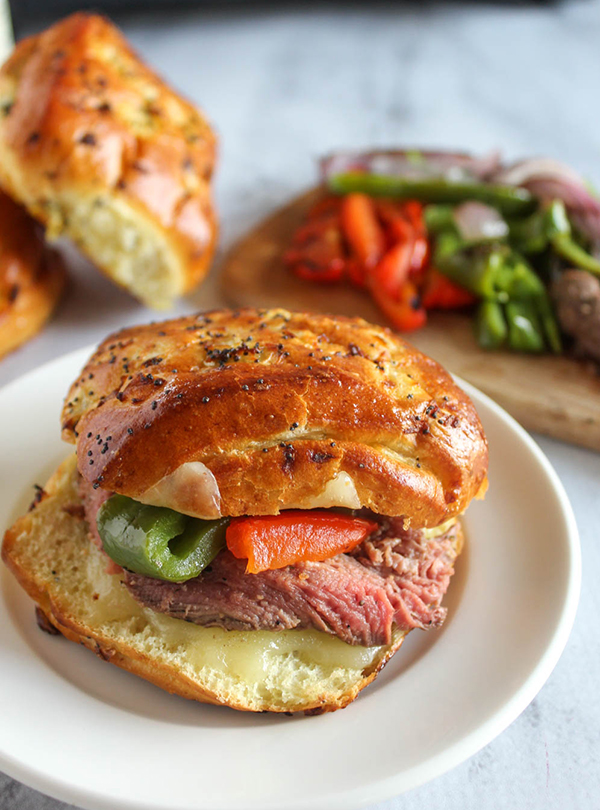 Grilled Cheesteak sandwiches are one of our summer grilling favorites, they are super delicious and you can cook everything for the sandwich on the grill. Which is just perfect for summer entertaining.
Here is what you will need to make this homemade cheesesteak sandwich recipe
Beef filet
Spice House Back of the Yards Butcher's Rub
Bell peppers
Onions
Olive oil
Your favorite cheese
Rolls
Seasoning The Steak
Beef filet is a super flavorful cut of meat that doesn't need a lot of extra added flavor, that is why I love this Back of the Yards seasoning blend from The Spice House Best Seller's Collection. It is the perfect blend of garlic, pepper and other seasonings to add just the right amount of flavor to the steak.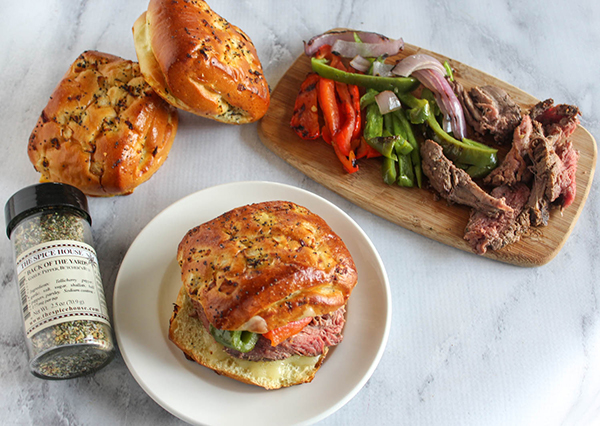 Cooking The Steak
Even though we enjoy the traditional Philly style cheesesteak with the thin cuts of shredded beef on a hoagie roll, every once in a while we like our steak sandwiches a little more sophisticated with thicker slices of tender beef that are piled onto an onion roll.
I almost always use grass-fed beef when I cook beef. It's' leaner, healthier and I think it just tastes better. Since it's lean, grass-fed beef cooks fast, so rather than rely on timing, I like to use a digital thermometer like this Weber IGrill Mini Grilling Thermometer because there is nothing worse than ruining a juicy steak by over cooking it.
This little thermometer fits in your pocket, and It's the perfect solution for cooking steak to perfection. All that you have to do is sync the IGrill Mini Grilling thermometer up with the app on your phone and tell it how you would like your steak cooked. The IGrill Mini Grilling Thermometer takes the guess work out and will let you know when your meat is ready! It really can't get any easier than that!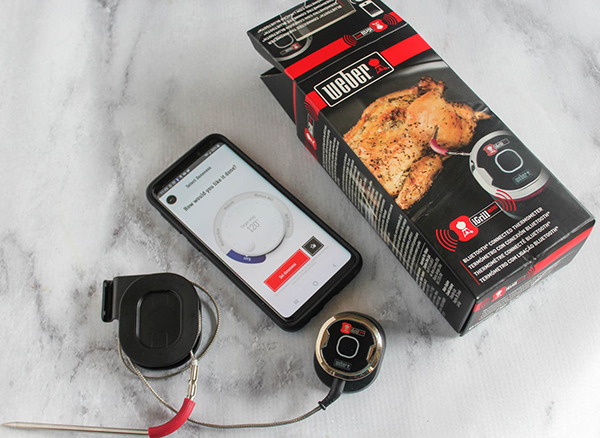 Internal Temperatures for Steak
If you are not lucky enough to have an iGrill Mini Grilling Thermometer to grill your steak, here are the temperatures for different stages of doneness:
Rare 115 to 120 Degrees
Medium Rare 120 to 125 Degrees
Medium 130 - 135 Degrees
Medium Well 140 - 145 Degrees
Well Done 150 to 155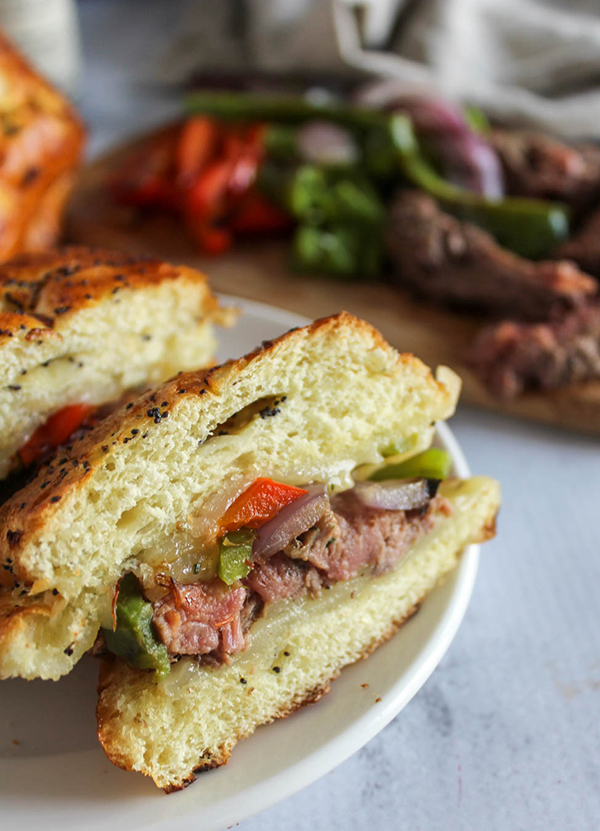 Basic Steps to Make Grilled Cheesesteak Sandwiches with Peppers and Onions
Please note that this a list of steps to give you an idea how to make this recipe. Full details are in the recipe card below.
Pre-heat the grill
Prepare the peppers and onions
Season the steaks
Brush the vegetables with oil
Place the steak and vegetables on the grill to cook
Once cooked, set the steak aside to rest
Slice up the peppers and onions
Melt the cheese on the rolls
Slice the steak
Put the sandwich together
Total Estimated Time: 30 to 40 minutes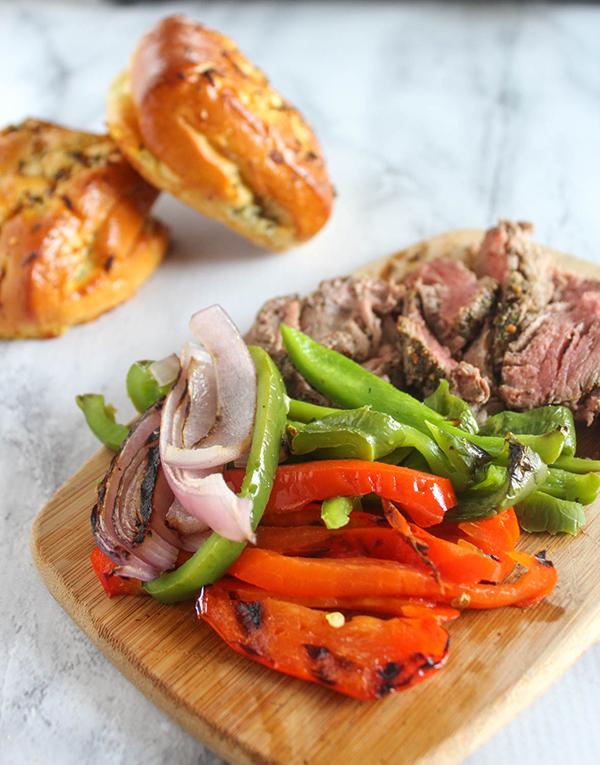 Tips and Variations For Homemade Cheesesteak Sandwiches on the Grill
Tips
Beef cooks best when it is at room temperature. Allow the steak to reach room temperature by removing it from the fridge for about 30 minutes before grilling.
Sear in the juices. Before adding the food to the grill make sure the grill is extremely hot and brush olive oil onto the grates just before adding the food.
Cut the peppers into halves or quarters. This will keep them from falling through the grill grates.
Slice onions at least a half inch thick in size. This will keep the onion slices from falling through the grates. Use a skewer to hold the layers of the onion together on the grill.
Variations
Skip the cheese and top with peppers and onions
Add mushrooms or lettuce, sliced tomatoes and raw onions
Change up the cheese and try provolone, mozzarella, or blue cheese
The best roll in my opinion is an onion roll, but any roll that's soft on the inside such as kaiser or pretzel rolls.
Use a different cut of beef for your cheesesteak sandwich. London broil is a great choice for a crowd, as is flank or skirt steak.
Try a vegan version like this Portobello Mushroom Cheesesteak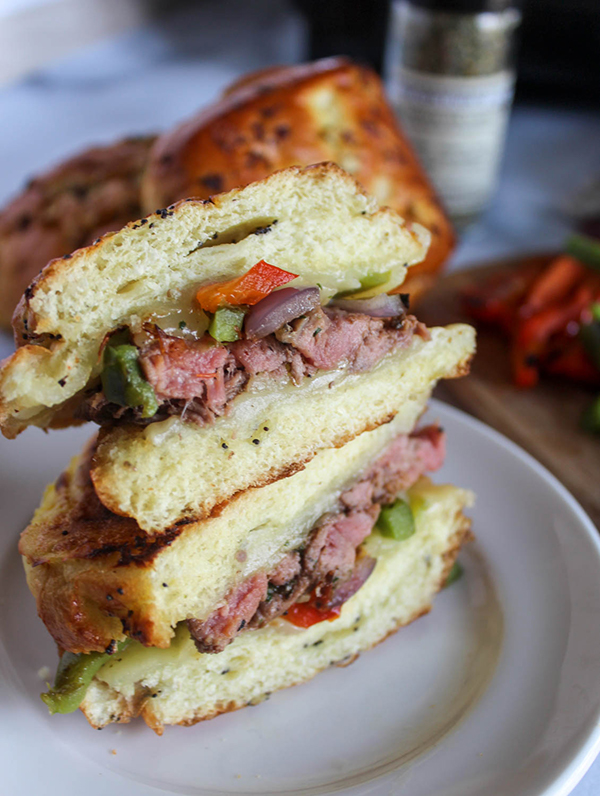 Serve your Homemade Cheesesteak With