Grilled Balsamic Chicken Breasts with Strawberry Salsa is a delicious no-fuss meal that's perfect for a weeknight dinner but also worthy of company.
Tender chicken breasts are soaked in a sweet and savory balsamic marinade, grilled to perfection and topped with a strawberry salsa for the most refreshing and easy summer dinner ever!
This recipe was originally posted in June, 2018. It has been updated for content and photos.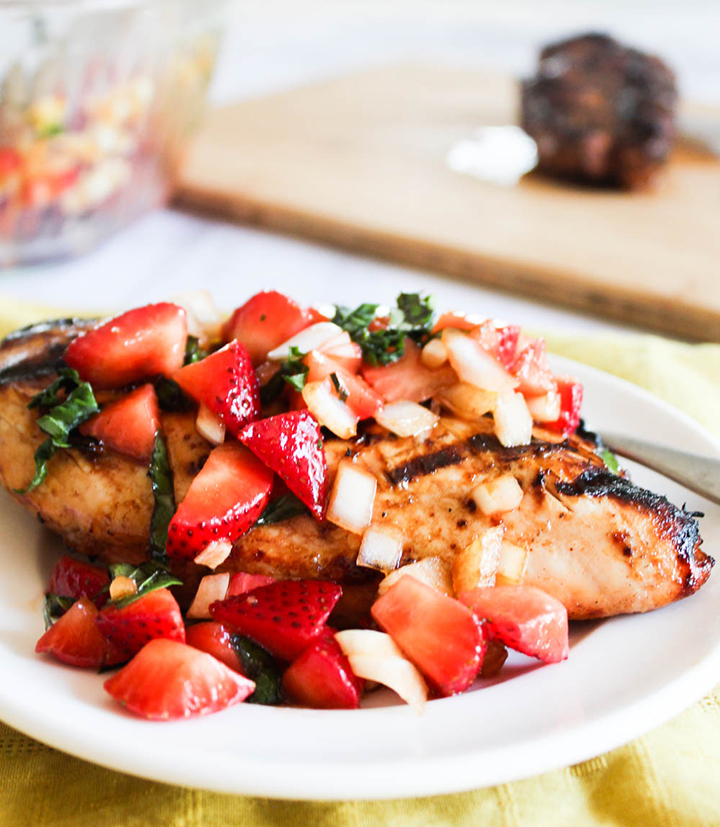 Balsamic chicken breasts with strawberry salsa is so easy to make on the grill. For a delicious early summer dinner, serve it with an arugula salad.
Why this Recipe Works
It's a quick dinner, made with less than 10 ingredients and on your table in less than an hour!
Lean meat tends to be dry, especially when it's grilled. Marinating the chicken and topping it with fresh fruit adds moisture and flavor.
It's a healthy recipe that everyone will love!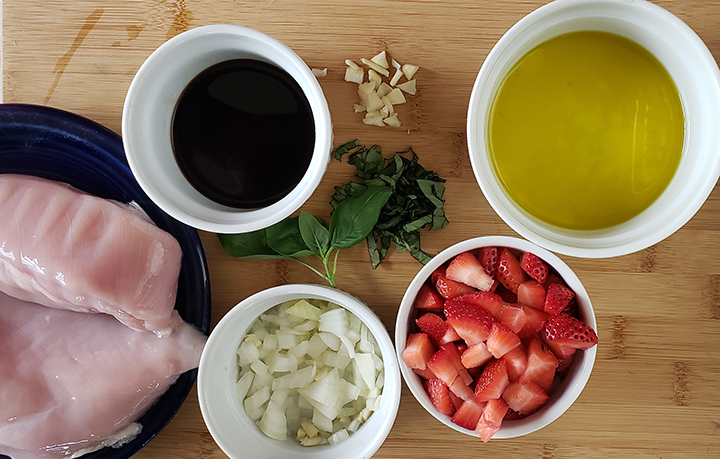 Here is What You Will Need
This is an overview of the ingredients and steps to make this recipe, scroll down to see ingredient notes and substitutions as well as a printable recipe card with exact measurements and complete cooking instructions.
As an Amazon Associate, I earn from qualifying purchases
This is an overview of the ingredients and steps to make this recipe, scroll down for a printable recipe card with exact measurements and instructions.
---
Ingredients
Boneless chicken breasts
Strawberries
Onion
Garlic
Basil
---
Here is How To Make Grilled Balsamic Chicken Breasts with Strawberry Salsa
Prepare all of the ingredients: Mix the marinade ingredients together (balsamic, oil, garlic & maple syrup). Just before you start cooking, clean, hull and chop the strawberries, dice the onions, chop the basil and preheat the grill.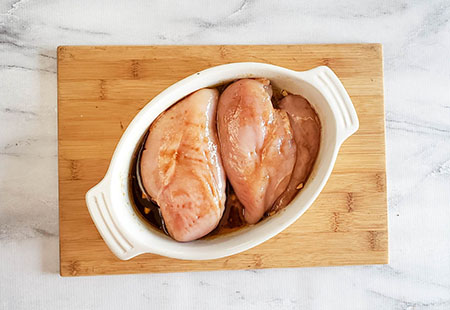 Step 1. Place the chicken breasts into a glass or ceramic dish and pour half to the marinade over the top. Allow the chicken to marinate for at least one hour in the refrigerator.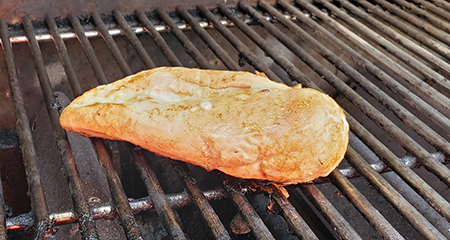 Step 2.Once the grill is hot, grill the chicken breasts over medium heat for 7 to 8 minutes on each side.
Note! Discard the marinade from the dish with the chicken.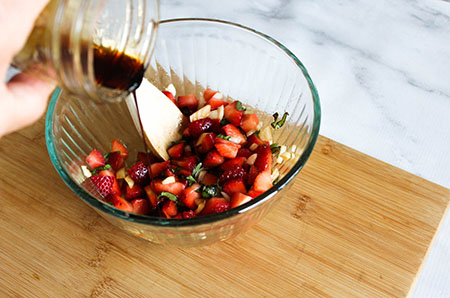 Step 3. While the chicken is cooking, make the salsa: Add the chopped strawberries, onions, and basil to a small bowl; stir in the remainder of the marinade that was set aside.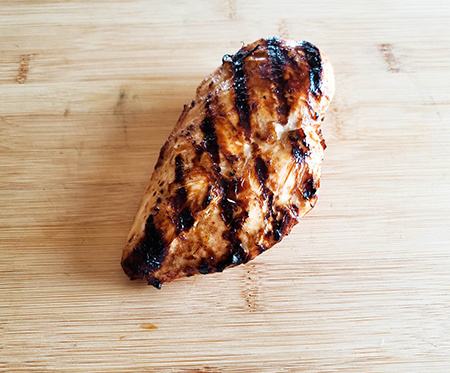 Step 4. Once the chicken has reached an internal temperature of 165, remove it from the grill.
Tip! Try an instant read meat thermometer for the quickest and best results.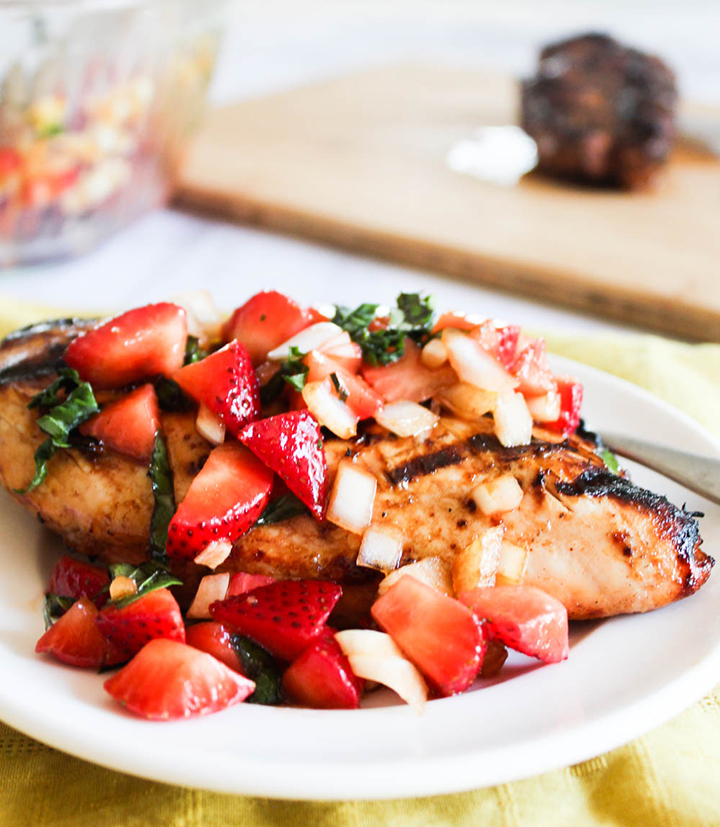 Step 5. Place the chicken on a plate and top it with fresh strawberry salsa.
Estimated Time To Make This Recipe: 25 to 35 minutes (Plus at least one hour for marinating).
Ingredient Notes & Substitutions
Chicken. The best choice for grilled and juicy boneless chicken breasts is to use boneless breasts that are ¾ to one inch thick, I like to get my chicken from ButcherBox.
Boneless chicken breasts can be substituted with boneless chicken thighs.
Onion. Any variety of onion can be used, but we like to use sweet vidalia onions if they are available to make strawberry baslamic chicken.
Garlic. Fresh chopped garlic is always best, however, you can substitute it with ⅛ teaspoon per clove. If you love the flavor of garlic, you can add more. If you have bottled chopped garlic, use the recommendations on the package.
Maple Syrup. Adds sweetness to the marinade, it can be replaced with a one to one swap of honey.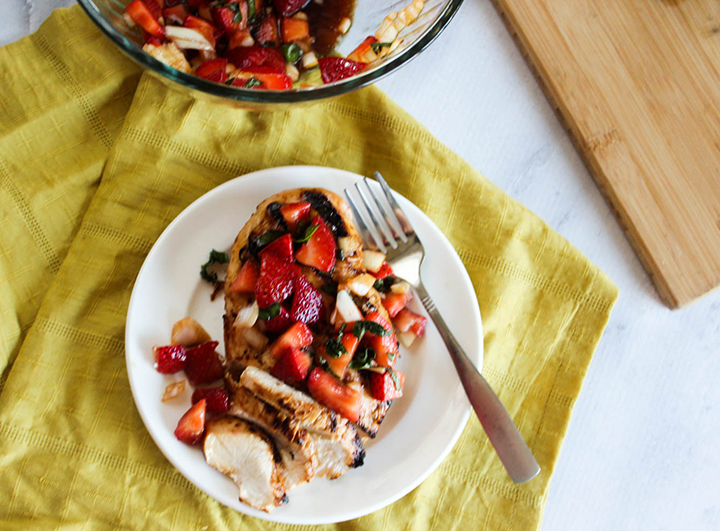 Make-Ahead Instructions
This is an easy recipe to begin making ahead of time. Here's how: make the salsa and marinate the chicken the night before. Remove them from the refrigerator while the grill is heating up for a super-fast dinner.
Serving Suggestions
Serve grilled balsamic chicken breasts with strawberry salsa with baked, grilled or roasted potatoes and a simple salad like this spinach salad.
Storing and Using Leftovers
Store leftover grilled strawberry balsamic chicken breasts in an airtight container for up to 2 days. You can store the cooked chicken breasts already topped with the berries or you can store them in separate containers.
Serve leftovers reheated in the oven or microwave, or toss the leftover chicken and strawberries with baby spinach, field greens or romaine.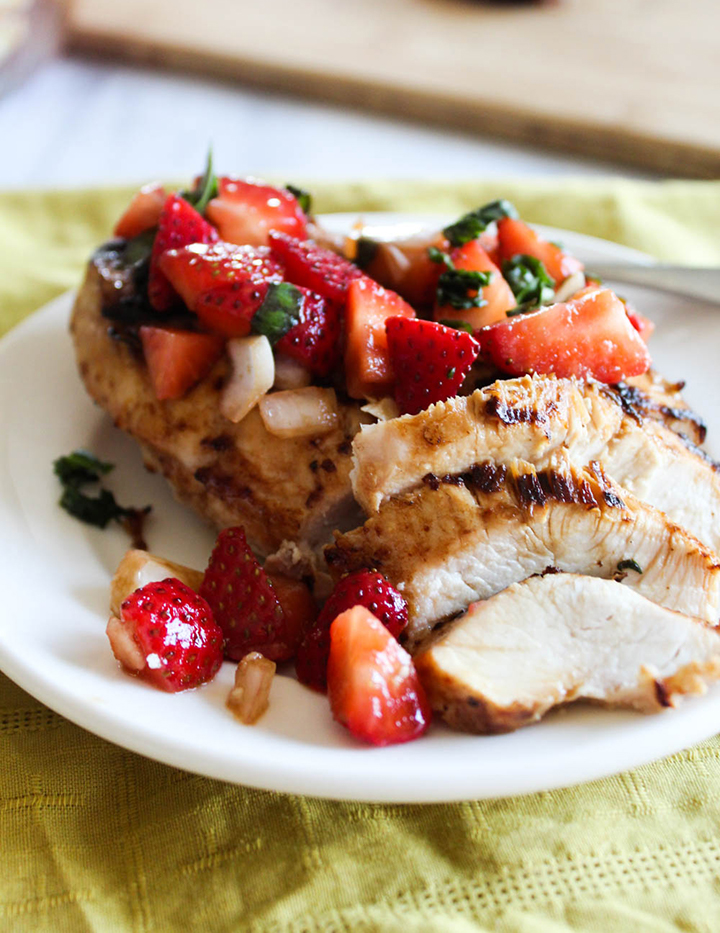 Recipe Variations
Freezing is not recommended.
Add cheese. Sprinkle small chunks of mozzarella, feta or blue cheese over the chicken and strawberry salsa just before serving.
Change up the herbs. Add a few springs of chopped fresh mint to the salsa.
Add More Fruit. Add ½ cup chopped pineapple to the strawberry salsa.
You Might Like These Recipes