Chopped Greek Salad with Lemon Dressing is made with bite sized pieces of fresh vegetables and feta cheese tossed in a homemade lemon dressing. It's a cool and refreshing salad that's perfect for a main dish or a side salad.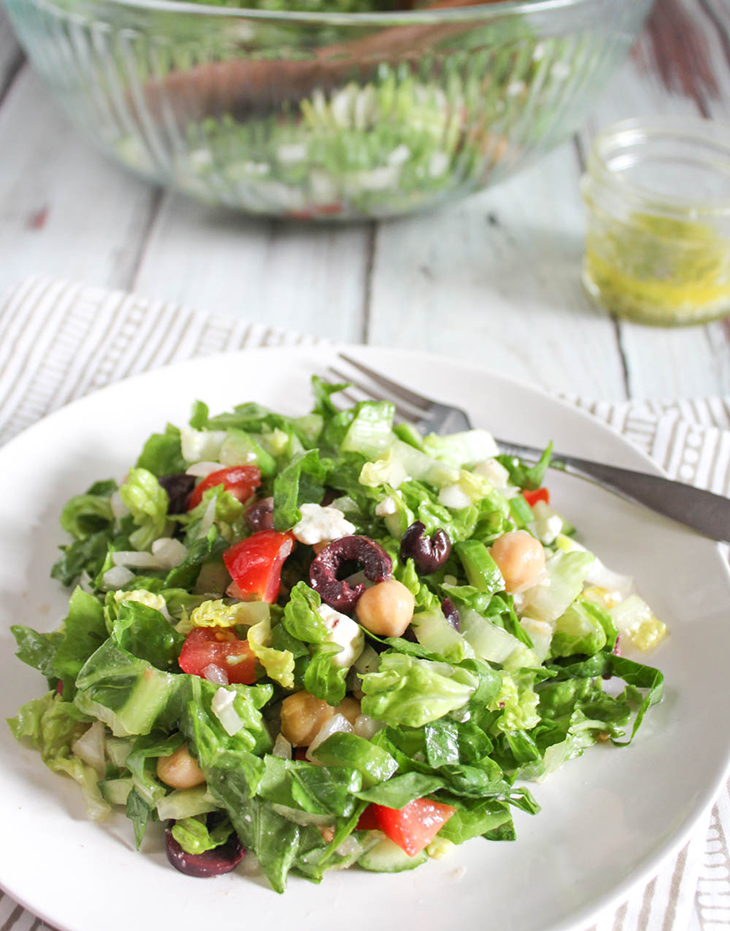 Here is what you will need
As an Amazon Associate, I earn from qualifying purchases
This is an overview of the ingredients and steps to make this recipe, scroll down for a printable recipe card with exact measurements and instructions.
Romaine lettuce
Onion
Cucumbers
Tomaotes
Feta cheese
Fresh Lemon Juice
Garlic
Fresh Oregano
Honey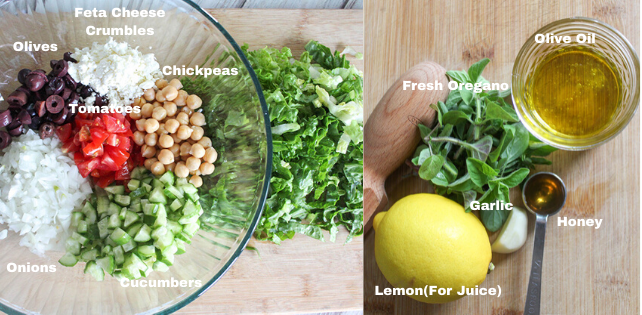 Estimated Time To Make This Recipe: 20 to 30 minutes
Chopped salads are so good.Crisp, fresh bite sized pieces of vegetables overflowing with flavor all in one bite.
You are going to love this Chopped Greek Salad. It brings together all of the fresh flavors of summer.
Grill up a few boneless chicken breasts to go along with this salad and you have a complete easy dinner.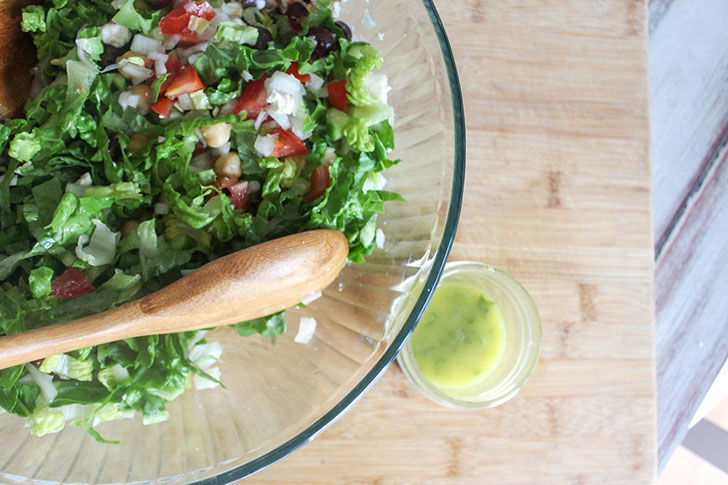 What Makes this Salad so Good?
It's made with minimal and fresh ingredients.
The flavor and texture combination of salty, crispy, refreshing, tangy and slighly sweet.
It's easy and you can make it ahead of time.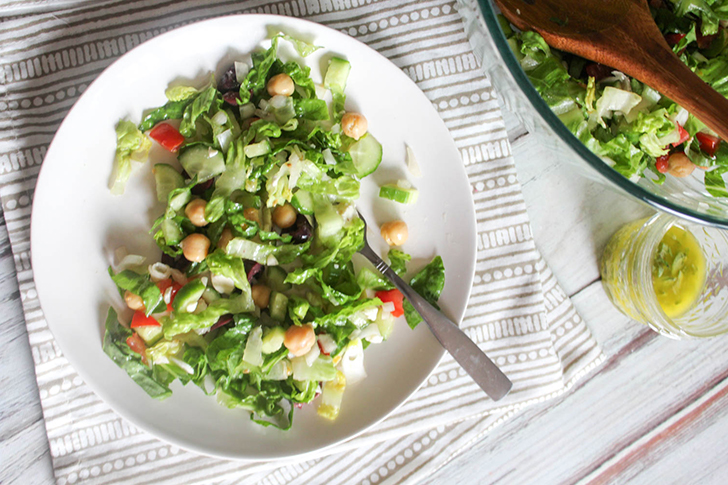 Recipe Tips
The Dressing
Traditioinal Greek salad dressing contains both lemon juice and vinegar. I prefer fresh lemon juice without the vinegar. You can play around with the dressing and add 1 to 2 tablespoons of red wine vinegar if you like.
I like to mix up homemade salad dressings in small mason jars. It's so easy; add the ingredients to the jar, cover it and shake it up. If I don't use up all of the dressing I place the covered jar in the fridge.
TIP! Before serving the salad, drizzle a small amount of dressing over it. Serve the dressing on the side so that more can be added if necessary.
Make Ahead Instructions
This is the kind of salad that can easily be made ahead of time. Here are some tips to keep the salad fresh:
You can cut up the vegetables (except for the tomatotes) up to 2 days before making the salad. Store the chopped vegetables in separate airtight containers in the refrigerator.
The dressing can be made up to a week ahead of time and stored in the refrigerator.
Add the cheese, chickpeas and dressing just before serving.
Storing Leftover Salad
Depending on how much dressing you add to the salad before serving, the leftovers will last a day or two in the refrigerator stored in an airtight container. Too much dressing will make the salad soggy and won't last as long.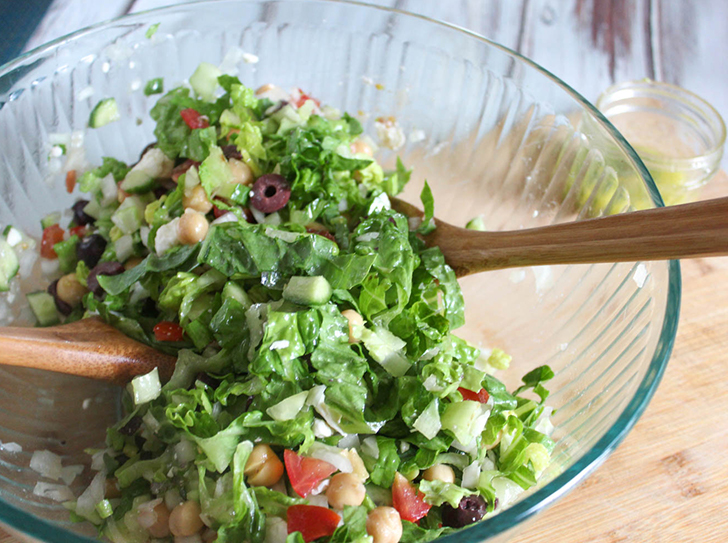 Recipe Variations & Substitutiuons
Make a Vegan Greek Chopped Salad by leaving out the feta cheese and substituting the honey with an equal amount of maple syrup.
The fresh garlic can be substituted with ⅛ teaspoon garlic powder.
Fresh oregano can be substituted with 1 to 1 ½ teaspoons dried oregano.
Add a ½ cup of sliced pepperincini peppers to spice up the salad.
Add ½ cup cooked quinoa to the salad.
Use half chopped spinach and half romaine lettuce or any lettuce that you like.
Make it a meal and add chopped cooked chicken breast or shrimp to the salad.
More Salad Inspiration