Easy roasted Brussels sprouts with citrus are bursting with the flavors of garlic, shallots and Citrus. The lemon and orange pieces sweeten as they roast, adding a unique dimension to the texture and flavor . It's a refreshing and easy side dish perfect for holiday entertaining or family dinners.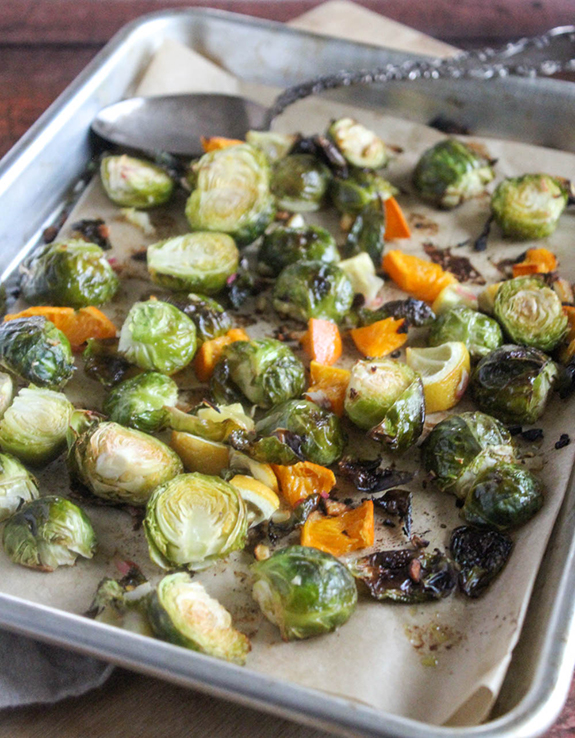 Healthy and Easy Roasted Brussels Sprouts
Brussels sprouts are so good for you. They are full of fiber, antioxidants, essential vitamins, and minerals.
Until a few years ago, the health benefits of Brussels sprouts didn't matter to me at all. I grew up hating Brussels sprouts. My mother would boil them to death. Even though I eat just about every vegetable there is, up until a few years ago I.WOULD. NOT. go near Brussels sprouts.
The memories of the smell as they were boiling away along with the texture of the mushy little cabbage balls was too much for me to get over. It didn't matter how much butter my mother put on them - yuk!
And then it all changed when I had a taste of roasted Brussels sprouts.
Roasting vegetables mellows out the flavor, which is what Brussels sprouts need. When they are roasted, Brussels sprouts taste nothing like boiled. They are not bitter at all, instead they are nutty and savory.
Roasting is an easy and hands-off way to prepare vegetables. We like our Brussels sprouts plain with a drizzle of olive oil, tossed with apples in these balsamic roasted Brussels sprouts with garlic or with pomegranate in these Roasted Brussels Sprouts with Pomegranate.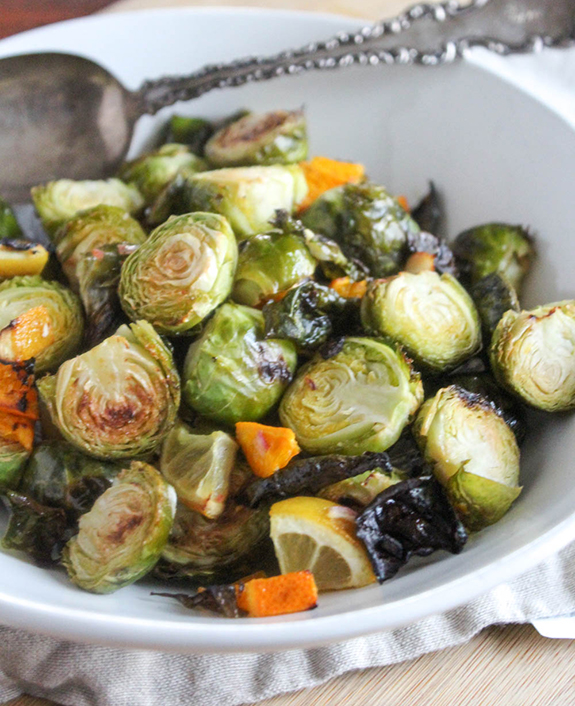 As an Amazon Associate, I earn from qualifying purchases
This is an overview of the ingredients and steps to make this recipe, scroll down for a printable recipe card with exact measurements and instructions.
What you Will Need
Brussels sprouts
Shallots
Garlic
Lemon
Clementine or orange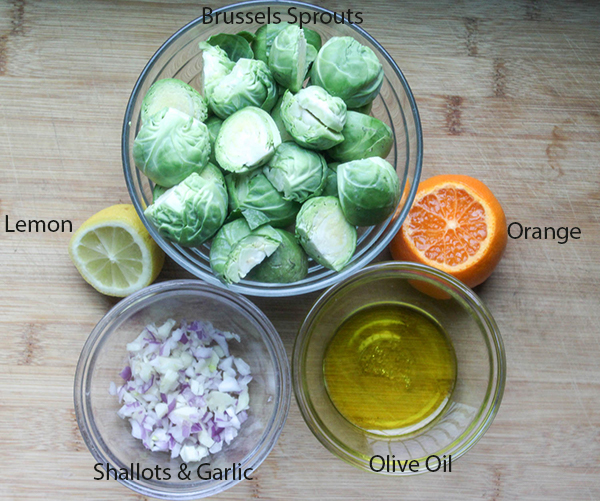 How to Trim Brussels Sprouts
Cut off the brown ends and remove any discolored leaves
If the Brussels sprouts are small, leave them whole
For larger Brussels Sprouts, slice them in half or into thinner slices for a crispy texture.
Rinse the Brussels sprouts in water and pat them dry before roasting them.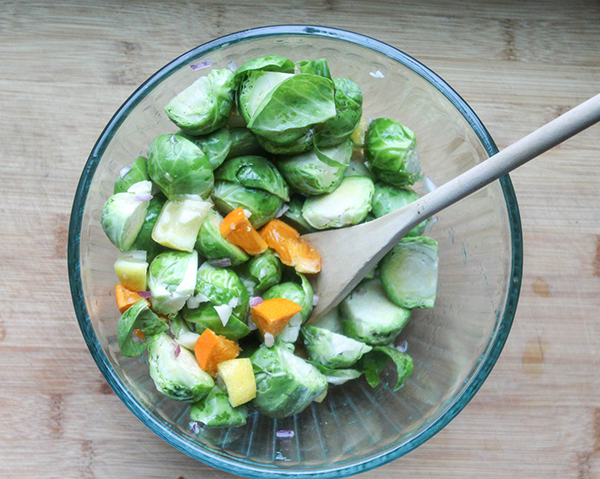 Here's How to make this Recipe
The ingredients for this recipe can be prepared just before roasting the Brussels sprouts or you can prepare them ahead of time. If you prepare them ahead of time store the trimmed Brussels sprouts and fruit slices in the refrigerator until it's time to cook them.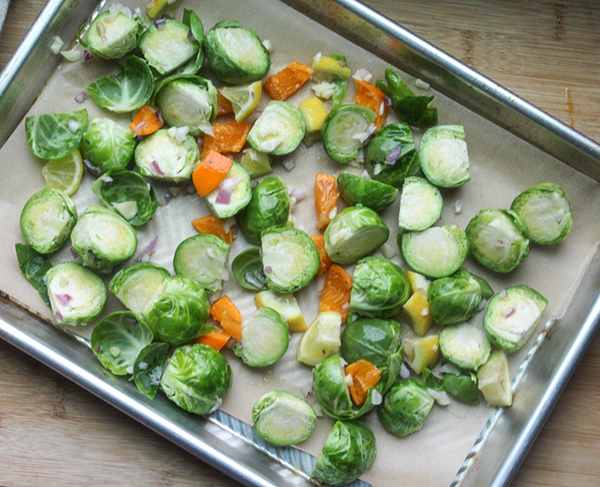 Clean, trim and slice the Brussels sprouts
Slice the fruit, onions and shallots
Toss Brussels Sprouts along with the other ingredients in a bowl
Arrange the ingredients on a parchment lined baking sheet
Bake for approximately 30 minutes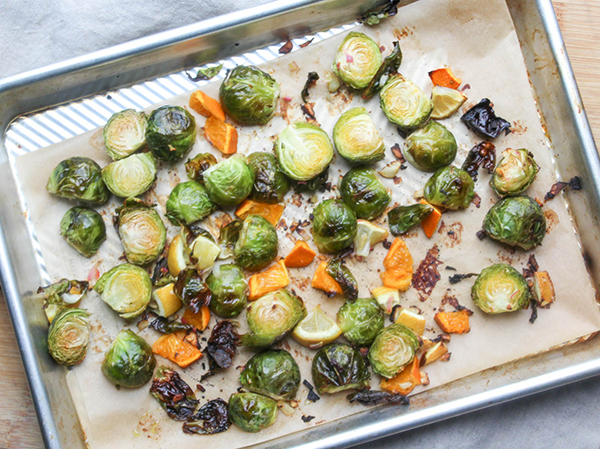 How to make Roasted Brussels Sprouts Crispy
If you prefer crispy Brussels sprouts, slice them into 3 to 4 slices, make sure they are coated with oil and turn up the heat to 425.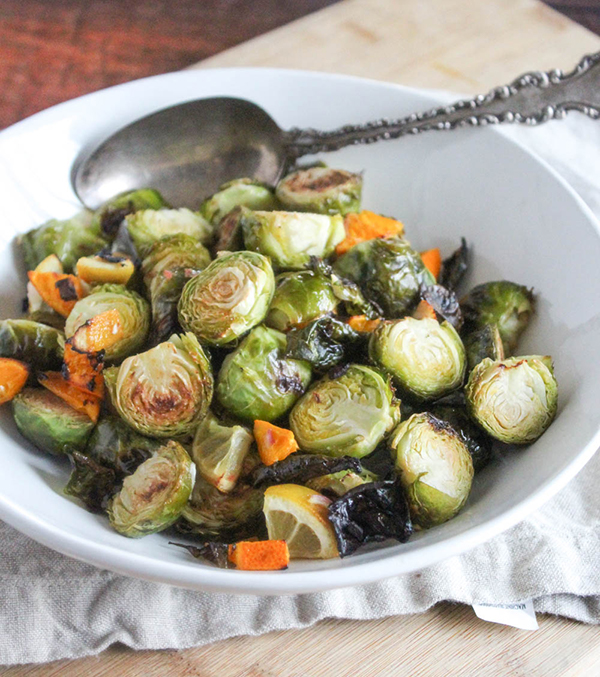 Recipe Variations
Change up the citrus combinations by using grapefruit or lime with the orange and lemon
Add bacon crumbles at the end the cooking process.
Serving Suggestions
Citrus roasted Brussels sprouts are an excellent side dish with any entree such as pork chops with vinegar peppers, Beef Stew with Vegetables, Hasselback Pork Tenderloin, Garlic and Herb Chicken with Beans
For more simple and delicious recipes like this, subscribe to our newsletter and receive a free e-book and meal suggestions straight in your inbox!