This pork chops with vinegar peppers and potatoes recipe is so good! It's made with tender pork chops that are seared on top of the stove, then finished in the oven with spicy cherry peppers in vinegar. It's full of flavor and easy to make.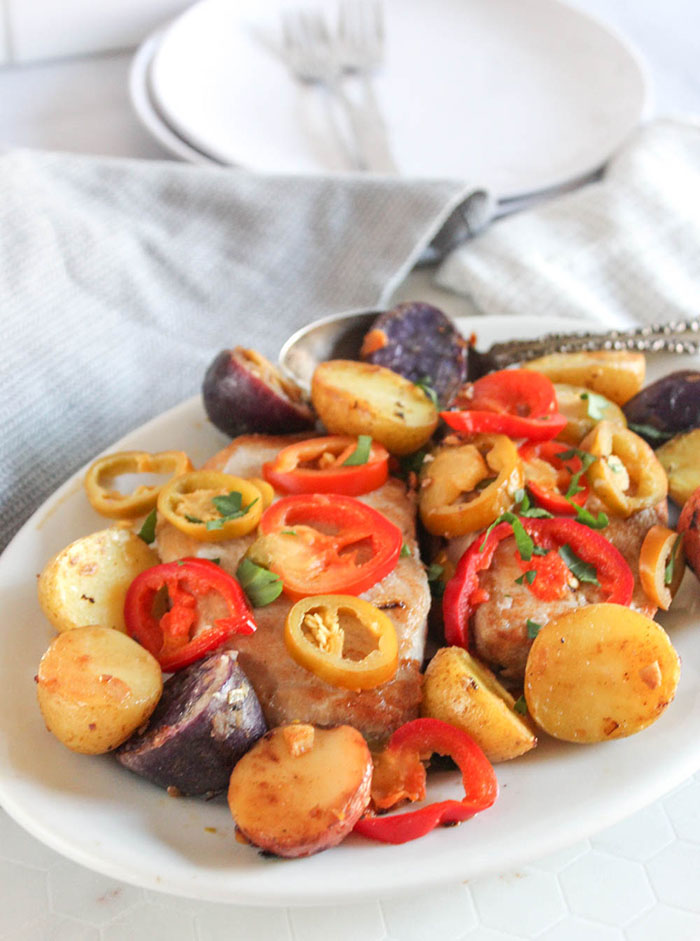 This pork chop dinner recipe is almost a one-pan dinner. Serve it with a side of sauteed broccoli rabe for a meal that can be on your table in less than one hour!
Why This Recipe Works
It's a versatile one-pan dish that is a quick and easy dinner - perfect for weeknights or to serve guests.
Flavor! Pork chops with vinegar peppers and potatoes has the perfect amount of spicy flavor along with salty and savory all in one bite.
Here Is What You Will Need
This is an overview of the ingredients and steps to make this recipe; scroll down for a printable recipe card with exact measurements and instructions.
As an Amazon Associate, I earn from qualifying purchases.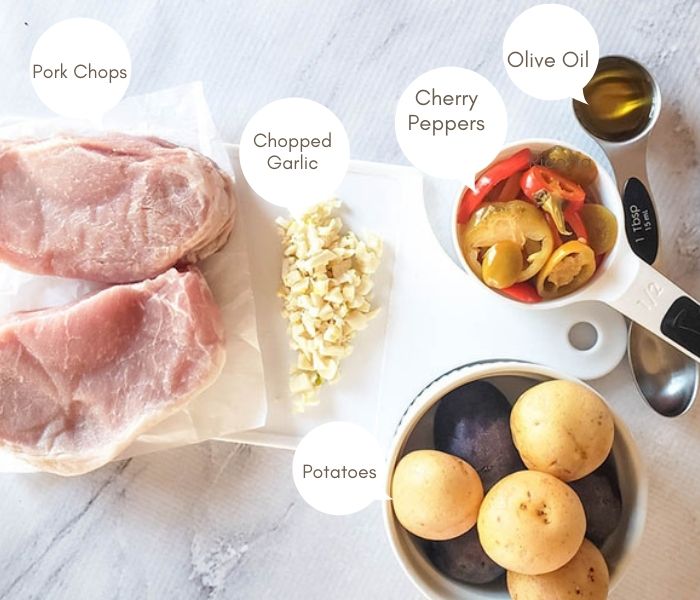 Ingredients List
Boneless Pork Loin Chops
Baby Potatoes
Garlic
Equipment
How to Make This Pork Chops with Vinegar Peppers and Potatoes Recipe
Prepare the ingredients: wipe the potatoes clean with a damp towel and cut them in half, chop the garlic cloves and measure and slice the cherry peppers, season pork chops with salt and pepper, and pat them dry with a paper towel.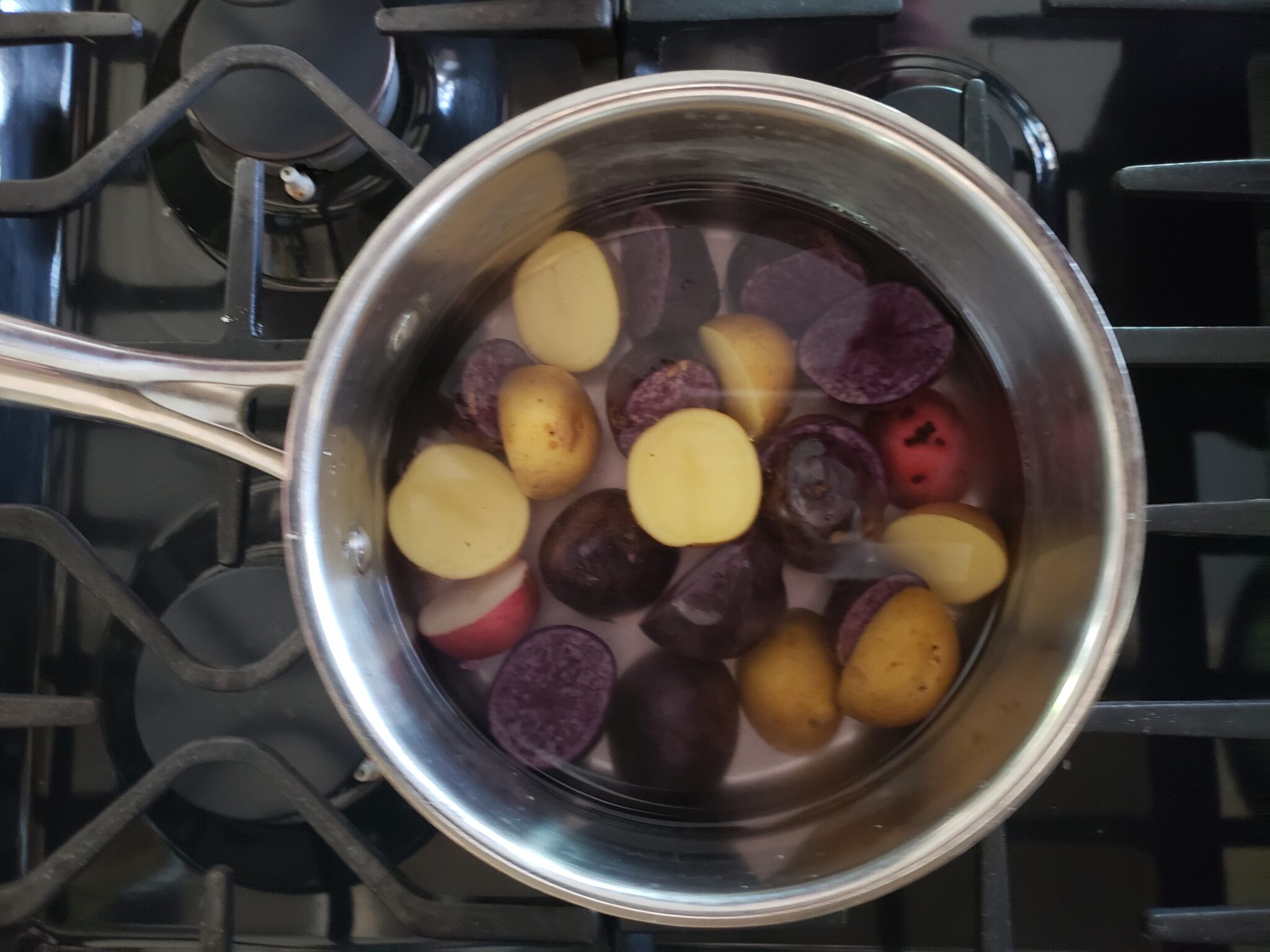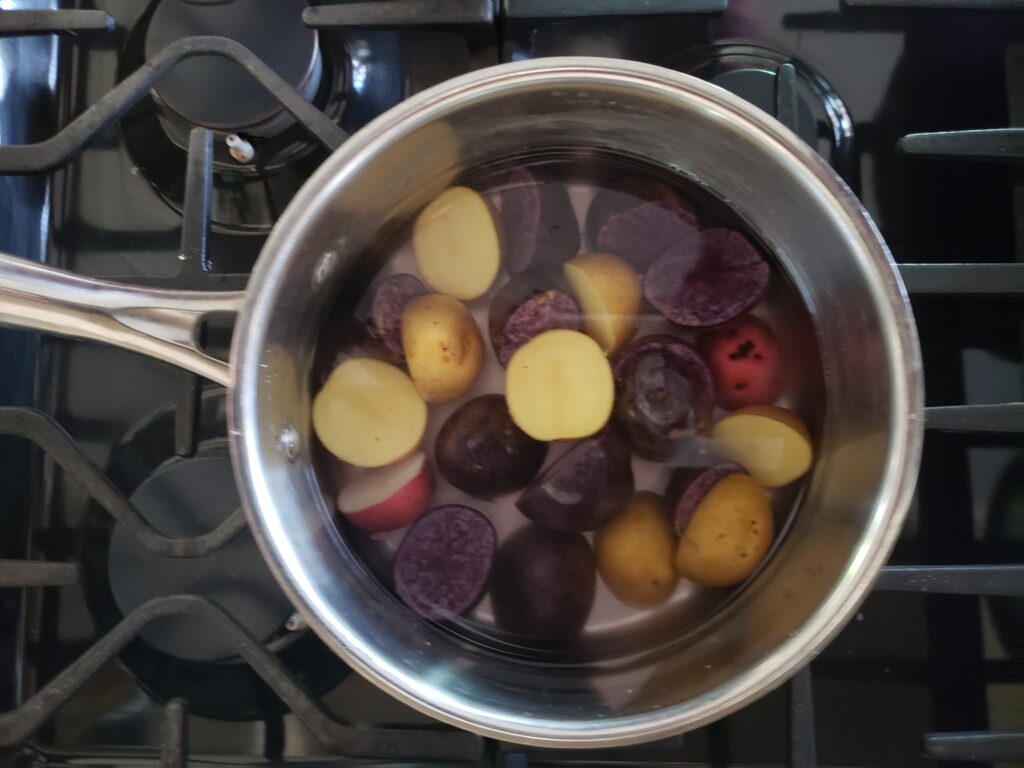 Step 1. Par-boil the potatoes
Fill a medium-sized saucepan halfway with water, add the potato halves. Cover the saucepan and bring the water to a boil until the potatoes begin to turn soft. Drain, rinse them and set them aside.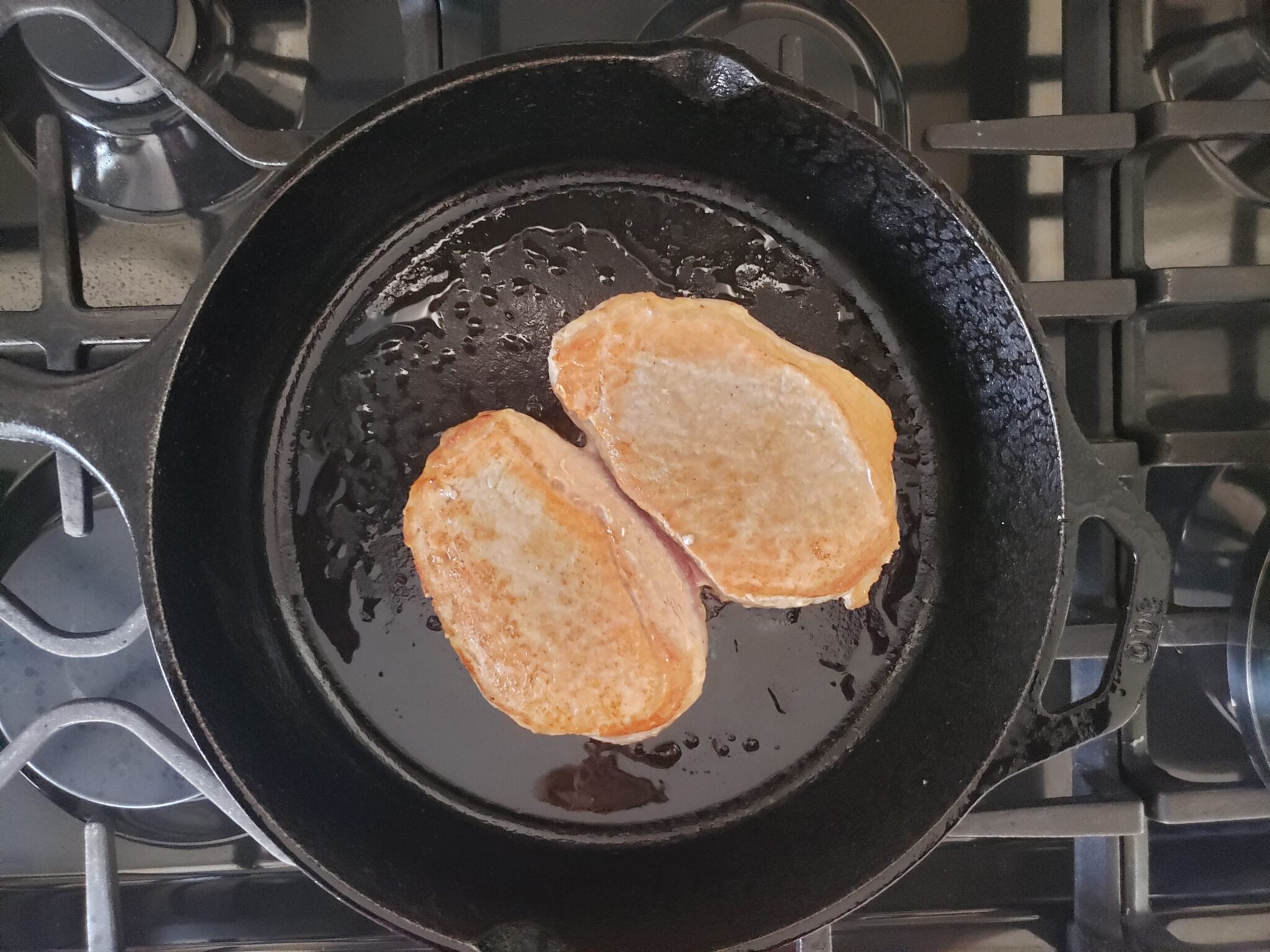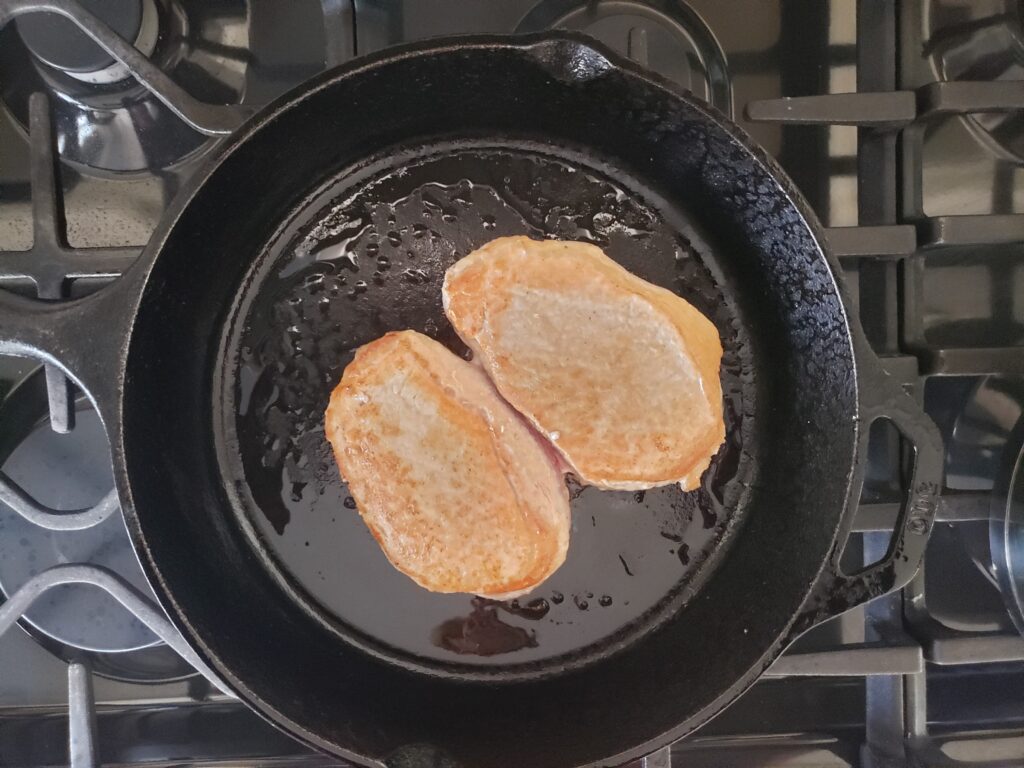 Step 2. Sear the pork chops
While the potatoes are cooking, heat olive oil over medium-high heat in a skillet. Once the oil is hot, place pork chops and cook chops for approximately 1 to 2 minutes on each side until they turn golden brown. Remove them from the pan.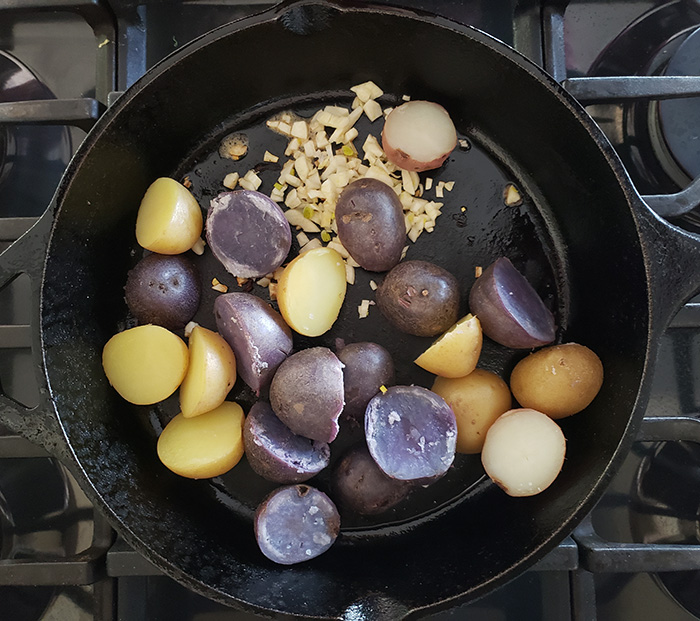 Step 4. Brown the potatoes
Add the cooked potatoes to the skillet with the garlic and toss over medium heat while scraping up brown bits on the bottom of the pan. until the garlic starts to soften and the potatoes start to brown.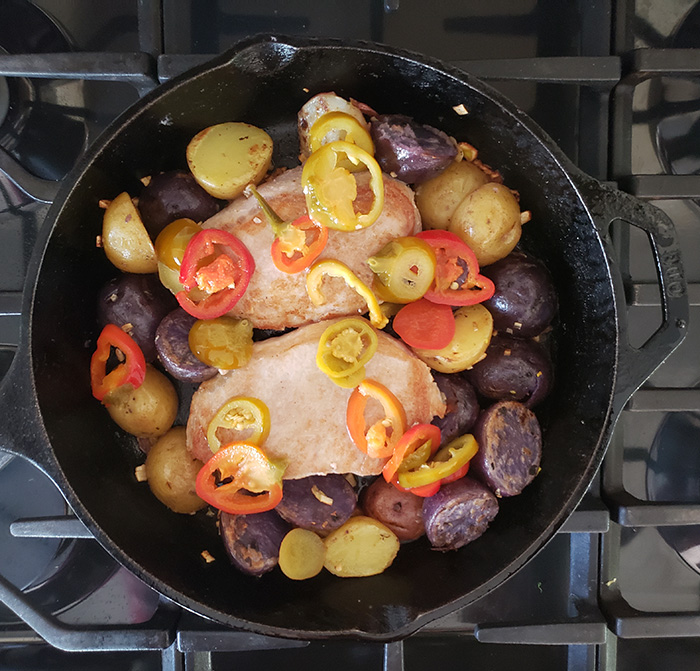 Step 5. Add the pork chops back to the pan
Once the garlic begins to soften, transfer the pork chops back to the skillet, add the cherry peppers and reserved vinegar. Bake uncovered (about 10 minutes) until the pork is cooked through - 145 degrees F.
Cook time in the oven can vary depending on the thickness of the pork chops. To avoid overcooked pork, check the temperature of the meat after it's been in the oven for 10 minutes and continue to check until chops reach 145 degrees F.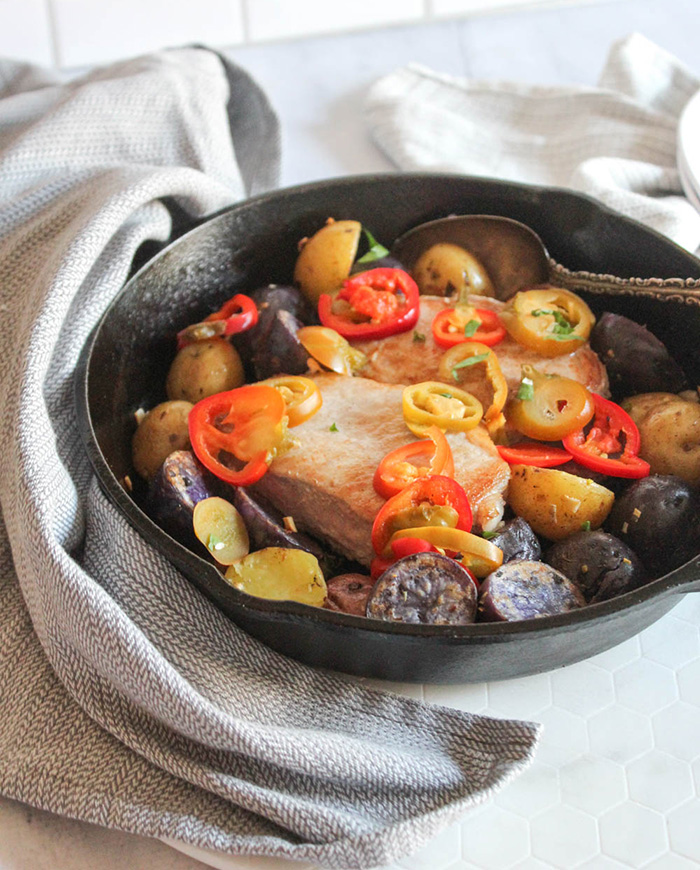 Ingredient Notes and Substitutions
Pork Chops. For tender and flavorful pork chops, look for good quality heritage breed boneless pork chops that are at least one inch thick. Boneless pork loin chops or pork rib chops work the best.
Boneless pork chops can be substituted with bone-in pork chops or even a pork tenderloin in this recipe.
Cherry Peppers. We like hot cherry peppers in a jar in this recipe, and they can be replaced with an equal amount of sweet cherry peppers or peppadew peppers for a milder version of pork chops with vinegar and peppers.
Baby potatoes can easily be replaced with chunks of yukon gold or red potatoes.
Check out ButcherBox for high-quality sustainable meat and juicy boneless pork chops!
What to Serve with Pork Chops with Peppers and Potatoes
Pork chops with vinegar peppers and potatoes taste great with a zesty arugula salad, roasted brussels sprouts, green beans or roasted butternut squash.
Recipe Variations
Chicken with vinegar peppers and potatoes. Replace the boneless pork loin chops with boneless chicken breasts. Cook the chicken breasts to an internal temperature of 165 degrees f.
Add more vegetables. Add sliced fresh bell peppers, onions and mushrooms to the skillet while browning the potatoes.
Add fresh herbs. For a fresh-tasting version of pork chops with vinegar peppers, add a sprig of fresh rosemary or thyme before baking the pork chops and garnish with fresh oregano or fresh basil.
Change up the vinegar. Instead of using vinegar from the jarred peppers, try using an equal amount of balsamic vinegar, red wine vinegar or white wine vinegar.
If you like this recipe, you might also like chicken giambotta or chicken murphy!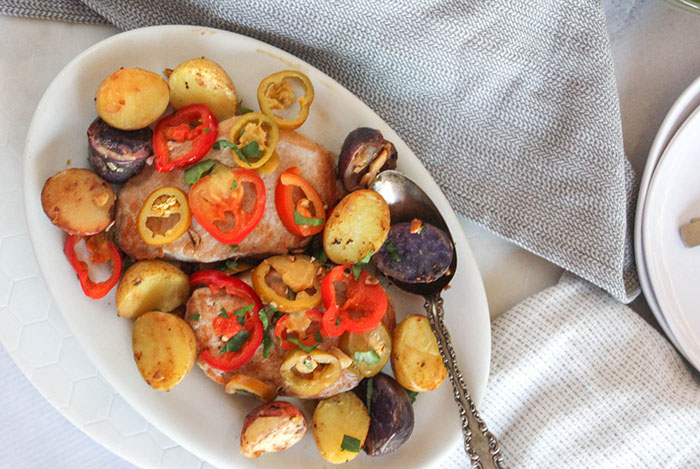 For more simple and delicious recipes like this, subscribe to our newsletter and receive a free e-book and meal suggestions straight in your inbox!
How to Store Leftover Pork Chops with Cherry Peppers and Potatoes
Refrigerate leftover pork chops with peppers and potatoes for up to three days in an airtight container.
Reheat the leftovers on top of the stove or in the oven until heated through.
Top Tips
Save time on cooking day, and boil the potatoes up to two days ahead of time and store them in the refrigerator until it's time to make the pork chops.
To avoid tough pork chops, don't over cook them. Use an instant-read thermometer to check the internal temperature, and remove the chops from the oven just before they reach 145 degrees F.
For a nice golden brown sear, pat the pork chops dry with paper towels before adding them to a hot skillet.
You Might Like These Easy Dinner Ideas
If you like this recipe, please comment and rate it below!