Chicken Giambotta is a quick and flavorful chicken dinner that can be ready in about one hour.
If you like my Chicken Murphy Recipe, you are going to love this chicken giambotta recipe. It's made with 10 fresh ingredients on top of the stove, and is practically a meal all by itself.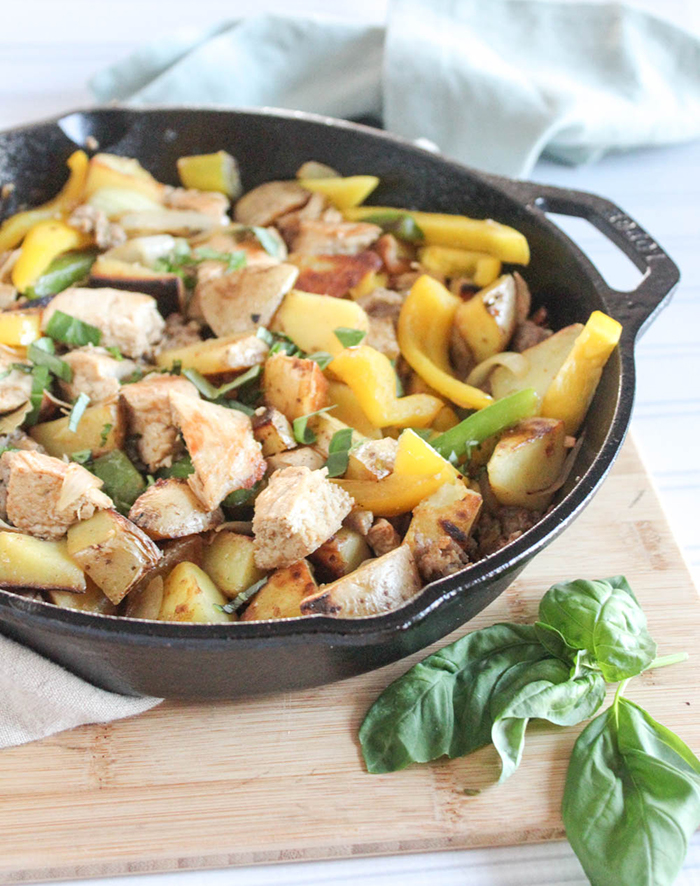 What is Chicken Giambotta
Traditional giambotta is an Italian stew made with summer vegetables. As with most stew recipes, there are many variations, this giambotta recipe contains chicken and a little bit of Italian sausage in addition to vegetables.
Recipe Highlights
It's a quick recipe! This chicken dinner can be on your dinner table within one hour.
It's made with only 10 wholesome ingredients.
This recipe is great for meal prep, it can easily be prepped and even made ahead of time.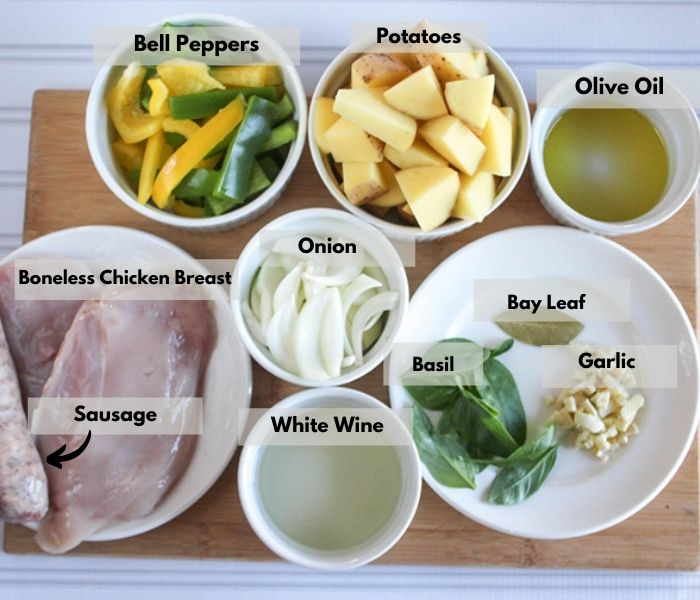 Here is What You Will Need
As an Amazon Associate, I earn from qualifying purchases
This is an overview of the ingredients and steps to make this recipe, scroll down for a printable recipe card with exact measurements and instructions.
Italian sausage (¼ pound or 1 link)
Boneless chicken breasts (½ pound)
Olive oil (1 tablespoon)
Red or yellow potatoes ( 1 to 1 ½ pounds)
Bell Peppers (any combination of 2 red, green, yellow or orange)
Onion (1 small)
Garlic (1 to 2 cloves)
White wine or chicken broth (¾ cup)
Bay Leaf
Fresh Basil
Skillet
Here is How to Make Chicken Giambotta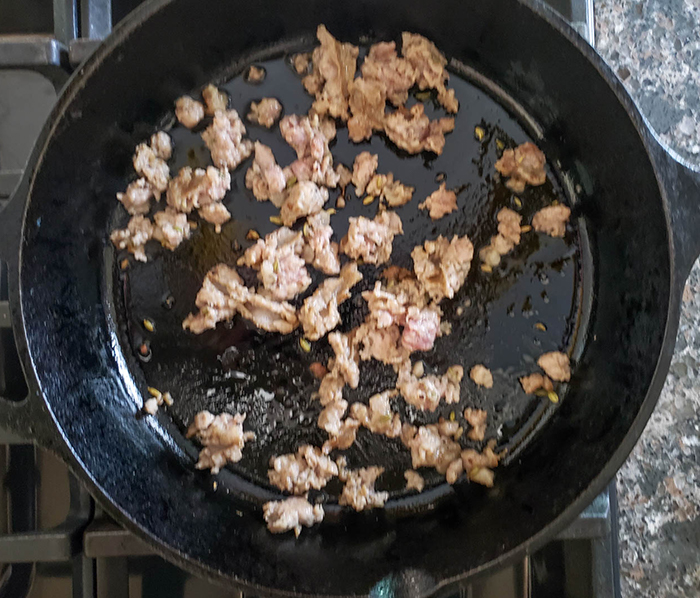 Cook the sausage over medium heat in a skillet, while the sausage is cooking break it into small pieces.. Remove the sausage crumbles once they are cooked and set them aside.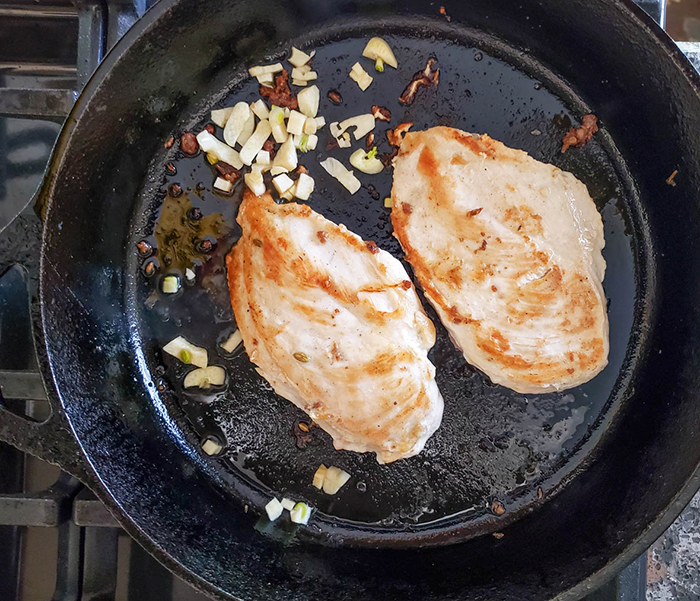 Add the chicken and garlic to the skillet and cook them until the chicken begins to brown. Remove the chicken from the skillet and cut it into bite-sized pieces and add it back to the skillet along with the sausage. Stir in ¼ of the wine and cook for a few minutes. Remove the chicken and sausage from the pan and set them aside.
Note: I find it easier to cut the chicken after it has been cooked. You can cut it before cooking it if that is your preference.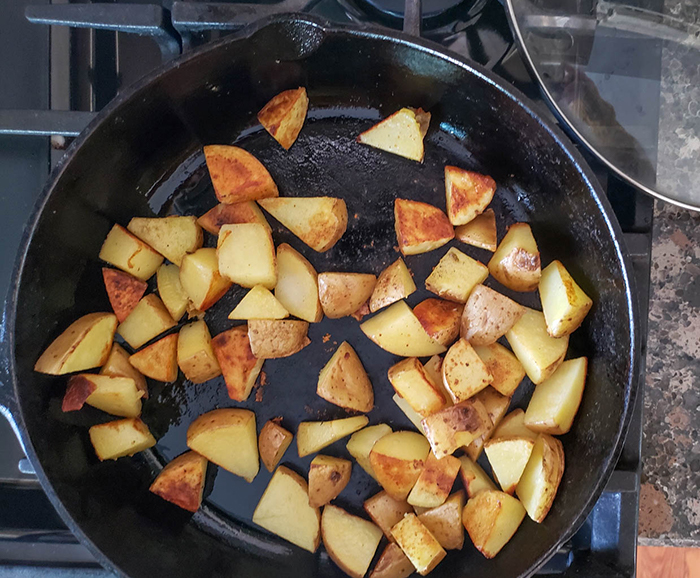 Wipe out the skillet and heat a tablespoon of olive oil; add the potatoes and cook them until they start to turn golden brown on the outside.
TIP! To speed up the process you can cook the potatoes in a separate skillet at the same time that you are cooking the meat.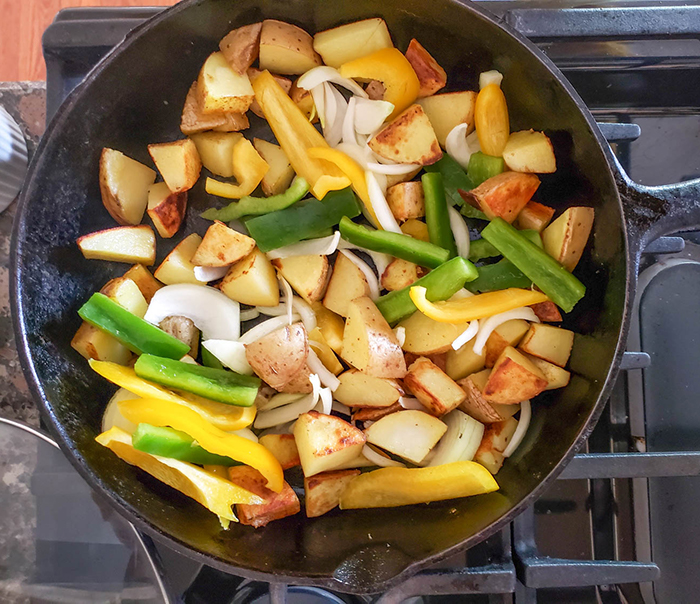 Add the peppers and onions and continue to cook them until the peppers and onions begin to turn soft (about 5 minutes longer).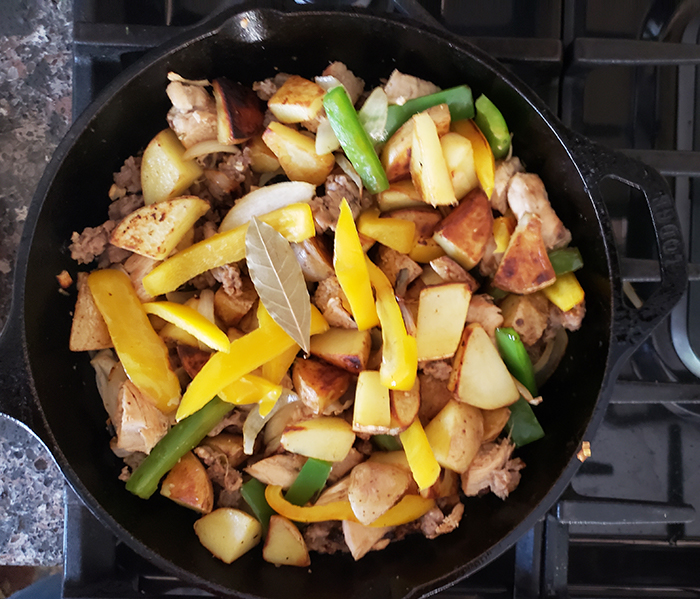 Add the chicken and sausage back to the skillet. Pour in the remaining wine or broth and add a bay leaf. Reduce the heat to low and simmer for 10 to 15 minutes. Stir in the fresh basil and serve.
Ingredient Notes & Substitutions
Sausage is added for the flavor, you can use chicken, turkey or pork sausage to this recipe, or you can leave it out.
Chicken - Boneless chicken thighs or boneless pork chops can be used in place of the chicken breasts.
Fresh garlic can be substituted with ⅛ teaspoon of garlic powder per clove of garlic.
Vegetables - Any combination of summer vegetables can be used in this recipe. Try adding: zucchini, eggplant, or artichokes.
Add Spice - Sprinkle a teaspoon or two of hot pepper flakes just before serving your giambotta or add ¼ to ½ cup roughly chopped cherry peppers.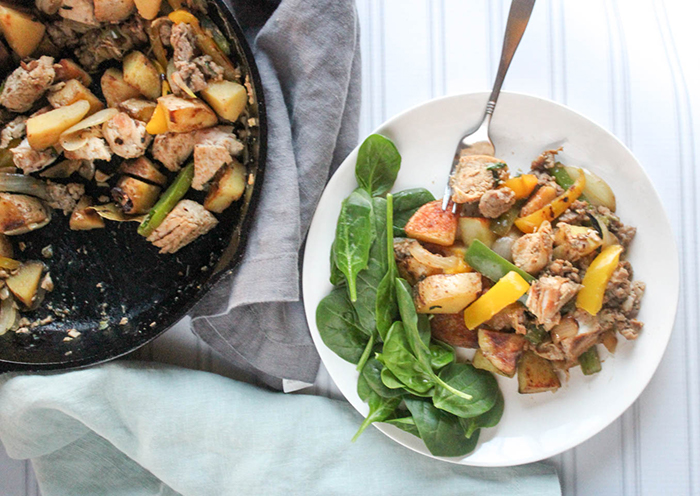 Serving Suggestions
Chicken giambotta is almost a meal in itself with the peppers and potatoes, we like to serve it with a salad like this spinach salad or kale caesar salad and a loaf of crusty bread.
Meal Prep and Make-Ahead Instructions
Meal Prep - Prepare the vegetables up to three days ahead of time: Cut them and store them in separate containers in the refrigerator and cook the meat on the day that you plan to serve your giamobtta.
Make Ahead - Cook the sausage and chicken in the same pan and store them together in the refrigerator for up to three days. Cook the veggies and store them in a separate container in the refrigerator. When it's time to serve dinner, heat the meat in a pan, add the vegetables and wine or broth and simmer until everything is heated through.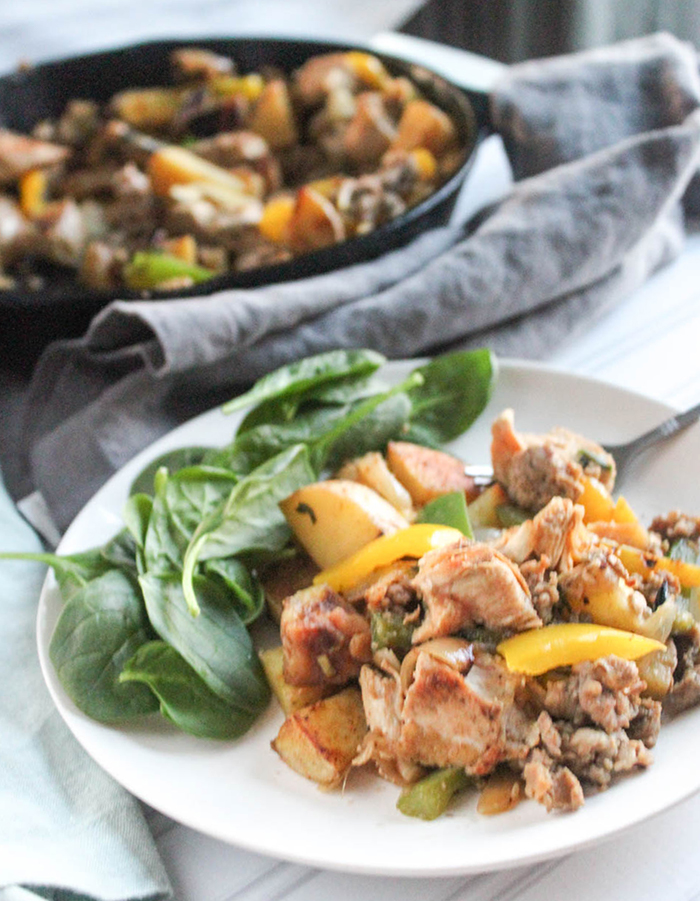 Leftover Suggestions and How to Store them
Store leftover chicken giambotta in the refrigerator for three to four days.
Reheat leftovers in a skillet on top of the stove and serve it as is or stuff it into a roll for a hearty sandwich.
You Might Also Like These Recipes
Sign up for our mailing list and receive free recipes and more!