Orange Cranberry Chicken is a simple, flavourful recipe that blends tart cranberries with sweet oranges and mellow-tasting chicken. And the best part is that this cranberry chicken recipe is so simple to make with less than 10 ingredients, which makes it a perfect dinner any night of the week.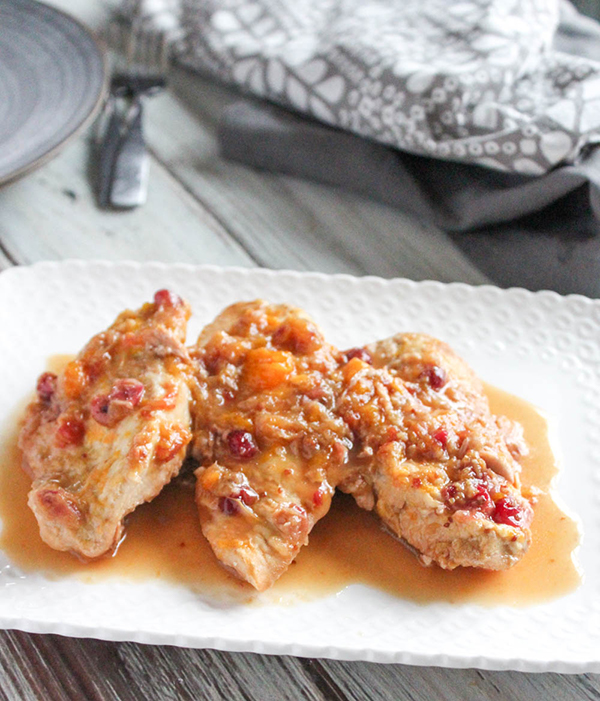 This flavorful cranberry chicken recipe was inspired by an old recipe made with canned cranberry sauce and orange juice concentrate.
I replaced the canned sauce with fresh juicy cranberries mixed with fresh orange juice and natural maple syrup. It's such a simple recipe to make, serve it with a simple salad and a side of brown rice for a delicious healthy dinner.
Why this Recipe Works
It's a healthy chicken recipe that is made with fresh oranges and cranberries which are full of health benefits, not to mention the delicious flavor.
It's so easy to put together. Dump the ingredients into your slow cooker and let it cook.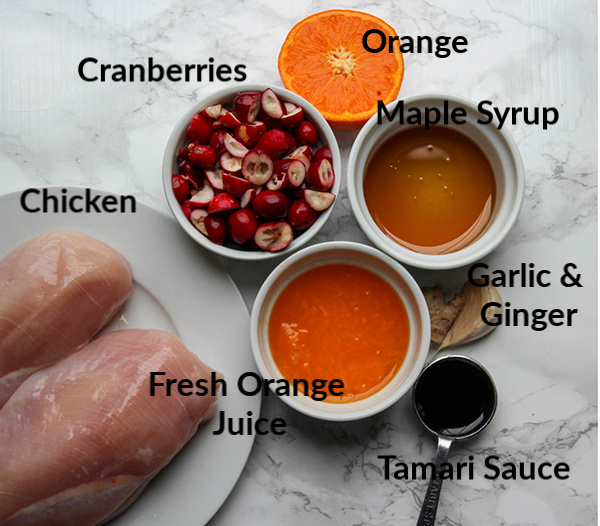 As an Amazon Associate, I earn from qualifying purchases
This is an overview of the ingredients and steps to make this recipe, scroll down for a printable recipe card with exact measurements and instructions.
Here is What You Will Need to Make Orange Cranberry Chicken
Ingredient List
Boneless skinless chicken breasts
Olive Oil
Sea Salt & Black Pepper
Fresh Cranberries
Fresh Orange Juice
Fresh Oranges
Garlic
Freshly grated ginger
Whole wheat flour or arrowroot (optional to thicken the sauce)
Equipment
Large Skillet (cast iron is great for browing)
Citrus Juicer (an handheld one is so convenient)
Estimated Time To Make This Recipe: 4 ½ to 5 hours.
How to make This Orange Cranberry Chicken Recipe
Prepare the Ingredients: Chop the garlic, grate the ginger, rough chop the cranberries, squeeze the orange juice, peel the orange, and rough chop the sections. Measure the syrup, and tamari sauce.
Heat oil in a skillet over medium-high heat.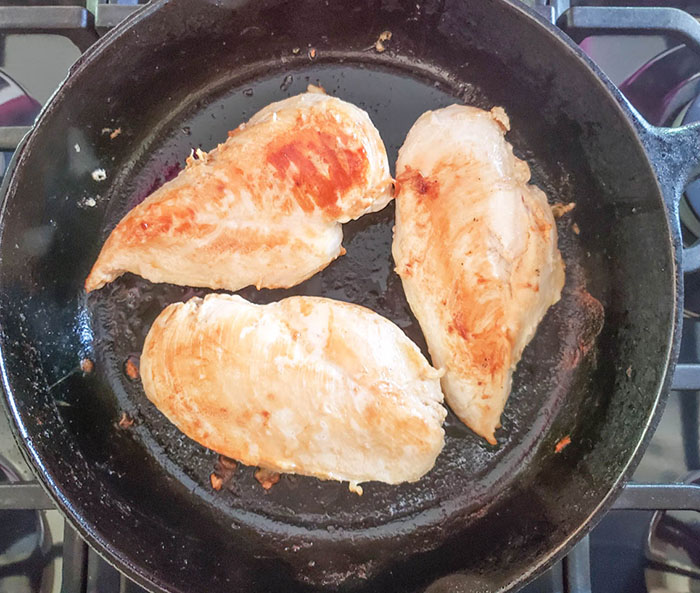 Step 1. Brown the Chicken
Once the oil in the skillet is hot, add the chicken breasts and cook on each side until they turn golden brown. If the skillet is too hot, reduce the heat to medium heat.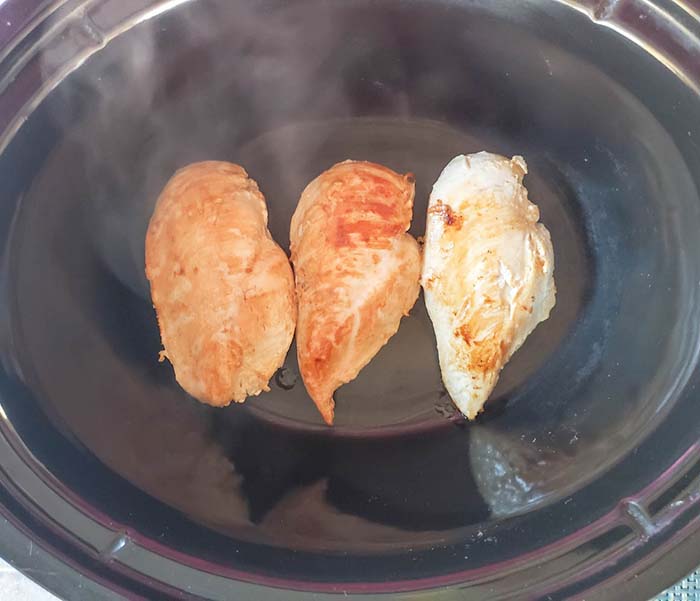 Step 2. Get the Slow Cooker Ready
Place the browned chicken breasts into a slow cooker.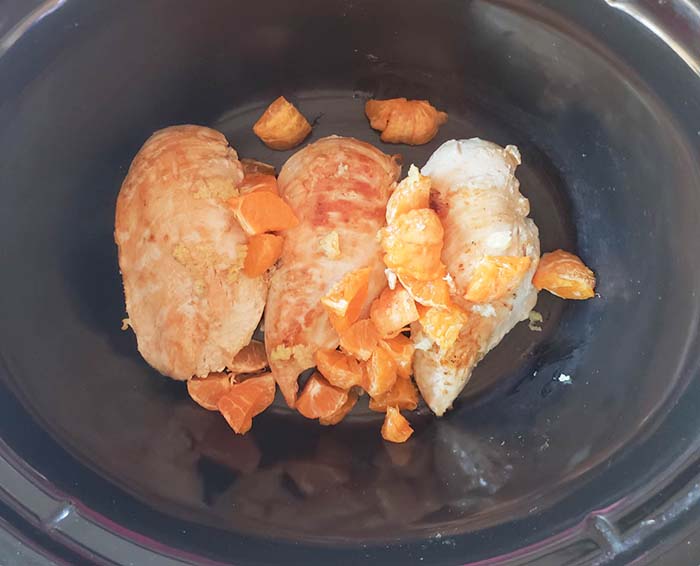 Step 3. Add the Oranges
Top the chicken breasts with chunks of fresh oranges.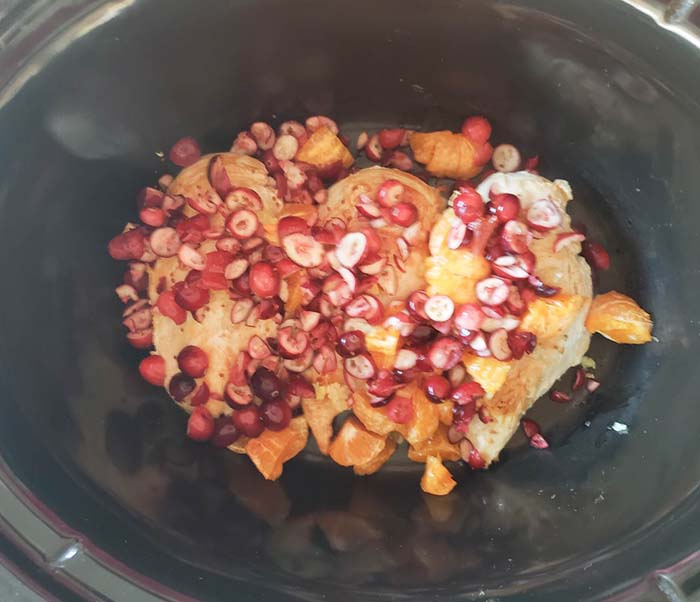 Step 4.
Add the remaining ingredients to the slow cooker and cook on low heat for 4 hours.
Optional Step, Thicken the Sauce: Whisk together a slurry of 1 tablespoon of flour or arrowroot with 3 tablespoons of water and gradually whisk it into the sauce in the slow cooker until the sauce is the consistency that you like.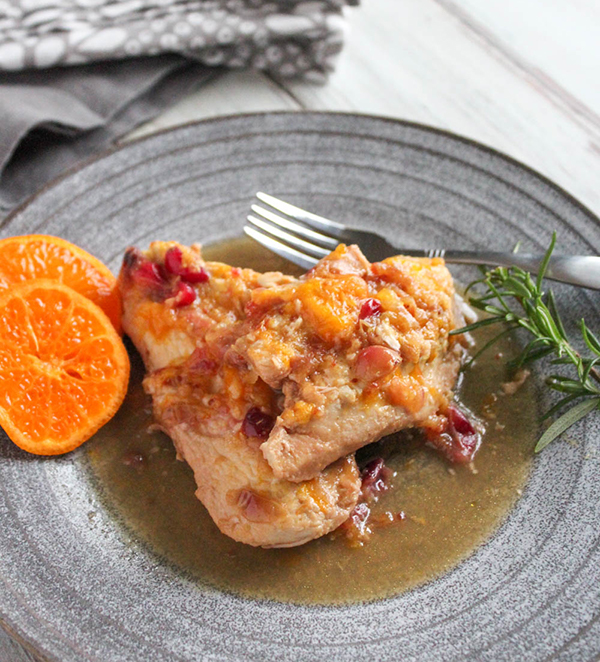 Ingredient Notes & Substitutions
Boneless Skinless Chicken Breasts can be replaced with one pound of boneless chicken thighs or a mixture of both.
Fresh Cranberries can be replaced with frozen cranberries.
Tamari Sauce is a gluten-free soy sauce that can easily be replaced one for one with soy sauce or coconut aminos.
Maple Syrup. Look for real maple syrup and not pancake syrup which is made with high fructose corn syrup. Maple syrup can be found in the grocery store with pancake mixes and pancake syrup.
Maple syrup can be replaced with an equal amount of honey.
Oranges. Any type of orange can be used in this recipe. Valencia oranges are a good all-purpose orange, and I have also used mandarin oranges to make this recipe.
Serving Suggestions
Cranberry chicken tastes great sprinkled with orange zest and served over mashed potatoes, or your favorite whole grain with a side of roasted brussels sprouts, green beans or a spinach salad.
Storing and Using Leftovers
Store leftover cranberry chicken in the refrigerator in an airtight container for up to three days.
Freeze leftover cranberry chicken in an airtight freezer container or a reusable plastic bag like this stasher bag.
Defrost it in the refrigerator overnight or place the sealed container of frozen chicken in a bowl or pan of cold water.
Re-heat leftover chicken on top of the stove, in the oven or microwave.
Use the leftover cranberry orange chicken to make quesadillas with goat cheese or roll it up in a wrap.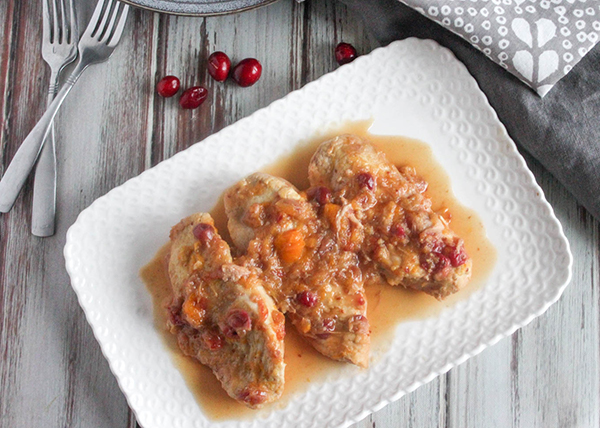 Recipe Variations
Pineapple Cranberry Orange Chicken. Add ¾ cup of chopped pineapple for a blend of a blend of cranberry orange and pineapple.
Gluten-Free Cranberry Orange Chicken. This recipe is naturally gluten-free if you use tamari sauce and thicken the sauce with arrowroot instead of flour.
Orange Cranberry Pork Chop. Replace the boneless chicken breasts with boneless pork chops.
I am Short on Time, Can I Make This Orange Chicken Recipe in The Oven?
Yes, you can! You will reduce cooking time by a few hours when you make this recipe in the oven.
Simply brown the chicken in an ovenproof skillet or dutch oven medium high heat. Once the chicken breasts turn golden brown, add the remaining ingredients, cover the skillet and cook in a preheated oven at 350 degrees f.
For more simple and delicious recipes like this, subscribe to our newsletter and receive a free e-book and meal suggestions straight in your inbox!
Have you tried these Healthy Recipes with Chicken?
If you like this recipe, please comment and rate it below!