Slow Cooker Southwest Chicken is a spicy and comforting combination of chicken, black beans and corn combined with fresh tomatoes and flavors of the southwest. Its pure, healthy comfort food.

Slow Cooker Southwest Chicken Recipe Ingredients
All that is needed to make southwest chicken is a slow cooker and a few simple and fresh ingredients.
boneless chicken breasts or thighs –
onion
garlic
red or green bell pepper – your choice, red peppers will add a touch more sweetness to the dish
jalapeno pepper – optional if you don't like the heat, leave it out
diced fresh tomatoes – Fresh is always better, but canned low sodium tomatoes can be substituted
chili powder
ground cumin
black beans – canned or dried beans that have been cooked and drained
frozen corn or fresh corn kernels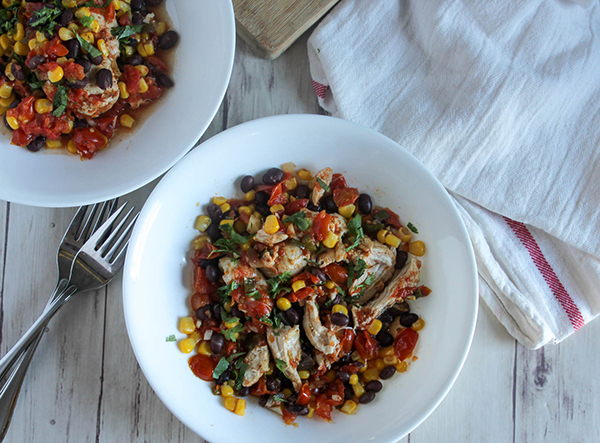 Easy Slow Cooker Chicken with Black Beans and Corn
This is the easiest slow cooker recipe ever!
It's no-fuss and fantastic for hectic weeknights. Simply dump the ingredients into your slow cooker and walk away until it's time to eat. It's really that easy!
Southwest chicken is a hearty and satisfying meal that is packed with lean chicken and fresh vegetables that blend perfectly together. We love how the corn adds a touch of sweetness to balance the heat from the jalapeno pepper.
Serve your Southwest Chicken shredded or whole in a bowl with your favorite toppings such as chopped cilantro, slices of avocado, and a splash of lime juice. Add a salad like this zesty arugula salad with pistachios for a complete balanced dinner.
Here is How to Make it
This recipe is so easy to make; place the chicken into a slow cooker. Chop the onions, peppers, tomatoes and drain the beans (if you are using canned beans) place them on top of the chicken and sprinkle on the spices.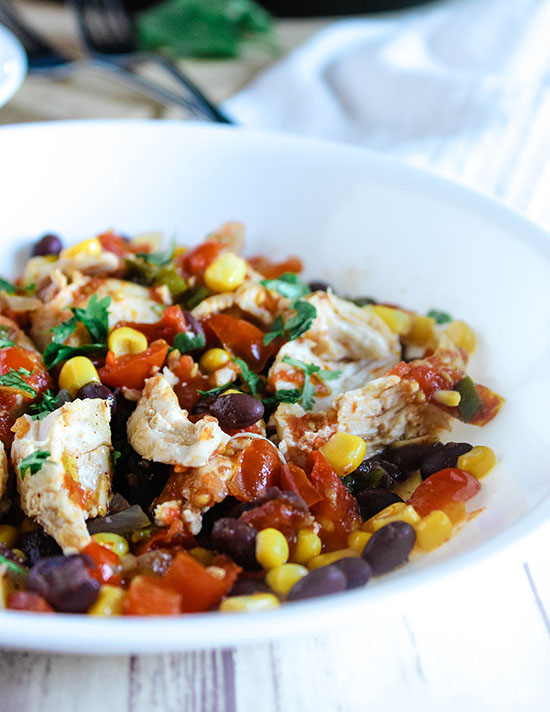 Slow Cooker Southwest Chicken Tips
Make an extra batch and re-purpose it during the week. Serve Southwest chicken rolled up inside a tortilla or on top of a salad.
Store Southwest Chicken in the refrigerator for three to four days.
Freeze it by placing it in a freezer save container for up to 6 months. To thaw, remove it from the freezer the night before and defrost it in the refrigerator. To re-heat it, place the chicken in a sauce pan and heat it over low heat until it is heated through.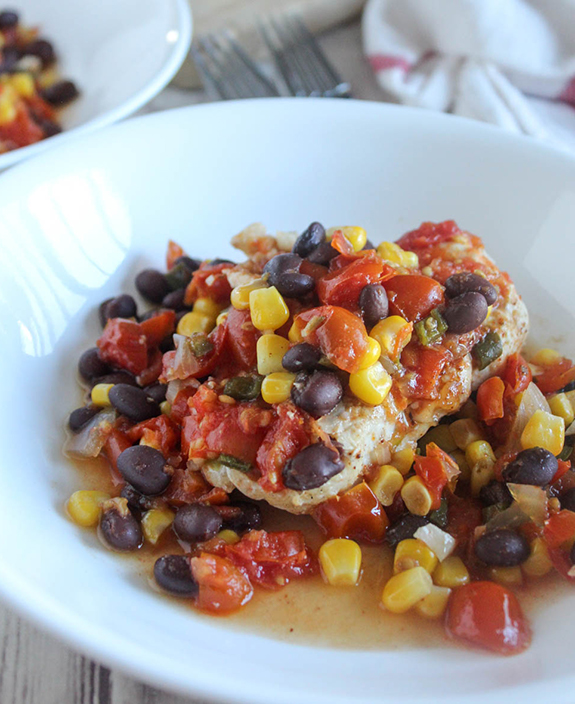 Southwest Chicken Variations
Low-Carb Version – leave out the beans and use a half cup of corn
Vegetarian – leave out the chicken, add ½ to 1 cup beans and another bell pepper
You Might Also Like These Southwestern Recipes