Easy skillet burgers are flavored with onions and sauerkraut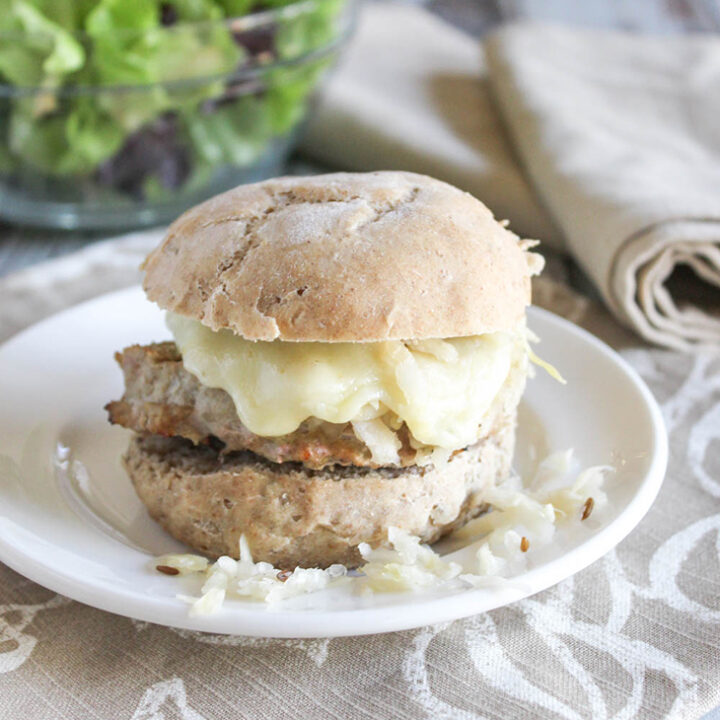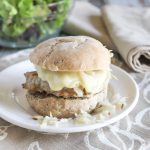 Skillet turkey burgers with sauerkraut are juicy, flavorful, and super simple to make. Lean ground turkey is mixed with shredded onions and topped with tangy sauerkraut and cheese. This flavorful burger recipe is easy to make, and is a recipe that the whole family will love; it's perfect for busy weeknights.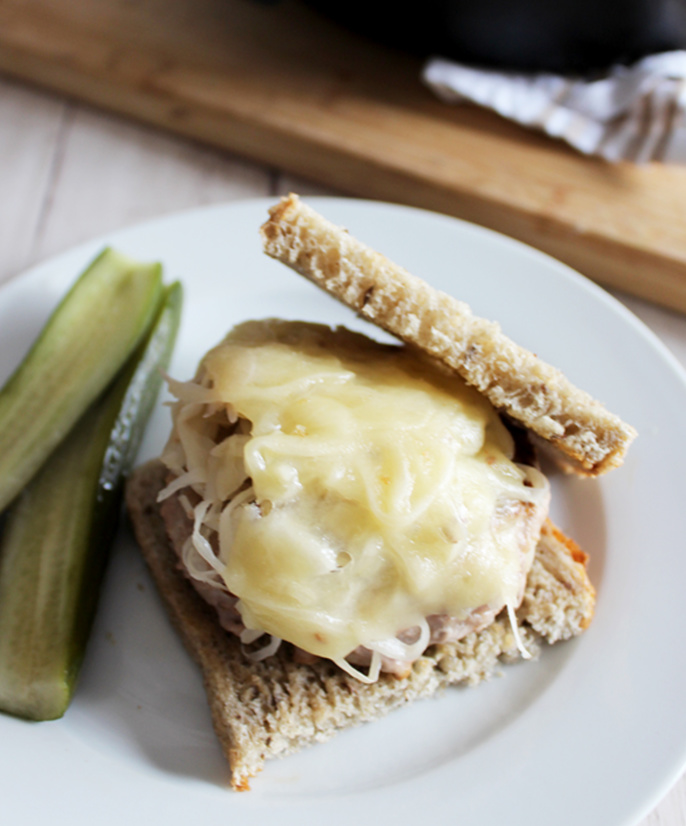 These juicy homemade turkey burgers are a great substitute for a Reuben sandwich. It has all of the flavors of a traditional Reuben sandwich, yet it's lighter. And when you use homemade sauerkraut, you will get all of the health benefits of fermented sauerkraut.
Recipe Highlights
Skillet turkey burgers are made with simple ingredients
Versatile! Cook the burger patties on the grill or in a skillet.
It's a great recipe that is fast, easy and cooked on the stove top. flavors.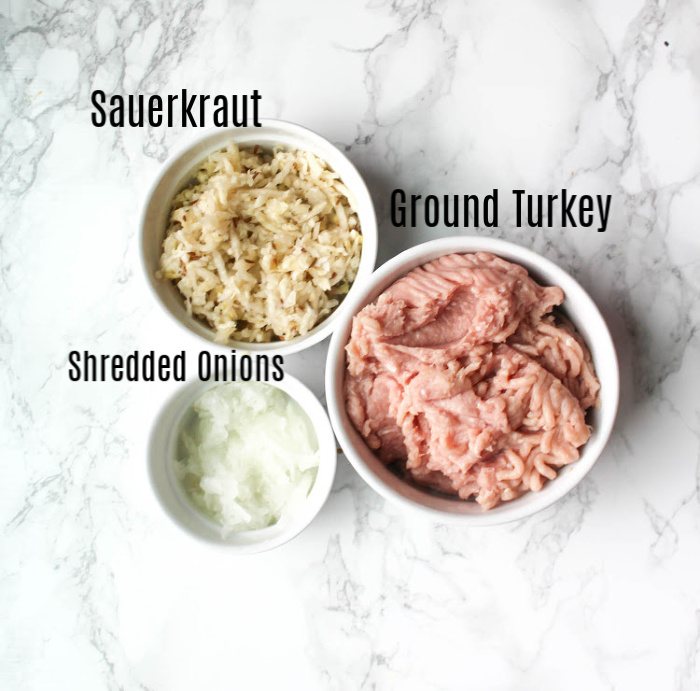 Here is what you will need
Ingredient List
Ground turkey
Onions
Sea salt & black pepper (optional to season the burgers)
Swiss Cheese
Fermeted sauerkraut, here is my homemade recipe for sauerkraut
Your favorite bread or hamburger buns
Equipment
How to make this turkey burger recipe
Prepare the ingredients: Shred the onions with a box grater. Heat olive oil in a cast iron skillet or nonstick skillet over medium-high heat.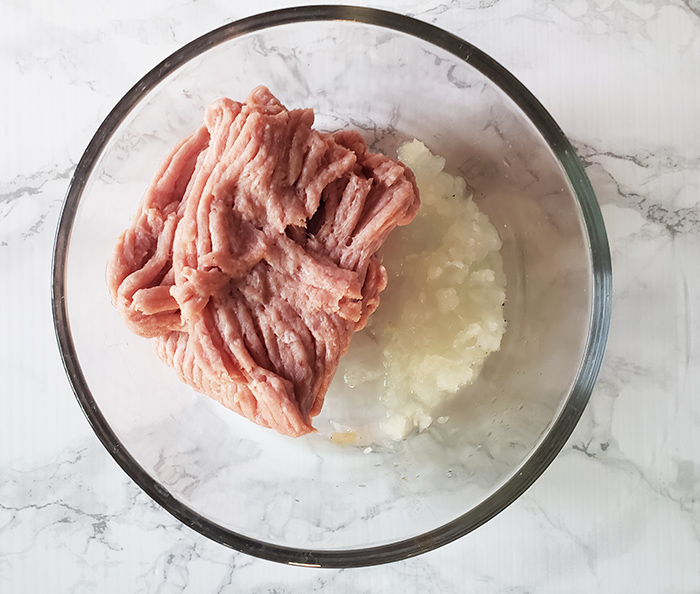 Step 1. Combine the turkey and onions
Place the shredded onions into a bowl and add the ground turkey.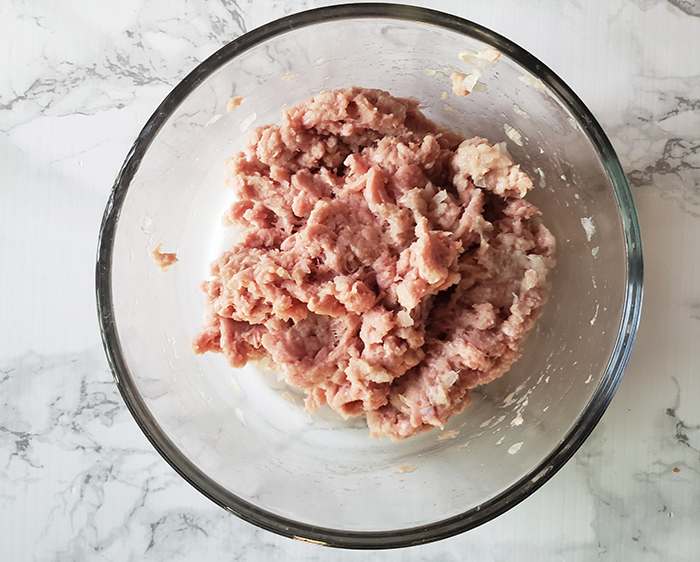 Step 2. Mix the onions and turkey together
Use a wooden spoon or your hands to combine the onions and turkey. Form the meat mixture into patties.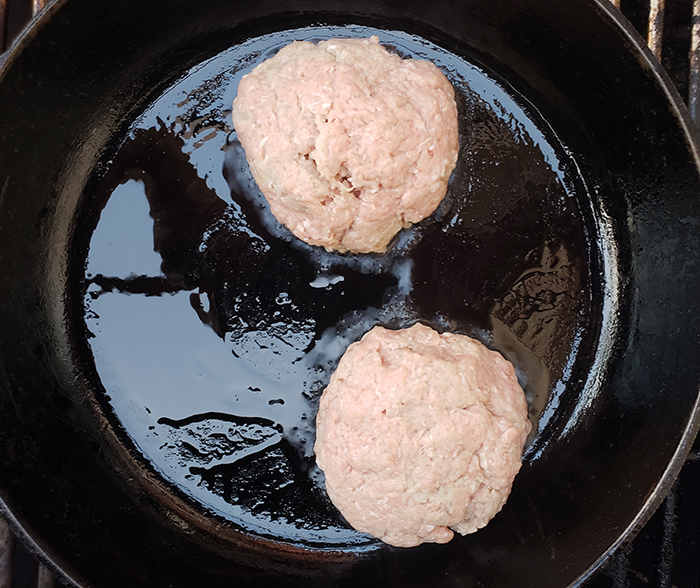 Step 4. Cook the burgers
Place the burgers into a heated frying pan and reduce to medium heat. Cook for 7 to 8 minutes and flip them over.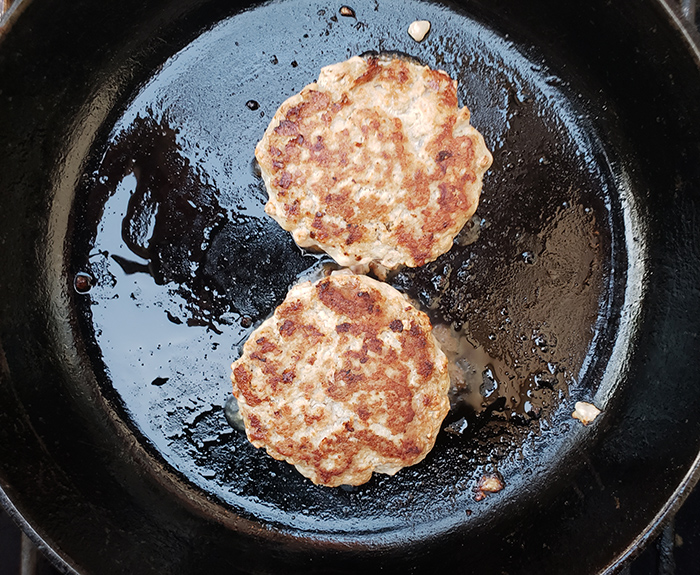 Step 5. Flip the burgers
Cook the burgers for 3 to 4 minutes longer. Check the temperature of the burgers at this point, it should be at least 150 degrees. Reduce the heat to medium-low heat.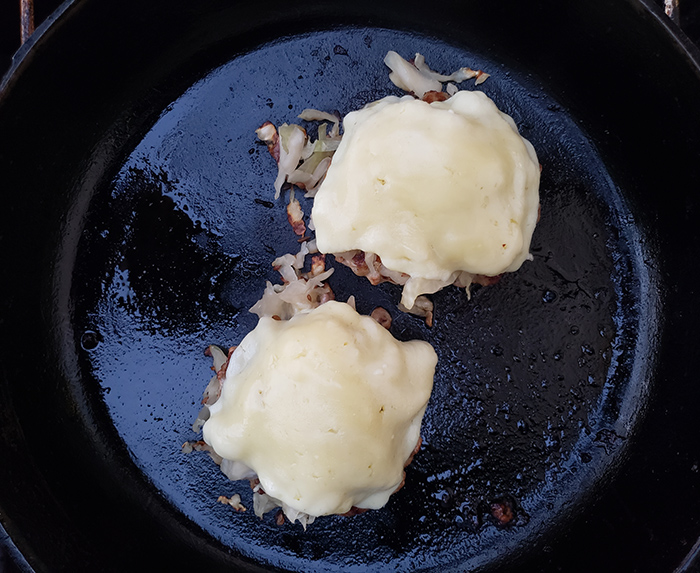 Step 6. Top with sauerkraut and cheese
Place a scoop of sauerkraut and a slice of cheese on top of each burger. Cover skillet, and cook until the cheese melts and the internal temperature reaches 165 degrees f.
Note: If the turkey is too fragile to form into burgers, place the meat into the refrigerator for 30 minutes.
Ingredient notes and substitutions
The full list of ingredients to make these healthy turkey burgers is above. Below are notes about some of the ingredients, along with ideas for substitutes.
Turkey - You can use either ground turkey breast or a blend of dark and white meat. Ground turkey breast is the leanest cut, but the addition of the onions to the meat, not only adds flavor, but enough moisture so that the burger is not too dry.
Ground turkey can be substituted with an equal amount of ground beef or ground chicken.
Sauerkraut - If you don't have homemade sauerkraut on hand to make this recipe, look for sauerkraut that is fermented, and not the typical canned Sauerkraut that is on the supermarket shelves which has been pasteurized.
Fermented sauerkraut can usually be found in the refrigerator section of the supermarket. Fermented sauerkraut has more health benefits such as probiotics which are not in the pasteurized versions.
Onions - All-purpose yellow onion, sweet Vidalia onion or red onion are the best onions to use in this recipe. The recipe does not contain a lot of onions, but they add just the right flavor.
When the onions are shredded with a hand grater, they almost liquefy and add moisture and flavor to the burger.
If you don't have a hand grater, mince the onions as small as you can or chop them in a food processor.
Onions can be substituted with ¼ teaspoon of onion powder.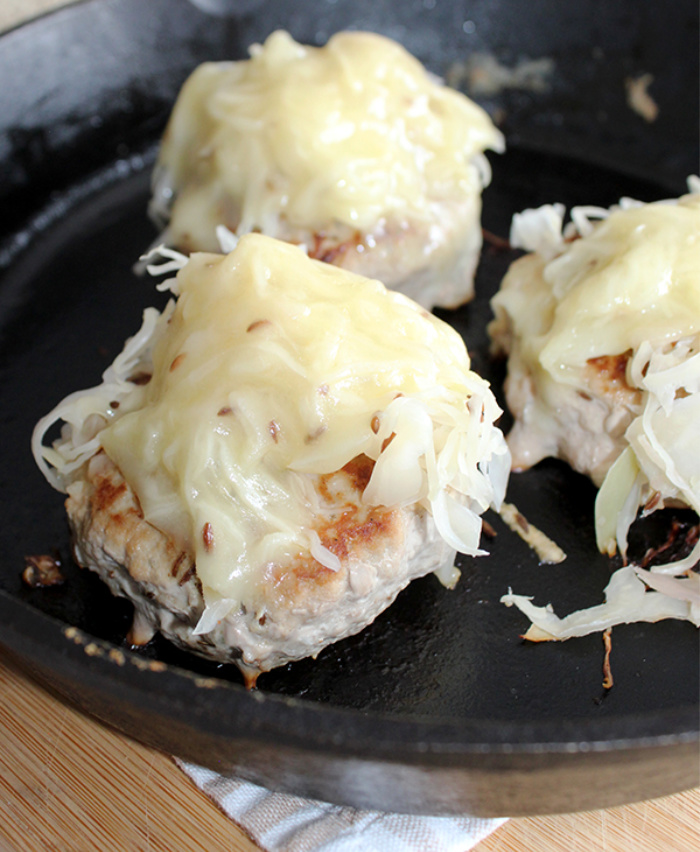 Tip! Try an instant-read thermometer for the quickest and best results for these burgers.
Serving suggestions
Serve these healthy turkey burgers with a little bit of dressing smeared on slices of rye bread or a bun.
These juicy turkey burgers also taste great with a side of spinach salad, buffalo cauliflower bites, and homemade zucchini pickles or sweet and spicy refrigerator pickles.
Make-Ahead Instructions
These delicious turkey burgers are easy to make ahead of time. Mix the ingredients for the burgers together, and form them into patties.
Store the turkey patties in the refrigerator for up to one day before cooking them.
You can also freeze these homemade burgers for up to three months. The easiest way to freeze turkey burgers is to place them in a single layer on a baking sheet lined with parchment paper. Once they are frozen, remove the turkey burgers and place them in a freezer-safe container.
Cook the burgers from frozen or thaw them in the refrigerator overnight.
Burgers can be frozen raw or cooked.
How to Store Leftovers
Leftover turkey burgers can be stored in the refrigerator for up to three days in an airtight container.
Reheat leftover burgers in a skillet, oven, or microwave, and add the sauerkraut and cheese.
Homemade turkey burger variations
These flavorful turkey burgers are so versatile, you can change out ingredients for different flavors, here are some suggestions.
Mushroom Lover Turkey Reuben burger - shred or dice 6 ounces of mushrooms and add them to the ground turkey and onions before making the burgers.
Caramelized Onion Turkey Reuben - Add a spoonful of caramelized onions to the burgers with or without sauerkraut.
Change up the cheese - instead of swiss cheese, replace it with cheddar cheese, provolone cheese, monterey jack cheese, mozzarella cheese or American cheese.
Turkey Burgers with fresh herbs - add a tablespoon of chopped herbs to the turkey mixture such as fresh parsley, dill or rosemary.
Tips
If the burgers seem fragile and are falling apart even after placing the meat in the refrigerator, try adding a few bread crumbs to the turkey mixture.
Ground turkey can dry out quickly! Keep an eye on the temperature and don't overcook them. The internal temperature of a fully-cooked turkey burger should e 165 degrees
If you like this recipe, please comment and rate it below!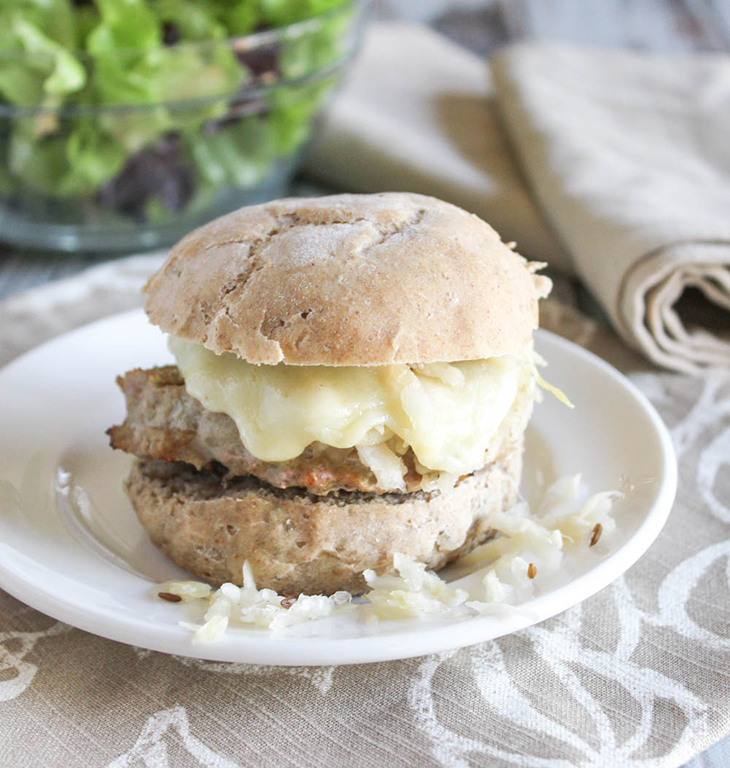 You might also like these recipes
For more simple and delicious recipes like this, subscribe to our newsletter and receive a free e-book and meal suggestions straight in your inbox!
📖 Recipe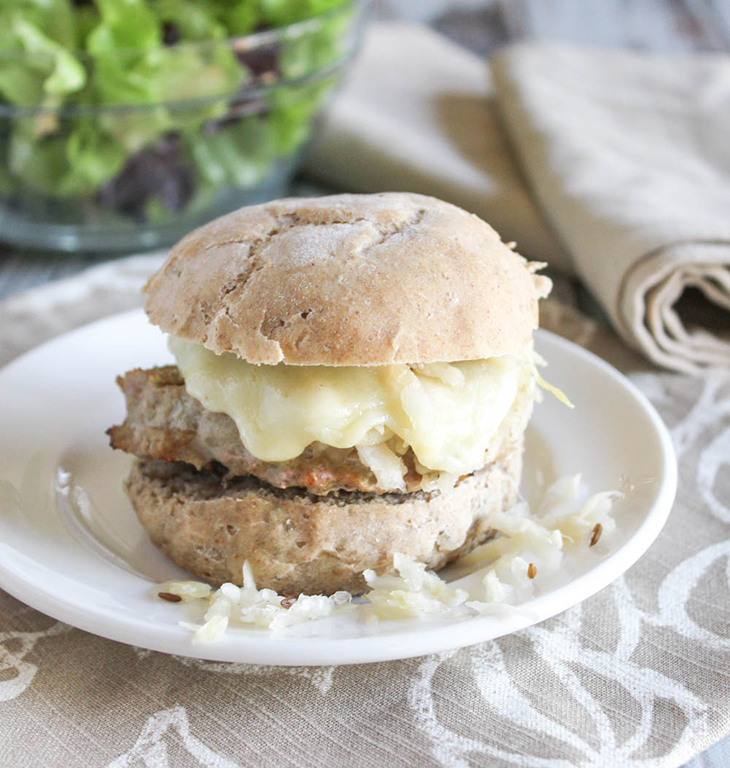 Click on serving size to scale this recipe
Scale this Recipe
Burgers
Ingredients
½

tablespoon

olive oil

1

pound

ground turkey breast

2

tablespoons

grated onion

4

tablespoons sauerkraut

4

thin slices organic swiss cheese

5

slices

Rye bread or your favorite rolls
Instructions
shred the onions using a hand grater or mince them with a knife and place them into a mixing bowl with the ground turkey.

combine the onion and meat together and form into four ¼ pound patties

pre-heat the oil in a pan over medium heat

once the pan is hot, add the burgers to the pan and cook for about 7 minutes until they begin to turn brown

flip them over and cook for three minutes, top with sauerkraut and cheese

cover the pan and cook for about 5 minutes more until the cheese has melted and the internal temperature has reached 165

Serve the burgers on toasted rye, or sourdough or your favorite burger roll
Notes
Variations:
Ground turkey can be replaced with ground, chicken, beef or pork.
Store leftover burgers in the refrigerator for up to three days.
See article above for tips, serving suggestions and more!
Nutrition
Serving:
1
burger
|
Calories:
401
kcal
|
Carbohydrates:
28
g
|
Protein:
39
g
|
Fat:
15
g
|
Saturated Fat:
6
g
|
Polyunsaturated Fat:
2
g
|
Monounsaturated Fat:
5
g
|
Trans Fat:
0.02
g
|
Cholesterol:
89
mg
|
Sodium:
455
mg
|
Potassium:
457
mg
|
Fiber:
3
g
|
Sugar:
2
g
|
Vitamin A:
268
IU
|
Vitamin C:
1
mg
|
Calcium:
298
mg
|
Iron:
3
mg
Nutrition information provided is an estimate and can vary based on cooking methods and ingredients used
Check out more of our turkey & chicken recipes here!