Turkey Reuben Burgers are made with lean ground turkey that's shaped into burgers and topped with a pile of homemade sauerkraut and swiss cheese for a healty twist on the traditional Reuben sandwich.
This recipe was originally posted in March, 2018. It has been updated for photos and content.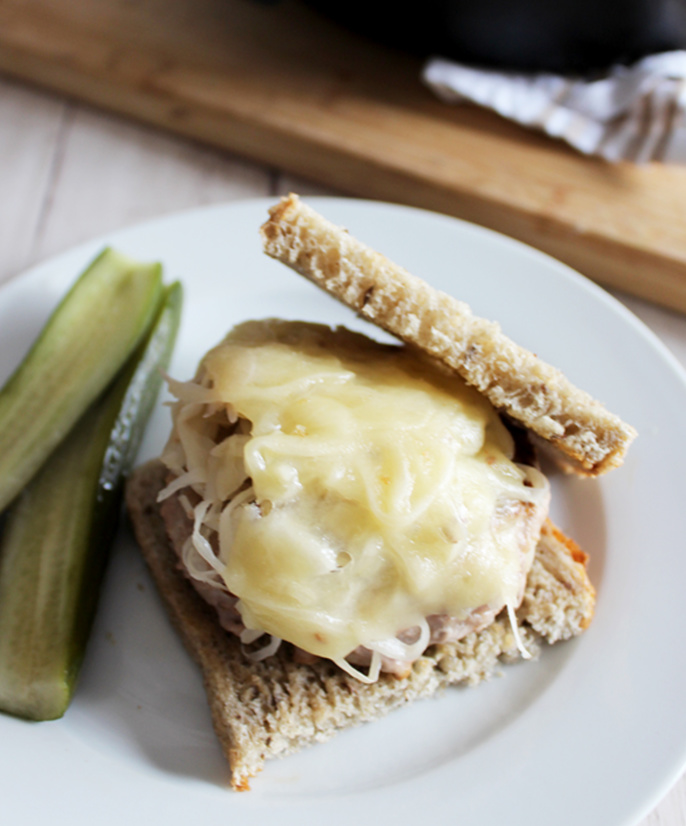 Recipe Higlights
A healthy version of a reuben sandwich, made with lean ground turkey, healthy fermented sauerkraut and swiss cheese.
It can be made in a skillet or on the grill.
A fast and easy recipe with only 6 ingredients.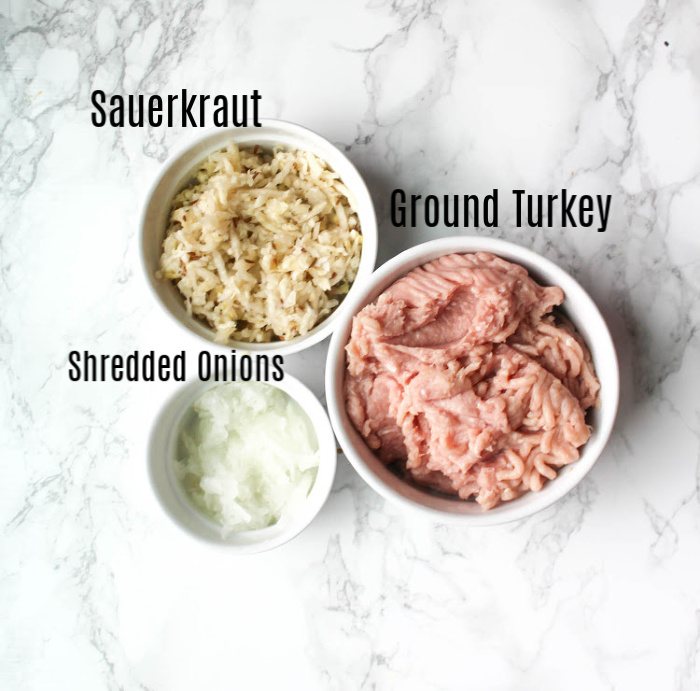 Here is what you will need
As an Amazon Associate, I earn from qualifying purchases
Estimated Time To Make This Recipe: 25 to 35 minutes
How do you make a reuben sandwich healthier?
It's easy! Ditch the processed meat and replace it with a seasoned organic turkey burger, then top if with fermented sauerkraut. If you are craving a reuben sandwich these burgers the perfect healthy way to satisfy that craving.
Turkey
The best ground turkey to use for these burgers is organic ground turkey. The addition of the onions to the meat, not only adds flavor, but enough moisture so that the burger is not too dry.
Fermented Sauerkraut
If you don't have homemade sauerkraut on hand to make this recipe, look for sauerkraut that is fermented,not the typical canned sauer kraut that is on the supermarket shelves which has been pasturized. Organic, fermented sauerkraut can usually be found in the refrigerator section of the supermarket. Fermented sauerkraut has more healthy benefits such as probiotics which are not in the pastuerized versions.
Onions
This burger recipe does not contain a large amount of onions, but they add just the right flavor. When the onions are shredded with a hand grater, they almost liquify which adds moisture and flavor to the burger. If you don't have a hand grater, mince them as small as you can or chop them in a food processor.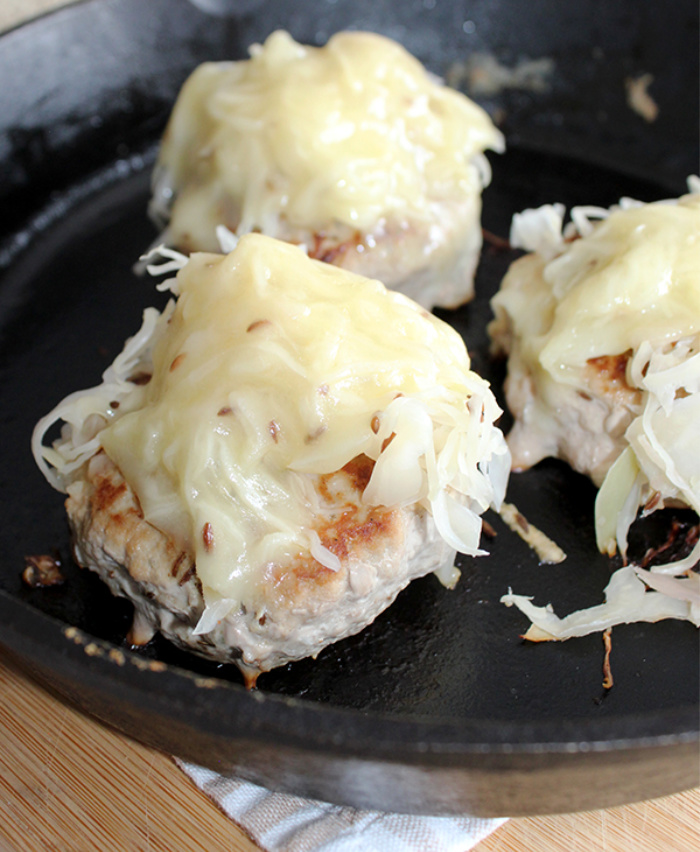 Serving suggestions
Turkey reuben burgers taste great with a chopped salad or buffalo cauliflower bites, and homemade zucchni pickles.
We like to serve them on rye bread or rye rolls with a dollop of mustard, but any type of roll will work.
Recipe tips and variations
Make ahead instructions
These burgers are easy to make ahead of time. Mix the ingredients for the burgers together, form them into patties. Store them in the refrigerator for up to one day before cooking them, or freeze them for up to 3 months.
Cook the burgers and add the sauerkraut and cheese just before serving.
Storing Leftover Burgers
Leftover rueben burgers can be stored in the refrigerator either already assembled or not for up to three days.
You can also freeze the burgers cooked without the sauerkraut and cheese for up to three months. Reheat the burgers in a skillet, oven or microwave and add the sauerkraut and cheese.
Variations
Ground turkey can be replaced with ground, chicken, beef or pork. Ground meat can also be replaced with roasted turkey slices.
Swiss cheese can be replaced with provolone or Amercian cheese.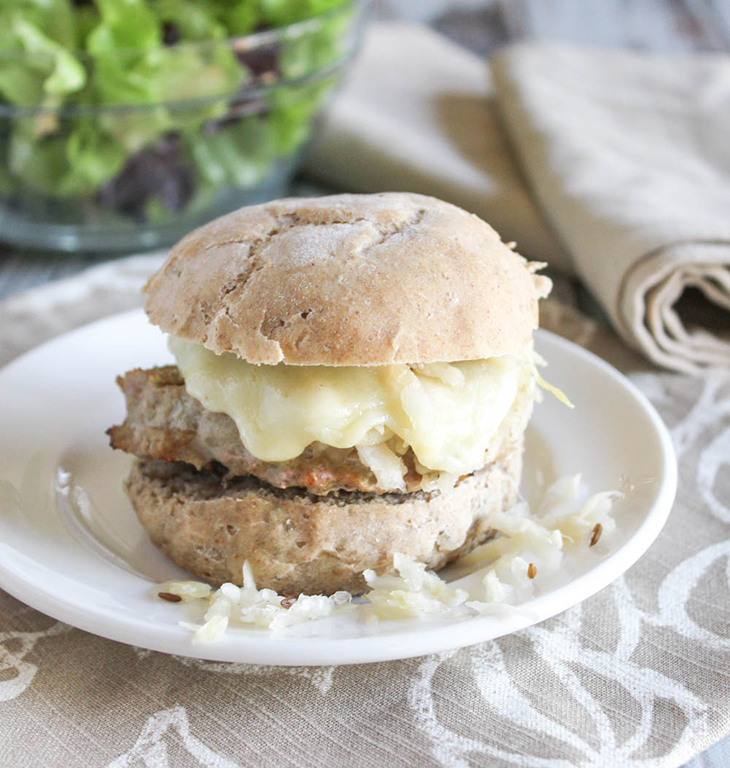 You might also like these recipes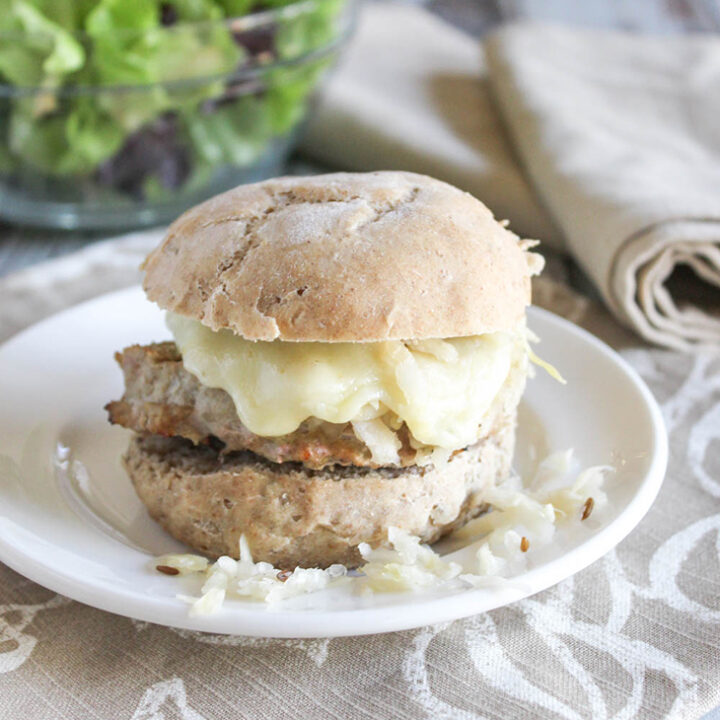 Reuben Turkey Burgers
Turkey burger meets Reuben sandwich in this better for you version of a Reuben Sandwich
Ingredients
½ tablespoon olive oil - for stove top method only
1 pound organic ground turkey breast
2 tablespoons grated onion
4 heaping tablespoons sauerkraut
4 thin slices organic swiss cheese
Rye bread or your favorite rolls
Instructions
Shred the onions using a hand grater or mince the onions and add them to a mixing bowl.
Combine the onion and meat together and form into four ¼ pound patties
STOVE-TOP METHOD
pre-heat the oil in a pan over medium heat
once the pan is hot, add the burgers to the pan and cook for about 7 minutes until they begin to turn brown
flip them over and cook for three minutes, top with sauerkraut and cheese
cover the pan and cook for about 5 minutes more until cheese has melted and internal temperature has reached 165
GRILL METHOD
preheat a grill to medium heat
once the grill is hot, place the burgers on the grill and cook for about 8 minutes and flip
cook for 4 to 5 minutes then top with sauerkraut and cheese then cover
cook until cheese melts and turkey reaches an internal temperature of 165 - about 4 miniutes more
Serve the burgers on toasted rye or sourdough
Notes
Variations:
Ground turkey can be replaced with ground, chicken, beef or pork. Ground meat can also be replaced with roasted turkey slices.
Nutrition Information:
Yield:

4
Serving Size:

1 burger
Amount Per Serving:
Calories:

355
Total Fat:

15g
Saturated Fat:

6g
Trans Fat:

0g
Unsaturated Fat:

7g
Cholesterol:

107mg
Sodium:

319mg
Carbohydrates:

10g
Fiber:

1g
Sugar:

1g
Protein:

45g
Nutrition information is provided by an online calculator and is meant to be used for informational purposes only. Even though I try to provide accurate information, these figures should still be considered as estimates.