Easy caramelized onions are cooked slowly in olive oil and butter until they turn into golden- brown, deliciously sweet caramelized onions.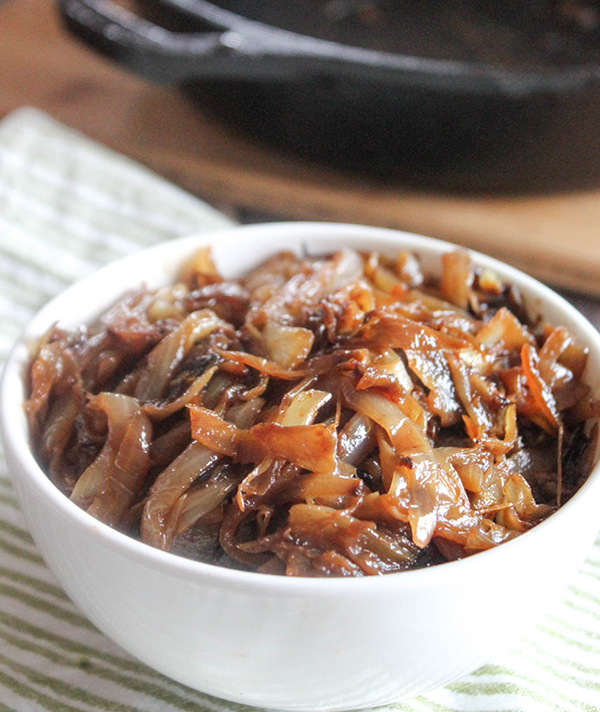 There are plenty recipes out there for quick caramelized onions, however, I think there are some things that need to take time to cook. Making caramelized onions is easy, but it takes time if you want melt in your mouth onions.
Onions are naturally sweet and when they cook low and slow, the sugars break down to create insanely flavorful onions. When the the onions are cooked too fast over high heat, they will burn. Take your time with these, it is time well spent, and it's mostly hands off except for a quick stir every 5 minutes or so.
Caramelized onions can turn an ordinary dish into an amazingly delicious creation. Try them on top of a pizza, hamburgers, steak, or grilled chicken. Add them to your favorite soups, stews, and sauce to kick up the flavor. They can also be frozen for future use.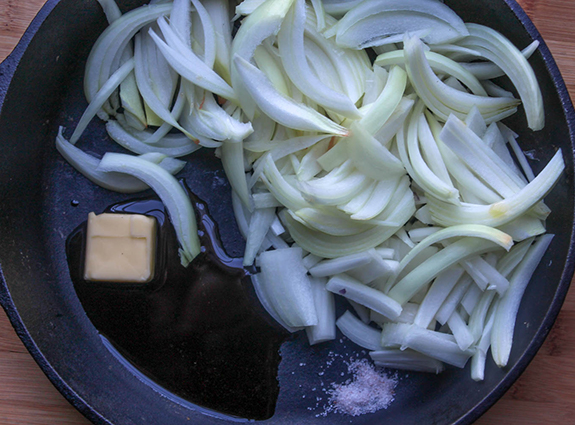 Here is what you will need
As an Amazon Associate, I earn from qualifying purchases
Onions – Yellow or sweet onions work best, however you can use any kind of onion you like.
Unsalted butter – Adds a rich buttery flavor to the onions. If you don't care for butter or are vegan, you can use avocado or olive oil.
Olive oil or avocado oil – I find that the onions will burn quicker when the onions are browned in butter only. Adding oil helps to the butter will prevent them from burning.
Sea salt – Helps to break down the sugars in the onions.
Water – Is optional and helps to scrape the bits off of the bottom of the pan at the end of cooking.
Skillet – Cast iron or stainless steel is the best type of skillet to use. Non-stick skillets don't make the best caramelized onions.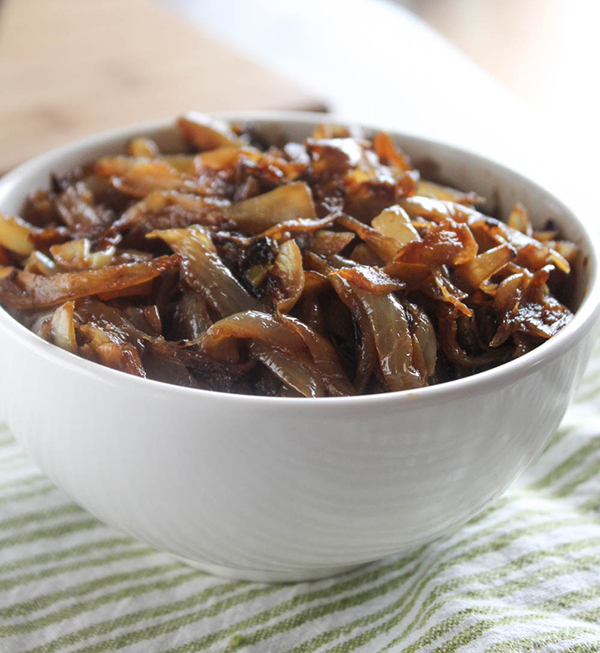 Here is how to make easy caramelized onions
Onions cook slowly while they sweat and break down during the caramelization process which takes about 35 to 45 minutes.
Start by slicing the onions and set them aside.
Melt the butter and oil in a pan.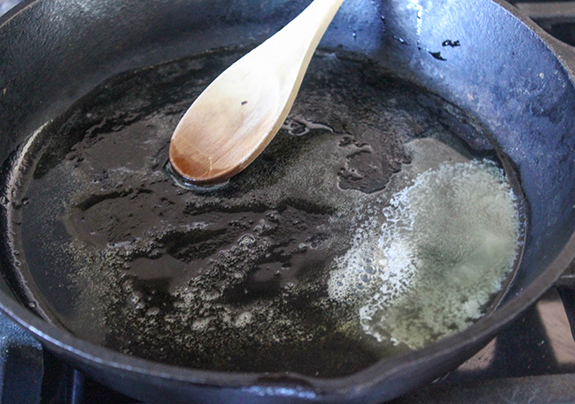 Add the sliced onions and stir in the salt, let the onions to cook for 5 minutes undisturbed.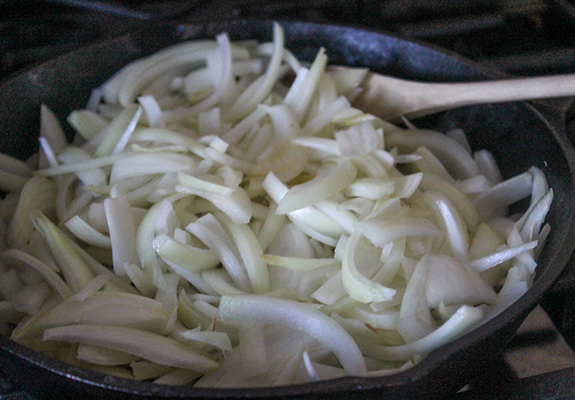 Reduce the heat and let them cook low and slow for up to 45 minutes checking them periodically.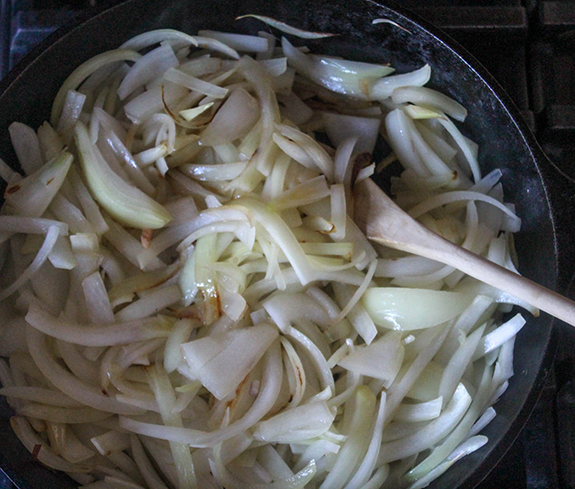 Stir them about every 5 minutes to keep them from sticking to the pan,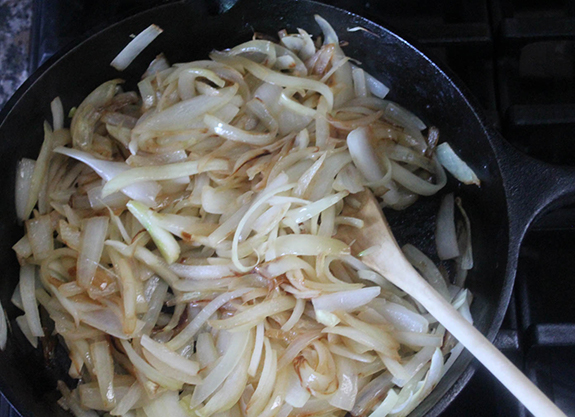 Scrape up the bits of onion that are stuck to the pan as you go along.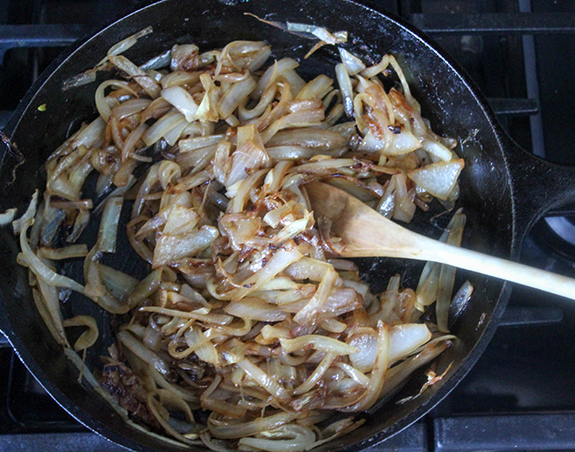 You may need to add a little bit of water at the end of the cooking process to prevent the onions from sticking to the pan.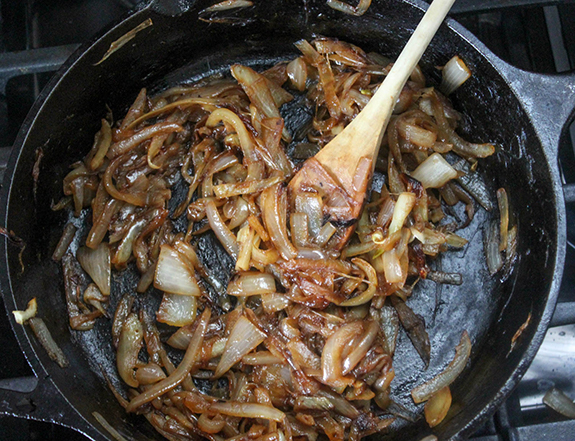 Tips and Variations
Store unused caramelized onions in the refrigerator for several days
Freeze them in portion sized containers for up to 3 months.
For extra flavor add a tablespoon of balsamic vinegar or red wine during the last 10 minutes of cooking time.
Make Vegan Caramelized Onions – Replace the butter with an equal amount of olive or avocado oil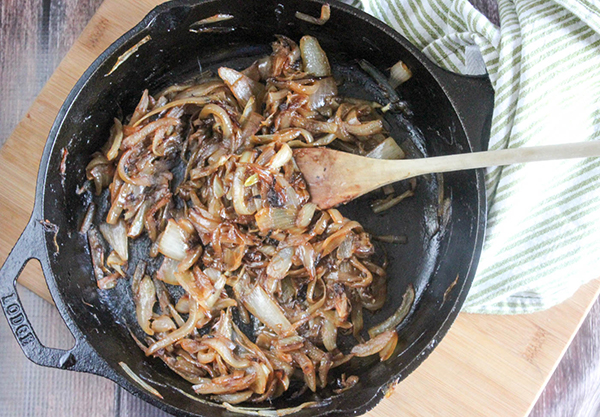 You Might Also Like These Recipes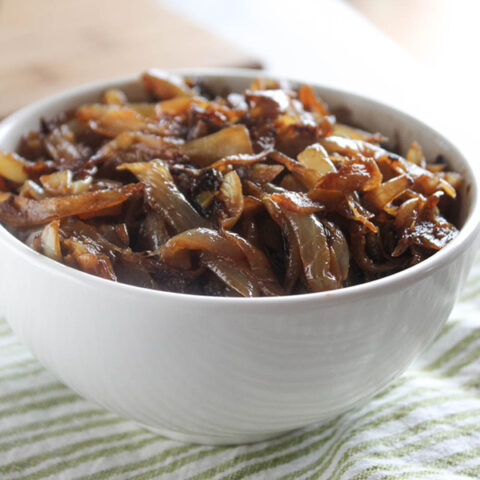 Caramelized Onions
Yield:
approximately 1 cup
Onions are cooked low and slow for sweet and delicious caramelized onions
Ingredients
2 large onions
1 tablespoon olive oil
½ tablespoon unsalted organic butter
¼ teaspoon sea salt
water as needed
Instructions
Using a sharp knife, cut off the stem and the root of the onions
Cut them in half from the stem to the root end and remove the skin
Place them on a cutting board cut side down, and cut the onions into slices
heat the skillet over medium high heat
add the oil and butter, once the butter has melted add the onions and sprinkle them with sea salt
allow the onions to sit undisturbed for about 5 to 8 minutes, then stir them and reduce the heat to medium to low.
Continue to cook the onions checking them every 5 minutes or so and giving them a stir each time until they begin to turn brown
Nutrition Information:
Yield:

8
Serving Size:

¼ cup
Amount Per Serving:
Calories:

35
Total Fat:

2g
Saturated Fat:

1g
Trans Fat:

0g
Unsaturated Fat:

2g
Cholesterol:

2mg
Sodium:

74mg
Carbohydrates:

3g
Fiber:

0g
Sugar:

2g
Protein:

0g
Nutrition information is provided by an online calculator and is meant to be used for informational purposes only. Even though I try to provide accurate information, these figures should still be considered as estimates.