Easy caramelized onions are made with sweet onions that are cooked slowly in olive oil and butter until they turn into golden-brown, deliciously sweet caramelized onions that melt in your mouth.
This recipe was originally posted in 2018, it's been updated for content and photos.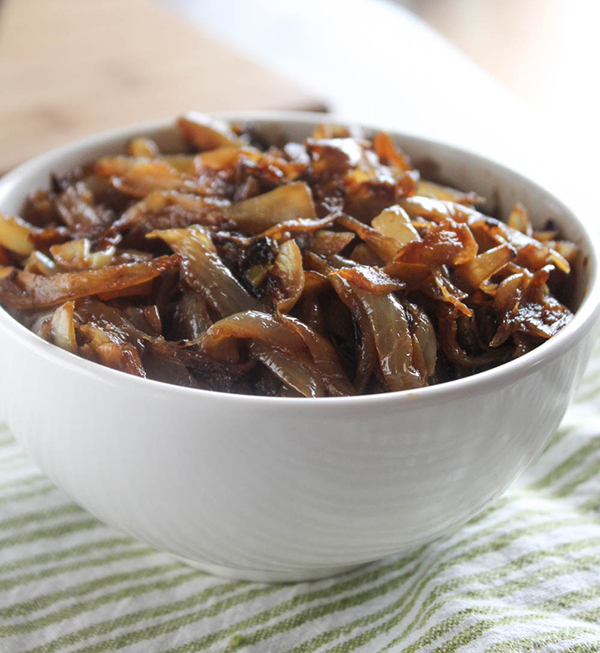 Caramelized onions can turn an ordinary dish into an amazingly delicious creation. Our favorite way to enjoy them is on top of burgers.
Why You Will Love This Recipe
You will need only a few simple ingredients to make the best caramelized onions ever!
Caramelized onions add so much flavor to food, and they have so many uses, see below for suggestions.
Here is what you will Need to Make Caramelized Onions
As an Amazon Associate, I earn from qualifying purchases
This is an overview of the ingredients and steps to make this recipe, scroll down for a printable recipe card with exact measurements and instructions.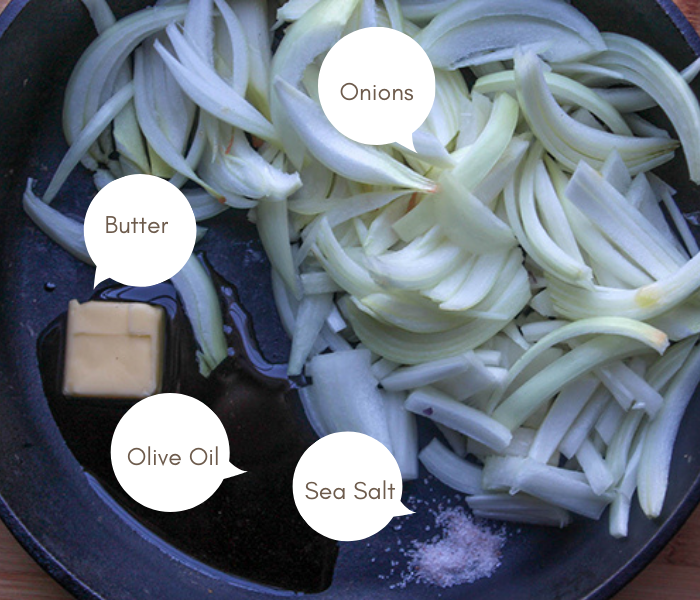 Ingredient List
Onions
Butter
Olive Oil
Sea Salt
Water
Equipment
Here is how to make easy caramelized onions
Prepare the ingredients: cut the onions into slices that are at least ¼ inch thick, measure the butter and oil. Heat a large skillet over medium-high heat.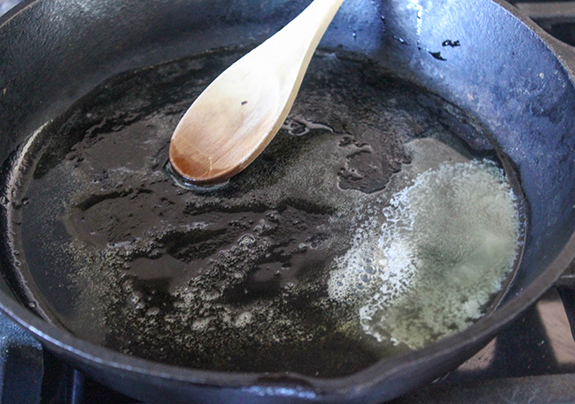 Step 1. Melt the Butter
Once the skillet is hot, add the butter and let it melt, then stir in the olive oil.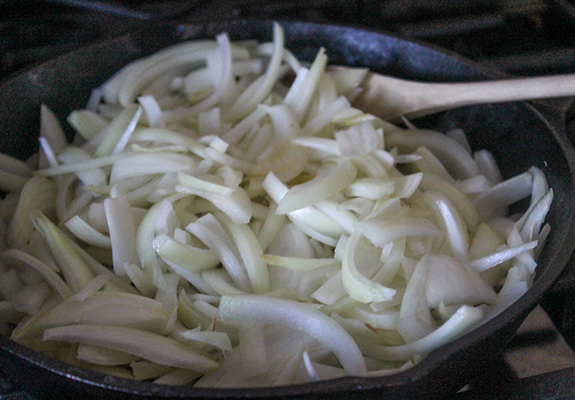 Step 2. Add the Onions
Once the melted butter and olive oil are combined, reduce the heat to medium heat; add the onions and sea salt. Let them cook for approximately 5 minutes without disturbing them.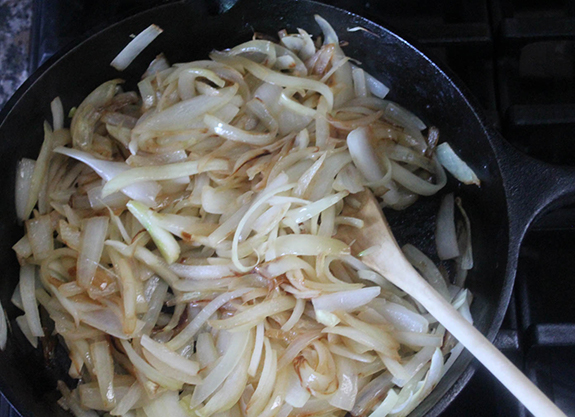 Step 3. Cook the onions low and slow
Give the onions a quick stir and reduce the heat to medium-low heat and cook for up to 45 minutes.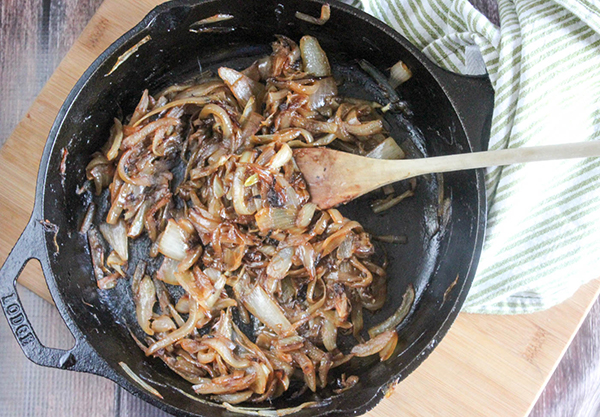 Step 4. Stir Occasionally
Stir the onions occasionally and scrape up the browned bits from the bottom of the pan as they cook.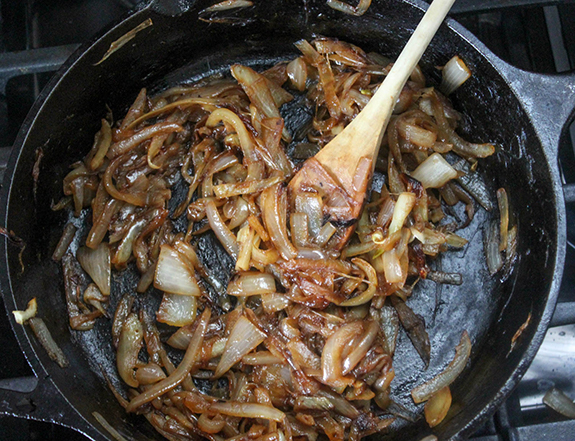 Step 5. Add Water If Needed
As the onions cook down, you may need to add water at the end of the cooking process as you are scraping the pan to keep the onions from burning. The onions will be caramelized once they are a nice golden brown color and have reduced significantly in size.
Ingredient Notes and Substitutions
Onions. Yellow onions or sweet onions are the best onions to use when making caramelized onions. White onions or red onions are also good choices, but you can use any variety of onions.
Butter adds a rich buttery flavor to caramelized onions. I use unsalted butter and add salt to the onions. You can use salted butter, and leave the salt out when cooking the onions.
Butter can be replaced with oil to make caramelized onions for a dairy-free version of caramelized onions.
Olive Oil. Can be substituted with an equal amount of avocado oil.
NOTE: Onions will easily burn when they are caramelized in butter only. When you use a combination of both butter and oil, the onions will still have a rich buttery flavor and will be less likely to burn.
What to do with Caramelized Onions
Caramelized onions have so many uses. Make a batch of them, keep them in your fridge, and serve them on pizza, sandwiches, burgers, grilled chicken, steak. Add them to classic hummus, pasta sauce or make or use them to make onion dip.
Have you tried our Onion Soup Chicken Recipe made with caramelized onions?
How to Store Caramelized Onions
Store caramelized onions in the refrigerator for up to a week in an airtight container such as a glass jar or a food storage container.
Freeze leftover caramelized onions in a freezer container, or ice cube trays for individual portions for up to 3 months.
Defrost them in the refrigerator overnight.
Tips
As the onions cook and the natural sugars break down in the onions they will be more likely to burn, frequent stirring and deglazing the pan with water will help to prevent the onions from buring.
Don't over crowd the skillet. Even though the onions will reduce in size as they cook down, don't over fill the skillet.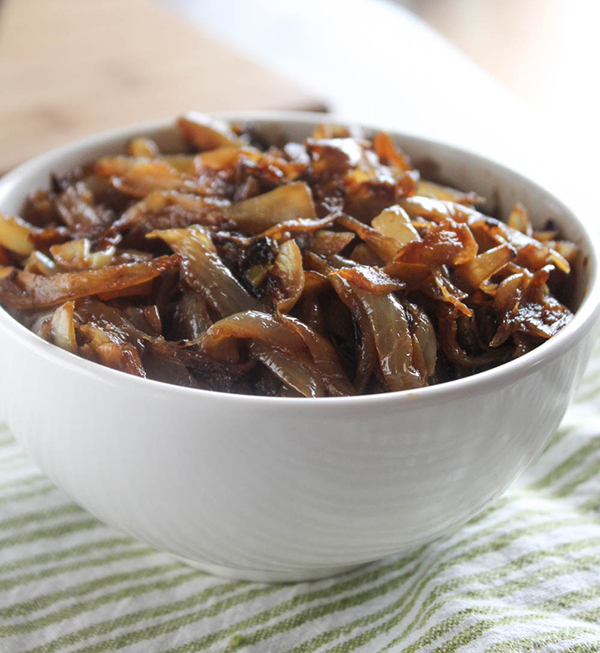 Variations
For extra flavor, add a tablespoon of balsamic vinegar or a splash of wine during the last 10 minutes of cooking time.
Change up the water. Instead of using water to deglaze the skillet, try using a little broth or beer.
Vegan caramelized onions. Replace the butter with an equal amount of vegan butter, olive or avocado oil.
What is the best skillet to use when making caramelized onions?
You will want to use a heavy skillet that heats evenly such as a Cast iron or stainless steel skillet.
Are caramelized onions and sauteed onions the same thing?
No, they aren't. Sauteed onions are cooked quickly and they don't have the sweet melt in your mouth feel that caramelized onions have.
Is there a way to make caramelized onions fast?
The best-tasting caramelized onions are cooked low and slow, but if you don't have the time, you can make quick caramelized fast.
Here's how: cook the onions over higher heat and add a pinch of baking soda to the onions. The baking soda raises the PH and speeds up the caramelization process. Be sure to keep a close watch over the onions and water close by to de-glaze the skillet as the onions are cooking.
It will take about 15 to 20 minutes for the onions to caramelize using this method.
For more simple and delicious recipes like this, subscribe to our newsletter and receive a free e-book and meal suggestions straight in your inbox!
You Might Also Like These Recipes
If you like this recipe, please comment and rate it below!
Check out the resources and favorites tabs for tips and products I use.