Instant Pot White Bean Soup is a flavorful and hearty soup! It is packed with vegetables, beans, and pasta which makes it perfect for a delicious meal any night of the week.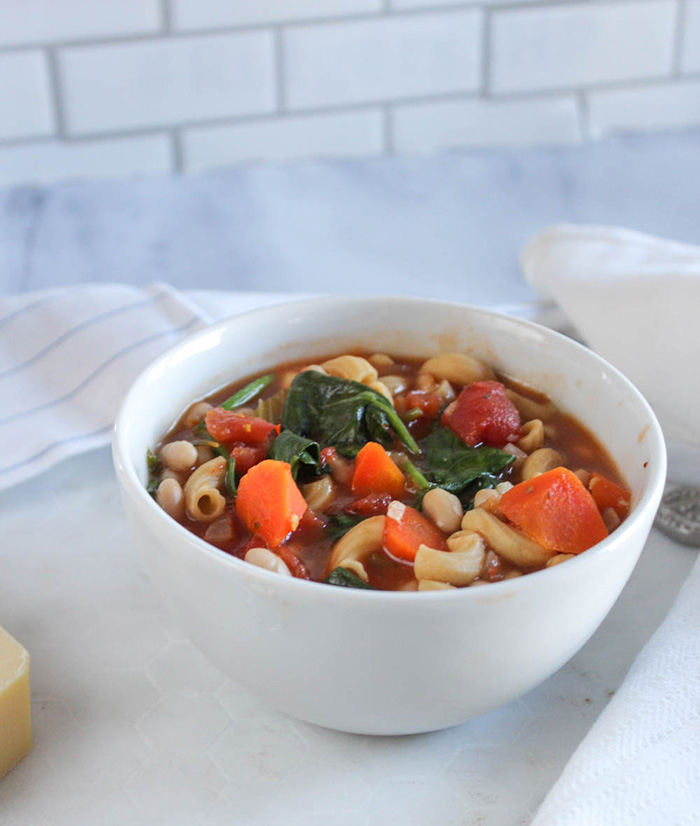 An Instant Pot pressure cooker makes super flavorful soups that taste like they've been cooking all day long. If you like this recipe, you might like this easy Instant Pot soup recipe for mushroom barley soup.
Why This Recipe Works
White bean soup is budget friendly, made with beans, pasta and vegetables.
This soup has so much flavor and so easy to make!
It's healthy! White bean soup is made with healty ingredients and is a naturally vegan soup.
Ingredients
This is an overview of the ingredients and steps to make this recipe, scroll down for a printable recipe card with exact measurements and instructions.
As an Amazon Associate, I earn from qualifying purchases.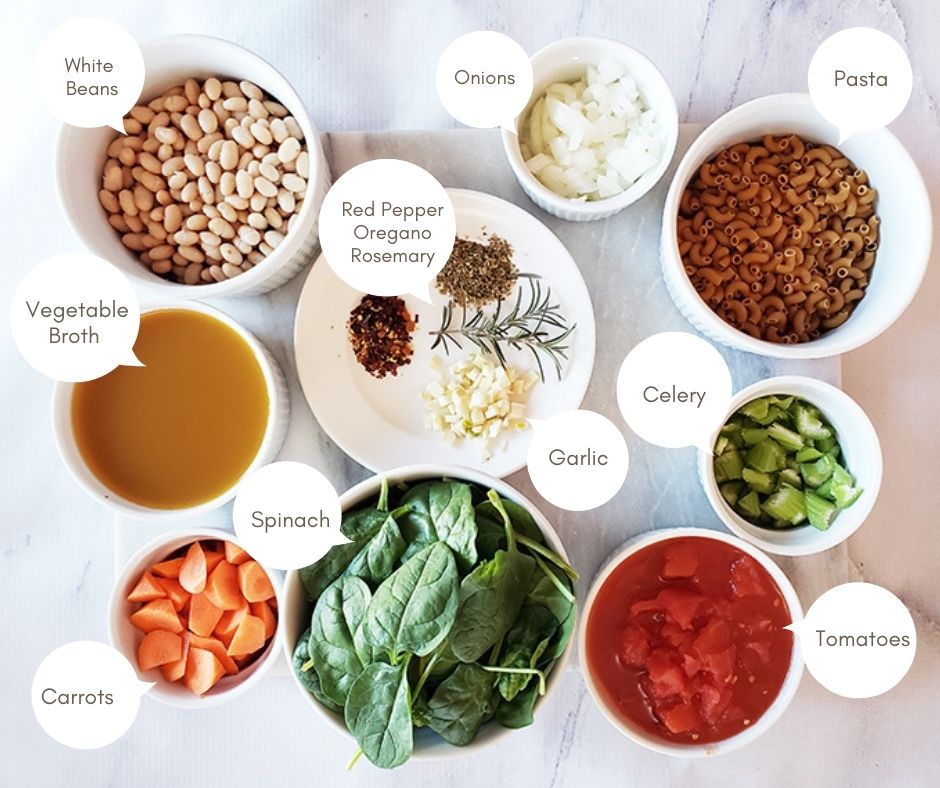 Ingredient List
Olive oil
Celery
Yellow Onion
Garlic
Carrots
Dried Oregano
Diced Canned or Fresh Tomatoes
Canned White Beans such as Great Northern Beans, Navy Beans, or Cannellini Beans
Fresh Rosemary
Baby Spinach
Equipment
Here is how to Make White Bean Soup in an Instant Pot
Prepare: chop the carrots, celery, and onions into uniformly sized pieces. Chop the tomatoes if using fresh, and crush or chop the garlic. Rinse the beans and measure the remaining ingredients.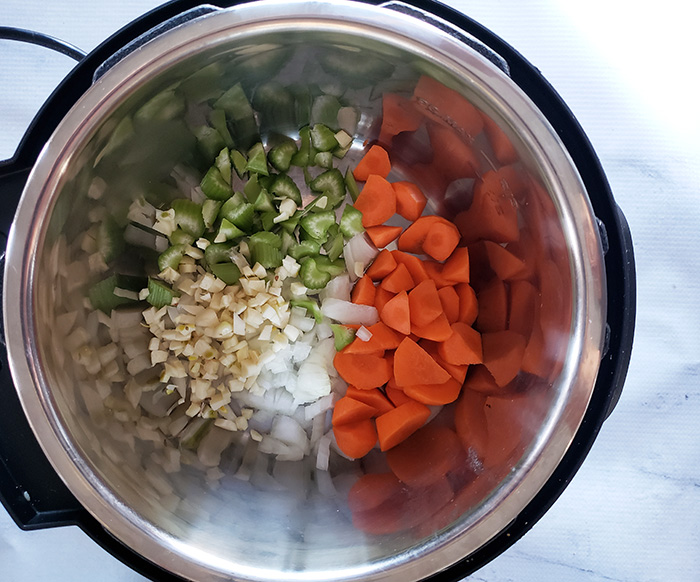 Step 1. Cook the vegetables
Set your Instant Pot or electric pressure cooker to the saute function. Once it's hot, add the vegetables and cook them for a few minutes until they start to turn soft.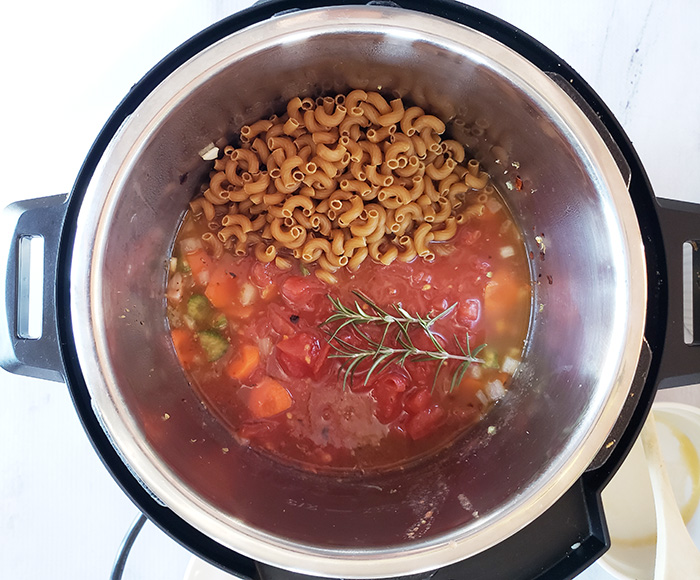 Step 2. Add the remaining ingredients and cook
Add the spices, pasta, tomatoes, broth, and rosemary sprig. Set the pressure to high pressure and cook for 5 minutes.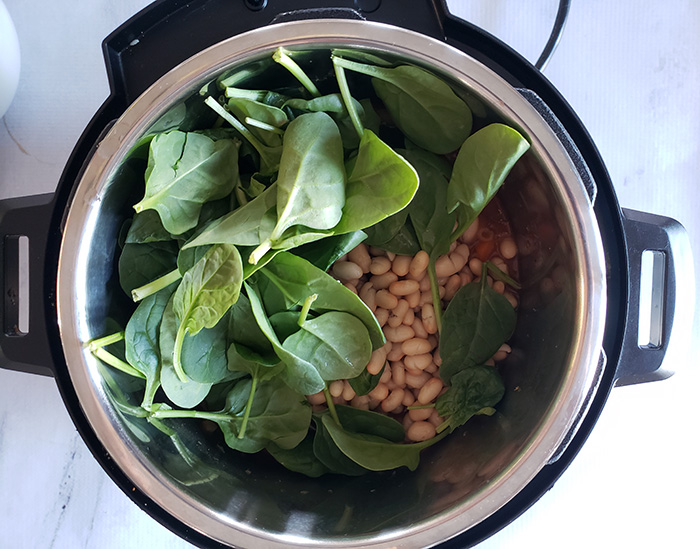 Step 3. Add beans and spinach
Once the pressure cycle is complete, natural release the pressure after 5 to 8 minutes. Carefully release the remaining pressure, remove the lid and stir in the beans and spinach.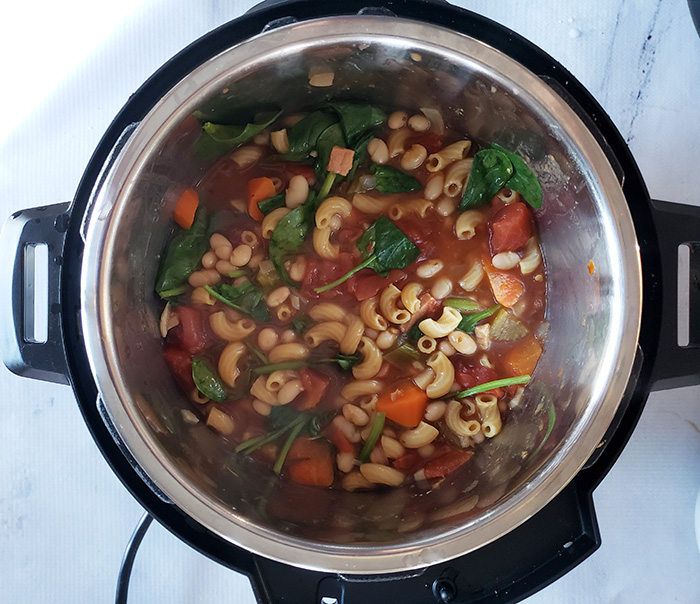 Step 4. Stir the Spinach and keep warm
Serve once the beans are heated through and the spinach has wilted.
Note: It will take approximately 8 to 10 minutes before the pressure cooker reaches pressure and starts the cooking process.
Ingredient Notes and Substitutions
White beans. There are three types of white beans that you can use in this soup recipe; great northern beans, navy beans, or cannellini beans.
Navy beans are small in size and have a more creamy texture than great northern and cannellini beans which are similar to kidney beans.
Garlic. I like to use fresh garlic in this recipe, it can be replaced with ½ teaspoon of garlic powder.
Vegetable Broth. To keep this recipe vegetarian, I use vegetable broth. It can be swapped out for an equal amount of chicken broth.
Have you tried making your own vegetable broth? It's easy, here's my recipe for homemade vegetable broth.
Baby Spinach wilts quickly and adds great flavor to this white bean soup. It can be replaced with an equal amount of chopped kale or escarole.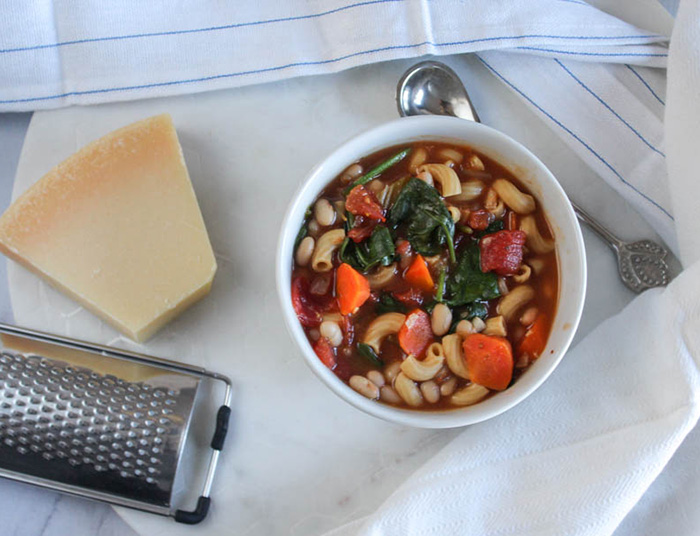 Serving Suggestions
Serve this delicious soup garnished with a sprinkle of lemon juice and shredded parmesan cheese or a sprinkle of nutritional yeast.
Accompany it with a loaf of crusty bread, and a salad like this arugula salad, kale salad or brussels sprouts salad for a complete meal.
Make Ahead Instructions
This delicious bean soup is the perfect candidate for meal prepping. Cut up the celery, onions, garlic, and carrots and store them in the refrigerator for up to 4 days. When it's time to cook half of the work (chopping the veggies) is done!
This soup can also be completely made ahead of time and cooked without pasta, beans, and spinach.
Refrigerate or freeze room temperature soup for up to 4 days in the fridge and 3 months in the freezer.
To serve, cook the pasta separately. Warm the soup over medium heat on the stove. Add the spinach, beans, and pasta to the warmed-up soup and serve.
Variations
Instant Pot Ham or Sausage and white bean soup. Add a quarter pound of cooked sausage or ham to the instant pot with the tomatoes and pasta.
Gluten-free white bean soup. Leave out the pasta or replace the pasta with your favorite gluten-free pasta.
Whole grain white bean pasta soup. Replace the pasta with ¼ cup of farro, barley or brown rice and increase the cooking time to 20 minutes on high pressure.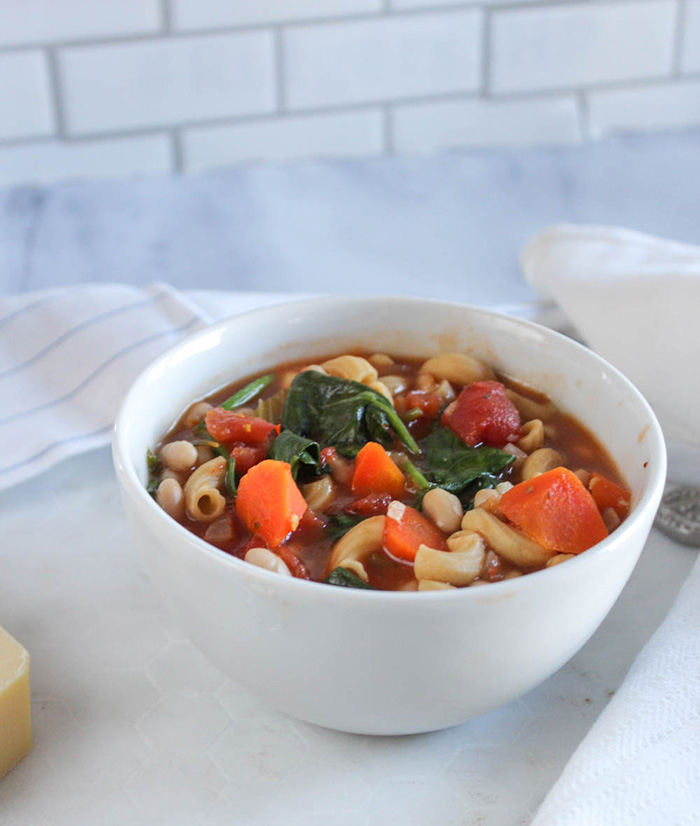 Storage
Store leftover soup in the refrigerator for two to three days in an airtight container.
Freeze. Once the soup has reached room temperature freeze it in freezer-safe containers for up to 3 months. Defrost it in the refrigerator overnight.
Reheat leftover white bean soup on top of the stove over low heat or in the microwave.
Top Tips
If you plan on having leftover soup, cook the pasta separately and add it to the soup when you serve it. This will avoid soggy pasta.
Save your rinds from parmesan cheese, and add a chunk of the parmesan rind to the instant pot before cooking the soup for extra flavor.
Can I make this instant pot white bean soup recipe in a slow cooker?
Yes, you can. Simply add all of the ingredients (except the beans and spinach) to the slow cooker and cook for 2 hours on low heat. Add the spinach and beans and cook for at least 30 minutes longer.
If you like this recipe, please comment and rate it below!
Have you tried these Instant Pot recipes?
For more simple and delicious recipes like this, subscribe to our newsletter and receive a free e-book and meal suggestions straight in your inbox!