Vegan BLT is a meatless version of a classic sandwich made with salty, smoky strips of portobello mushroombacon, topped with crispy lettuce and juicy tomato slices. You don't have to be vegan or vegetarian to enjoy this twist on a BLT sandwich.
This recipe was originally posted in 2017, it's been updated for content and photos.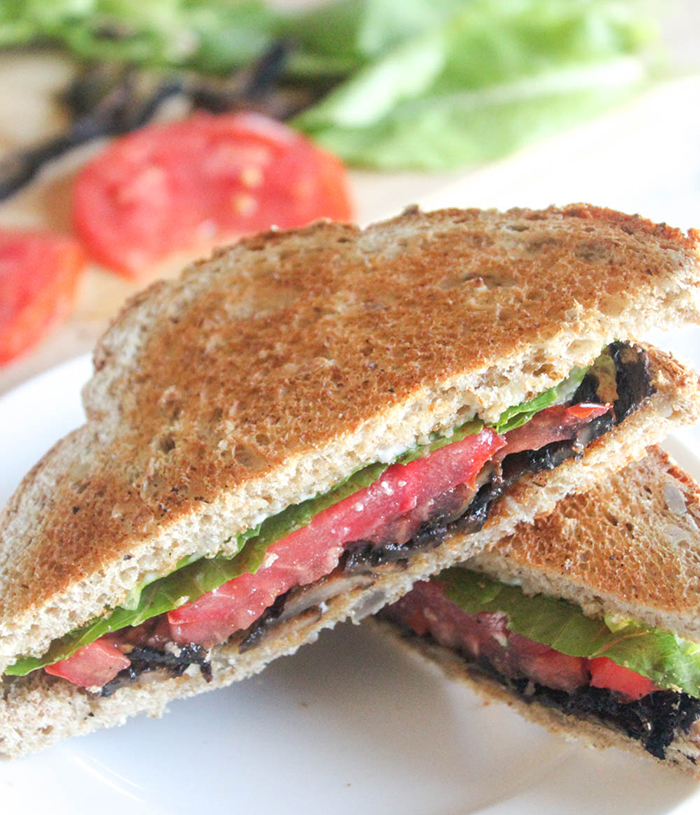 Recipe Highlights
It's healthier! Portobello mushrooms are slathered in a seasoned olive oil and baked in the oven to cripsy perfection to make mushroom bacon.
It's an easy sandwich made with fresh ingredients that you can enjoy for lunch or dinner.
Here's what you will need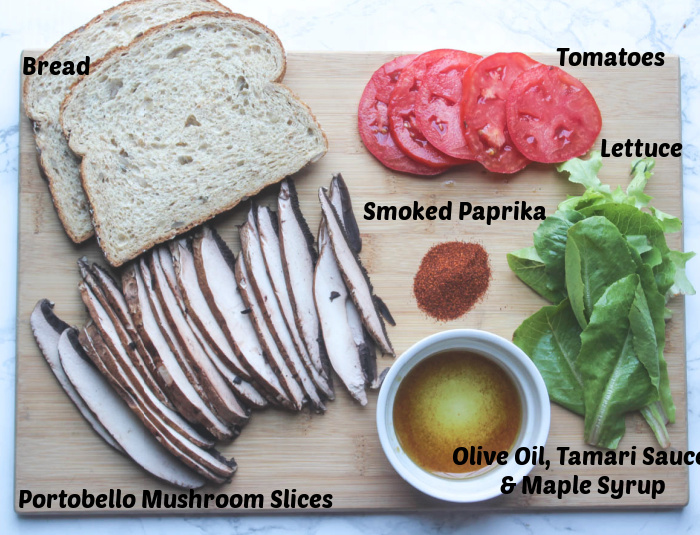 As an Amazon Associate, I earn from qualifying purchases
This is an overview of the ingredients and steps to make this recipe, scroll down for a printable recipe card with exact measurements and instructions.
Portobello mushrooms have a meaty texture, yet they are spongy. They soak up the seasoned oil making them the perfect meatless substitute for bacon. If you can't find portobello mushrooms, cremeni or any type of mushroom will work. I chose portobellos because I can make long strips out of them
Seasoned oil is made with olive oil, tamari sauce and maple syrup for salty and sweet flavors that are in bacon.
Smoked paprika - If it's bacon, it has to be smoky and smoked paprika adds a smoky flavor.
Lettuce - The best lettuce to use in a BLT is Boston, romaine, baby romaine or iceburg lettuce. I like baby romaine or Boston lettuce. If you prefer a crispy lettuce, try romaine or iceburg lettuce.
Tomato - Large and juicy beefsteak tomatoes or heirloom tomaotes are the best for making a BLT, make sure the slices are nice and thick.
Sea Salt - Optional
Your favorite sandwich bread.
Estimated Time To Make This Recipe: 30 to 40 minutes
How to make it
As with most sandwich recipes, you really don't need a recipe to make a vegan blt. The most time consuming part is making the mushroom bacon. Here's how to do it:
Mix the maple syrup, tamari sauce and oil; set it aside. Slice the mushrooms thin and arrange them on a parchment lined baking sheet. Use a pastry bruch to brush them with the seasoning oil. Sprinkle them with paprika and bake them for 20 minutes.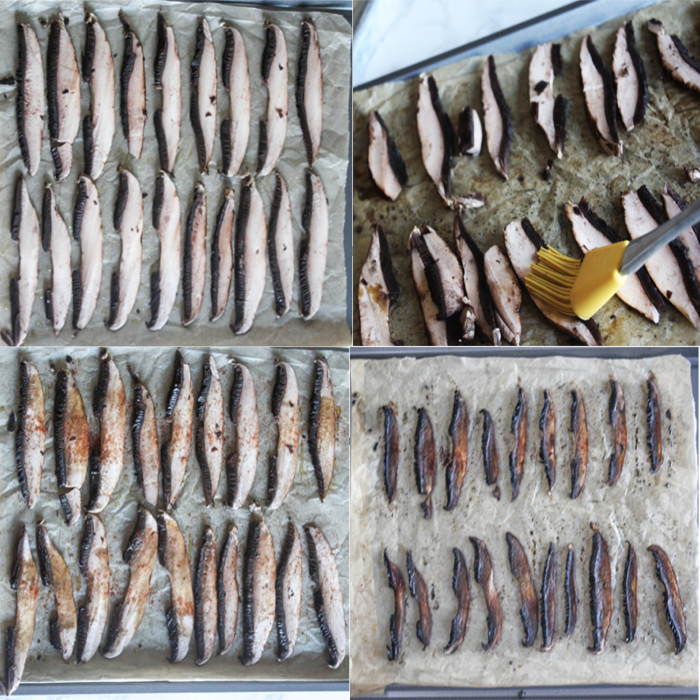 Remove the mushrooms from the oven and turn them over. Reduce the oven temperature and place them back in the oven for 5 to 10 minutes longer.
NOTE: At the end of the cooking process, the mushrooms will brown and crisp up quickly, check them every 5 minutes and remove slices that appear to be done.
Once the mushrooms have been cooked, remove them from the baking sheet and allow them to cool off while you are preparing the rest of the ingredients for the sandwich.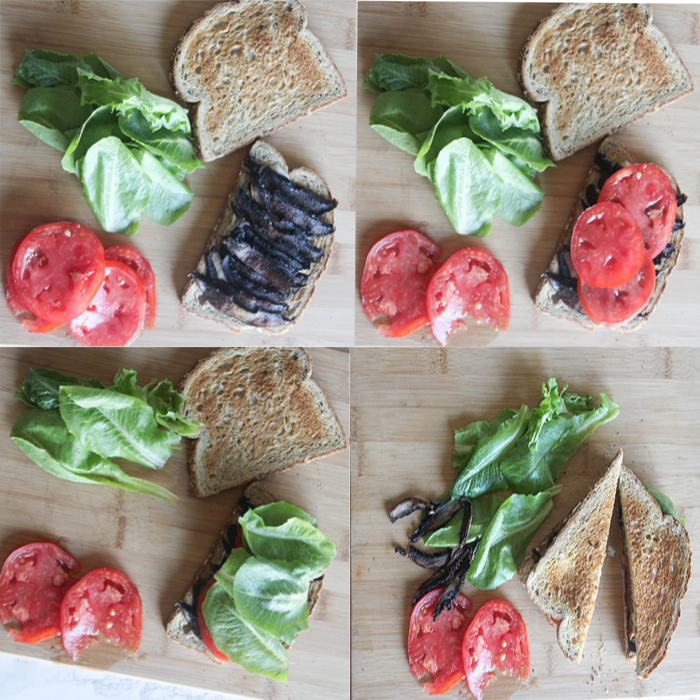 To make the sandwich, spread a teaspoon of avocado mayonnaise or mashed avocado onto a slice of bread. Top the bread with mushroom bacon strips, tomaot and lettuce.
Serving Suggestions
This sandwich tastes great on whole grain toast with a homemade pickle and chips on the side. Or you can skip the bread and serve it as a salad with a lot of lettuce, tomatoes and drizzled with your favorite dressing.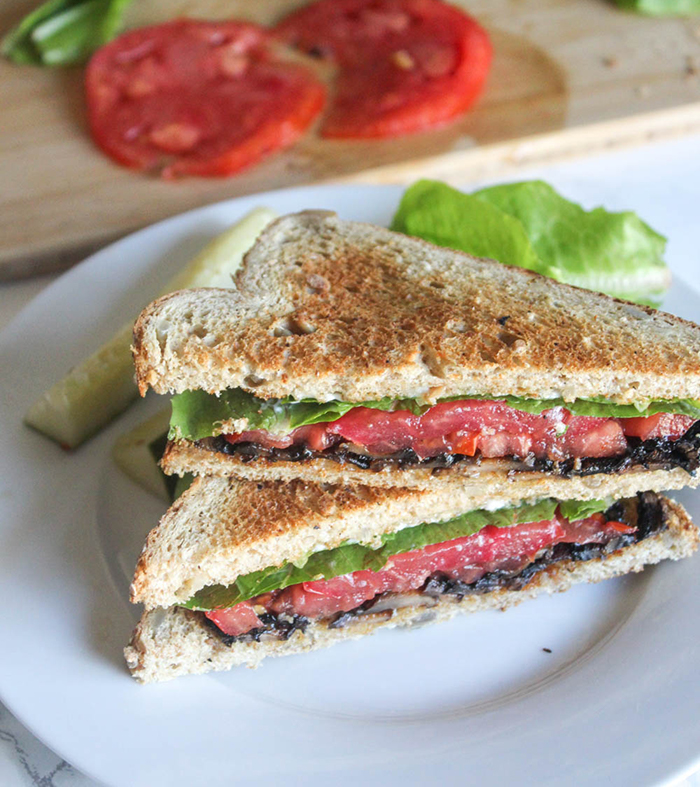 Storing Leftovers
All of the ingredients in this sandwich are fresh and will taste the best if they are eaten right a way. If you do have leftover mushroom bacon, store it in the fridge in an airthight container for up to 2 days. It will not be as cripsy after being stored in the fridge, you may have to pop it in the microwave or oven to crisp it up a bit.
Leftover mushroom bacon also tastes great crumbled into a salad.
Recipe Variations
Try adding any of the following to your Vegetarian BLT:
Onion, roasted pepper or avocado slices or all of them
Thin slices of cucumbersor zucchini
Thin sliced sharp cheddar cheese or provolone cheese
Swap out the lettuce with baby spinach or arugula
Add a handful of sprouts
You Might Also Like These Recipes