No need to be vegan to fall in love with this vegan mushroom stroganoff with tofu. Even though it's not your traditional beef stroganoff, it's filled with meaty mushrooms, and tofu in a flavorful savory stroganoff sauce. It's pure comfort food.
If you are a meat-eater, please don't skip this one! This vegan mushroom stroganoff recipe with tofu is an easy recipe that is too good to miss. The tofu is baked before it is added to the stroganoff which gives it a meaty texture, and it soaks up every last bit of flavor.
This recipe was originally posted in 2018, it's been updated for content and photos.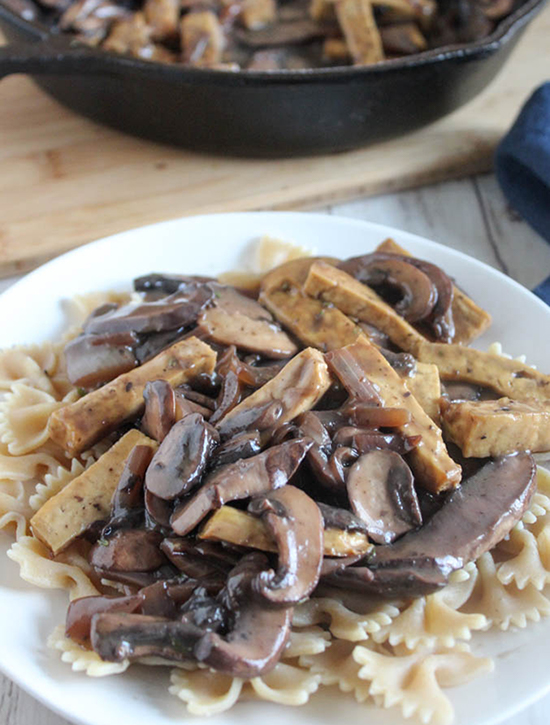 You don't have to be vegan to enjoy vegan recipes! You might also want to try this vegan mac and cheese recipe on your next meatless Monday for another easy dinner.
Why this Recipe Works
It's a lighter version of classic stroganoff, filled with savory flavor.
It's versatile! You can make it vegetarian and you can replace the tofu with meat!
It's an easy meal that the whole family will love!
Here is What You Will Need
This is an overview of the ingredients and steps to make this recipe, scroll down to see ingredient notes and substitutions as well as a printable recipe card with exact measurements and complete cooking instructions.
As an Amazon Associate, I earn from qualifying purchases
This is an overview of the ingredients and steps to make this recipe, scroll down for a printable recipe card with exact measurements and instructions.
---
Ingredients
Portobello Mushrooms
Mushroom Mixture
Olive Oil
Red Wine
Onion
Dairy-Free Milk
Tamari sauce
Ground pepper
Bay leaves
Dried thyme
Whole wheat flour
Equipment
---
Here is How To Make Tofu Stroganoff with Mushrooms
Prepare the ingredients: Preheat the oven to 400 and line a baking sheet with parchment paper, chop the onions, slice the mushrooms, measure the wine, tamari sauce and seasonings, drain rinse and dry the tofu (see below for tips). Preheat a large skillet over medium-high heat.
Use a pastry brush to coat the parchment paper with olive oil.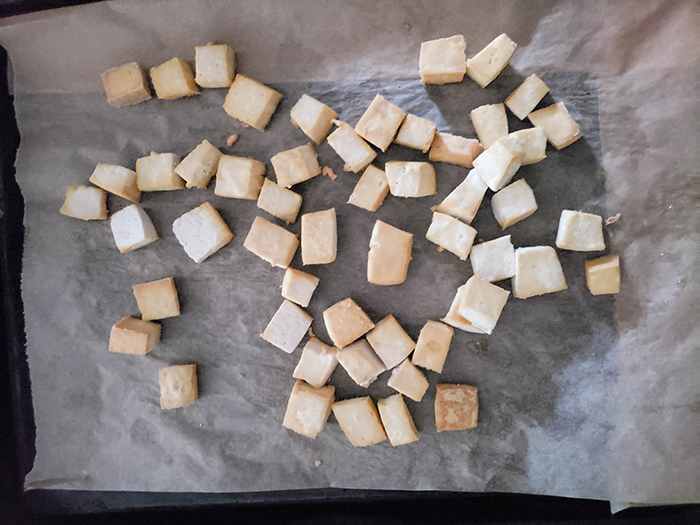 Cut it the tofu into bite-sized pieces that are similar in size. Place them on a parchment-lined baking sheet and bake the tofu chunks until they start to brown for about 30 minutes.
Tip! Tofu is very spongelike for the dryest tofu, wrap it in a towel and place a dish on top for weight for at least one hour before cooking; this will help to release the liquid. Or you can use a Tofu Bud to drain the tofu more efficiently.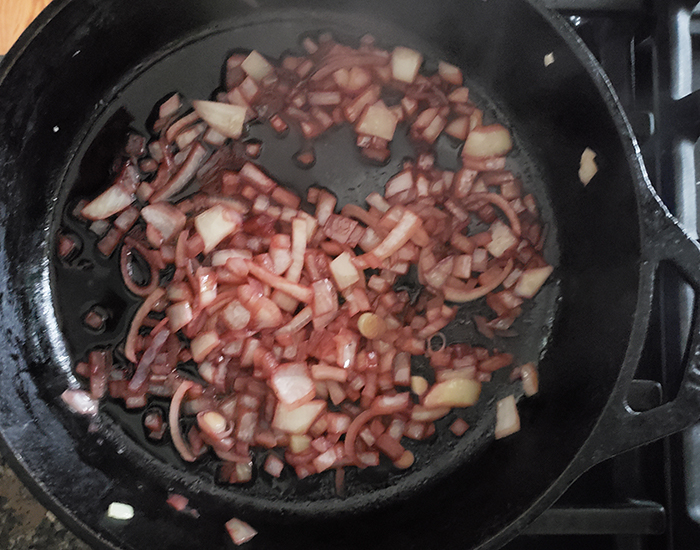 While the tofu is roasting, heat a large skillet over medium-high heat. Once the skillet is hot, add the onions with a little bit of the red wine and cook them stirring occasionally until they become soft and absorb most of the wine that has been added to the skillet. Reduce to medium heat.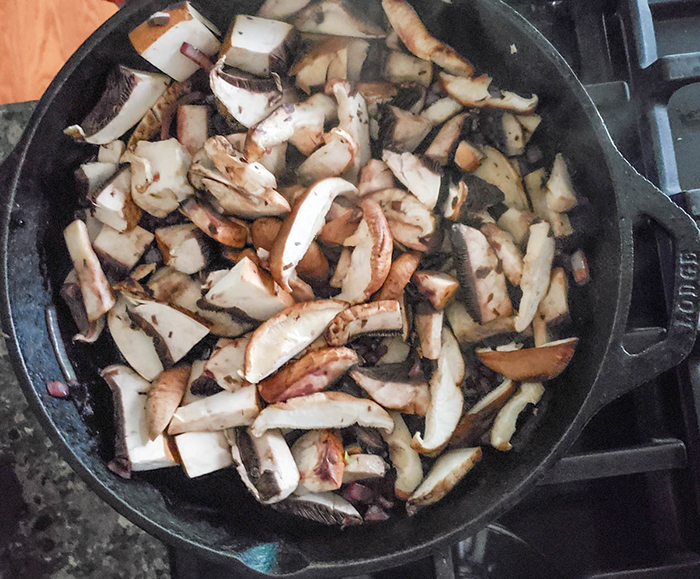 Add the mushrooms to the skillet with the wine and onions and continue to cook over medium heat gradually adding the remaining wine as it cooks.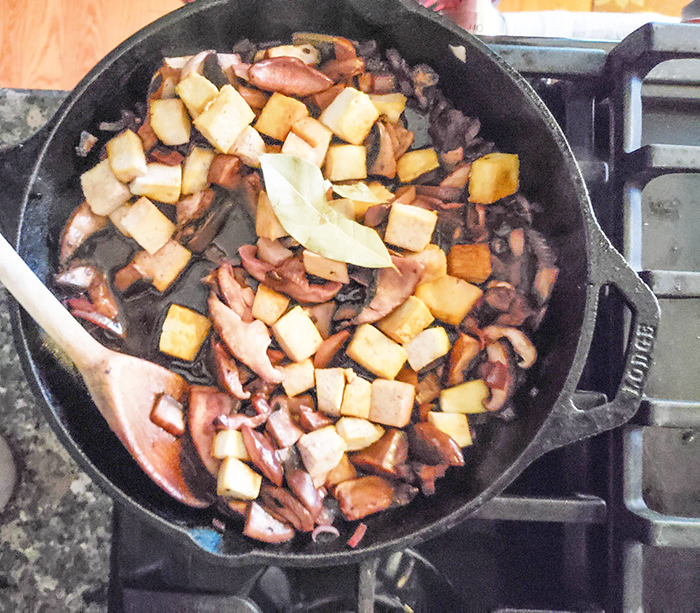 Stir in the roasted tofu, bay leaf, thyme, and milk. Reduce the heat to low and simmer for 10 minutes. Stir in the thickener (all-purpose flour or arrowroot) to thicken the sauce just before serving.
Total Estimated Time to Make this Recipe: 50 to 60 Minutes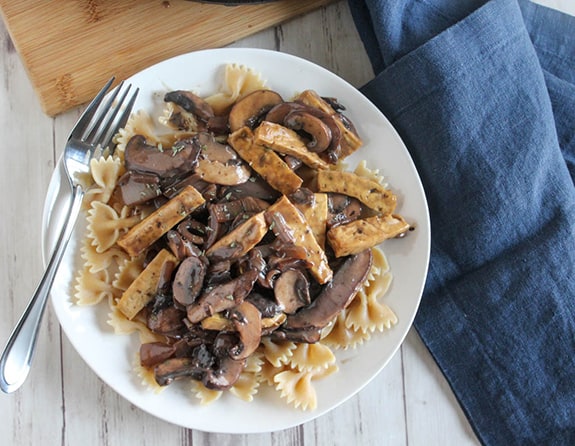 Ingredient Notes & Substitutions
Tofu. I recommend an organic extra firm or firm tofu such as Nasoya extra firm tofu.
Red Wine. Any type of red wine can be used in this recipe, I like to cook with cabernet or merlot.
Substitute red wine with white wine or vegetable broth.
Mushrooms. You can use any type of mushroom that you like in this recipe. I like to use a mix of hearty mushrooms such as portobello mushrooms, white button mushrooms, shiitake mushrooms and cremini mushrooms.
Milk. Since this recipe is vegan, I use oat milk or almond milk. You can use any type of non-dairy milk or if you prefer dairy milk that will work too. Full-fat dairy milk will make a more creamy sauce.
Tamari Sauce. Similar tasting to soy sauce, adds a delicious umami flavor to the stroganoff. It can be swapped one to one with soy sauce or coconut aminos.
Whole wheat flour or arrowroot. These are thickeners and are optional to add at the end of cooking this recipe.
Tip! If you use arrowroot add it right before serving and turn the heat off once your sauce is thick. Arrowroot loses its thickening powers if the temperature is too high.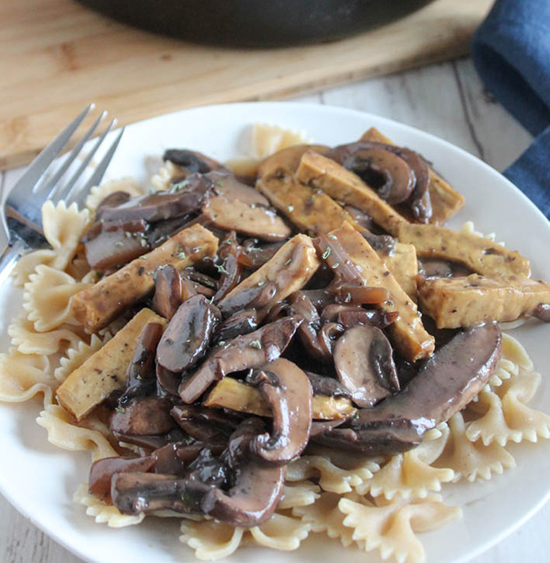 Storing and Using Leftovers
Store leftover tofu stroganoff in an airtight container in the refrigerator for up to three days.
Reheat it on top of the stove over low heat.
Freezing this recipe is not recommended.
Serving Suggestions
Mushroom Tofu Stroganoff tastes great over a bed of egg noodles, bow tie pasta, gluten-free pasta or rice with a side salad like this arugula salad or roasted Brussels sprouts or your favorite steamed vegetables.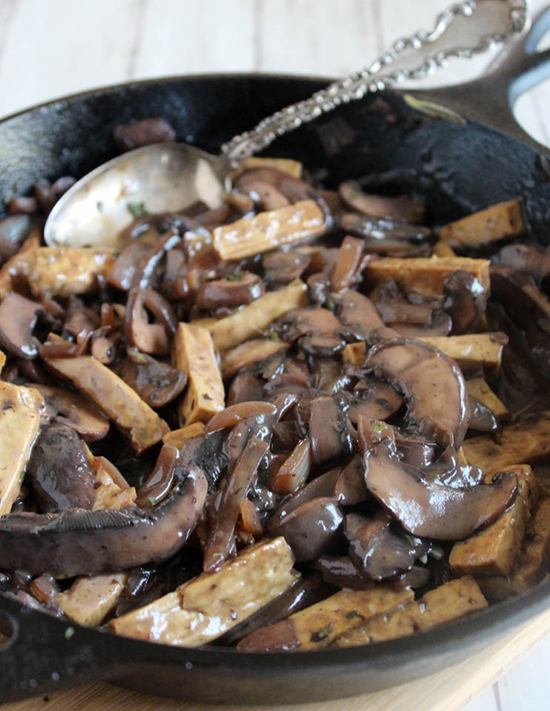 Recipe Variations
Mushroom Stroganoff. If you don't like tofu, you can leave it out and add two to three more portobello mushroom caps (8 ounces).
Creamy Vegan Mushroom Stroganoff with tofu. This recipe does not have a super creamy texture as some stroganoff recipes do. If you prefer creamy, you can stir in a tablespoon or two of vegan sour cream for a more creamy texture.
Vegetarian Mushroom Tofu Stroganoff. Use regular milk and add 1 tablespoon Greek yogurt just before serving.
Meat Eaters Mushroom Stroganoff. Add ½ pound of boneless chicken breast or thinly sliced flank steak place of the tofu. Cook the meat in the skillet, remove it and set it aside. Cook the mushrooms and onions as per the recipe and add the meat to the stroganoff at the end of cooking.
Garnish Ideas Sprinkle on some fresh herbs just before serving such as fresh parsley and fresh thyme.
Check out these vegan recipes too!