You don't have to be vegetarian to enjoy this vegetarian enchilada casserole recipe! It's filled with layers of spicy tofu filling, tortillas, homemade enchilada sauce, and cheese.
This warm and comforting casserole is an easy weeknight dinner that the whole family will love.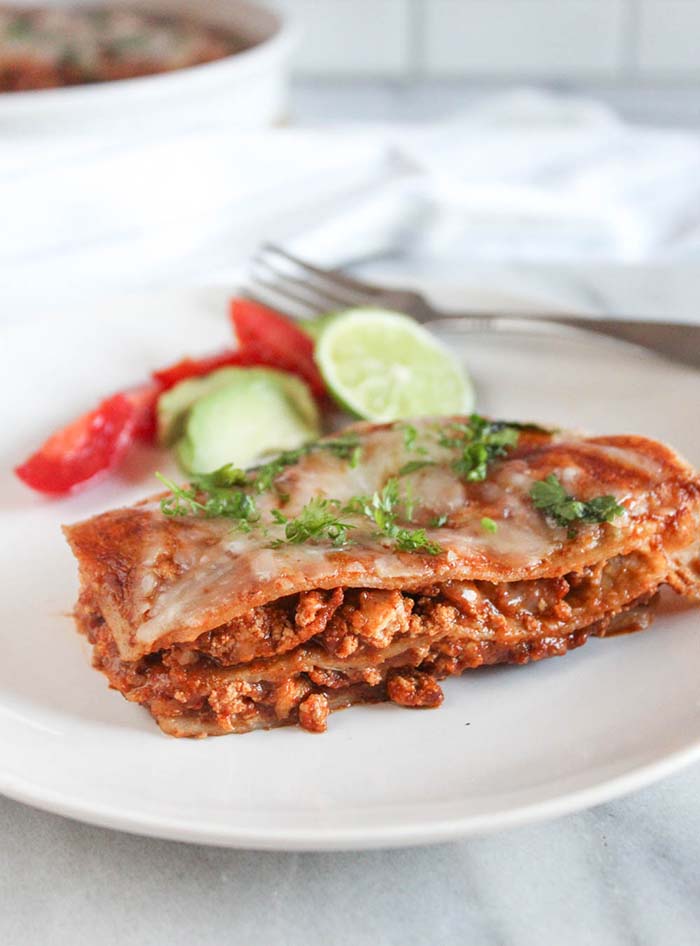 This recipe was inspired a chicken enchilada recipe and this spicy chicken and black bean casserole.
Why This Recipe Works
It's simple! It has all of the flavors of enchiladas with less work; perfect for an easy weeknight meal.
Flavor! This casserole has so much flavor, meat-lovers will devour this recipe too.
It's easy to make ahead of time.
Here is What You Will Need to Make This Vegetarian Enchilada Casserole
As an Amazon Associate, I earn from qualifying purchases.
This is an overview of the ingredients and steps to make this recipe, scroll down to see ingredient notes and substitutions as well as the full recipe on a printable recipe card with exact measurements and complete cooking instructions.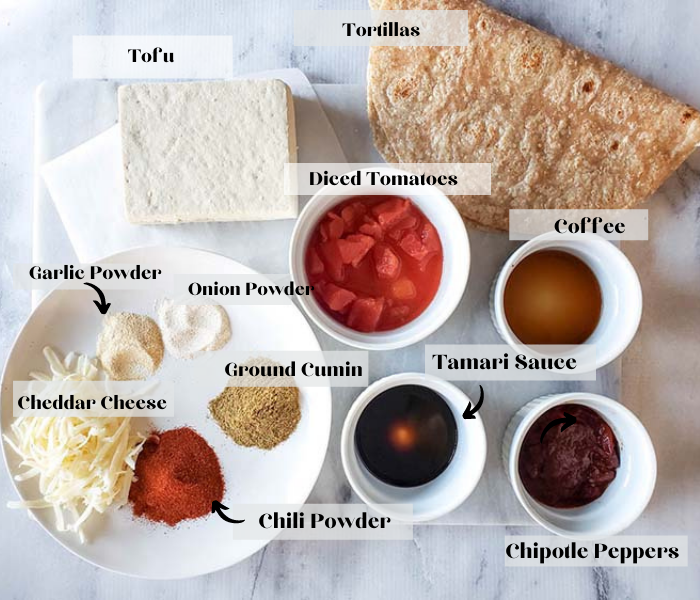 Ingredient List
Olive Oil
Extra Firm Tofu
Diced Tomatoes
Ground Cumin
Smoked Paprika
Garlic Powder
Onion Powder
Brewed coffee
Enchilada Sauce (here's a recipe for my homemade enchilada sauce)
Tortillas
Cheddar Cheese
Equipment
How to a Vegetarian Enchilada Casserole
Prepare the Ingredients: Several hours ahead of time, press the tofu to remove excess moisture. Wrap the block in a towel and place a heavyish object such as a plate on top of it. If you have a tofu press, place the tofu in that for a few hours.
Measure out the seasonings, shred the cheese, and heat the oil in a large skillet over high heat.
Preheat the oven to 375 degrees F.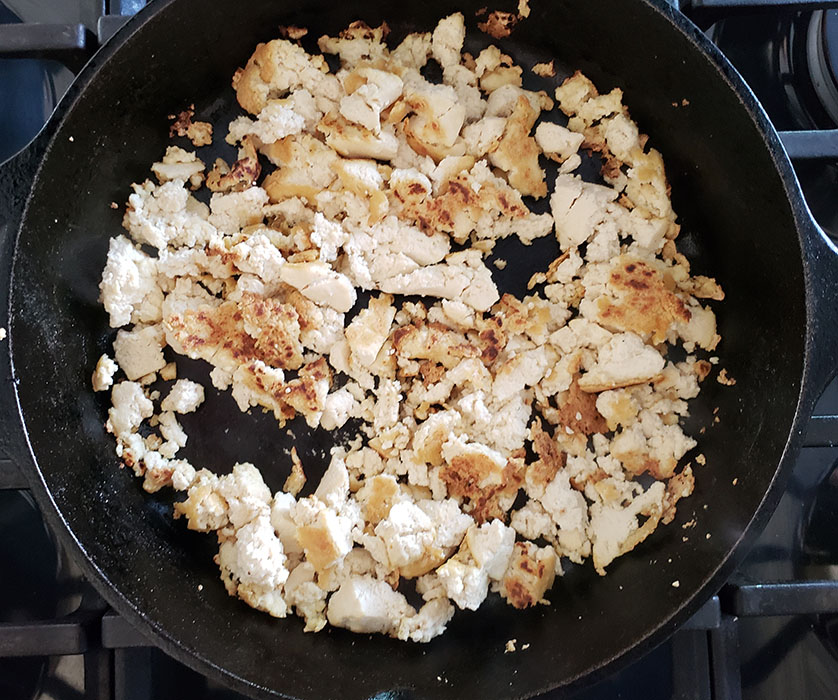 Step 1. Cook the Tofu
Reduce the heat to medium high heat. Crumble the tofu with your hands and add it to the skillet. Use the back of a spatula to press the crumbles down, and let them cook for a few minutes undisturbed. Once the crumbles begin to turn golden brown on the bottom, reduce the heat to medium heat and toss the crumbles around the skillet while it continues to brown.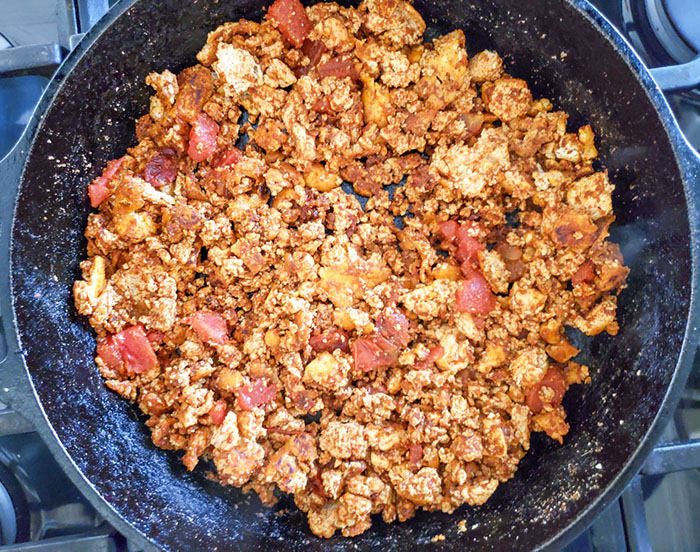 Step 2. Add the Seasonings
Stir in the spices, tomatoes, chipotle pepper, adobo sauce, coffee and tamari sauce. Reduce the heat to low heat and simmer for 5 minutes.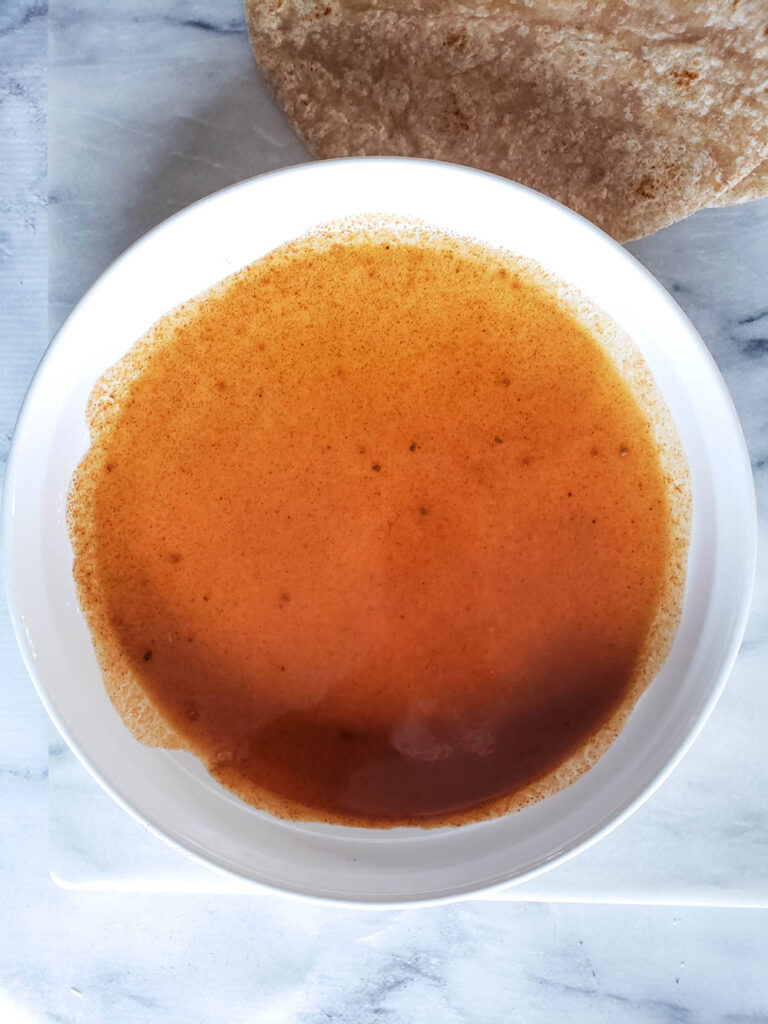 Step 3. Assemble the Casserole
Pour a thin layer of sauce (approximately ¼ cup of enchilada sauce) into the casserole dish. This should be enough to cover the bottom of the baking dish depending on its size.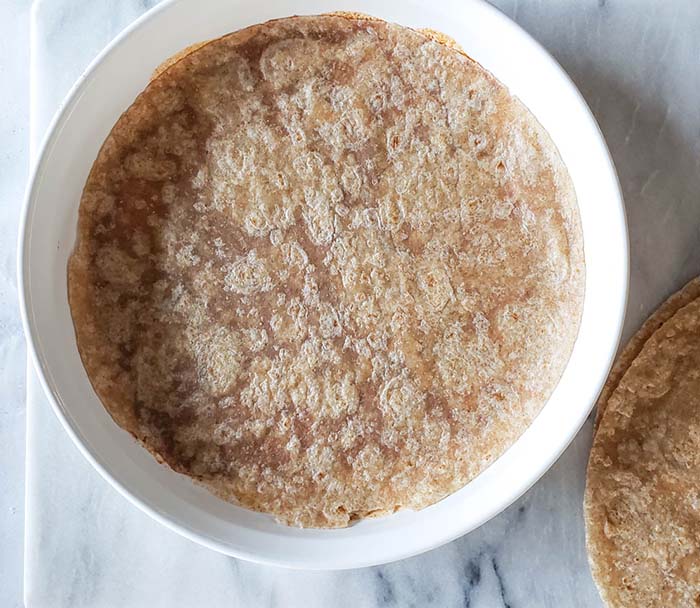 Step 4. Top it with a Tortilla
Cover the sauce in the casserole dish with the tortilla. If you are using smaller tortillas, arrange them so that they cover the bottom of the dish.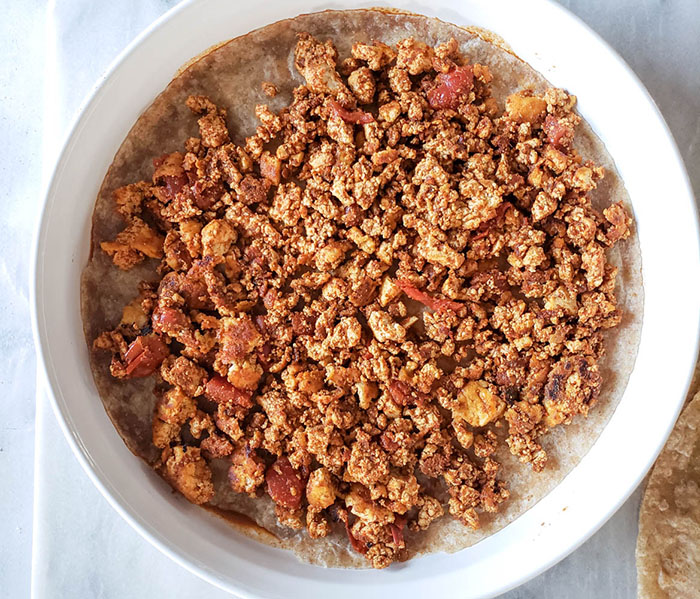 Step 5. Add the Filling
Spread half of the filling mixture over the tortilla.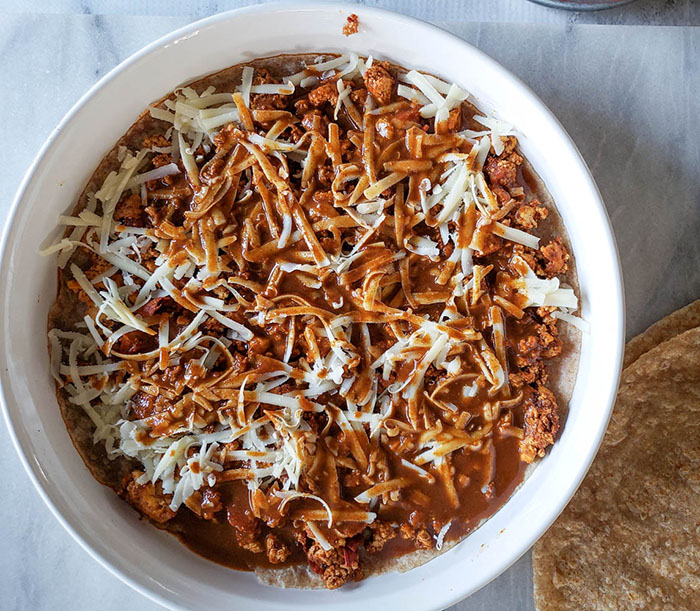 Step 6. Add Cheese and Sauce
Sprinkle half of the shredded cheese over the filling in the casserole, add enough sauce to lightly cover the cheese.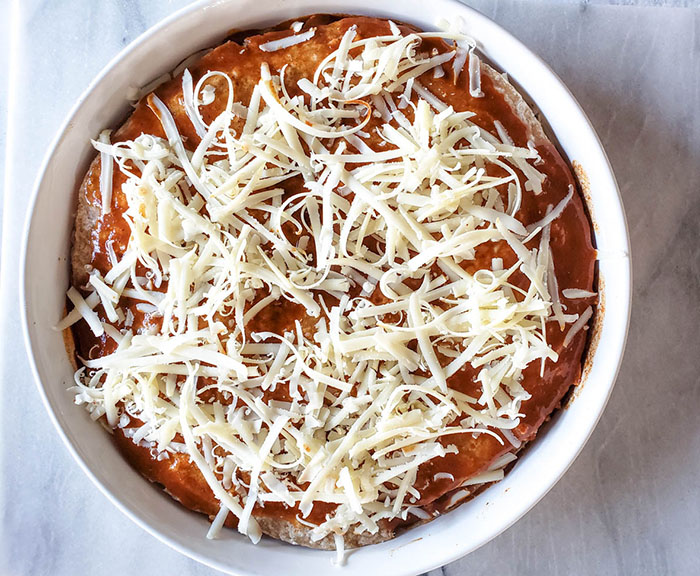 Step 7. Repeat
Cover the cheese and sauce with another tortilla, then the remainder of the filling a little bit of cheese and sauce. Top it off with a tortilla, and enough sauce to cover the tortilla and sprinkle it with more shredded cheese.
Cover the casserole dish with aluminum foil and bake for 15 minutes. Remove the foil and bake for 5 minutes longer.
Hint: Larger tortillas fit perfectly in a round oven-proof dish so you don't have to cut the tortillas to fit in a square or rectangular dish.
Ingredient Notes and Substitutions
Olive oil can be substituted with avocado oil one for one.
Diced Tomatoes - Fresh or canned tomatoes will work in this recipe. If you are using canned tomatoes, look for low sodium tomatoes.
An equal amount of crushed tomatoes can be used in place of diced tomatoes.
Tamari Sauce adds a nice umami flavor to the filling. It can be substituted with an equal amount of soy sauce.
Tortillas - You can use any size of tortilla in this recipe. We like larger flour tortillas because they fit perfectly in a round casserole dish.
Smaller tortillas may need to be trimmed to fit the contour of your casserole dish. Corn tortillas are also a great option.
Chipotle Peppers & Adobo Sauce. These two ingredients are actually one product. Look for chipotle chili peppers in adobo sauce in the canned section of your grocery store.
You will need one pepper and some of the sauce. Freeze what's left from the can of peppers and sauce in small portions for future use.
Enchilada Sauce. Homemade sauce is economical and easy to make, here is my recipe for enchilada sauce or you can buy enchilada sauce that's made with wholesome ingredients.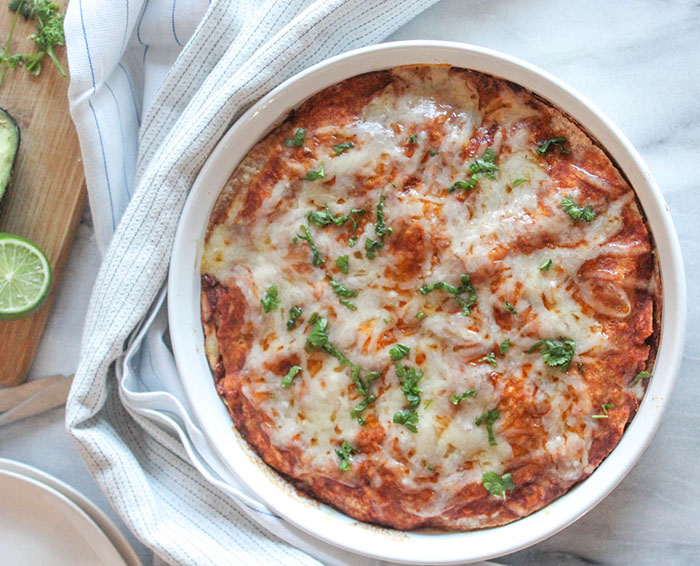 How to make an enchilada casserole ahead of time
This is a great recipe to make ahead of time, and there are a few ways to do it.
Make the filling and the enchilada sauce a few days before and store them separately in the refrigerator until it's time to assemble the enchilada casserole.
Assemble the casserole without baking it a day before and store it in the refrigerator. Any longer than a day might produce soggy tortillas.
How to Store Leftovers
Refrigerate the leftover enchilada casserole in an airtight container for up to three days.
Reheat the leftover enchilada casserole covered in the oven at 350 for 15 to 2 minutes until it's heated through.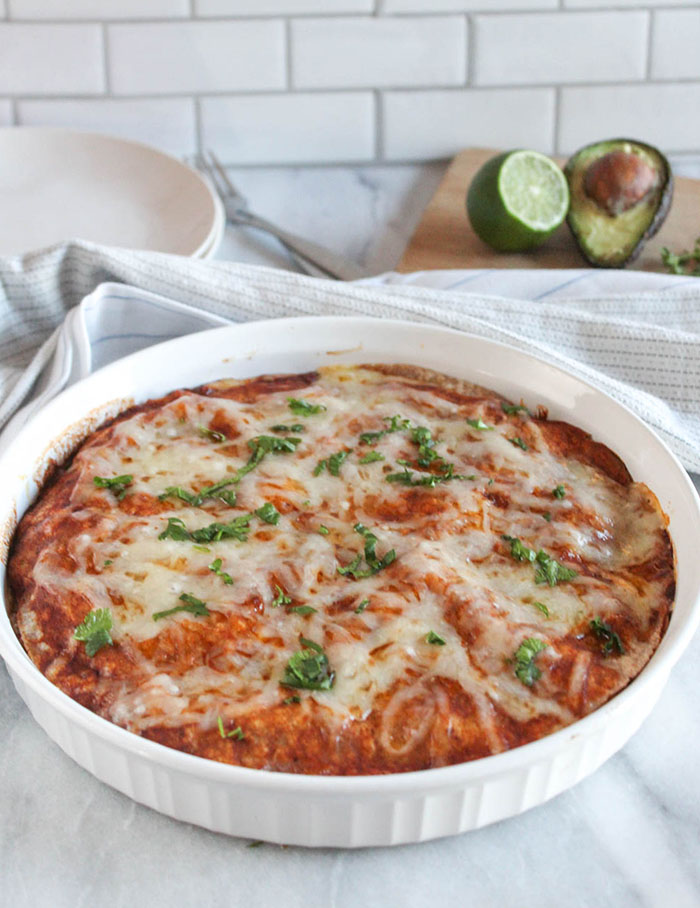 Top Tip
Tofu that has had the excess moisture removed will have a similar texture to seasoned ground meat in this recipe. For a meaty texture, press the tofu down in the skillet while cooking it at high heat for the first few minutes. Once the crumbles start to turn golden brown, reduce the heat to medium to prevent burning.
Recipe Variations
Vegetable Enchilada Casserole. Add ½ cup of fresh vegetables such as red pepper, cooked sweet potatoes or zucchini to the skillet with the tofu.
Vegetarian Bean Enchilada Casserole. Add ½ cup black beans to the tofu mixture.
Enchilada Casserole with Meat. Swap out the tofu with ¾ pound of ground chicken breast, ground turkey, or lean ground beef.
Change up the Cheese. Replace or use a combination of cheeses such as pepper jack, mozzarella, or Monterey jack cheese.
Vegan Enchiladas Casserole. Replace the cheese with dairy-free cheese.
Gluten-Free. Use gluten-free tortillas (corn is a great option) and gluten-free flour blend in the enchilada sauce.
Traditional Enchiladas. Instead of stacking the tortillas casserole-style, place a spoonful of the filling into smaller (taco-sized) tortillas, roll them up, and arrange them in a single layer on a baking sheet. Cover with enchilada sauce, and cheese, and bake.
For more simple and delicious recipes like this, subscribe to our newsletter and receive a free e-book and meal suggestions straight in your inbox!
Serving Suggestions
Serve vegetarian enchiladas with your favorite toppings such as a side of sour cream, Greek yogurt, guacamole, green onions, brown rice, and fresh cilantro.
Round out the meal and serve your veggie enchilada casserole with a simple chopped salad.
If you like this recipe, please comment and rate it below!
You Might Like These Mexican Recipes
Check out more of our plant-based recipes here!