Spicy chicken tortilla soup is filled with vibrant flavors that blend perfectly together to make a comforting and satisfying bowl of soup that the whole family will love.
This recipe was originally posted in 2019. It's been updated for content and photos.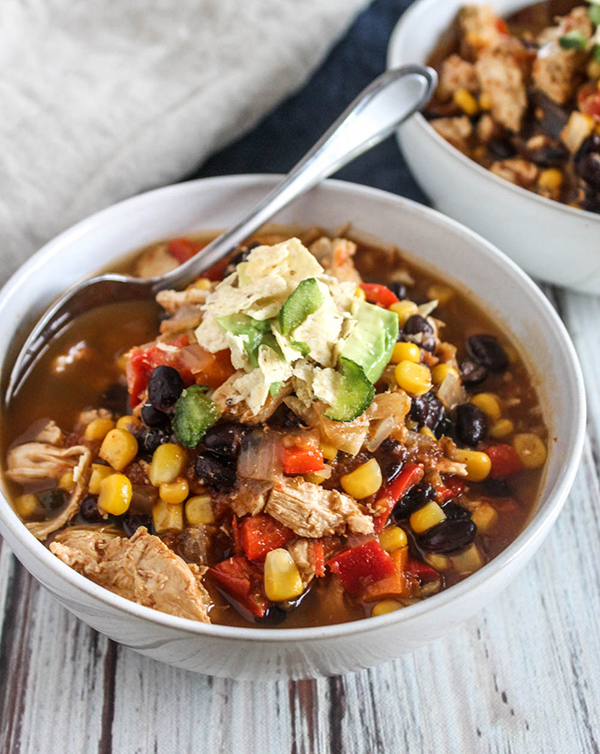 Tender chicken, juicy tomatoes, spicy jalapeno peppers and back beans never tasted so good! That's because electric pressure cookers make soups like chicken tortilla soup and mushroom barley soup taste amazing.
Why This Recipe Works
It's easy! Make it in less than one hour with minimal effort
Spicy chicken totilla is made with healthy, simple ingredients, and tastes great!
Here is What You Will Need to Make Spicy Chicken Tortilla Soup
As an Amazon Associate, I earn from qualifying purchases.
This is an overview of the ingredients and steps to make this recipe, scroll down for a printable recipe card with exact measurements and instructions.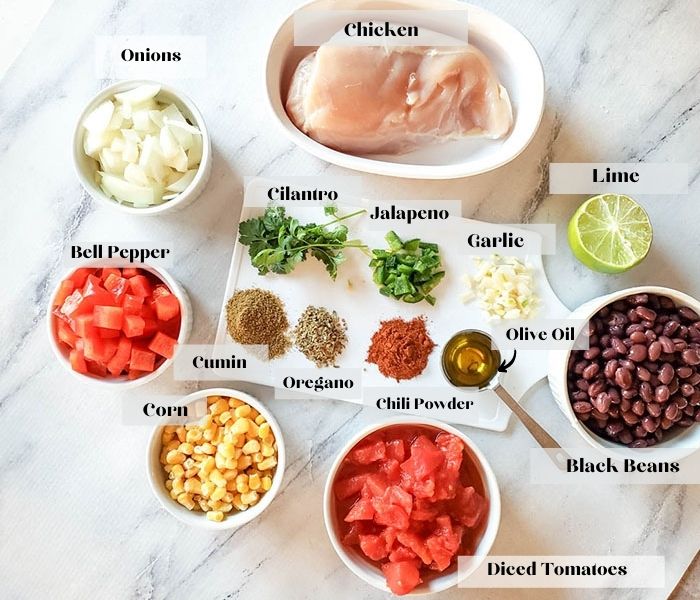 Ingredient List
Boneless Skinless Chicken Breast
Red Bell Pepper
Green Bell Pepper
Fresh Jalapeno Pepper
Medium Onion
Garlic
Cumin
Black Beans
Frozen Corn
Fresh Cilantro
Freshly Squeezed Lime Juice
Water
Equipment Needed to Make this Recipe
Here is How to Make Instant Pot Chicken Tortilla Soup
Prepare the Ingredients: Chop the vegetables, and cilantro, measure the spices, drain and rinse the beans, squeeze the lime juice, measure the tomatoes.
Set the electric pressure cooker to the saute setting and add the oil.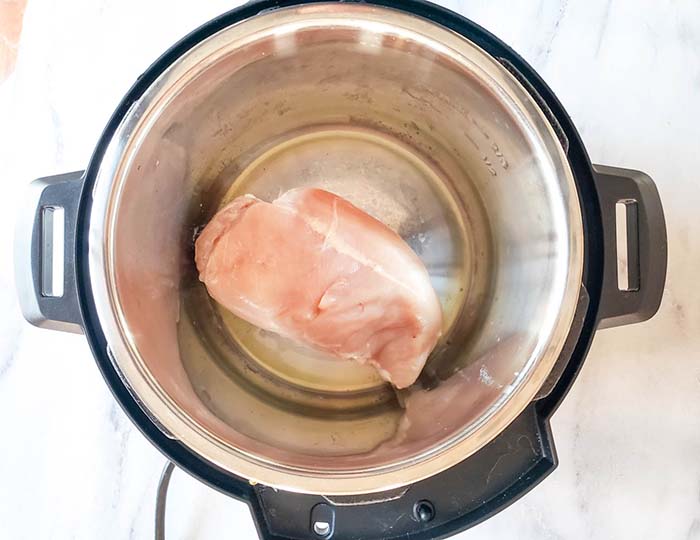 Step 1. Brown the Chicken
Once the instant pot is hot, add the chicken and cook for a few minutes until it turns brown, flip it over and brown the side.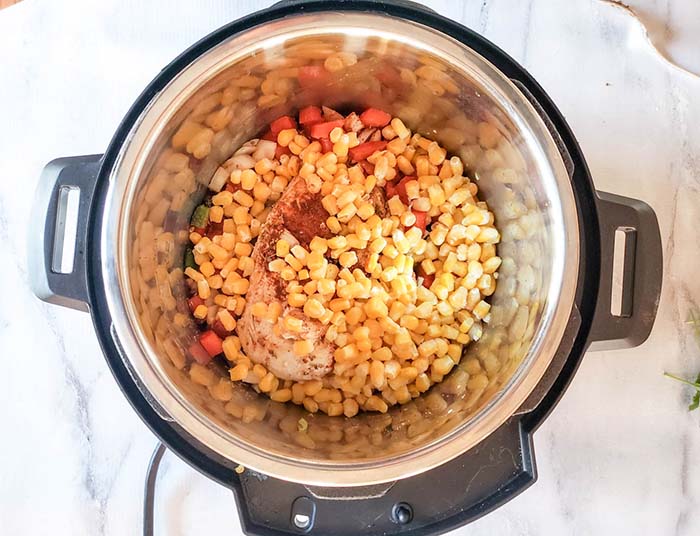 Step 2. Add the Vegetables
Turn the saute setting off, and add spices, chopped peppers, onions, garlic and corn.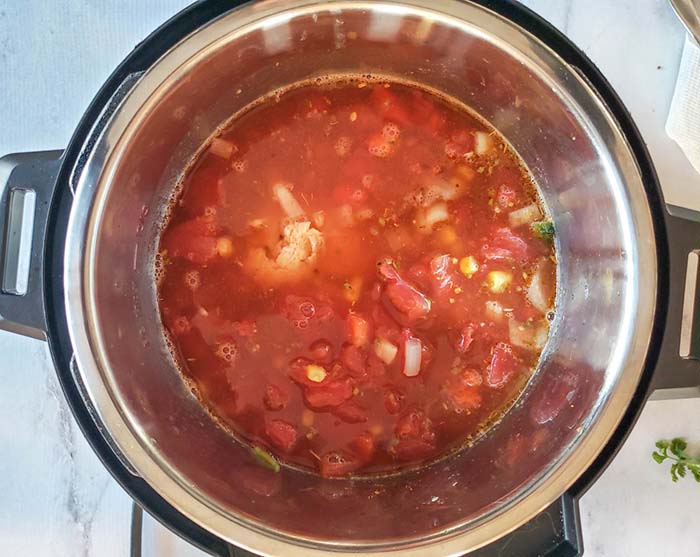 Step 3. Add Tomatoes
Pour the tomatoes and water over the ingredients that are in the Instant Pot.
Cover the pressure cooker and cook on high setting 15 minutes and slow-release for 5 to 8 minutes.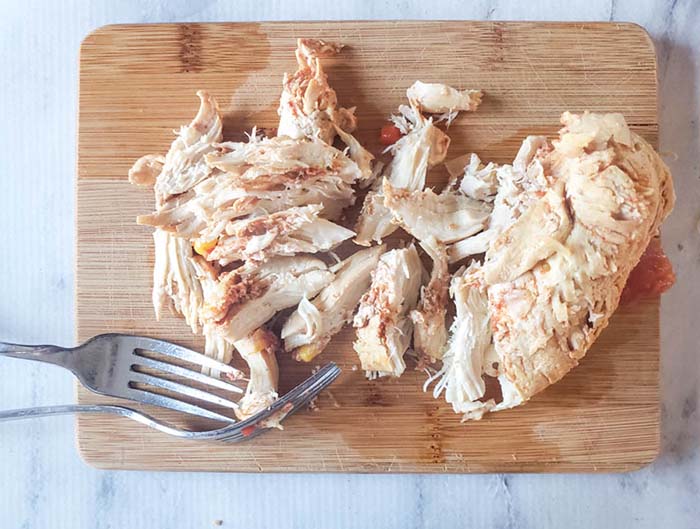 Step 4. Shred the Chicken
With the pressure cooker on the warm setting, remove the chicken from the soup and shred it with two forks.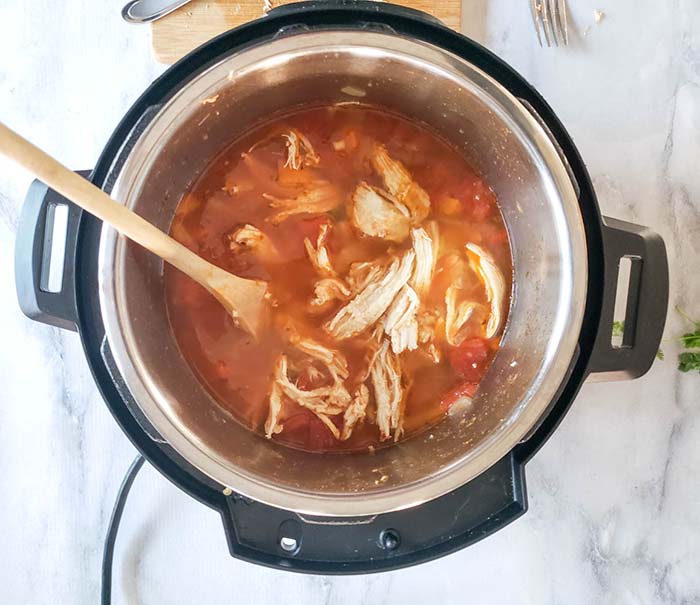 Step 5. Add the Shredded Chicken
Return the shredded chicken back to the instant pot.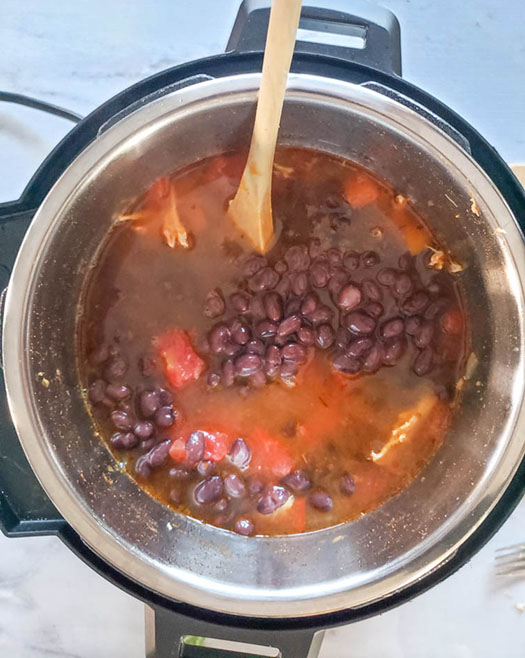 Step 6. Add the Beans
Stir in the beans, cilantro and lime juice; cover loosely to keep warm until it's time to serve.
Ingredient Notes & Substitutions
Boneless chicken breasts can be substituted with boneless chicken thighs.
Diced tomatoes - Fresh or canned diced tomatoes will work, I like to use fire-roasted diced tomatoes that are low in sodium.
Bell peppers - You can use any combination of bell peppers to make this soup, I like to use a combination of red and green or you can use all red or all green.
Jalapeno Pepper. Use fresh jalapeno peppers for the best flavor in this recipe. Canned pickled jalapeno peppers will alter the flavor of the soup.
If you don't have jalapeno peppers, add ¼ teaspoon of cayenne pepper (more or less to taste).
Corn. Fresh, frozen or canned corn will work in this recipe. Look for corn that doesn't have butter or flavors added to it.
Black Beans can be substituted with pinto, kidney beans, or a combination of beans. I like to use canned and drained beans in this recipe to make it easy. Dried beans can also be used to make this soup but they must be cooked before adding them to the soup.
Fresh Cilantro - Not a lover of cilantro? You can leave it out but will change the flavor of the soup.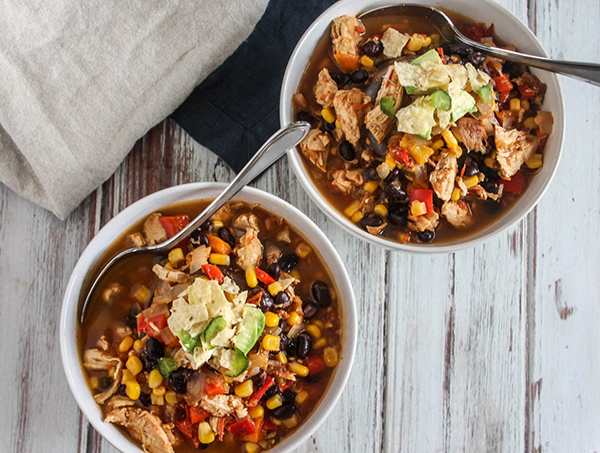 Serving Suggestions
A hearty bowl of chicken tortilla soup is perfect for a quick and healthy dinner. We like to serve it with a side salad like this loaded chopped salad or spinach salad.
Don't forget the toppings! Our favorites are crushed tortilla chips, corn tortillas, slices of avocado, lime wedges, a dash of hot sauce, guacamole, and a spoonful of sour cream or Greek yogurt and shredded cheese.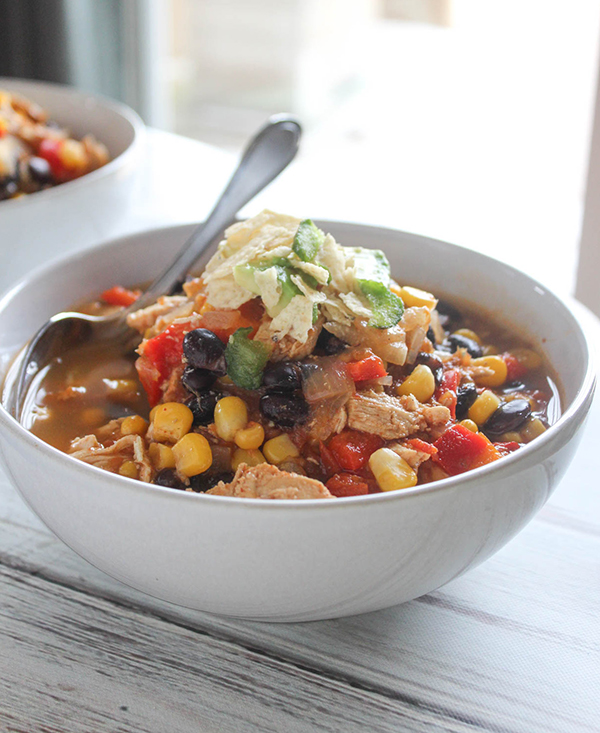 Storing and Reheating Leftovers
Refrigerate leftover chicken tortilla soup in an airtight container for up to 5 days.
Freeze leftover soup for up to three months.
Defrost it in the refrigerator overnight.
Reheat leftover soup on top of the stove or in the microwave.
Spicy Chicken Tortilla Soup Tips and Variations
Vegetarian Tortilla Soup. Leave out the chicken, add an extra cup of black beans and substitute the vegetable broth for the water for a flavorful vegetarian soup.
Mild Chicken Tortilla Soup. if you don't like spice, no problem! Leave out the jalapeno pepper, use half of the jalapeno pepper or poblano peppers.
Low Carb Chicken Tortilla Soup. For a low-carb version of this soup, omit the corn and beans or use half of the amount.
Tips
Adding the canned beans at the end of the cooking process will prevent them from becoming too soft and soggy
To control the sodium, use low sodium ingredients (tomatoes beans and corn) and add salt to taste just before serving.
Can I Make Chicken Tortilla Soup on Top of the Stove?
Yes! You can. Here's how to make stove top soup:
Place the chicken into a large saucepan and add water. Cover and bring the chicken to a boil. Reduce the heat and simmer for 30 minutes.
While the chicken is cooking, saute the garlic, onions, peppers and spices until they begin to soften. Set them aside until the chicken is cooked.
Once the chicken is cooked, remove it from the pot and shred it. Add the shredded chicken back to the pot with the water and stir in the sauteed vegetables, tomatoes, corn, and beans. Reduce to low heat, cover and simmer for 30 minutes.
Stir in the cilantro and lime juice and serve.
For more simple and delicious recipes like this, subscribe to our newsletter and receive a free e-book and meal suggestions straight in your inbox!
Can I Make This Soup with Leftover or Rotisserie Chicken?
Yes. Replace the water with chicken or vegetable broth for flavor and add the shredded chicken once the vegetables have been sauteed and mixed with the broth and tomatoes.
Have you Tried these Soup Recipes Yet?
If you like this recipe, please comment and rate it below!