Instant Pot Red Wine Chicken is a rich and flavorful chicken recipe that the whole family will love. Even though it tastes like it's been cooking all day long, this delicious meal can be on your table in less than one hour, perfect for busy weeknights.
The most time-consuming part of making this recipe is chopping the vegetables. Once that is done, simply saute the chicken and add vegetables and wine.
This recipe was originally posted in 2018, it's been updated for content and photos.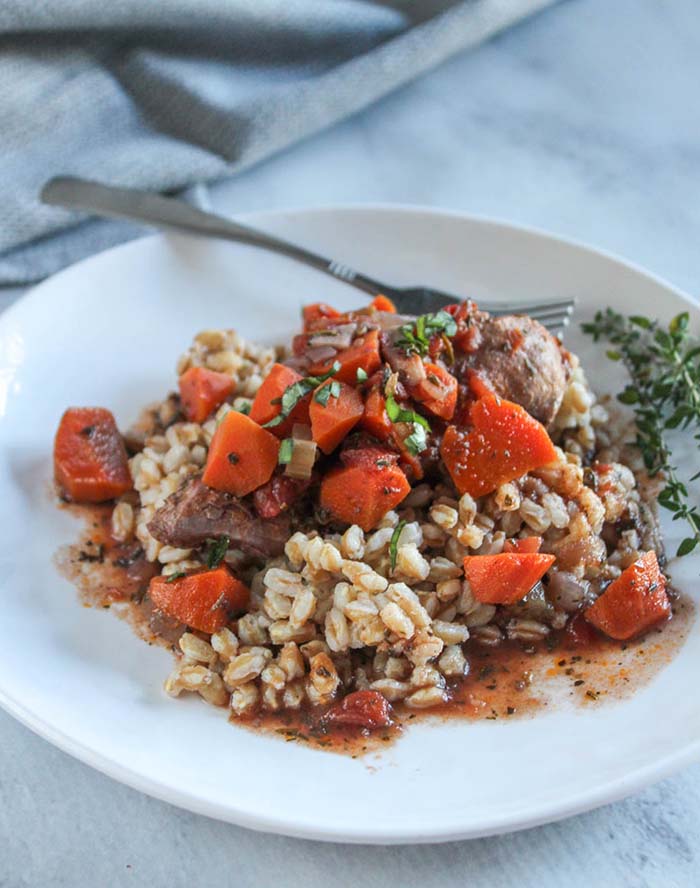 This recipe was inspired by an old family recipe for hunter's chicken which is made with bone-in chicken and slow-cooked with vegetables in a red wine sauce.
Since we prefer boneless chicken breasts to bone-in chicken breasts, I decided to give it a try with boneless chicken breasts and everyone loved it. Using an Instant Pot helps to keep the lean chicken breasts tender and moist.
An Electric Pressure Cooker (Instant Pot) is the perfect vessel for making super flavorful stew, soup, and chili. Another of our favorite Instant Pot recipes is chicken tortilla soup.
Why This Recipe Works
It's a quick and easy recipe to make! It's truly a dump recipe that is a super tasty dinner and can be on your table in less than an hour.
There are only 7 healthy ingredients needed to make this recipe.
Here is What you Will Need To Make This Recipe
As an Amazon Associate, I earn from qualifying purchases.
This is an overview of the ingredients and steps to make this recipe, scroll down for a printable recipe card with exact measurements and instructions.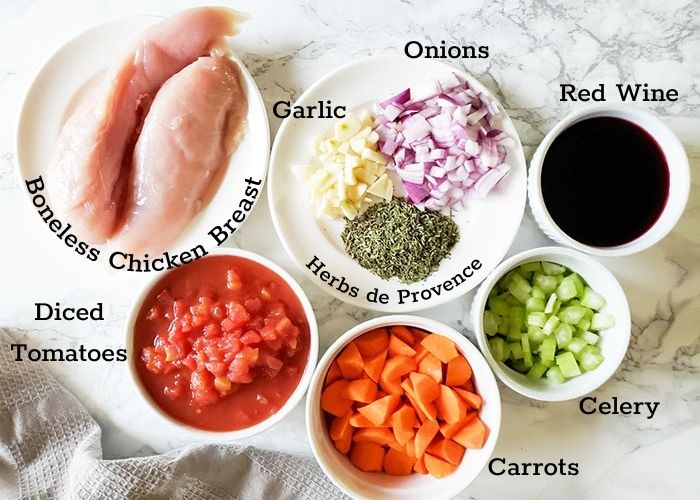 Ingredients List
Boneless Chicken Breasts
Carrots
Onion
Celery
Red Wine
Olive Oil
Equipment Needed to Make this Recipe
Here's How to Make Instant Pot Red Wine Chicken
Prepare the ingredients: Chop vegetables, measure the wine, tomatoes and seasonings.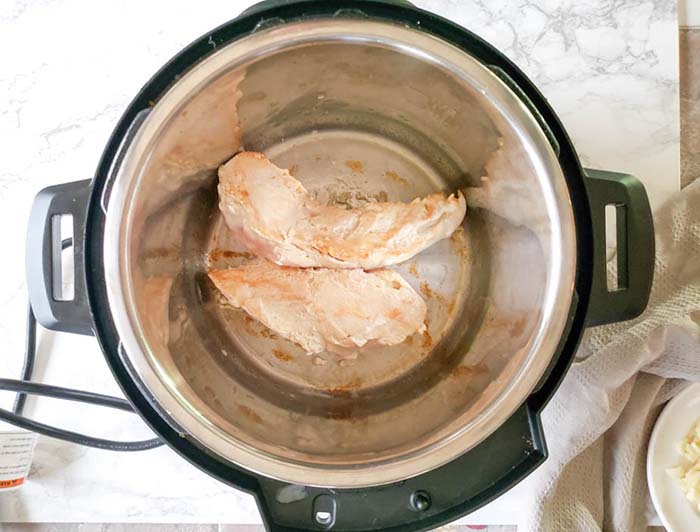 Step 1. Cook the chicken
Add olive oil to the Instant Pot and turn on the saute function to high. Once the oil is hot, cook the chicken until it begins to turn brown on both sides. Remove the chicken with a slotted spoon and set it aside.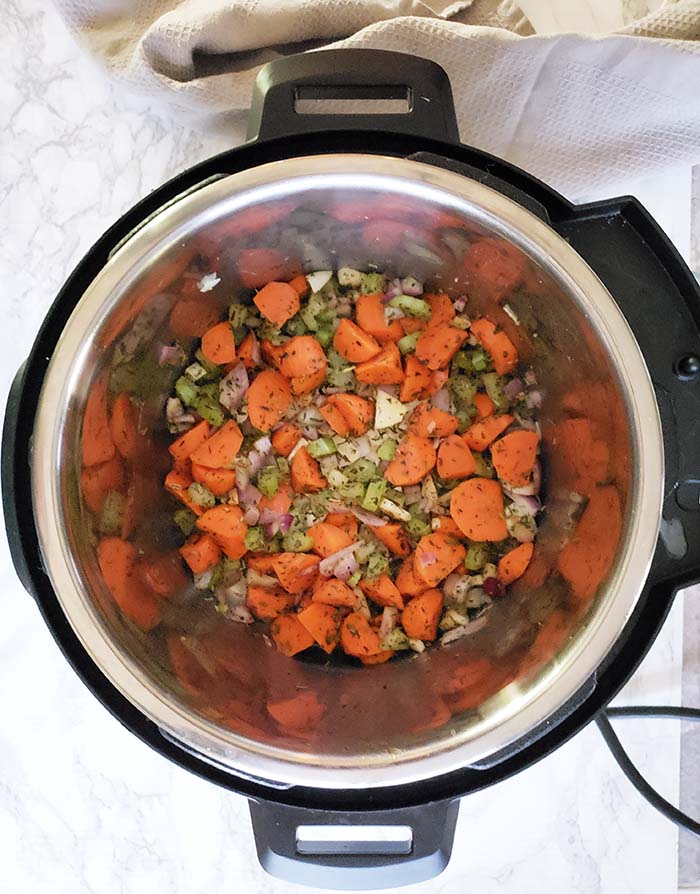 Step 2. Add the vegetables
Reduce the heat to medium heat, add the vegetables with the herbs de Provence and saute them until they begin to soften about 3 to 5 minutes.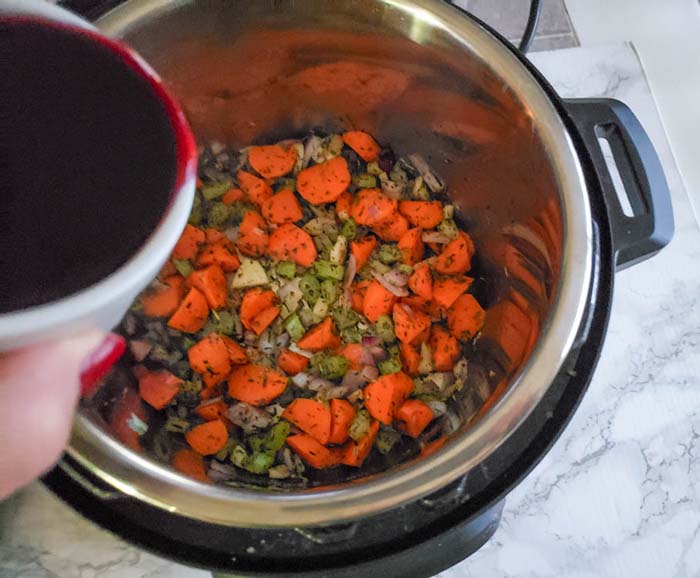 Step 3. Add the wine
Pour in the wine and stir to combine all of the ingredients together.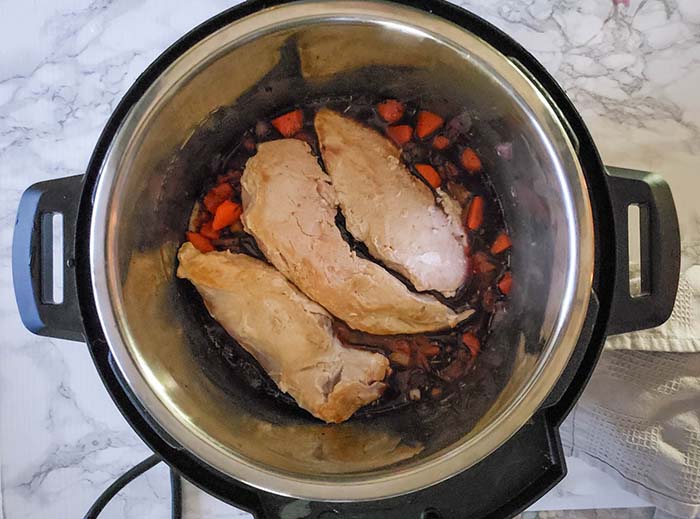 Step 4. Add the chicken breasts
Turn off the saute setting, and top the vegetable, wine mixture with the chicken breasts.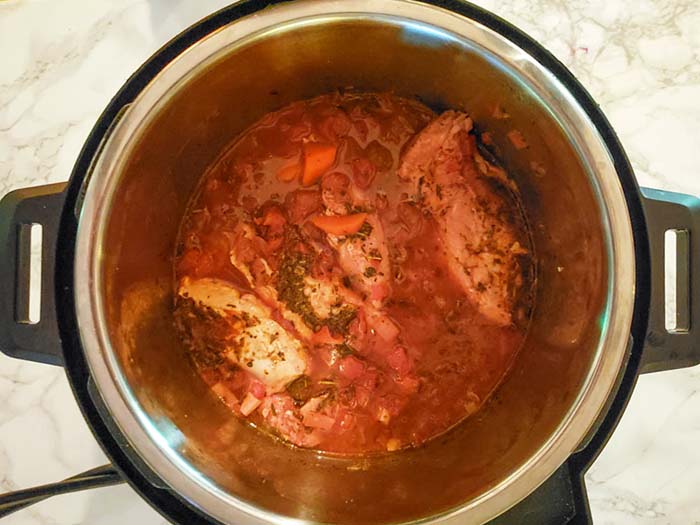 Step 5. Cook it
Cover the pressure cooker. Set it to high and cook for 10 minutes cooking time. After the cooking process, let the pressure release naturally for about 10 minutes and carefully release any remaining pressure.
Total Estimated Time to Make This Recipe: 40 to 50 minutes.
Ingredient Notes & Substitutions
Boneless Skinless Chicken Breasts can be substituted with boneless skinless chicken thighs.
Diced Tomatoes. Look for low sodium canned diced tomatoes or you can use fresh tomatoes and dice them yourself.
Red Wine. The best red wine to use to make chicken breast with red wine is a good quality red wine that you would drink. Cabernet Sauvignon, Pinot Noir Wines, Burgundy Wines or Zinfandel Wines will all work.
Herbs De Provence is an aromatic mixture of dried herbs that includes thyme, basil, rosemary, tarragon, marjoram, oregano, and bay leaves. Most grocery stores carry herbs de Provence in their spice section.
Herbs de Provence adds a lot of flavor to this recipe, if you don't have any, you can mix together equal amounts of any combination of dried thyme, rosemary, marjoram, basil tarragon and sage.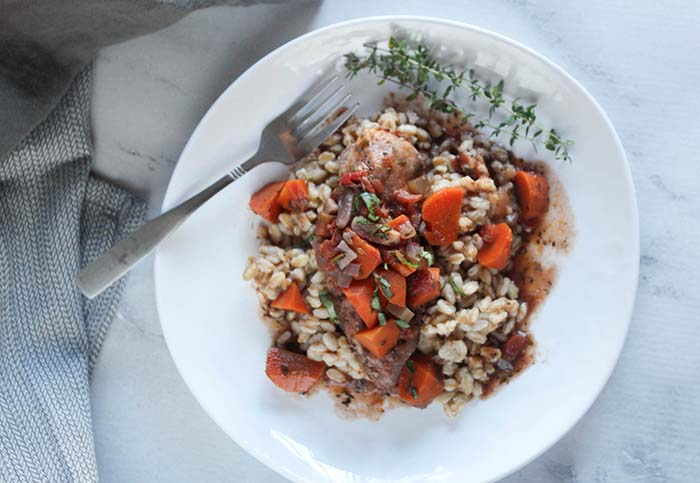 Serving Suggestions
Instant Pot Red wine chicken tastes great over steamed brown rice, farro, mashed potatoes, pasta, egg noodles, cauliflower rice, or your favorite whole grain.
Add more veggies to your plate and serve it with a side of citrus roasted brussels sprouts or green beans with almonds.
Storing and Using Leftovers
Store leftover red wine chicken breast in an airtight container in the refrigerator for up to 3 days.
Freeze We have not tried freezing the entire meal, but the leftover braising liquid (wine sauce) freezes well and can be used the next time you make this recipe.
Thaw the sauce out in the refrigerator overnight.
Reheat leftovers in the microwave or in the oven set at 325 degrees F until it is heated through.
Leftover ideas: Serve leftover red wine chicken in a wrap for a sandwich or add a few cups of chicken broth and crushed tomatoes and turn leftovers into chicken soup.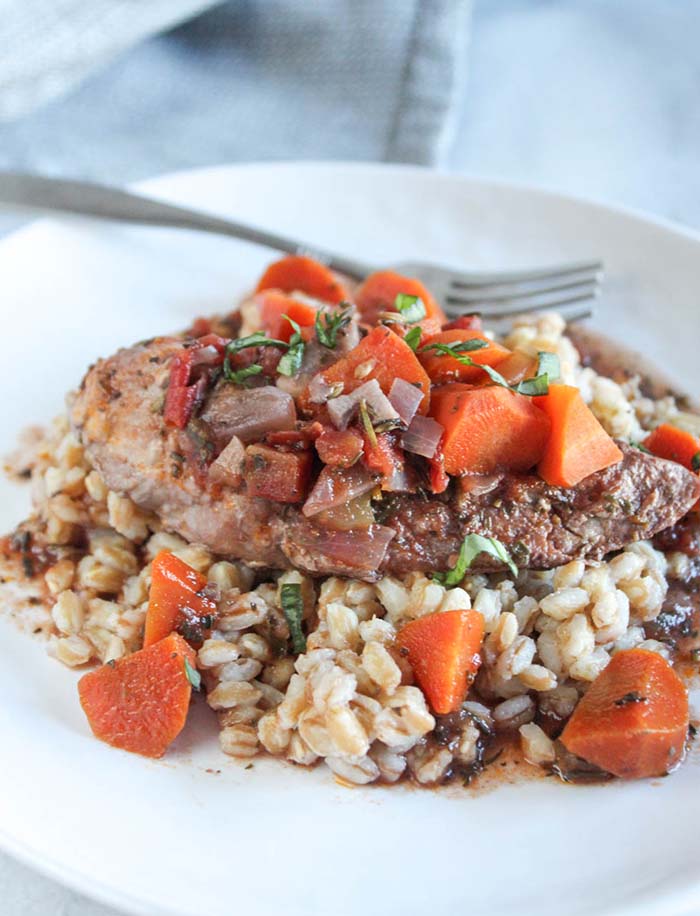 Recipe Variations
No Alcohol Red Wine Chicken. Substitute the wine with an equal amount of chicken broth and a teaspoon of balsamic vinegar.
Add More Vegetables. Add ½ to a cup each of chopped zucchini and mushrooms with the vegetables in the Instant Pot.
Make this Red Wine Chicken in A Slow Cooker or Dutch Oven
Slow Cooker: Saute the ingredients in a skillet, place the chicken and vegetables into the slow cooker and add the liquid ingredients and spices; cook for 3 hours on low.
Dutch Oven: Saute the vegetables and chicken in a dutch oven and add the liquid ingredients and spices; place in a 350 degree preheated oven and cook for 1 to 1 ½ hours.
Top Tips
For a thicker wine sauce, mix 1 teaspoon of flour with 1 tablespoon of water in a small bowl and gradually add it to the suace until it reaches the consistency that you like.
Leftover braising liquid also makes a fantastic tasting quick chicken saute. Cook boneless chicken in a skillet and add the delicious sauce at the end of cookign the chicken breast.
For more simple and delicious recipes like this, subscribe to our newsletter and receive a free e-book and meal suggestions straight in your inbox!
You Might Like These Recipes
If you like this recipe, please comment and rate it below!