Green beans and almonds is a riff on a classic green bean dish, green beans almondine. It's made with fresh green beans, toasted almonds, and bread crumbs that are tossed in a lemony butter sauce for a quick and elegant side dish recipe.
It's the perfect combination of flavors; the crispy almonds and bread crumbs add subtle flavor and just the right amount of crunch.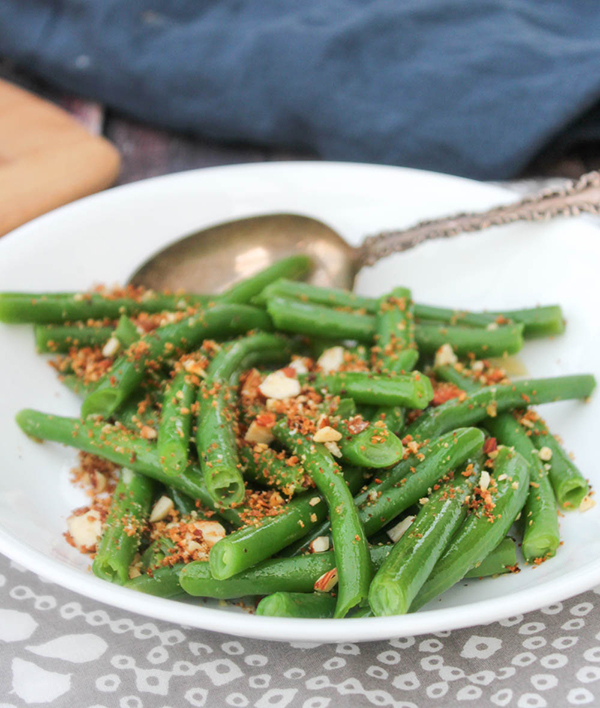 Recipe Highlights
The lemon butter sauce in this recipe is the perfect match for mild-tasting green beans.
It may not look like it, but this is one of the easiest vegetable side dish recipes to make.
Green beans are available most of the year, so you can make this recipe whenever you want to.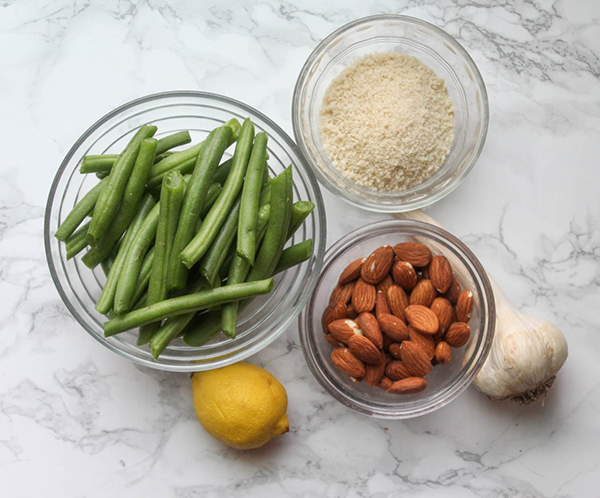 As an Amazon Associate, I earn from qualifying purchases
This is an overview of the ingredients and steps to make this recipe, scroll down for a printable recipe card with exact measurements and instructions.
Here is what you will need to make this recipe
As an Amazon Associate, I earn from qualifying purchases
This is an overview of the ingredients and steps to make this recipe, scroll down for a printable recipe card with exact measurements and instructions.
Fresh green beans, preferably French green beans
Unsalted butter
Chopped raw almonds
Panko breadcrumbs
Fresh Lemon Juice
Garlic
Here is How to Make This Recipe
This recipe comes together quickly, and it is very helpful to have all of the ingredients ready to go.
Prepare all of the ingredients: rinse and trim one pound of green beans, chop one clove of garlic, ¼ cup of almonds, and set them aside. Measure out 1 tablespoon butter and ¼ cup panko bread crumbs.
Add a small amount of water to a saucepan (enough to cover the bottom of the pan and comes up about an inch to an inch and a half from the bottom). If you have a steamer basket, place it inside the saucepan and place the green beans on top of the basket.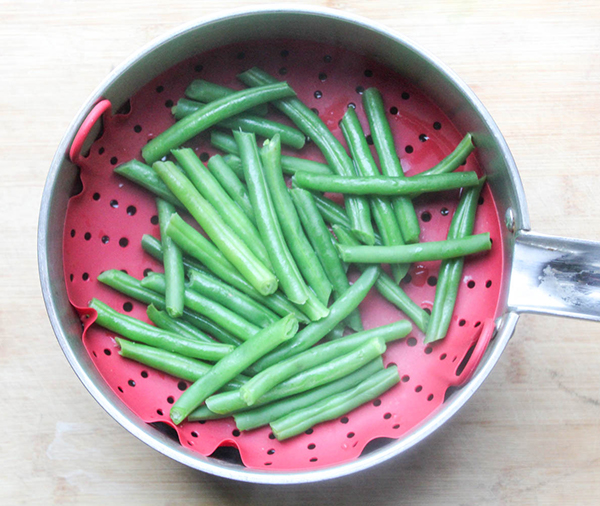 If you don't have a steamer basket, place the beans into the water making sure they are not completely submerged. Cover and cook the green beans over medium-high heat for 8 to 10 minutes until they become bright green and slightly crisp.
Once the beans are cooked, rinse them under cold water, pat them dry and set them aside.
Heat a skillet over medium heat and add the cup chopped almonds and bread crumbs.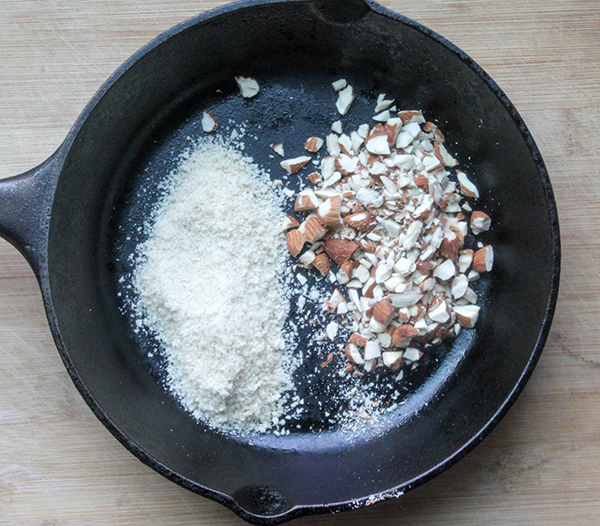 Cook the panko and almonds for a few minutes until they begin to brown; remove them from the heat and set them aside.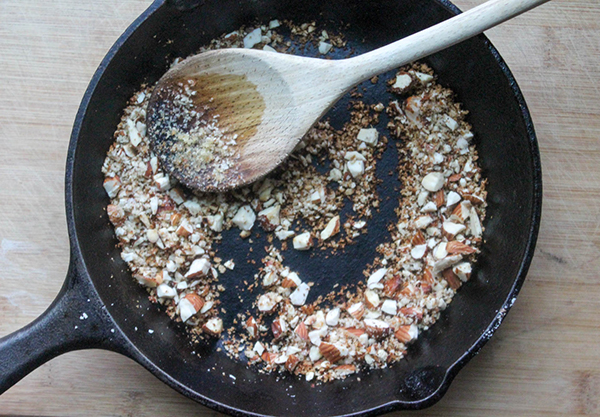 Add a tablespoon of butter to the skillet and one clove of chopped garlic. Cook until the butter melts and the garlic begins to soften; and stir in the lemon juice.
Add the green beans to the pan and toss them in the sauce.
Place the green bean/sauce mixture into a serving bowl and top with the toasted almonds and panko.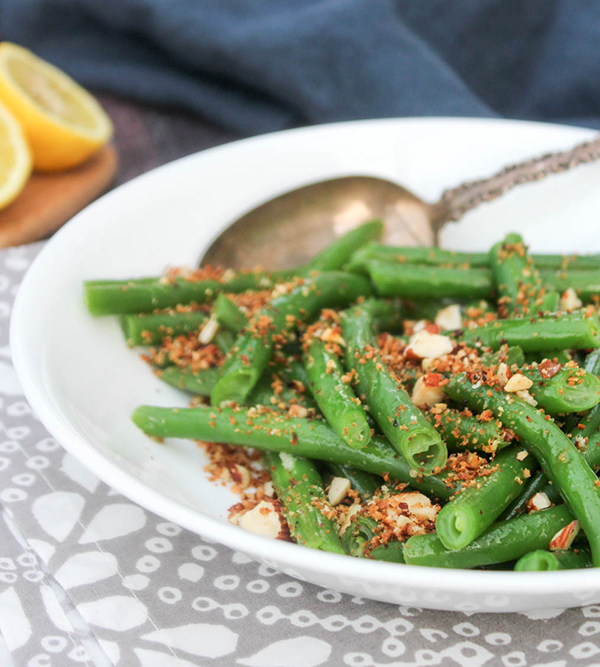 Total Estimated Time to Make This Recipe: 20 to 30 Minutes
How to Prepare Green Beans & Trim Them
Use a pairing knife to cut off the tough ends of the green beans. If the beans are large in size, peel away the string-like strop along the edge which can make the beans tough and that's it.
If you like your beans short, line them up on a cutting board and cut them all in half with a sharp knife.
Serve Green Beans and Almonds With
A simple side dish like these green beans with almonds taste great with: Turkey Cranberry Meatballs, Hasselback Pork Tenderloin, grilled chicken breasts , pork chops with vinegar peppers or steak.
Ingredient notes & substitutions
Butter - You can easily substitute salted butter for unsalted butter, if that is your preference.
Almonds - whole or sliced almonds are an easy substitute for the chopped almonds.
Bread crumbs - Plain bread crumbs are an options if you don't have panko.They will not be a crispy, but will work.
Frozen Green Beans can be used in place of fresh, cook them according to the package instructions and add them to the sauce and sprinkle on the topping.
Garlic can be substituted for garlic ⅛ teaspoon garlic powder.
Green Beans and Almonds Make Ahead Instructions
Get a head start on preparing this dish; steam the green beans up to two days ahead of time and store them in an airtight container in them in the refrigerator.
Prepare the crispy topping and store it at room temperature to retain the crispness or you can make it just before serving the green beans which is recommended.
An hour or so before serving, bring the beans to room temperature, make crispy topping and the lemon butter sauce. Add the beans to the sauce over low heat to warm them up and top them with the crispy topping.
Storing and Re-heating Leftovers
Leftover Green Beans store leftover green beans and almonds in the refrigerator in an airtight container for up to three days.
Reheat the green beans on top of the stove in a skillet or in the microwave.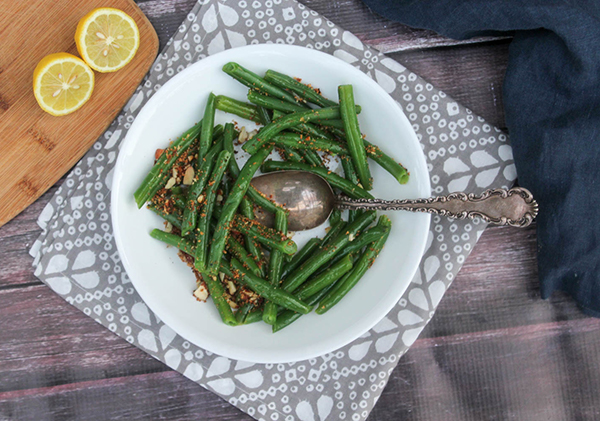 Recipe Variations
Add in ¼ cup dried cranberries for a festive look and sweet flavor.
Substitute chopped walnuts or macadamia nuts for the almonds.
Gluten-Free, leave out the panko, and double the amount of chopped almonds.
For a Vegan Version, replace the butter with olive oil
Have You Tried These Side Dish Recipes?