Spiralized cucumber salad with tomatoes is full of fresh cucumbers, grape tomatoes, fresh basil then gently tossed in a homemade vinaigrette dressing. It's a gluten-free, low-carb side dish, it's the perfect summer salad.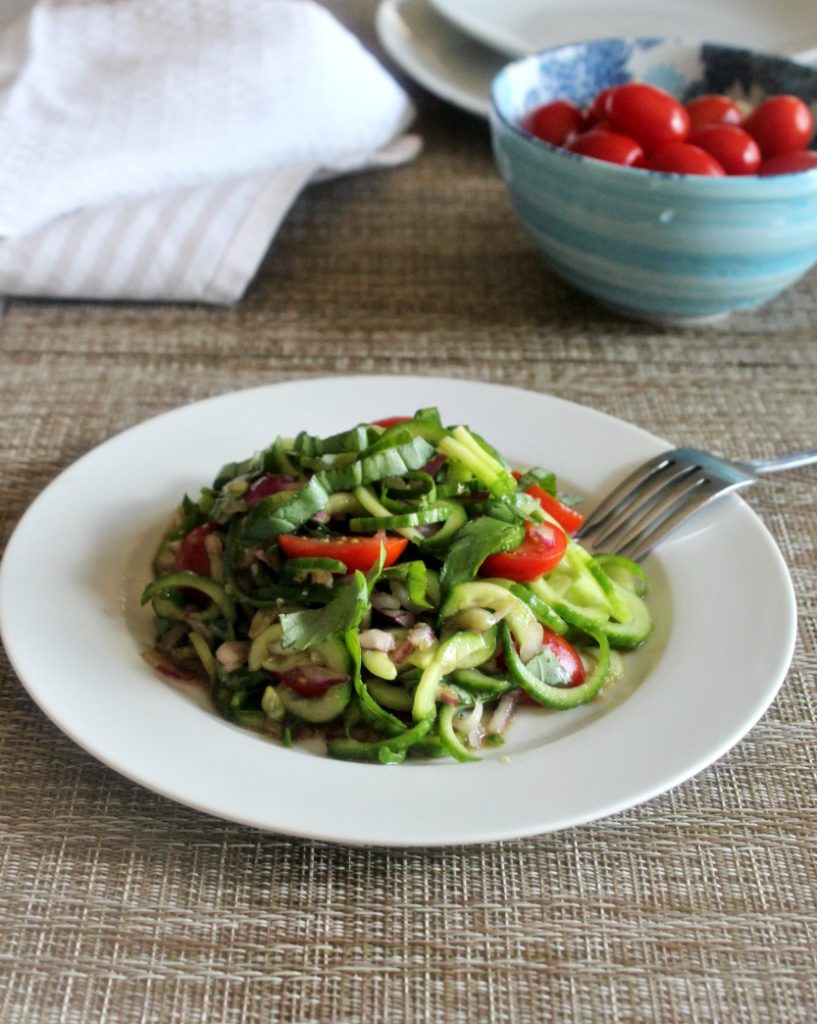 This post may contain affiliate links for more information, please see our Disclosure.
Spiralized Cucumbers
Spiralized cucumber salad is a fun and easy salad to make, and it's so refreshing!
The spiralized cucumbers remain slightly crisp, the perfect match for tomatoes and basil. The first time my spiralizer met a cucumber, I wasn't sure what the outcome would be, and as you can see, it was a success.
The trick to a crispy spiralized cucumber is to run the cucumbers through the spiralizer, and dry them off before adding them to the salad.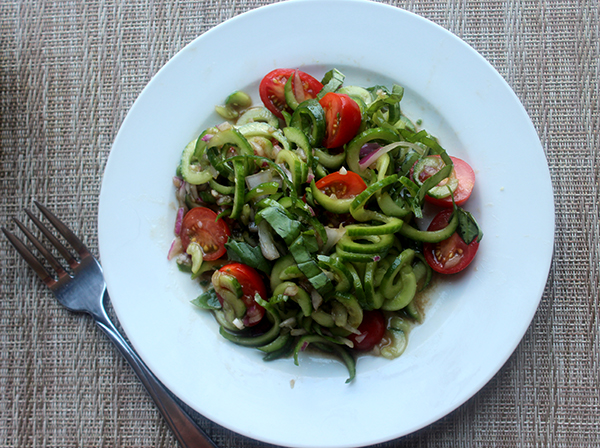 The Ingredients
cucumbers - I recommend English or Persian cucumbers, they have smaller seeds and not watery as the traditional cucumbers,
grape or cherry tomatoes
red
fresh basil leaves
red wine vinegar
olive oil
garlic - fresh or garlic powder
oregano - fresh or dried
Spiralized Cucumber Salad with Tomatoes and Basil Recipe Steps
Please note that this a list of steps to give you an idea how to make this recipe. Full details are in the recipe card below.
Prepare the cucumbers by spiralizing them and draining them - Here is the spiralizer that I use.
Slice the tomatoes and onions
Mix up the dressing
Combine the veggies in a bowl
Pour the dressing over the top
Estimated time to make this recipe: 15-25 minutes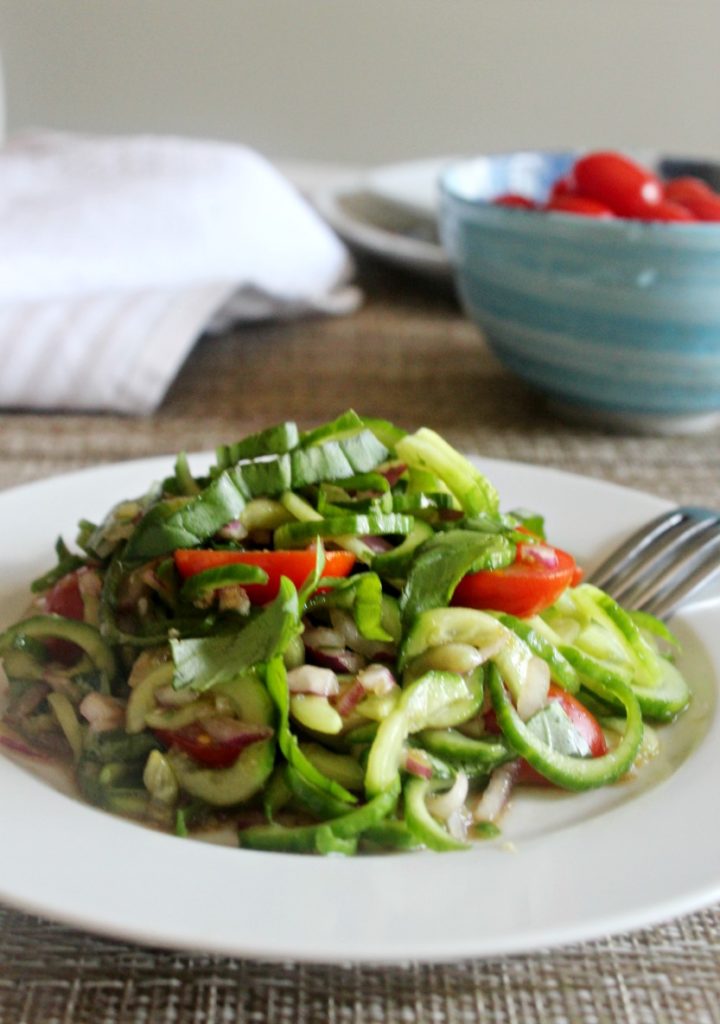 Varations and Tips for Spiralized Cucumber Salad with Tomatoes and Basil
Tips
Do not peel the cucumbers before spiralzing them, the skins add the crispness and contain vitamins
This salad can be made a few hours ahead of time. Mix the ingredients together and use only half of the dressing, then store in the refrigerator. Add the remaining dressing just before serving.
Store leftover salad in the refrigerator for up to 2 days.
Variations
There are so many different ways to make this salad, here are a few suggestions:
Change up the vinegar. Substitute white balsamic vinegar for the red wine vinegar and add a pinch of onion powder in place of the garlic.
Leave the vinegar out. Use fresh squeezed lemon juice in place of vinegar in the dressing.
Make A Greek Version. Substitute the basil with fresh oregano, add ¼ cup sliced Kalamata olives and ¼ cup crumbled feta cheese
Change up the veggies. Replace the spiralized cucumbers with spiralized summer squash, or a combination of both.
Serving Suggestions
Serve your cucumber salad with tomatoes with grilled chicken, pork or seafood.
You Might Also Like These Spiralized Creations