This easy-grilled vegetables recipe is so versatile and it's a great way to make the best vegetables ever!
Grilling vegetables has become one of our favorite ways to prepare them because it takes little effort and it brings out the natural flavor of the vegetables. Plus it adds an amazing smoky flavor.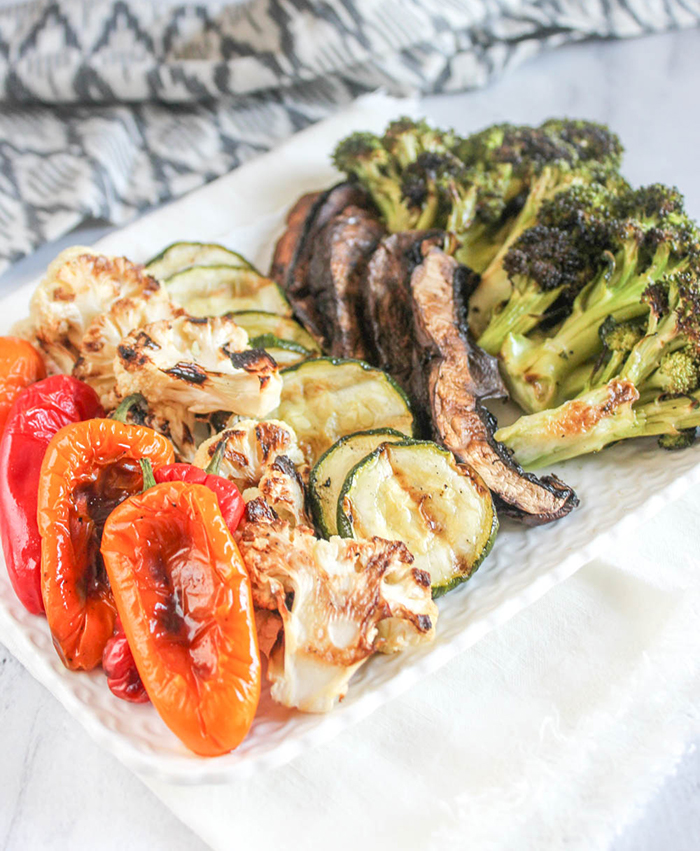 This simple grilled vegetable recipe is the perfect side dish for summer or any time of the year, one of our favorite main dishes to serve with grilled veggies is Grilled Chicken with Peaches.
Why this Recipe Works
It's an easy way to prepare fresh vegetables and they can be cooked on the grill with your main course.
Grilling vegetables brings out the natural flavors of the vegetables.
Here is What You Will Need
As an Amazon Associate, I earn from qualifying purchases.
This is an overview of the ingredients and instructions that you will need to make this recipe. Scroll down a bit further for ingredient substitutions, and complete cooking instructions without photos which are in the printable recipe card at the bottom of this post.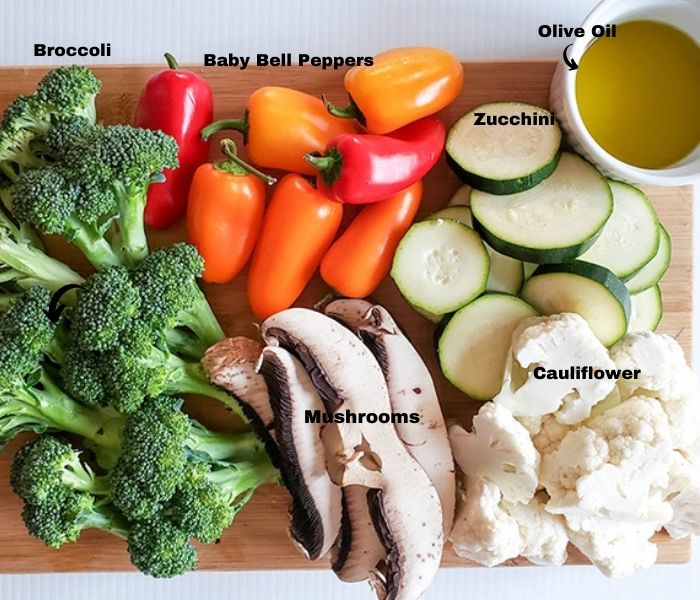 ---
Ingredients
Olive Oil
An assortment of seasonal vegetables (see suggestions below)
Ground black pepper
---
Ingredient Notes & Substitutions
When it comes to grilling vegetables, you can grill just about any vegetable, however vegetables with a low water content work the best, here are some suggestions:
Broccoli
Cauliflower
Potatoes
Sweet potatoes
Summer squash such as zucchini or yellow squash
Onions
Portobello mushrooms or any type of large mushrooms
Asparagus
Tomatoes
Eggplant
Bell Peppers
Brussels sprouts
Cabbage
Carrots
Here is How To Make Grilled Veggies
First, start by cutting your favorite vegetables into equal-sized pieces. This will help them to cook evenly. Make sure that the vegetables are thick enough so that they won't burn quickly or fall through the grill grates (if you are not using a grill topper). While you are preparing the veggies, preheat the grill to medium heat (about 400 degrees F).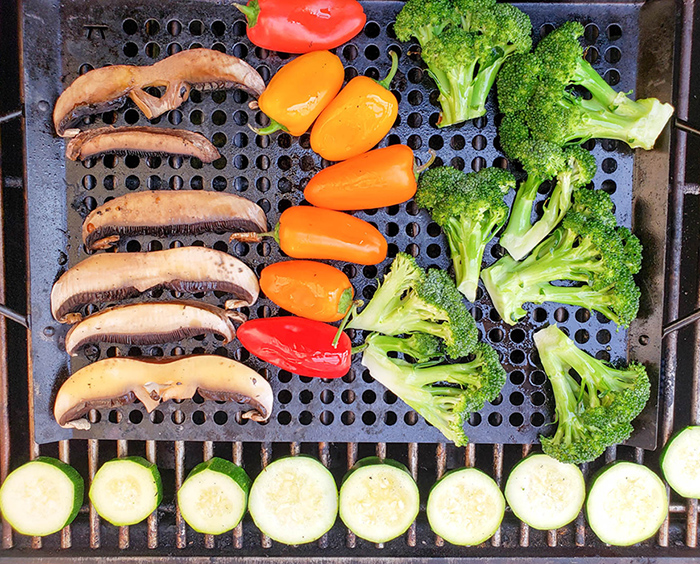 Step 1. Toss the prepared veggies in a little bit of olive oil. Once the grill is hot, arrange the veggies on a single layer on the grill grates or grill topper.
Tip! A grill topper or grill basket helps to keep your veggies from falling through the grates on your grill.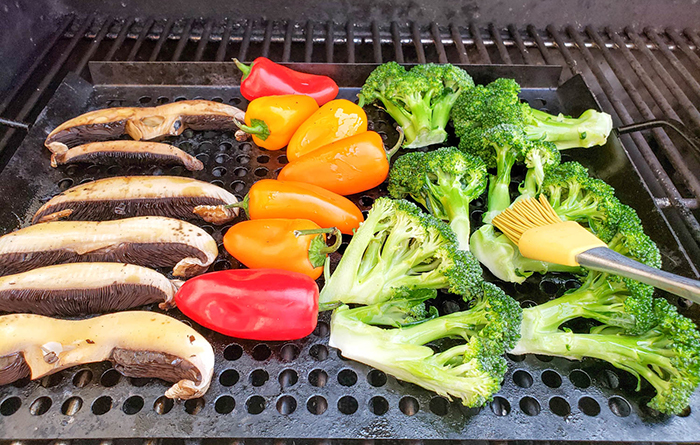 Step 2. Brush the tops of the veggies with olive oil and close the lid on the grill for about 5 minutes.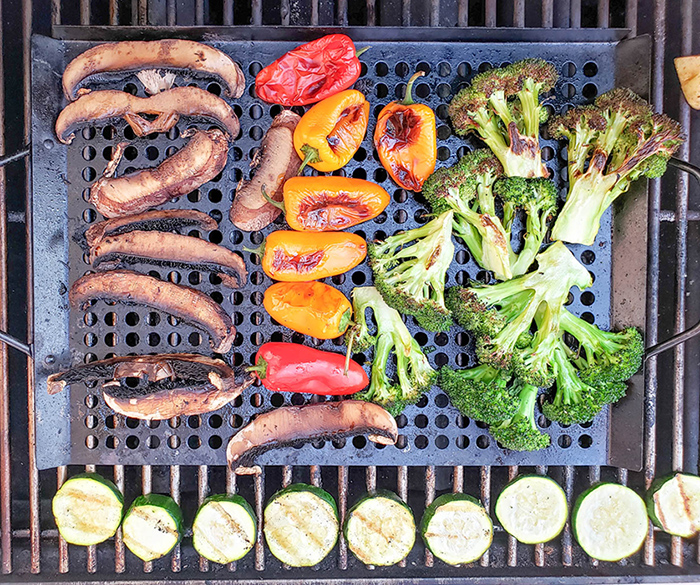 Step 3. At this point, the veggies should be getting soft and slightly charred. Flip the veggies over and cook for a few minutes longer. If you prefer more char, leave them on the grill longer. The cook time can vary depending on the type of vegetables you use.
Total Estimated Time to Make this Recipe: 30 to 40 Minutes. (Most time is prep time)
How to Grill Vegetables Without a Grill
If you don't have a grill, no problem, you can still enjoy grilled vegetables! All that you need is a grill pan and your stove. Here's how to do it:
Prepare your vegetables as recommeneded in the recipe instructions.
Toss the prepared vegetables in olive oil and season with salt and pepper.
Place the vegetables on the grill pan and cook them for 3 to 5 minutes per side. Some vegetables such as broccoli, carrots and cauliflower may need a little more time.
Serving Suggestions
You can serve grilled vegetables with just about anything that you like such as burgers, grilled chicken, or pork. They also taste great in pasta salads, dipped in hummus or guacamole.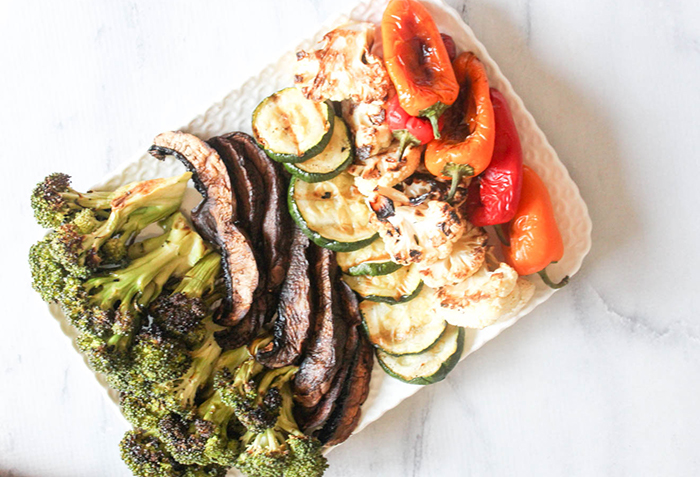 Variations
Pesto Grilled Vegetables. Brush the vegetables as they are grilling with your favorite pesto sauce.
Cheesy Grilled Vegetables. Sprinkle shreds of parmesan cheese or your favorite cheese on the vegetables just before taking them off of the grill.
Season the Olive Oil. Add 1 ½ teaspoons of balsamic vinegar for each tablespoon of oil that you use and a ¼ teaspoon of garlic powder plus a ½ teaspoon of fresh thyme, oregano or Italian herbs.
Asian Grilled Vegetables. Mix 1 ½ teaspoons of tamari or soy sauce, ¼ teaspoon garlic powder, ⅛ teaspoon of ginger for each tablespoon of olive oil.
Citrus Grilled Vegetables. Squeeze a splash of lemon juice onto your grilled veggies just before serving.
Make-Ahead Instructions
This grilled vegetables recipe is easy to make ahead of time. Cut up the veggies and store them in an airtight container in the refrigerator for up to 4 days.
When it's time to cook them, remove them from the refrigerator, brush them with oil and grill them.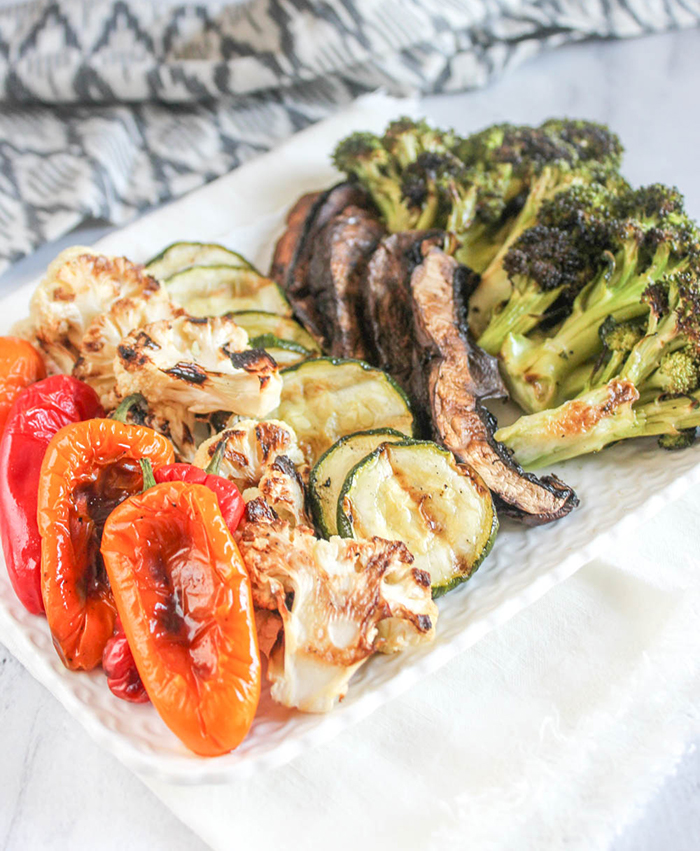 Storing and Using Leftovers
Store leftover grilled veggies in an airtight container in the refrigerator for up to four days.
Serve your leftover grilled vegetables, at room temperature or heated. They taste great in a salad, sandwich, quesadilla, wrap, with a bowl of pasta or your favorite whole grains.
Freezing grilled vegetables is not recommended as we have not tried it.
Your Questions Answered
Here are the most commonly asked questions about sweet and spicy pickles. If your question isn't answered below, leave me a comment below and I will get back to you as soon as I can.
Can you grill frozen vegetables?
Yes, you can! Place them frozen on a grill topper or grill basket on a preheated grill, brush them with oil and grill them.
Can you grill vegetables in the oven?
Grilling vegetables in the oven would be considered roasting them. Roasted veggies taste great, but they won't taste the same as roasted vegetables.
Are grilled vegetables healthy?
Vegetables are healthy, and grilling them is a simple way to enjoy them without a lot of work.
Join Our Mailing List to Receive Weekly Menu Ideas and More!
You Might Also Like These Recipes