Mediterranean pork chops are juicy boneless pork chops that are marinated and quickly grilled for a quick and easy dinner.
Sometimes the simplest ingredients can make up the most flavorful meals. This recipe is made with fresh ingredients resulting in tender and juicy pork chops that everyone will love.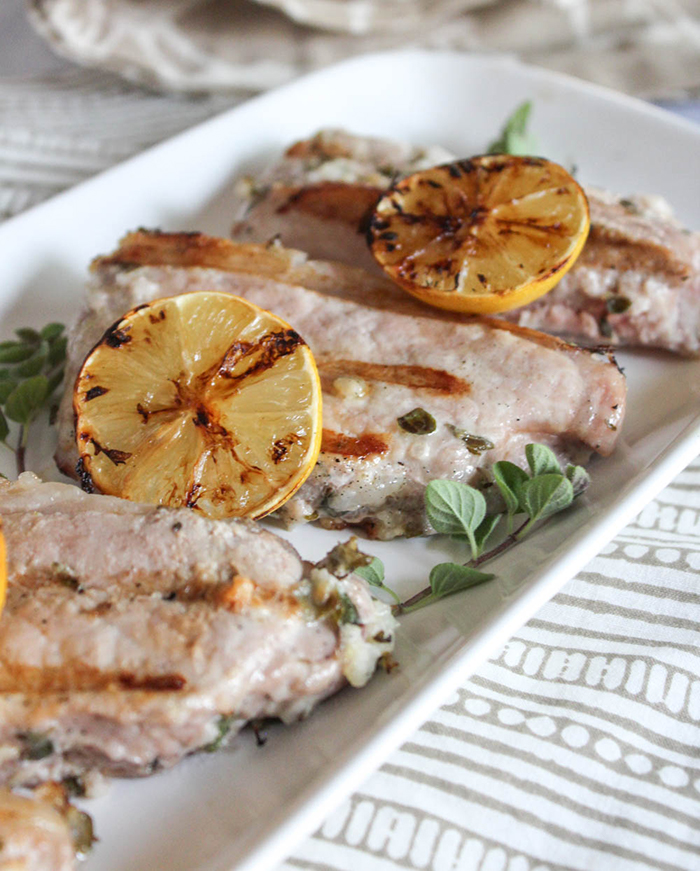 This recipe was originally posted in 2018, it's been updated for content and photos.
Recipe Highlights
It's a quick and easy recipe! There are only five ingredients, and the pork chops cook quickly on the grill.

It's versatile. If you don't have a grill, you can still make this recipe on top of the stove in a skillet and quickly in the oven, see the recipe card for instructions.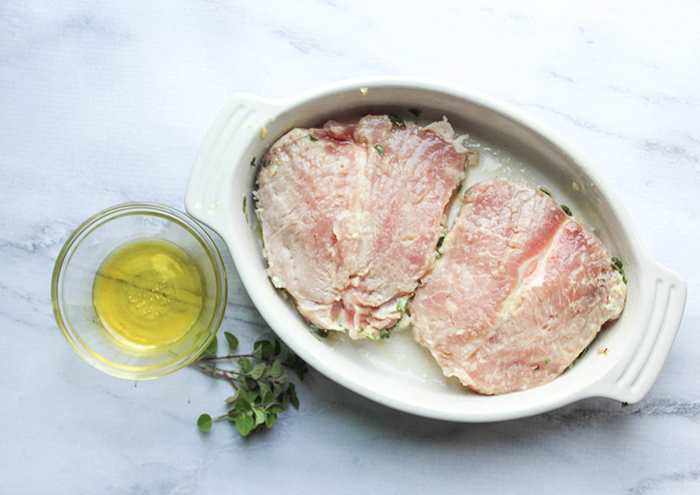 Here is What You Will Need
As an Amazon Associate, I earn from qualifying purchases
This is an overview of the ingredients and steps to make this recipe, scroll down for a printable recipe card with exact measurements and instructions.
Extra virgin olive oil or avocado oil
Freshly squeezed lemon juice
Fresh oregano
Garlic
Boneless pork chops
Lemon slices for garnish - optional
How to Make Grilled Mediterranean Pork Chops
Mix the marinade ingredients together and pour the marinade over the boneless pork chops and marinate them for 30 minutes to an hour.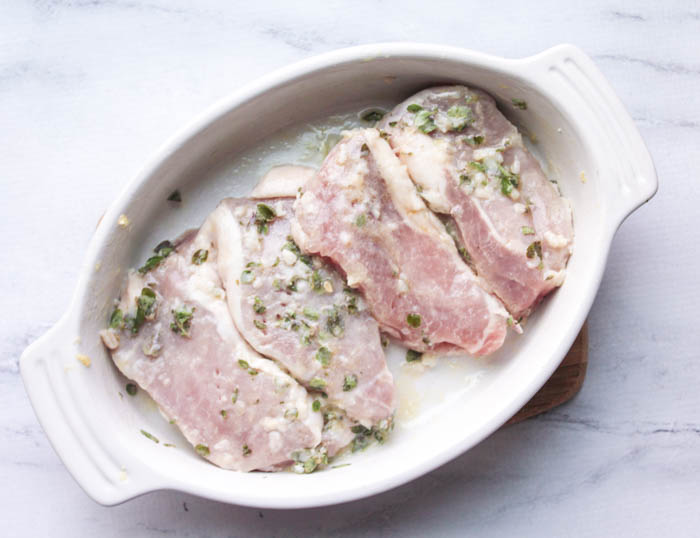 Pre-heat the grill to medium heat. Add the pork chops to the grill, cover the grill and cook them until they no longer stick to the grill and turn golden on the side facing the flames (approximately 8 to 10 minutes),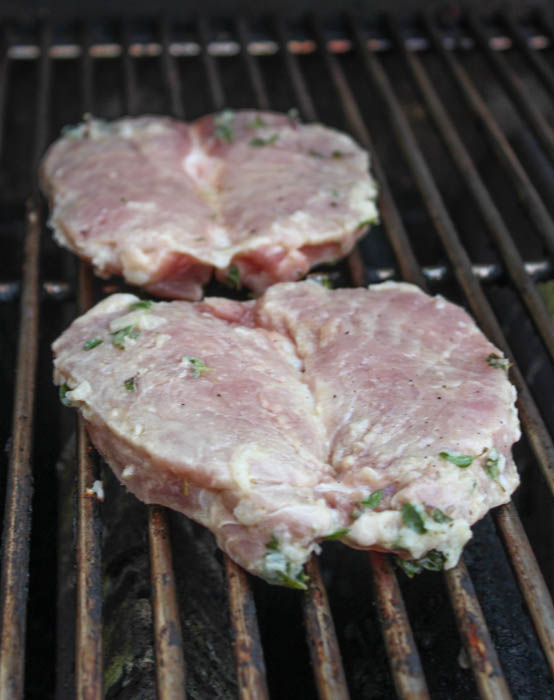 Flip the pork chops and cook them for about 8 minutes more, until the internal temperature reaches 145, this quick read thermometer works well to quickly check the meat temperature.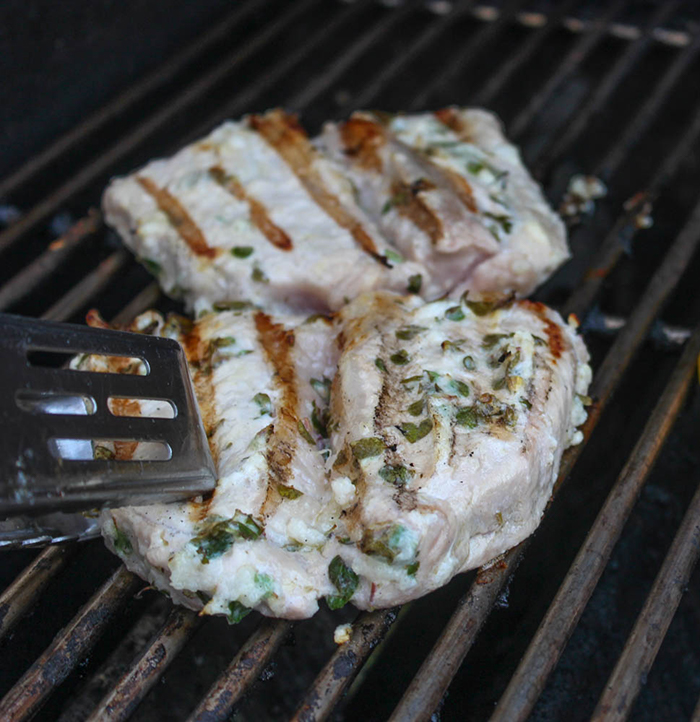 Remove the pork chops from the grill and let them sit for about 5 minutes before serving.
Total Estimated Time to Make This Recipe: 20 to 30 minutes (does not include marinating time)
Recipe substitutions
Boneless pork chops can be substituted with bone-in pork chops, pork tenderloin, boneless chicken breasts or thighs (please note, internal cooking temperature for chicken is 165; cooking time may be longer).
Fresh oregano & garlic can be replaced with: 1 teaspoon of dried oregano and ½ teaspoon garlic powder.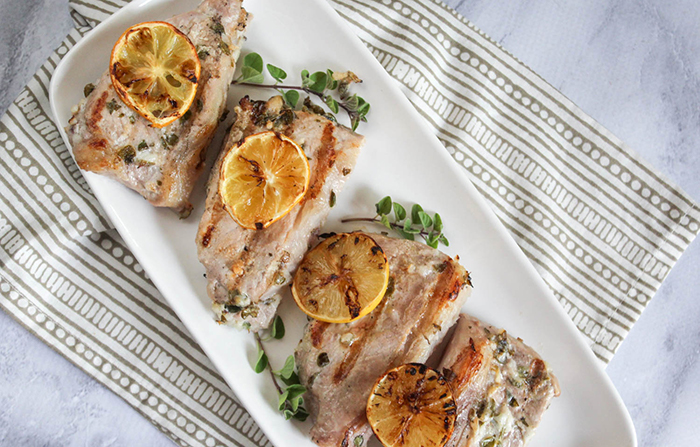 What Makes these Boneless Pork Chops so Tender?
Lemon juice! The lemon's acidity is the perfect way to add flavor and tenderize any kind of meat. Lemon juice is pretty high in acidic content, be sure to not let the meat marinate for longer than two hours, otherwise, the acid may start to cook the meat.
Serving Suggestions
These pork chops taste great with sauteed broccoli rabe, roasted brussels sprouts, brussels sprouts salad, or steamed broccoli with a side of baked potato or roasted smashed garlic potatoes. A side salad like this arugula salad with pistachios or chopped salad are also good side ideas.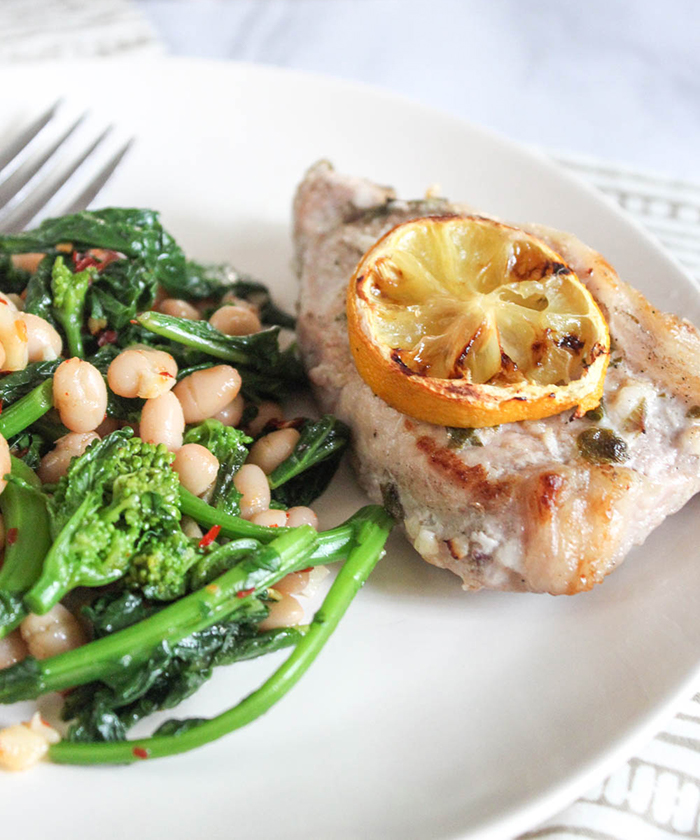 Leftovers, Storing and Re-Heating
Store leftover Mediterranean Pork Chops in the refrigerator for 3 days in an airtight food storage container.
Re-heat the pork chops in the oven or in a skillet on top of the stove.
Freeze uncooked and marinated pork chops for up to three months. Place them in a plastic bag or a reusable bag like one of these stasher bags. Defrost them in the refrigerator overnight and cook them according to the recipe instructions.
We have not tried freezing the pork chops after they have been cooked, and we can't recommend it.
Leftover Mediterranean pork chops taste delicious leftover in a salad, sauteed in a pan with zucchini and red pepper strips, or in a sandwich.
If you like this recipe, please comment and rate it below!
You Might Also Like These Pork Recipes
For more simple and delicious recipes like this, subscribe to our newsletter and receive a free e-book and meal suggestions straight in your inbox!