With this Crockpot beer chili recipe, you can stay inside and warm up on any cold winter night or enjoy it on game day. Made with ground beef, beer, and Mexican spices, this slow cooker recipe is packed with flavor.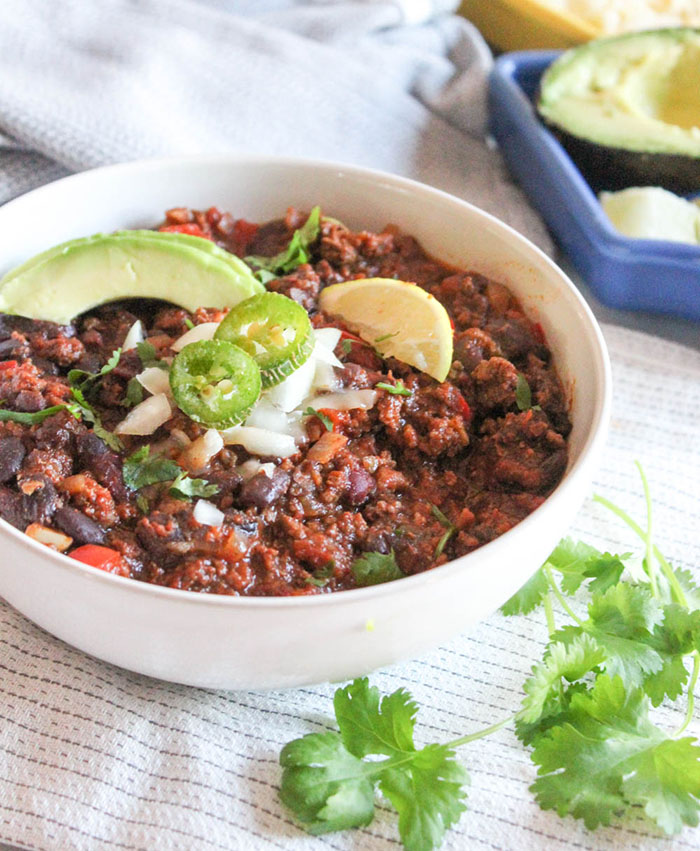 There are lots of different chili recipes, and cooking it in a crockpot is a favorite way to make it. It's quick and easy, even though the dish takes time before it's ready to eat. If you are short on time, try this stove-top beef chili recipe instead.
Why This Recipe Works
It's a delicious chili that is super easy to make!
It can cook on low for hours and still taste delicious
Here Is What You Will Need to Make this Recipe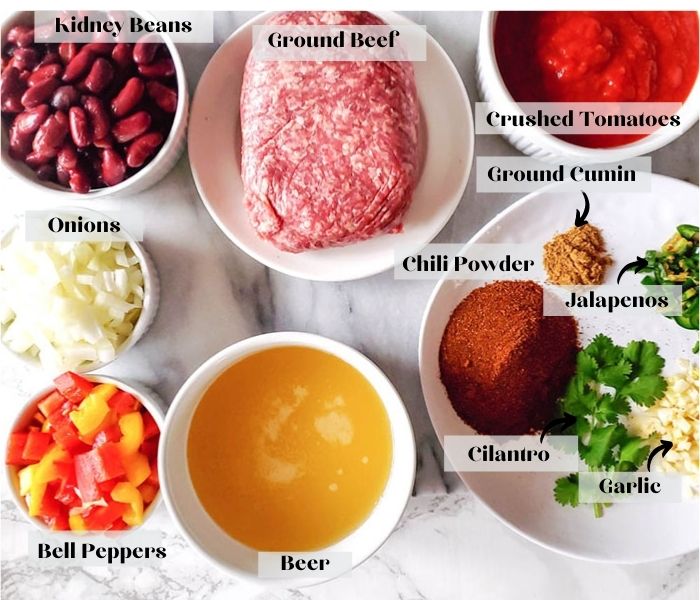 As an Amazon Associate, I earn from qualifying purchases.
This is an overview of the ingredients and steps to make this recipe, scroll down for a printable recipe card with exact measurements and instructions.
Ingredients
Lean Ground Beef
Olive Oil
Large Onion
Garlic
Bell Peppers
Crushed Tomatoes
Jalapeno Peppers
Red Kidney Beans
Chili Powder
Ground Cumin
Fresh Cilantro
Beer
Tools Needed to Make this Recipe
Here's How to Make this Beef Chili Recipe in a Crockpot
Prepare the ingredients: Chop the cloves of garlic, onion, peppers, and cilantro and set them aside. Measure the spices and olive oil. Heat oil in a large skillet over medium-high heat in a large skillet.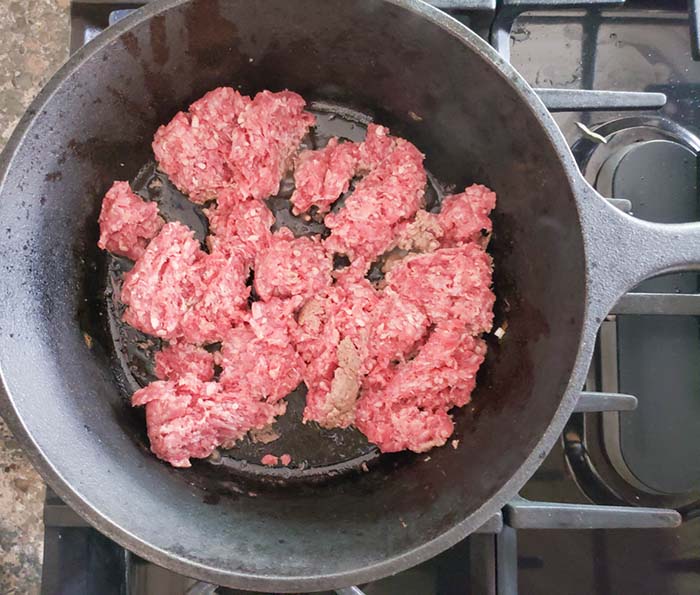 Step 1. Cook The Beef
Once the skillet is hot, add the ground beef and reduce the heat to medium. Cook the beef until it begins to turn brown while breaking it up into pieces.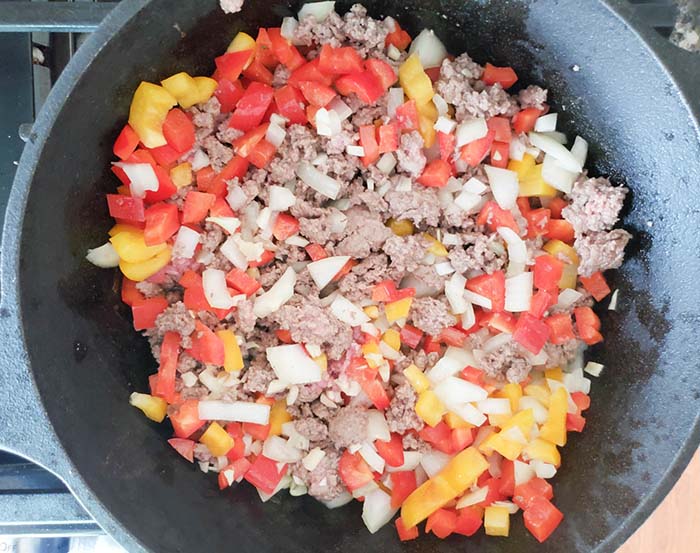 Step 2. Add the Vegetables
When the beef is almost cooked through, stir in the peppers and onions. Cook for a few minutes until the vegetables begin to soften.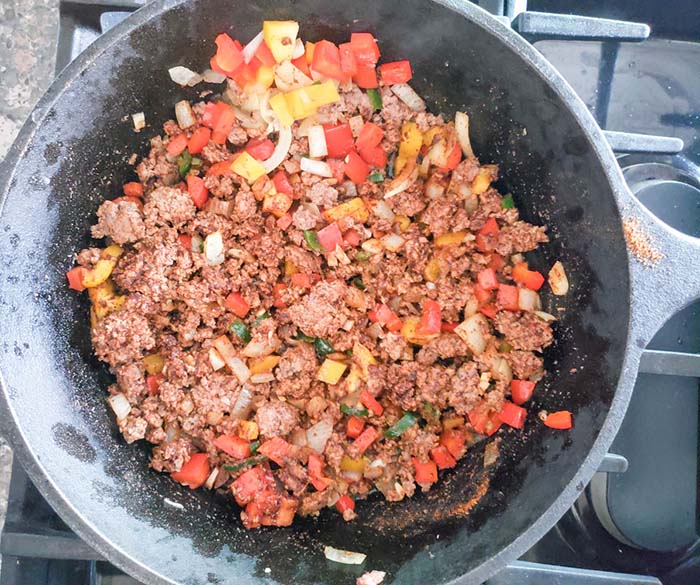 Step 3. Add the Spices
Stir in the chili powder and ground cumin. Reduce the heat and cook the mixture for a few minutes longer.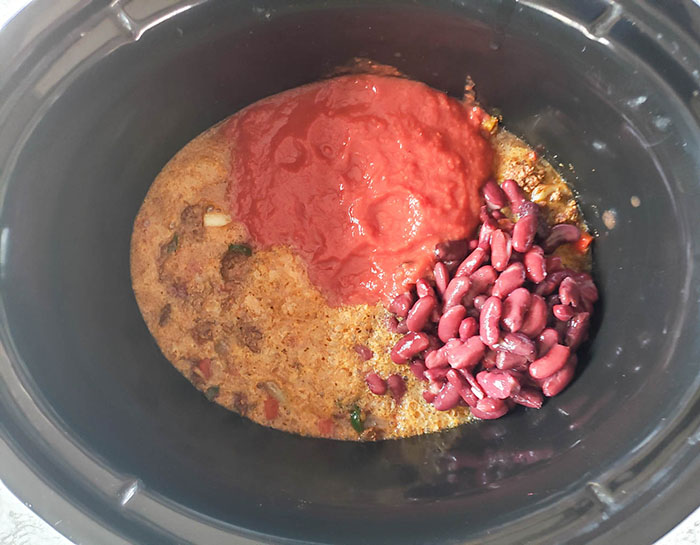 Step 4. Fill the Crockpot
Place the beef mixture into the crockpot and add the beans, beer, and crushed tomatoes.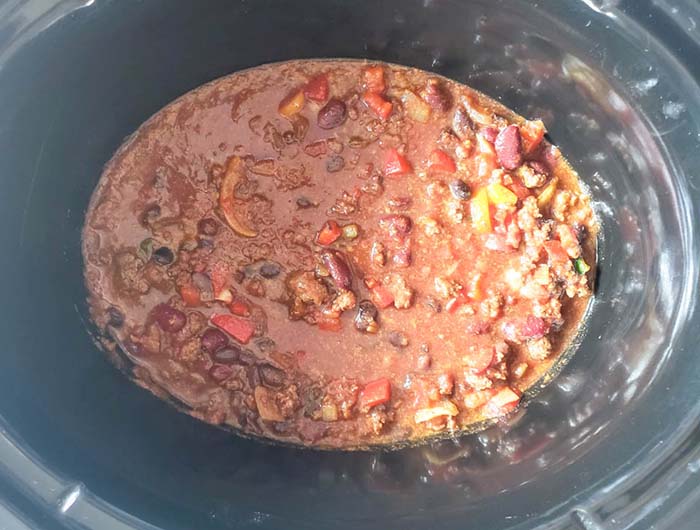 Step 5.
Gently stir the ingredients together, cover, and cook on low for at least 4 hours.
Ingredient Notes & Substitutions
Beef. Choose good quality beef. I like to use 85% Grass-Fed Beef from ButcherBox. It's super flavorful and perfect for making beef chili recipes.
Bell Peppers. Use any combination of bell peppers that you like in this recipe. You can use all green all red all orange or mix them up.
Crushed tomatoes. I like to use crushed Muir Glen tomatoes when I make chili, but you can use any type that you like.
Crushed tomatoes can also be replaced with diced tomatoes or diced fresh tomatoes if you prefer more texture to your chili.
Jalapeno peppers add heat to the chili. If you don't like spicy food, you can cut back on the amount of jalapeno pepper or leave it out. If you don't have jalapeno peppers, you can also add heat to your chili by gradually adding cayenne pepper. Start with ⅛ teaspoon and adjust to your taste.
Red Kidney Beans. This recipe calls for kidney beans, but you can also use pinto beans, black beans, white beans, or a combination of your favorite chili beans.
Beer. I like to use Mexican, pilsner, or white beer when I make beer chili, but any type of beer will work in this recipe. If your preference is dark beer or stout beer use that, some people like the flavor that pale ales add to chili.
Try using different varieties each time you make this recipe to see which one you like the best. Choose a good quality beer that you would normally drink.
Top Tips
For less fat in your chili, drain the drippings from the beef before adding the veggies to the skillet.
Adding the spices (chili powder and cumin) to the meat and vetetables in the skillet before adding the liquid ingredients allows the spices to infuse into the meat and vegetables while they are slow cooking in the crockpot.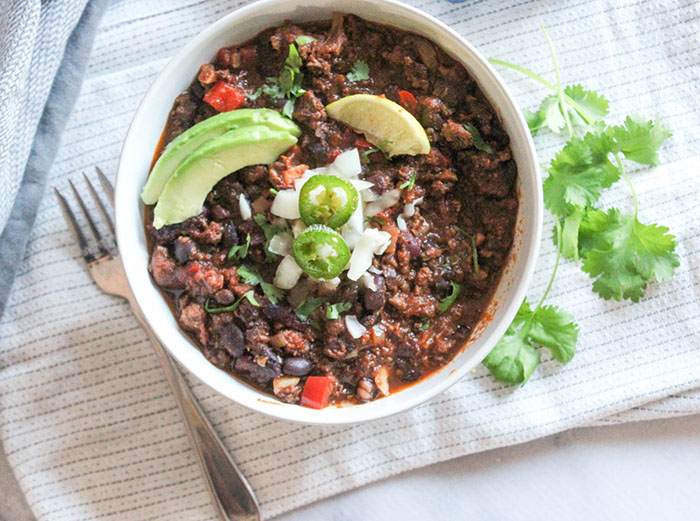 Serving Suggestions
Serve beer chili with your favorite chili toppings such as chopped green onions, shredded lettuce, tomatoes, sour cream, Greek yogurt, corn chips, tortilla chips, sharp cheddar cheese, pepper jack cheese, sliced avocados, homemade guacamole, or your favorite hot sauce.
How to Store & Use Leftover Chili
Refrigerate leftover beer chili for up to four days in an airtight container.
Freeze leftover chili in an airtight container for up to three months. Defrost the chili in the refrigerator overnight.
Reheat leftover chili in a saucepan over medium heat for 15 to 20 minutes until it's heated through.
Serve leftover chili in tacos, nachos, on top of a baked potato, rice, pasta, or in a salad.
Beer Chili Recipe Variations
Soupy chili - for a more soup like chili, add ½ cup of beef broth to the chili at the beginning of the cooking process.
Alchohol free chili - Replace the beer with beef, chicken or vegetable broth.
Change up the spices - Add a little smoked paprika for a smokey flavor or a little bit of cinnamon slightly sweet taste.
Beef & Pork Beer Chili. Instead of all beef, use a half pound of ground beef and a half pound of ground pork to make this chili.
For more simple and delicious recipes like this, subscribe to our newsletter and receive a free e-book and meal suggestions straight in your inbox!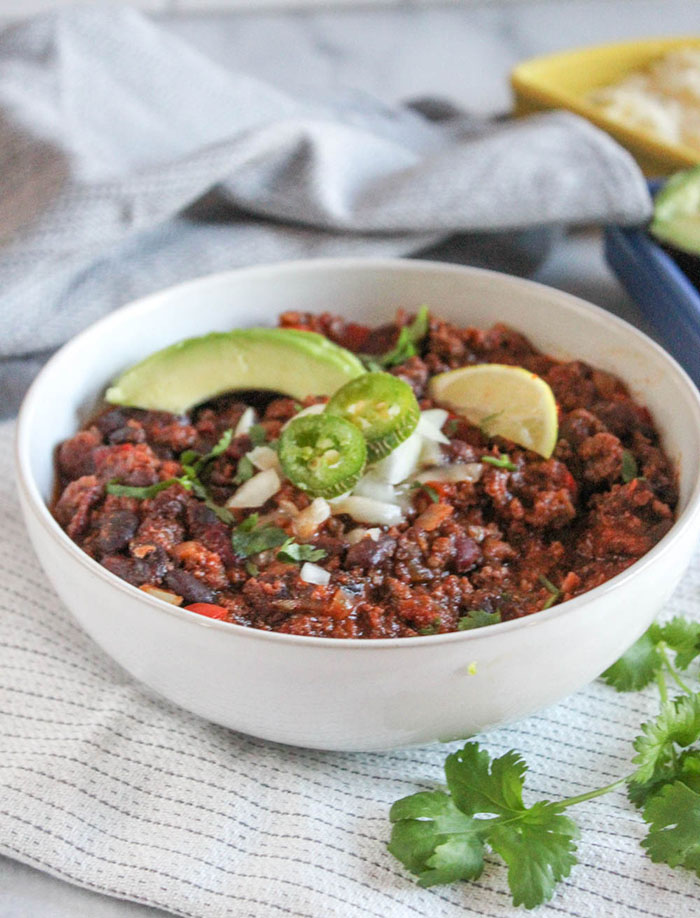 Crockpot Beer Chili Questions Answered
Can I use ground turkey instead of beef to make crock pot beer chili?
Yes! You can use ground turkey to make this chili. Use one pound of ground turkey instead of beef.
Can I cook slow cooker beer chili on high?
Yes! Cook the chili in your slow cooker on the high setting for 1 ½ hours.
If you like this recipe, please comment and rate it below!
Have you Tried These Chili Recipes?
If you've tried this recipe or any other recipe on simpleandsavory.com, don't forget to rate the recipe on the recipe card and leave a comment below. I would love to hear if you liked it, or you can tag me on Instagram with photos of your creation too!