Grass-fed beef has become more popular recently as people look for healthier and more sustainable food options. It's a high-quality red meat that is rich in flavor and lends itself well to many dishes. So whether you are a seasoned cook or a beginner, read on for some delicious and easy grass-fed ground beef recipes.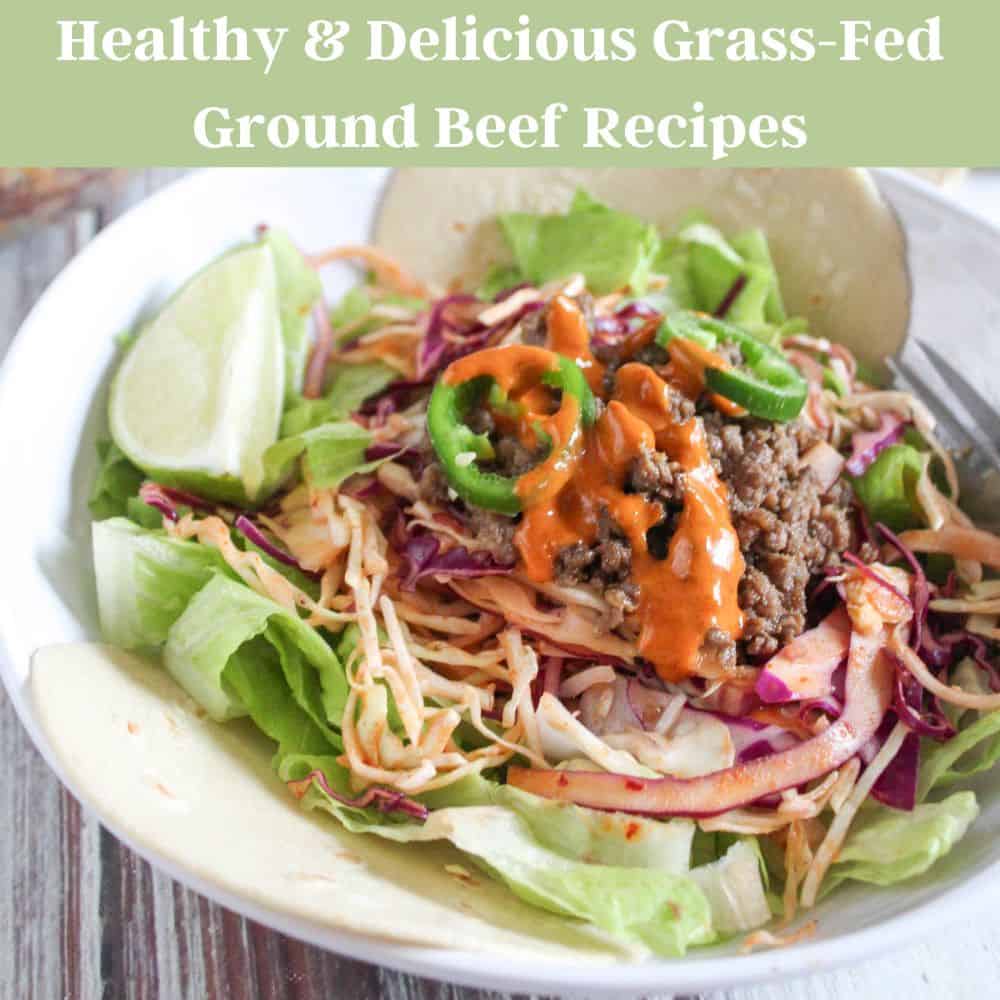 What's the difference between grass-fed and conventional beef?
The main difference between grass-fed beef and conventionally raised beef lies in their diet and living environment.
Grass-fed and finished cows are allowed to graze on grass in a free-range environment their entire life which is what they need for natural growth.
In contrast, conventionally raised beef, start out in pastures and are transferred to crowded feed lots where they consume a diet of grains and soy. This is not ideal for cows' digestive systems and can lead to health issues.
Since grass-fed cows are fed what cows are intended to eat, they tend to be healthier than grain-fed beef and are less likely to be given antibiotics.
Grass-fed beef is generally leaner and has higher levels of omega-3 fatty acids, vitamins, minerals, and protein compared to conventionally raised beef.
In addition, grass-fed beef is considered to be more sustainable and environmentally friendly than conventional beef since the cows are not raised in crowded conditions.
For more information about American grassfed beef, visit the American Grassfed Association's Website.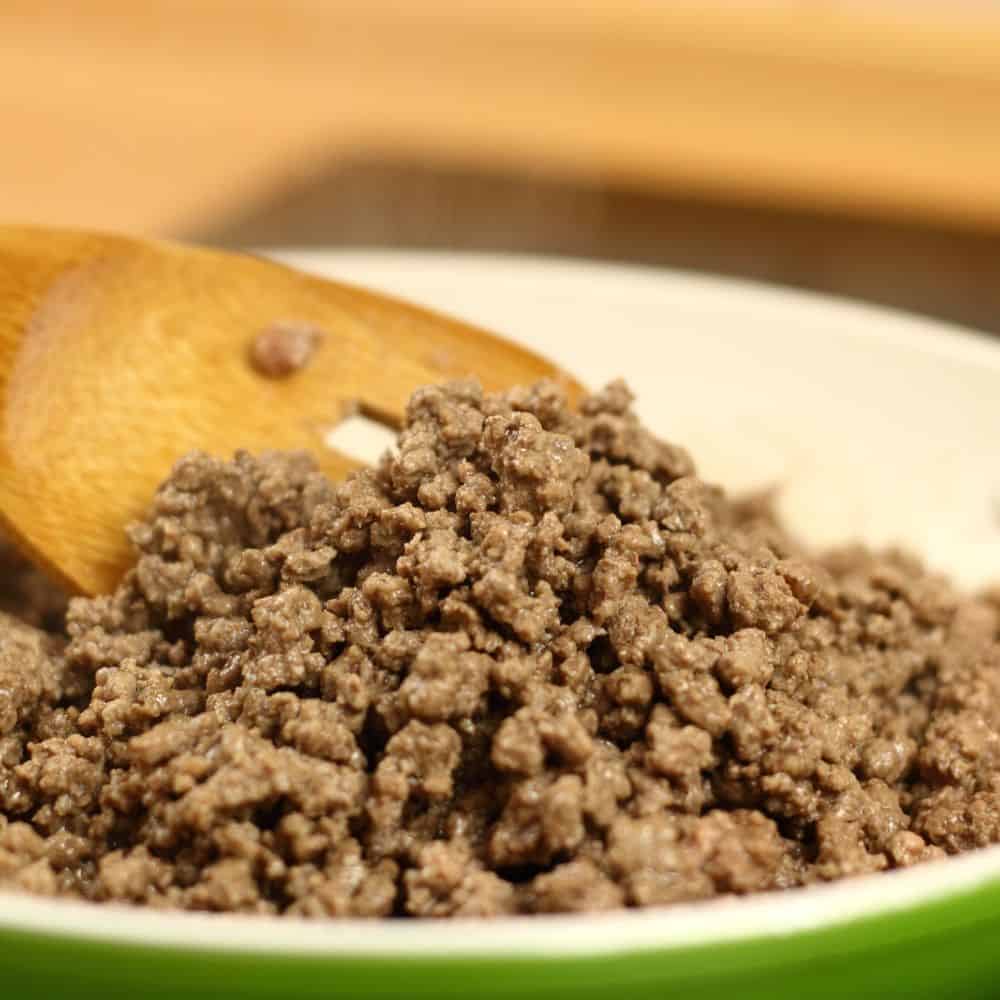 Check out ButcherBox for humanely raised high-quality meat including grass-fed ground beef!
How to cook grass-fed ground beef
Grass-fed ground beef is cooked in a similar way to conventional ground beef. However, you should avoid overcooking it - especially when preparing recipes, such as burgers, which don't include sauces to keep the meat moist.
Since it's lean, grass-fed beef will cook faster. I recommend cooking grass-fed ground beef over medium heat and keeping an eye on it while it's cooking. The only exception would be for burgers, you can give them a quick sear before reducing the heat to medium.
Most of the healthy ground beef recipes in this collection are cooked in a sauce, so if you do end up overcooking your grass-fed ground beef, the sauce will keep it moist.
Why you need to try these recipes
They are healthy recipes that are super easy to make!
If you don't have grass-fed ground beef, substitute it with regular ground beef or ground turkey.
Recipes made with grass fed ground beef
Skillet ground beef dinners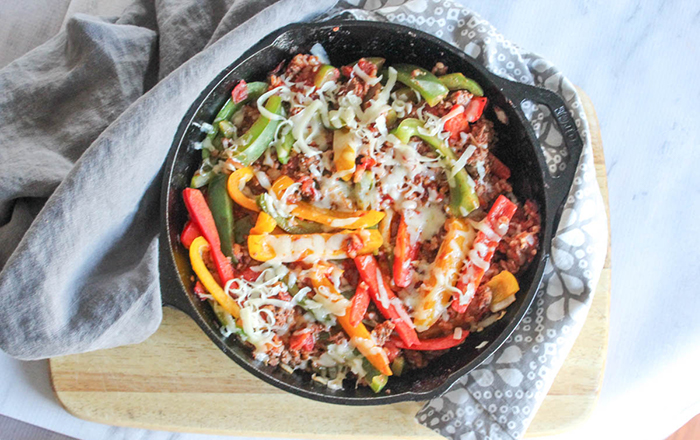 Deconstructed Stuffed Peppers - This is a favorite recipe on Simple and Savory. It has all of the flavors of stuffed peppers and with less work. Instead of stuffing each bell pepper, all of the simple ingredients are cooked in one skillet. This recipe is perfect for a busy weeknight dinner.
Since this recipe cooks quickly, the peppers are slightly crispy rather than soggy which often happens with traditional stuffed peppers. If you prefer soggy stuffed peppers, you can always cook the recipe a little bit longer.
Red Beans and Rice with Ground Beef - This is a tasty twist on traditional red beans and rice; one of those delicious recipes that cook for hours.
Traditional red beans and rice is made with dried beans, pork sausage and ham hocks. To speed up the process, I use ground beef for flavor, and canned beans. In less than an hour, you can have a delicious bowl of red beans and rice on your table.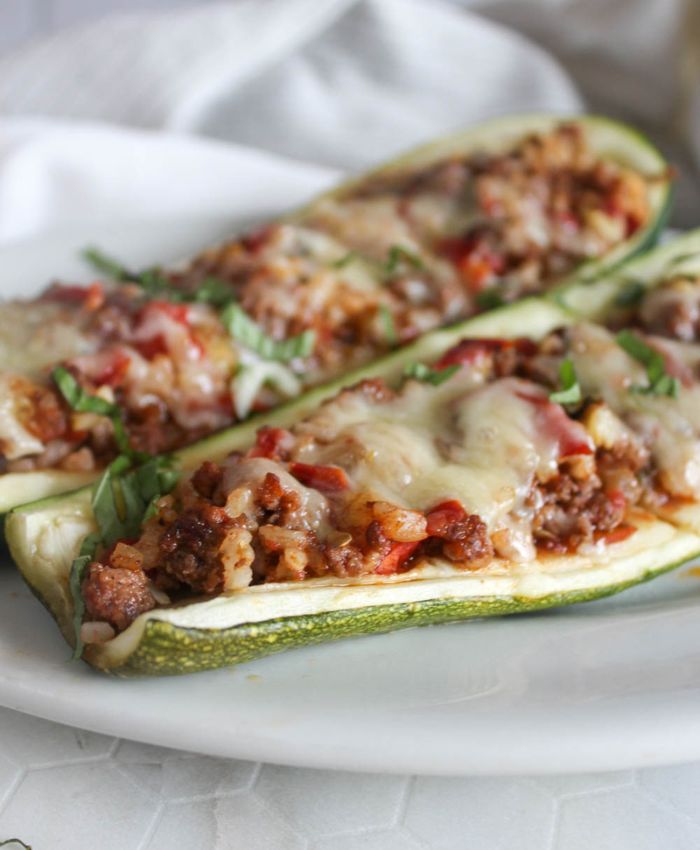 Stuffed Zucchini with Ground Beef - Zucchini is stuffed with ground beef and filled with a mixture of ground beef, tossed in tomatoes and rice to make zucchini boats. It's one of those easy ground beef recipes, that's delicious and versatile!
Ground Beef and Broccoli - This is another favorite on Simple and Savory. It's a healthy recipe that's a short-cut for beef and broccoli. Instead of steak, lean ground grass-fed beef is stir-fried with broccoli in a soy sauce-based sauce. An easy one-pan dish that's healthy and quick.
Hand-held ground beef recipes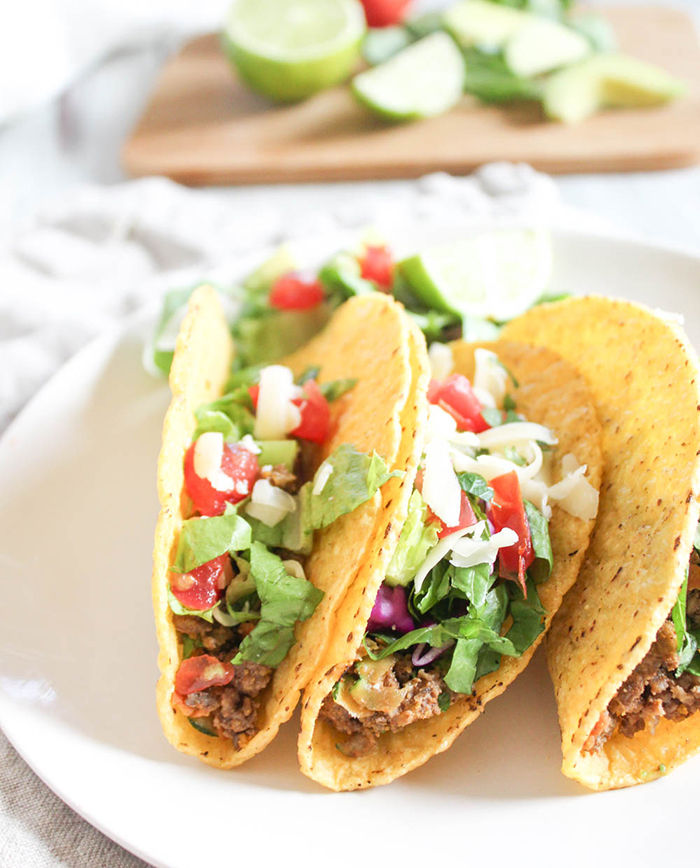 Healthy Beef Tacos - A classic taco recipe with a secret ingredient - shredded vegetables! Shredded carrots and zucchini are added to the taco meat while it's cooking in the skillet.
Use homemade taco seasoning for an even healthier version of beef tacos. Or turn these tasty tacos into a taco salad and top them with crumbled taco shell or tortilla chips.
Korean Ground Beef Tacos - Ground beef is cooked quickly in a Korean bbq sauce, stuffed in taco shells, and topped with a spicy slaw. It's a great recipe that is packed with flavor and so simple to make. Make it lower in carbs and turn it into a salad.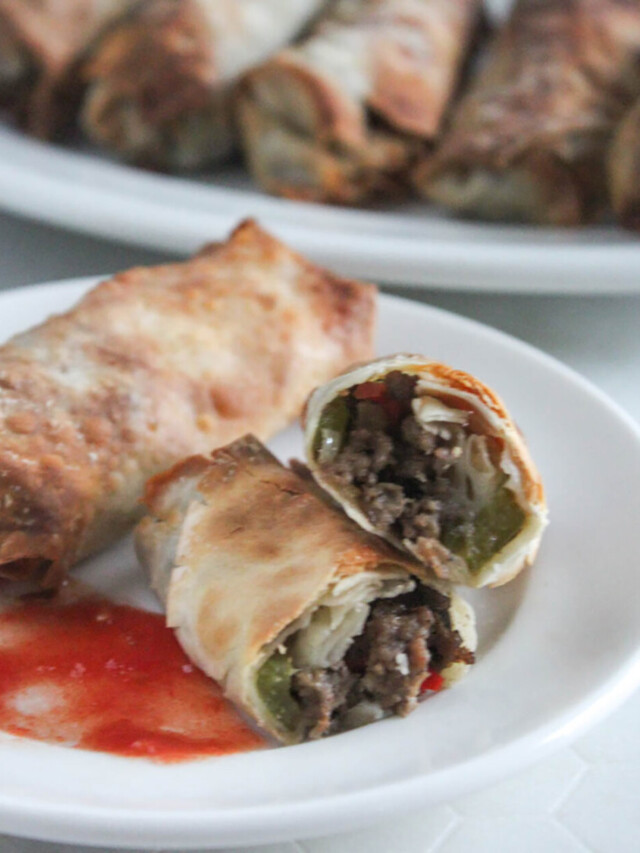 Philly Cheesesteak Egg Rolls - The perfect combination of cheesesteak and egg roll. Tender ground grass fed beef is cooked with bell pepper, onions, and cheese then wrapped in an eggroll wrapper and air fried until crispy. These are perfect for an appetizer or light and easy dinner.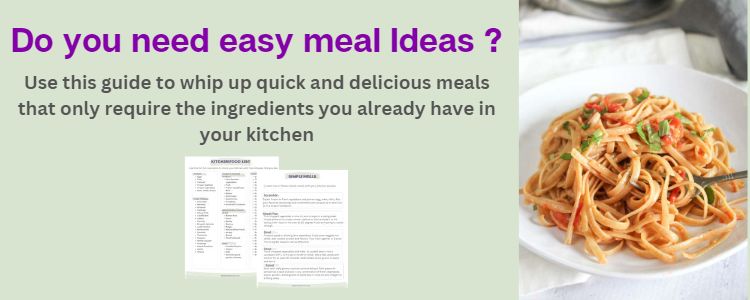 Meatballs, Sauce, and Chili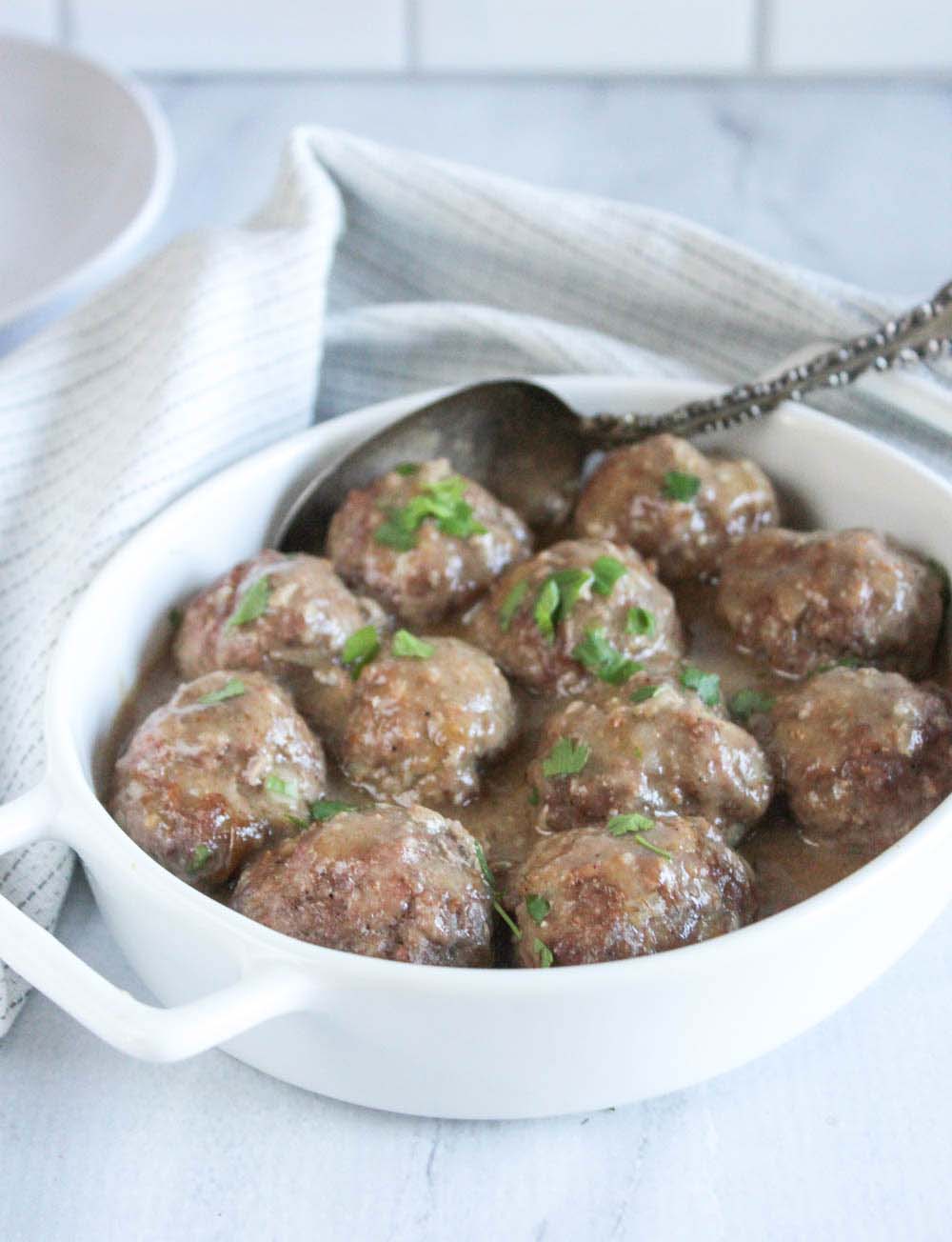 Swedish Meatballs - Ground beef and pork meatballs are seasoned and baked in the oven, then tossed with a rich creamy gravy for super flavorful meatballs.
Crockpot Beer Chili - Stay inside and warm up on a cold night or enjoy it on game day. This chili recipe is made in a slow cooker, so you can make it in the morning and keep it warm until you are ready to enjoy it.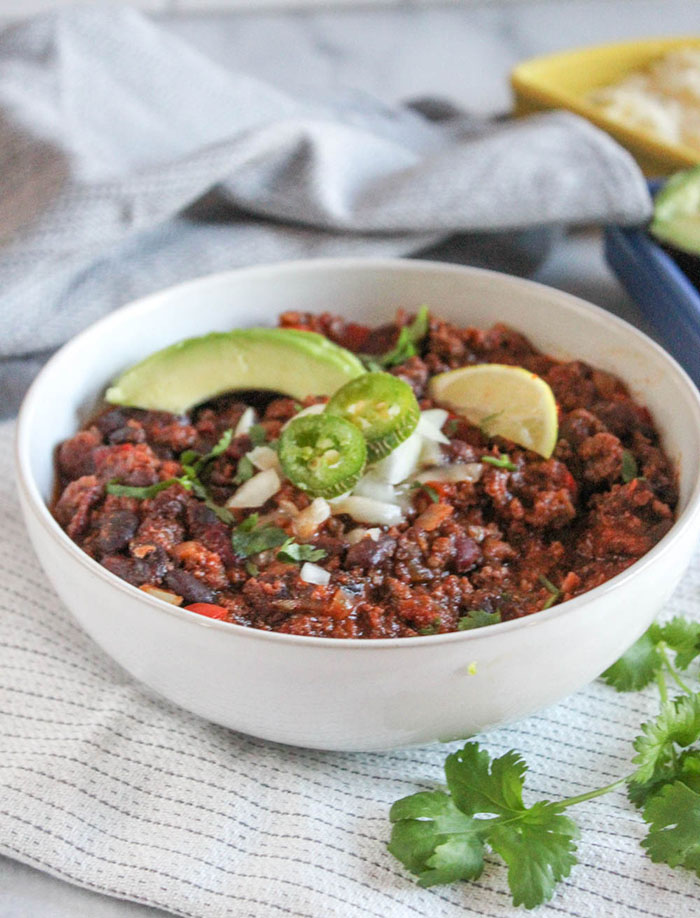 Pressure Cooker (Instant Pot) Chili - This is a quick and easy way to make hearty chili. It cooks quickly in a pressure cooker even though it tastes like it was cooking all day long!
Bolognese Sauce - A flavorful meat sauce for pasta that is made with grass-fed ground beef and Italian sausage. It's a filling and comforting meaty sauce with layers of flavors, that everyone will love.
Grass-Fed Burger Recipes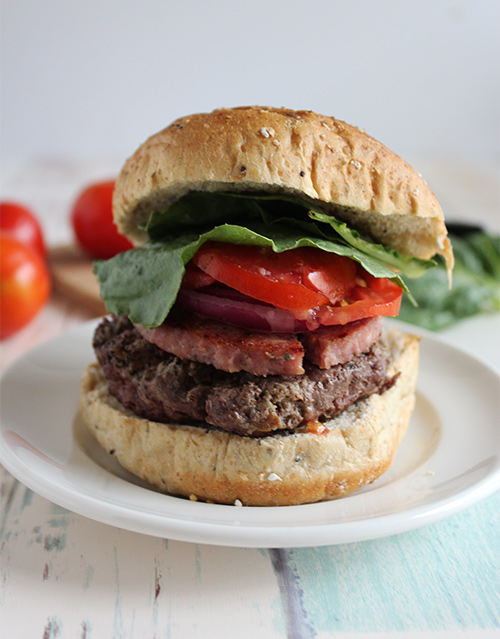 Jersey Burger - One of New Jersey's favorite burgers. A lean and juicy grass-fed beef burger topped with cheddar cheese, a slice of pork roll (a NJ sausage), lettuce, Jersey tomatoes and an onion slice!
Jalapeno Cheese Burger - A lean and juicy burger that is flavored with shredded onion, jalapeno peppers, and taco sauce. It's spicy and full of flavor!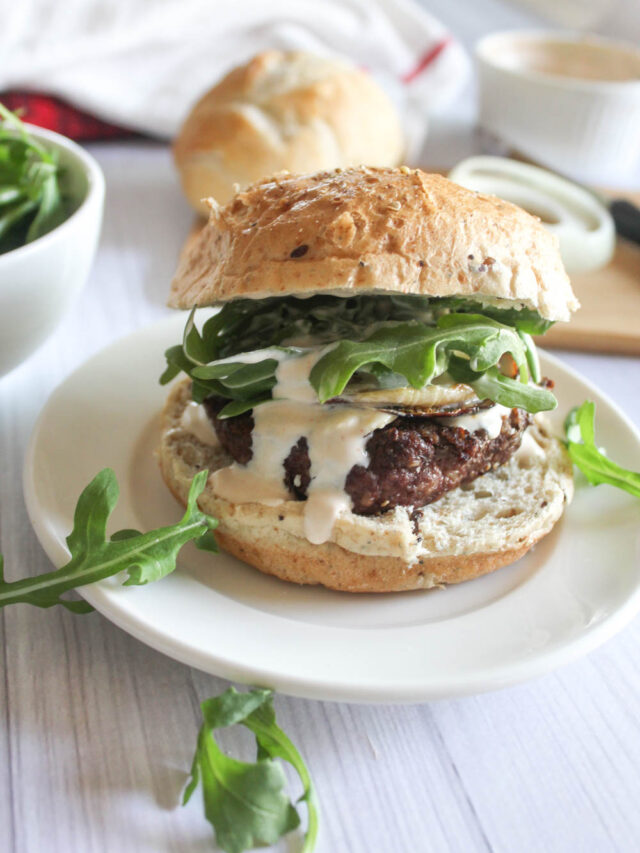 Grilled Onion Burger - Grilled beef burgers topped with grilled burgers. It's delicious and easy to make on the grill!
California Burger Bowl- A delicious, healthy, and low-carb way to enjoy a juicy burger in a bowl filled with crispy lettuce, onions, tomatoes, and avocados.
💡Tips
Cook your grass-fed ground beef to perfection every time with a meat thermometer.
Grass-fed beef is a little more expensive, save money and add chopped vegetables such as mushrooms, zucchini or carrots to stretch out the meat and add moisture.
When looking for grass-fed beef, choose beef that is labeled grass-fed and finished.
Where can you buy grass-fed beef?
Many supermarkets such as Whole Foods carry grass-fed beef. There are numerous online shops that carry grass-fed beef as well such as ButcherBox, Greensbury Market, and US Wellness Meats just to name a few.
Can you use grass-fed beef in any ground beef recipe?
You can easily use grass-fed beef in any recipe that calls for ground beef. Keep in mind that grass-fed beef will cook slightly faster than conventional ground beef.
Is grass-fed beef and organic beef the same thing?
No, they are not. Organic beef is usually grass-fed early in life and then fed organic feed, and raised in more natural living conditions. They are never administered antibiotics or hormones. Grass-fed and grass-finished beef consume grass their entire life, without ever having grain.
Check out my list of products and tools that I use all of the time in the kitchen!
Sign Up for Easy Recipes Straight in Your In-Box!