Grilled beef burgers served in a bowl with lettuce, tomatoes, onions, and avocado; a refreshing dinner.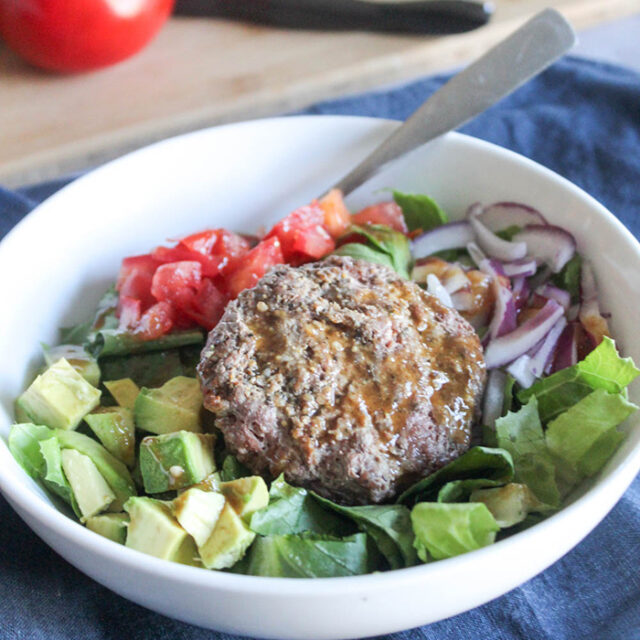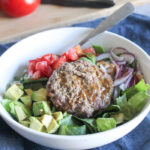 A California burger bowl is a delicious and healthy low-carb way to enjoy a juicy burger. Instead of serving a flavorful burger on a roll, it's served in a bowl filled with crispy lettuce, onions, fresh tomatoes, and sliced avocado for a filling, nutritious meal.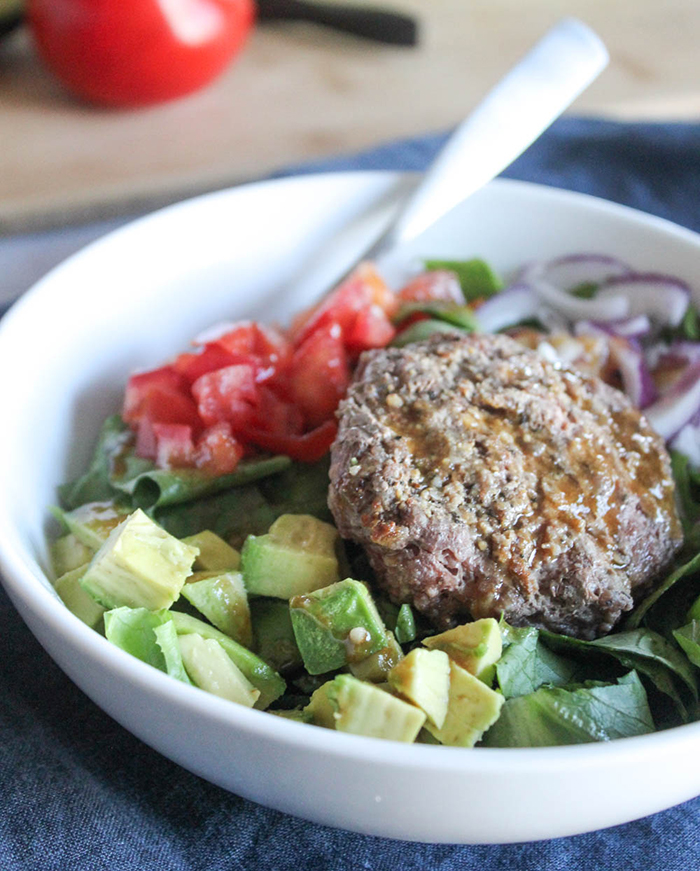 These healthy burger bowls are like burger salads. They are made with juicy burgers on top of fresh salad ingredients.
They are so quick and easy to make and perfect for busy weeknights; a healthy dinner the whole family will love. If you don't like beef, try topping your salad with a jerk chicken burger instead.
Why this Recipe Works
Burger bowls are versatile; add whatever you like to your burger bowl (see suggestions below).
It's so easy to make; fill up the bowl with fresh vegetables while the burgers are cooking on the grill.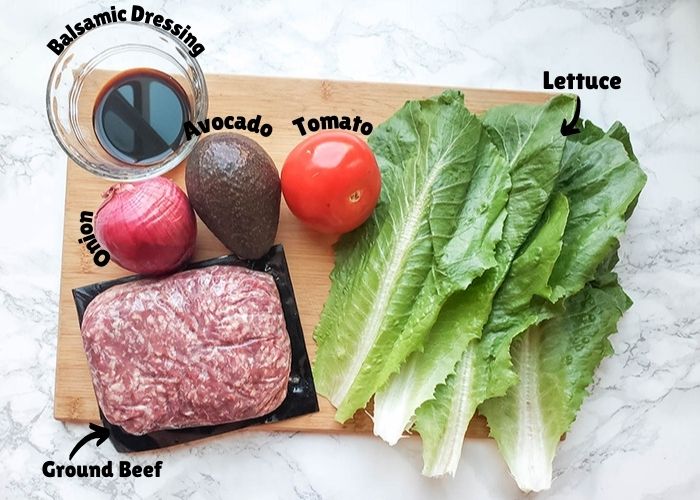 Here is What You Will Need
If you are looking for more easy and delicious ground beef recipes, check out these Grass Fed Ground Beef Recipes!
Ingredients
sea salt, black pepper and onion powder to taste
romaine lettuce
tomatoes
red onions
avocado
dressing: olive oil, balsamic vinegar, garlic powder, sea salt and pepper.
Equipment
Here is How To Make This Burger Bowl Recipe
Prepare the ingredients: Rinse and cut up the vegetables, and from the ground beef into two hamburger patties and sprinkle them with sea salt, onion powder and black pepper to taste. Mix up the dressing. Preheat the grill at medium-high heat.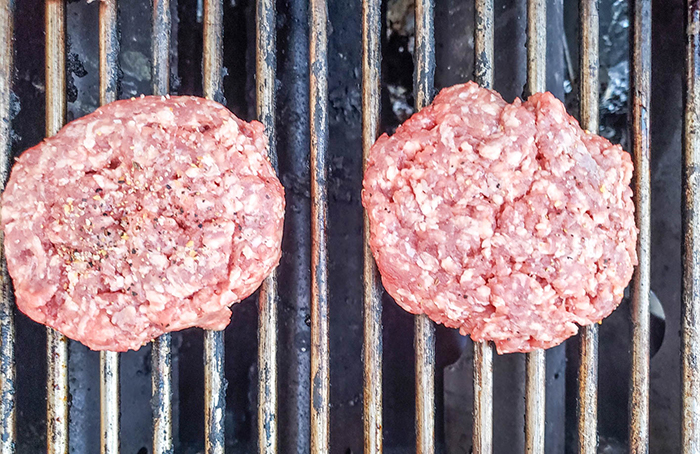 Step 1. Cook the burgers
Once the grill is hot, reduce the heat to medium heat. Place the patties on the grill, cover it and cook the burger patties for 5 to 8 minutes.
Step 2. Continue to cook
Flip the burgers over, and continue to cook for 4 to 5 minutes longer until they reach an internal temperature of 145 F.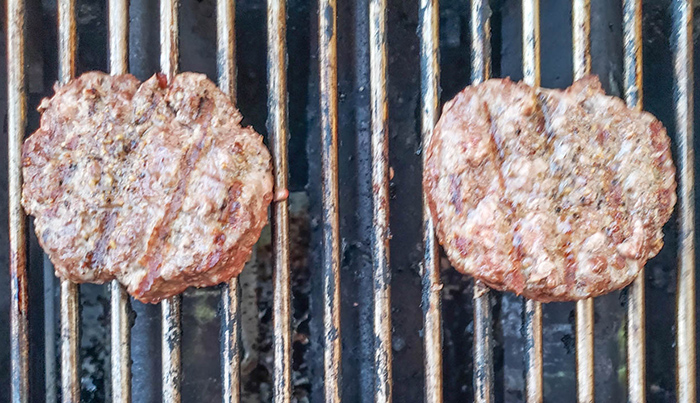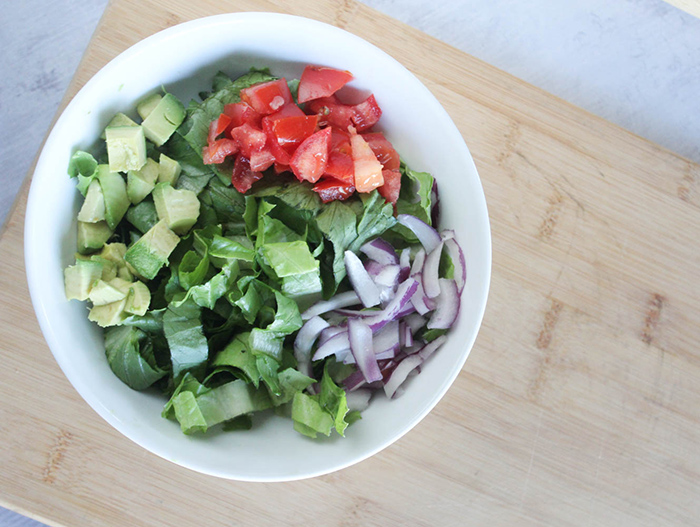 Step 3. Assemble the salad
While the burgers are cooking, fill up the bowls with lettuce, tomatoes, onions, and avocados, and mix up the dressing.
Step 4. Add the burger and dressing
Top the salad ingredients with the cooked burger, and pour the dressing on top.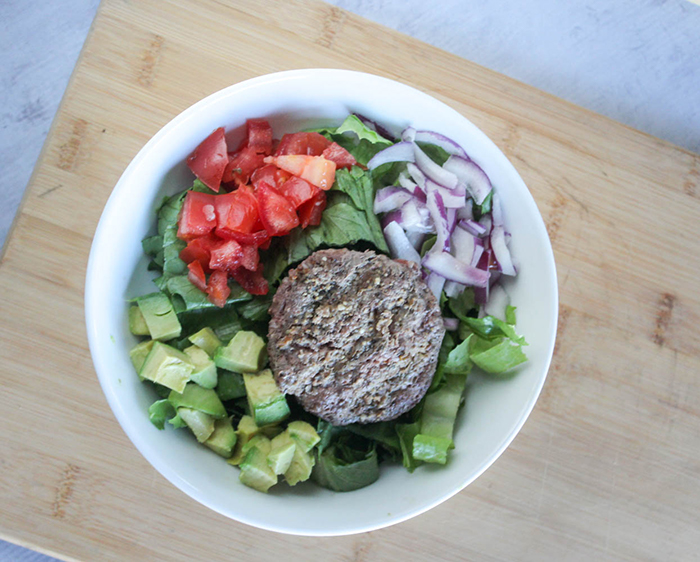 Tip! Use a high-quality quick-read meat thermometer to check the meat temperature.
Ingredient Notes & Substitutions
The full list of ingredients to make these delicious burger bowls is above. Below are notes about some of the ingredients along with ideas for substitutes.
Ground Beef. The best ground beef to use for beef burgers is lean ground beef that is 90/10 or 80/20. I like to use grass fed beef from ButcherBox.
Ground Beef Substitutes. Ground beef burgers can be replaced with ground turkey, ground chicken, ground pork or ground bison. For a vegetarian version try using veggie burgers or black bean burgers.
Dressing. The homemade dressing is a simple dressing to make. If you like a thicker dressing, add ½ teaspoon of dijon mustard.
Dressing Substitutes. You can use any kind of dressing in this recipe. We also like our burger bowls topped with homemade ranch dressing or blue cheese dressing.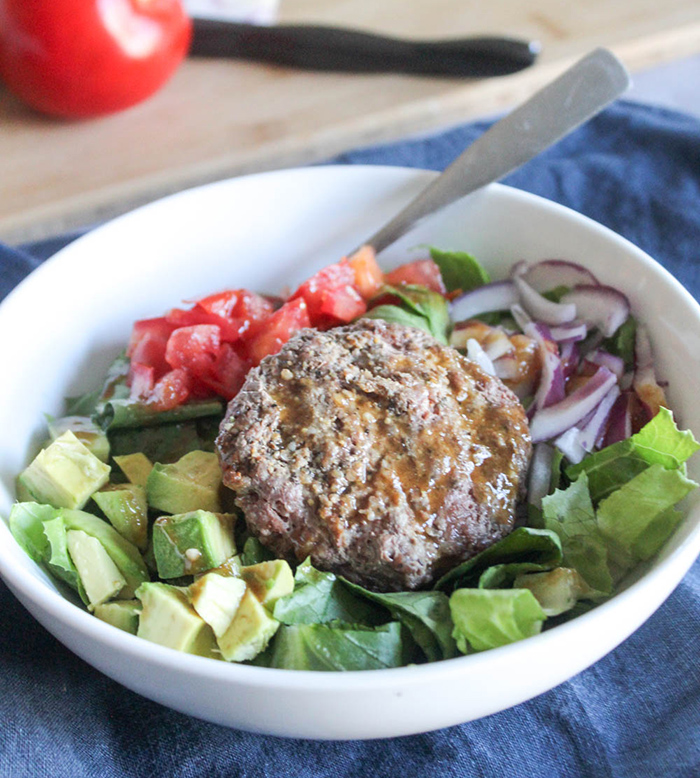 Make-ahead and meal-prep instructions
Even though this recipe comes together quickly, it's also a great recipe for meal prep and can be prepared up to two days ahead of time. Here's how:
Rinse and dry the lettuce, chop up the onions and store them in the refrigerator in separate containers.
Shape the meat into burgers and store them in the refrigerator uncooked in an airtight container for one day.
Alternatively, the burgers can be cooked and refrigerated once they reach room temperature after being cooked for up to three days. Heat the patties quickly on top of the stove before adding them to the bowl.
Make the dressing and store it in the refrigerator.
Just before serving, cook the burgers, cut up the avocados and tomatoes, and add them along with the prepared lettuce and onions to the bowls.
Storing and Using Leftovers
Store leftover burger bowls in an airtight container in the refrigerator for up to 3 days.
Enjoy the leftovers cold or heat the burger separately in the oven or microwave.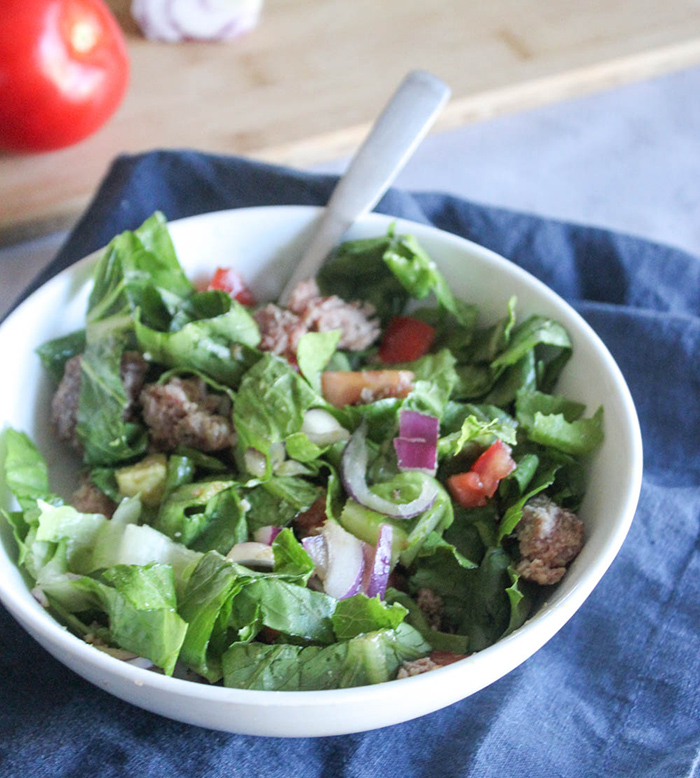 Recipe Variations
These bowls are very versatile, you can top them with your favorite burger toppings to make your own burger bowls or try one of these variations below.
Greek burger bowl. Make a Greek turkey burger, and leave out the avocado from the bowl. Add diced cucumbers, olives, and feta cheese. Drizzle the salad with equal parts of lemon juice and olive oil with a pinch of garlic powder and oregano.
Tex-Mex burger bowl. Sprinkle shredded cotija, cheddar, or jack cheese on top of the burger, add a ⅛ cup of black beans to each bowl and replace the dressing with salsa or cilantro lime dressing.
Plant-based burger bowl. Instead of meat, use one of these meat alternatives such as a mushroom veggie burger or a beyond meat burger.
Loaded burger bowl. Top the burger with all of your favorite fixings or traditional burger toppings such as dill pickles, chopped red onions, cheddar cheese, avocado slices, and bacon crumbles.
Lettuce wrap burger. Instead of adding the lettuce to a bowl, stack several pieces of lettuce on a plate, top them with the burger, add tomato slices, onion and avocado and wrap them up.
Recipe tips and questions
Tips
If the meat sticks to the grill, the burgers aren't ready to flip over. Allow the burgers to cook for a bit longer and try flipping them.
If you prefer the ground beef crumbled, break it into bite-sized pieces before adding it to the bowl.
Questions
Can you cook burgers for burger bowls on top of the stove?
Yes, if you don't have a grill, you can make the burgers on top of your stove. Preheat a skillet over high heat with olive oil. Once the oil is hot, reduce the heat to medium and cook the burgers for 5 to 8 minutes on each side.
You Might Like These Bowl Recipes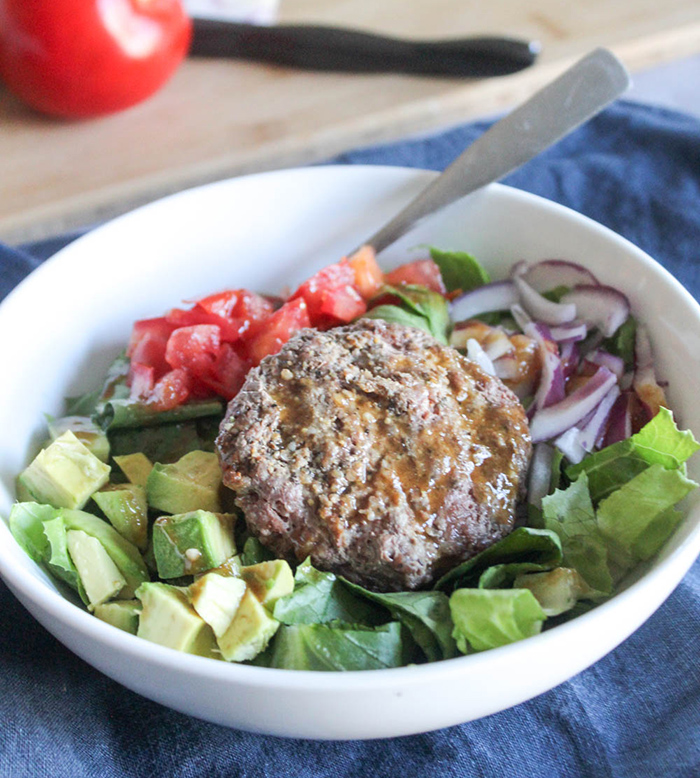 Click on serving size to scale this recipe
Ingredients
½

pound

lean ground beef

romaine lettuce or any lettuce of your choice -

field greens or romaine work well use enough to fill 2 bowls.

1 to 2 to

matoes

1

small red onion sliced

1

avocado

DRESSING

½

cup

[olive oil]

⅓

cup

[balsamic vinegar]

1

clove

crushed garlic or ⅛ teaspoon garlic powder

A sprinkle of sea salt

onion powder and black pepper
Instructions
use your hands or a burger press to form the ground meat into two ¼ pound hamburgers.

sprinkle the patties with sea salt , onion powder and black pepper to taste and preheat the grill to medium-high heat

add the burgers to a heated grill with a medium flame and cook for approximately 6 to 8 minutes, flip and cook for approximately 4 to 8 minutes longer until burgers reach the desired internal temperature at least 145. (see notes for temps)

while burgers are cooking place the lettuce, chopped tomatoes, onions and avocados into two bowls and make the dressing by adding all ingredients to a small mason jar and shake well.

place a burger in each bowl and top it with the dressing or just plain oil and vinegar
Notes
Substitute the ground beef with ground turkey, ground chicken or beyond meat.
Add a slice of cheese for a cheeseburger bowl.
Internal Beef Temperatures
Medium Rare 145 degrees
Medium 160 degrees
Nutrition
Serving:
1
bowl
|
Calories:
547
kcal
|
Carbohydrates:
23
g
|
Protein:
37
g
|
Fat:
36
g
|
Saturated Fat:
9
g
|
Polyunsaturated Fat:
23
g
|
Cholesterol:
105
mg
|
Sodium:
548
mg
|
Fiber:
11
g
|
Sugar:
7
g
Nutrition information provided is an estimate and can vary based on cooking methods and ingredients used
Check out more of our Appetizer and Snack recipes here!