Oven-Baked Swedish meatballs are seasoned and baked in the oven then covered in a rich and creamy sauce for a flavorful meatball. These tender Swedish meatballs are the ultimate comfort food that the whole family will love!
This recipe was originally published in 2017, it's been updated for content and photos.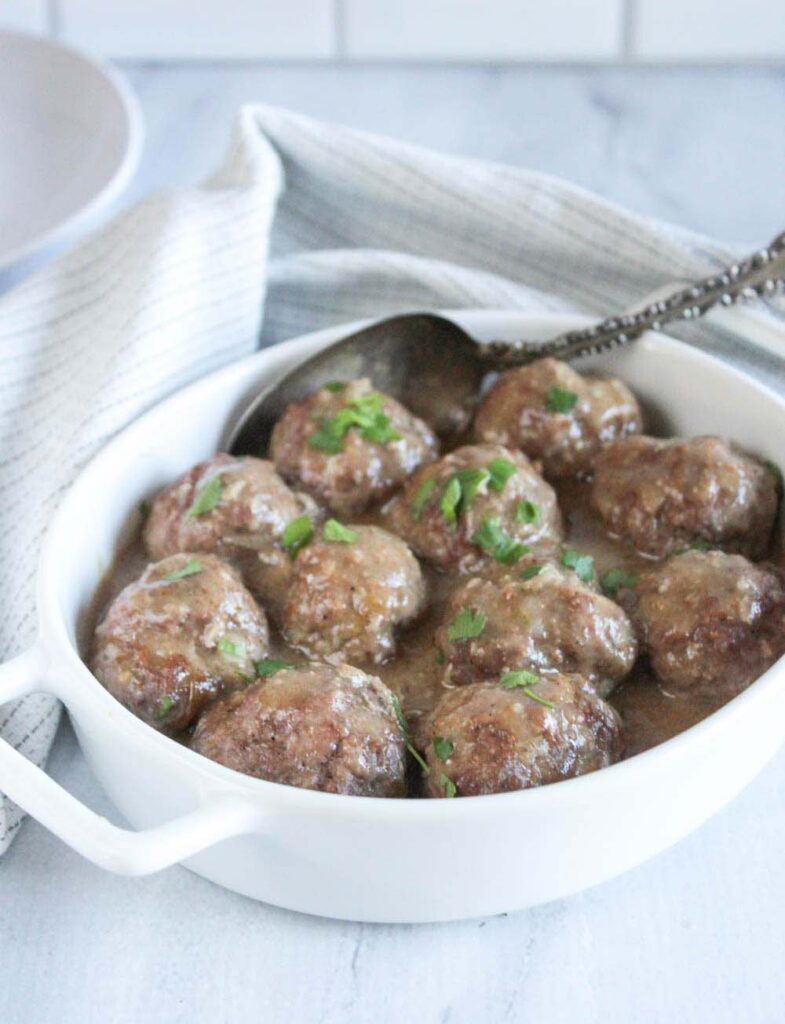 I am not sure if this is an authentic Swedish meatballs recipe, but whenever I make them, they don't last long. I like to serve them with traditional sides such as tangy cucumbers in vinegar a side of lingonberry jam.
Why You Will Love this Recipe
These savory meatballs are baked in the oven instead of being fried in batches which saves time and less clean-up!
Baked Swedish meatballs are easy to make! While the meatballs are baking, you can make the creamy gravy sauce.
Here Is What You Will Need
As an Amazon Associate, I earn from qualifying purchases.
This is an overview of the ingredients and steps to make this recipe, scroll down for a printable recipe card with exact measurements and instructions.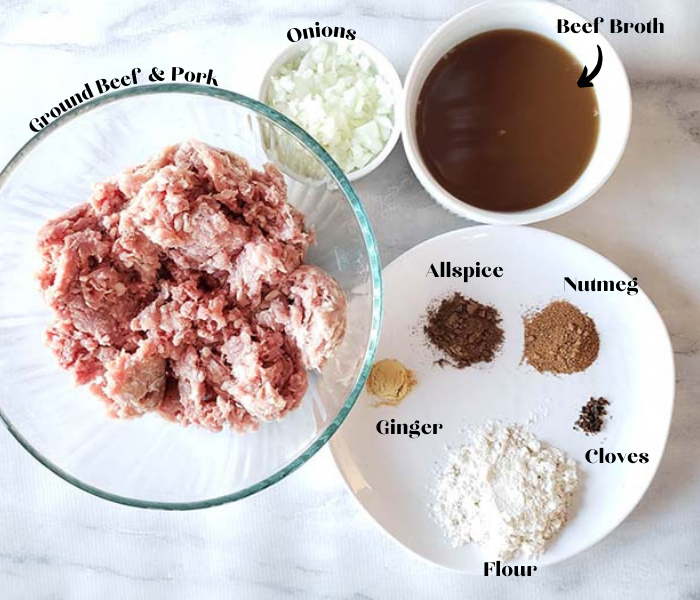 Ingredient List
Lean ground beef such as ground round or ground sirloin
Ground pork
Onion
Egg
Seasonings: ground allspice, nutmeg, ginger, cloves
Low sodium beef broth or beef stock
Heavy cream or light cream
Unsalted butter
Flour
Equipment List
Here is how to Make this Swedish Meatball Recipe
Prepare: mince or grate the onion, measure the spices, line a baking sheet with parchment paper and preheat the oven to 375 degrees F.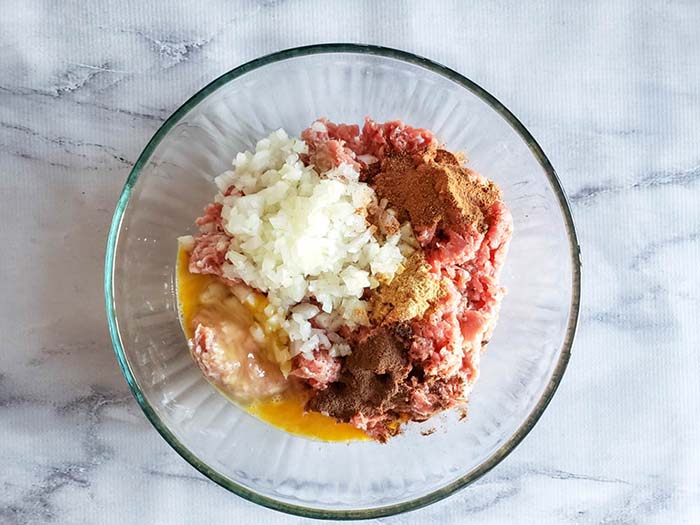 Step 1. Add the Ingredients to a Bowl
Add the ground pork, ground beef, onions, egg and spices to a large bowl.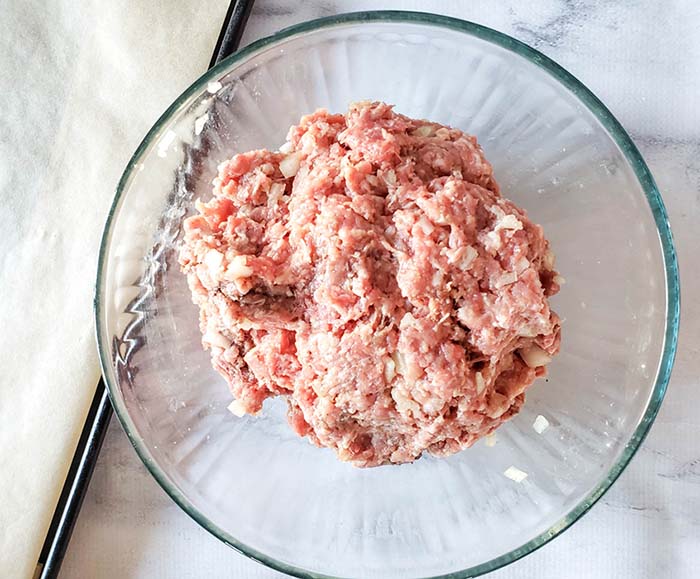 Step 2. Mix the Ingredients
Gently combine ground beef, pork, spices, egg, and onion; mix together with your hands or a wooden spoon.
Step 3. Form the Meatballs
Use your hands or a cookie scoop to form the meat mixture into meatballs. place the meatballs on a parchment-lined baking sheet and into a preheated oven; bake meatballs for 15 minutes.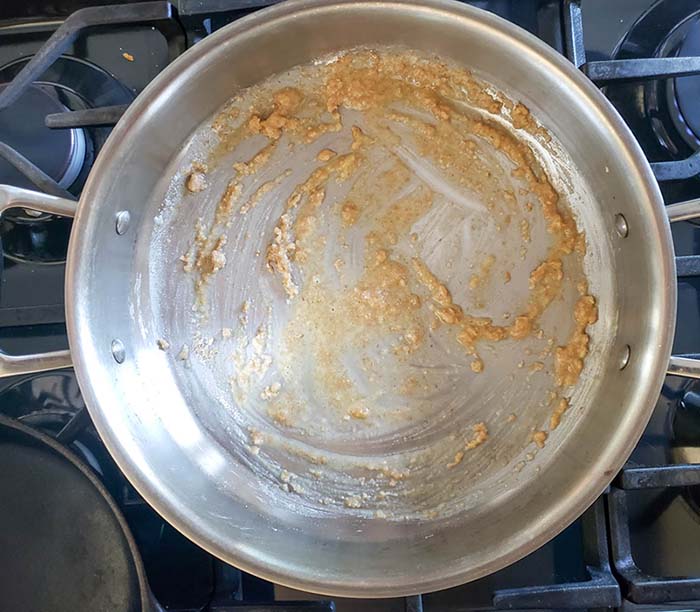 Step 4. Make the Roux
While the meatballs are baking, melt butter over medium heat in a large skillet. Once the butter is melted add the flour and whisk it together to form a paste.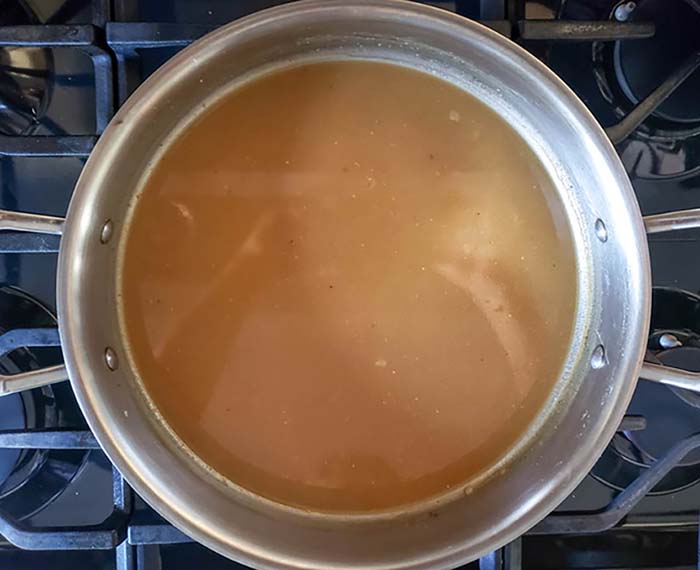 Step 5. Add the Broth
Reduce the heat to low, and gradually whisk in the beef broth until a thick sauce forms.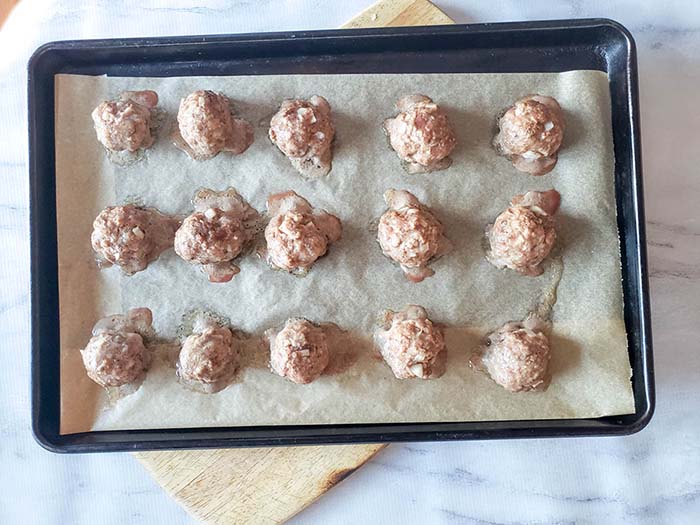 Step 6. Take the Meatballs out of the Oven
Remove the meatballs from the oven, drain off any excess fat. I like to place them on a plate lined with a paper towel for this.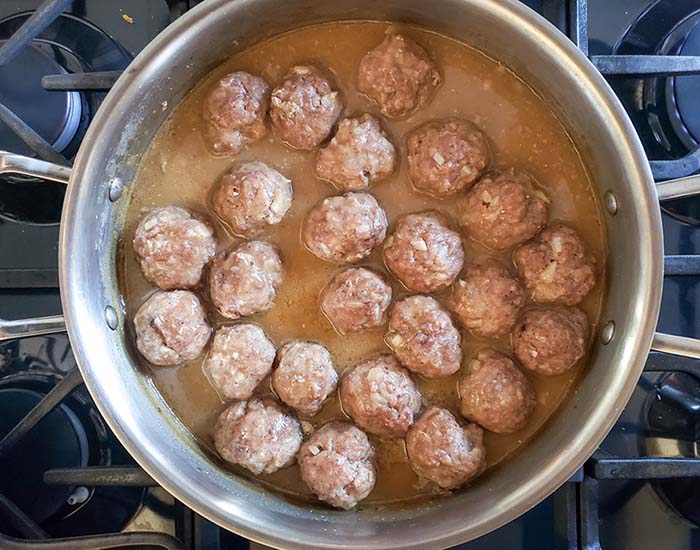 Step 7. Add the Meatballs to the Gravy
Place the meatballs into the gravy; cover and simmer over lower heat for 20 minutes. Stir in the cream and cook for 5 minutes longer and serve.
Fun Fact! Did you know that Swedish meatballs actually originated in Turkey? They were brought to Sweden by Charles XII when he returned home from Turkey in the early 18th century.
Ingredient Notes & Substitutes
Ground pork can be substituted with an additional pound of ground beef.
Onion - any type of onion will work in this recipe, and fresh onion can be replaced with 1 teaspoon of onion powder, but won't taste as fresh.
Unsalted butter can be replaced with an equal amount of olive oil or avocado oil.
Heavy cream can be substituted with an equal amount of light cream, half and half, whole milk, sour cream, yogurt.
Beef broth can be substituted with low sodium chicken broth or chicken stock.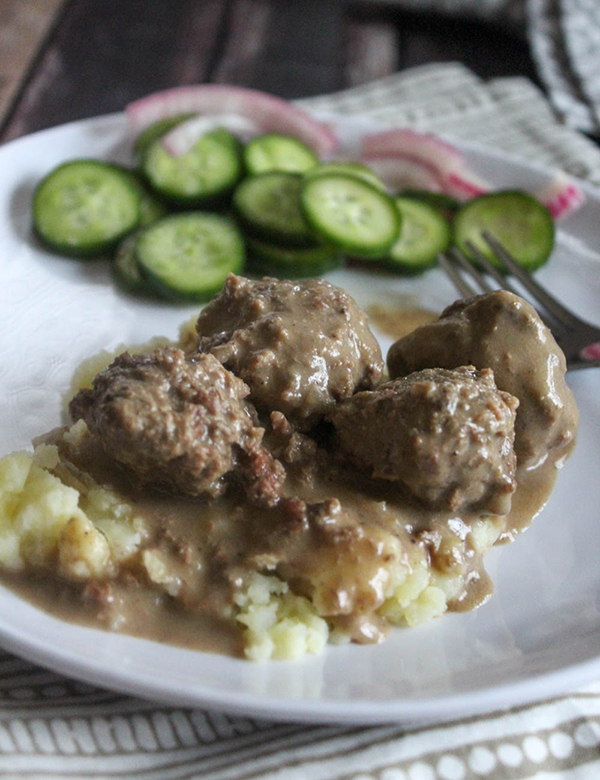 Serving Suggestions
These flavorful meatballs taste delicious with so many things! We like to serve them for dinner garnished with fresh parsley with any of these: cucumbers in vinegar, mashed potatoes, green beans, roasted Brussels sprouts, arugula salad, egg noodles, lingonberry preserves or tart cranberry sauce.
This is also a great recipe to serve as an appetizer. Make small meatballs and serve them with vegetables and hummus, zucchini rolls or a vegetable charcuterie board.
How to Store Leftover Swedish Meatballs
Refrigerate leftover Swedish meatballs and gravy in an airtight container for up to four days.
Reheat them on top of the stove over low heat.
Freeze cooked Swedish meatballs before adding them to the gravy. Arranged room temperature baked meatballs on a baking sheet and pop them into the freezer.
Once the meatballs are frozen, place them into a freezer-safe container for up to three months.
Freeze uncooked Swedish meatballs on a baking sheet. Once they are frozen place them into a freezer-safe container.
Thaw the meatballs in the refrigerator overnight.
To Serve - make the brown gravy, if you are using uncooked meatballs, bake them and add the cooked meatballs to the sauce for a quick dinner.
Freezing the meatballs in the gravy is not recommended if the cream has been added, the cream will separate.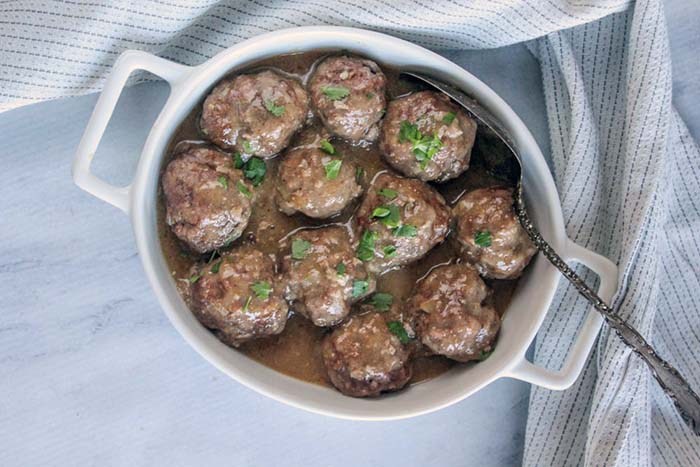 Tips
For tender meatballs, don't over mix the meat. Gently combine the ingredients using your hands or a wooden spoon.
Use a cookie scoop to scoop out the meat and form them into meatballs.
Thicken the sauce if necessary by gradually adding more flour, and you can also make the sauce thinner by gradually adding more beef broth.
If you have extra time, refrigerate the meatball mixture for 30 minutes before making the meatballs.
Recipe Variations
Ground Turkey Swedish Meatballs. For a lighter version, replace the ground beef and pork with ground turkey and the beef broth with chicken stock or broth.
Swedish Meatballs with Mushrooms. Saute 6 ounces of sliced mushrooms and add them to the brown gravy with the meatballs.
Diary-Free Swedish Meatballs. Replace the cream with dairy-free milk such as oat milk, almond milk, or coconut milk, and the butter with olive oil or avocado oil.
Swedish Meatball Meatloaf. Instead of making meatballs, form the ground meat mixture into a meatloaf. Bake at 375 for 45 minutes. Make the gravy and serve it as a side to the meatloaf.
Gluten-Free Swedish Meatballs. The meatballs don't have bread crumbs in them, so all that you need to do is replace the flour in the gravy with corn starch, tapioca starch, or gluten-free flour blend.
Instead of mixing the flour with butter in the skillet, mix the starch with ¼ cup of broth or water to form a paste. Gradually add it to the broth in the skillet until the sauce thickens to make a rich gravy that is gluten-free.
Do you want more recipes like this? Subscribe to receive a free e-book and meal suggestions straight in your inbox!
You Might Also Like These Meatball Recipes
If you like this recipe, please comment and rate it below!