Homemade Swedish meatballs are seasoned, baked in the oven then covered in a rich and creamy brown gravy. The ultimate comfort food! They are low-carb with a gluten free and dairy-free version.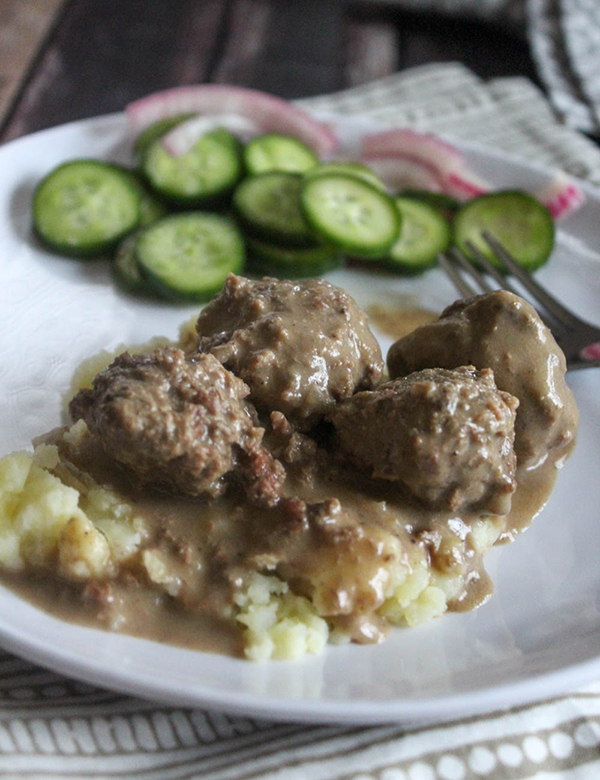 Traditional homemade Swedish meatballs are usually fried in a pan. The gravy is then made in the same pan from the meat drippings. I know fat isn't our enemy anymore, but that's a lot of calories. So I lightened them up a bit, and they still taste rich and delcious.
Serve these over a pile of noodles or a heap of mashed potatoes with a side of cucumbers in vinegar.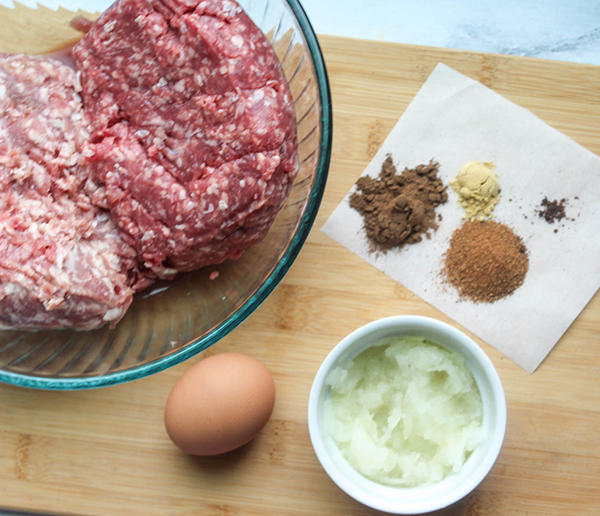 Here is what you will need to make homemade Swedish meatballs
lean ground beef such as ground round or ground sirloin
ground pork
onion
egg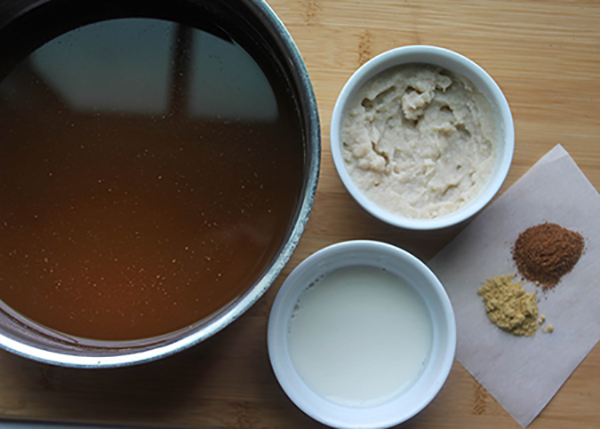 Here is what you will need for the brown gravy
Meatball Fun Facts
Did you know that Swedish meatballs actually originated in Turkey? They were brought to Sweden by Charles XII when he returned home from Turkey in the early 18th century.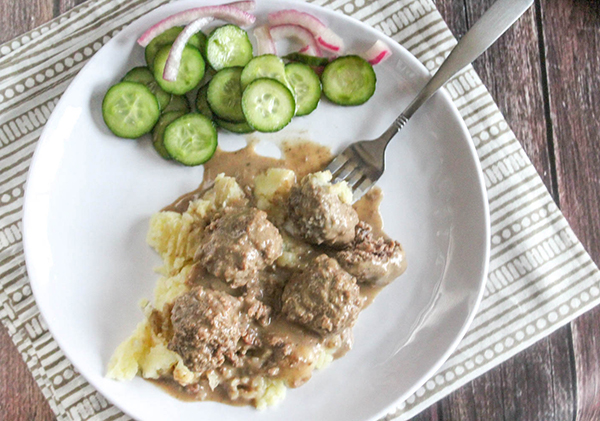 Why this recipe works
Swedish meatballs can be high in fat. This recipe has been lighted up a bit, here is how:
Traditional meatballs are cooked on top of the stove and the gravy is made in the same pan using the drippings from the meat. These meatballs are baked in the oven and added to the brown gravy that is made by adding a slurry of water and flour to the broth
Milk or light cream is used in place heavy cream.
Tip!
A few hours before serving place the meatballs and gravy into the refrigerator to allow the fat to solidify. Skim it off the top and place the meatballs and gravy into a pan and re-heat.
Freeze Them
Once the meatballs have been baked and drained, place them onto a clean baking sheet and freeze them. When they are completely frozen, place them in a freezer container and store for up to three months. When it's time to eat them, simply add them directly to the gravy while they are still frozen.
You can also make extra gravy and freeze it. When it's time to eat, thaw the gravy in the refrigerator, and heat it on the stove. Once the gravy has been heated up, add the meatballs and cook until they are heated through.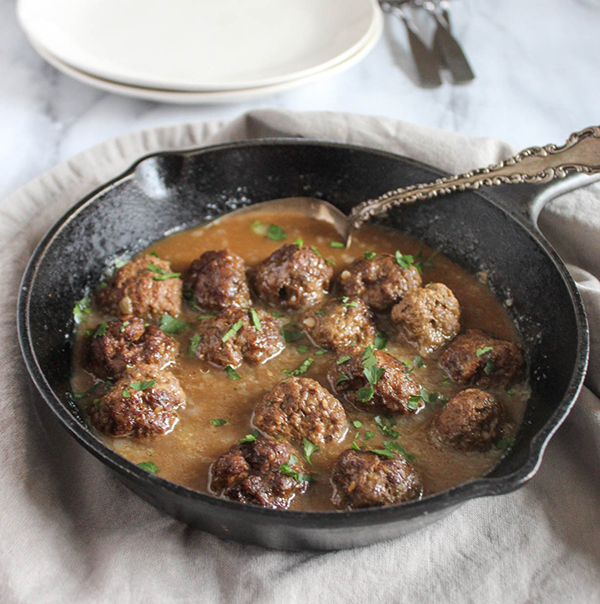 Variations
Gluten Free
Even though most meatball recipes are made with breadcrumbs, I don't use them and don't really miss them, so the meatballs themselves are gluten-free, the gravy is not. Here is how to make a gluten-free gravy:
Pour the broth into a saucepan and add the seasonings.
Reduce the heat to low and gradually add a mixture of 3 tablespoons of organic cornstarch combined with ⅛ cup of water to the broth and stir to thicken to your preference of thickness.
You can also use 3 tablespoons of arrowroot with ⅛ cup water, and be careful to not overheat the mixture. Arrowroot will lose its thickening properties when it is overheated.
Dairy-Free
Replace dairy milk with your favorite nut milk, like this homemade cashew milk.
You Might Like these Recipes: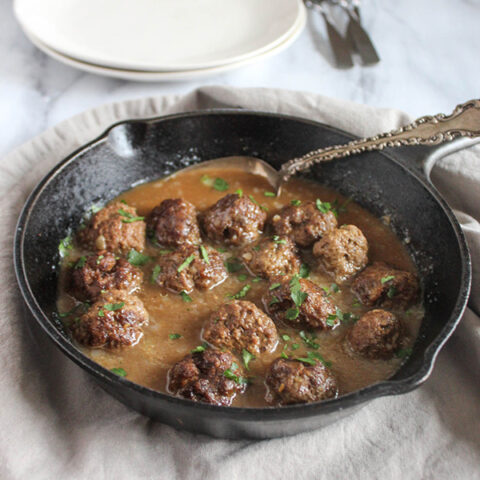 Homemade Swedish Meatballs
Baked meatballs are served in a rich and creamy deliciously seasoned brown gravy.
Ingredients
MEATBALLS
FOR THE GRAVY
3 tablespoons flour mixed with ⅛ cup water
¼ teaspoon nutmeg
¼ teaspoon ground ginger
3 cups beef stock
¼ cup milk, cream or half and half
Instructions
THE MEATBALLS
Pre-heat oven to 375
Roll the meat mixture into balls and place them on a parchment-lined baking sheet, and bake for 20 minutes

Remove them from oven and place them on paper towels to drain off excess fat
THE GRAVY
Place the water/flour mixture into a pan over LOW heat and gradually whisk in the beef broth stirring until the sauce thickens.

Allow to simmer on low for 15 minutes and stir in the cream and simmer for 10 minutes more
GLUTEN FREE GRAVY
Heat the broth in a sauce pan over low heat
Combine 3 tablespoons organic corn starch or arrowroot powder mixed with ⅛ cup water
Gradually whisk the thickener into the broth until it has thickened
Add the meatballs
Add the milk and serve
Notes
For Dairy Free Gravy, replace the milk or cream with your favorite nut milk
Nutrition Information:
Yield:

6
Serving Size:

5 meatballs
Amount Per Serving:
Calories:

582
Total Fat:

36g
Saturated Fat:

14g
Trans Fat:

0g
Unsaturated Fat:

18g
Cholesterol:

214mg
Sodium:

169mg
Carbohydrates:

6g
Fiber:

0g
Sugar:

1g
Protein:

54g
Nutrition information is provided by an online calculator and is meant to be used for informational purposes only. Even though I try to provide accurate information, these figures should still be considered as estimates.