Classic hummus can be whipped up in minutes with a few simple and fresh ingredients and it tastes much better than store bought.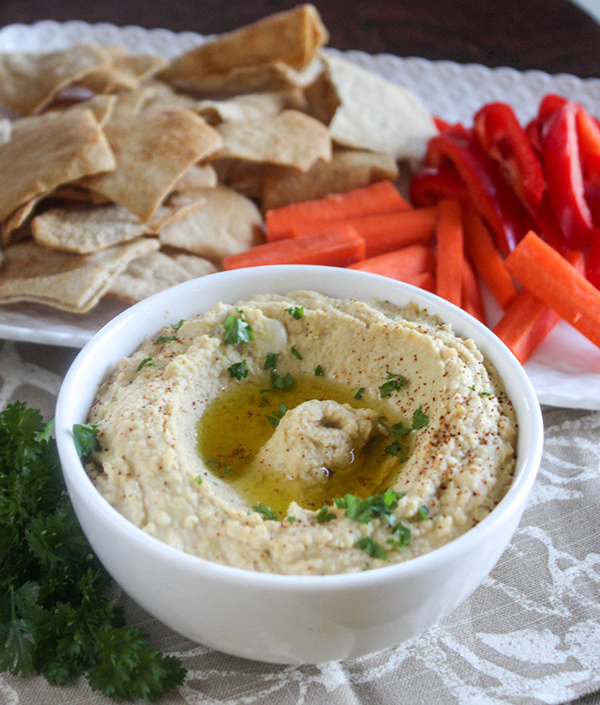 Packaged hummus was always on my grocery list until I discovered how easy it is to make at home, and more importantly how delicious homemade hummus tastes. Once you give this recipe a try, I'm sure you will agree that homemade is the best tasting hummus you have had.
It's light, creamy, full of flavor and a bit of a blank slate. If you prefer more flavor to your hummus, you can get creative and add extra flavors. Try these; caramelized onions, sun-dried tomatoes, roasted garlic in place of raw garlic, chopped olives, roasted peppers, chopped fresh herbs or whatever you are in the mood for.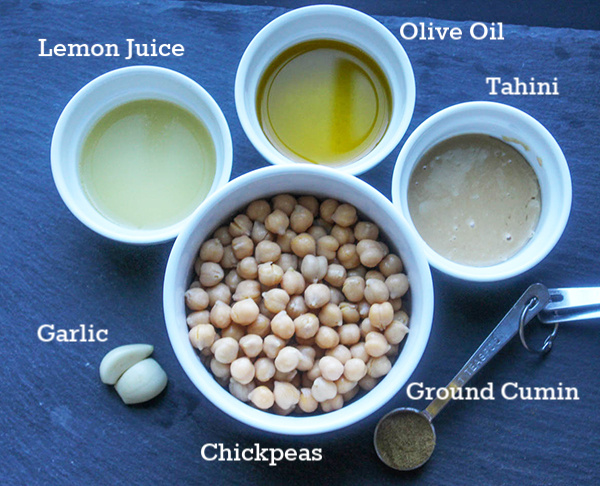 Classic Hummus Ingredients
As an Amazon Associate, I earn from qualifying purchases
There are only a few simple ingredients needed to make a plain and classic hummus, here is what you will need:
Chickpeas For quick and easy hummus, I use canned and drained chickpeas. They are fully cooked and soft enough so they will easily break down in the food processor for a creamy hummus. Choose organic canned beans that are lower in sodium, and rinse them before using them.
note: You can also used dried chick peas that have been soaked overnight or for several hours and then cooked on top of the stove. using dried beans is a more economical choice but does take a bit more time and planning ahead.
Tahini Sauce Adds a wonderful nutty"ish" flavor to the hummus. If you don't like tahini sauce, you can leave it out. Your hummus will still be tasty without it.
Fresh garlic When it comes to garlic, more is better in our kitchen. Feel free to cut back and use only one clove.
Fresh squeezed lemon juice livens up the hummus and gives it a fresh and vibrant flavor.
Ground cumin The ingredient that added at the end of blending process, and ties all of the flavors together. If you have ever tried hummus without cumin, it will taste flat, like something is missing.
Olive oil Helps to make the blending blending easy, and a key ingredient for a smooth hummus.
Filtered Water to adjust the consistency of the finished hummus.
How to Make Creamy Hummus from Scratch
I make hummus a lot, and I've played around with the ingredients enough and have discovered that adding the ingredients in a certain order, and stopping to process them makes a super flavorful and creamy hummus.
First, the tahini, garlic and lemon juice are added to the food processor for a quick blend.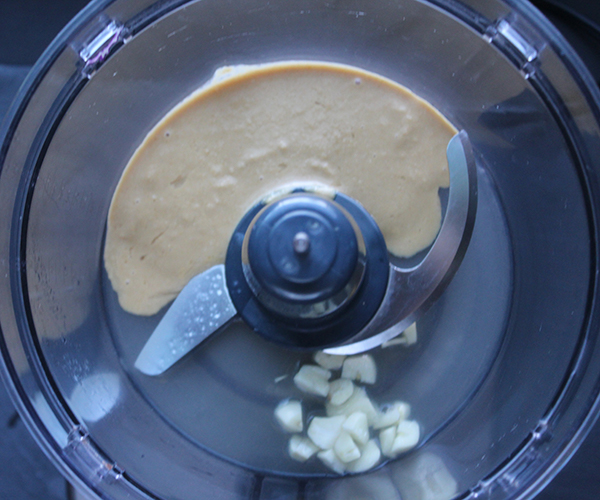 Notice how the tahini whips up nicely which adds a light texture to the hummus.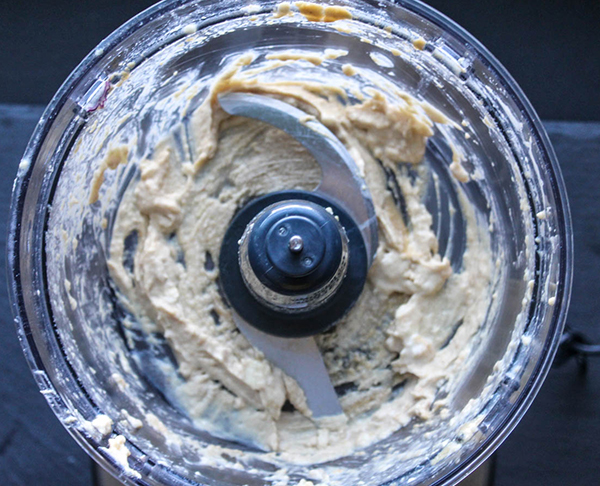 Once you have that fluffy paste, add the chick peas and process them until they are crumbly.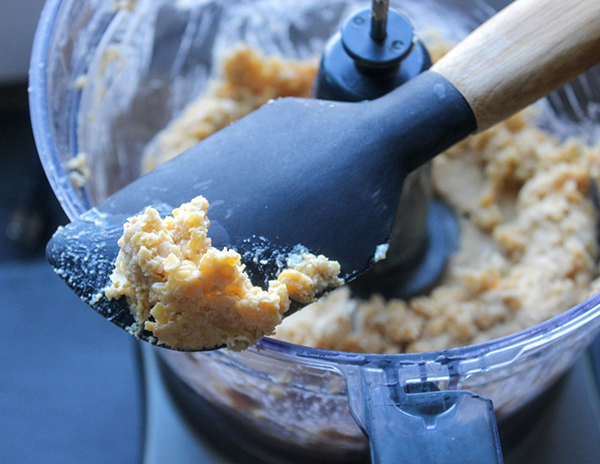 Next, run the food processor and pour the oil slowly until the mixture is blended and fairyly smooth.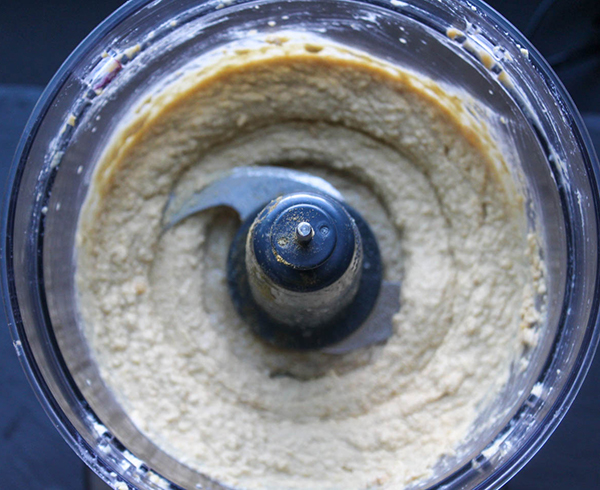 The last step is to slowly add water with the food processor running until the hummus is a texture that you like.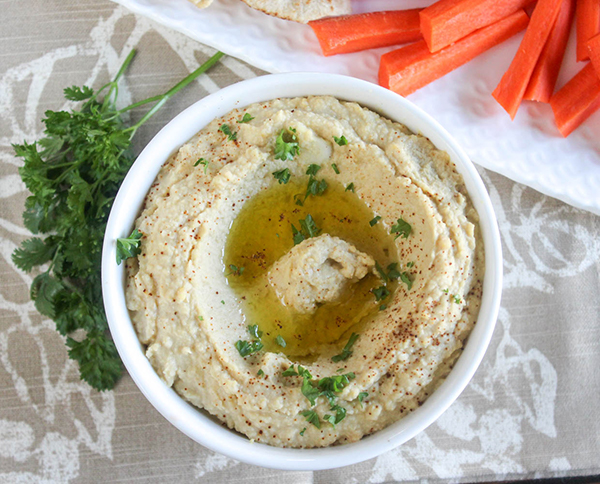 Tips for a Smooth and Creamy Hummus
Some recipes suggest that you remove the skins from the chickpeas for a super smooth hummus. I've tried it and there is a slight difference in the texture, and in my opinion not enough of a difference to take the time to do this. There are a lot of chickpeas in a 15 ounce can!
Another option for a smooth hummus is to add approximately 1 teaspoon of baking soda to the water when cooking the dried and soaked chickpeas. The baking soda raises the PH of the water making the chickpeas more soluble. I have tried this method and it makes a small difference, just as the peeling of the chickpeas does. If you choose to use the dried chickpeas give this a try it's less hands off than peeling the chickpeas.
If your hummus gets thick while it's stored in the refrigerator, gradually add a few teaspoons of water ( stir in one teaspoon of water at a time) until it's a a texture that you like.
The power of your food processor or blender will also have an impact on the texture of your hummus. If you have a super high speed blender or food processor, the hummus will be smooth.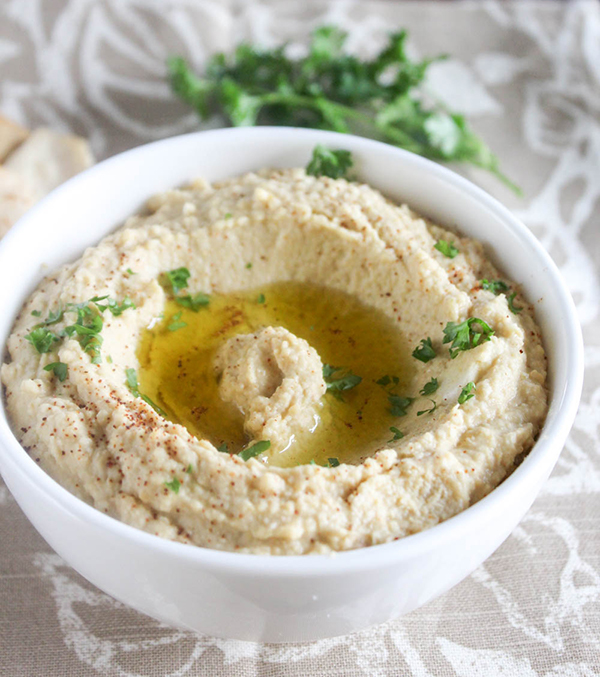 Tasty Ways To Use Classic Hummus
Change it up! Add a few tablespoons up to ¼ cup (to taste of): chopped Kalamata (Greek) olives, fresh chopped herbs, roasted peppers, spicy peppers, hot sauce or pesto sauce.
Use hummus as a dip for veggies, pita bread or chips, spread it on a sandwich, add it to your favorite vinaigrette salad dressing for a creamy touch.
Serve it in a small bowl alongside your favorite charcuterie board or with fresh veggies and pita chips. Make a trench in the hummus with your finger or a knife and drizzle olive oil and garnish with fresh herbs.
Store homemade hummus in the refrigerator for up to 5 days or freeze in a freezer safe container for a few months. Thaw it in the freezer over night.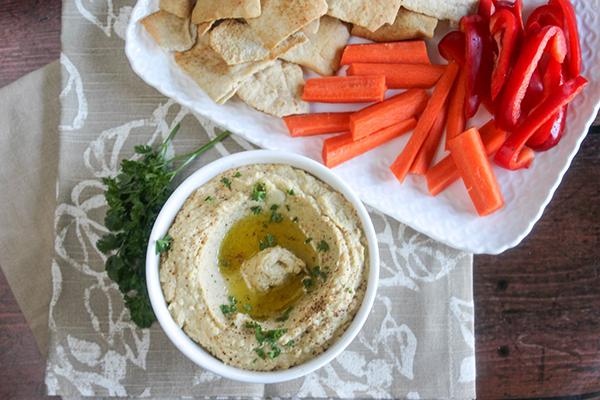 Try These Homemade Hummus Recipes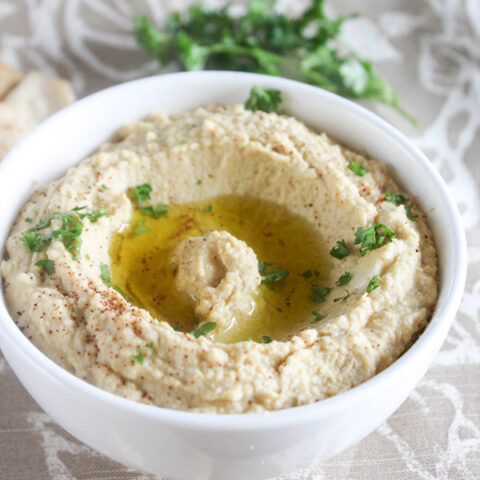 How to Make Classic Hummus from Scratch
Classic hummus can be made in minutes with fresh and wholesome ingredients
Ingredients
1 can of organic chickpeas
¼ cup tahini sauce
2 cloves of fresh garlic
juice of one lemon (about 2 to 3 tablespoons)
½ teaspoon ground cumin
¼ cup olive oil
up to ¼ cup of filtered water
Instructions
Prepare the ingredients: peel and rough chop the garlic, squeeze the lemon juice, drain and rinse the chickpeas or cook and drain them if you are using dried chickpeas
Place the chopped garlic, lemon juice and tahini sauce into a food processor and process until all of the ingredients are blended together
Add the chickpeas to the food processor bowl and process until the mixture becomes crumbly
Slowly pour in the olive oil while the food processor is running
Add the cumin, and process while gradually adding up to ¼ cup of water until the hummus becomes creamy and to the texture that you like
Nutrition Information:
Yield:

8
Serving Size:

⅛ cup
Amount Per Serving:
Calories:

141
Total Fat:

11g
Saturated Fat:

2g
Trans Fat:

0g
Unsaturated Fat:

9g
Cholesterol:

0mg
Sodium:

6mg
Carbohydrates:

8g
Fiber:

2g
Sugar:

1g
Protein:

3g
Nutrition information is provided by an online calculator and is meant to be used for informational purposes only. Even though I try to provide accurate information, these figures should still be considered as estimates.