This classic hummus recipe can be whipped up in minutes with a few simple and fresh ingredients. It's a delicious dip that is fresh and tastes much better than any hummus that you can buy in the grocery store.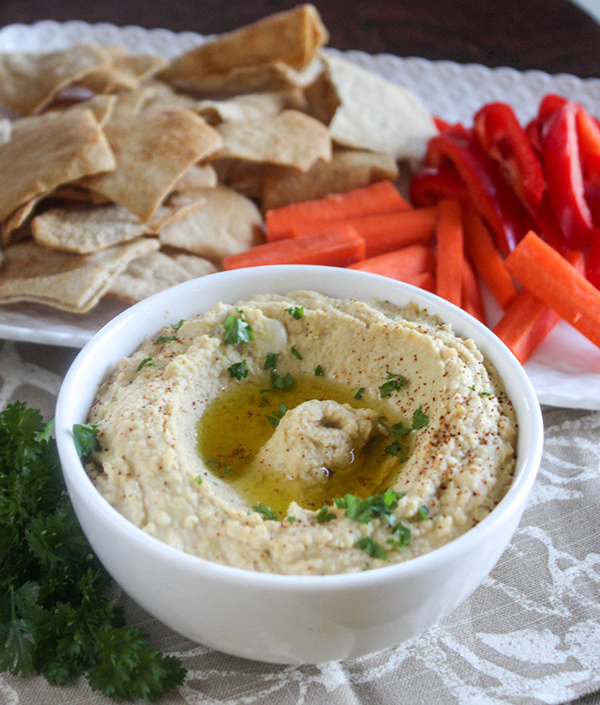 Once you give this homemade basic hummus a try, I'm sure you will agree that it is a good hummus recipe. If you prefer more flavor in your hummus, you can get creative and add extra flavors like this sun-dried tomato hummus.
Why This Recipe Works
It's easy to make with just a few ingredients.
Homemade hummus tastes better than store-bought.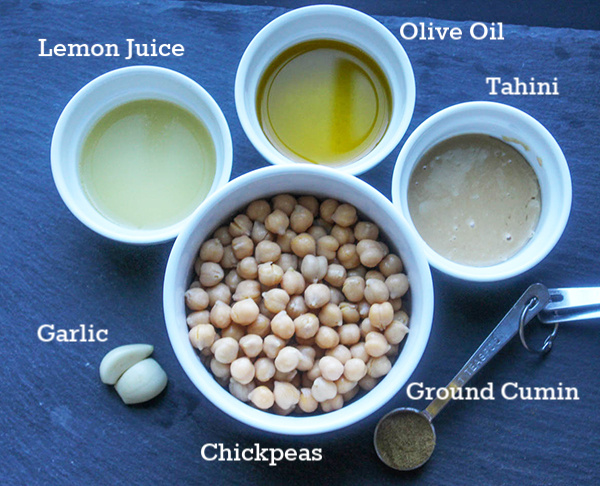 Here is what you will need
As an Amazon Associate, I earn from qualifying purchases
This is an overview of the ingredients and steps to make this recipe, scroll down for a printable recipe card with exact measurements and instructions.
Ingredients
Chickpeas
Fresh lemon juice
Raw Garlic
Water
Equipment
How to Make The Best Homemade Hummus
Get the ingredients ready: Drain and rinse the chickpeas, roughly chop the cloves of garlic, squeeze the lemon juice, measure the oil, tahini and ground cumin.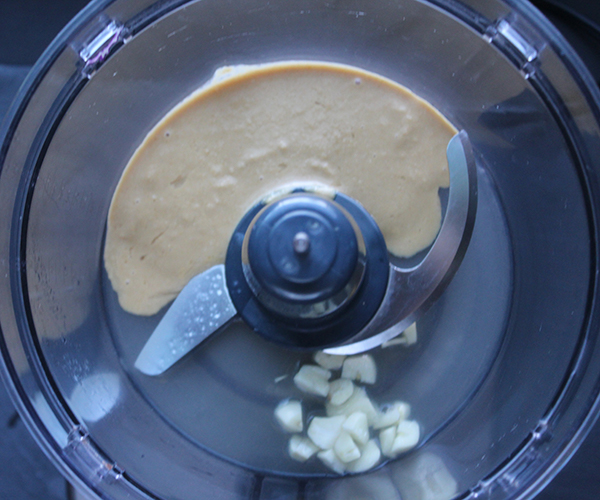 Step 1. Start with Tahini
Add the tahini, lemon juice and garlic to the food processor bowl.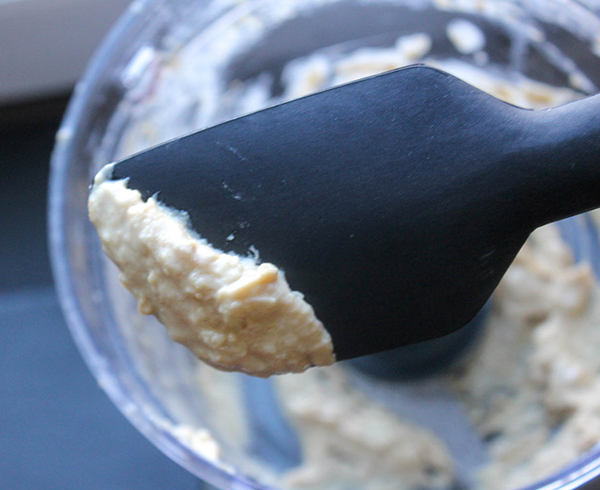 Step 2. Blend
Quickly blend the tahini and lemon juice into a fluffy paste.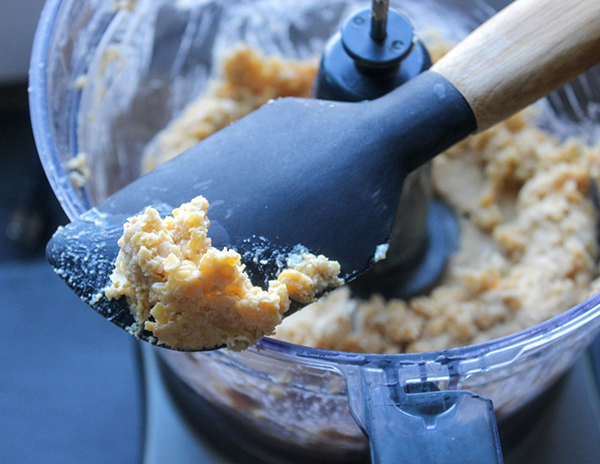 Step 3. Add the chickpeas
Once you have a nice and fluffy paste add the chickpeas and process into a crumbly mixture.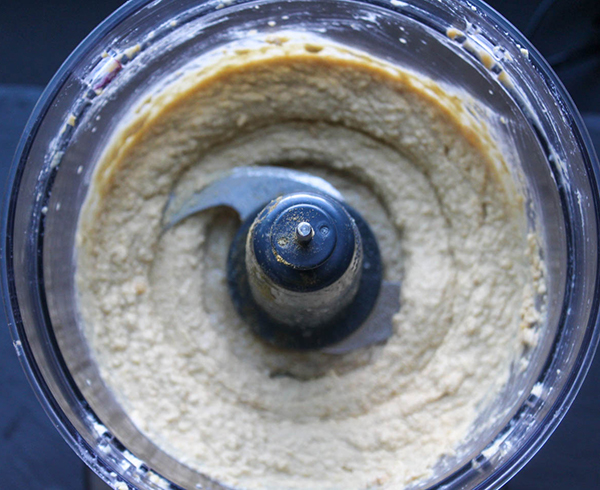 Step 4. Add olive oil
With the food processor running, add the olive oil in a steady stream until the hummus is blended and fairly smooth. Add the ground cumin and gradually add water to smooth out the hummus until it reaches a texture that you like. Adjust the flavor with salt if necessary.
Ingredient Notes and Substitutions
Chickpeas. I like to use organic canned chickpeas to make this easy recipe quick. You can use dried chickpeas that have been soaked and cooked.
Garlic. Fresh garlic makes this hummus taste so fresh. It can be substituted with ½ teaspoon garlic powder or garlic in a jar.
Fresh Lemon juice is another ingredient that makes this hummus fresh tasting. Depending on the size of the lemon, you may only need ½ of a lemon.
Tahini is a sesame paste made from sesame seeds. It has a savory, bitter and nuttly flavor. It is a staple in Mediterranean and Middle East Cuisines.
Tahini can be substituted with almond butter, cashew butter or even peanut butter. You can also leave it out and adjust the consistency of the hummus with more olive oil.
Olive oil. I like to use a good olive oil such as organic extra-virgin olive oil which has a nice delicate flavor.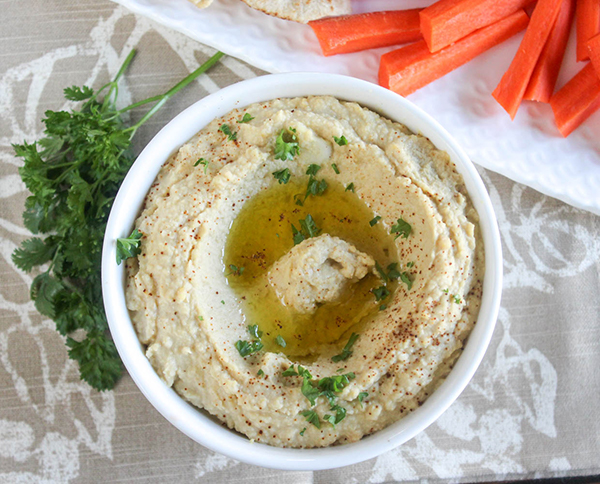 How To Store Homemade Hummus
Homemade hummus can be stored in the refrigerator in an airtight container for up to a week.
Freeze homemade hummus for up to three months. Defrost it in the refrigerator overnight.
How to Serve Hummus
Hummus is more than a dip for fresh veggies and pita bread, you can use it as a sandwich spread, use it in wraps, add it to deviled eggs, make salad dressing or add it to a charcuterie board with a drizzle of olive oil.
Secrets for a Smooth and Creamy Hummus
I've played around with the ingredients enough when making hummus and discovered a few ways to achieve the ultimate creamy texture.
The order that the ingredients are added to the food proessor makes a difference in the texture of the hummus. I've found that blending the tahini, lemon juice and garlic first helps to make the hummus lighter and creamy.
Some recipes suggest that you remove the chickpea skins for a super smooth hummus. I've tried it and there is a slight difference in the texture, and in my opinion not enough of a difference to take the time to remove the skins of the chickpeas; there are a lot of chickpeas in a 15 ounce can or chickepeas!
The power of your food processor will affect the texuture of your hummus. If you have a super high speed food processor your hummus will be smooth.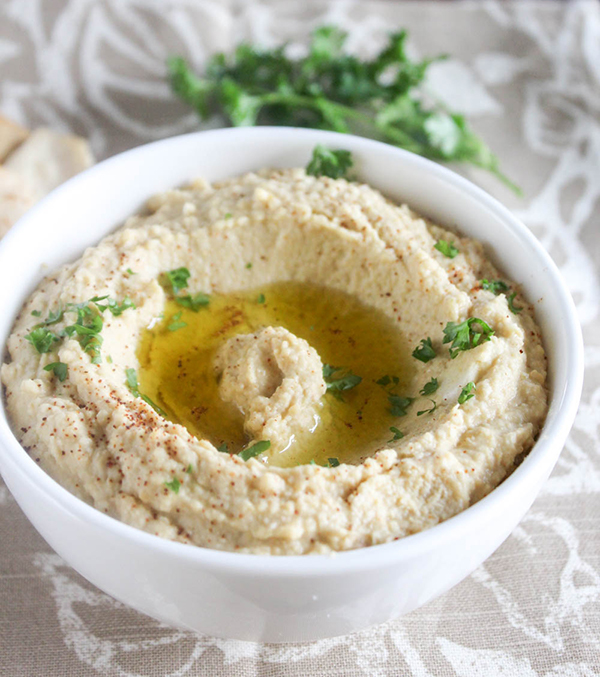 Top Tip
If the hummus is thick after being stored in the refrigerator, you can easily thin it out by gradually stirring in a few tablespoons of water a little bit at a time.
Recipe Variatons
Classic hummus is a basic recipe that is a blank slate, and you can add so many different flavors to it, here are some suggestions:
Roasted Red Pepper Hummus. Add some roasted peppers to the food processor with the chickpeas.
Pesto Hummus. Add a tablespoon or two to taste to your favorite hummus.
Olive Hummus. Stir in ¼ cup or more to taste of chopped olives.
Fresh herb hummus. Add a handful or two of any combination of fresh herbs such as fresh parsley, oregano, basil, cilantro, mint, or chives.
Everything but the bagel hummus. Stir in a tablespoon or more to taste of everything but the bagel seasoning.
Yogurt hummus. Stir in a quarter cup of plain Greek yogurt for an extra creamy hummus.
For more simple and delicious recipes like this, subscribe to our newsletter and receive a free e-book and meal suggestions straight in your inbox!
Can I make hummus in a blender?
Yes, you can make homemade hummus in a blender, just be sure that it's a high-powered blender.
Can I make homemade hummus with dried chickpeas?
Yes, you can. The dried chickpeas will need to be soaked and cooked before using them to make hummus.
If you like this recipe, please comment and rate it below!
Try These Homemade Hummus Recipes