Quick and easy chili is a hearty chili recipe that is full of deliciousness. It can be on your table in less than one hour even though it tastes like it was cooking all day long!
Up until a few years ago, I didn't want any part of the Instant Pot sensation, but that changed, and glad it did. They are perfect for making soups, stews, and chilis in a hurry. If you don't have a pressure cooker, I have also included stovetop instructions.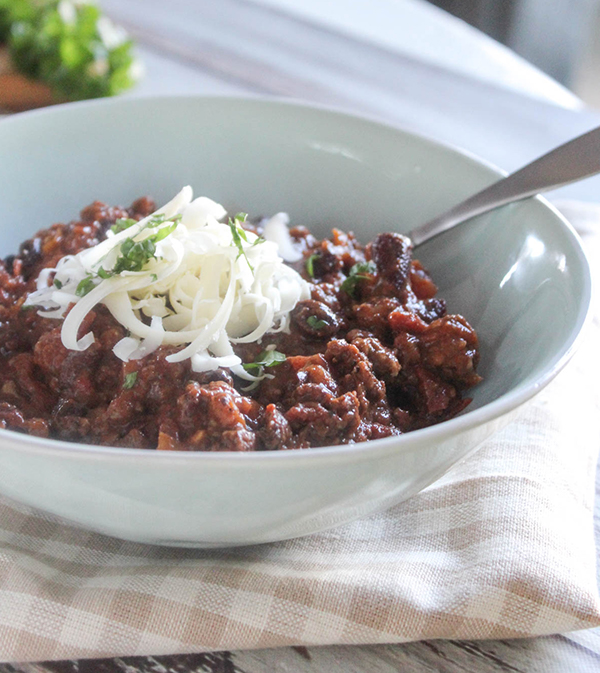 Why This Recipe Works
It's super flavorful! I discovered that adding the spices (chili powder and cumin) to ghe garlic and onions while sauteeing them rathern than adding them later in the process really elevates the flavor.
It's customizable! You can easily customize this recipe by adding more or less jalapeno peppers to control the heat. Use less meat and more beans or more meat and no beans!
It's Quick! This recipe can be made in about a half an our even though it tastes like it's been simmering for hours.
Here is what you will need
As an Amazon Associate, I earn from qualifying purchases
This is an overview of the ingredients and steps to make this recipe, scroll down for a printable recipe card with exact measurements and instructions.
Lean Ground Beef
Olive Oil
Onion
Garlic
Bell Peppers
Jalapeno Peppers
Diced Tomatoes
Kidney or Black Beans
Fresh Cilantro
Chili Powder
Ground Cumin
Chili Toppings such as: avocado slices, guacamole, onions, lime juice, cheese, pickled jalapenos.
Pressure Cooker
Total Estimated Time to Make This Recipe: 5 to 10 Minutes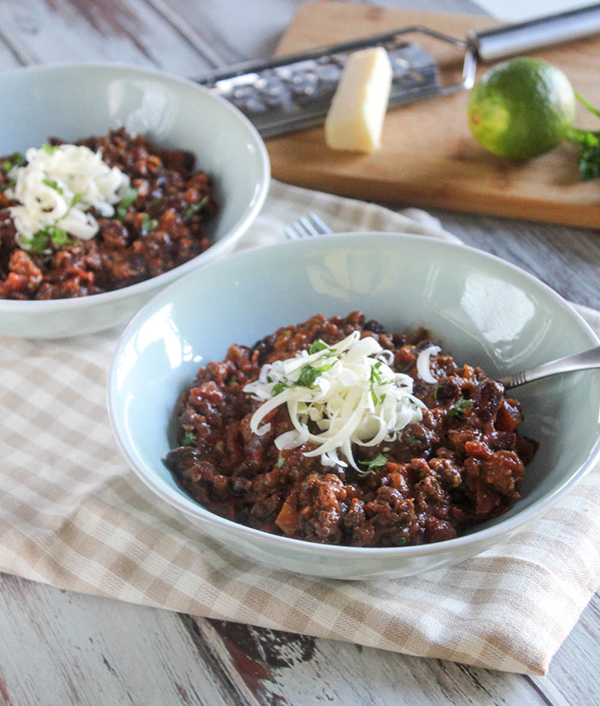 Ingredient Notes & Substitutions
The Beef - Lean ground and preferably grass-fed beef is what I use when I make chili. Grass-fed beef is naturally lean and a healthier choice. It's higher in nutrients and healthier fats. You can read about it on American Grass Fed.org. If you don't have access to grass-fed beef, good quality lean ground beef will work.
You can also substitute the beef with lean ground turkey, pork or chicken.
Onions - Any type of onion is fine, I prefer yellow onions which are the standard cooking onion. Sweet onions such as Vidalia onions will also work.
Fresh Chopped Garlic - Fresh garlic is the best way to season your food with garlic. If you don't have fresh garlic, you can use ⅛ teaspoon garlic powder for every clove of garlic, however the fresh taste might be compromised.
Bell Peppers - Any kind of bell pepper will work here. I like to use a combination of green, red, orange or yellow.
Jalapeno Peppers - Spices up the chili, if you don't like hot and spicy chili, You can leave out the jalapeno pepper, use less of it or substitute it with a ½ of poblano pepper. Pickled jalapenos will also work in the chili.
Tip! Wear gloves when cutting up the jalapeno pepper to avoid your hands from burning. To lessen the heat of the pepper, cut away the inner membranes and the seeds which hold most of the heat.
Chopped or Diced Tomatoes - Fresh chopped tomatoes are always the best choice. There is no added salt, and the fresh flavor is superior. If they aren't available you can use a can of low or no sodium added tomatoes.
Beans - I like to use a combination of kidney and black beans. You can use all of one type or mix and match. If you prefer fewer beans, you can cut the amount of beans in half.
Tip! If you use canned beans, drain them and rinse them before adding them to the chili. Dried beans are a more economical option, you can buy them in bulk and they last a long time. I like use Food To Live Organic Black Beans. Plan ahead when you use dried beans, they need to be soaked and cooked before adding them to chili.
Fresh Chopped Cilantro - Adds a fresh flavor and should be added just before serving.Prepare the ingredients: See step one above
How to Make it On Top of the Stove
Add the onions, garlic, olive oil, chili powder and ground cumin to a pot and saute over medium meat until the vegetables begin to soften.
Add the bell peppers and cook for a few minutes longer
Add the beef to the pot and cook until the beef is brown and cooked through
Add the jalapeno peppers and tomatoes, reduce the heat to low cover and simmer for 30 minutes
Remove the cover and add the beans, cover and cook for 15 minutes longer, stir in the cilantro and simmer uncovered for 5 minutes longer. Top the chili with your favorite garnishes such as guacamole, chopped avocado, shredded cheese, chopped onions, crumbled chips.
Here Is How to Make Chili in a Pressure Cooker
Prepare the ingredients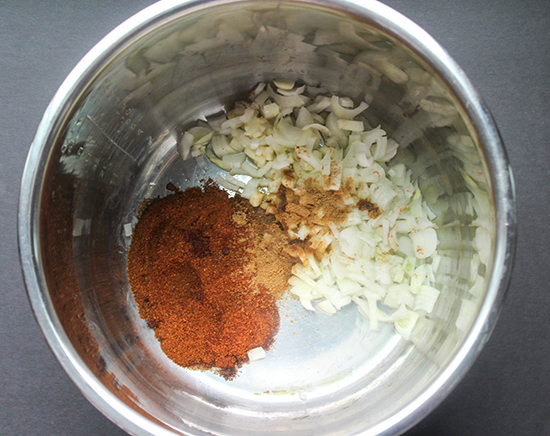 Set the pressure cooker to saute and saute the garlic, onions and spices in the olive oil.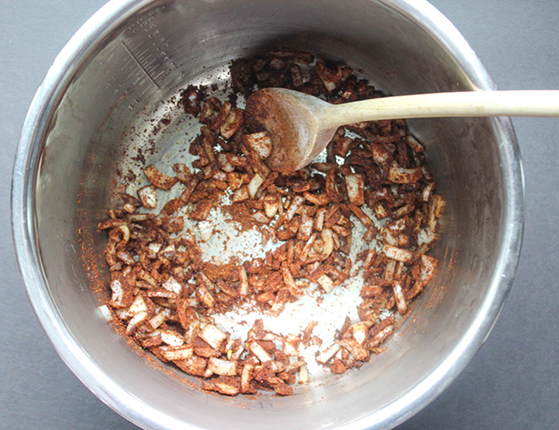 Once they begin to soften add the peppers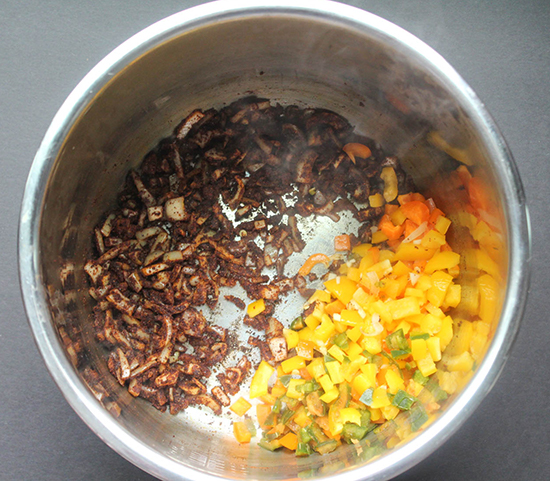 Next, add the ground beef and saute until it is cooked through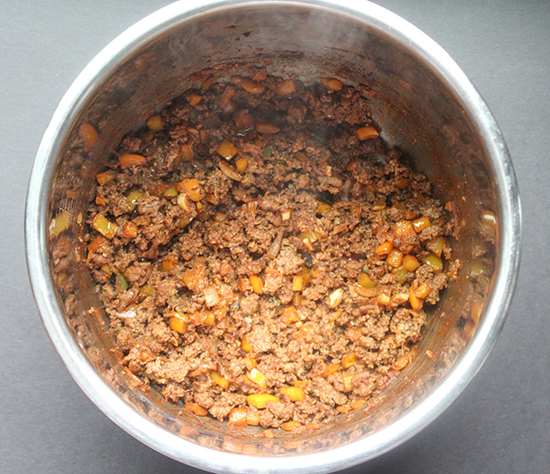 Stir in the tomatoes and beans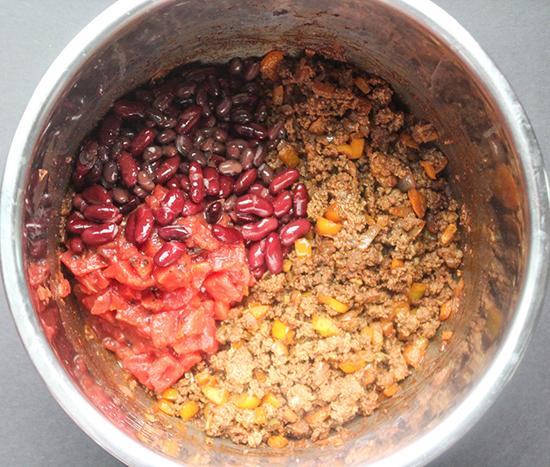 Mix all of the ingredients together, set the pressure cooker and cook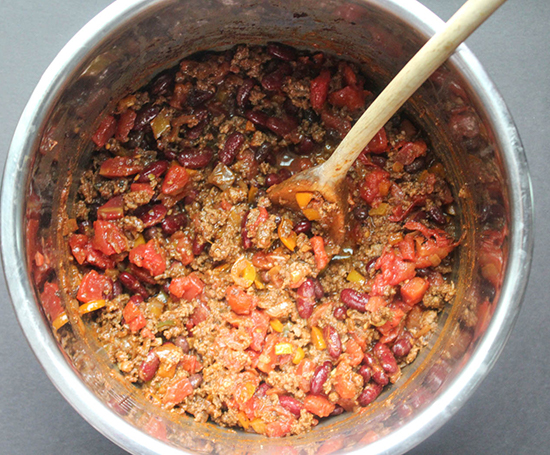 Recipe Tips
If the chili seems watery after it has been cooked in the pressure cooker allow it to cook at a low setting for a few minutes uncovered. Or use a slotted spoon to serve the chili. Any leftover chili will thicken in the refrigerator overnight.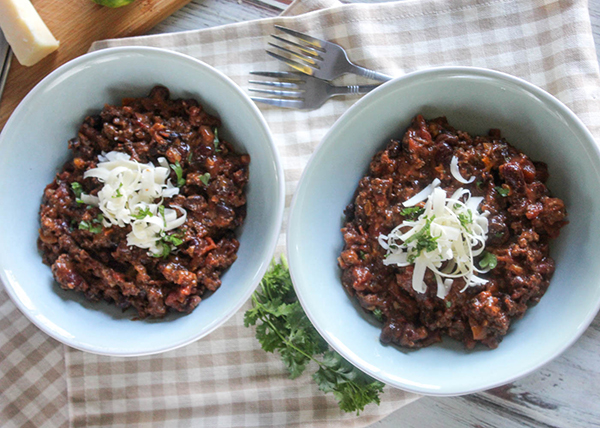 Storing Leftovers & Serving Suggestions
Store leftover chili in an airtight container in the refrigerator for up to four days.
Freeze it - Add the cooked, cooled chili to an airtight freezer container and store it in the freezer for up to three months. Thaw it in the refrigerator overnight. To serve it, heat the chili on top of the stove over low heat until it's heated through.
Serve your chili in a bowl topped with your favorite fixings and a salad on the side. Leftovers taste great on top of a salad, in tacos, nachos, on top of a hot dog or a baked potato.
Variations
Make it vegetarian - Leave out the meat, and add 1 to 1 ½ cups of chopped zucchini, carrots, quinoa or any combination of them.
Sneak in some extra veggies to your day by adding a few diced or shredded carrots and/or zucchini to the chili.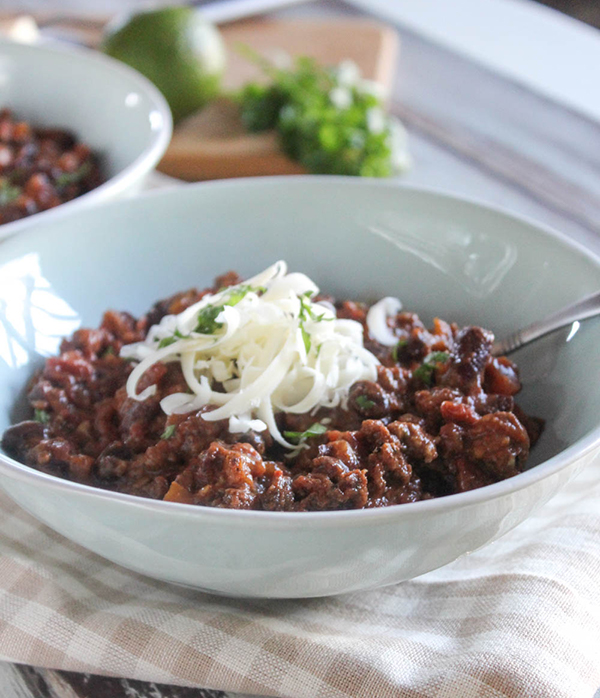 You Might Like these Chili Recipes