Mexican chopped salad is a refreshing easy salad that is filled with beautiful fresh produce and tossed in a homemade cilantro lime dressing. This salad has so much flavor, it will be your new favorite salad.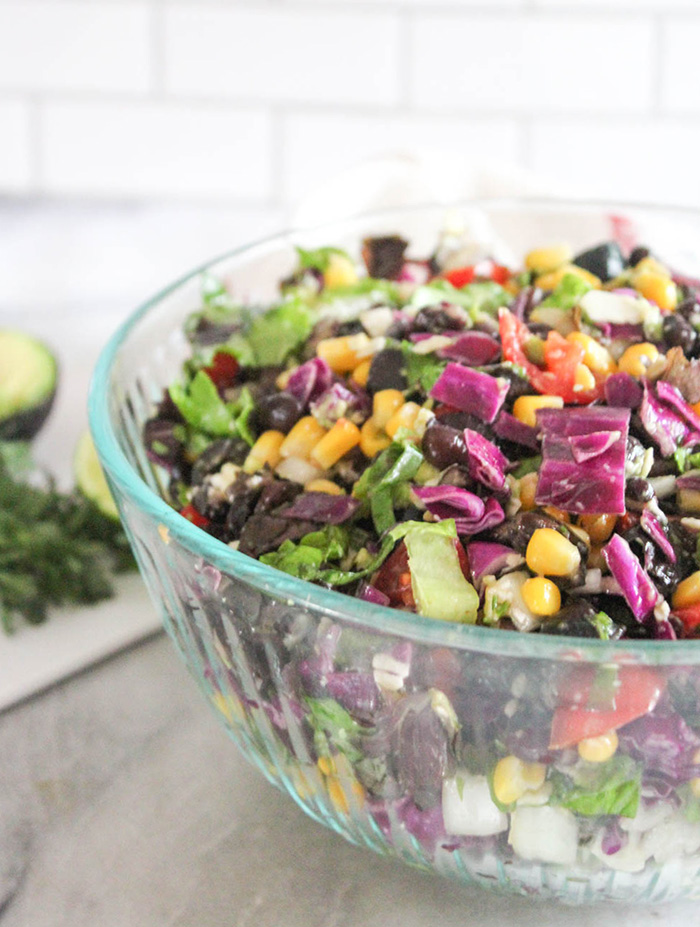 Chopped salads are a favorite in my family! Everyone loves the variety of textures and flavors in every bite. They can be served as a side dish or as a full meal, which is how we usually enjoy this chicken chopped salad.
Jump to:
Why you will love this recipe
Chopped salads are so versatile, see suggested variations below!
It's filled with healthy and fresh ingredients and easy to make!
Here is what you will need
As an Amazon Associate, I earn from qualifying purchases.
This is an overview of the ingredients and steps to make this recipe, scroll down for a printable recipe card with exact measurements and instructions.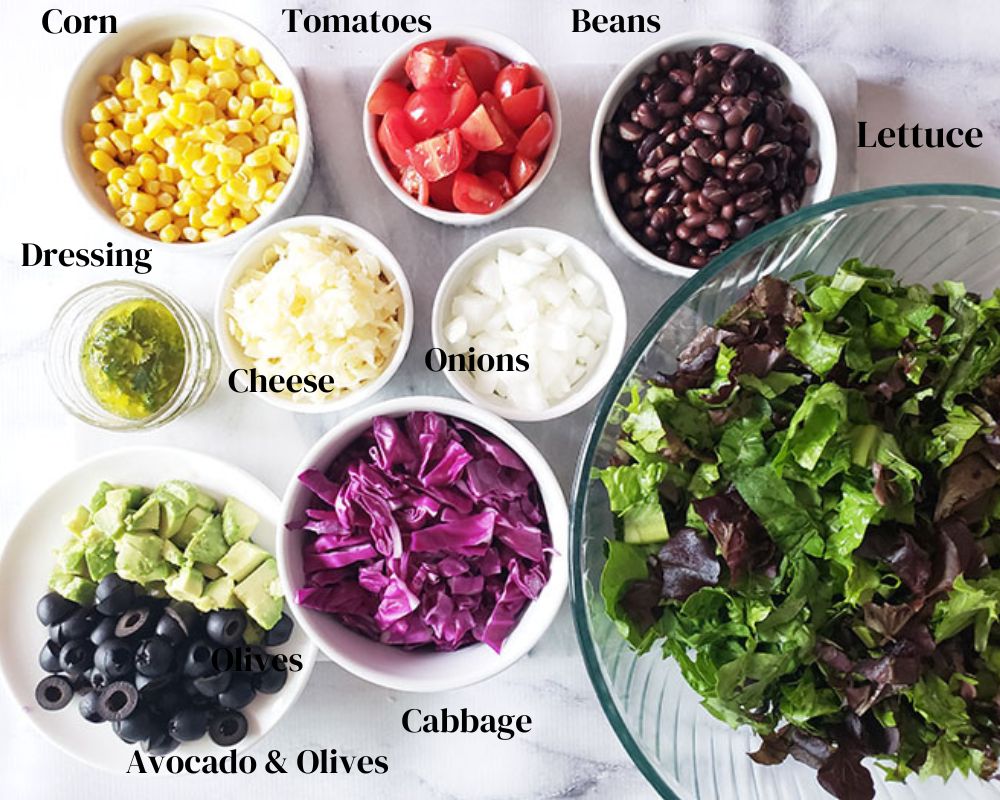 Ingredients
Lettuce
Red Cabbage
Onion
Corn
Black beans
Cherry tomatoes
Shredded cheddar cheese
Ripe avocado
Equipment
How to make Mexican Chopped Salad
Prepare the ingredients: Rinse and dry all of the produce. Chop the lettuce, tomatoes, cabbage, onion, olives, and avocado.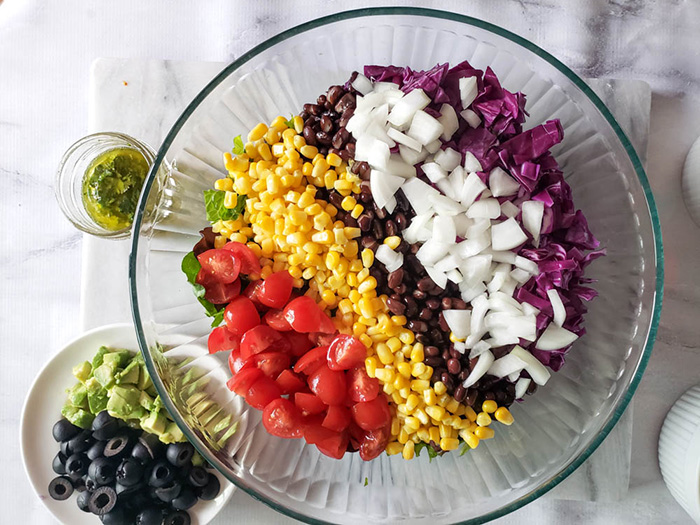 Step 1. Chop and assemble
As you chop each vegetable, place it into a large bowl.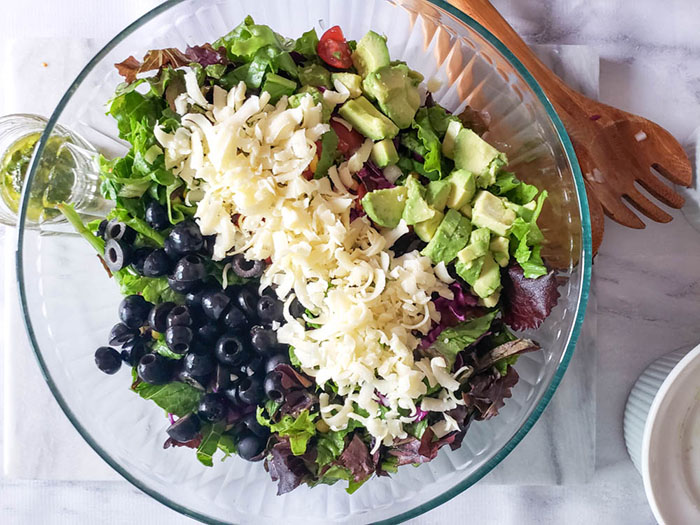 Step 2. Add the olives and cheese
Continue to layer on the salad ingredients in the salad bowl. Add the shredded cheese last.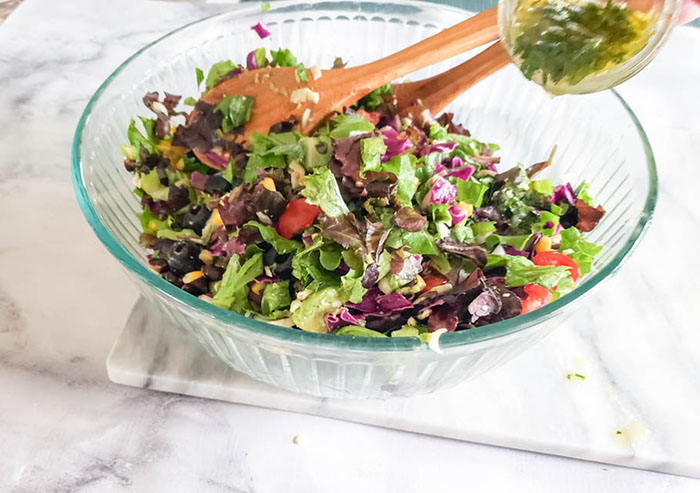 Step 3. Add the dressing
Pour on enough dressing to moisten the salad, and toss all of the ingredients together. Serve with dressing on the side.
Tip! Top with crumbled tortilla chips or tortilla strips for a little extra crunch.
Ingredient Notes & Substitutions
The full list of ingredients to make this Mexican chopped salad recipe is above. Below are notes about some of the ingredients along with ideas for substitutes.
Lettuce - Any type of chopped lettuce can be used to make this salad. I like to use a mix of chopped romaine lettuce and field greens or spinach.
Onion - Sweet onions such as Vidalia onion or red onion are my first choice for salads. The Vidalia onions offer a sweet flavor, while the red onions are less sweet, they are flavorful and add a nice color to the salad.
Corn - When it's in season, I like to use fresh sweet corn and cut the corn kernels off of the cob. When fresh corn is not in season, I use frozen corn.
Cilantro Lime Dressing - Here is my recipe for homemade cilantro lime dressing which can be substituted with your favorite salad dressing.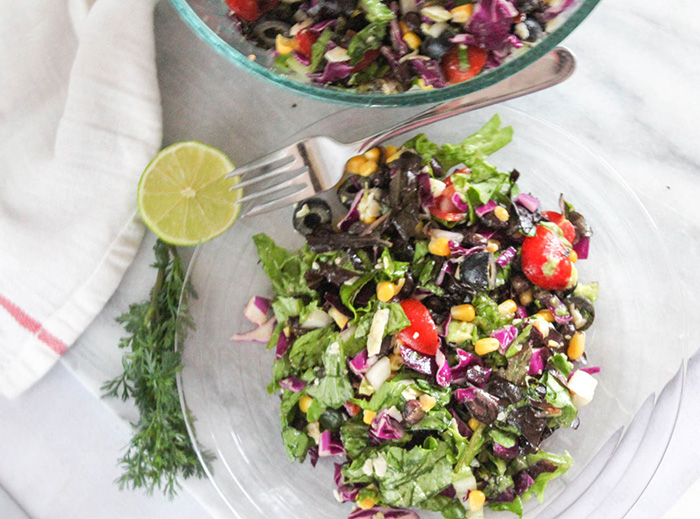 Variations
One of the many great things about salads is that they are so versatile! And so is this Mexican salad recipe. You can add any kind of healthy ingredients. Here are some suggestions:
Add more vegetables - Add any of your favorite chopped vegetables to this salad such as radishes, zucchini, carrots, cucumbers, jicama or bell peppers.
Spicy Mexican chopped salad - Add chopped pickled jalapeno peppers, fresh jalapeno or poblano peppers to taste for a spicy salad.
Change up the cheese - Replace the cheddar cheese with feta cheese crumbles, cotija cheese or queso fresco.
Make the dressing creamy - Stir in a few teaspoons of Greek yogurt or sour cream to the salad dressing for a creamy version.
Serving suggestions
Serve Mexican chopped salad as a main course with grilled chicken or shredded chicken on top and garnish it with chopped fresh cilantro.
This delicious salad tastes great as a side dish for chicken tacos, enchilada casserole or on top of nachos.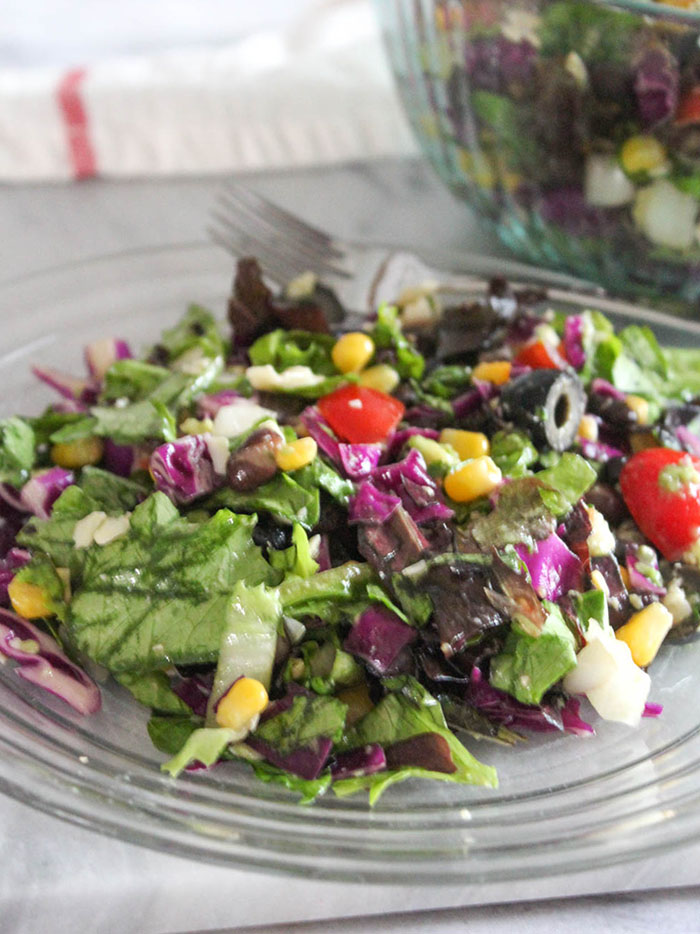 How to store leftovers
Salads in general taste best when they are fresh. If you do have leftover salad, store it in the refrigerator in an airtight container for a day.
Tip! If you anticipate leftover salad, don't add the dressing to the entire salad. Dress the salad in individual servings.
Make ahead instructions
This salad can be easily made ahead of time by prepping and chopping all of the ingredients and storing them separately in the refrigerator for up to two days.
When it's time to serve the salad, assemble it in a large bowl, add the dressing and serve.
Recipe tips and questions
Tips!
Save time and buy chopped lettuce from the grocery store to make this salad even faster.
Depending on how you like your salad, you may not need to use all of the dressing on the salad. Store leftover dressing in the refrigerator.
Questions
Is Mexican Chopped Salad Vegan?
No, this Mexican chopped salad is not. You can easily make it a vegan salad by leaving out the cheese or replacing the cheese with vegan cheese.
For more simple and delicious recipes like this, subscribe to our newsletter and receive a free e-book and meal suggestions straight in your inbox!
You might like these Mexican-inspired recipes
If you like this recipe, please comment and rate it below!
Check out more of our salad and dressing recipes here!