Homemade Sauerkraut in a Jar is one of the easiest recipes to make. It only takes three ingredients and a mason jar.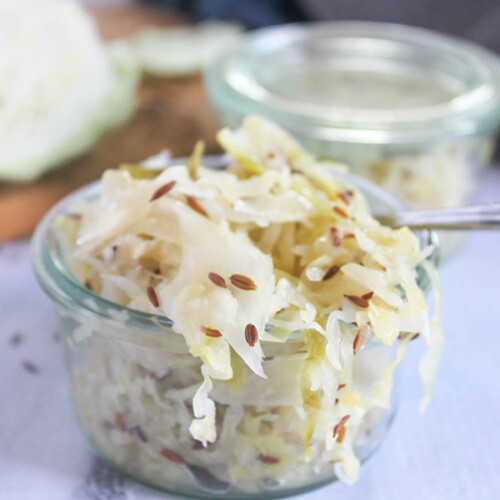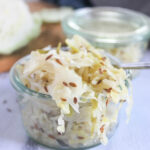 Homemade Sauerkraut in a Jar is one of the easiest recipes to make. It only takes three ingredients and a mason jar and a week for the fermenting process.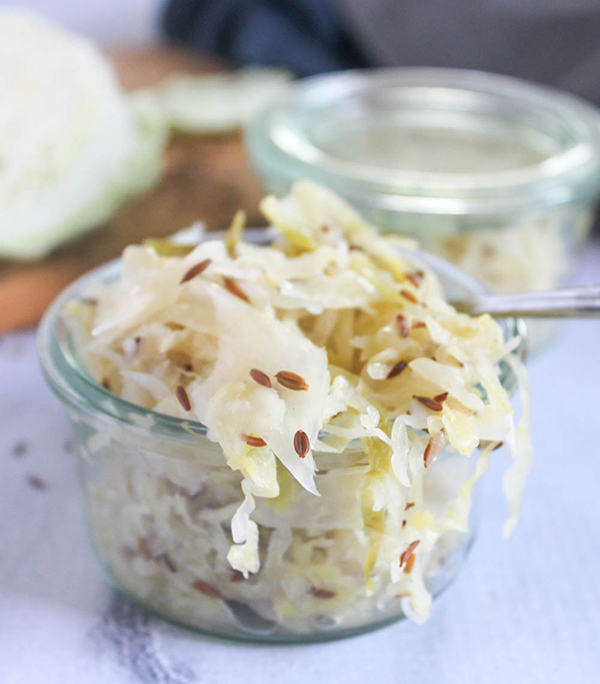 There are certain things that you get used to buying packaged from the grocery store and when you find out how easy it is to make your own sauerkraut, you wonder why you didn't know about it sooner.
Homemade fermented sauerkraut is ridiculously easy to make! It tastes nothing like processed package sauerkraut and tastes great on these pork chops.
What you will love about this recipe
It's easy! You only need three ingredients to make fermented sauerkraut.
It's healthy! This recipe is Lacto-fermented which means it contains lactobacillus which is good bacteria that supports gut health and your immune system.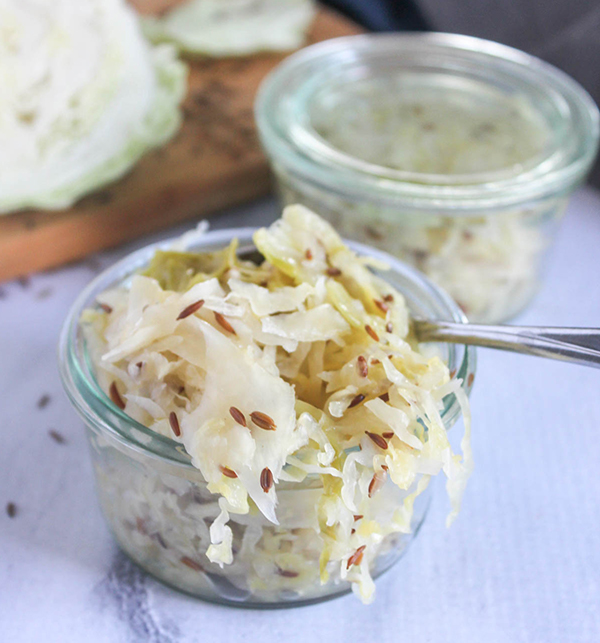 Here is what you will need
This is an overview of the ingredients and steps to make this easy sauerkraut recipe; scroll down for a printable recipe card with exact measurements and instructions.
Ingredients
Cabbage
Sea Salt
Caraway Seeds (optional)
Equipment
How to make fermented sauerkraut
Prepare the ingredients: clean and dry a one-quart mason jar.
Rinse the head of the cabbage, and remove the outer leaves. Use a sharp knife to cut the cabbage into 4 wedges. Then slice each wedge of cabbage into ribbons. You can also use a food processor with a slicing disk for this.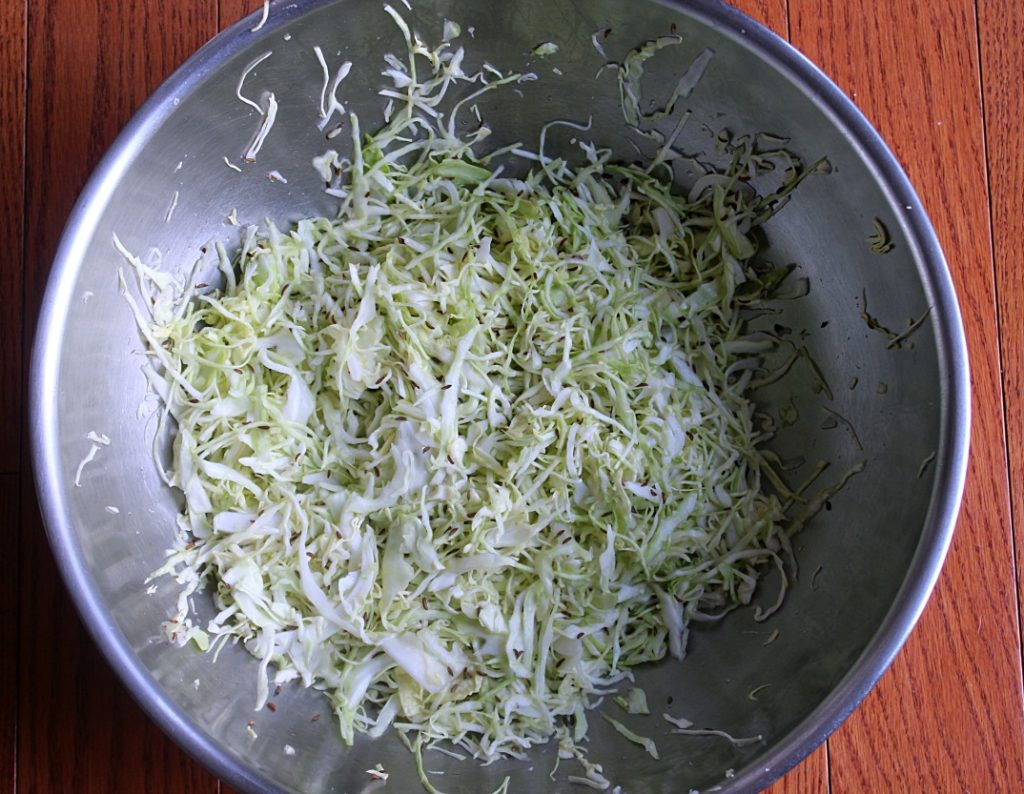 Step 1.
Place the shredded cabbage into a large bowl.
Step 2.
Sprinkle sea salt on top of the shredded cabbage and allow for the salt and cabbage rest for about 10 minutes. Gently massage the cabbage for a few minutes and stir in the caraway seeds.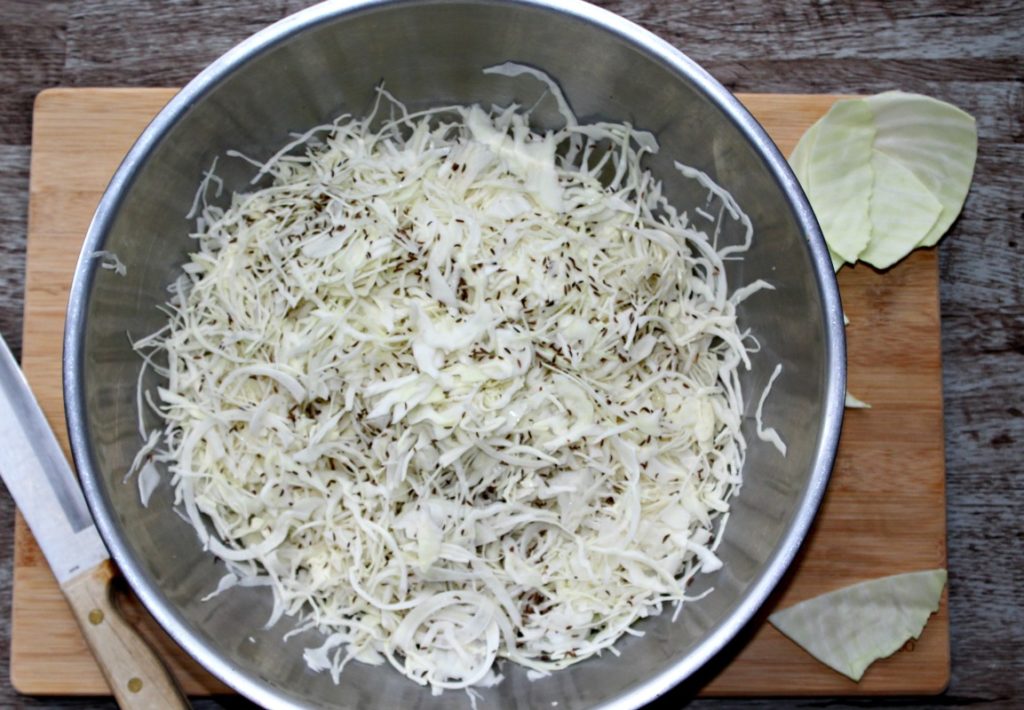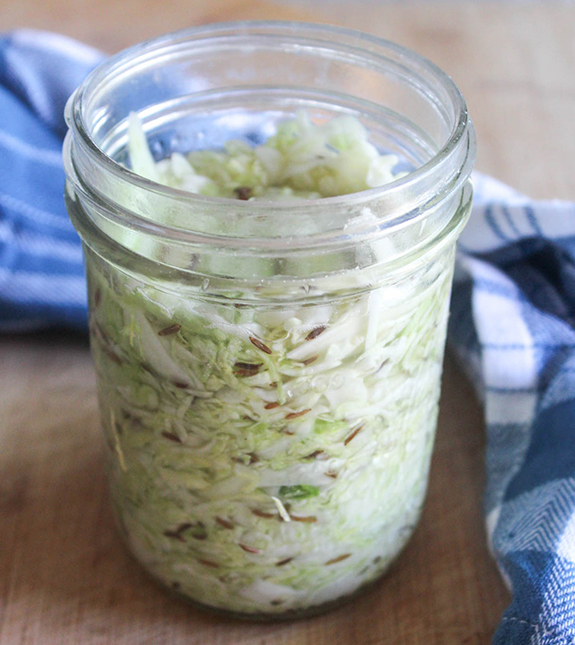 Step 3.
Stuff the cabbage into a clean jar pressing down as you go. It may seem like all of the cabbage won't fit, but it will.
Step 4.
Once the cabbage has been packed into the glass jar; use a smaller jar or glass to press down the sauerkraut. Store the jar at room temperature away from direct sunlight for at least 5 days to allow for the fermentation process. Each day press down on the smaller jar to make sure that the cabbage is submerged in the brine. After a few days, you will notice air bubbles forming which is perfectly normal. That is part of means your sauerkraut is fermenting.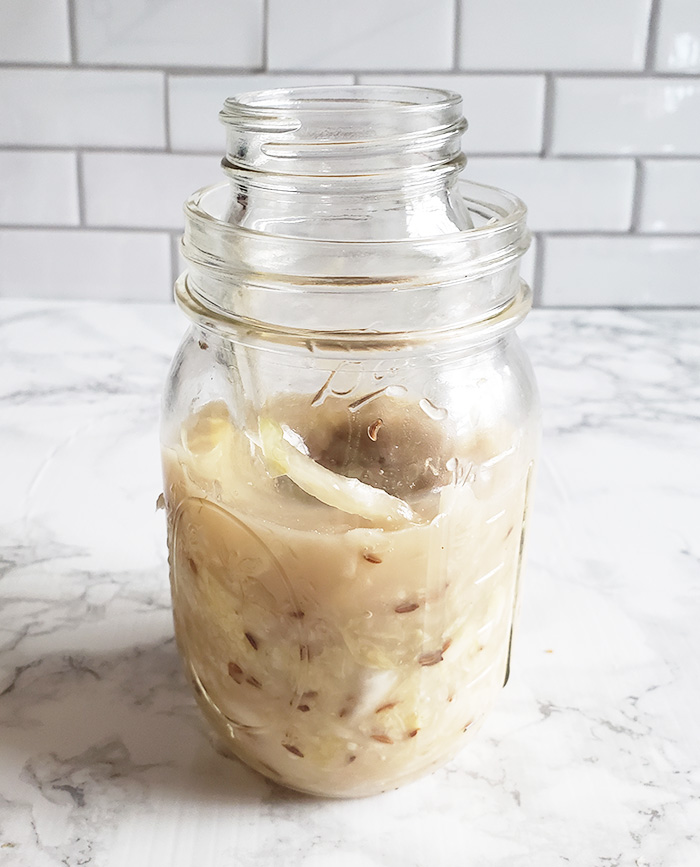 Note: The jar may not completely fill up with sauerkraut, and that's okay. It's more important to press it down and be sure the cabbage is completely covered with the brine.
Ingredient notes & substitutes
The complete list of ingredients to make this flatbread pizza is above. Below are notes about some of the ingredients, along with ideas for substitutes.
Cabbage - green cabbage works best, mainly because of its moisture content. Try to choose fresh cabbage from a farmer's market when it's in season; it contains more water, which will help with the brine.
Sea Salt - Himilayan or Celtic sea salt is type of salt I use to cook. Sea salt it can be substituted with kosher salt if sea salt is not available Do not use salt with iodine to ferment. Iodine can inhibit the growth of beneficial bacteria.
How to store homemade sauerkraut
Once the sauerkraut is fermented, store it covered in the refrigerator for up to six months.
How to use homemade sauerkraut
Keep a jar of sauerkraut in your fridge and add it to salads, sandwiches, and roasted meats, top your turkey burgers with it or make baked sauerkraut with apples.
Our favorite way to enjoy homemade sauerkraut is with pork chops.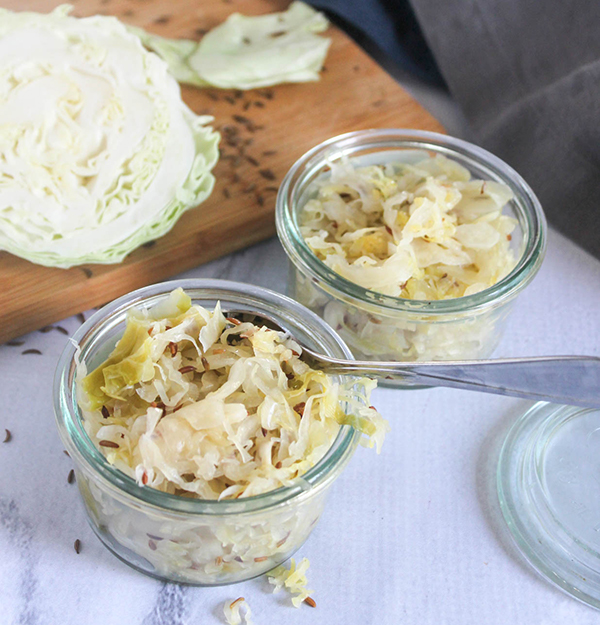 Variations
This is a basic sauerkraut recipe. It can be adapted to your tastes, here are a few suggestions.
Green and red cabbage - use a combination of red and green cabbage for a colorful version of sauerkraut.
Add veggies - Flavor your sauerkraut with hearty veggies such as shredded carrots, beets, or kohlrabi.
Spicy sauerkraut - Add one to two cloves of chopped garlic and a teaspoon or two of diced jalapeno peppers.
For more simple and delicious recipes like this, subscribe to our newsletter and receive a free e-book and meal suggestions straight in your inbox!
Tips & Questions
Add extra weight to the small jar with a few marbles or you can get fancy and use these glass fermentation weights.
Check for contamination! If the sauerkraut feels slimy or has a foul odor, toss it out.
If there is not enough brine, and the cabbage seems dry after being massaged with salt, make a brine to add to the cabbage - mix together a cup of water and 1 teaspoon of salt.
Should you drain the liquid from the sauerkraut before serving it?
No, you don't need to drain the brine from the sauerkraut, unless it is overly moist, or if you prefer your sauerkraut dry.
How do you know how much salt to use to make sauerkraut?
One tablespoon should be enough salt for a 1 ½ pound of cabbage, which is what a small head typically weighs. If you are using a larger head (medium-sized cabbage) or prefer more salt, add a little salt (up to a teaspoon).
If you like this recipe, please comment and rate it below!
📖 Recipe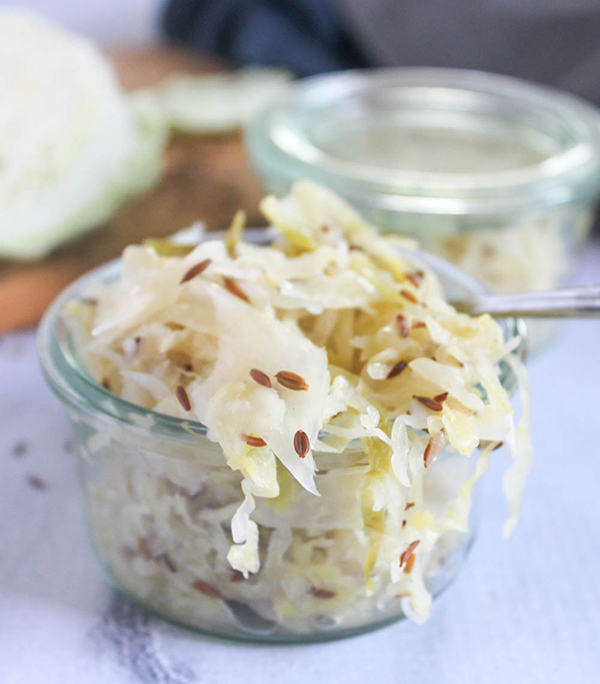 Click on serving size to scale this recipe
Ingredients
one medium to large head of cabbage

1

tablespoon

sea salt

1

tablespoon

caraway seeds
Instructions
shred the cabbage using a food processor or mandolin slicer and place it into a large bowl

sprinkle the cabbage with sea salt and set aside for about 10 minutes to allow cabbage to release water

once the cabbage starts to release water, use your hands massage the cabbage for a few minutes to expel more water

stuff the cabbage into a 1-quart mason jar pressing down with your hands as you go

once all of the cabbage is in the jar continue to press until liquid covers all of the cabbage

place a smaller glass or weight onto the top of the cabbage

cover the jar loosely and allow it to sit at room temperature for 5 to 10 days.

NOTE: fermentation will happen faster in warmer temperatures and it will take longer in cooler temperatures
Notes
Use red cabbage in place of green cabbage or use a combination of both
Add 1 to 2 shredded carrots to the cabbage
Add 2 cloves of chopped garlic or jalapeno peppers
Nutrition
Serving:
1
/2 cup
|
Calories:
39
kcal
|
Carbohydrates:
9
g
|
Protein:
2
g
|
Sodium:
806
mg
|
Fiber:
3
g
|
Sugar:
4
g
Nutrition information provided is an estimate and can vary based on cooking methods and ingredients used
Check out more of our Appetizer and Snack recipes here!