Homemade Sauerkraut in a Jar is one of the easiest recipes to make. It only takes three ingredients and a mason jar.
This post may contain affiliate links for more information, please see our Disclosure.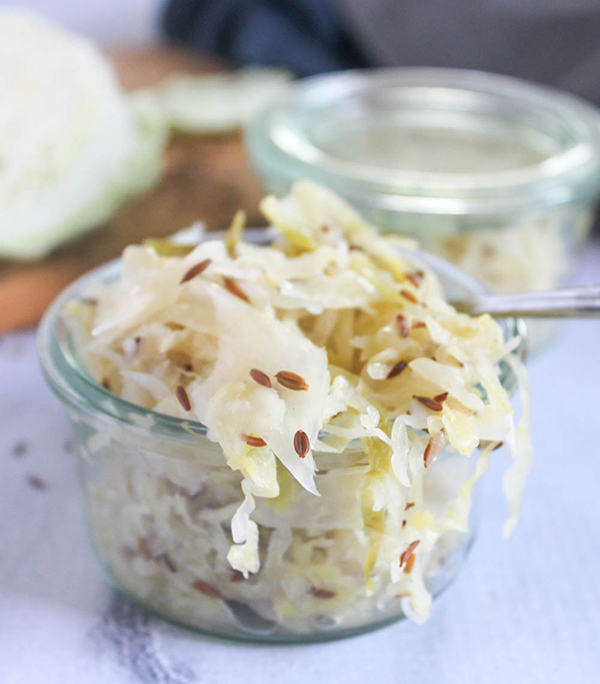 Easy Homemade Sauerkraut Recipe
There are certain things that you get used to buying packaged and when you find out how easy it is to make at home and you wonder why you didn't know about it sooner.
I love sauerkraut and its salty sour taste. I used to buy it canned or packaged all of the time until I discovered how ridiculously easy it is to make mason jar sauerkraut, and now it's a staple in my refrigerator. Homemade sauerkraut tastes nothing like the processed packaged sauerkraut, it's fresh and tangy a little bit crispy and incredibly healthy.
Homemade sauerkraut is lacto-fermented by allowing the cabbage and salt to ferment over a few days at room temperature. Lacto-fermented foods contain lactobacillus bacteria which supports gut health and your immune system.
If you love sauerkraut, homemade sauerkraut is a must try. Keep a jar in your fridge and add it to salads, sandwiches, and roasted meats like these pork chops.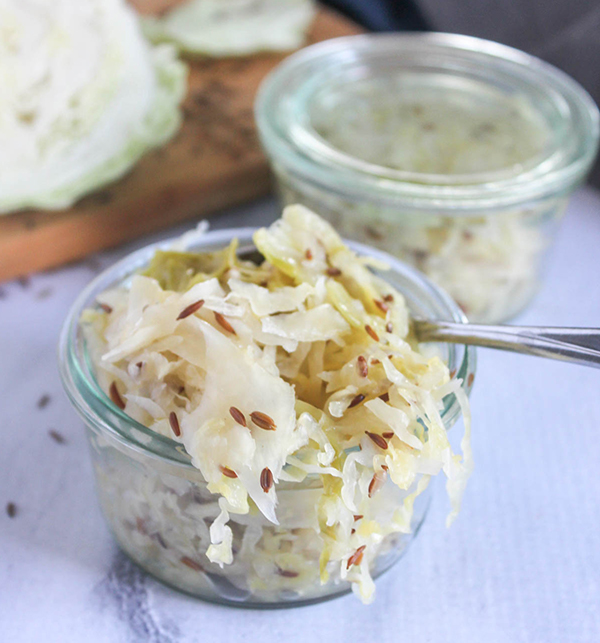 Sauerkraut in a Jar Ingredients
There are only three simple ingredients needed to make homemade sauerkraut in a mason jar:
Cabbage – the base to make the sauerkraut
Sea salt – draws the water out of the cabbage and prevents bad bacteria from growing
Carway seeds – are optional. We like the hint of flavor they add to the sauerkraut.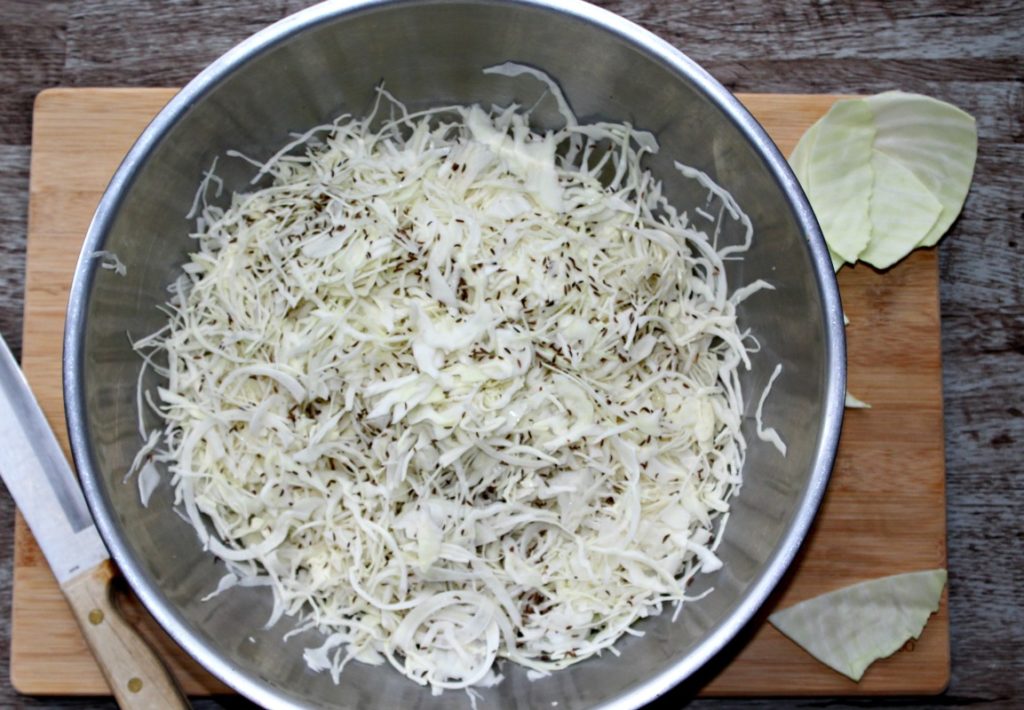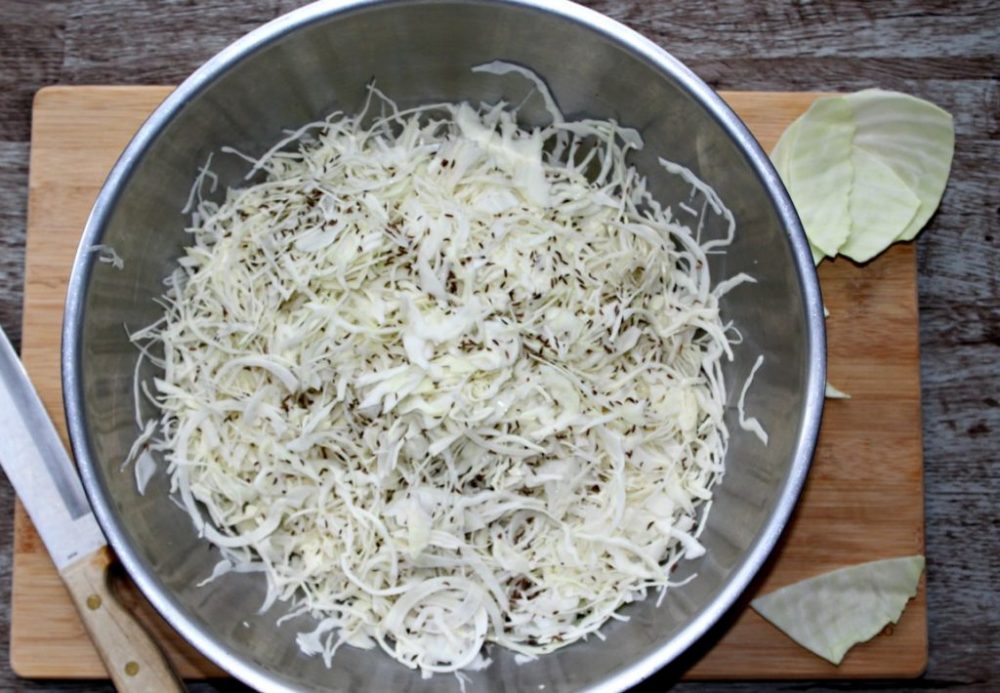 Homemade sauerkraut recipe steps
Please note that this a list of steps to give you an idea how to make this recipe. Full details are in the recipe card below.
Shred a head of cabbage and place it into a large bowl.
Mix in the sea salt and allow it to sit for about 10 minutes
Stir in the caraway seeds if you are using them, and massage the cabbage with your hands for a few minutes to really get the water flowing
Stuff the cabbage into a wide mouth Mason jar
Once the cabbage has been packed into the mason jar, cover it loosely and let it sit at room temperature for 5 to 10 days
Total Estimated Time to Make this Recipe: 20 minutes PLUS 5 to 7 days for fermentation process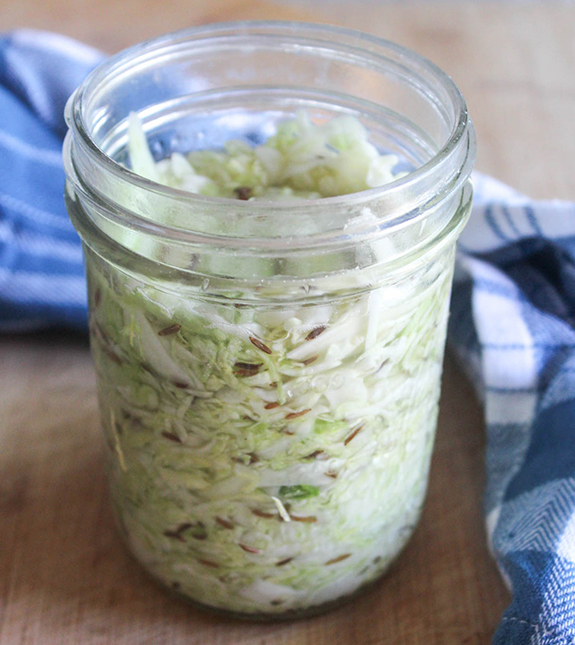 Homemade Sauerkraut Recipe Tips and Variations
Tips
Slice the cabbage thinly. I use a slicing disk on a food processor to shred the cabbage, but you can use a mandolin or slice it with a knife.
A wide mouth Mason jar makes it easier to pack the cabbage into the jar.
Use a smaller glass or jar or glass to place on top of the sauerkraut once it has been stuffed into the Mason jar so that the cabbage stays submerged in the brine. For extra weight add a few marbles to the glass or you can get fancy and use these glass fermentation weights.
You may notice some bubbles in the jar after a day or two, that's okay, that means the cabbage is fermenting.
Store fermented homemade sauerkraut in a covered jar in the fridge for up to six months.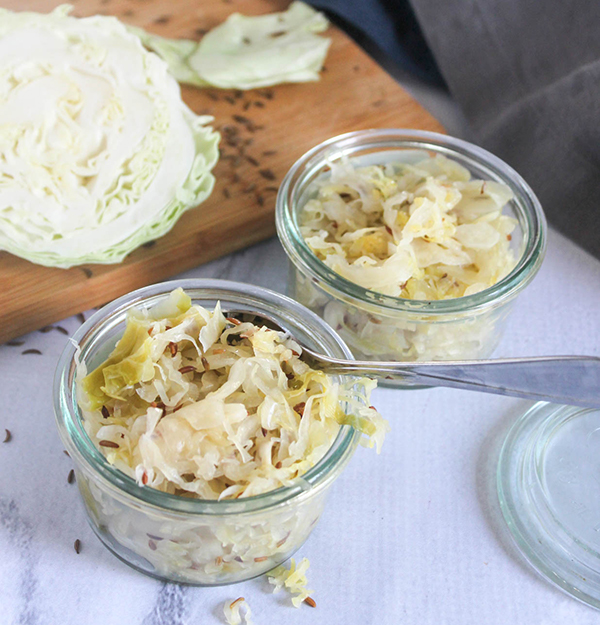 Variations
Use red cabbage in place of green cabbage or use a combination of both
Add 1 to 2 shredded carrots to the cabbage
Add 2 cloves of chopped garlic or jalapeno peppers or both,
You Might Also Like These Recipes