Thyme is a versatile herb and a must-have in the kitchen. Its subtle flavor is perfect for seasoning a wide variety of foods such as meats, stews, vegetables, soups, and salad dressing. And you ou can even make thyme tea.
If you have ever wondered what thyme tastes like and what to do with it, read on because you will find out about this popular herb.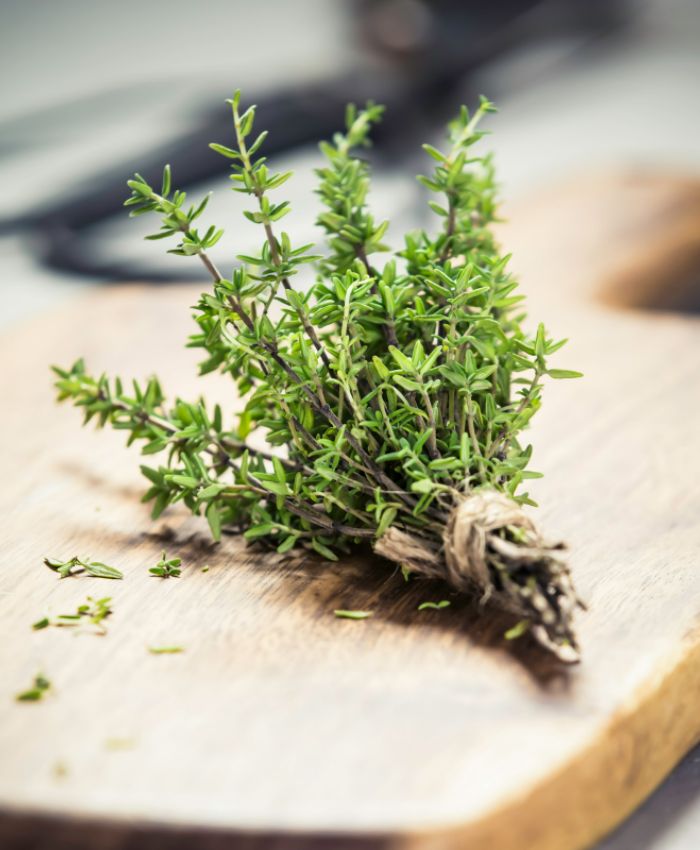 What is thyme?
The thyme plant is a perennial herb that belongs to the mint family. It has been in use for centuries in various cultures and cuisines. Thyme is now grown all over the world and is one of the most popular herbs used in cooking today.
Thyme's origins are in Southern Europe, where it was used by Ancient Greeks and Romans to repel insects, purify the air, and as an antiseptic on wounds.
Thyme's active antiseptic compound, thymol, was thought to protect from infection and was used to treat skin lesions.
There is also evidence that the Romans believed the herb was an emblem of bravery and strength, especially with respect to the military.
What does thyme look like?
There are several different types of thyme, and generally speaking, they are all similar in appearance. All thyme plants have small leaves that are usually green, but there are some varieties that have a red or purple hue.
Thyme plants grow to about 2-15 inches tall depending on the variety and growing conditions.
What does thyme taste like?
Thyme has a unique balance of flavors and depending on the variety, you will taste different notes such as an earthy, minty flavor with a hint of citrus. You might also notice slightly sweet floral notes as well as a peppery flavor.
While it sounds like a lot of different flavors, there are only subtle differences. That is why the taste of thyme is a great addition to so many dishes. This flavorful and aromatic herb adds subtle flavors flavor without overpowering any dish.
Thyme varieties
There are over 300 varieties of thyme, these are the most common varieties today.
Lemon thyme
The Lemon thyme plant has small shiny bright green leaves and is very similar in appearance to common thyme.
It is often used in cooking because of its pleasant citrus aroma and flavor. It's a versatile herb, as it can be used in both sweet and savory dishes.
Lemon thyme's flavor is minty and earthy just like common thyme but with a slightly different taste, you will notice a stronger flavor of lemon.
Common thyme
As its name says, common thyme is the most common thyme used in cooking. It also has shiny bright green leaves with a slightly earthy scent and flavor with essences of minty, flowery, and a slight lemon taste.
Common thyme is used by itself or combined with other herbs in cooking to flavor soups, stews, poultry, and seafood dishes.
Creeping thyme
Creeping thyme is commonly used as an ornamental ground cover in borders, rock gardens, and herb gardens.
Unlike most thyme plants, creeping thyme grows horizontally to form a ground cover, and does not grow as tall as other varieties. Even though creeping thyme is considered a ground cover it is edible, though it is not used that much in cooking.
German thyme
German thyme is a hardy variation of common thyme. It is resilient to frost and is also referred to as winter thyme.
Germany thyme has smaller, slightly rounded evergreen leaves and is the next most widely used variety of thyme in cooking. German thyme has the same flavor as common thyme and is popular more for its heartiness.
Is thyme healthy?
Thyme is full of vitamins and minerals that promote good health and support the immune system. In addition to cooking with thyme, there are numerous health benefits associated with thyme.
It has been used since ancient times to help with coughs and sore throats, boost immunity, reduce inflammation fight acne, and more. You can read more about the health benefits of thyme here.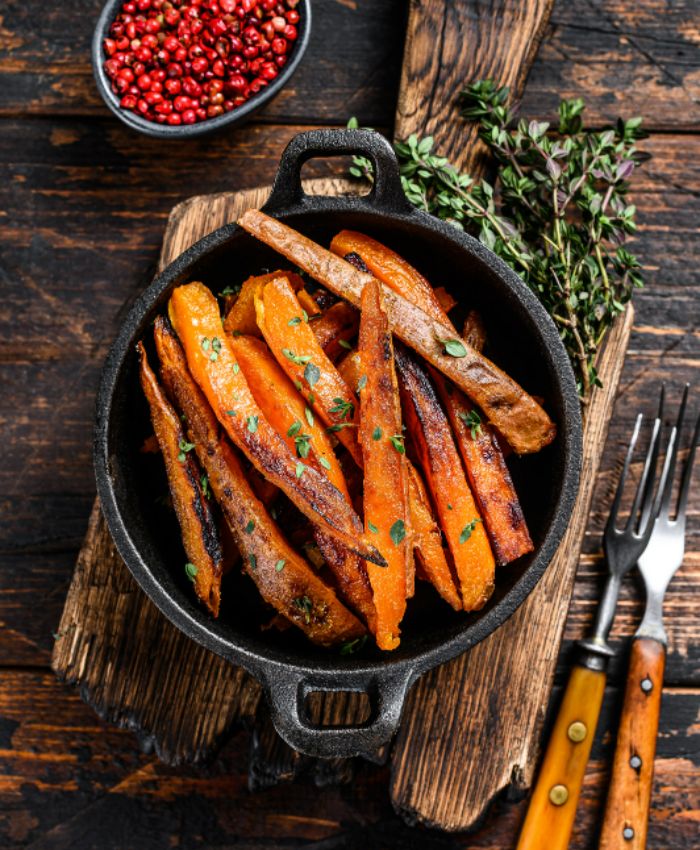 How to Cook with thyme
Thyme goes well with just about everything and is used in many different cuisines from Mediterranean, French, Spanish and even Jamaican cuisine.
It is often added to soups, stews, chowders, gumbo, curries, braised dishes, eggs, beans and pasta dishes. It's the perfect ingredient when sauteing or roasting vegetables, chicken, pork, lamb, or beef as well.
Unlike most other fresh herbs that should be added towards the end of the cooking process, fresh thyme can be used in the early stage of cooking in most recipes. The herb actually benefits from long cooking times and will slowly release its flavor into the dish as it's cooked.
Fresh thyme can be used in cooking both with or without the stem. When a recipe calls for fresh thyme, simply remove the fresh thyme leaves from the stem and sprinkle them into your recipe.
To remove leaves from thyme, hold thyme at the top, pinch it with your fingers and slide your fingers down to remove leaves. Once the leaves are off of the stem, they will not need to be chopped because they are so small.
When a recipe asks for a sprig of thyme, you would add the stem to the dish with the leaves intact. As the recipe cooks, leaves will fall off of the woody stems which need to be removed before serving.
What's the difference between fresh thyme and dried thyme?
Dried thyme is fresh thyme that has been picked and dried or dehydrated. Dried thyme can be used as a substitute for fresh thyme in most recipes.
Since dried herbs have a more concentrated flavor than fresh, you will need to use less dried thyme when cooking with it. The general rule of thumb for swapping dried herbs for fresh herbs is you should use ⅓ of the amount of dried herbs. So if a recipe calls for 1 teaspoon of fresh thyme leaves, you would use ⅓ teaspoon of dried thyme.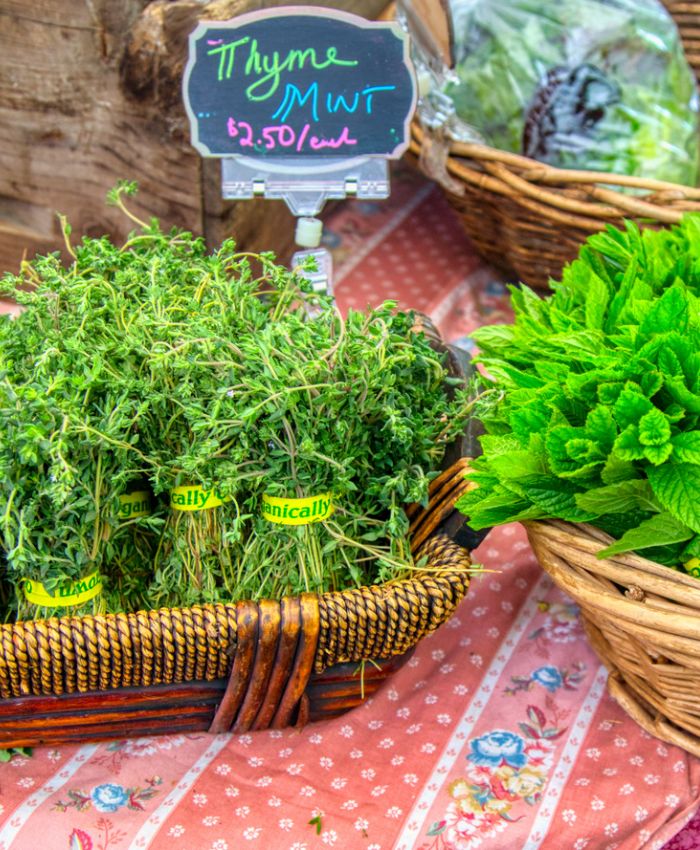 How to buy and store thyme
Fresh and dried thyme are purchased and stored differently. You can find fresh thyme when it's in season at your local farmer's market or in the grocery store year-round. Fresh thyme is often sold in sprigs that are packaged in a plastic container or plastic bag.
Fresh thyme sprigs will hold up well when they are refrigerated and lightly wrapped in plastic or a damp paper towel. If stored properly, fresh thyme will last for up to two weeks.
Dried thyme is readily available in most supermarkets all year round. To prevent flavor loss, store the dried herb in an airtight container away from heat and light. Depending on how well the herb is stored, it should last for up to a year.
Substitutes for thyme
What happens when you come across a recipe that calls for thyme and you don't have the herb in your kitchen? Here are a few suggestions for both fresh and dried thyme they can be replaced one for one.
Oregano
Marjoram
Savory
Rosemary
Basil
Tarragon
Herbs and spices that pair well with thyme
Thyme is a versatile herb that can be paired with any combination of spices. Here are some herbs to try to mix and match with thyme.
Basil
Bay Leaf
Garlic
Lavender
Nutmeg
Oregano
Parsley
Chives
Corriander
Herbs de Provence
Jerk Seasoning
Mint
Paprika
Rosemary
Sage
Tarragon
Foods that pair well with thyme
Because of its subtle flavor, thyme is very versatile and can be used to flavor a wide variety of foods, here are some of the most common foods.
Meat - Poultry, pork, beef, lamb and seafood
Vegetables - Beans, bell peppers, carrots, leeks, legumes, lemon, mushrooms, onions, oranges, pears, peas, and potatoes
Cuisines - French, Italian, Jamaican, Mediterranean and Middle Eastern
Try these flavor combinations
Get creative when cooking and try a few of these flavor combinations with thyme.
Thyme + goat cheese + olive oil - for a tasty appetizer
Thyme + lemon + garlic - to season chicken or seafood
Recipes with thyme
Grilled Chicken Paillard - Chicken cutlets grilled with lemon and fresh herbs.
Tofu Mushroom Stroganoff - A hearty vegetarian dinner filled with flavor.
Perfect Thyme Skillet Potatoes - Flavor-packed potatoes made in a skillet.
Roasted Carrots with Thyme - Delicious roasted carrots are perfect as a side dish for any meal.
Slow Cooker Chicken Legs and Potatoes - Fall-off-the-bone chicken legs cooked in a savory sauce.
Homemade Turkey Apple Sausage - An easy and delicious homemade turkey sausage.