If you have never set up your kitchen from scratch, you might be thinking that choosing the right equipment for cooking can be a challenge as there are so many options to choose from.
I put together a list of minimalist kitchen essentials that will help you to get started with the basics and help you to decide what you might need to add to your collection as you grow in the kitchen.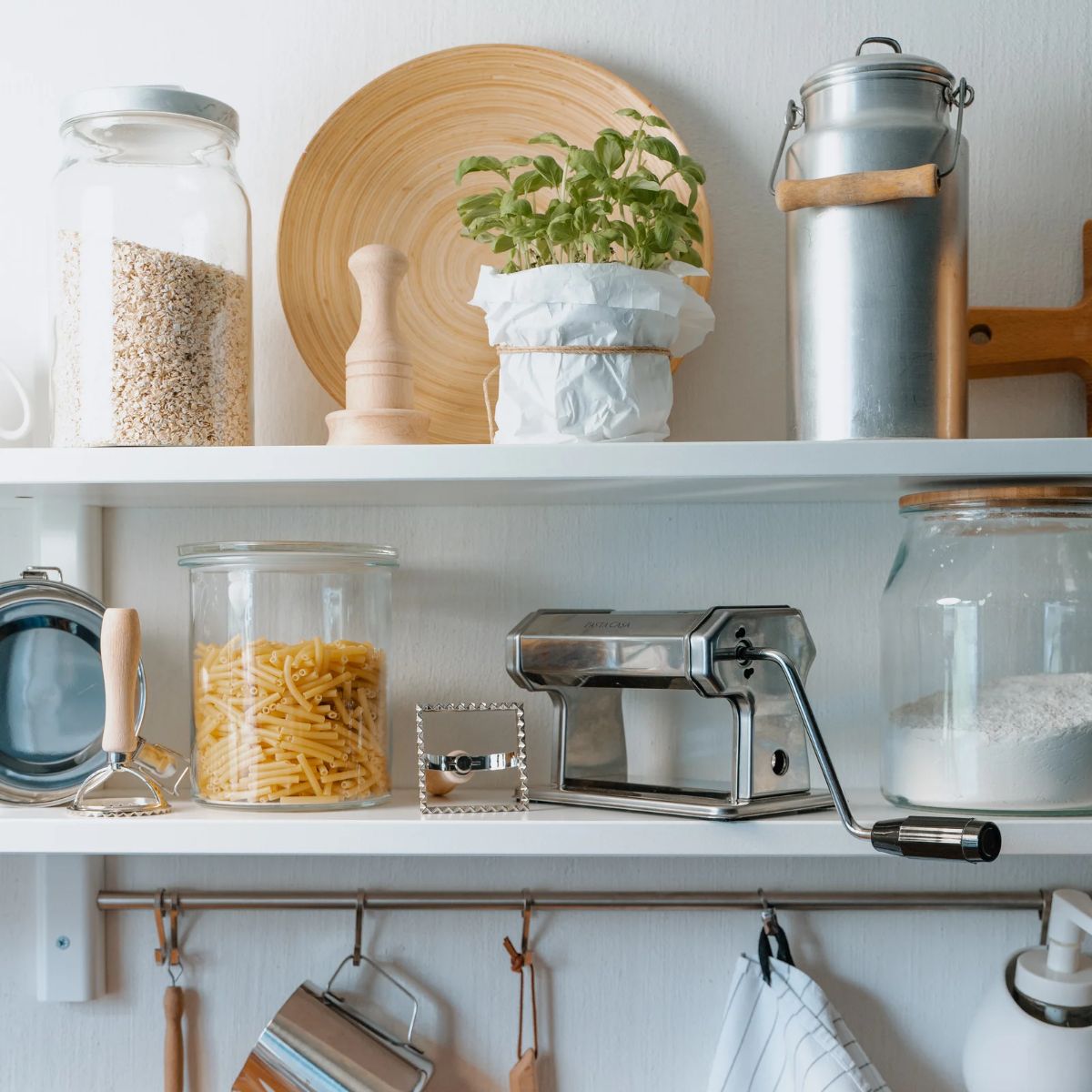 As an Amazon Associate, I earn from qualifying purchases.
I suggest as a starting point, beginning with the must-have items noted in bold print below, especially if you are living a minimalist lifestyle or just setting up your kitchen.
Once you are in the habit of cooking on a regular basis, you can begin to invest in the extras, but don't underestimate the power of having a high-speed blender or food processor!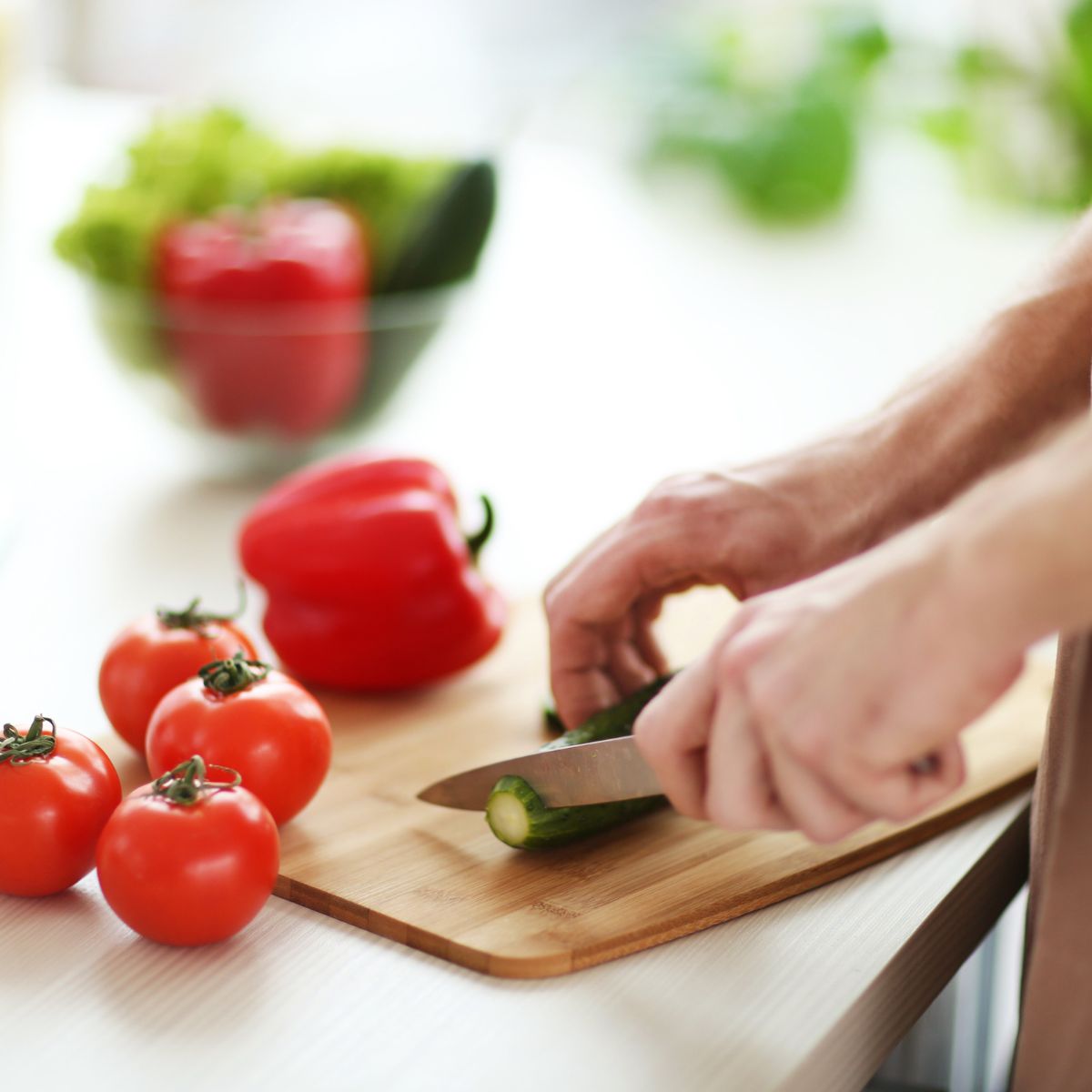 Food Prep Tools
Chef's knife - If you only have room in your budget for one knife, a chef's knife is the one to get. It's a versatile knife that can work the wonders of many other types of knives. Chef's knives can be used for cutting meat, and fish, chopping and dicing vegetables, and fruits, slicing herbs, and chopping nuts. A good chef's knife is a must-have in the kitchen.
There are two other different knives that I consider essential, but not totally necessary to get started, they are a paring knife and a serrated knife.
Paring knife is a small knife and is s great for peeling more dainty items such as fruits, and vegetables and deveining shrimp.
Serrated knife or bread knife - has a jagged blade which makes it perfect for slicing bread, and cutting cakes and pastries; if you are a baker, this could be an important knife own.
Both a paring knife & a serrated knife are nice to have but not necessary, as long as you have a chef's knife.
Knife Sharpener - if you have knives, you will need some sort of knife sharpener. A dull knife can cause more damage than a sharp knife so it's important to keep those knives sharp!
There are a variety of knife sharpeners available such as whetstone, honing steel, and knife sharpeners.
You only need one sharpener and it is a must-have to keep your knives sharp. If you are just starting out, choose something inexpensive and functional.
Cutting Boards - I recommend at least two cutting boards to avoid cross-contamination. One for meat and one for vegetables. There are many cutting board options available that are inexpensive and perfect to get you started. Wooden boards are more durable but can be bulky so if your space is limited plastic may be a better option.
Two recommend two cutting boards, preferably one large cutting board for meat and a smaller one for vegetables.
Mandolin Slicer - This is a great tool for shredding or thinly slicing anything without having to use a bulky food processor or stand mixer. Look for a mandolin slicer that has cut-resistant gloves too. A mandolin slicer is nice to have, but not necessary as long as you have a sharp knife.
Handheld cheese grater or box grater - If you are a cheese lover, this is a must! Freshly grated cheese tastes much better and doesn't have fillers like pre-shredded cheese and it's less expensive to shred your own.
Box graters are fairly inexpensive and are perfect for shredding everything from cheese to vegetables. If you love cheese a cheese grater is a must.
Microplane or mini-grater - You may not think this is a necessary tool, but it is! A Microplane makes it easy to shred hard cheese such as parmesan, garlic, and ginger, or to zest citrus fruit.
Hand-held citrus juicer - This is another inexpensive item that can be overlooked when stocking up on kitchen gadgets. If you cook with fresh food, this is a must for extracting juice from lemons, limes, and oranges.
Vegetable peeler - If you plan to cook vegetables, you will need this kitchen tool. Vegetable peelers are inexpensive, small and an absolute necessity in your kitchen.
Food Processor - A food processor is not a necessity, but if you have the budget, invest in a mini food processor. I put my large food processor on the shelf and use my mini one most of the time.
Food Processors are great for chopping and making sauces and dressings. The mini food processor can do the same thing in smaller batches. They are compact, inexpensive, and easy to store, and you can put them in the dishwasher.
Blender - A blender is great for making frozen drinks, nut milk, pureeing soups and sauces, and making smoothies. A mini or full-sized food processor will do many of the same things for you as a blender.
Immersion blender - This is a great tool to have in your kitchen, and it's less expensive than a regular blender and smaller too, so it won't take up any counter space.
If you make soups, gravies and sauces this is a must. You can place the blender right into the pan or bowl, which is what I do when I make this pork and apple puree recipe, there is no need to pour the hot soup out of a pan and into the blender. I also like to use the immersion blender to make smoothies.
Mixer - Unless you bake a lot, a Kitchenaid stand mixer is not a must. They are expensive and bulky and hard to store.
A simple hand mixer is inexpensive and will do just fine to start out. A hand mixer is nice to have even if you don't bake, they are great for whipping, eggs, mashing potatoes, frostings, bread, cake, and cookies. A mixer (stand or hand mixer) is nice to have but not a must-have as long as you have wooden spoons.
Mixing Bowls - These are used to mix food ingredients. They come in various sizes and materials. You can also use them to store and serve food. I suggest that you buy a set of two to three mixing bowls of different sizes. Many sets come with lids which makes them convenient for storing food as well.
Glass Food Storage Containers - These are great for meal prep and storing leftovers. They are often sold in sets, starting with a smaller set that has air-tight locking lids which will keep your food fresh longer.
You will only need a few containers to get started and add to them as you need them.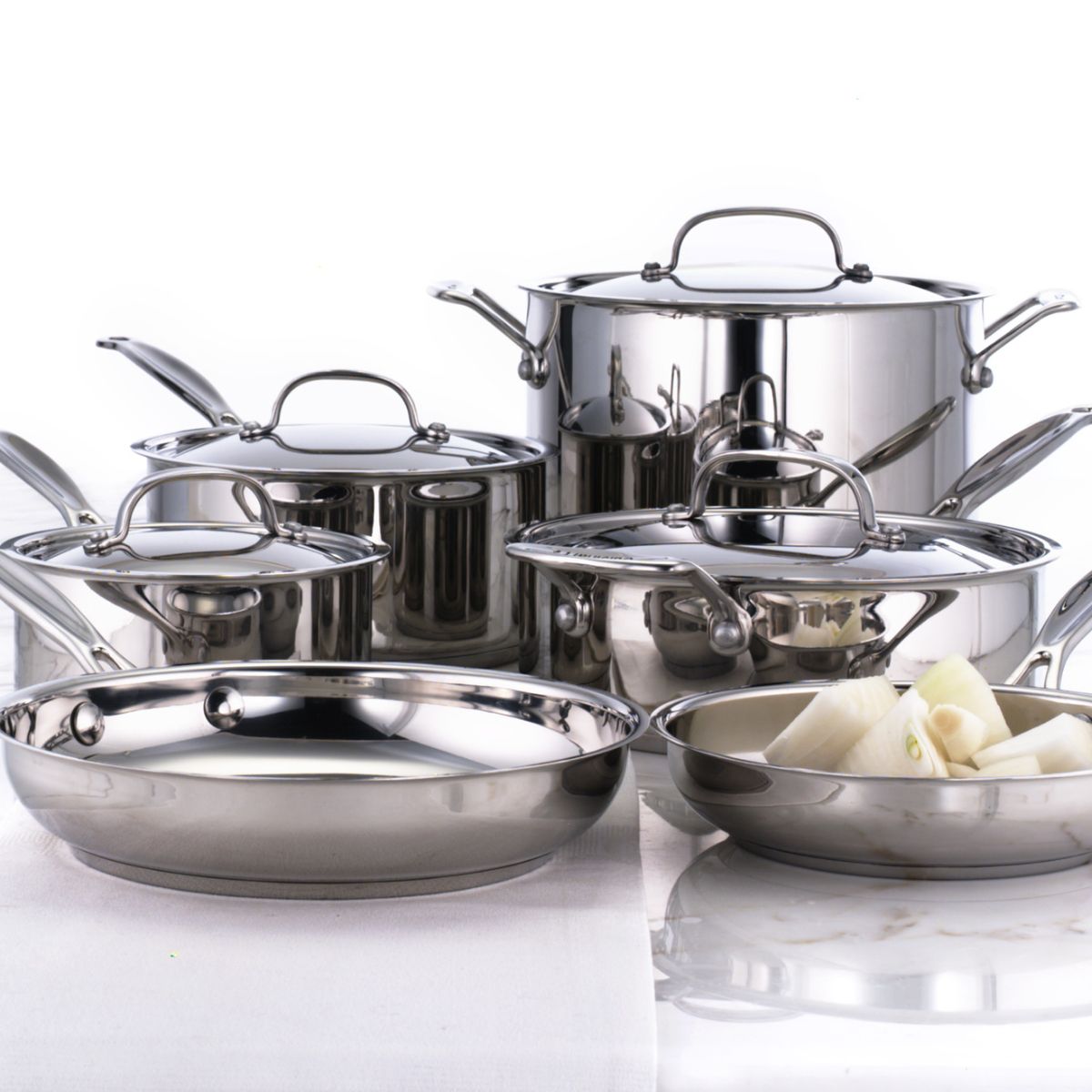 Cookware
Cast-Iron Pan - This will be your most-used kitchen pan. Cast-iron pans are versatile and can go from stove-top right into the oven. A cast-iron skillet is durable and lasts forever if treated properly.
Stainless Steel Cookware - Since there is some controversy over nonstick cookware and its safety, I prefer to use stainless steel pots and pans to cook. They are high quality, safer to cook in, durable, distribute heat evenly, and fairly easy to care for.
Stainless steel is more expensive than other types of pans, but they last a long time. Invest in a medium-sized saucepan and a small pot to start out and add as you think you need to.
Dutch Ovens are great for making soups, stews, braising and making large portions of pasta. Dutch ovens come in various sizes and you can choose from cast iron enamel-coated.
Pyrex Baking Dishes - These are great for making baked goods and casseroles. Round baking dishes are perfect for pies or quiches.
Rimmed Baking Sheet or Sheet Pan - These baking sheets are for more than cookies! I use them all of the time to roast vegetables and more! I love roasting Brussels sprouts in rimmed baking sheets lined with parchment paper, it's super easy.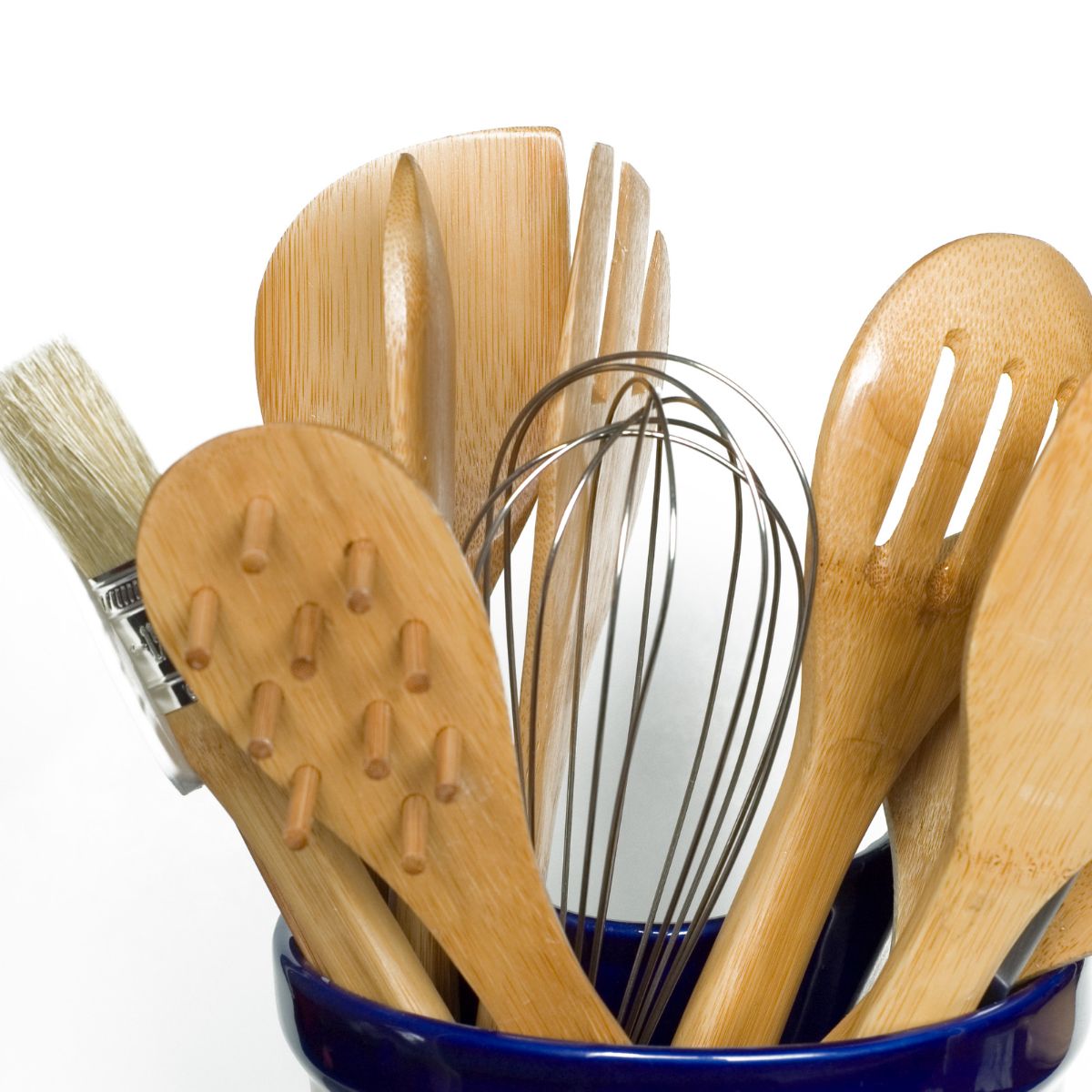 Kitchen Gadgets and Tools
Kitchen Scale - At first, I didn't think I would need a kitchen scale, but it has come in handy! Kitchen scales are a great tool for accurately measuring flour for baking. I also use mine to weigh meat portions and other odds and ends in the kitchen. Most kitchen scales are inexpensive and nice to have, but definitely not a necessity.
Wooden Spoon - These spoons are so versatile, you will need at least one of these in your kitchen.
Spatulas - A kitchen tool with many uses, spatulas are great for scraping down the sides of bowls or hot pans. They are also used to flip foods like grilled cheese, burgers, and fried eggs.
Wire Whisk - Wire whisks are great for blending ingredients together quickly. If you don't have an electric mixer, they are a must-have in the kitchen, especially if you like to bake.
Oven Mitts or Pot Holders - These will protect your hands when handling hot pans and dishes. Potholders and oven mitts are must-haves and, you should have at least two of these in your kitchen.
Colander - A colander or strainer is used to drain the water off of boiled foods or to rinse vegetables before cooking them. They are inexpensive and, in my opinion, a must-have in the kitchen.
Can Opener - There are so many varieties of can openers from electric to basic handheld which is inexpensive. A can opener is a must-have to open up canned goods.
Measuring Cups & Spoons - are needed to measure out ingredients when cooking. One set of each; a measuring cup and spoons and a pyrex measuring cup to measure liquids are must-haves in the kitchen.
Kitchen Scissors - These are great to have in the kitchen to snip herbs, and open up food packages. I would not consider these a must-have, but they are nice to have.
Meat Thermometer - If you are a meat eater, you need a meat thermometer. It takes the guesswork out of having properly cooked meat.
Garlic Press - This is a convenient way to crush garlic cloves. Some may argue that this is not a kitchen essential, but if you love garlic, this is a handy tool to have in your kitchen. You can also smash garlic cloves with a knife, but the press is convenient. Depending on how much you love garlic, a garlic press is a nice-to-have item but not a must-have.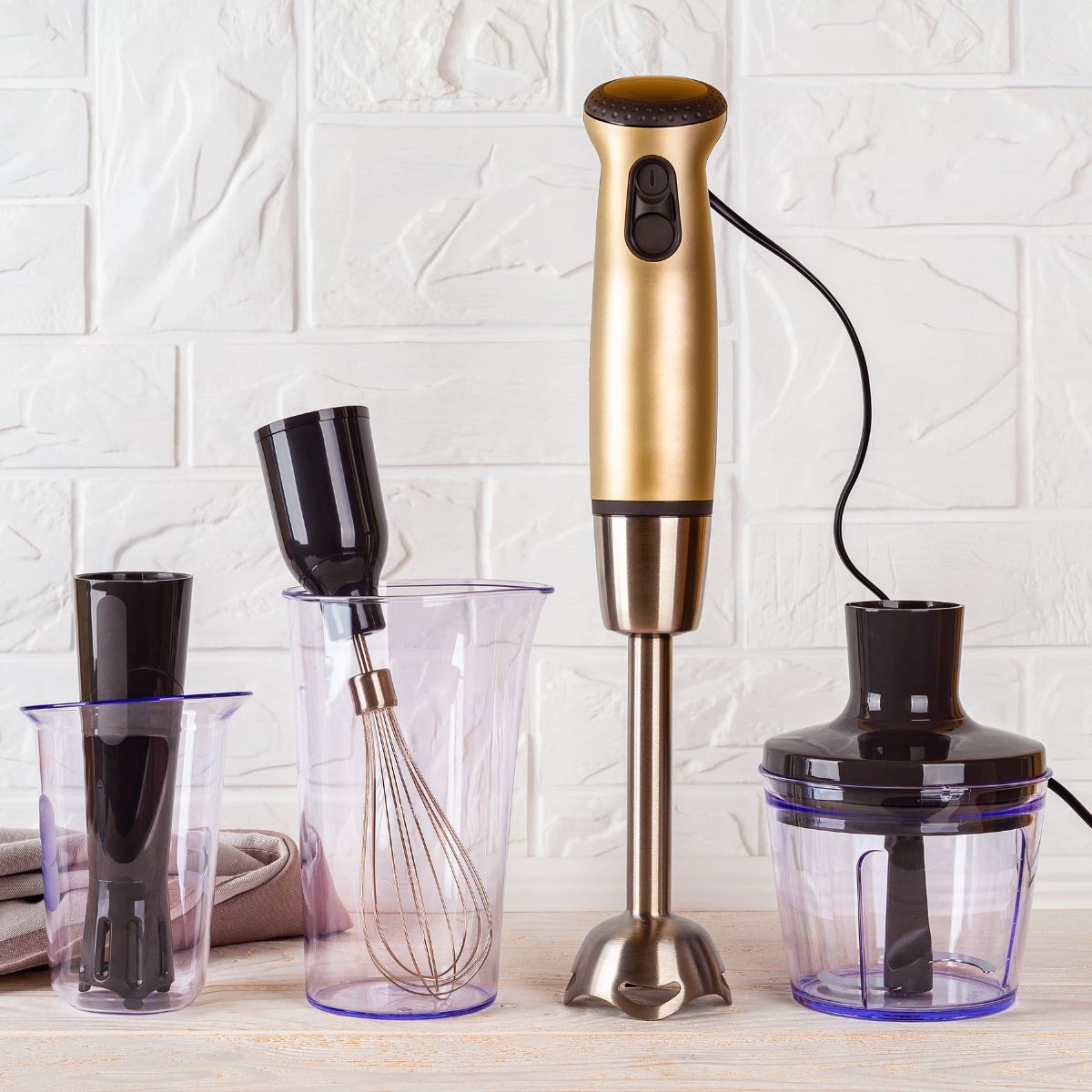 Nice to Have Small Appliances
Even though this is an essential list, here are a few kitchen appliances that are really nice to have in your kitchen. Decide which ones will work for your cooking style and add them to your wish list.
Crock-Pot or Slow Cooker - These are great for hands-off cooking. You can add ingredients earlier in the day and dinner will be ready several hours later with very little work. They vary in size, features, and price and are very nice to have.
Instant Pot Or Electric Pressure Cooker - Electric pressure cookers have a ton of functions, they are great for making rice, soups, stews, and steaming. You can also make yogurt in them! Some electric pressure cookers even have a slow cooking feature. They range in price and size, you can read more about electric pressure cookers in my blog post here.
Air Fryer -This is one kitchen appliance that I did not think I would need, because it's just a super hot oven. Now that I have one in my kitchen, I love it! It's a healthy way to enjoy fried foods, speeds up cooking time, and doesn't heat up your kitchen.
Recommended minimalist essentials
To sum it all up, here is a short list of kitchen essentials for any minimalist or new cook. Depending on how and what you cook you may not need all of these items.
Chef's knife
Paring knife
Knife sharpener
Cutting boards
Cheese grater
Microplane
Vegetable Peeler
Citrus juicer
Mini food processor, blender or immersion blender
Mixing bowls
Food storage containers
Cast iron or heavy skillet
Good quality small and medium-sized saucepans
One pyrex or oven-proof baking dish
Pyrex or glass food storage containers
Rimmed baking sheet
1 to 2 wooden spoons
Wire whisk or electric mixer
Spatula
Oven mitts
Colander
Can opener
Measuring cups and spoons
Meat thermometer
Check out my favorite kitchen products page to see the products that I use!