Black bean sheet pan nacho salad is filled with crispy chips, black beans, cheese topped with salad ingredients. It's a quick, easy and nutritious vegetarian meal that can be on your table in less than 30 minutes.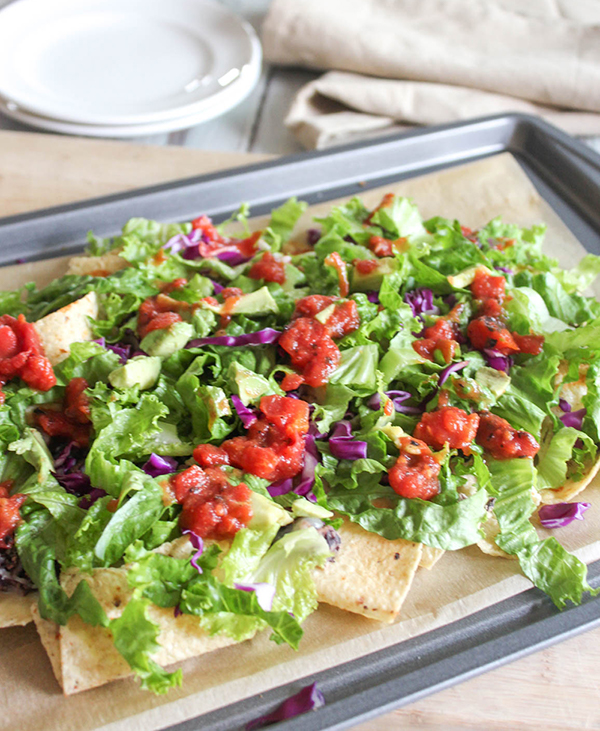 Here is what you will need
As an Amazon Associate, I earn from qualifying purchases
This is an overview of the ingredients and steps to make this recipe, scroll down for a printable recipe card with exact measurements and instructions.
You can make your nachos any way that you like them, here are the basic ingredients which I used, see below for more ingredient suggestions.
canned or cooked black beans
tortilla chips
cheddar or monterey jack cheese
parchment paper (optional but makes clean up easy)
shredded lettuce
chopped cabbage
Estimated amount of time to make this recipe: 20 to 30 minutes.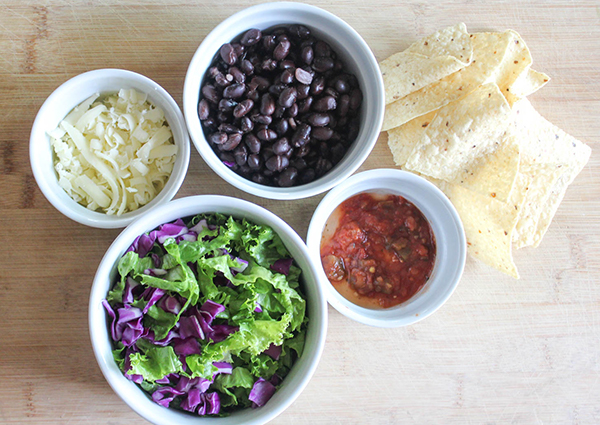 Unlike typical nachos that are piled high with chips, meat, beans and cheese, these nachos are simply spread out on a sheet pan and baked until the chips are crispy and the cheese melts. You can pull them form anywhere in the pan without a pile of chips collapsing in front of you.
To make it more interesting and nutritious, the nachos are topped with chopped salad ingredients for a perfect blend of nachos and salad - delicious in every bite. Try them with a spoonful of homemade guacamole for a real treat.
This is a meal that can be made in less than 30 minutes, and it's perfect for using up what you have in your kitchen. It's quick and so easy to put together and totally customizable, the possibilities are endless.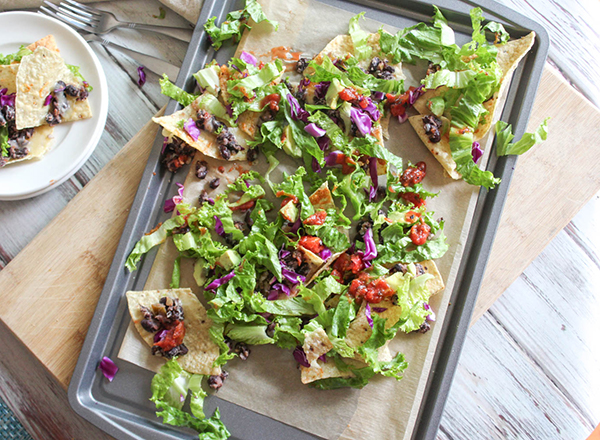 Tips
Tortilla chips
Any type of tortilla chip will work here. We prefer the thinner restaurant style like these Late July Tortilla Chips. Some pepole prefer a more sturdy chip, so it's up to you.
You can also make your own tortilla chips by slicing a tortilla into 8 wedges, brusing them with oil and baking them in teh oven until they become crispy.
The best cheese to use
A nice melty cheese that you shred yourself works best with nachos. Cheddar, monterey jack, and mozzarella cheese are all good choices. You can use just one type of cheese or make your own blend.
Storage
Store your leftover nachos in the refrigerator for up to 3 days. Reheat them without the salad ingredients in the oven or the micorwave and top with fresh salad ingredients.
Freezing is not recommended
Meal Prep Tip
To make sheet pan nachos even quicker, prepare the ingredients ahead of time (smash up the beans, shred the cheese, cut up the vegetables) and store them separately in food storage containers in the refrigerator.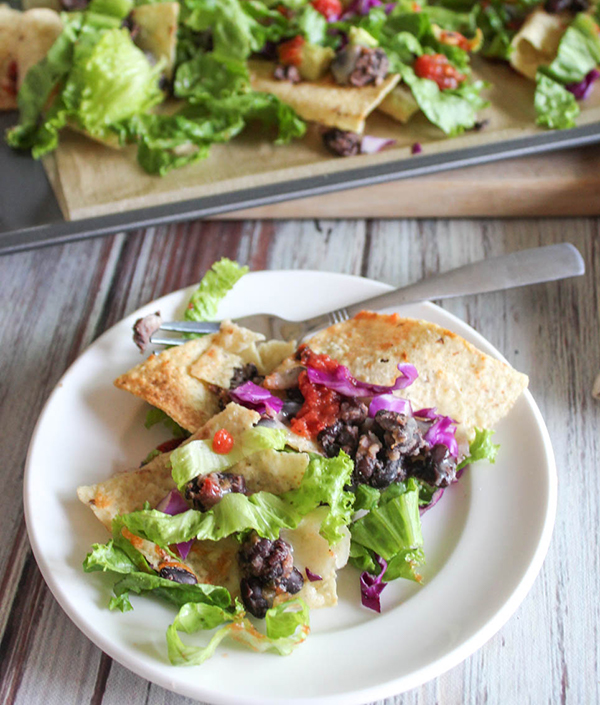 Change up the ingredients
In place of black beans, use kidney, white or chickpeas
Use leftover pulled pork, chili, or shredded chicken in place of or in addition to the black beans
Add chopped jalapeno or bell peppers
In addition to the lettuce, top the nachos with avocado slices, cucumbers, olives, pickled jalapenos, fresh cilantro, chopped onions, a scoop of Greek yogurt.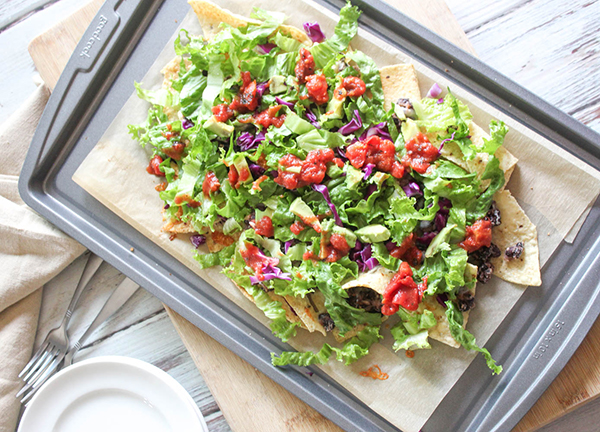 You might also like these recipes