You won't miss the meat in these vegetarian nachos that are made with crumbles of meaty cauliflower and walnuts combined with Mexican spices.
This post may contain affiliate links for more information, please see our Disclosure.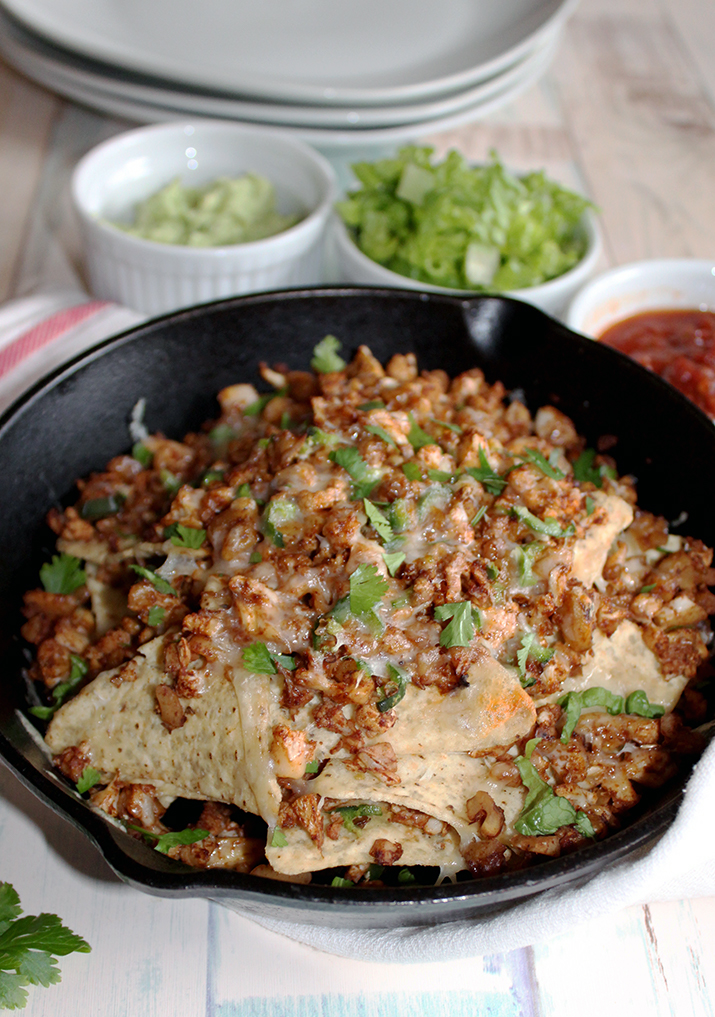 Cauliflower Vegetarian Nachos
People joke about the versatility of cauliflower, but it really is a very versatile vegetable! You can mash it, puree it, rice it, roast it, make a pizza crust, and even turn it into a meat substitute. But the thing is, you have to like the taste of cauliflower.
I have unpleasant childhood memories of cauliflower. My mother would boil it to death and pour some kind some kind of white sauce on it. It took a long time for me to try cauliflower again. Now I love it! I even make white sauce for pastas and vegetables using pureed cauliflower.
These nachos really are the best vegetarian nachos! They are filling and nutritious. The cauliflower crumbles are meaty, full of fiber, and the walnuts provide protein and healthy omega 3's.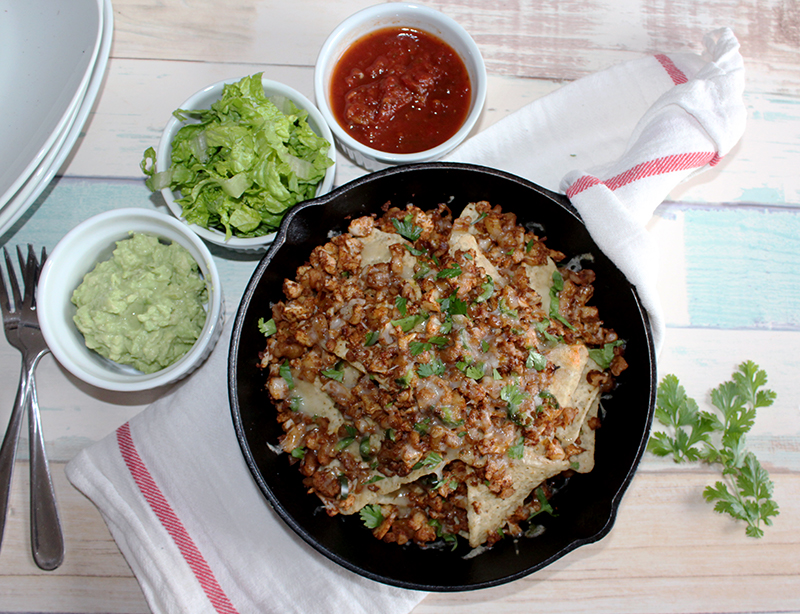 Easy Vegetarian Nachos Recipe Ingredients
It doesn't take long to whip up a batch of vegetarian nachos, here is what you need to make them.
cauliflower
walnuts
fresh garlic
water
cheese
jalapeno peppers
your favorite nacho garnishes such as lettuce, onions,tomatoes, guacamole, salsa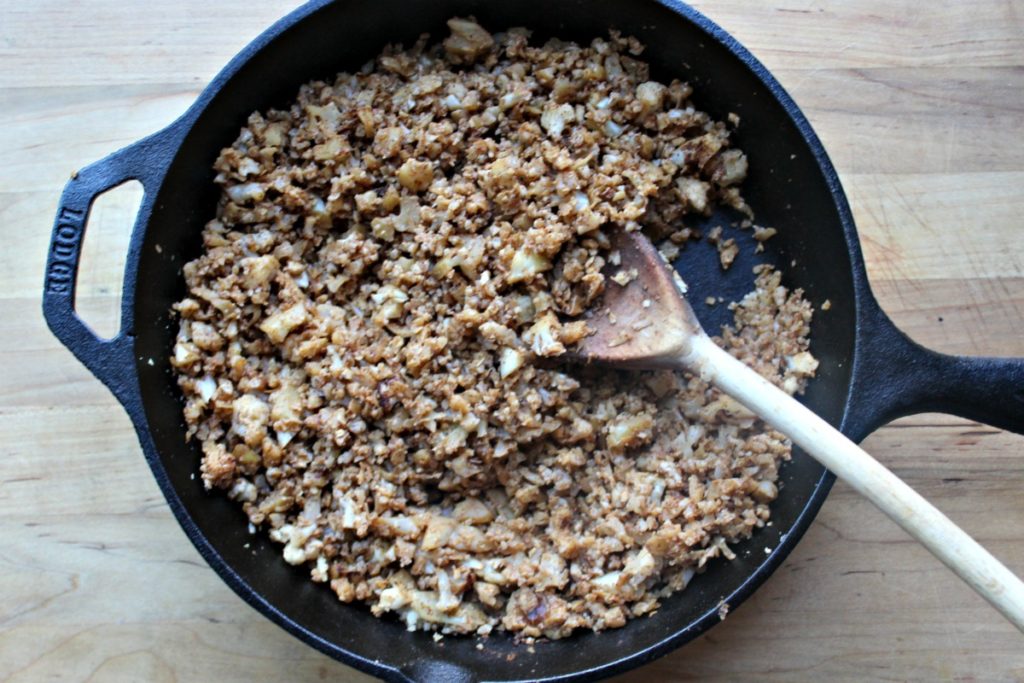 Recipe Steps To Make the Best Vegetarian Nachos
Please note that this a list of steps to give you an idea how to make this recipe. Full details are in the recipe card below.
Wash and dry the cauliflower, and break it up into pieces
Crumble the cauliflower by adding it to a food processor or chopping it up with a sharp knife
Chop the walnuts until they are the same size as the cauliflower crumbles
Cook the cauliflower, walnuts and seasonings in a skillet
Place tortilla chips into an oven proof pan
Top the chips with cooked cauliflower meat
Add the jalapenos and cheese and place the nachos in the oven to bake
Top the nachos with your favorite nacho toppings
Total Estimated Time to Make this Recipe: 25 to 35 Minutes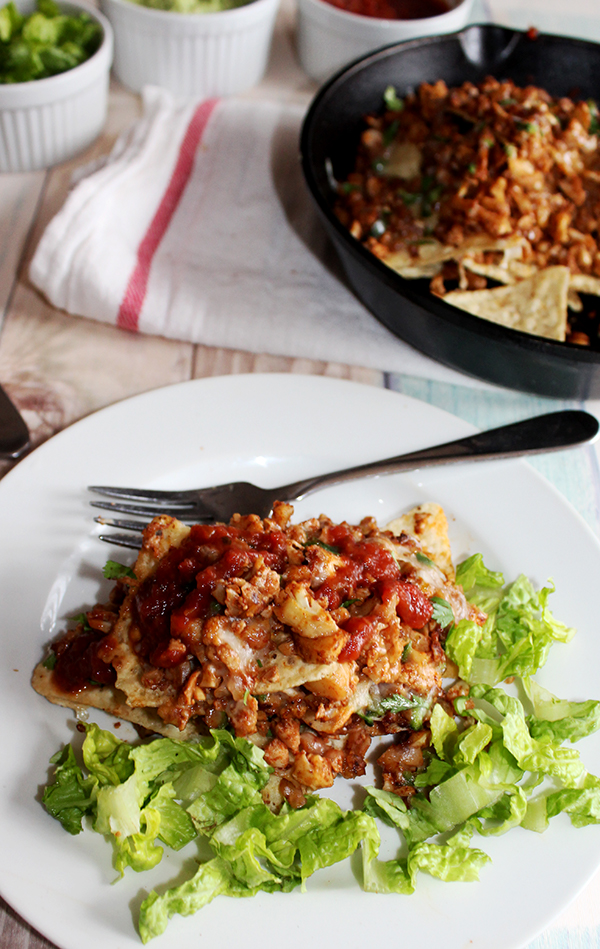 Vegetarian Nachos Tips and Variations
Meal Prep Tip. Make the filling ahead of time and store it in the refrigerator for up to three days. Assemble the nachos when its time to eat for a quick meal or snack.
For crispy chips - use a cast iron pan to heat up the nachos for best results.
Make a meaty version of nachos - use a quarter of a head of crumbled cauliflower and ¼ pound of ground chicken or turkey breast. Brown the meat first, then add the cauliflower and spices and simmer.
Make it vegan - heat the nachos in the oven without the cheese , just before serving pour on vegan queso or sprinkle the nachos with nutritional yeast flakes.
Turn the Nachos into tacos. Stuff your favorite taco shell with the cauliflower meat and top with salsa, cheese and your favorite taco fillings.
---