A quick and easy make-ahead breakfast made with home dehydrated strawberries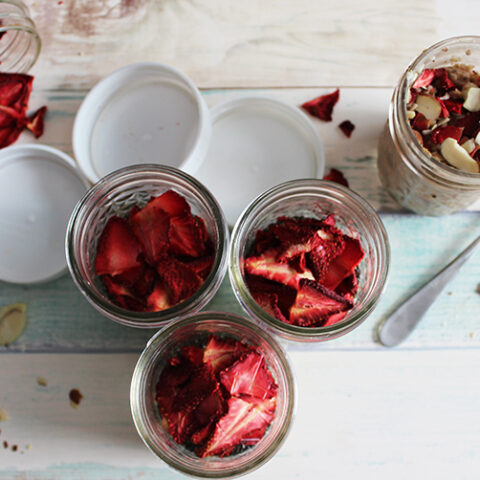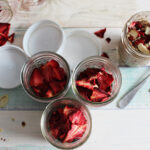 Busy mornings are a breeze when you have jars of make-ahead oatmeal with dehydrated strawberries all ready to go.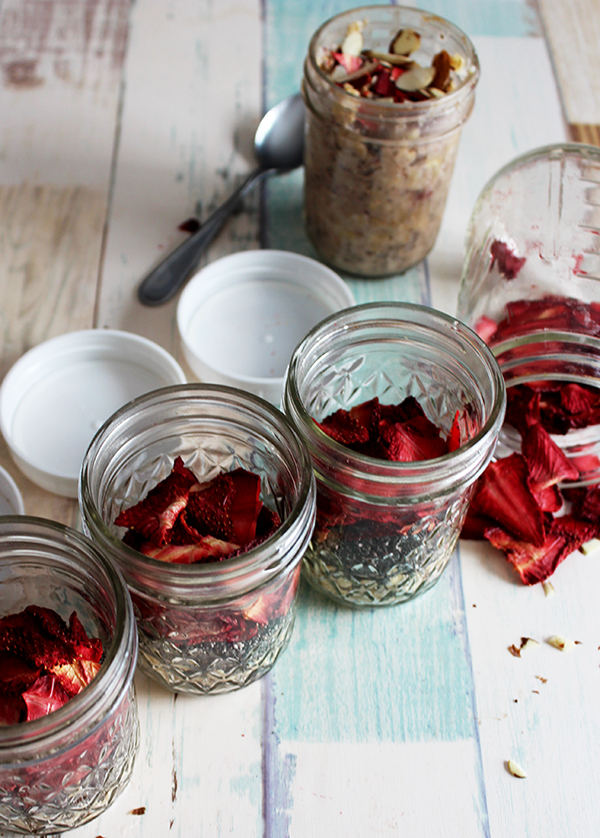 This post is sponsored by Florida Strawberry in conjunction with a social media compaign through Sunday Supper LLC. All opinions are my own.
There are some fruits and vegetables that I will not even consider buying unless they are in season locally. Strawberries fell into that category until I discovered Florida Strawberries.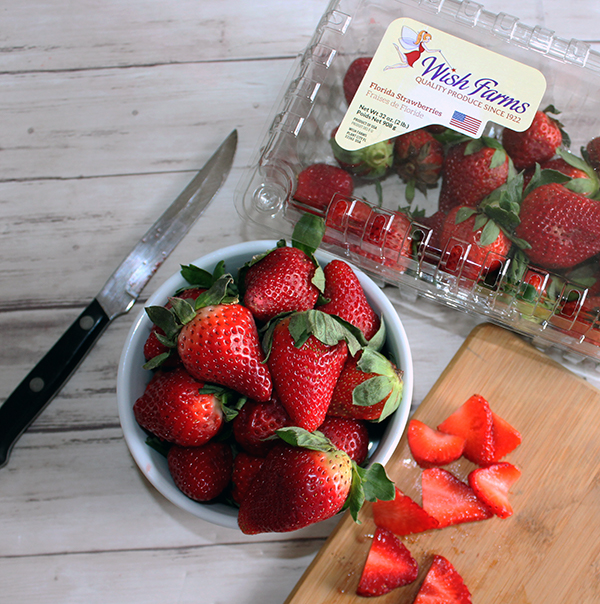 Florida Strawberries, unlike the typical strawberries that are in the supermarket, are so sweet and delicious, it's like taking a bite out of summer in the middle of winter. They are fragrant and red inside and out, just as a fresh strawberry should be. I know all about fresh strawberries because my father had a huge strawberry patch in his garden when I was a kid. When I first tasted a Florida Strawberry. I felt like I was back in my dad's garden again.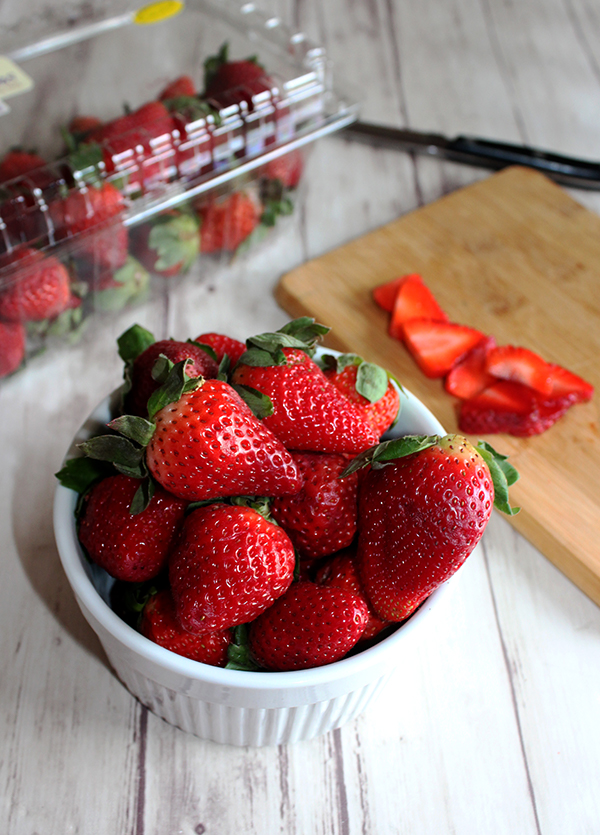 Florida Strawberries are seasonal, and they are in season right now. Their growing season is December through April which means that if you don't get out to pick some up soon, you will have to wait until December 😥 .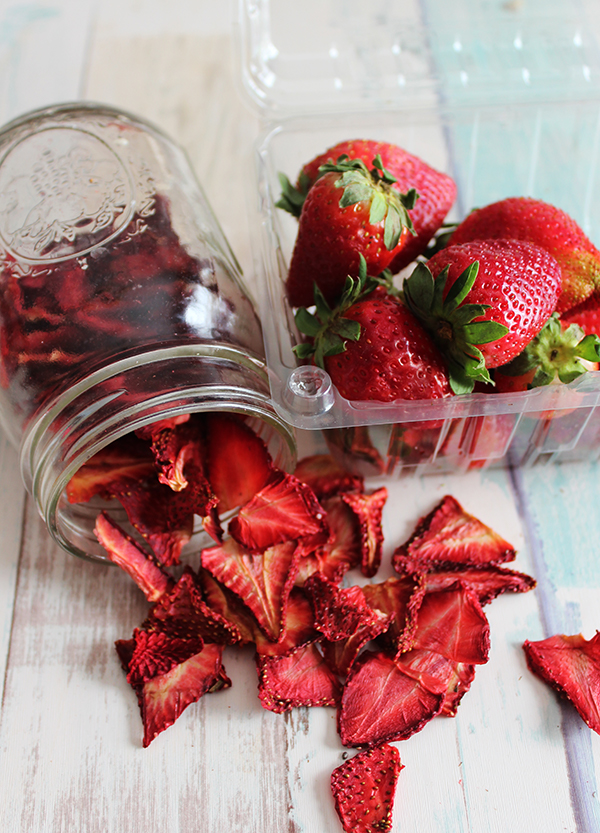 I've been stocking up on Florida Strawberries so that I can preserve their sweet and delicious taste for as long as I can. My favorite way to preserve Florida Strawberries is to dehydrate them. It's an easy and hands-off way to preserve the sweetness of the strawberries, and dehydrated strawberries have so many uses. You can add them to salads, yogurt, homemade granola, dip them in melted chocolate, crumble them up for a sweet tasting garnish or just eat them as they are.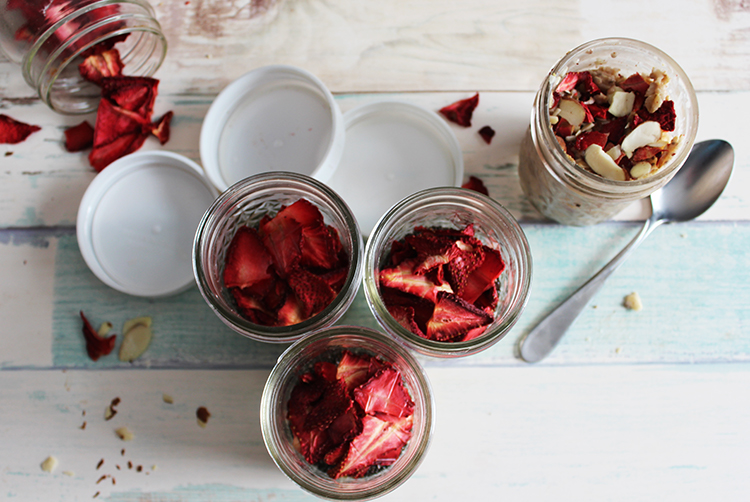 It's easy to dehydrate strawberries at home using an oven or a dehydrator. However, I highly recommend using a dehydrator, they are relatively inexpensive and they take less time do their magic.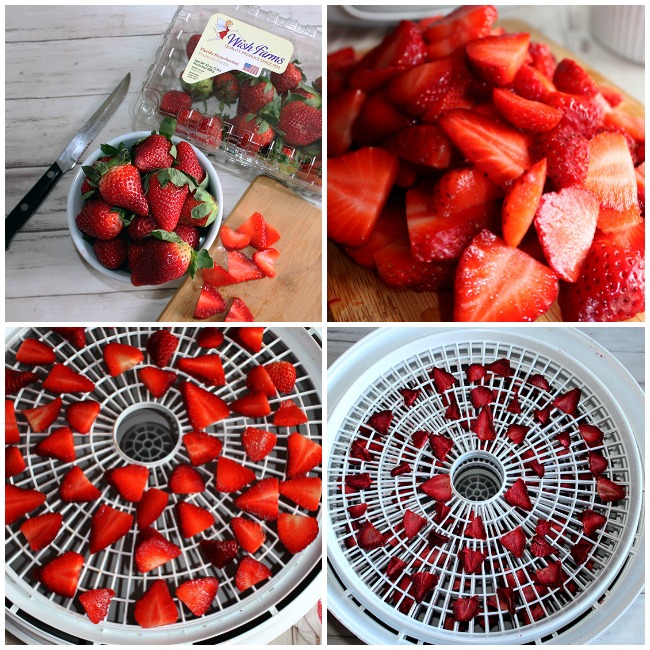 Here's how to dehydrate strawberries at home using a dehydrator:
Wash, dry and hull the strawberries.
Slice the strawberries vertically into ¼ inch thick slices.
Place the strawberry slices on the dehydrator trays.
Cover the dehydrator and turn it on.
Allow them to dehydrate for 5 to 7 hours. Strawberries are done when they are deep red in color and feel dry to the touch.
Allow to cool for 30 minutes and remove from trays.
Condition the berries by placing them loosely in a clean glass jar for 4 to 5 days and shake the jar once a day to separate the pieces. Check for condensation to appear. If no condensation is present, your berries will be ready to store.
Store them in a clean glass jar away from light, for up to six months
Once the berries have completed the dehydration process, you can use them to make up a few jars of make-ahead oatmeal with dehydrated strawberries.
📖 Recipe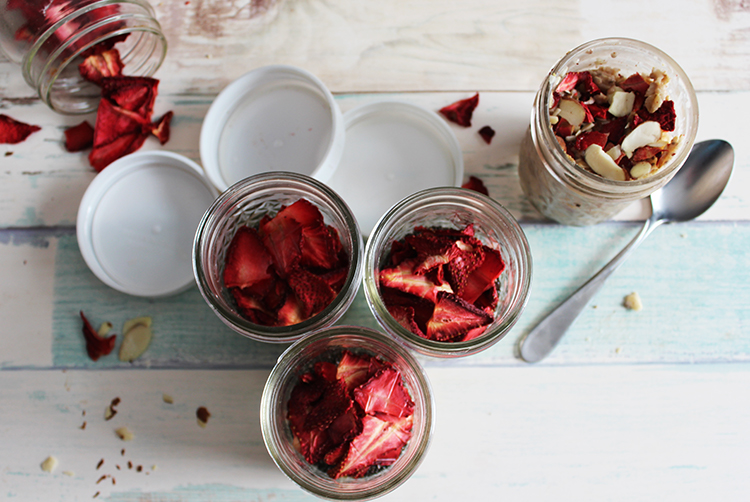 Click on serving size to scale this recipe
Ingredients
2

cups

rolled oats

4

tablespoons

chia seeds

2 ½

cups

dehydrated Florida Strawberries

8

cups

filtered water
Optional Additions:
Milk or Nut Milk

Almond or your favorite nut butter

Your favorite nuts

Shredded coconut

Cacao Nibs

A Dash of Maple Syrup
Instructions
Add ½ cup of oatmeal into each of 4 storage bowls or jars

Top with1 tablespoon of chia seeds

Add the strawberries

Cover and Store
INSTANT OAT METHOD:
When Ready to use, shake the jar to mix up the ingredients

Add 1 cup filtered water to the oats and microwave on high for up to a minute checking periodically so that they don't overflow.

Add milk, nut butter, and your favorite topping
OVERNIGHT OAT METHOD:
Shake up the jar to mix the ingredients, add the water and place in the refrigerator overnight

Add milk, nut butter, and your favorite topping
Nutrition
Nutrition information provided is an estimate and can vary based on cooking methods and ingredients used