This Mediterranean quiche with spinach is packed with veggies and flavor! It's made with a hash brown crust, so it's gluten-free too. It's perfect for a healthy breakfast, brunch, lunch or dinner.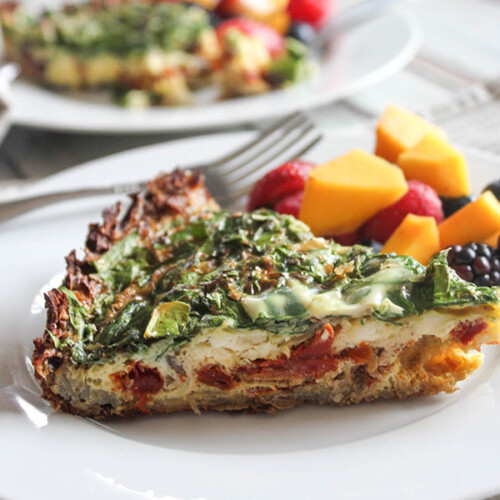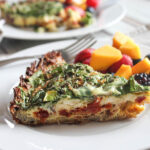 This Mediterranean quiche recipe is packed with vegetables and Mediterranean flavors! Instead of traditional pie crust, it's made with a crispy hash brown crust so it's gluten-free too. It's perfect for a healthy breakfast, brunch, or dinner.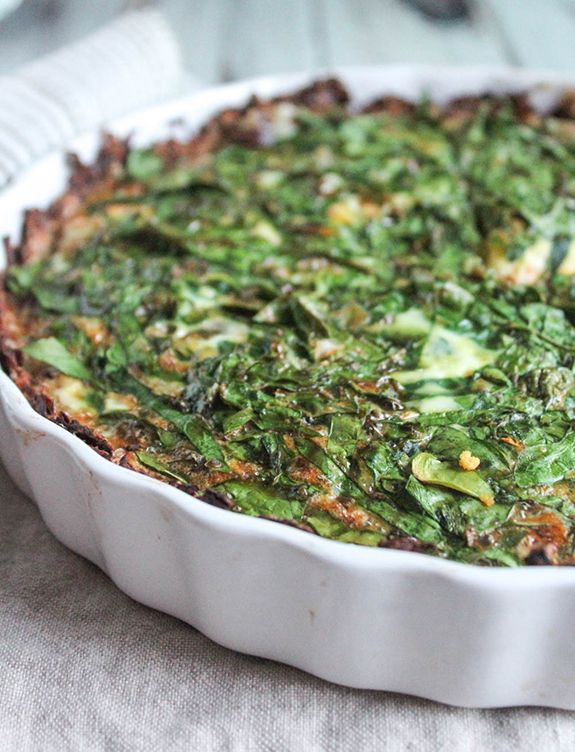 This healthy veggie Mediterranean quiche is going to be your new favorite quiche recipe. Not only is it delicious, but the shredded potato pie crust is also much easier to make than a traditional pie crust.
If you like this recipe, you will love this vegetable breakfast casserole.
It's nutritious and full of healthy, fresh ingredients.
It can be made ahead of time and reheated quickly for a quick meal; perfect for your meal prep rotation.
It's versatile! Enjoy this quiche any time of day.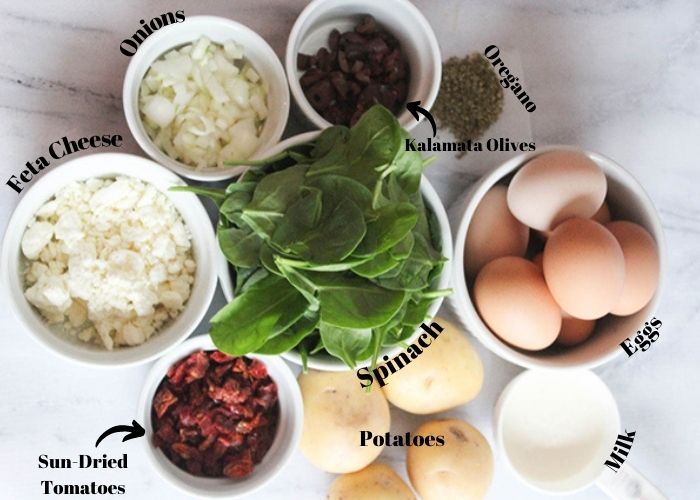 Here is What You Will Need
Ingredients
Potatoes
Eggs
Onion
Whole Milk
Oregano
Baby Spinach
Sun-Dried Tomatoes
Kalamata Olives
Feta Cheese
Equipment
How To Make Mediterranean Quiche
Prepare the ingredients: Chop the onions, spinach, sundried tomatoes, oregano and olives. Shred the potatoes with a box grater or food processor.
Preheat the oven to400 degrees f, and coat a pie plate with olive oil or cooking spray.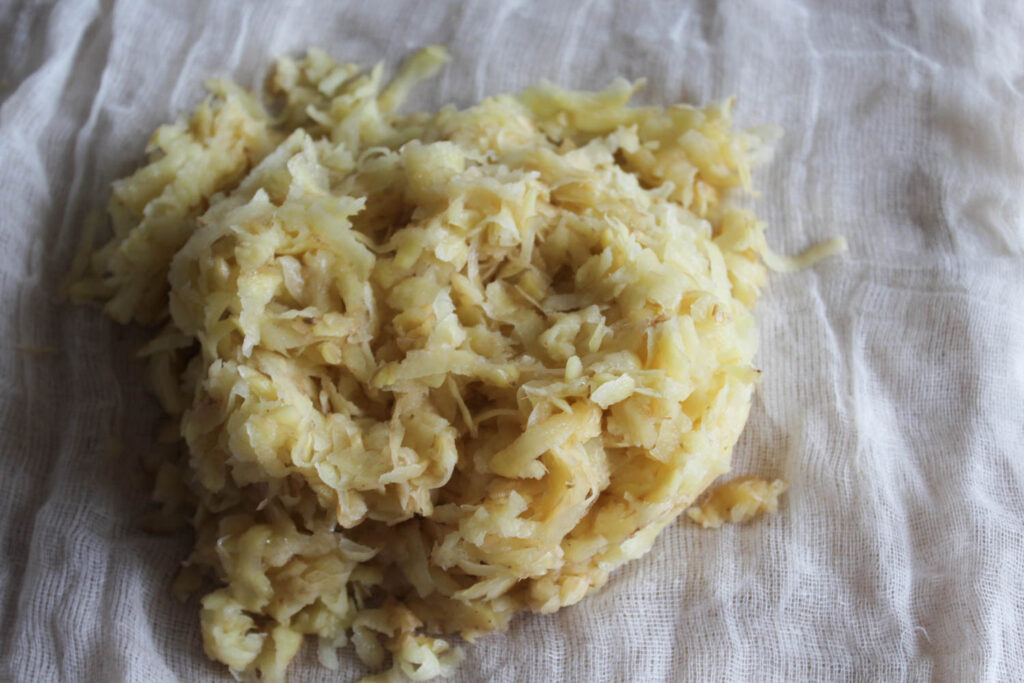 Step 1. Shred Potatoes
Place the shredded potatoes on a piece of cheesecloth or a towel.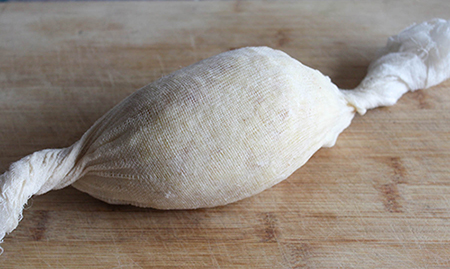 Step 2. Release excess moisture
Wrap the potatoes tightly in the cheesecloth and squeeze out the excess liquid.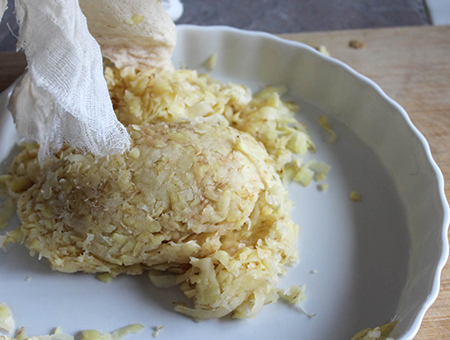 Step 3. Unwrap the potatoes
Unwrap the potatoes and add them to a pie plate brushed with olive oil.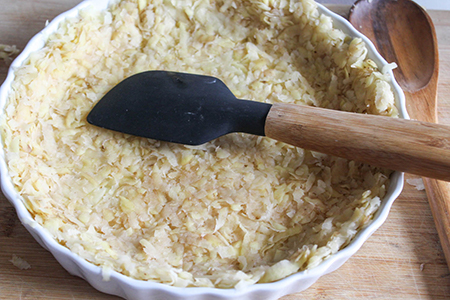 Step 4. Make the crust
Spread the shredded potatoes on the pie plate, while gently pressing them into the pan to form a crust. Brush the top of the potato crust with the remaining olive oil.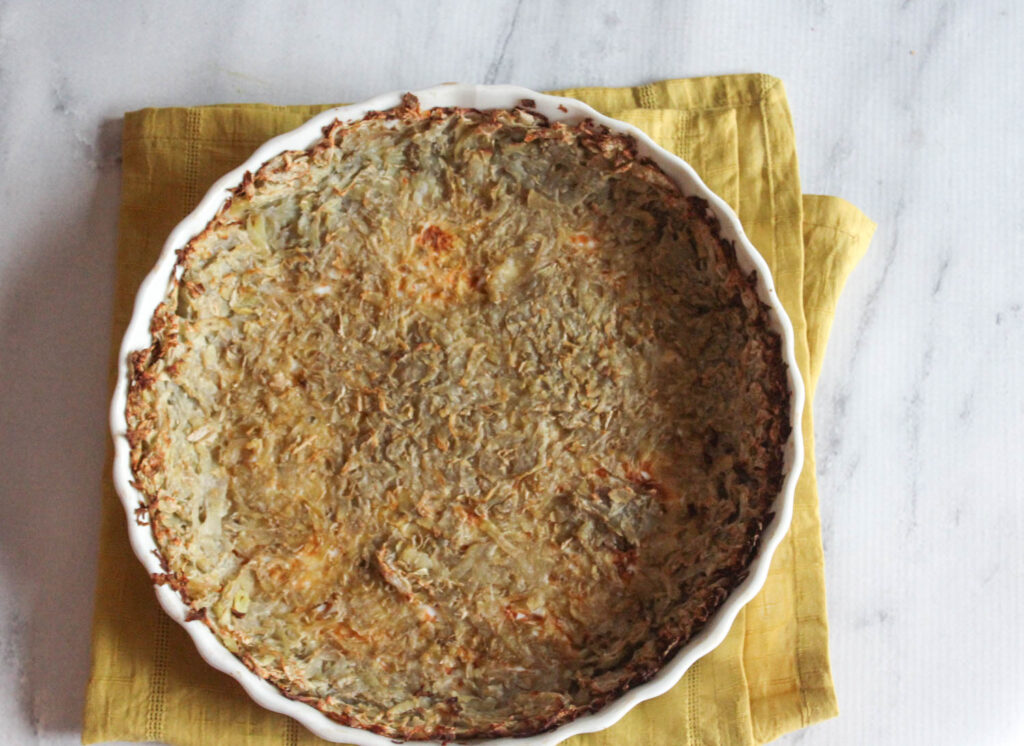 Step 5. Bake the potato crust
Bake the shredded potato crust until it turns brown and crispy, about 20 minutes. Remove crust from the oven and reduce the oven heat to 375 degrees f.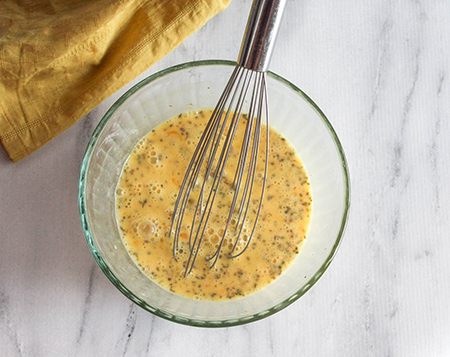 Step 6. Prepare the filling
While the crust is baking, whisk eggs together in a medium bowl, and stir in the oregano.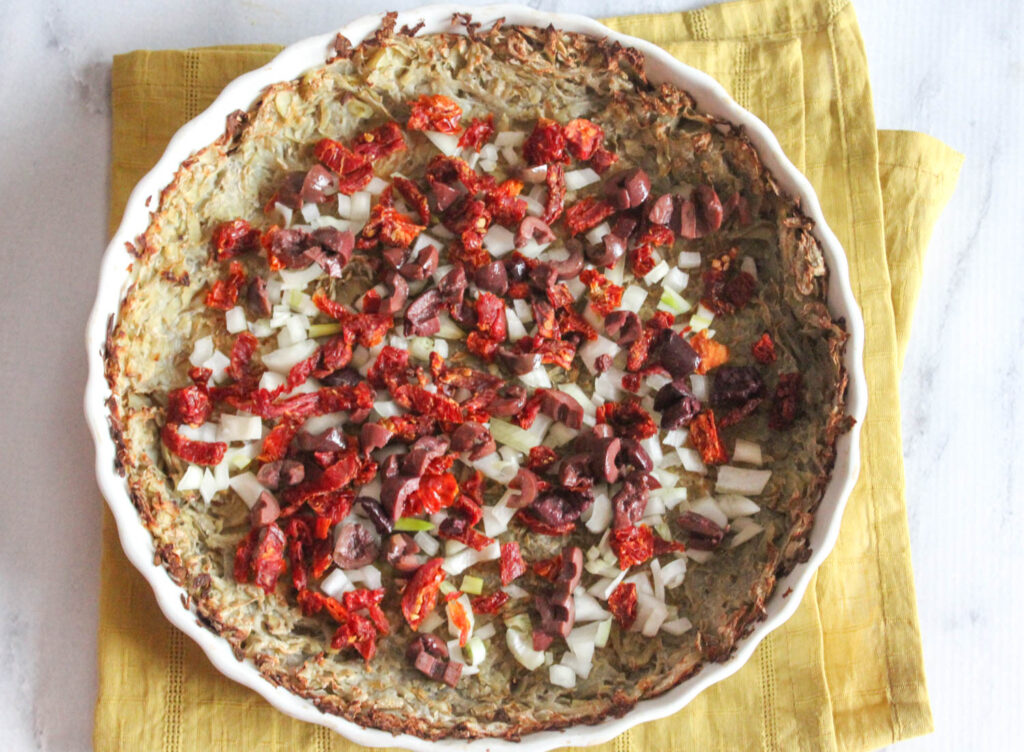 Step 7. Fill the crust
Sprinkle onion, sundried tomatoes, and olives, and sprinkle feta cheese on top of the crust.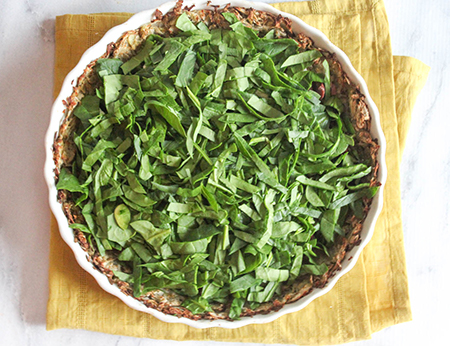 Step 8. Add Spinach
Add a layer of spinach, pour egg mixture over the vegetables, and bake until set for about 30 to 40 minutes.
Note: Allow the quiche to cool for 5 to 10 minutes before slicing and enjoy!
Ingredient Notes & Substitutions
The full list of ingredients to make this Mediterranean vegetable quiche recipe is above. Below are notes about some of the ingredients, along with ideas for substitutes.
Potatoes - Russet or Yukon Gold are the best potatoes for making hash browns for their high starch content.
Spinach - For the freshest flavor I like to use fresh baby spinach. The leaves are tender and the stems are not tough.
Frozen spinach can also be used in place of fresh spinach. Thaw a 9-ounce package of, and spinach and squeeze as much of the moisture out as you possibly can before adding it to the quiche crust.
Sundried tomatoes - Look for sundried tomatoes that are packed in oil. If they are not available, you can drain and rinse oil-packed tomatoes.
Kalamata olives are the best choice. The salty flavor brings all of the flavors in the quiche together. If the taste of these olives is too much for your taste, you can leave them out or substitute them with black olives.
Onion - Any type of onion will work in this recipe. I like to use an all-purpose yellow onion, sweet onion, or red onion to add a touch of color.
Fresh oregano can be substituted with ¼ teaspoon of dried oregano.
Feta cheese can be substituted with any of your favorite cheeses such as goat cheese, mozzarella cheese, grated parmesan cheese, or cheddar cheese.
Serving Suggestions
Serve your Mediterranean vegetable quiche with homemade turkey sausage, or a side salad such as chopped Greek salad, kale caesar salad, veggie noodle salad or a fruit salad.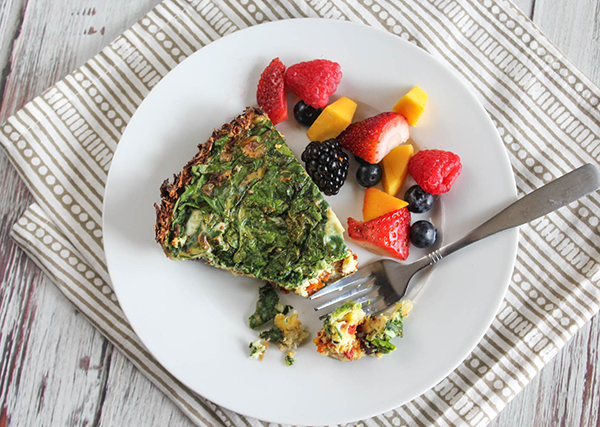 Make-Ahead Instructions
This is another easy meal prep recipe that can be made ahead of time entirely or partially, here's how:
Partial Make-Ahead Instructions - Follow the instructions for making the crust and baking it. Once the crust has cooled off, cover it and store it in the refrigerator for up to two days.
Chop the spinach, olives, onions, and sundried tomatoes and store them in a refrigerator container for up to two days.
Before serving, remove the crust from the refrigerator, mix up the eggs and seasonings, add the filling ingredients, and bake just before serving.
Make the quiche ahead of time and bake it. Reheat it in the oven just before serving. It's perfect for grabbing a quick weekday breakfast.
Storing and Using Leftovers
Store leftover room temperature Mediterranean quiche in the refrigerator covered for up to 4 days.
Reheat the quiche in the oven at 350 until it has heated through or reheat it in the microwave.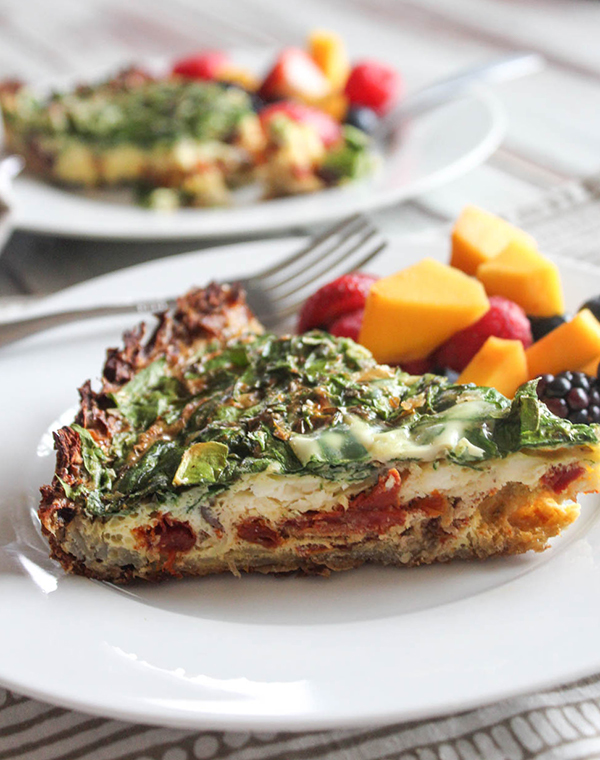 Recipe Variations
Quiche recipes like this are so customizable. You can use any type of vegetable that you like, here are some suggestions for changing your quiche.
Add meat - Cook ¼ to ½ pounds of breakfast sausage, chopped ham, or bacon, and add it to the pie crust before pouring in the egg mixture.
Change up the vegetables - Use any variety of vegetables that you like such as asparagus, broccoli, zucchini, kale, red bell peppers, or arugula.
Mini Mediterranean Quiche - Instead of a pie pan, coat a muffin tin with olive oil, and press the shredded potatoes into each muffin cup then add the quiche filling and bake.
Fresh Herbs - add any combination of fresh herbs such as chopped fresh basil leaves, parsley leaves, or tarragon leaves.
Recipe Tips and Questions
Try the knife test to test for doneness by inserting a knife about one inch from the center. If the knife comes out clean when it is pulled out, the quiche is done.
Is a hash brown potato crust healthier than a traditional pie crust?
Yes, a hash brown potato crust is healthy when there isn't a lot of added salt or oil. Potatoes are whole food, a good source of fiber, vitamins and minerals.
Can I make a hashbrown crust quiche with a pastry pie crust?
Yes, you can use your favorite pie crust recipe, or use a pre-made frozen crust to make this recipe. Partially bake the crust before filling it with the quiche filling.
Have you tried these breakfast recipes?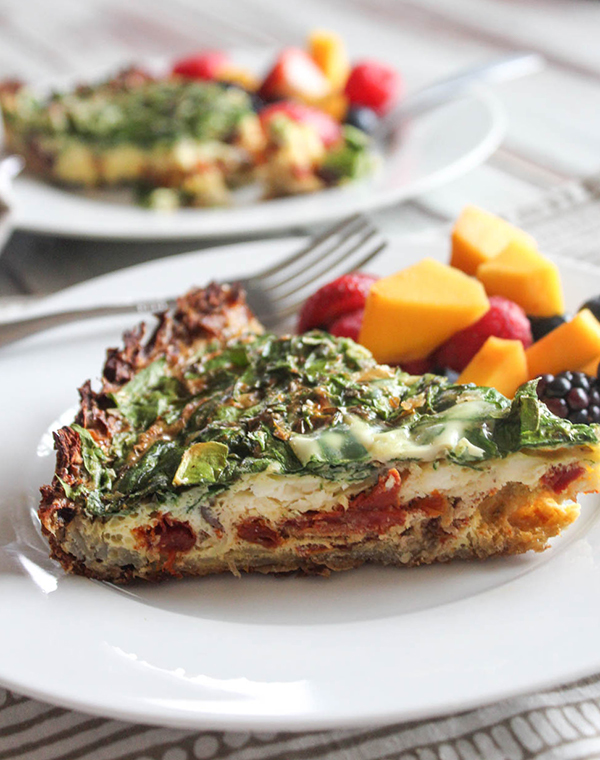 Click on serving size to scale this recipe
Ingredients
1 ½

tablespoons

olive oil

divided

3 to 4

medium potatoes

shredded which will make about 3 cups

½

cup

onion chopped

6

eggs

¼

cup

whole milk

1

teaspoon

dried oregano

2

cups

baby spinach

roughly chopped

½

cup

sun-dried tomatoes

¼

cup

kalamata olives

sliced

¼

cup

feta cheese crumbles
Instructions
Pre-heat the oven to 400 degrees. Use a paper towel to coat a 9 inch pie plate with 1 tablespoon olive oil

Shred the potatoes using a hand grater or food processor and place them in a kitchen towel or cheesecloth and squeeze the moisture out.

Unwrap the potato shreds and spread them into the prepared pie plate.

Use a spatula or your hands to press the potatoes into the pie plate.

Spread ½ tablespoon olive oil over the top of the potato crust with a pastry brush.

Place the crust into the oven and bake until the potatoes begin to turn brown, about 20 minutes.

While the crust is baking, chop the onion, baby spinach, sun-dried tomatoes , kalamata olives and set them aside.

Whisk the eggs, milk and seasonings together.

Once the crust has finished baking, remove it from the oven and reduce the heat to 375.

Top the cooked crust with spinach, olives, sun-dried tomatoes, onions and cheese.

Pour the egg mixture over the ingredients in the pie plate.

Bake until set; about 30 to 40 minutes.
Notes
Insert a knife about one inch from the center of the quiche to test for doneness. If the knife comes out clean the quiche is cooked.
Allow 5 to 10 minutes for the quiche to cool off before serving.
See blog post above for recipe variations, tips and serving suggestions.
Nutrition
Serving:
1
slice
|
Calories:
182
kcal
|
Carbohydrates:
18
g
|
Protein:
8
g
|
Fat:
9
g
|
Saturated Fat:
3
g
|
Polyunsaturated Fat:
1
g
|
Monounsaturated Fat:
5
g
|
Trans Fat:
0.01
g
|
Cholesterol:
130
mg
|
Sodium:
218
mg
|
Potassium:
556
mg
|
Fiber:
3
g
|
Sugar:
1
g
|
Vitamin A:
1036
IU
|
Vitamin C:
26
mg
|
Calcium:
88
mg
|
Iron:
2
mg
Nutrition information provided is an estimate and can vary based on cooking methods and ingredients used
Check out more of our Gluten-free recipes here!