Healthy savory breakfast bowls are filled with steel-cut oats, sauteed greens, creamy avocado, and eggs. It's the perfect choice for a hearty filling breakfast that is nutritious.
Healthy breakfast bowls are truly a healthy and balanced meal filled with lean protein, veggies, and whole grains.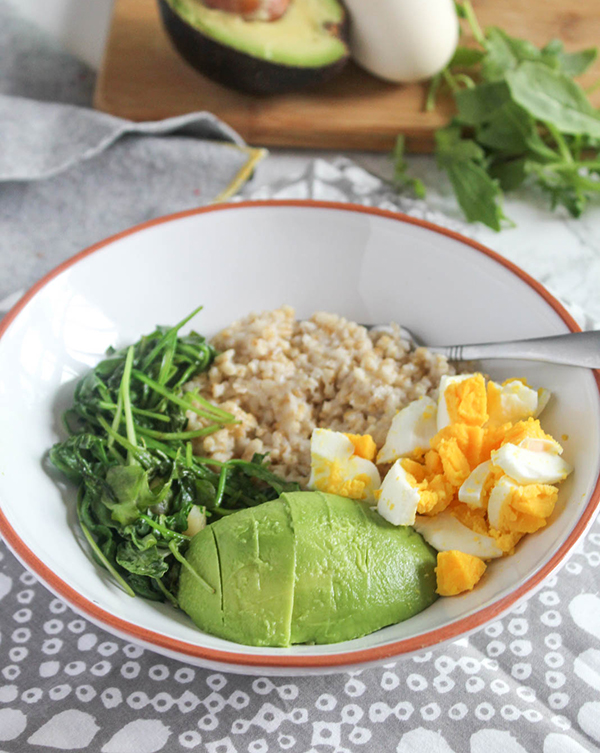 Recipe Highlights
Breakfast bowls are very customizable. Change up the grains, veggies and the way your eggs are cooked.
It's a super healthy and satisfying recipe.
You can make them for lunch or dinner too.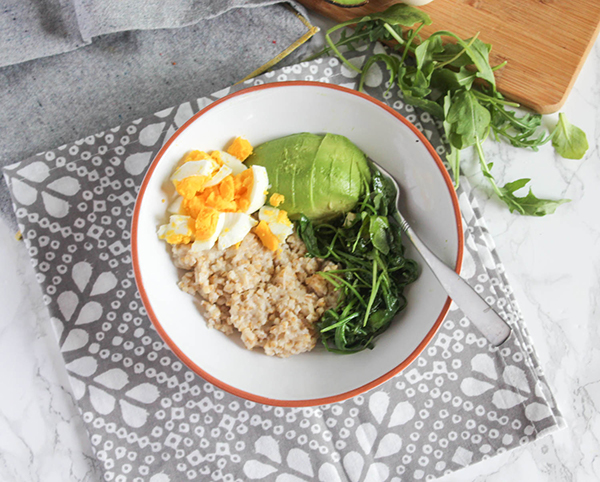 Here is what you will need
There are so many ways to make savory breakfast bowls, this is our favorite combination of ingredients:
Steel Cut Oats
Olive Oil
Eggs
Avocado
Bary Arugula
Garlic
Tamari Sauce (optional)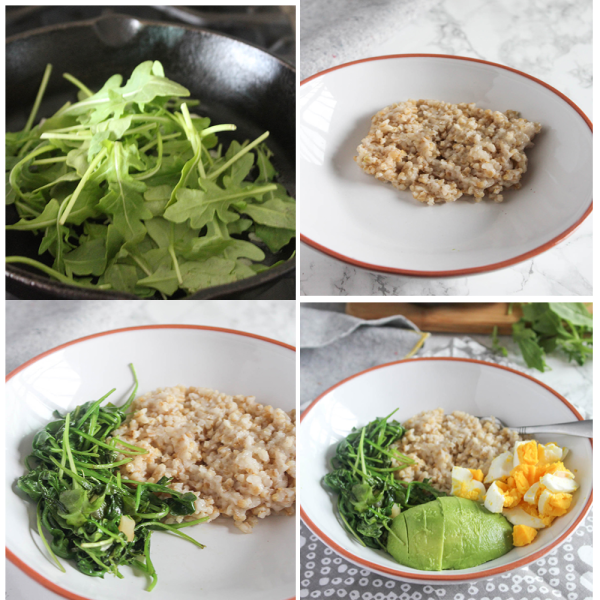 How to Make Healthy Savory Breakfast Bowls
Cook the steel cut oats per package instructions, and cook the eggs (this can be done ahead of time.) While the oats and eggs are cooking, slice the avocado and chop the garlic.
Place the garlic with a little bit of oil in a pan, and cook the garlic with the baby arugula until the arugula wilts. Add a splash of tamari sauce and remove it from the heat.
Assemble the bowls and enjoy!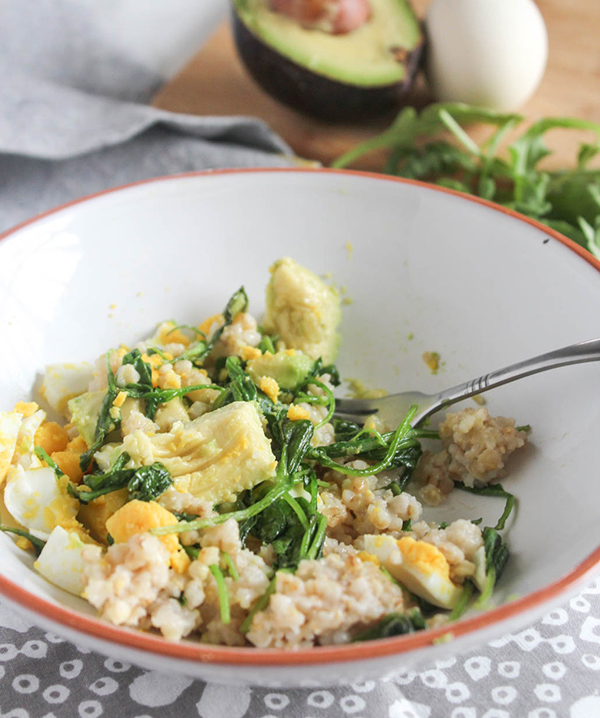 Total Estimated Time to Make this Recipe: 50 to 60 minutes (which includes time to cook the steel-cut oats)
Ingredient Notes & Substitutions
Steel Cut Oats can be replaced with an equal amount of brown rice, wheat berries, quinoa, bulgur, or farro.
Baby Arugula – can be replaced with any leafy green of your choice such as kale, spinach, or swiss chard.
Egg – The hard-boiled eggs can be replaced with soft boiled eggs, fried, scrambled or poached egg.
Make-Ahead & Storage Instructions
Cook a batch of steel-cut oats or whole grains, and boil a few eggs and store them in the refrigerator separately for up to four days.
To serve, quickly cook the greens and garlic, and put the bowl together.
Portable Savory Breakfast Bowls – Add all of the prepared ingredients for your bowl into a mason jar for a grab and go breakfast. Make up a few of them and store them in the refrigerator for up to four days.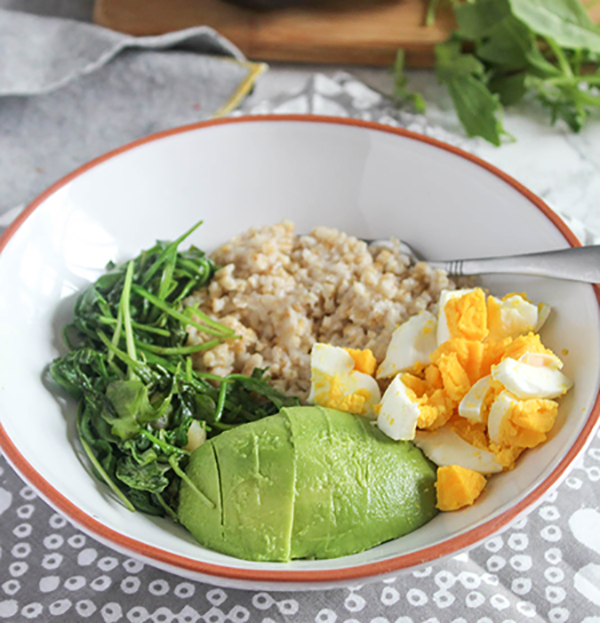 You Might Also Like these Breakfast Ideas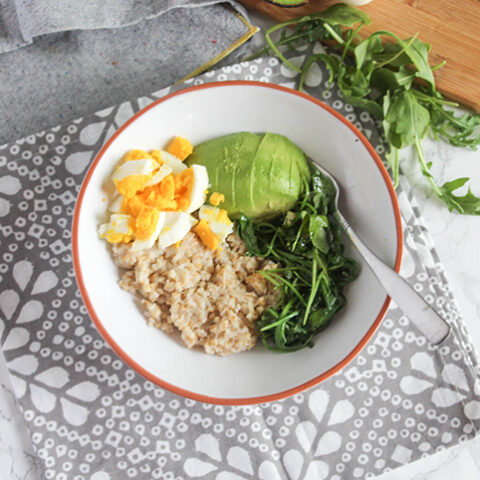 Healthy Savory Breakfast Bowl
Savory breakfast bowls are perfect for any meal and are a great and healthy way to use up leftovers.
Ingredients
¼ to ½ cup cooked steel cut oats
1 cup packed baby arugula
1 teaspoon olive oil
½ tablespoon tamari sauce
½ clove garlic
1 hard boiled egg
¼ of an avocado
Instructions
Heat a skillet over medium heat
Add the olive oil and garlic; cook for a few minutes
Add the baby arugula and toss until it begins to wilt and stir in the tamari sauce and turn the heat off.
place the steel cut oats into a bowl, add the baby arugula, avocado and egg.
Notes
Substitutions:
oats - quinoa, wheat berries, faro, brown rice, or bulgur.
arugula - spinach, kale, chard
eggs - fried or scrambled