A Healthy savory breakfast bowl is made up of whole grains, sauteed greens such as arugula or spinach, and creamy avocado to add a dose of healthy fat. And finally, eggs are added for a punch of protein.
This breakfast bowl is a satisfying and hearty breakfast that will help to power you through your day.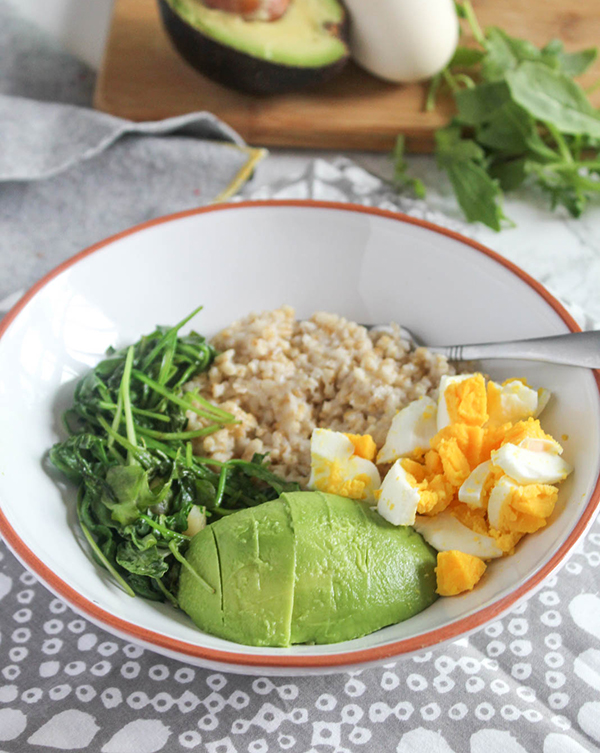 Healthy breakfast bowls are healthy and balanced meals filled with lean protein, veggies, and whole grains, similar to our breakfast burrito bowls.
Why This Recipe Works
Breakfast bowls are very customizable. Change up the grains, veggies and the way your eggs are cooked.
It's a super healthy and satisfying recipe.
You can make them for lunch and dinner too.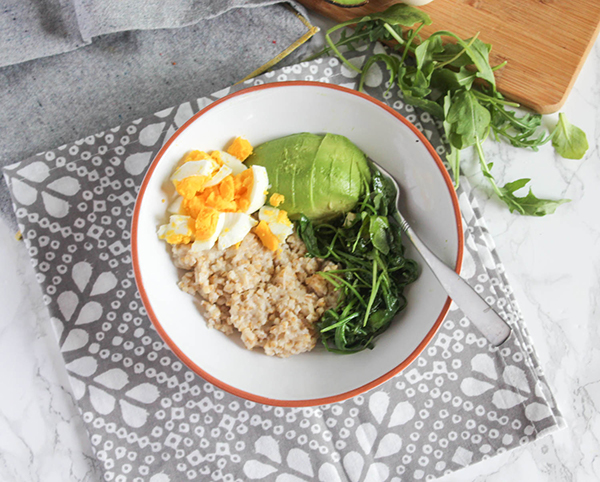 Here is What You Will Need
As an Amazon Associate, I earn from qualifying purchases
This is an overview of the ingredients and steps to make this recipe, scroll down to see ingredient notes and substitutions as well as a printable recipe card with exact measurements and complete cooking instructions.
---
---
Here is How To Make a Breakfast Bowl
Get all of the ingredients ready: cook the whole grains, and if you are using a hard or soft boiled, cook that too. Slice the avocado and chop the garlic and grab a bowl.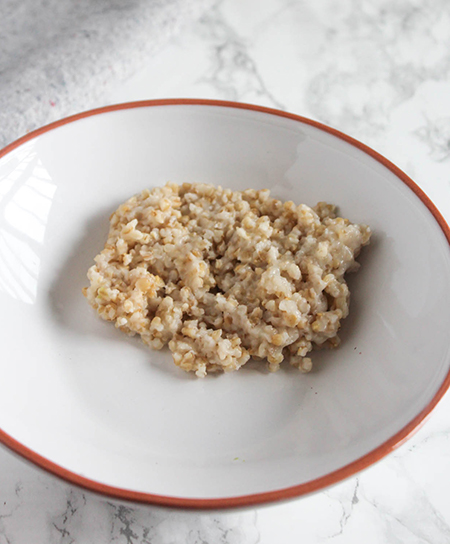 Step 1. Add a spoonful of cooked whole grains to the bowl.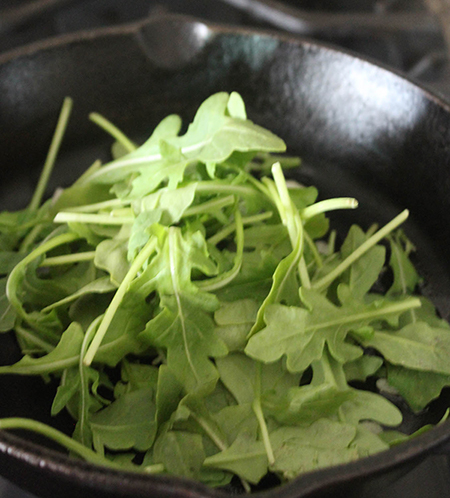 Step 2. Heat some olive oil in a skillet; add the garlic and greens; quickly toss until the greens are just wilted. Add a splash of tamari sauce.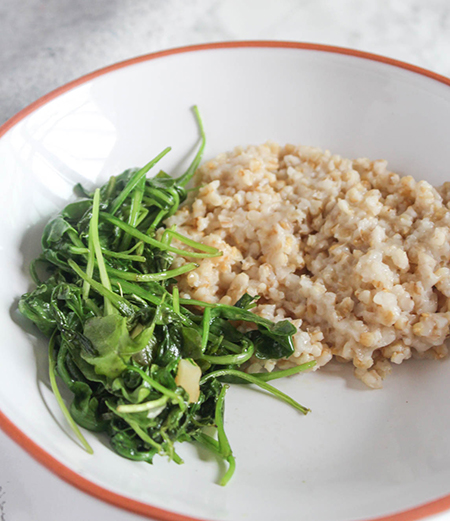 Step 3. Add the greens to the bowl with the whole grains.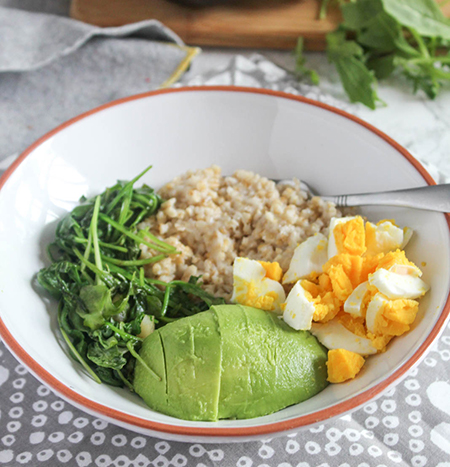 Step 4. Next, add the avocado and egg.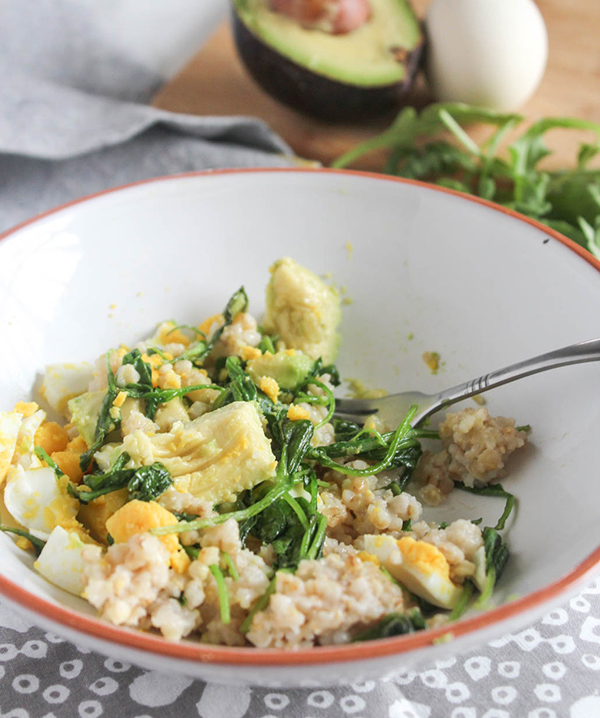 Total Estimated Time to Make this Recipe: 50 to 60 minutes (which includes time to cook the whole grains.)
Ingredient Notes & Substitutions
Whole grains - Use any of your favorite whole grains such as brown rice, wheat berries, quinoa, bulgur, farro, barley, or steel-cut oats to make your breakfast bowl. These bowls are a great way to use up leftover whole grains.
Leafy greens - Any leafy green works in this recipe. We like to use arugula, spinach, kale, or chard.
Egg - Hard or soft-boiled eggs are a good choice because they can be made ahead of time. You can also make your breakfast bowl with fried, scrambled or poached eggs.
Make-Ahead & Storage Instructions
Cook a batch of whole grains, and boil a few eggs and store them in the refrigerator separately for up to four days.
To serve, quickly cook the greens and garlic, and put the bowl together.
Store your leftover or make-ahead bowl in the refrigerator for up to four days.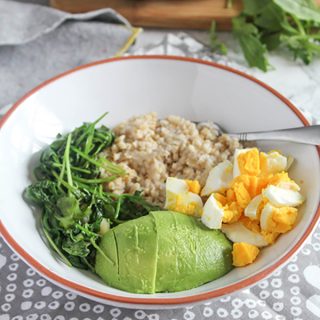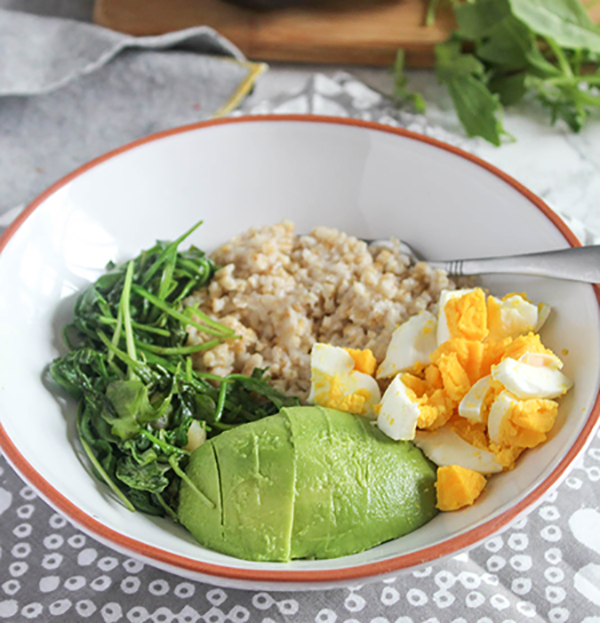 Recipe Variations
Breakfast bowls are very customizable, here are a few healthy breakfast bowls to try out.
Tex-Mex Bowl. Add ⅛ to ¼ cup of black beans, egg any style with sauteed greens, rice, cheese, and salsa.
Potato Bowl. Use fried pan-fried potatoes or sweet potatoes in place of the whole grains.
Italian Style Bowl. Add a handful of chopped tomatoes and basil to your bowl and sprinkle with a little parmesan cheese.
Meat Lovers Bowl. Add sausage or bacon crumbles to your bowl.
Portable Savory Breakfast Bowls. Add all of the prepared ingredients for your bowl into a mason jar for a grab-and-go breakfast. Make up a few of them and store them in the refrigerator for up to four days.
You Might Also Like these Breakfast Ideas
Join our mailing list to receive weekly menu ideas and more!