Spice up your breakfast with a breakfast burrito bowl. It's an easy portable breakfast that is full of deliciousness and can be made ahead of time.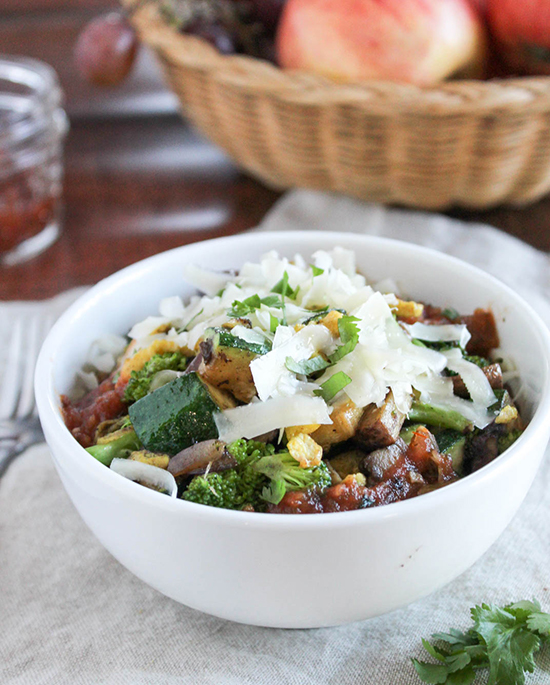 Breakfast Burrito Bowls a Versatile Breakfast
I have a habit of going through my refrigerator the day before I head to the supermarket to take inventory and use up any food that needs to be used because I don't like to waste food. As a result, at least one meal on the day of inventory is made from my fridge finds.
I have to say, I've created some pretty tasty dishes, from my fridge finds and breakfast burrito bowls are one of them.
Recently I found broccoli, mushrooms and zucchini that really needed to be used up. I already had dinner planned which meant I had to use the vegetables up for breakfast or lunch. I could have made an omelette or stirred the veggies into scrambled eggs, but I wanted something different.
I sauteed the vegetables, scrambled an egg, tossed in black beans, and cauliflower rice then topped the bowl with shredded cheddar cheese and salsa. It was so good. I've been making breakfast burrito bowls all kinds of ways ever since, so I had to share.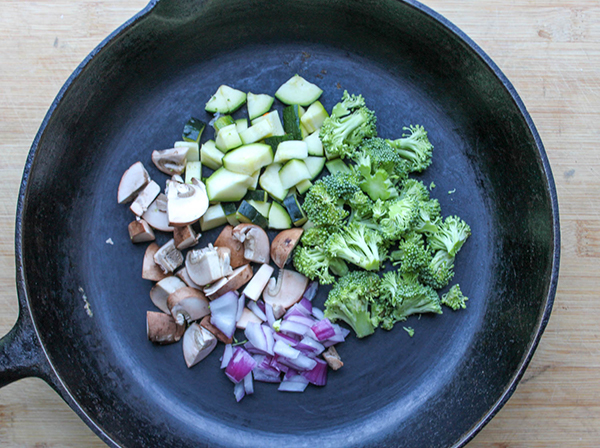 As an Amazon associate, I earn from qualifying purchases.
Breakfast Burrito Bowl Recipe Ingredients
You can add any combination of your favorite vegetables, meat, whole grains and potatoes. The recipe in the recipe card below is our favorite version, and I am including ingredient options below so you can experiment and come up your own breakfast bowl.
Eggs – are lightly seasoned and scrambled, or fried. If you are looking for a vegan version, substitute the eggs with crumbled tofu.
Milk or water is optional for scrambled eggs. Some people say the liquid makes the eggs more fluffy. I've never made scrambled eggs without milk or water so I can't speak for that claim.
Cheese – cheddar, Monterey Jack or mozzarella melt nicely, and they add just enough cheesy flavor. For a vegan version add a few sprinkles of nutritional yeast or try my vegan queso recipe.
Vegetables – any combination of vegetables that you like, here are some suggestions: zucchini, broccoli, mushrooms, tomatoes, onions, garlic, peppers, cauliflower, chopped kale, baby spinach, or arugula
Meat – breakfast meats taste fantastic in breakfast burrito bowls, try: chorizio sausage, breakfast sausage, bacon or Canadian bacon.
More Add-In's – These ingredients fall into either the vegetable or whole grains categories. They bulk up the burrito bowls. Try one or a few of these: black beans, rice, home fries, cooked quinoa, rice, cauliflower rice.
Toppings: Once all of the ingredients are added to the bowl, top it with any of the following: avocado slices, salsa, cheese, jalapeno peppers, crumbled tortilla chips, chopped cilantro.

How to Make Breakfast Bowls
It's really easy to make breakfast burrito bowls. The ingredients cook quickly on top of the stove so it's important to have everything prepared and ready to cook. You can use one pan and cook the ingredients separately or you can speed up the process, and use two pans.
Here is how to make these tasty breakfast bowls.
1. Choose and prepare your ingredients:
chop up the vegetables that you will be using and set them aside,
prepare the eggs by whisking them, seasoning and adding milk or water
cook the whole grains, cauliflower rice or potatoes if you are using them
shred the cheese
if are using meat, cook the meat and set it aside. You can cook the meat while the vegetables are cooking
3. Saute the vegetables on top of the stove until they are crisp tender. If you are using leafy green vegetables give them a quick saute in the pan until they wilt. Divide the vegetables in half and place them in two bowls.
4. Top the vegetables with the cooked meat
5. Cook the eggs and layer them on top of the meat
6. Add the whole grains or cauliflower rice and add them to the bowl (if they are cold you may want to heat them before adding them to the bowls).
7. Sprinkle on the cheese and your favorite toppings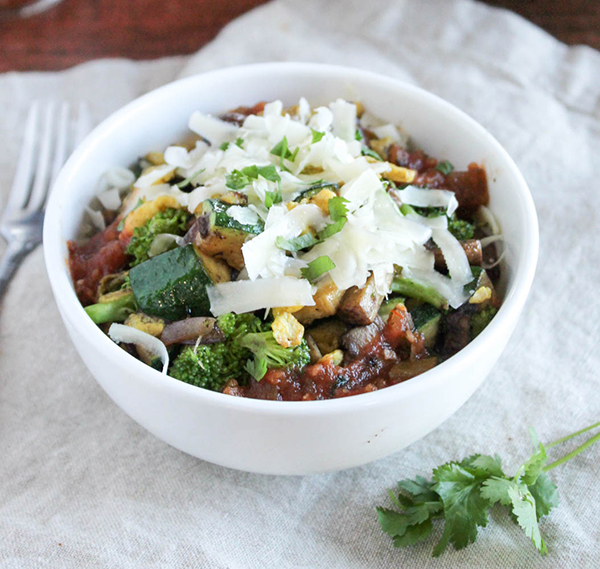 Make Ahead Breakfast Burrito Bowls
Breakfast burrito bowls are a great option for a grab and go breakfast. Make up a few portions and add them to a jar or glass storage container, store them in the refrigerator for up to 2 days and heat them up before eating.
Our favorite Breakfast Burrito Bowl Combinations
Low Carb Breakfast burrito bowl
Vegetables + Eggs + Cheese + Cauliflower Rice
Vegetarian
Vegetables + Eggs + Cheese + Beans + Whole grain, potatoes or cauliflower rice
Protein
Vegetables + Eggs + Beans + Cheese + Quinoa + Meat
Protein/Low Carb
Vegetables + Eggs + Cheese + Cauliflower Rice
Check out These Breakfast Recipes
Print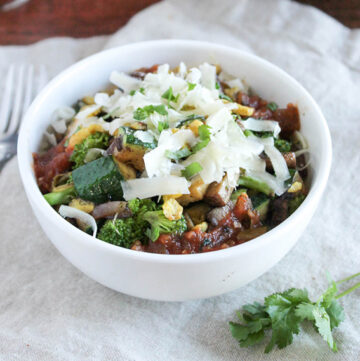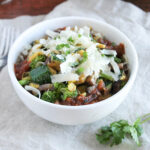 Breakfast Burrito Bowls
---
Author:

anne

Prep Time:

10 minutes

Cook Time:

20

Total Time:

30 minutes

Yield:

2

1

x
Description
Breakfast burrito bowls are an easy portable breakfast that is full of deliciousness and can be made ahead of time.
---
Scale
Ingredients
1 to 2 tablespoons of olive oil
2 eggs
1 small potato
1/2 cup chopped broccoli florets
1/2 cup chopped zucchini
1/4 cup chopped mushrooms (about 3 to 4 caps)
1 tablespoon diced onion
1/2 cup black beans
1/8 cup or more of shredded cheddar cheese
1/4 teaspoon oregano
1/2 cup cauliflower rice
1 piece of Canadian bacon or 2 slices of bacon chopped or crumbled
---
Instructions
Prepare the ingredients:
Cut the potato into small cubes
Chop the vegetables into small pieces
Prepare the eggs: whisk them with water or milk in a bowl
Heat the oil over medium heat and add the potatoes, cook them until they begin to turn soft on the inside and brown on the outside – about 15 minutes.
Remove the potatoes from the heat and divide them  in half and place into 2 bowls
Add a little more oil to the pan and cook the vegetables to the pan and cook them quickly until they begin to soften, divide them in half and place equal portions into 2 bowls.
Add the eggs to the pan and scramble them, once they are cooked through add them to the bowls
Add the cauliflower rice to the pan and stir it for about a minute until it's heated through and add it to the bowls.
Top the eggs with cauliflower rice and beans
Sprinkle on the cheese and salsa
Category:

Breakfast

Method:

Stove-top

Cuisine:

American
Keywords: breakfast bowl, breakfast burrito bowl