This Italian Pasta and Peas Recipe (pasta e piselli) is quick and easy to make! It's a delicious recipe made with sweet peas which add a fresh spring flavor. It's a healthy, filling dinner that everyone will love.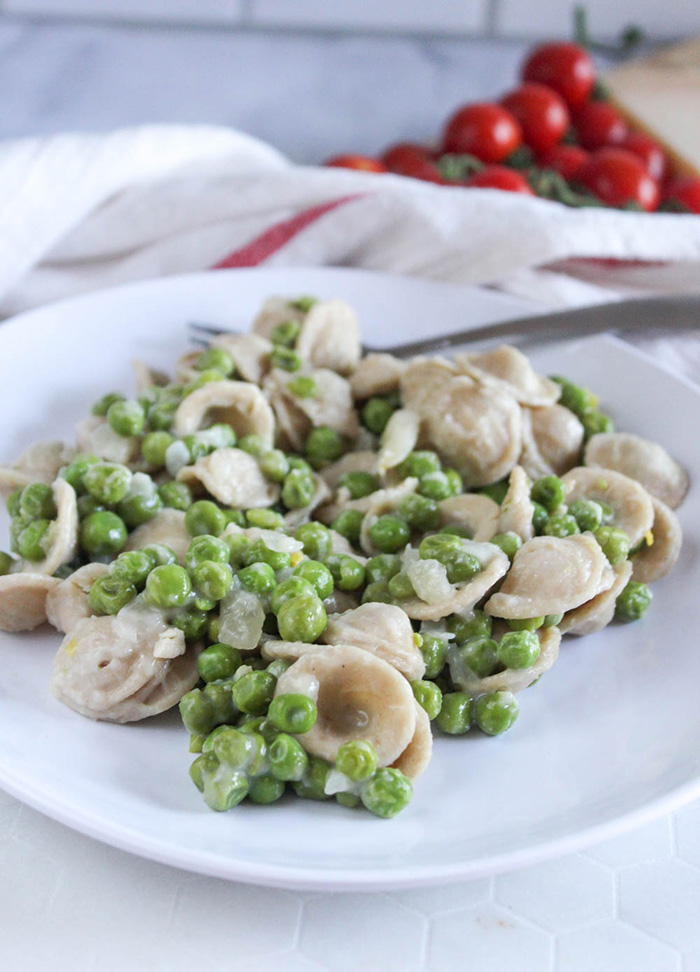 One-pot meals are the best especially when they are economical. It's a win all the way around. This Italian pasta and peas recipe is made with simple ingredients and costs about $3.50 per serving to make with whole wheat pasta. You can save even more if you use white pasta.
Busy weeknights are made for quick and economical pasta dishes, this ground chicken and pasta casserole is another one of our easy meals.
Jump to:
Why you will love this recipe
It's an easy pasta recipe to make and ready in 30 minutes!
Italian peas and pasta is made in one pan which means easy cleanup!
Here is what you will need
As an Amazon Associate, I earn from qualifying purchases.
This is an overview of the ingredients and steps to make this recipe, scroll down for a printable recipe card with exact measurements and instructions.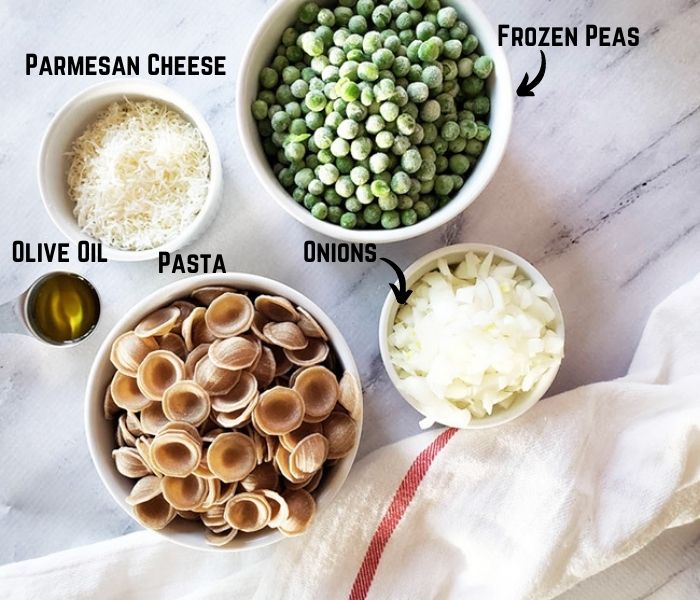 Ingredients
Whole wheat pasta or white pasta
Extra virgin olive oil
Onion
Garlic
Frozen peas
Water
Parmesan cheese
Equipment
Heavy saucepan or Skillet
Wooden spoon
Here is how to make Italian pasta and peas
Prepare the ingredients: Dice the onions and garlic, and measure the pasta, peas, water, and oil. Shred the cheese.
Heat olive oil in a heavy pan or skillet over medium-high heat.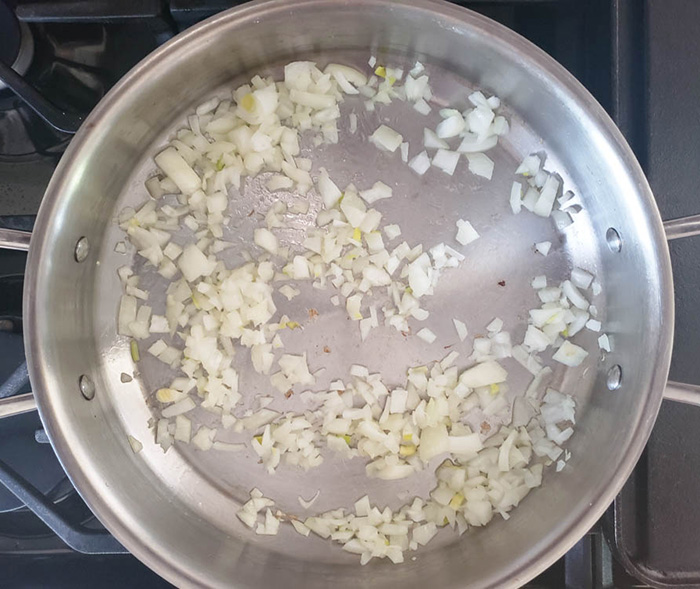 Step 1. Cook the onions and garlic
Once the pan is hot add the diced onion and garlic, and saute the onions with the garlic for a few minutes until they begin to turn soft.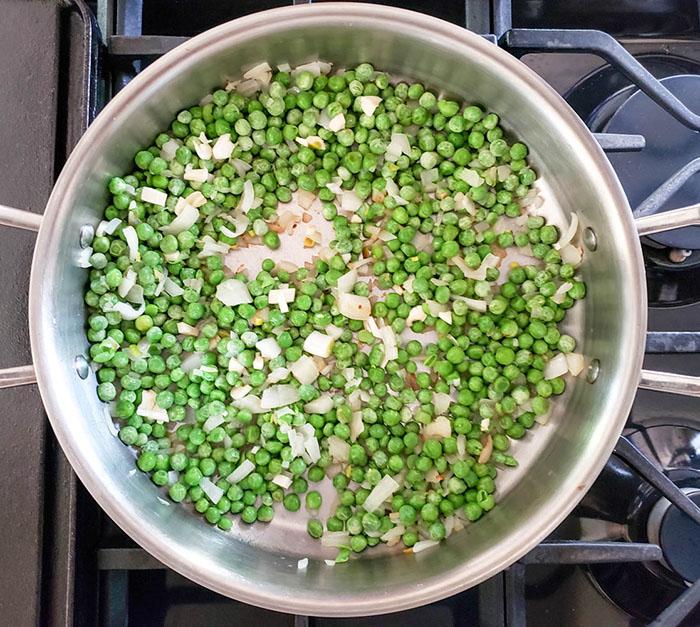 Step 3. Add the peas and pasta
Reduce to medium-low heat, and stir in the peas.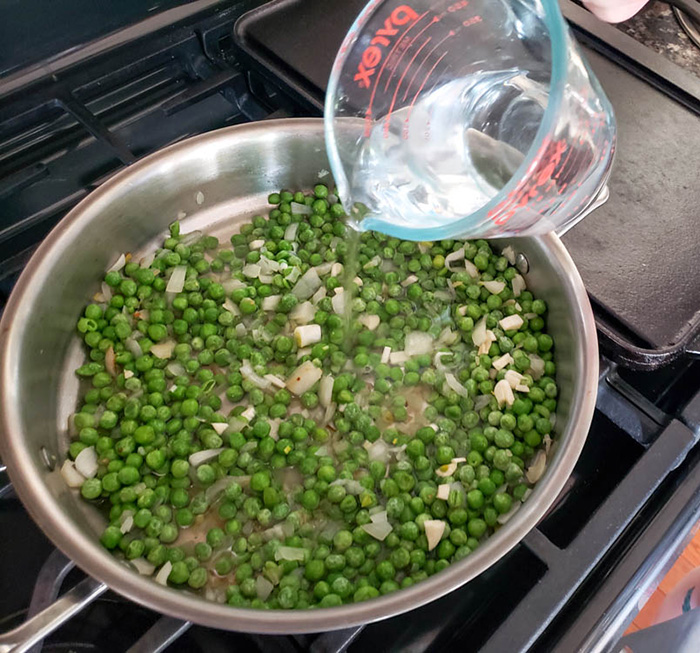 Step 4. Add the water
Pour the water into the pan, and stir, cook for a few minutes until the water starts to boil.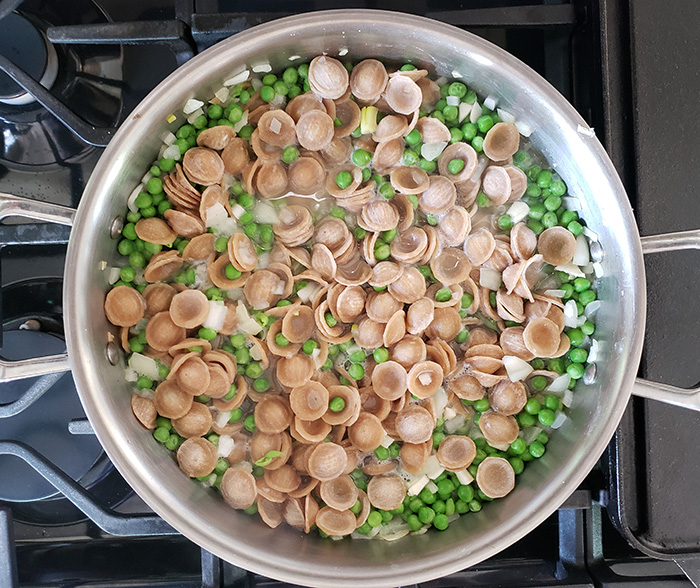 Step 5. Stir in the pasta
Add the pasta and cook stirring occasionally until the pasta is cooked. You may need to add a little bit of water as the pasta cooks.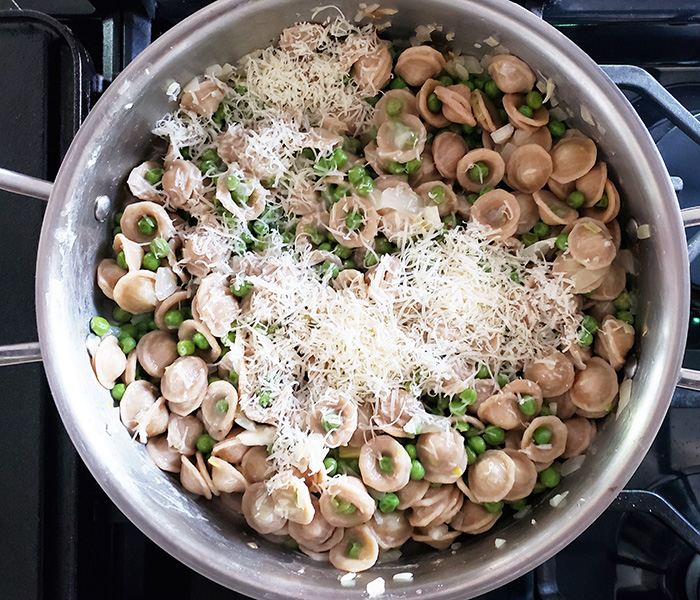 Step 3. Add the cheese
Stir in the parmesan chees and serve.
Tip! Cooking time can vary depending on the shape and size of the pasta. The best way to know if it is cooked is to taste it. It should be slightly soft with a little bit of a bite.
Ingredient Notes & Substitutions
The full list of ingredients to make this recipe is above. Below are notes about some of the ingredients along with ideas for substitutes.
Pasta - You can use just about any shape of pasta that you like in this recipe. In my opinion, shells or orecchiette pasta is the best pasta because it holds onto the sauce and the peas well. I don't recommend large and heavy pasta shapes such as rigatoni.
Garlic - Most recipes for pasta and peas don't use garlic, but it tried making it both ways, and garlic wins!
You can leave the garlic out or you can substitute fresh garlic with ½ teaspoon of garlic powder.
Water - Pasta and peas is typically cooked in vegetable broth or chicken broth, I use water to keep it economical and to lower the sodium. I find that the peas, onions, and garlic add enough flavor to the pasta. I add a little bit of salt to taste at the end of cooking which works just as well as using broth.
If you prefer to use broth, you can substitute the water with an equal amount of chicken broth or vegetable broth.
Try our recipe for homemade vegetable broth!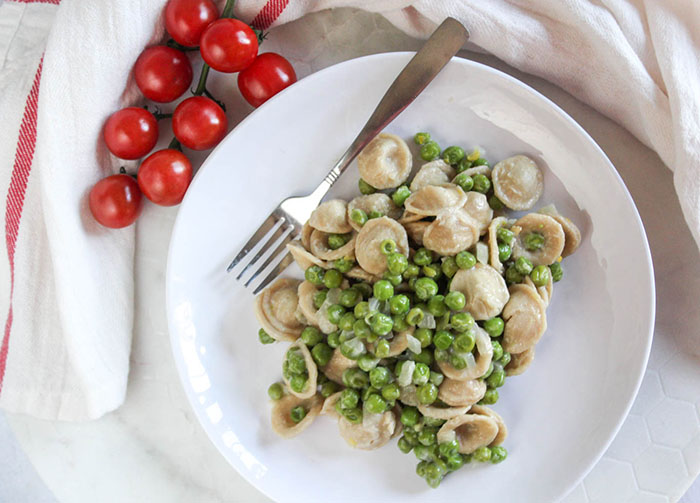 Variations
This pasta and peas recipe is flavorful and filling on its own, and you can also change it up for a different flavor. Here are some suggestions:
Peas and pasta with mushrooms-Just before serving add ½ to ¾ cup of sliced sauteed mushrooms to the pasta and peas.
Pasta and peas with tomatoes - About halfway through cooking, stir in ½ cup diced fresh tomato.
Add fresh herbs. Add a tablespoon or two of a fresh herb such as mint, basil, or oregano.
Peas and pasta with meat - just before serving add 2 slices of bacon that has been crumbled or a few slices of chopped prosciutto or ham.
Change up the veggies - Instead of peas, use diced broccoli or chopped asparagus.
Gluten-free pasta and peas - Use your favorite gluten-free pasta instead of whole wheat pasta.
Vegan pasta and peas - Instead of parmesan cheese, use an equal amount of nutritional yeast.
Serving suggestions
Serve Italian pasta and peas as a main course with a salad like this kale caesar salad, arugula salad with figs, or spinach salad for a complete nutritious dinner.
Italian pasta and peas can also be served as a side dish with grilled chicken, or pork chops.
Tip! Even though the cheese and starch from the pasta water create a thick sauce, try adding a small amount of butter or heavy cream just before serving for a creamy sauce.
How to store and reheat leftover pasta and peas
Peas and pasta taste the best right after being cooked. If you do have leftovers, store them in the refrigerator in an airtight container for up to two days.
Reheat the pasta and peas on top of the stove over low heat until heated through. You may need to add some water to keep the pasta from sticking to the pot.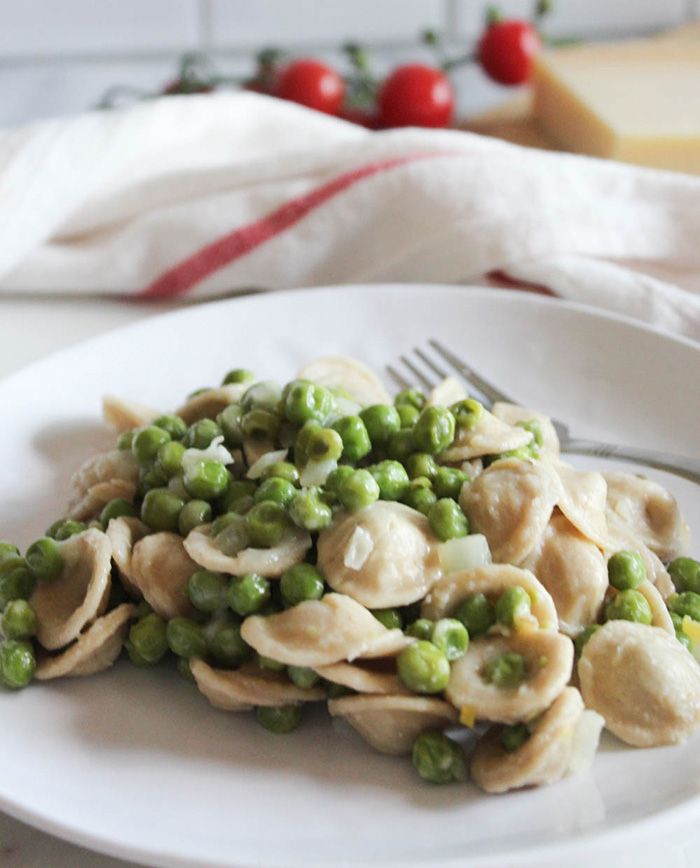 Recipe tips and questions
Can I make this recipe with fresh peas?
Yes, you can! Fresh spring peas taste amazing in this recipe.
Can I cook the peas and onions separately from the pasta?
You can, however, the peas and onions add a nice sweet flavor to the pasta when they are all cooked together.
What does pasta al dente mean?
Al dente is a term that's sued to describe the perfect pasta consistency. Al dente pasta will be tender enough to chew, but will still have a bite to it.
Check out more of our Pasta Recipes here!