Healthy Whole wheat lasagna noodles are wrapped around a combination of ground turkey, sweet potatoes an Greek yogurt for a unique version of lasagna.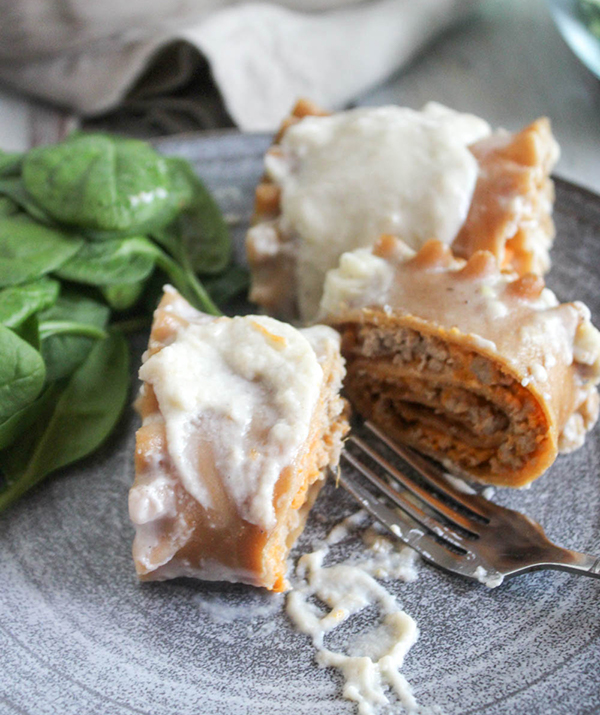 Whole heat Lasagna roll ups are individual portions of lasagna stuffed, neatly rolled up and covered with a creamy white sauce. It's the ultimate comfort food that's hearty, rich and packed with flavor.
Lasagna is a versatile dish. It's perfect to serve to a crowd or to your family or for a freezer meal. It can be made ahead of time, so you have time to spend with your guests and not in front of the stove. Make up a double batch of these whole wheat lasagna roll ups with ground turkey and freeze it for another day.
Serve this dish with a salad for a filling, hearty and healthy dinner.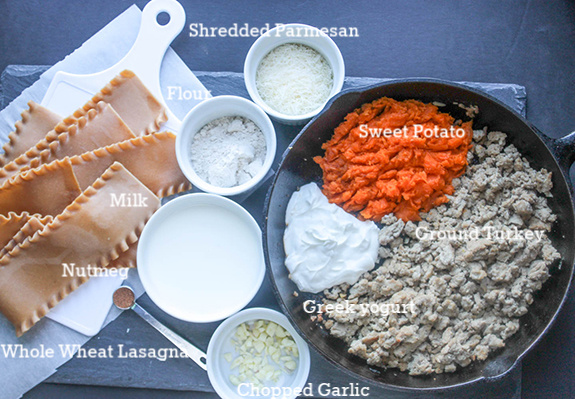 Here is what you will need to make whole wheat lasagna rolls with ground turkey
As an Amazon Associate, I earn from qualifying purchases
This is an overview of the ingredients and steps to make this recipe, scroll down for a printable recipe card with exact measurements and instructions.
Whole wheat lasagna noodles - Whole wheat pasta is healthier choice, it has more fiber and nutrients than white pasta. Since this is recipe is for lasagna roll ups, no boil noodles won't work here.
Ground Turkey - Packages labeled ground turkey breast will contain only ground turkey breast meat which is very lean and dryer. Packages labeled ground turkey can contain breast meat, thighs and drum sticks which have a higher fat content. Either one will work in this recipe.
Fresh Garlic
Baked Sweet Potatoes - a sweet flavor that tames the tangy flavor of the Greek Yogurt.
Tip! Sweet potatoes take about an hour to bake, Bake them ahead of time when you are preparing another dinner so they are ready when it's time to make the turkey lasagna roll ups.
Greek Yogurt - Adds a tangy flavor the turkey and sweet potatoes
White Cream Sauce Ingredients
Milk - I like to use whole milk or 2% which makes a creamy but not overly heavy sauce.
Fresh Garlic
Fresh grated Parmesan cheese from a block which tastes much better than the pre-grated cheese.
Unsalted butter
Flour - Whole wheat or sprouted wheat will perfectly thicken the sauce.
Here is How to Make this recipe
This recipe takes time to make, I've found that preparing the ingredients in this order is the most efficient use of time.
Prepare the ingredients; bake the sweet potato, boil the pasta and brown the meat and garlic.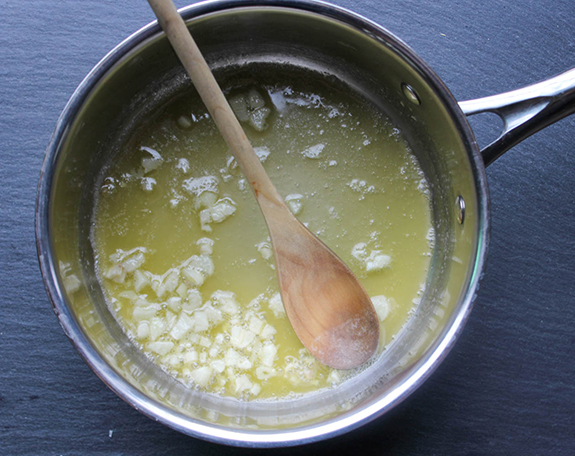 Make the sauce; melt the butter in a saucepan with the garlic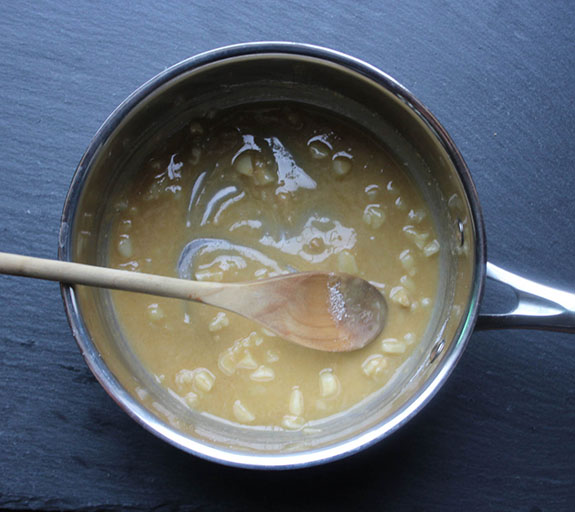 add the flour to form a roux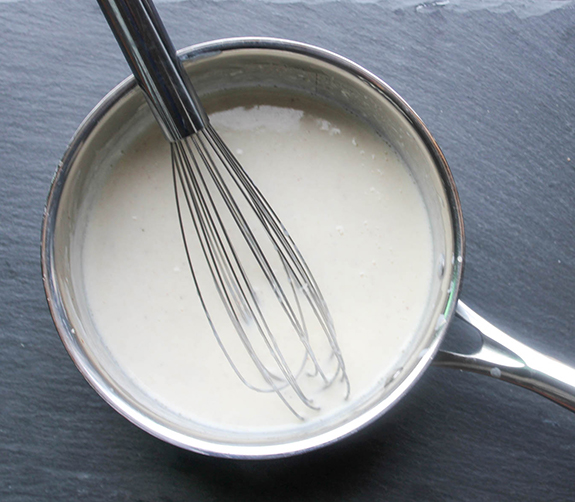 gradually add the milk, stirring constantly until the sauce has thickened. Turn the heat off and set the sauce aside.
Scoop out the pulp form the sweet potato once it has cooled off and add it to the skillet with the cooked turkey and the yogurt, and mix it all together.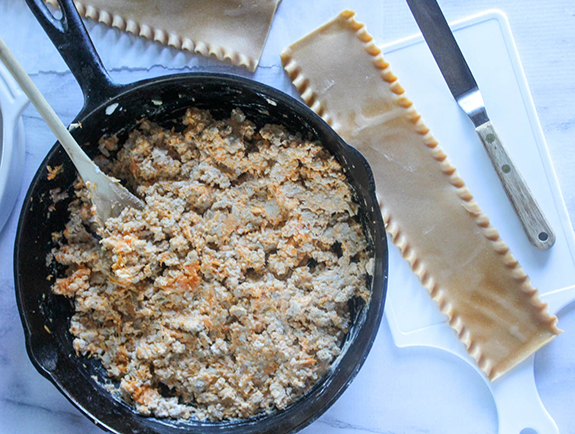 Arrange the cooked lasagna noodles on a piece of parchment or a board and add approximately 3 tablespoons of the filling to the top of each lasagna noodle. I like to make separate piles of the filling so that it's easier to spread instead of one big one.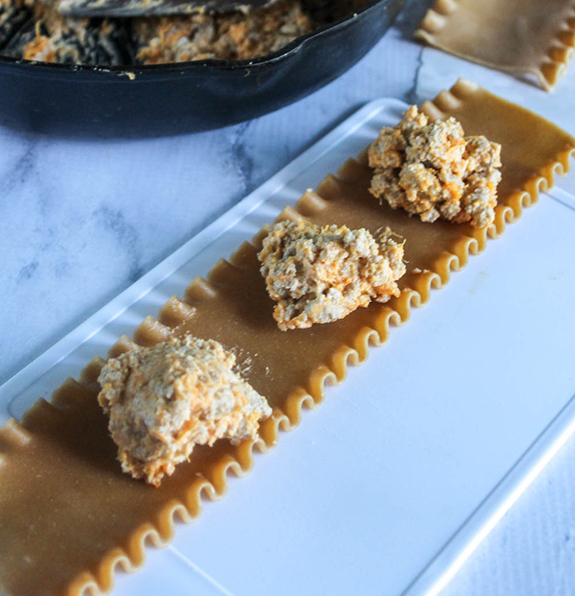 Using a spreading knife, spread the filling so that it covers about ¾ of the noodle and roll it up.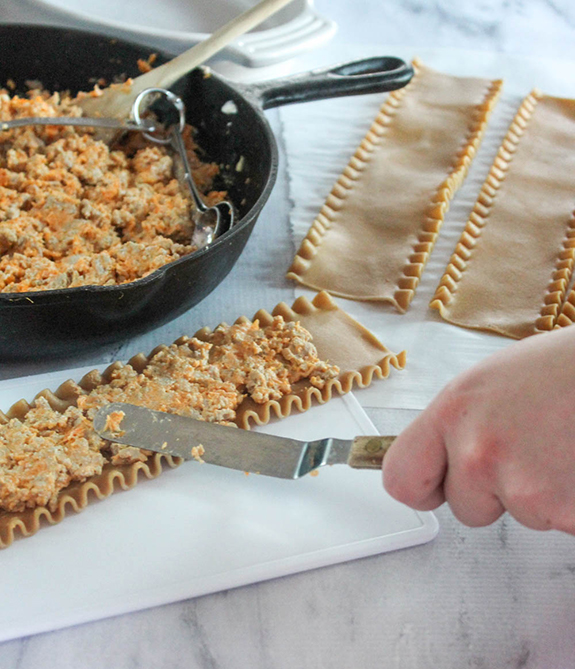 Place ½ cup of the sauce in the bottom of a baking dish and place the lasagna rolls on top. Pour on the remaining sauce, cover and bake.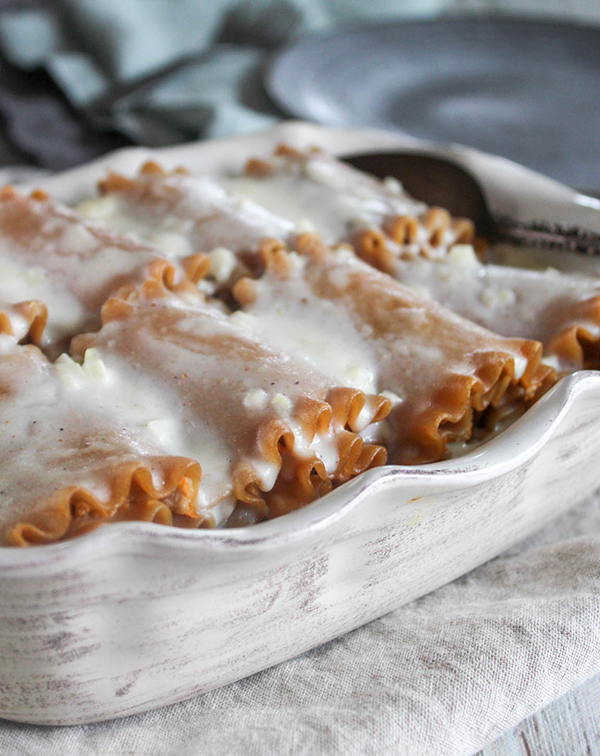 Tips & Variations
Make ahead instructions: Bake the potatoes, cook the meat and make the sauce, and store all of the ingredients in the refrigerator. On the day of, boil the noodles and put it all together.
Freezer Instructions: Lasagna rolls can be frozen individually by placing each roll on a baking sheet. Once they are frozen, add them to a freezer safe container and freeze for up to 3 months. Thaw them in the refrigerator overnight add sauce, cover and bake them.
Or you can freeze the lasagna roll ups the entire dish put together in an air-tight casserole dish for up to three months, defrost in the refrigerator overnight and bake.
Change it up: Use marinara sauce in place of the white sauce for a slightly lighter version.
Use ground chicken or beef in place of ground turkey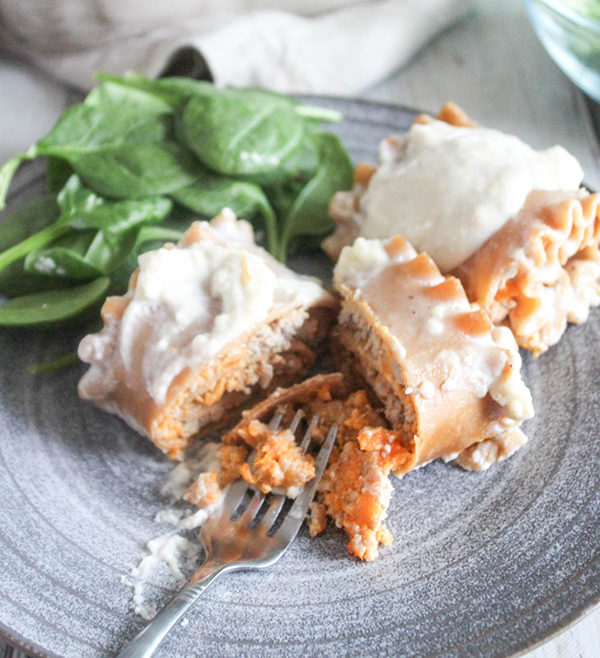 You Might also like these recipes