Baked Eggplant Parmesan Casserole is an easier and healthier way to enjoy eggplant Parmesan at home. It's filled with all of the ingredients that we love in eggplant Parmesan and can be on your dinner table in about one hour. It's a vegetarian dinner that's perfect for meatless Monday or any day of the week.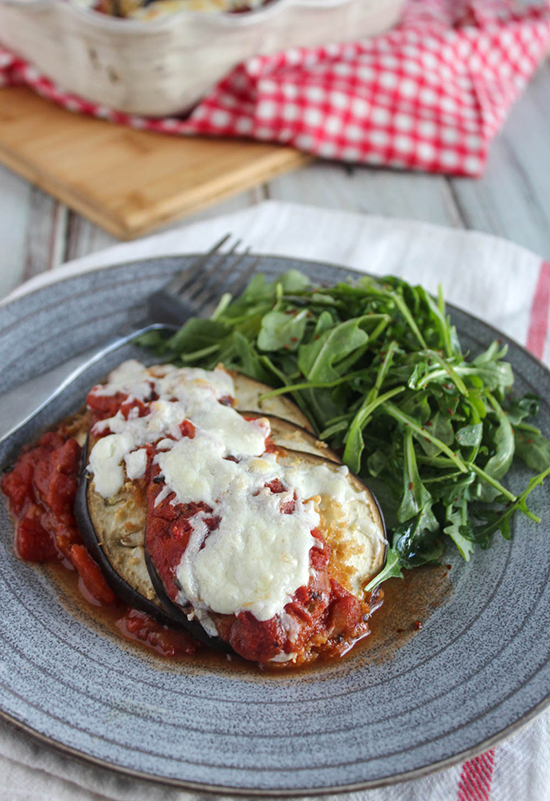 An Easier way to Enjoy Eggplant Parmesan
I love eggplant Parmesan, but don't love all of the work that goes along with it. It's so time-consuming and messy to make. You have to bread the eggplant, fry it, put the casserole together, bake it and then you have to clean it all up.
Think of this eggplant casserole as the express version of eggplant Parmesan because all that needs to be done is place the ingredients into a large casserole dish and bake it. It only has to be cooked once so it cuts out all of the extra work of frying and calories but not the flavor. If you have homemade marinara sauce in the freezer it will take even less time.

As an Amazon associate, I earn from qualifying purchases.
The Ingredients
There are only seven ingredients needed to make this eggplant casserole recipe, here is what you will need:
Italian or Globe Eggplant are the best choices of eggplant to use for baked eggplant Parmesan casserole. They are bigger and meatier than other varieties.
Sea salt to sprinkle on the eggplant slices which will remove any bitterness and take out some of the moisture
Panko bread crumbs add a touch of that breaded taste without the frying
Dried oregano, garlic powder seasons the panko
Fresh mozzarella cheese to top off the casserole
Your favorite marinara sauce
Here is how to make Eggplant Parmesan casserole
This will become your new favorite eggplant Parmesan recipe! It's so easy to make and tastes just as good as the fried eggplant Parmesan. Below is a list of steps need to make this casserole. See the recipe card below for full details.
Spread the marinara sauce in a casserole dish so that it covers the bottom of the entire dish
Slice 1 large or two small eggplants in to thin slices (about 1/4 inch) and sprinkle with sea salt, and set aside
Pat the eggplant slices dry and fan them out into the casserole dish on top of the sauce
Sprinkle the eggplant slices with Panko bread crumbs, garlic and oregano
Top the eggplant slices with sauce
Cover and bake 30 for minutes
Add the mozzarella cheese and bake for 15 minutes longer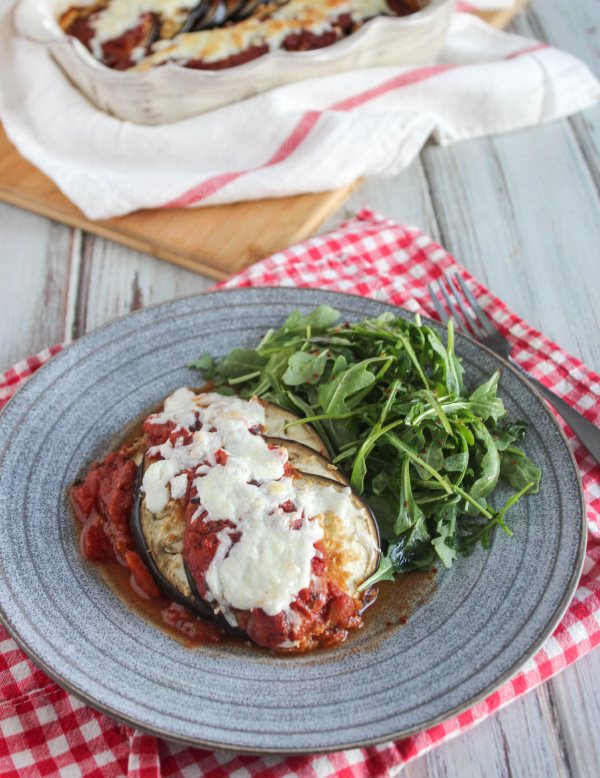 Tips for Making Eggplant Casserole
Slice the eggplant thin
Slice the eggplant about 1/4 thin or less, and fan the slices out in the dish instead of layering them. You may need to two pans if you don't have a large one.
Leave the skin on the Eggplant
The skin is the most nutritious part of an eggplant, leave it on unless it seems to be tough which can happen with larger eggplants.
The best cheese to use in eggplant Parmesan casserole
Fresh mozzarella cheese is the best type of cheese to use in this casserole and it can be difficult to shred. Try freezing it. Remove it from the freezer about 30 minutes before shredding for perfectly shredded fresh mozzarella cheese.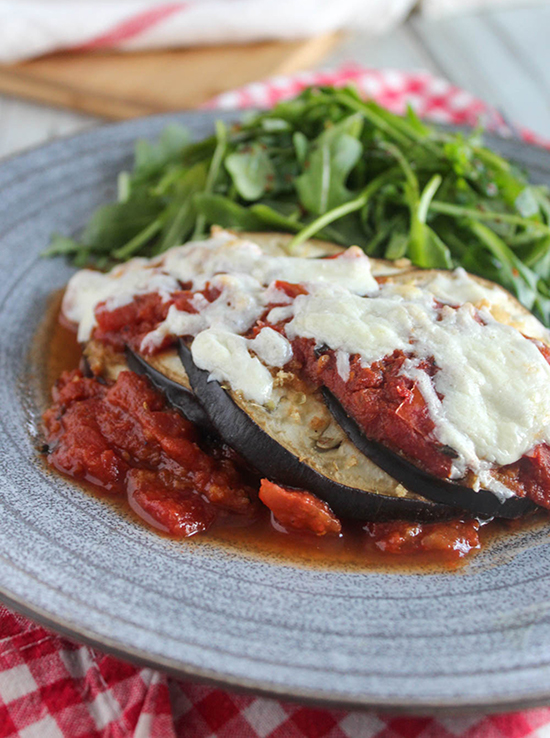 Meal Planning and Preparation Tips
Make ahead
This casserole can be made ahead of time, stored in the refrigerator for up to two days and popped into the oven just before it's time to eat.
Freeze Eggplant Parmesan Casserole
Make two batches of this casserole and freeze one in a freezer container before baking it. Thaw it in the refrigerator overnight and bake just before eating.
Variations for Eggplant Parmesan Casserole
Make it Vegan/Dairy-Free
To make this eggplant Parmesan casserole vegan/dairy-free, replace the cheese with 1/4 cup nutritional yeast sprinkled on top or leave the cheese off completely.
Make it Gluten-Free
To make this casserole gluten-free, use gluten-free bread crumbs or leave them out completely
Have you Tried these?
Print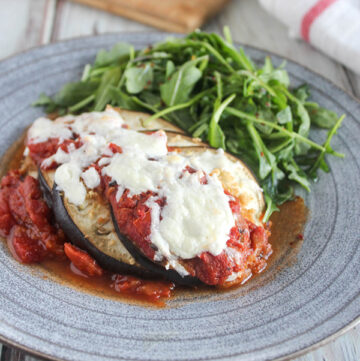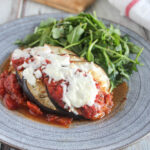 Eggplant Parmesan Casserole
---
Author:

Anne

Prep Time:

5 mins

Cook Time:

40 mins

Total Time:

45 mins

Yield:

4

1

x
Description
Eggplant casserole is an easier and healthier way to enjoy eggplant Parmesan at home.  It's filled with all of the ingredients that we love in  eggplant Parmesan and can be on your dinner table in about one hour.
---
---
Instructions
pre-heat oven to 375
sprinkle sea salt over eggplant slices and set aside
spread half of the marinara sauce over the bottom of a large baking pan
blot the eggplant dry with a towel
place the eggplant into the baking pan on top of the sauce fanning the slices out
mix the bread crumbs, garlic, and oregano together and spread over the eggplant slices.
pour the remainder of sauce over
cover loosely with foil and bake for 30 minutes
remove the foil sprinkle with cheese and bake for 10 minutes more
Notes
For a gluten-free Version, omit the bread crumbs or use gluten-free bread crumbs
For a vegan version, omit the cheese and sprinkle on nutritional yeast
Nutrition information is provided by Nutrifox,  an online calculator and is meant to be used for informational purposes only.  Even though I try to provide accurate information, these figures should still be considered as estimates.
Category:

Dinner

Method:

Oven

Cuisine:

Italian
Keywords: dinner, vegetarian dinner, meatless monday