Slow cooker Mediterranean chicken is made with olives, sun-dried tomatoes for a hearty meal that is so easy to make.
This recipe is going to be one of your new favorites to make You will love the way that the briny olives combine with the sun-dried tomatoes which add a hint of sweetness. The end result is tender chicken that is topped with a seriously flavorful chunky sauce.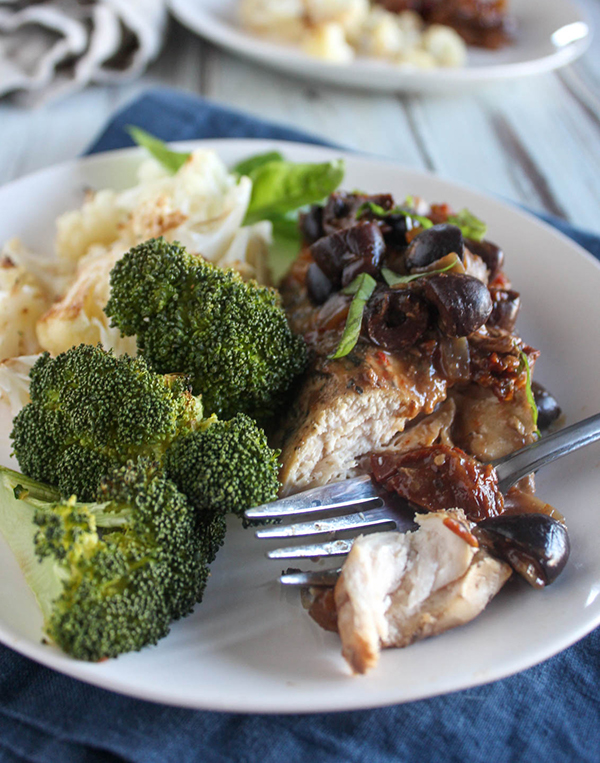 Tender and full of flavor, Mediterranean chicken is a hearty and tasty chicken dish that's perfect for any night of the week and so is this healthy crack chicken.
Recipe Highlights
There is very little prep time to make this recipe; it takes only eight ingredients that are "dumped" into the crockpot to make this slow cooker chicken dinner.
It's a healthy recipe; made with wholesome ingredients that you most likely have in your pantry already!
Here is What you Will Need to Make this Crock Pot Mediterranean Chicken
As an Amazon Associate, I earn from qualifying purchases
This is an overview of the ingredients and steps to make this recipe, scroll down for a printable recipe card with exact measurements and instructions.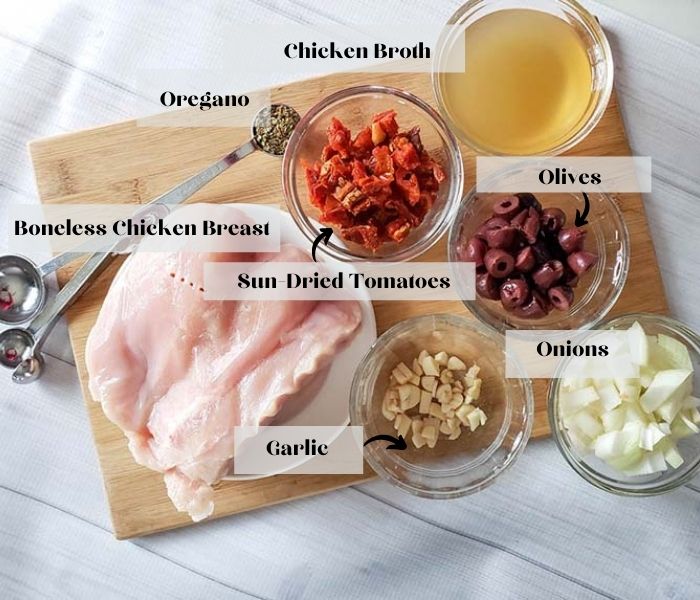 Boneless skinless chicken breasts
Garlic
Onion
Oregano
Here is how to make this Recipe
Prepare the ingredients: Slice the olives, measure and chop the garlic, onions, and olives.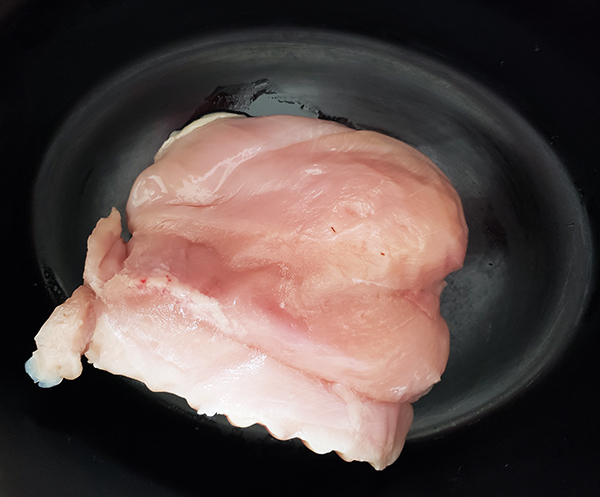 Place the chicken breasts into the slow cooker.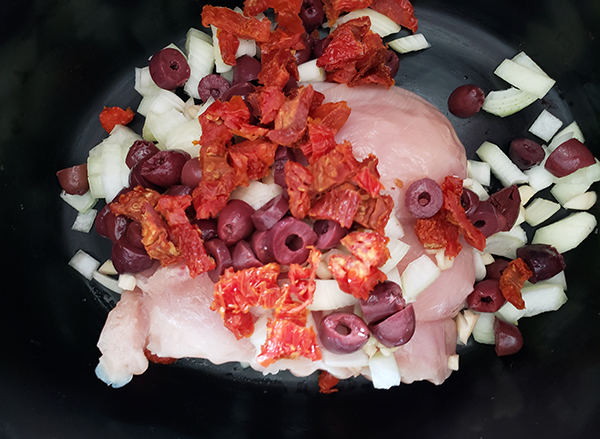 Arrange the sun-dried tomatoes, olives, garlic and onions on top of the chicken.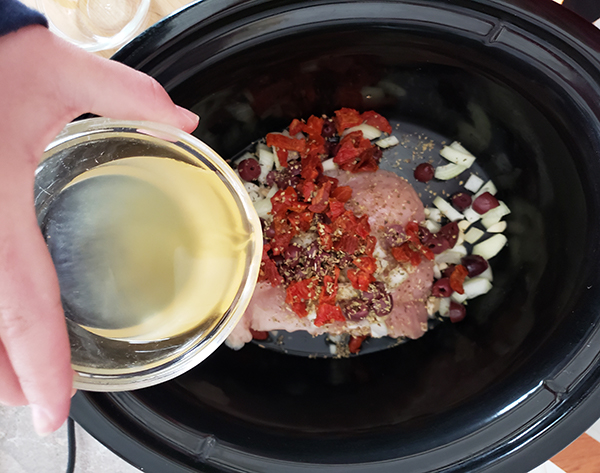 Add the oregano and pour in the broth.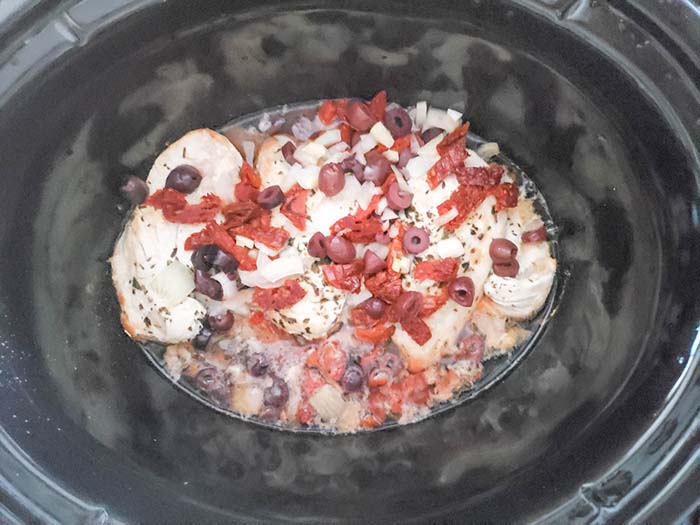 Cover the slow cooker and cook the chicken on low for 2 ½ hours.
Total Estimated Time to Make This Recipe: 3 hours 15 to 3 hours 20 Minutes.
Ingredient Notes/Substitutions
Boneless chicken breast is my preference for just about every chicken recipe I make. They are lean and easy to prepare. You can substitute it with boneless chicken thighs.
Sun-dried tomatoes that are in a bag, and not packed in oil are the best type to use when making slow cooker Mediterranean chicken. If you only have oil-packed, you can use them, however, drain the oil off of them before adding them to the slow cooker.
Chicken broth adds flavor to this recipe, it can be substituted with an equal amount of white wine or you can mix half broth and half wine.
Garlic cloves can be replaced with ½ teaspoon dried garlic powder,
Onions. You can use any type of onions in this recipe. I like to use red onion or yellow all-purpose onions. Two teaspoons of onion powder can be substituted for fresh onions also.
Oregano. Since this a dump slow cooker recipe, I use dried oregano. It can be replaced with 1 ½ tablespoons fresh oregano.
Kalamata Olives add a wonderful briny flavor to this dish. If you don't like kalamata olives, you can substitute them with regular black olives or green olives such as Castel Vetrano olives.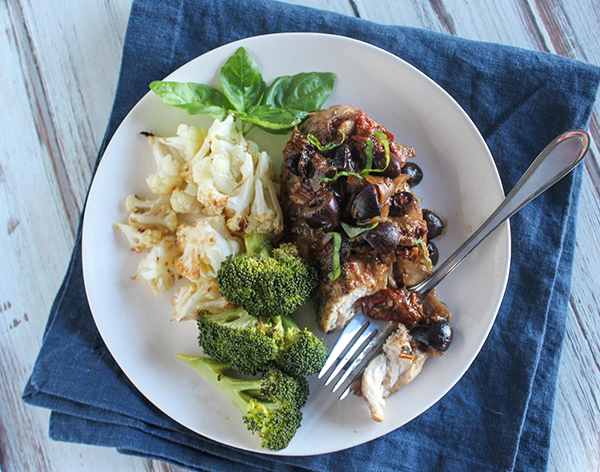 Serving Suggestions
Serve Mediterranean chicken with a side of your favorite roasted vegetables, or green beans and a helping of mashed potatoes, farro, orzo, pasta, rice, zucchini noodles, cauliflower rice or a hunk of crusty bread.
How to Store and Reheat Leftovers
This is the kind of recipe that tastes even better the next day, so don't worry about having leftovers because they taste great.
Store leftover Slow Cooker Mediterranean Chicken in the refrigerator for up to four days in an air-tight container.
Reheat it in the oven covered at 350 until it is heated through, or in a covered saucepan over low heat. You may need to add a little bit of water or wine to the pan so that it does not burn.
Recipe Variations
Artichokes. Stir in ½ cup of quartered artichoke hearts during the last half hour of cooking.
Mediterranean Pork Tenderloin. Substitute the chicken for one-pound pork tenderloin.
Mediterranean Chicken with Roasted Red Peppers Add ¼ cup of roasted red bell pepper and ¼ cup capers along with a spritz of lemon juice and a pinch of lemon zest.
Make it Spicy. Add ½ to 1 teaspoon of red pepper flakes or a ⅛ teaspoon cayenne pepper.
Add Cheese. Just before serving sprinkle the chicken with a little feta cheese.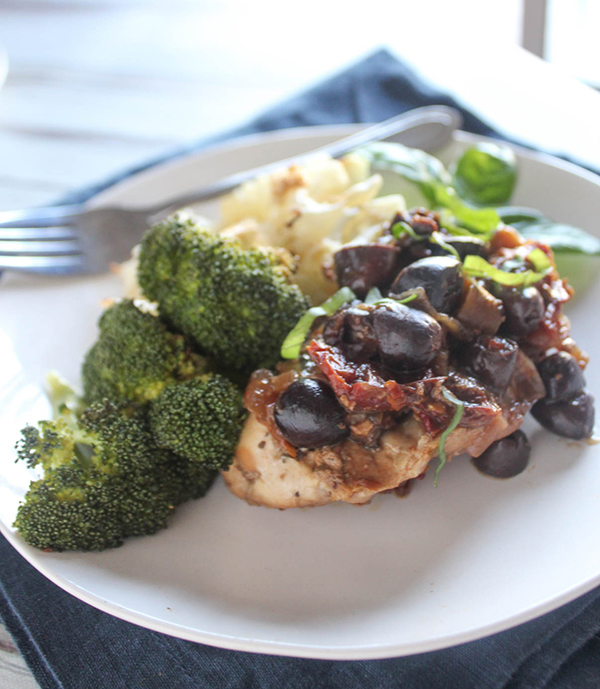 Top Tips
Spray the slow cooker with a little bit of cooking spray or spread a small amount of olive oil in the crockpot to keep the chicken from sticking and easy cleanup!
Just before serving slow-cooker Mediterranean chicken, remove the chicken pieces from the crockpot and mix up a slurry of 1 tablespoon of flour with ½ cup water. Gradually stir the slurry into the sauce in the slow cooker to thicken the sauce. Serve the sauce over the chicken.
Sear in extra flavor by quickly browning the chicken breasts in a hot skillet on top of the stove.
Slow Cooker Mediterranean Chicken FAQ
Can I make Slow Cooker Mediterranean Chicken in an Instant Pot?
Yes, you can! To make Mediterranean chicken in a pressure cooker, you would follow the same steps as above, up to the cooking time.
To cook it, set the Pressure cooker to high pressure and cook for 10 minutes. Slow-release the pressure, remove the chicken, thicken the sauce and serve.
Can I cook Mediterranean chicken on a high setting to save time?
Yes, you can! Set the slow cooker on a high setting and cook for 1 to 1 ½ hours. Check the temperature of the chicken before serving, which should be at least 165 degrees.
For more simple and delicious recipes like this, subscribe to our newsletter and receive a free e-book and meal suggestions straight in your inbox!
Check out These Easy Healthy Slow Cooker Meals
If you like this recipe, please comment and rate it below!